Shamrock Sugar Cookies
This post may contain affiliate links. For more information, read my disclosure policy.
Happy St. Patrick's Day! What's a better way to celebrate than with some yummy sugar cookies?
I've seen recipes for Royal Icing for years. Cookies are so gorgeous when decorated with it. I remember watching Martha Stewart "edge" and "flood" her cookies years and years ago. More recently, since I started reading so many food blogs, I've notices they all have gorgeous cookies on their sites. They come in every shape you can imagine (did you know you can get a beer mug cookie cutter?) and the decorations are endless. I tried using royal icing a long time ago without success and I wanted to try it again to see if I could do it.
First, I found
this
tutorial on Annie's Eats. It's a great step-by-step process. I used her recipe and method and it worked! I have a long way to go to be able to do all the decorations I've seen over the last few months, but I think it's a learning process. And it's totally not as difficult as I thought it would be. Time consuming, yes, but difficult? No.
Royal Icing is special because it dries hard. Whenever you see those cute Easter cookies at Starbucks, you're seeing royal icing. The secret behind it is meringue powder. It's made from egg whites, cornstarch, and sugar and causes the icing to harden. That's how you can achieve a 3-D affect with these cookies, if you so choose. They are also stackable, which is great for gift-giving or if you have to take them to as a St. Patrick's Day treat for a bunch of Kindergartners. Royal icing consists of three ingredients: powdered sugar, meringue powder, and water. The great thing is that you can thin it out or thicken it up just by adding water or powdered sugar.
The first step in decorating cookies with royal icing is to pipe the edge. I used a #2 tip in a disposable pastry bag to outline the shamrocks. As per Annie, you should be sitting down and balance your elbow on the table. Your hands will get tired. Let the edge dry completely.
Once the edge is dry, you just have to thin the icing for "flooding". I used a squeeze bottle to flood the cookies with green icing. By the last tray of them, I learned two things. One, that the more icing the better. You won't run out and they look better with more icing. Two, after flooding the cookie, let it sit a minute before helping it spread. Flood a couple more cookies, then go back and use your toothpick or offset spatula to spread it to the edges.
See the difference between amount of icing you use?
Allowing the frosting to spread before spreading it with spatula…
I decorated mine with green sugar because it's pretty, kids love it, and because it hides mistakes. 🙂
I am happy with my first effort at decorating with royal icing. Now I'm excited to do it again, and try it with more decoration on top of the flooded icing. Don't let the steps intimidate you. It's not as hard as it looks!
Have a great St. Patrick's Day! Don't let those leprechauns turn your milk green! (Somehow they always manage to do that to the milk and toilet water in our house!)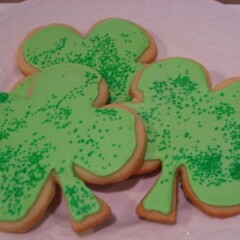 Shamrock Sugar Cookies
Ingredients:
2 ½ cups all-purpose flour

1 ¼ cups powdered sugar

1 cup butter, softened

1 egg

1 teaspoon baking soda

1 teaspoon cream of tartar

1 teaspoon vanilla extract
Directions:
Combine all ingredients in the bowl of an electric mixer (or in a large bowl if using hand mixer). Beat at medium speed, scraping the sides as needed, until well mixed (about 3-4 minutes). Separate dough into 2 pieces and wrap in plastic wrap. Refrigerate about 1 hour, until firm enough to roll.

Preheat oven to 375°. Roll out dough on a well-floured surface to ¼ inch thickness. Cut with desired cookie cutters. Place on parchment lined cookie sheets.

Bake 6-10 minutes, depending on size of cookies. I find it best to bake one sheet at a time and rotate it 180° halfway through baking. Start your baking time at 3 minutes, rotate, and then estimate about how long they will take to cook. (My shamrock cookies are about 2" in diameter and they took about 6-7 minutes total.) Cool completely.
All images and text ©
. Please do not use my images without prior permission. If you want to republish this recipe, please re-write the recipe in your own words, or link back to this post for the recipe.
Recipe from Land o' Lakes