This post may contain affiliate links. For more information, read my disclosure policy.
6 Reasons to take your kids to The Ritz-Carlton in San Francisco for a fun weekend vacation!

Over spring break, I decided I wanted to treat my daughter to a night in San Francisco. I grew up there and love playing tourist, but she only goes occasionally. I'm trying to get her to fall in love with it as much as I do so when she grows up, she'll move there with us.
We normally stay in the Market Street/Union Square area when we go to the city, but for this trip I wanted something a little different. I decided on Nob Hill for our stay because of it's proximity to Chinatown. I really wanted to take her on a tour of Chinatown, because it's one of my favorite parts of San Francisco and she hasn't been there since she was too young to remember.
There are several beautiful hotels on Nob Hill but only one that I absolutely love: The Ritz-Carlton. I loved when I stayed at The Ritz-Carlton Half Moon Bay, so I knew we'd love to stay at the one in San Francisco, too.
If you've ever considered a quick weekend away or a beautiful stay in San Francisco, here are 6 reasons why you should take your kids to The Ritz-Carlton San Francisco.
1. The Location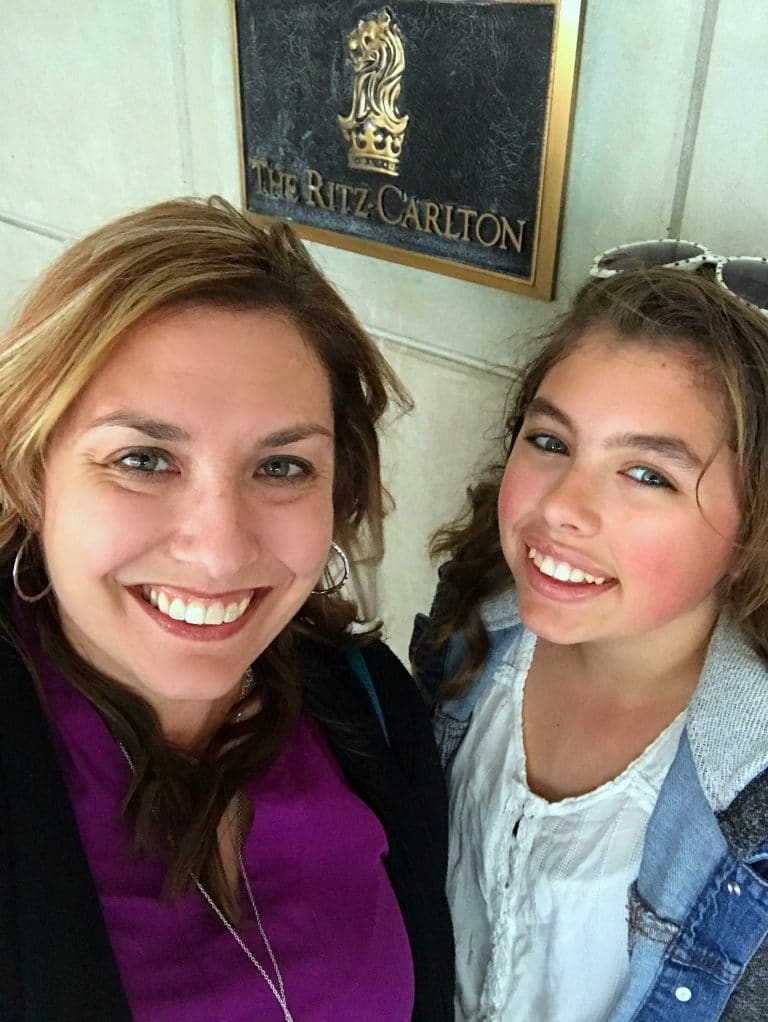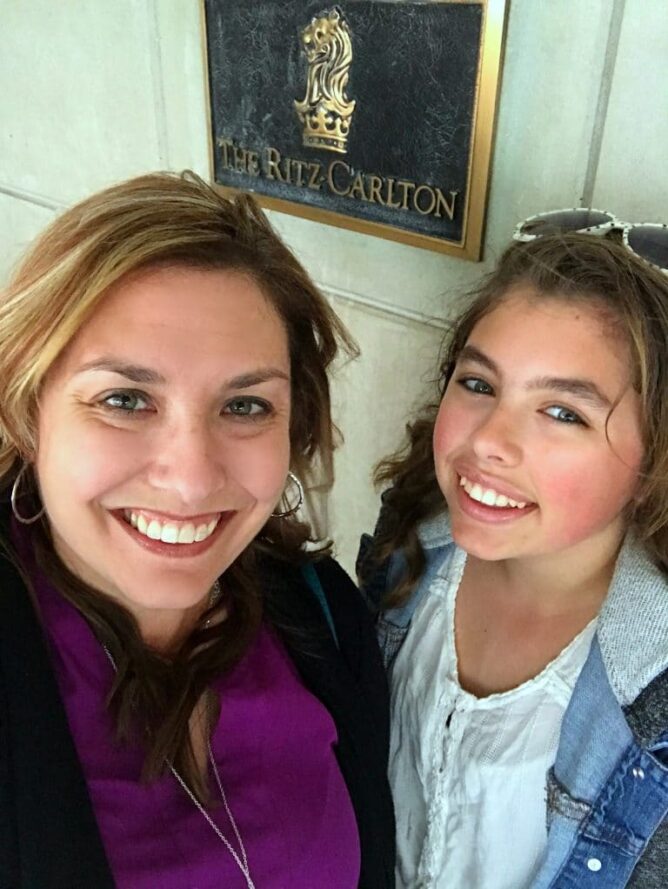 The Ritz-Carlton San Francisco is located in the perfect spot on Nob Hill. It's just up the hill enough you get a good workout walking to and from union square, plus it's right on the cable car line for quick hops on and off. It's a quieter area of the city, so you don't get all the same traffic noise you'll get on Market Street or SOMA, and it's beautiful. The views from the streets are gorgeous; you can see the bay!
It's an easy walk to many restaurants, coffee shops, and bars, as well as Walgreens and any other stores you might need incidentals at. And, of course, it's only a few short blocks from the entrance to Chinatown, with it's famous scenery, stores, and restaurants.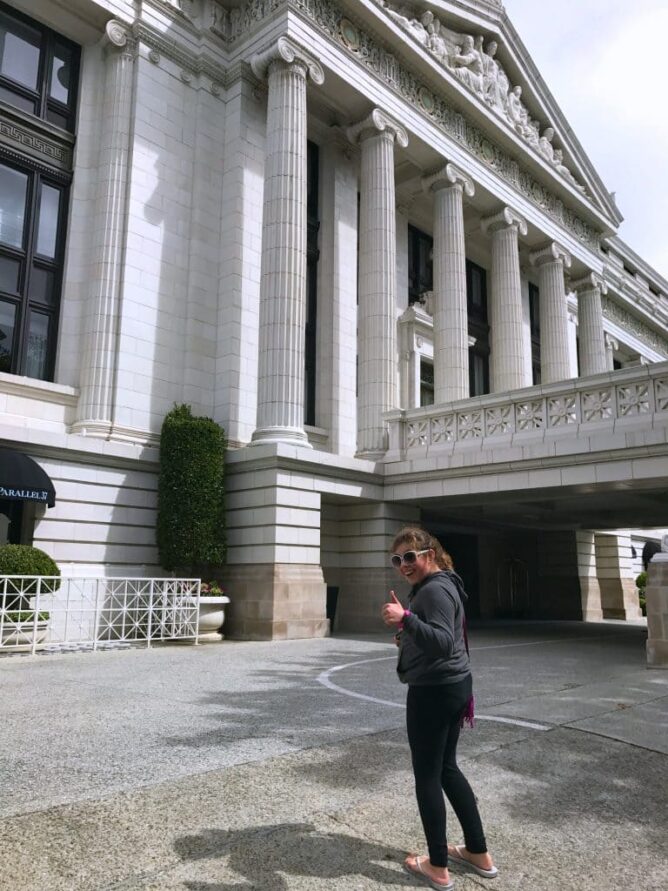 The hotel has a gorgeous facade, and almost looks like a museum! Jordan loved every minute of being at the hotel.
2. Personalized Service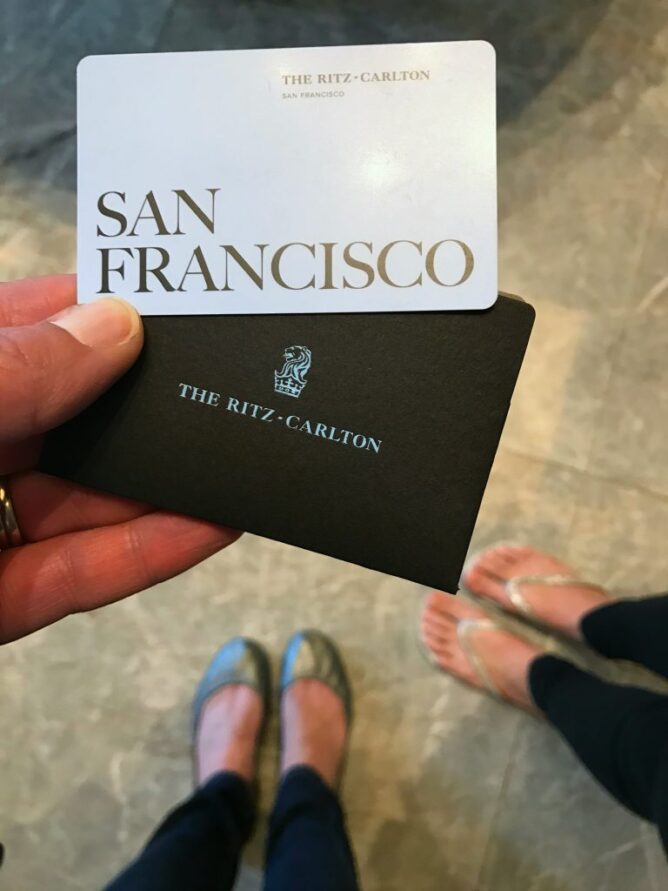 From check-in to check-out, The Ritz-Carlton is all about service. They take your bags and your car, ask your name, check you in quick. If you need extra pillows or towels or even ice, they'll bring it right to you almost before you hang up the phone asking for it. Plus, they have all the little things you might forget, like a toothbrush. My daughter always forgets something so it's nice to know the concierge has it!
The hotel also has a car service that is complimentary within a mile radius of the hotel. We took the car to Chinatown since we were starving, and then walked back.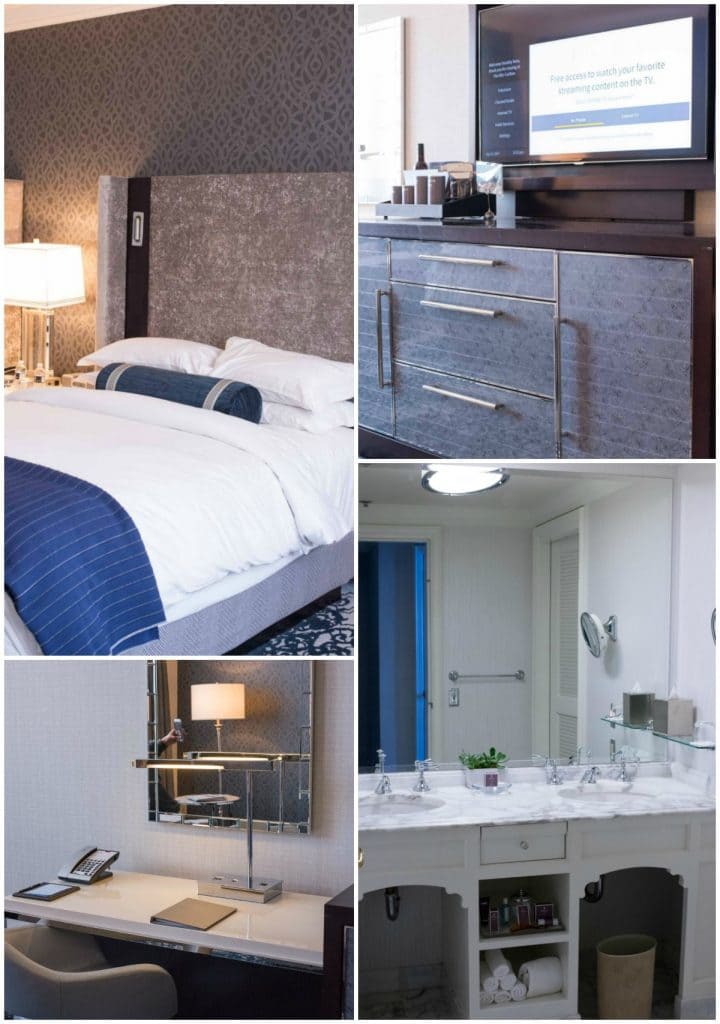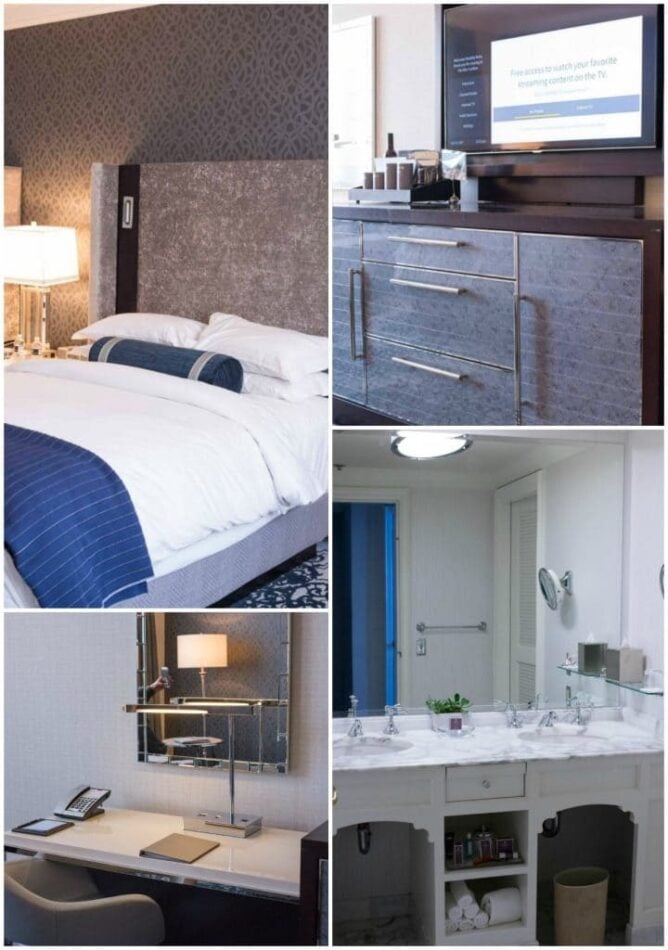 3. The Rooms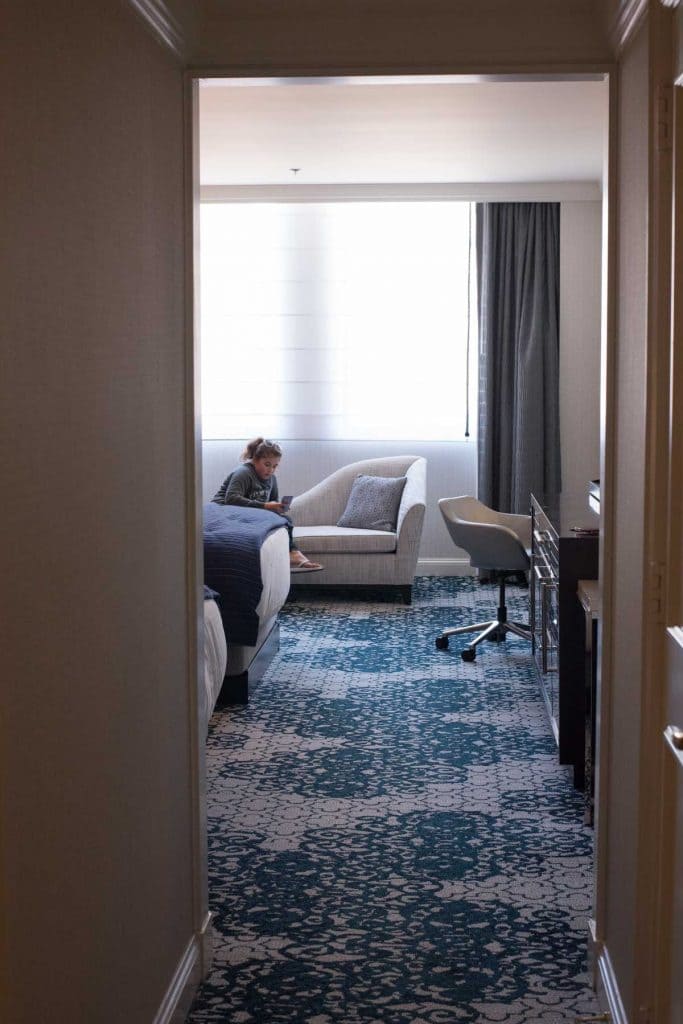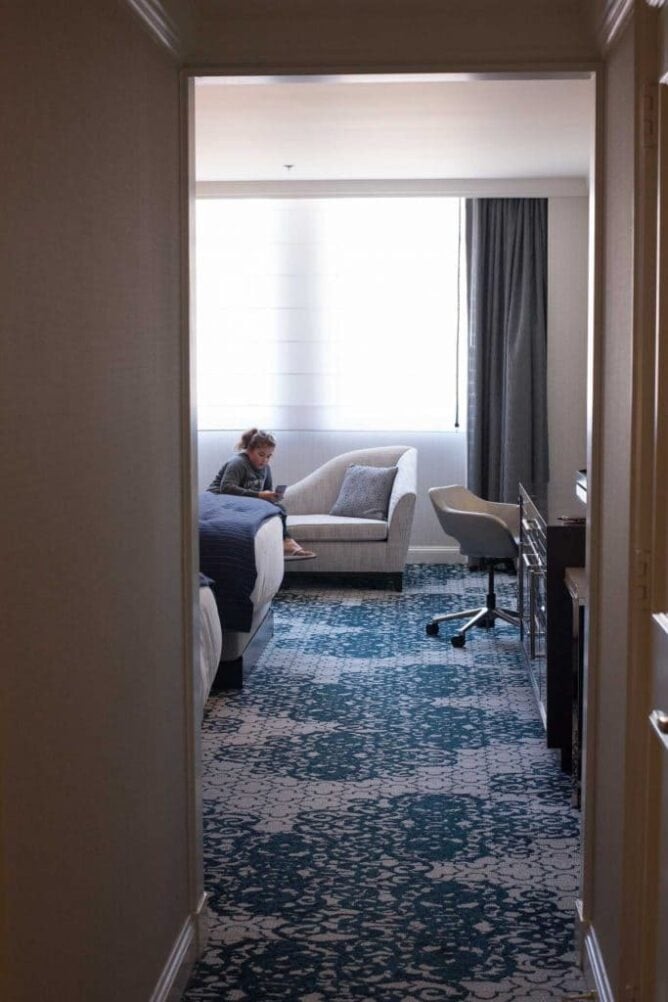 We stayed in a standard queen room, with two queen beds and a gorgeous bathroom. The entry had a full wall sized mirror that was perfect for getting ready, and Jordan loved the settee. The beds were so comfortable. We liked them better than our brand-new mattresses at home, and Jordan has already begged for a "Ritz-Carlton pillow". The TV is set up for Netflix and other streaming, and there were ample plugs for us to use – even in the bathroom. Those are always important for girls getting ready!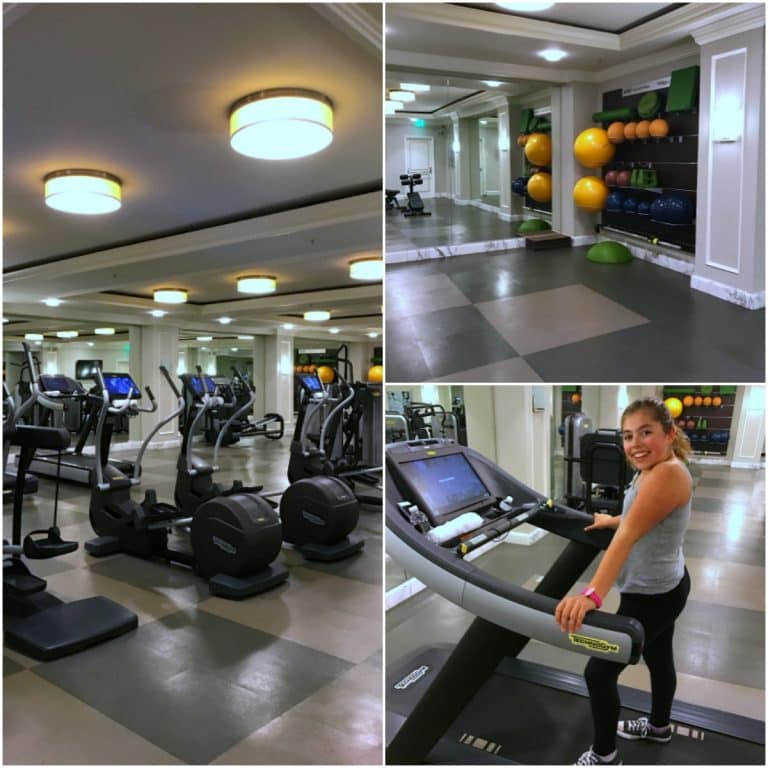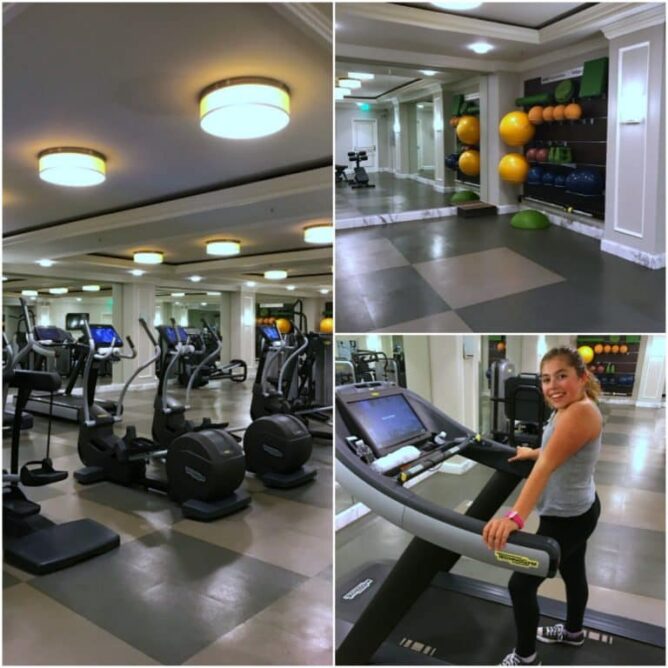 4. The Gym
I always take the time to go to the gym at a hotel – gotta work off all the vacation food! My jaw dropped when I saw the fitness center at The Ritz Carlton San Francisco – it's a FULL gym with several treadmills, elliptical machines, and bikes. There's a weight area with balls and foam rollers, plus an entire full sized quiet yoga room. Jordan enjoyed her walk on the treadmill; they were even connected to Youtube and Netflix!
Don't forget to throw some water bottles in your bag on your way out – they're free!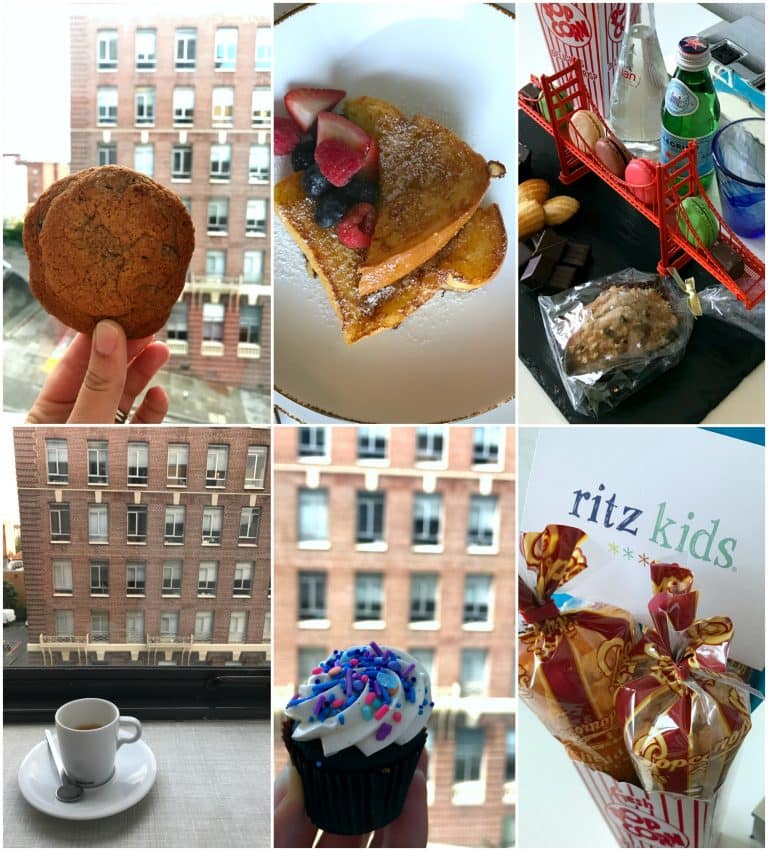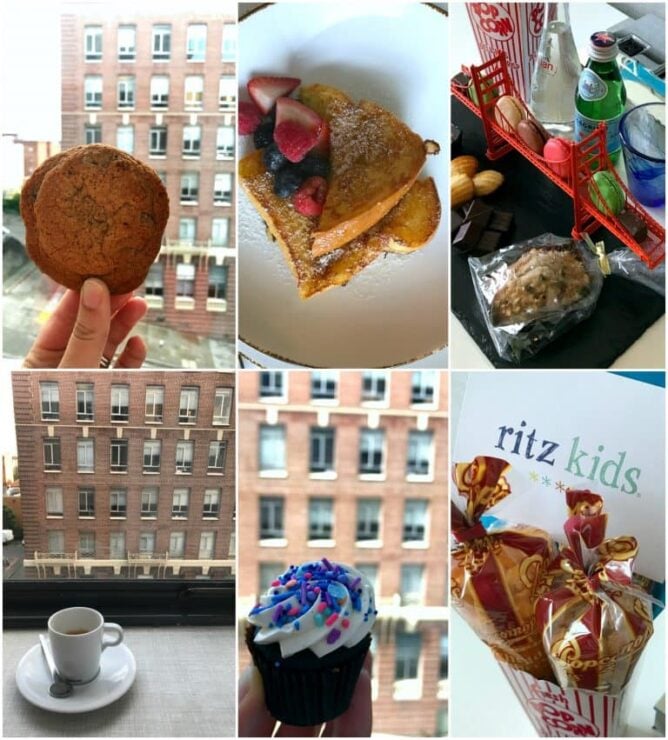 5. The Food
If ever there were a good reason to take your kids to the Ritz-Carlton San Francisco, it would be for the food! We loved the food at the Ritz-Carlton! We didn't eat in the restaurant because whenever we're in the city, Jordan wants to eat at The Stinking Rose, but we did get some snacks and breakfast in the hotel room.
The hotel sent up a wonderful snack pack for Jordan (more below) and then we ordered cookies for dessert that night.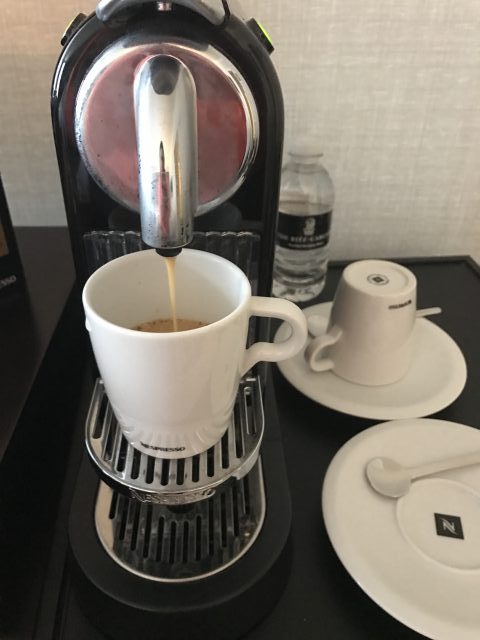 I think one of my favorite parts about any Ritz-Carlton room is the Nespresso machine. I love a cup of thick rich coffee in the morning and normally I have to bring my own, because hotel room coffee is notoriously bad. But at the Ritz? I look forward to every sip!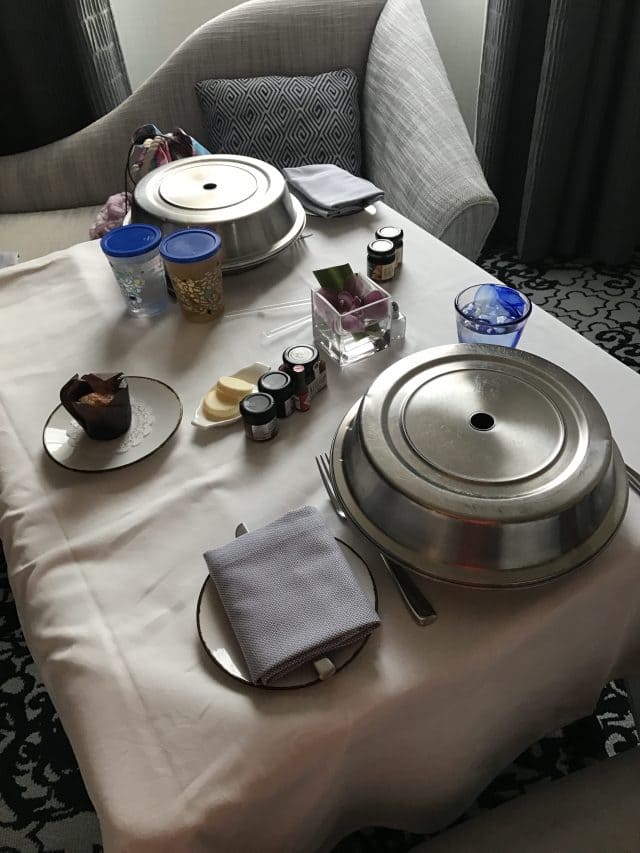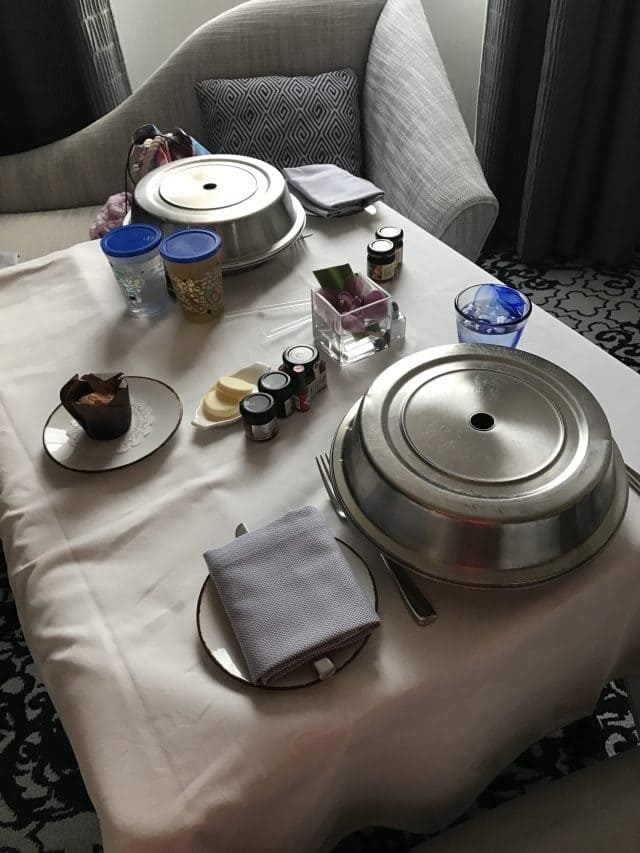 We could have gone out to breakfast, but checkout wasn't until noon and Jordan was loving snuggling in the comfy bed, so I treated her to room service. She's never gotten room service before so the look on her face when they rolled in the cart and set it up as a table was priceless. She inhaled the french toast and the blueberry muffin was delicious.
6. Ritz Kids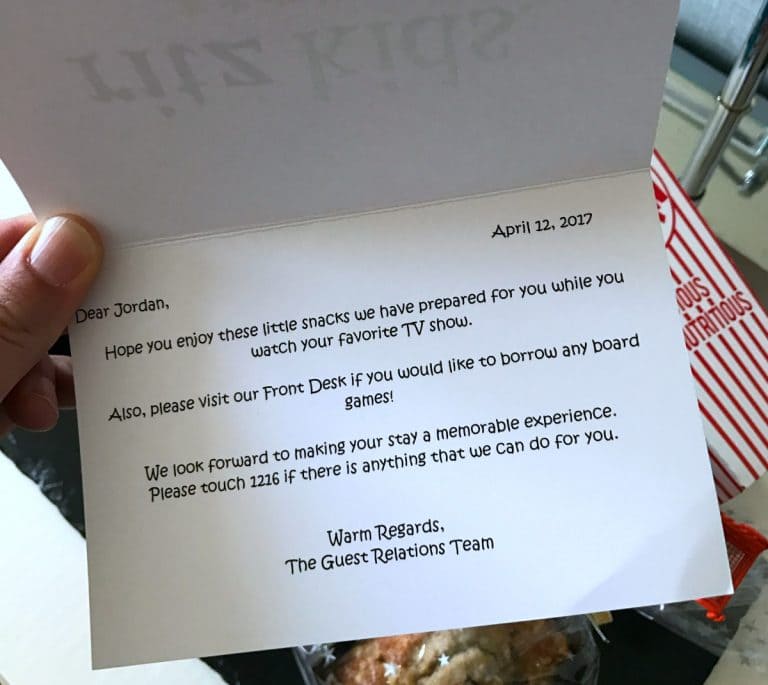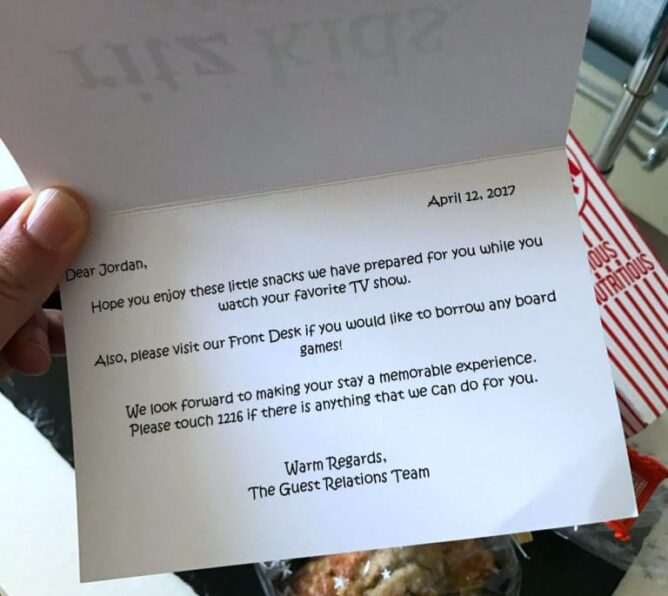 The Ritz-Carlton has a program called Ritz Kids at many of it's locations. They knew I was bringing my daughter, so before check-in, they contacted me about her age, any allergies, and her needs and preferences for our stay. Upon our arrival, they delivered a personalized note and a goodie basket to our room.
I didn't know when the basket would arrive, or what would be inside, but Jordan was begging me for popcorn and not 5 minutes later they brought her treat. In it? Three bags of Popcornopolis popcorn, as well as macarons (her favorite), banana bread, cupcakes, and chocolates. We were both delighted.
The Ritz is also very kid friendly with kid menus throughout their restaurants for the younger set. And if your child is younger they have fun check-in forms the kids can personalize (at 12 my daughter is kind of past that).
We both loved our stay at the Ritz-Carlton San Francisco and I cannot wait to go back again. If you're ever thinking about bringing your kids to a hotel in the city, I highly recommend the Ritz!
The Ritz provided me a media rate in exchange for a post and social media.
Last Updated on September 10, 2022