This post may contain affiliate links. For more information, read my disclosure policy.
Would you call them red velvet blondies or red velvet brownies? I'm calling them blondies because (1) they're not brownies, these are brownies and (2) I used my blondie base.
It's settled: they're red velvet blondies.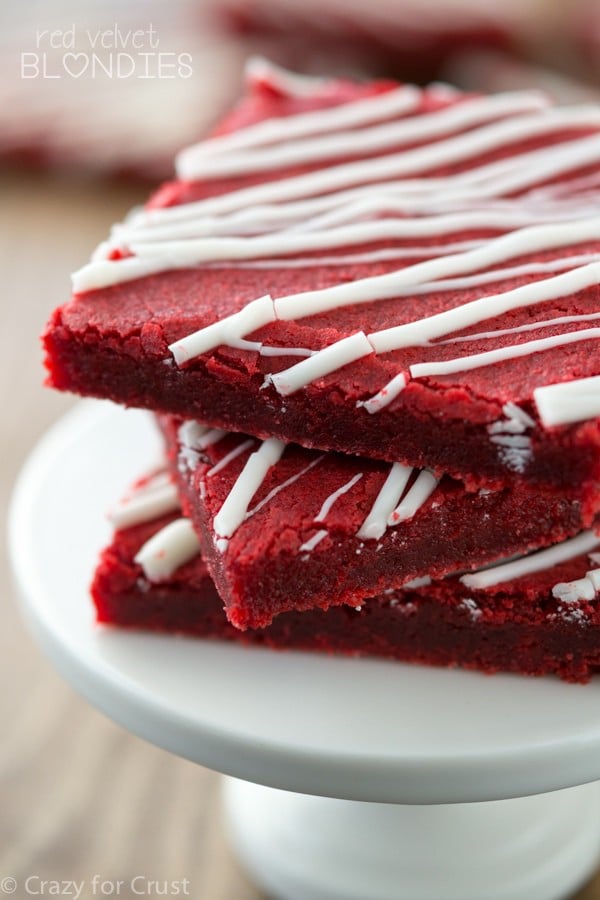 Last week Jordan was home sick for a few days. This made me appreciate several things:
1. Zicam. (Mine wasn't as bad as hers. Seriously, buy a vat of the stuff.)
2. Headphones. (Because after 8 hours of Disney Channel all I want to do is say GO TURN ON NETFLIX WHERE I DON'T HAVE TO HEAR IT.)
3. Dance Moms. (See #2. And yes, #horribleparenting)
4. Mom's who homeschool. (We did school work one day, so she wouldn't get behind. OMG, am I supposed to know what an ecosystem is? Why, exactly?)
5. A work-at-home dad. (So I could still exercise. It's the only thing that kept me sane.)
6. Red Velvet Blondies. (Isn't the saying feed a cold? Or…something?)

Red Velvet is new box of chocolates for Valentine's Day. I'm not sure why; as far as I know red velvet has always traditionally been a southern holiday treat. But I like it for this time of year. January is bleak, dreary, and full of skinny this and low-fat that.
February? Is about dip and hearts. And all things red velvet.
Like blondies.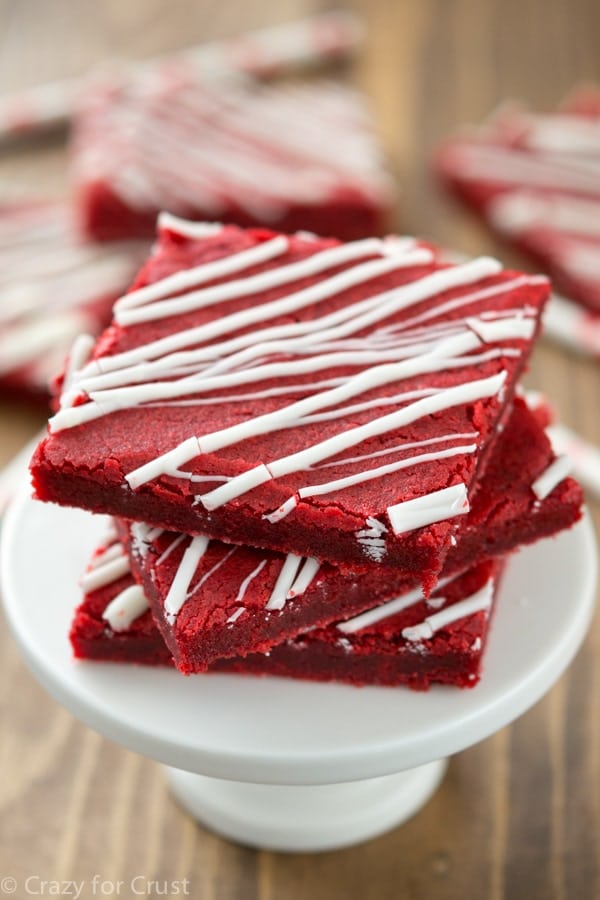 I just love how rich and fudgy these look. That's what I love about my blondie recipe: how it's moist in the center and crisp around the edges…just like a blond brownie should be. I think that has something to do with 2 cups of brown sugar… 🙂
Who knew it would be so easy to turn them into red velvet?
So what makes something red velvet? Well, it kind of depends on what you're making. The hallmark of anything "velvet" is the addition of some cocoa, but not enough to make it chocolate. The entire pan of these blondies only have 1 tablespoon.
Often you'll see vinegar or buttermilk added to red velvet recipes, but I didn't add any to this one. I didn't want to undermine the way the recipe normally bakes: fudgy and perfect.
And, well, obviously you need red food coloring to make red velvet. I used 2 tablespoons of dye for these. Don't bother buying the little 4-pack of squeeze bottles; there isn't enough red in that bottle. Buy the actual bottles of red food coloring instead. Then measure out 2 tablespoons. Carefully. Otherwise your kitchen will look like a crime scene. Ahem.
These red velvet blondies are the perfect anytime cookie bar. Don't just eat these on Valentine's Day…I'd eat them any day!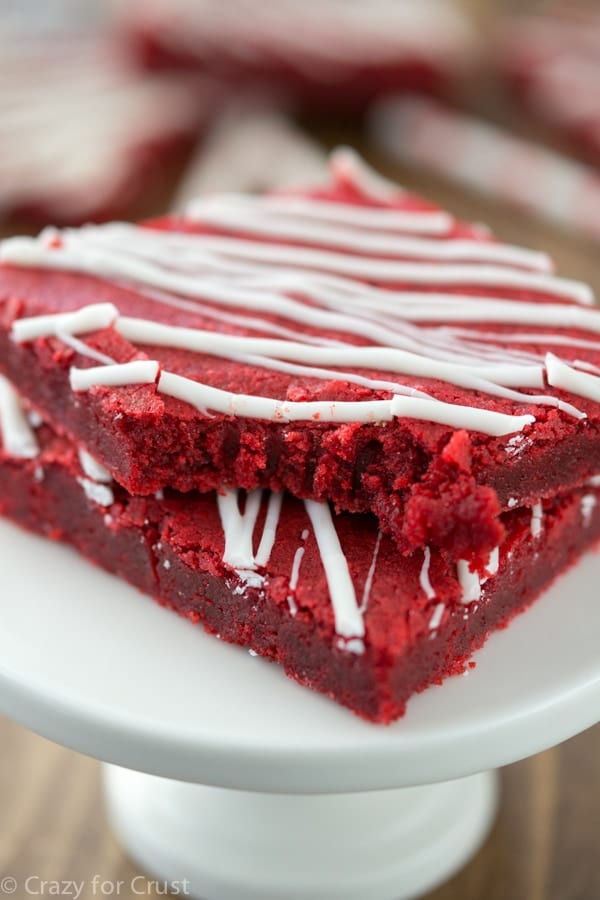 Now, if only they taught "history of red velvet" in 4th grade. Then I wouldn't have had to frantically search up what a predicate was. What's the point???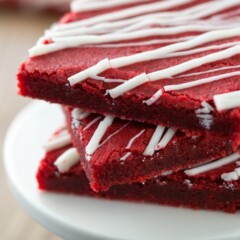 Red Velvet Blondies
It's the marriage of red velvet cake and blondies! These are like cookies but thick and rich, almost fudgy. And they' are purely red velvet!
Ingredients
2

cups

packed brown sugar

1/2

cup

unsalted butter

2

eggs

1

tablespoon

vanilla extract

1

tablespoon

unsweetened cocoa powder

1

teaspoon

baking powder

1/2

teaspoon

salt

2

cups

flour

2

tablespoons

red food coloring

1/2

cup

white chocolate candy melts

or white chocolate chips, optional
Instructions
Preheat oven to 350°F. Line a 9x13" pan with foil and spray with cooking spray.

Cream brown sugar and butter in the bowl of an electric mixer fitted with a paddle attachment. Add eggs and vanilla and beat until combined. Add cocoa, baking powder, salt, and flour and mix. Carefully mix in red food coloring.

Press into prepared pan (dough is sticky, spray your hands with cooking spray to avoid it sticking to your hands).

Bake or about 23-25 minutes. (Be careful not to overcook - the center will still be jiggly when you take these out of the oven and they will finish cooking and firming up as they cool.) Cool completely before slicing into squares.

Optional garnish: melt white chocolate almond bark or white chocolate chips according to package directions. Drizzle over bars. Note: I've had trouble melting white chocolate chips lately, so I highly recommend using almond bark, Candiquik, or candy melts for this step.
Nutritional information not guaranteed to be accurate
Click here for my complete list of Valentine's Day Recipes!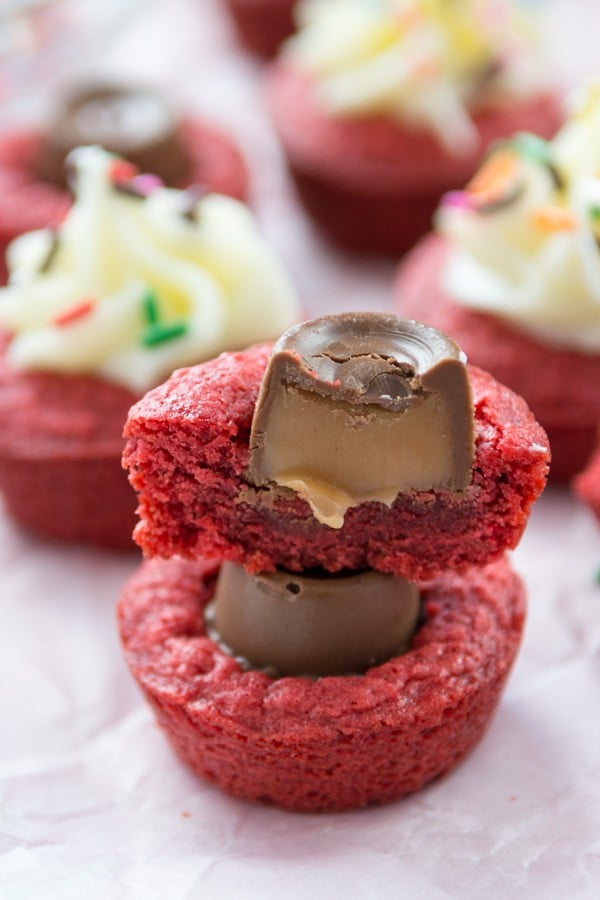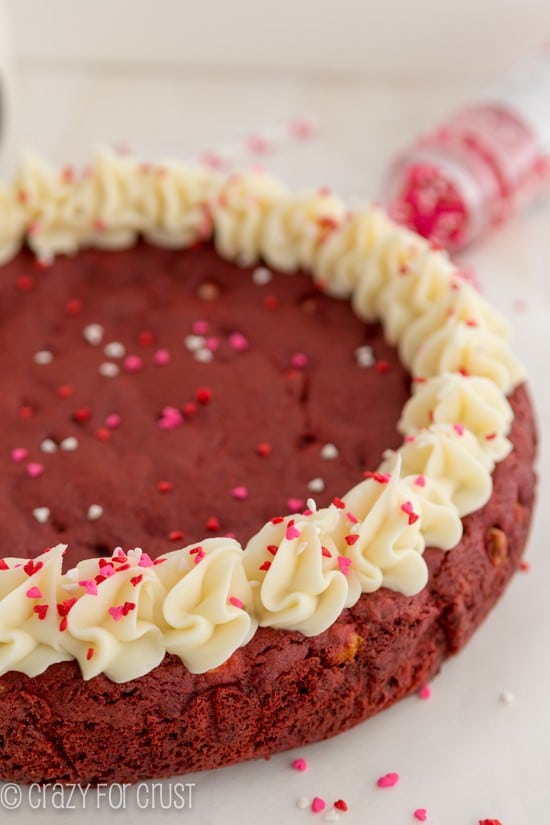 Red Velvet Molten Lava Cupcakes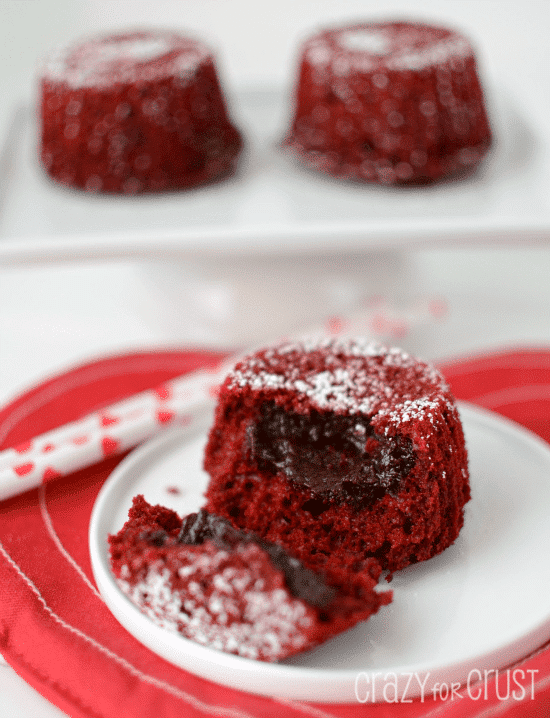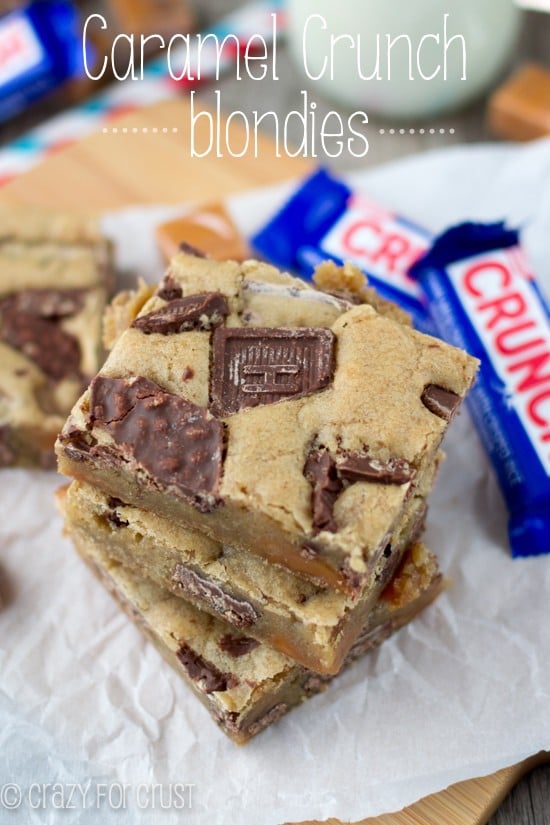 Sweets from friends:
Red Velvet Oreo Truffle Brownie Bars by Pizzazzerie
Red Velvet Peanut Butter Blossoms by i am baker
Red Velvet Oreos by Something Swanky
Red Velvet Chocolate Swirled Brownies by Averie Cooks
Last Updated on January 22, 2019