This post may contain affiliate links. For more information, read my disclosure policy.
I think I need to work on the title. It's a bit of a mouthful. Which is fitting, because so are these treats.
As promised, here is the first of a few yummy treats I have planned to share. Think Rice Krispie treat with popcorn instead of the Rice Krispies. I added some mini chocolate chips in for good measure, because really, everything is better with chocolate.
I don't know what made me think of making these. Possibly it popped (pun intended) into my head because we were at the movies last weekend and were eating popcorn and I remembered how I used to LOVE eating movie theater popcorn mixed with chocolate, especially Junior Mints. (Really. It's an awesome combination.) Anyway, I thought, why not make marshmallow treats with popcorn instead? So that's what I did.
I used a bag of microwave popcorn. Now, I wanted to make fresh popcorn (you know, the old fashioned kind, on the stove). So I went to my cabinet and pulled out my bag of kernels. Then I noticed the brand was Kroger. Thinking to myself, hmmm here in Sacramento I've never seen Kroger brand, so I looked at the expiration date. Those kernels? Expired in 2004. Yes, you read that right. 2004. Seven years ago. Mind you, we moved to this area from Arizona (where the Kroger brand is sold) in 2007. So I packed and moved an already (3-year) expired bag of popcorn kernels to the place we currently live and then kept them for another 4 years. (In my defense, our kitchen cabinets are so deep they remind me of Mary Poppins' bag. They just keep going and going and going…)
So microwave popcorn it was. I used a more "natural" product (funny, to think that anything microwaved would be natural), without butter and just a slight sprinkling of salt. I didn't want too much other flavor in the finished product. Besides the popcorn, all you need are butter, marshmallows, and chocolate chips. Super easy, just like the original Rice Krispie treat. I thought they were very yummy and they definitely have kid approval (Jordan ate two after dinner). My husband wouldn't touch them. He thinks marshmallows and all their products are vile and disgusting. Weird.
Anyway, I hope you enjoy them. And maybe you should clean out your pantry this weekend. I know I will be!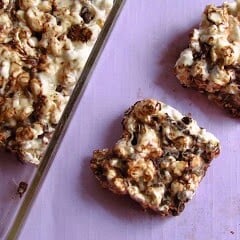 Popcorn Marshmallow Treats
Ingredients
1

bag

about 3.3 ounces microwave popcorn, popped (I used Orville Redenbacker's Tender White)

1/4

cup

butter

6

cups

mini marshmallows

1

cup

mini chocolate chips
Instructions
Coat a 9x9 baking dish with cooking spray.

Sift through your popped popcorn to make sure you've taken out all the un-popped kernels. You don't want someone to break a tooth on your dessert.

Place your butter in a very large microwave bowl. Microwave for about 30-45 seconds until melted.

Add your marshmallows to the butter bowl. Stir to coat with the butter. Microwave for 1 1/2 minutes, stirring after 45 seconds. Stir to make sure the marshmallows are totally melted. Add your popcorn and stir carefully. (Really, stir carefully, or your counter will be a mess!) Stir in your chocolate chips and immediately add to your baking dish.

Spray your hands with cooking spray. Press the popcorn mixture into the pan, compacting it as much as you can. Let cool completely before slicing. You can refrigerate them to speed up this process.
Nutritional information not guaranteed to be accurate
Last Updated on May 12, 2020