This post may contain affiliate links. For more information, read my disclosure policy.
Peppermint Sugar Cookie Dough Bark is a fun twist on the classic peppermint bark. Cookie dough, white chocolate, and peppermint all come together for this delicious holiday treat.
Guess what time it is? It's PEPPERMINT time!! Good-bye Halloween candy, hello candy canes.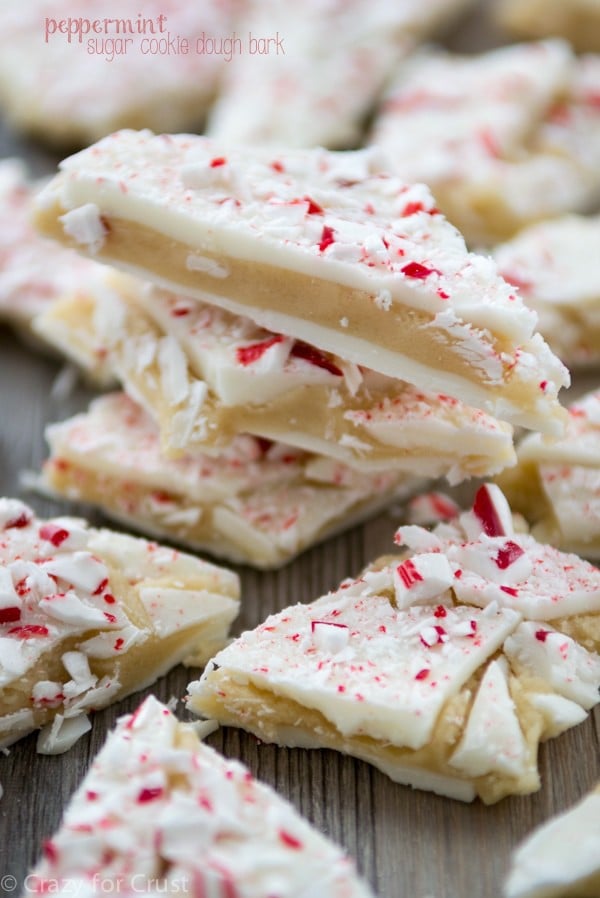 You guys have no idea how excited I am that it's time for all things peppermint, gingerbread, and Christmas. This is my favorite time of year for baking…and for everything else too.
This is the time of year I convince myself I need to throw a party. A big one, for all my friends and family. We'll do it on a Saturday in December and everyone will come and bring food and we'll play Christmas music and drink wine and cocktails and eat cookies.
And then November hits.
And there are theatre shows and dance shows and birthday parties and family visits and trips and it would take Harry Potter's magic to clear my schedule enough to be able to plan, host, or even attend my own party. So this year, instead of having a party in real life, I'm having a virtual one. A group of your favorite bloggers and I are joining together to host a Holiday Cocktail Party online, so you can come too!
And this Peppermint Sugar Cookie Dough Bark is what I'm bringing to the party. Because (1) everyone likes bark this time of year and (2) it's cookie dough. DUH.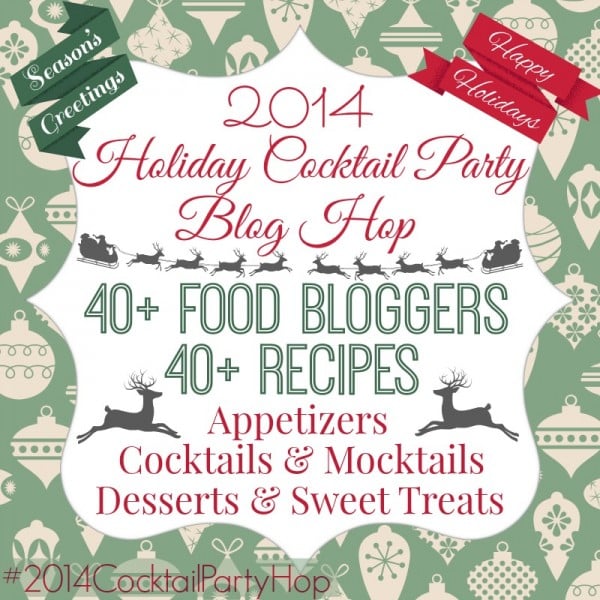 When you go to a party, what do you like to bring? I love to bring the dessert (obviously). And I especially love finger-food desserts for holiday parties: cookies, candies, truffles, bark. They're easy to serve, easy to eat, and I can bring them in a disposable dish so I won't lose my favorite pie plate or the bottom to my springform pan.
A few years ago I made Sugar Cookie Bark. It's a recipe that I made for my father-in-law, Mark. He was the one who was so addicted to sugar cookies that I had to make him his own batch every year. I also made different variations of sugar cookies for him at every birthday, like bars or sprinkle cookies. I even dedicated a recipe in my book to him, using sugar cookie dough, like this bark. Mark would have inhaled this bark, faster than I could make it, that's for sure.
Because everyone loved that sugar cookie bark so much, and because I love sugar cookies with candy canes, and because I'm addicted to bark right now, I decided to make this Peppermint Sugar Cookie Dough Bark for the Cocktail Party Hop.
And you need to make it for your next holiday party too!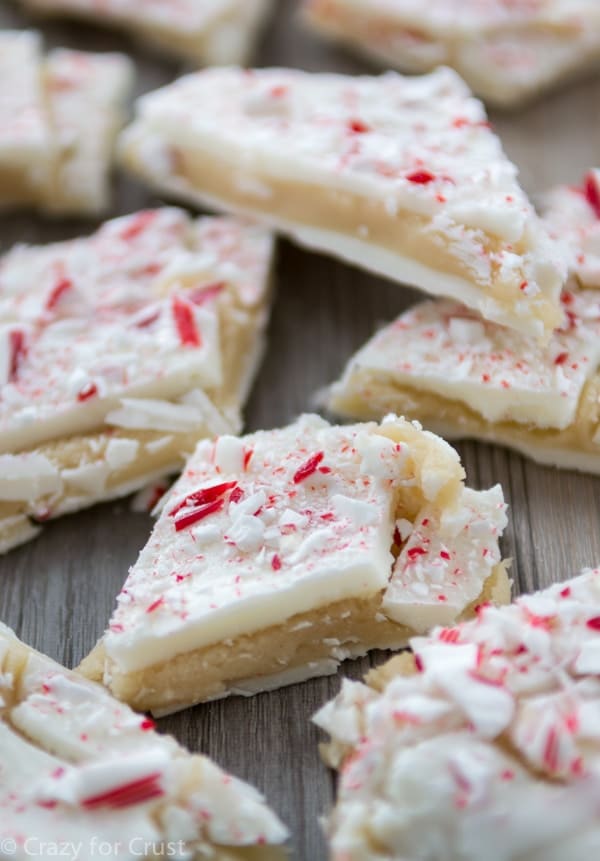 This Peppermint Sugar Cookie Dough Bark is super easy to make, and you don't have to worry about dipping anything. That's what I love about bark – there are no tears from truffle dipping.
You start with white melting chocolate. There are several different brands out there (like Wilton and Plymouth Almond Bark) but my favorite is Candiquik. It tastes the best out of all the brands I've tested. You can also use baking chocolate for this (Baker's and Ghiradelli both have white chocolate bars) but that can get expensive fast, since you need 16 ounces.
You melt half the chocolate and spread it on a cookie sheet lined with wax paper. Then you add the eggless sugar cookie dough. That's right – this cookie dough won't kill you. You make it without eggs (or leavening, for that matter). I rolled mine into a rectangle and chilled it before adding it to the melted chocolate. Then you spread the rest of the chocolate over the top and sprinkle with crushed candy canes. See? Easy-peasy!
One note about "breaking" this bark: I recommend cutting it with a knife with quick, clean cuts. Breaking it like you would break a traditional bark may pull the chocolate layer off the cookie dough layer. So make sure to use a nice sharp knife and cut the chilled bark instead of breaking it.
Then hide it so you don't eat it all. I'm serious.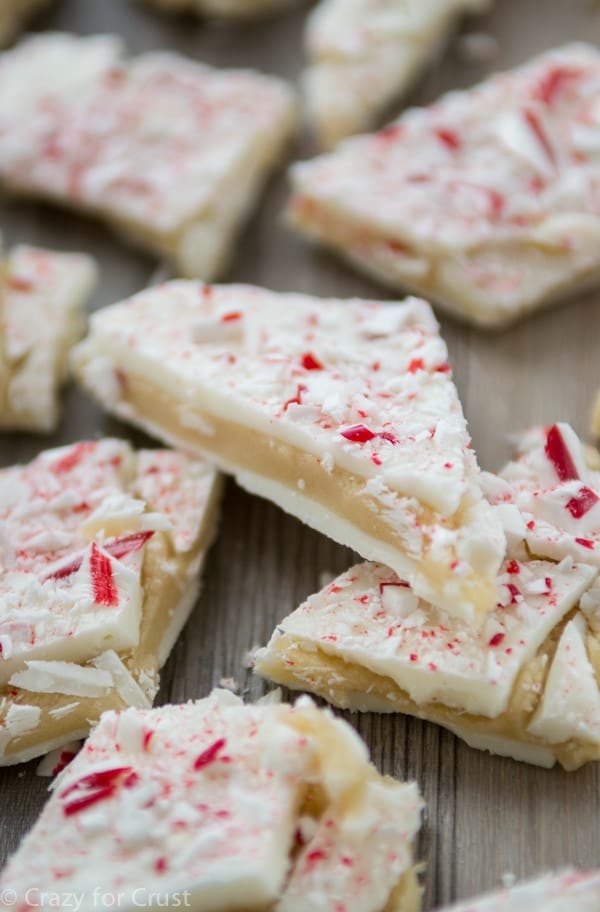 I ate way too much of this. I was channeling my inner father-in-law. 🙂
Enjoy!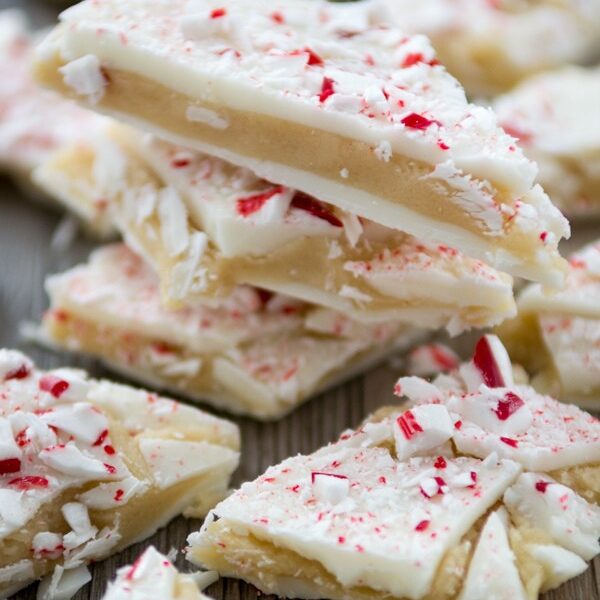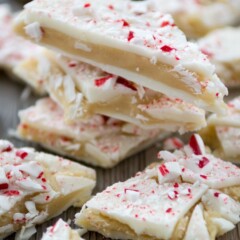 Peppermint Sugar Cookie Dough Bark
Layer eggless sugar cookie dough between layers of white chocolate and top with candy canes for a Christmas version of sugar cookie bark!
Ingredients
1/2

cup

unsalted butter

softened

1/2

cup

granulated sugar

2

teaspoons

vanilla extract

1/4

teaspoon

salt

1

cup

all purpose flour

16

ounces

white candy melts or baking chocolate

such as Candiquik

4

regular size candy canes
Instructions
Cream butter and sugar with a hand mixer or in the bowl of an electric mixer fitted with the paddle attachment. Mix in vanilla, salt, and slowly add in flour. Mix until combined.

Cover a cutting board with a large piece of wax paper. Place the dough in the center, press it down flat, and cover it with another piece of wax paper. Roll the dough into a rectangle (about 8"x10") between the two pieces of wax paper. Chill for at least 10 minutes.

Place your candy canes in a quart-sized ziploc bag. Roll with a rolling pin to crush. (Careful, the bag will get tiny holes from the sharp candy canes. It's best to roll it on a cutting board or cookie sheet to minimize mess.)

Line a cookie sheet with more wax paper. Melt white candy according to package directions. Pour half on the prepared cookie sheet and spread it into a rectangle slightly larger than the dough rectangle.

Place the cookie dough rectangle on top of the white candy. Pour the remaining white candy on top and spread to cover, making sure to meet the edges of the bottom layer to seal the dough inside. Sprinkle with crushed candy canes.

Chill until set, at least 30 minutes. Instead of breaking, I have better success cutting this bark into wedges so that the chocolate doesn't come off the cookie dough. Store in an airtight container in the refrigerator for up to 4 days or freeze for up to one month. Serve at room temperature.
Nutritional information not guaranteed to be accurate
Check out all the other yumminess at this Holiday Cocktail Party!
Appetizers
Domestic Superhero – Just Us Four – The Blue Eyed Dove – Sweet Pea – Glued To My Crafts – Patricia Eales Nutrition – Lemons and Laughs – Cupcakes&Crowbars – Sowdering About – Vegetarian Gourmet – Yesterday on Tuesday – Mom Home Guide – My Craftily Ever After – The Love Nerds – One Krieger Chick – Kenarry: Ideas for the Home – A Dish of Daily Life
Cocktails & Mocktails
One Artsy Mama – The Blue Eyed Dove – Sparkle – Albion Gould – Southern State of Mind – Eat Drink Eat – A Labour of Life – My Creative Days – Shelstring – I'm Bored Lets Go – Blue Crab Martini
Desserts & Sweet Treats
Major Hoff Takes A Wife – This Is The Life I Have Chosen – Crazy for Crust – Sypsie Designs – DIYfaerie – Little Blog on the Homestead – Living Better Together – Laura's INKlings – Life Made Sweeter – Tried & True – FrugElegance – Play. Party. Pin.
If you loved this Peppermint Sugar Cookie Dough Bark you'll love these: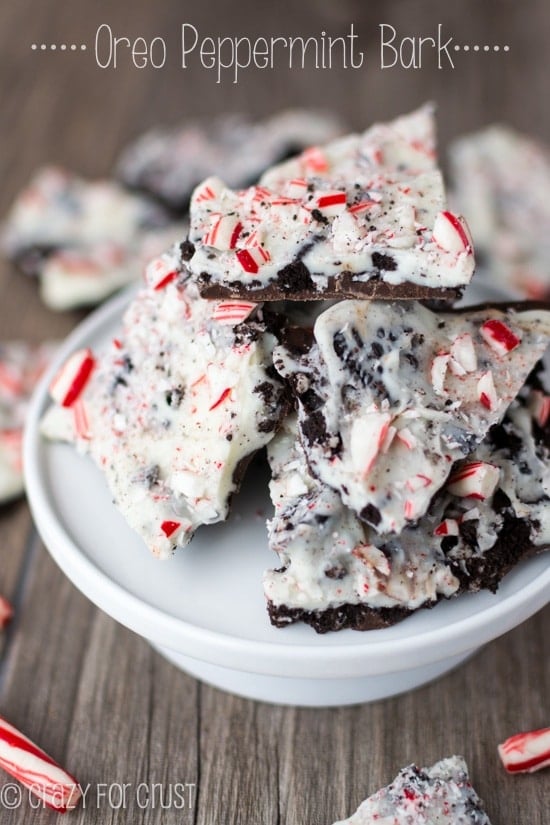 Peanut Butter Cookie Dough Bark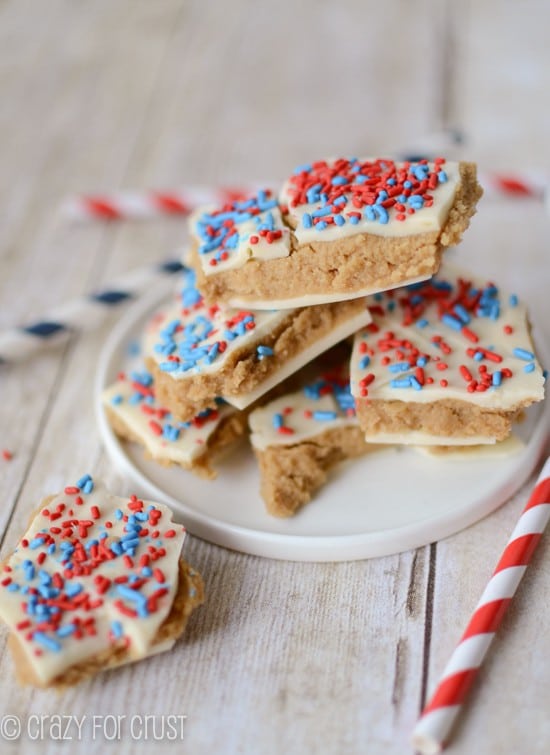 Peanut Butter Chocolate Cookie Dough Bars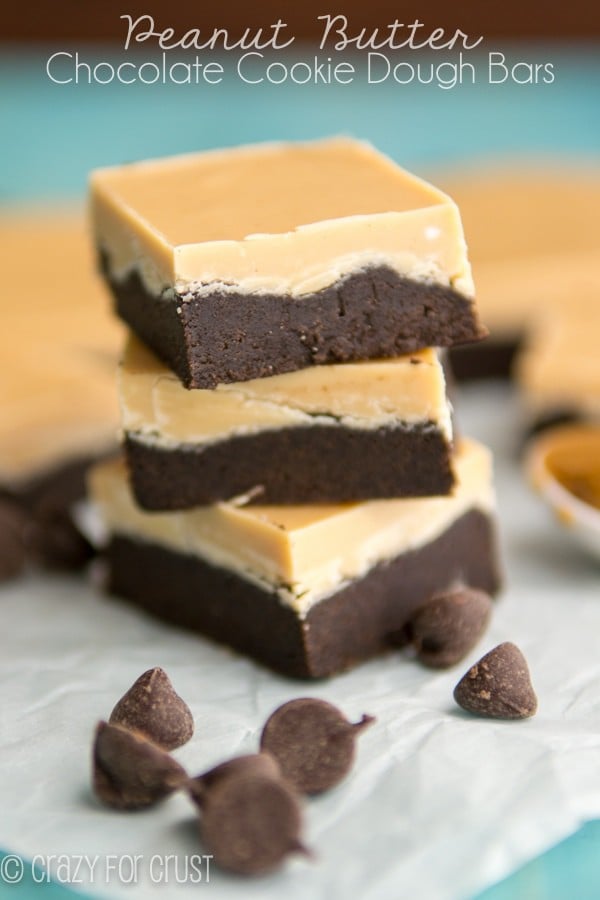 Last Updated on May 21, 2020