This post may contain affiliate links. For more information, read my disclosure policy.
The PERFECT summer treat: No Bake S'mores Peanut Butter Bars! Who wouldn't love a plate of these??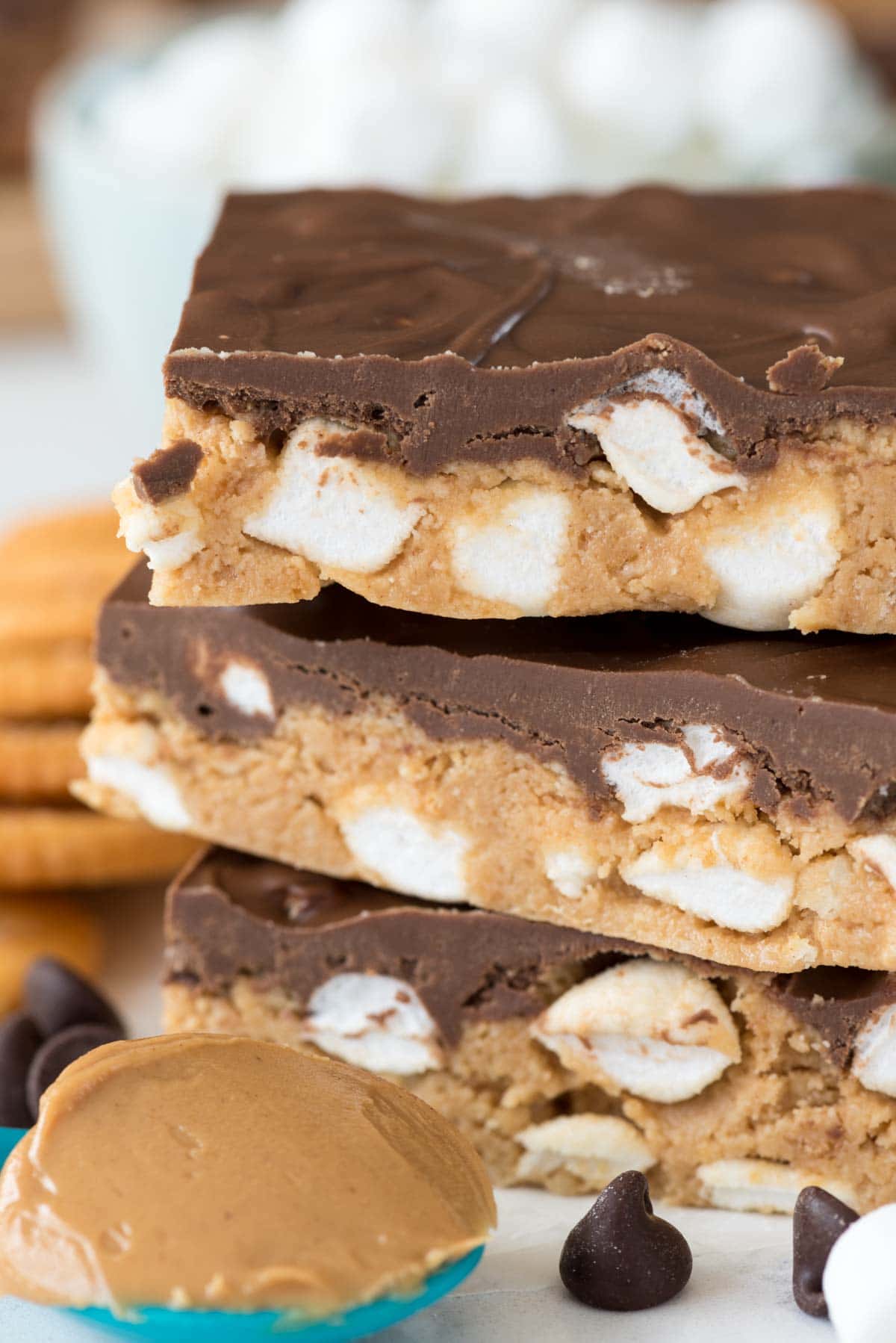 Okay, so bear with me a moment while I vent. I'm really annoyed at the Franchise Tax Board (the state tax board for California). I mean, what hardworking person isn't annoyed with the tax people, but really. I'm kind of over them at this point.
About a month ago I got a notice about my taxes from a few years ago. See, in California we are required to pay a fee if we're an LLC (which I am). I paid my fee that year but they didn't have a return. So, basically, they'd cashed my $800 check (several years ago) but all of a sudden didn't know where to apply it.
(They cash my checks about an hour after I mail them…but it takes them years to figure out they didn't have a return?)
Anyway, while I was waiting for my tax guy to figure out if he filed them or whatnot, I got a bill for fees associated with the "late" return. So, I paid my fee years ago (and I did, in fact, file the return with it) and then I got slapped with a fine. So, I figure, I'll call them and figure this out. Easy enough, right?
I called them three times in one week, at different times on different days. Each time I called I went through the automated system and got to the point where they put you on hold for the next available agent. Fine, right? Wrong. Every single time an automated voice came on line line and said, "We're sorry, all agents are busy. Call back later."
Every. Single. Time.
So I registered online so I could try and search the help desk. Turns out you need a pin, that will be mailed to you 10 days after you register (after the bill was due).
Fine, I'll do online chat. Nope, you need your pin number.
Yesterday I just finally said screw it, I'll just pay the fee and figure it out later…and today my pin number came in the mail.
I swear it's a racket.
**UPDATE: if you can believe it, someone at the FTB saw this post. He contacted me and put me in touch with a live person who answered all my questions!! The power of the internet, I tell you…***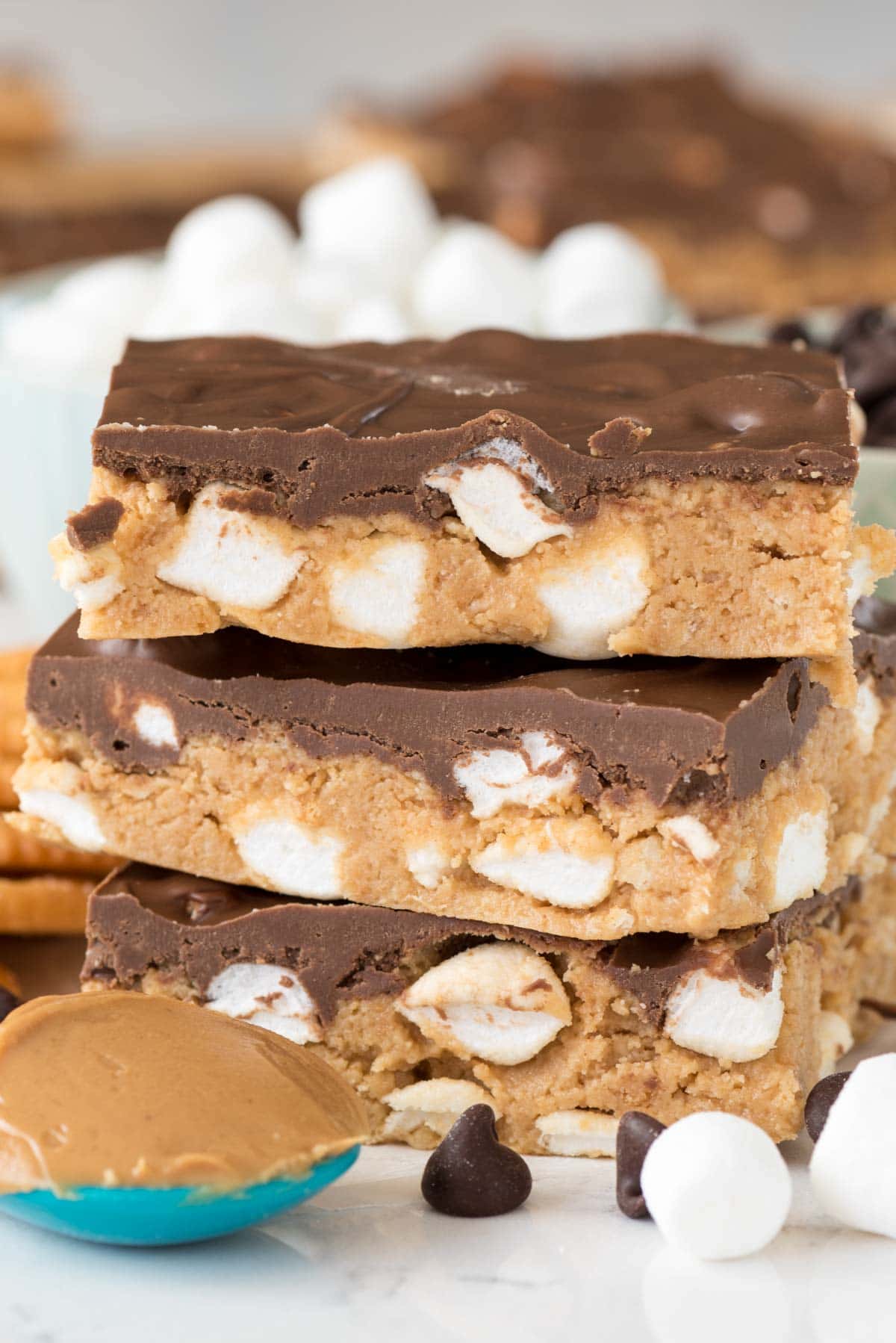 Sometimes being a small business owner makes me want to bang my head against the wall. I miss the days where I got a paycheck with my SS and Medi-whatever and taxes taken out. I miss W-2's, y'all. A lot.
But then I remember that I love my job, and it mostly makes up for it. Especially when my Sunday includes eating my weight in No Bake S'mores Peanut Butter Bars.
You guys, you MUST make these. I have a thing for no bake peanut butter bars. I've made them a few times now, with chocolate, with double peanut butter, and I've made them skinny. I've made them with pretzels and graham crackers. And now? I've made them with Ritz Crackers and MARSHMALLOWS.
This recipe is probably the easiest thing you'll ever make. Can you grind up Ritz crackers? Can you melt butter and peanut butter? Can you stir?
Then you can make these bars. And you can eat them too!

Basically, all you have to do is melt butter and stir all the ingredients to gather to get these no bake bars. I used Ritz, but you can use an equal amount of graham cracker crumbs too! I decided to give these a s'mores twist by adding some mini marshmallows and that was a really good idea. They gave a great texture to the bar, plus, s'mores.
The chocolate layer is full of chocolate chips melted with peanut butter, so you get an extra peanut flavor from the to coating. Plus, the peanut butter in there makes them much easier to cut when cold.
These are perfect for any summer gathering (or really, any random day you have to deal with taxes and annoying things like that). I made these for a friend who I was taking dinner to one night a few weeks ago and she immediately asked for the recipe, so they're "other people tested".
That means you MUST make them TODAY!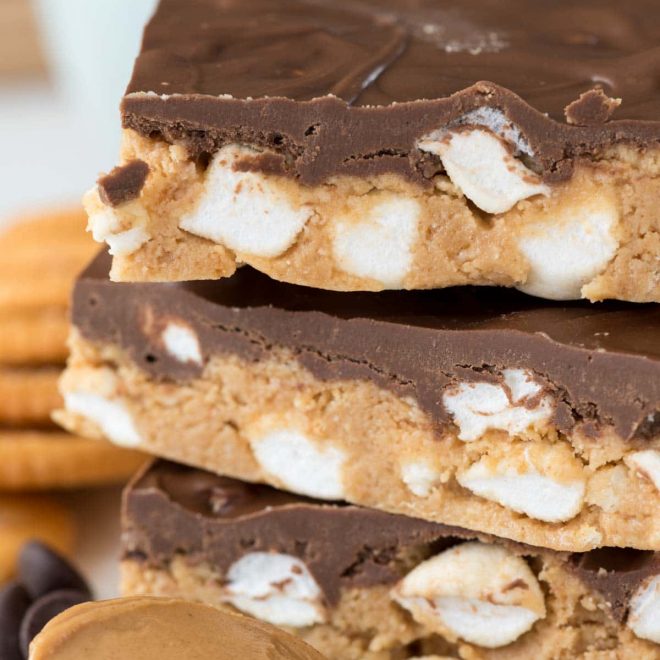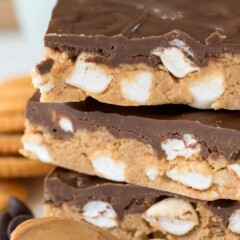 No Bake S'mores Peanut Butter Bars
No Bake S'mores Peanut Butter Bars are my favorite easy no bake peanut butter bar recipe filled with marshmallows to make them like s'mores!
Ingredients
8

tablespoons

unsalted butter

melted

2

cups

Ritz Cracker crumbs

about 1 1/2 "sleeves" of crackers

1 1/4

cups

powdered sugar

3/4

cup

+ 2 tablespoons peanut butter

divided

3

cups

mini marshmallows

1

cup

chocolate chips
Instructions
Line a 9x9" pan with foil and spray with nonstick cooking spray.

Stir melted butter, cracker crumbs, 3/4 cup peanut butter, and powdered sugar in a large bowl until smooth. Mixture will be thick. Stir in mini marshmallows. Press into prepared pan.

Melt chocolate chips with remaining 2 tablespoons peanut butter. Heat on high for 30 second increments, stirring between each, until melted and smooth. Spread over the top of the bars.

Chill the bars to let them set, then slice into squares.

Store in an airtight container in the refrigerator for up to 4 days.
Nutritional information not guaranteed to be accurate
Click here to see more PEANUT BUTTER recipes!
Skinny No Bake Peanut Butter Bars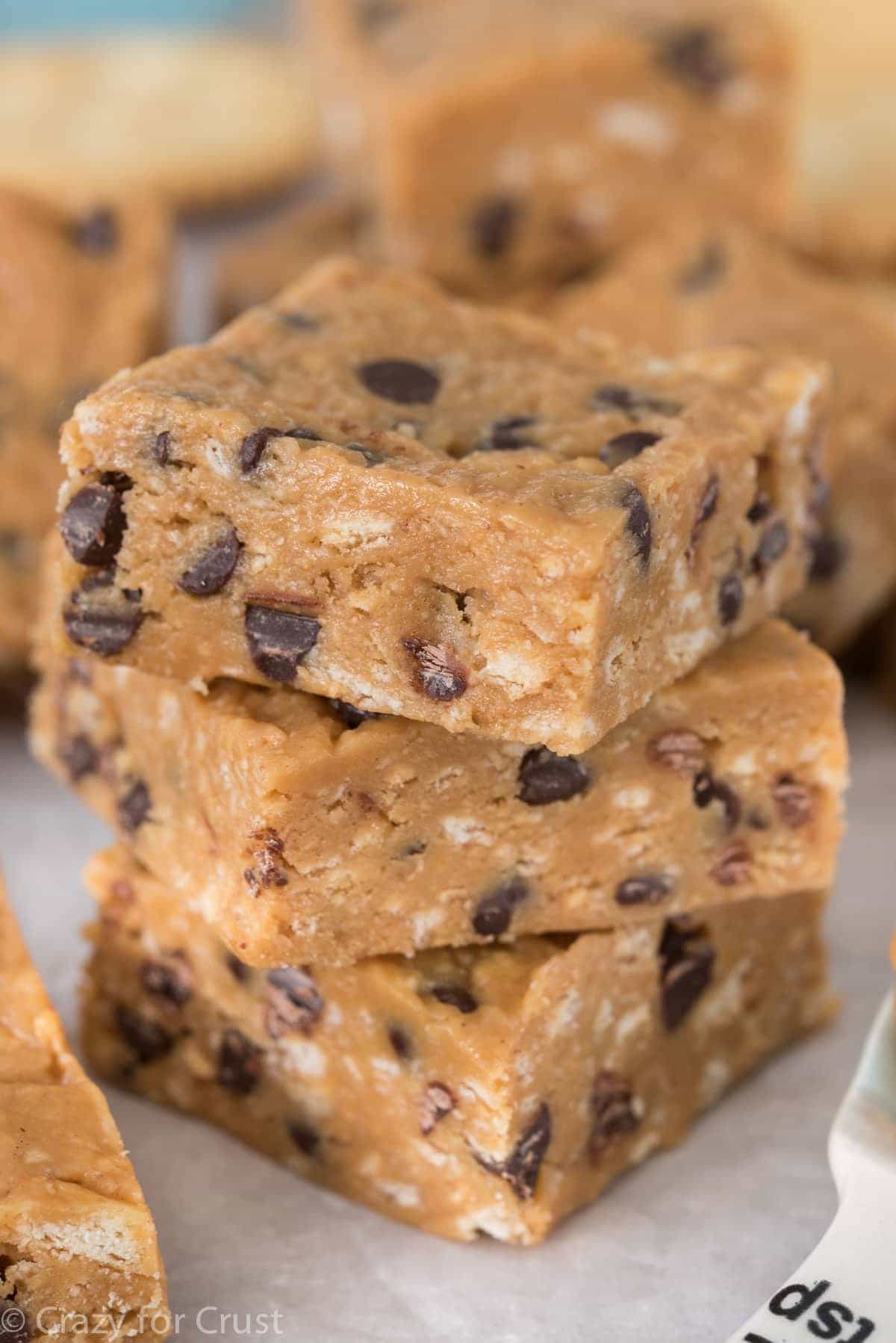 Double Peanut Butter No Bake Bars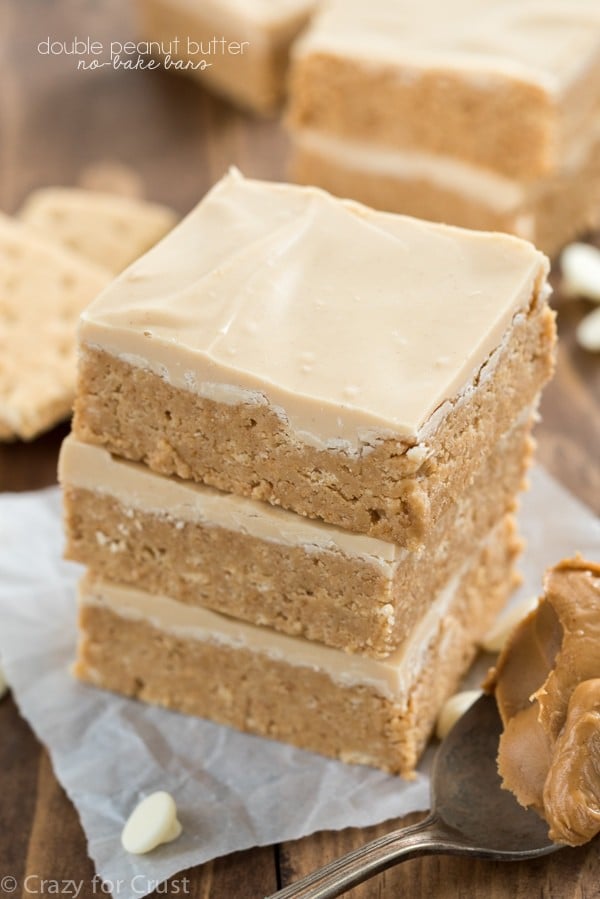 No Bake Peanut Butter Pretzel Bars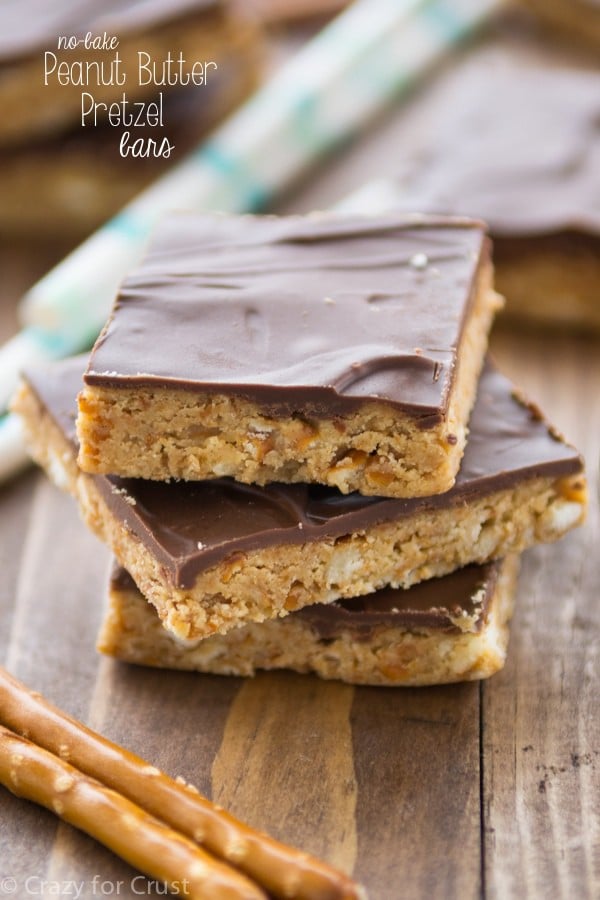 Sweets from friends:
Double Chocolate No Bake S'mores Pie by Melanie Makes
S'mores No Bake Cookies by Gimme Some Oven
Peanut Butter S'mores No Bake Brownies by Mom on Timeout
Last Updated on September 23, 2019