This post may contain affiliate links. For more information, read my disclosure policy.
This Peanut Butter Caramel Corn is super easy to make and makes a great gift or movie night snack!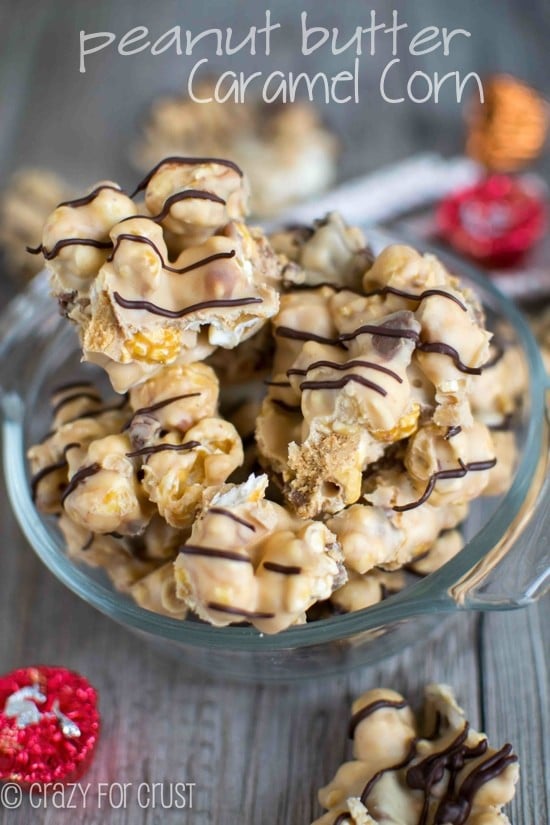 Did you know that the Olympics are on in my house? No, not the Winter or Summer Olympics. Not even the Kern Olympics (coming soon; Mel and I share a trainer and he keeps talking about the "Kern Olympics"). No, I'm talking about the "Annoy Mom Olympics."
Do you have those in your house too? Good, now I feel better. Let's talk events; ours is jam-packed with them.
The Whining Olympics: watch and listen as your child makes a face and says "Mooooooooooom!" no matter what comes out of your mouth.
The Bath Time Olympics: Closely related to the Whining Olympics, Bath Time Olympics produce instant tears when bath time occurs. Gold medals awarded to every child who repeatedly ask for a wash up, no matter how many times you've said no.
The Dessert Olympics: Feel your blood pressure rise at this spectacular event because you will be asked, repeatedly, for a second treat. It doesn't matter what the first treat was (a mini candy bar, small square of fudge, or a 1/3 of a cheesecake); seconds will be asked for. Gold medals awarded to those who effectively make their mom's heads explode in less than 5 minutes.
You know what the best part about the Annoy Mom Olympics is? It never ends! Events continue for years at a time, and when one event ends, another new one takes it's place. I'm super excited for The Teen Olympics. My mom loves to tell me how horrible I was as a teen, but she really knows nothing about how my friends were. I was a saint. Jordan? She's not like me, she's like her dad. And that is what scares me.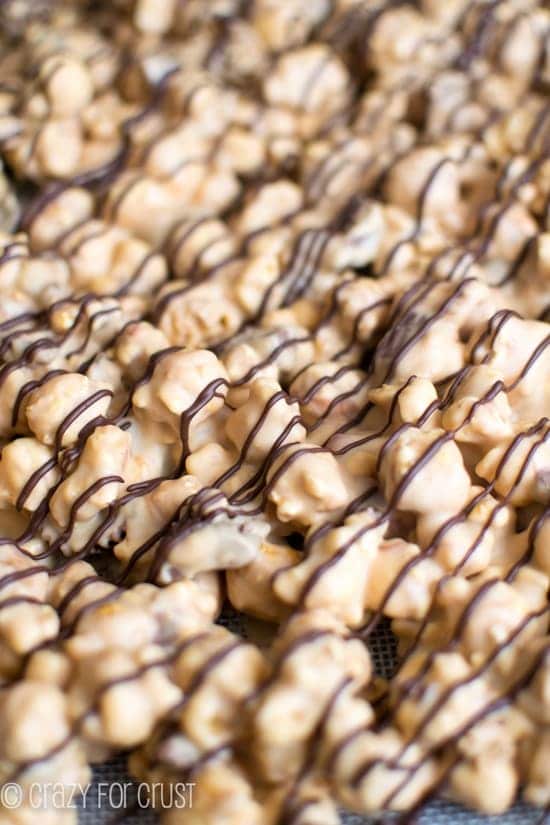 So…I needed popcorn therapy last week. Really, I need it every week. Especially when it's peanut butter. And caramel corn.
I love caramel corn. Love as in, do not bring it into my house or I will rip your hand off trying to get it to my mouth. I'll eat it and eat it and eat it until my mouth is raw, my hands are stuck together, and I'm sick.
So, naturally, I decided to ADD more sugar to it. Because that's what I do. Dessert squared.
This Peanut Butter Caramel Corn would be great for Christmas gifts. Yes, I just said Christmas. It's November, time to start thinking about gifts to give!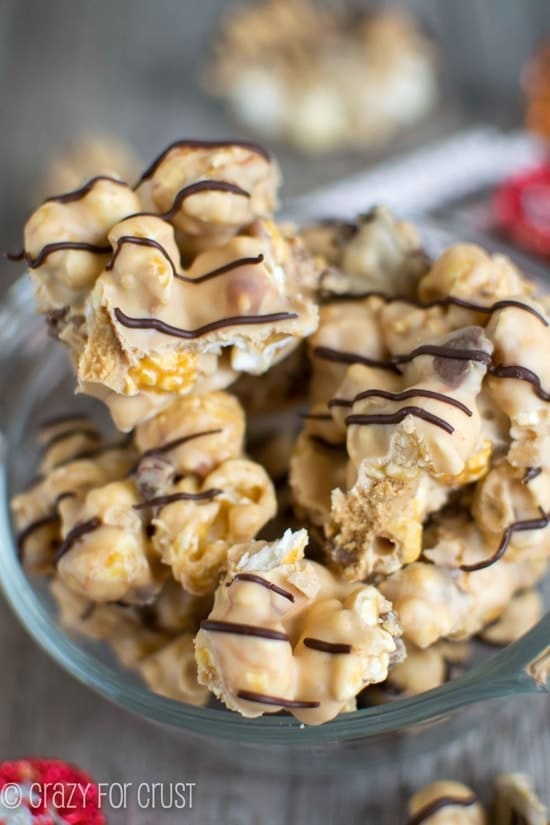 I love caramel corn, but I don't love making it. I've never been able to make it not break your teeth. So until I can cross the perfect caramel corn off my bucket list, I like to start my caramel corn munch recipes with store-bought caramel corn. I had some G.H. Cretors caramel corn that I used for this recipe. Use your favorite kind of caramel corn – there are so many to choose from.
To make the candy coating, I melted white chocolate chips with peanut butter. It makes the best peanut butter candy when you do that! And it's so easy. Just a note though: if you use white chocolate chips the candy will melt in your hands as you're eating the popcorn. If you use a candy melt, like Wilton or Candiquik, the hand melting won't be as bad. Either way is fine, use what you can find.
I also chopped up some Reese's Peanut Butter Cups for this popcorn. More peanut butter is better. It's a scientific fact!
Once you chill your popcorn and it hardens, you simply break it up and serve or package. Store it in the refrigerator so it doesn't melt as easy when you're eating it. It comes together literally in minutes. This popcorn is the gold medalist of The Speed Treat Olympics.
And it won't whine while it's chilling. And, chances are, if your kids eat it, they'll stop whining for a second.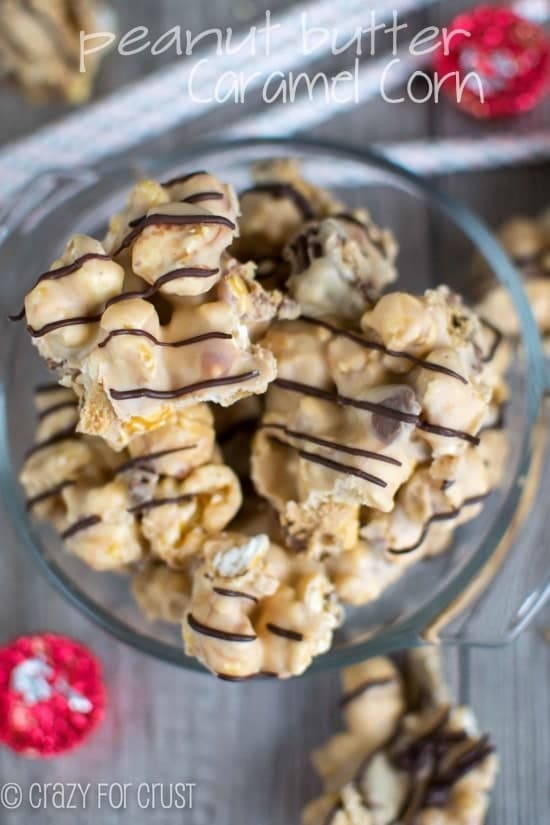 But I can almost guarantee they'll ask for seconds. 🙂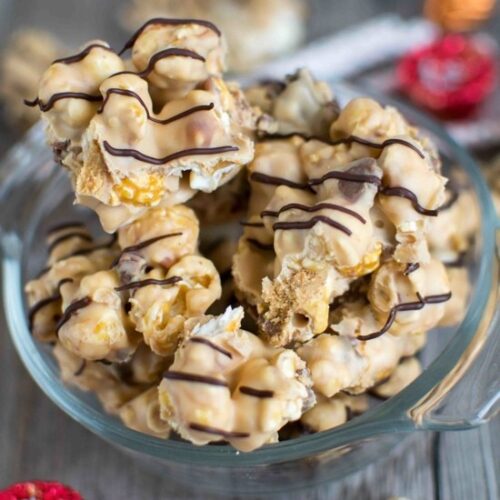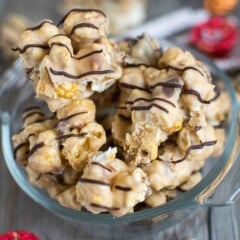 Peanut Butter Caramel Corn
Ingredients
2

cups

white chocolate chips

or you can use white almond bark or Candiquik, see note

1/2

cup

peanut butter

8-12

ounces

caramel corn

25

Minature Reese's peanut butter cups

chopped

1/2

cup

chocolate chips

optional
Instructions
Line a cookie sheet with a silicone baking mat (silpat) or you can use parchment paper.

Melt your white chocolate chips and peanut butter together in a microwave safe bowl. Microwave on medium power in 30 second increments, stirring after each heating, until melted and smooth.

Pour caramel corn and chopped Reese's into white chocolate mixture and stir to coat. Pour out onto prepared cookie sheet and chill to set.

Optional: add a chocolate drizzle. Once the popcorn is hardened, melt chocolate chips in a small bowl. Add to a sandwich sized ziploc bag and cut off a tiny tip of one corner. Drizzle the chocolate over the top of the popcorn in a swirl pattern. Harden, then break into pieces. Store in a tightly covered container in the refrigerator.
Nutritional information not guaranteed to be accurate
Click here to see more PEANUT BUTTER recipes!

Sweets from friends:
Peanut Butter Popcorn Munch by Mom on Timeout
Buttery Biscoff Waffle Mix by The Domestic Rebel
Salted Toffee Chocolate Popcorn by Something Swanky
Last Updated on May 31, 2020