This post may contain affiliate links. For more information, read my disclosure policy.
A peanut butter and jelly sandwich is comfort food at it's best; it's childhood in a sandwich baggie.
Peanut Butter and Jelly Brownies are just that but better, because they're brownies. Obviously.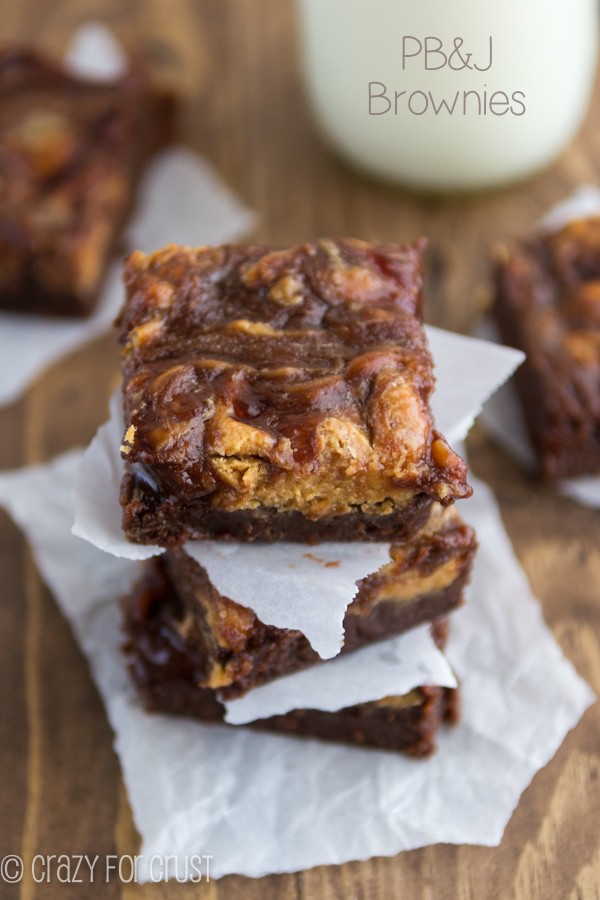 I don't like PB&J sandwiches. I know, right? Well, back up. I didn't like them as a kid. Now? I'd probably eat one. I mean, I like PB&J on toast, so … same dif.
But when I was a kid? PB&J was persona non gratta in my lunchbox. I ate plain peanut butter on Home Pride bread, thankyouverymuch. But the fact that I didn't like jam or jelly or any sort of fruity spread was very perplexing for some. There was the mean babysitter who just slathered on the jelly no matter what her charges liked. There were the times I got incredulous looks.
And then there were the times I ate peanut butter sandwiches at my Nana's house.

Nana didn't understand how one could eat just peanut butter. Wouldn't it get stuck in your throat? Wouldn't the bread be dry? Her solution to this problem? Peanut butter and butter sandwiches.
Tip: don't eat those.
Like, isn't peanut butter and butter kind of redundant? Or just gross?
But anyway, it was Nana, and we were at the park, so I let it go. (I'm totally lying. I don't remember but I'm sure I threw a fit.)
From then on I was a PB&J boycotter until one day I had a craving and NEEDED jelly with my peanut butter toast.
Now my favorite peanut butter and jelly treat is in a rich, fudgy, decadent brownie. I love brownies. I want to marry peanut butter brownies. But when you add jelly?
Now THAT is a PB&J.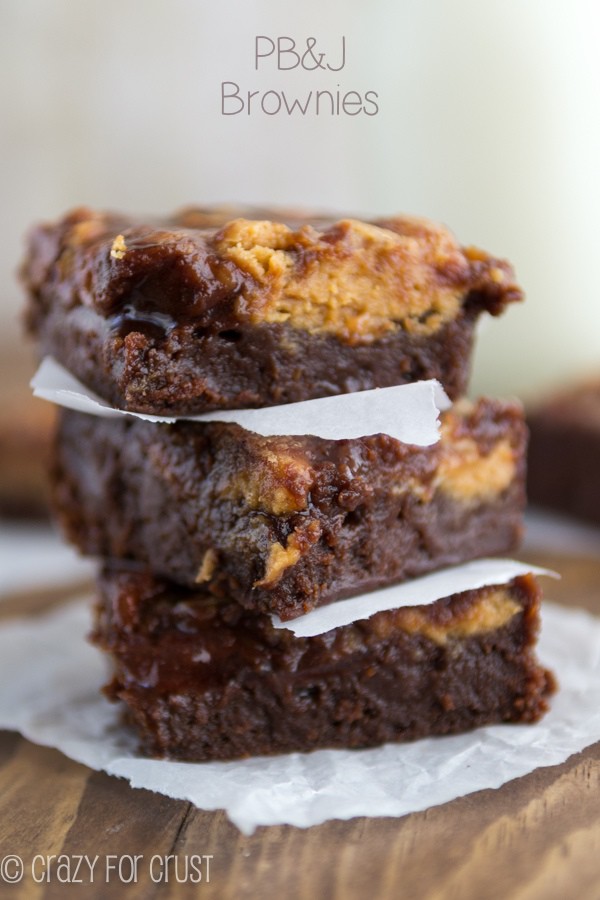 These are the marriage of my super fudgy, decadent brownie recipe and my peanut butter brownie recipe. I used a 9×9 pan to bake them so they'd be super thick and extra fudgy. Cakey brownies need not apply. A brownie should be so rich and thick and under baked it falls apart.
These satisfy that requirement.
My favorite cocoa to use in these brownies is Hershey's Special Dark. That cocoa gives these their rich dark color and super chocolatey taste. You can use regular unsweetened cocoa powder, or a mix of both. But if you can find the Hershey's, try it!!
I cut down on the peanut butter topping to make room for the jelly. You simply pick your favorite jelly or jam and stir it up to smooth it out. Then you swirl it on top of the brownie batter like you do with the peanut butter. Just try and keep it away from the edges of the pan or it'll bubble up.
I baked mine for about 29 minutes. The center was done, but super ooey gooey and almost fall-apart fudgy. Bake yours for a few more minutes if you want them more done.
Let the brownies cool (try to, I dare you) and then slice and enjoy with a large glass of milk. (Or a milkshake. Whatevs.)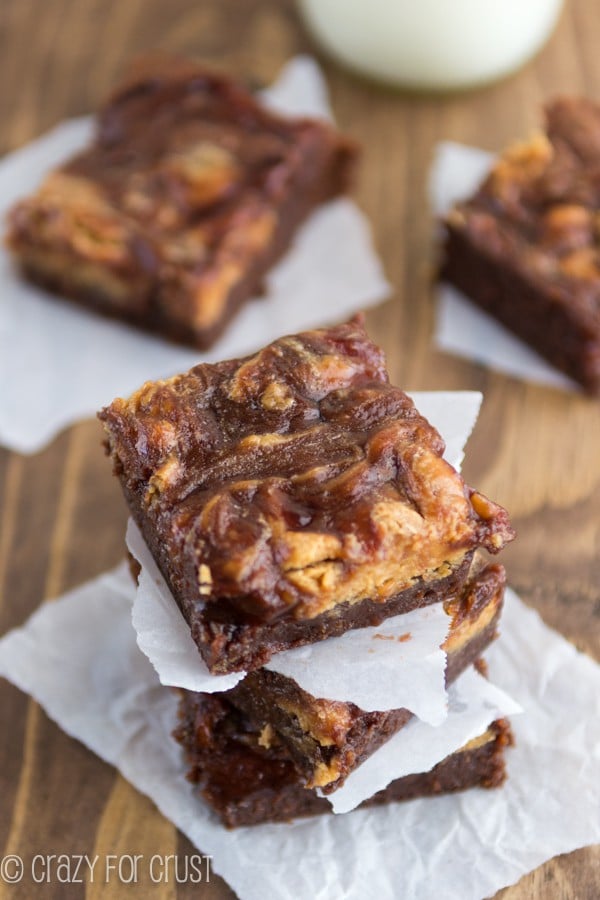 The ultimate Peanut Butter and Jelly…Brownie!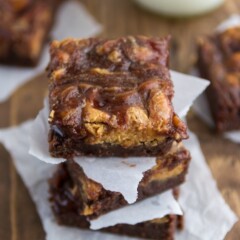 Peanut Butter & Jelly Brownies
Peanut Butter and Jelly Brownies - this easy brownie recipe is full of peanut butter and jelly! PB&J goes so well with chocolate...and everyone loves brownies!
Ingredients
For the Brownies
2

ounces

unsweetened baking chocolate

coarsely chopped

2

ounces

semi-sweet baking chocolate

coarsely chopped

3/4

cup

butter

1 3/4

cups

sugar

3

eggs

1

tablespoon

vanilla extract

2

tablespoons

unsweetened cocoa powder

I love using Hershey's Dark, but you can use either regular or dark

1/4

teaspoon

salt

1

cup

all-purpose flour
For the peanut butter and jelly swirl:
1/4

cup

peanut butter

1

tablespoons

butter

melted

3

tablespoons

powdered sugar

1

teaspoon

vanilla

1/2

cup

jelly

your favorite flavor; I used strawberry
Instructions
Preheat oven to 350°F. Line a 9x9" pan with foil and spray with cooking spray.

Place the two baking chocolates and butter in a large, microwave safe bowl. Heat on HIGH power for 2-3 minutes, stirring every 30 seconds, until chocolate is smooth. Stir in sugar. Add eggs, vanilla, salt, and cocoa and stir well. Add flour and stir carefully. Spread batter in prepared pan.

Stir together peanut butter, melted butter, powdered sugar, and vanilla. Drop spoonfuls on top of the brownies then swirl with a butter knife or the back of a wooden spoon.

Place the jelly in a small bowl and stir until smooth. Drizzle over the brownie batter and swirl like you did with the peanut butter. Just be sure to keep the jelly away from the edges of the pan or it will boil and bubble during cooking.

Bake about 28-35 minutes, until they are slightly cracking around the edges. Note: these are gooey brownies in the center. I like mine gooey, so I baked them 29 minutes. If you want them more done, you might want to cook them a few extra minutes. Let cool before slicing into bars.
Nutritional information not guaranteed to be accurate
Click here to see more PEANUT BUTTER recipes!
Love PB&J? Try out PB&J Pancake Sandwiches, Peanut Butter and Jelly Stuffed French Toast, or Peanut Butter & Jelly Pie Bars or any of my peanut butter recipes, or:
Sweets from friends:
PB&J Blondies by Averie Cooks
Skillet PB&J Monkey Bread by Picky Palate
PB&J Popcorn by Something Swanky
Last Updated on April 30, 2023