This post may contain affiliate links. For more information, read my disclosure policy.
It's as American as Apple Pie! This Patriotic Apple Crumble will be perfect for your holiday celebration, and thanks to King's Hawaiian, it includes a secret ingredient!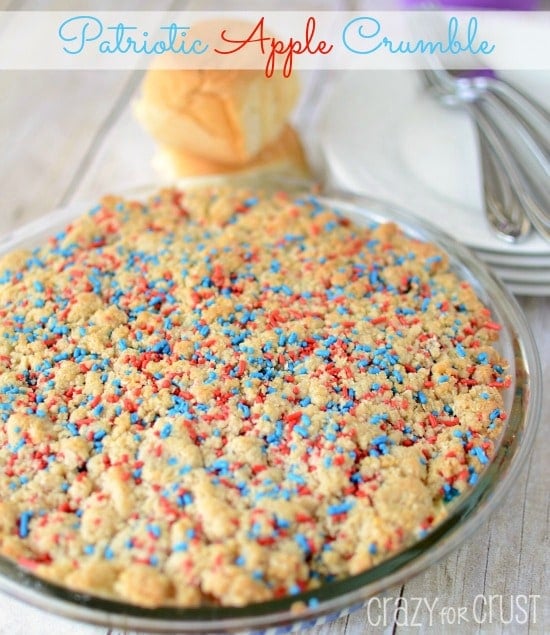 Okay. So I know that the Fourth of July is tomorrow. Your menu is probably set, right? But can I interest you in ONE more dessert? One that, well, is practically required to be at any Patriotic celebration? You need one more, right? You can never have too much dessert!
Nothing is as quite American as Apple Pie. I mean, they're practically synonymous. If you don't already have an apple pie on your menu for tomorrow, boy have I got the dessert for you!
Now, you say you don't like making pies. The crust is hard to make perfect. Fine. It's a holiday, I'll let you have your way. How about just an apple crumble? I mean, besides the crust, the crumb is the best part!
And, even better, this Apple Crumble is so easy to dress up for your Independence Day party. If you add red and blue sprinkles to your crumble you have a dessert that just screams Fourth of July.
So, you've now seen I'm right, correct? You need another dessert on your table tomorrow? Good. You can find the recipe for this Patriotic Apple Crumble on the King's Hawaiian website. Click here for the recipe.
And, guess what? It's on the King's Hawaiian site. So…three guesses what's in the crumble. The first two guesses don't count. GO!
Enjoy, and Happy 4th of July!
Last Updated on September 12, 2022