This post may contain affiliate links. For more information, read my disclosure policy.
OREO Peppermint Bark FUDGE is the perfect combination of peppermint bark and Oreo fudge. The best holiday fudge recipe I've ever eaten. Yes, I went there.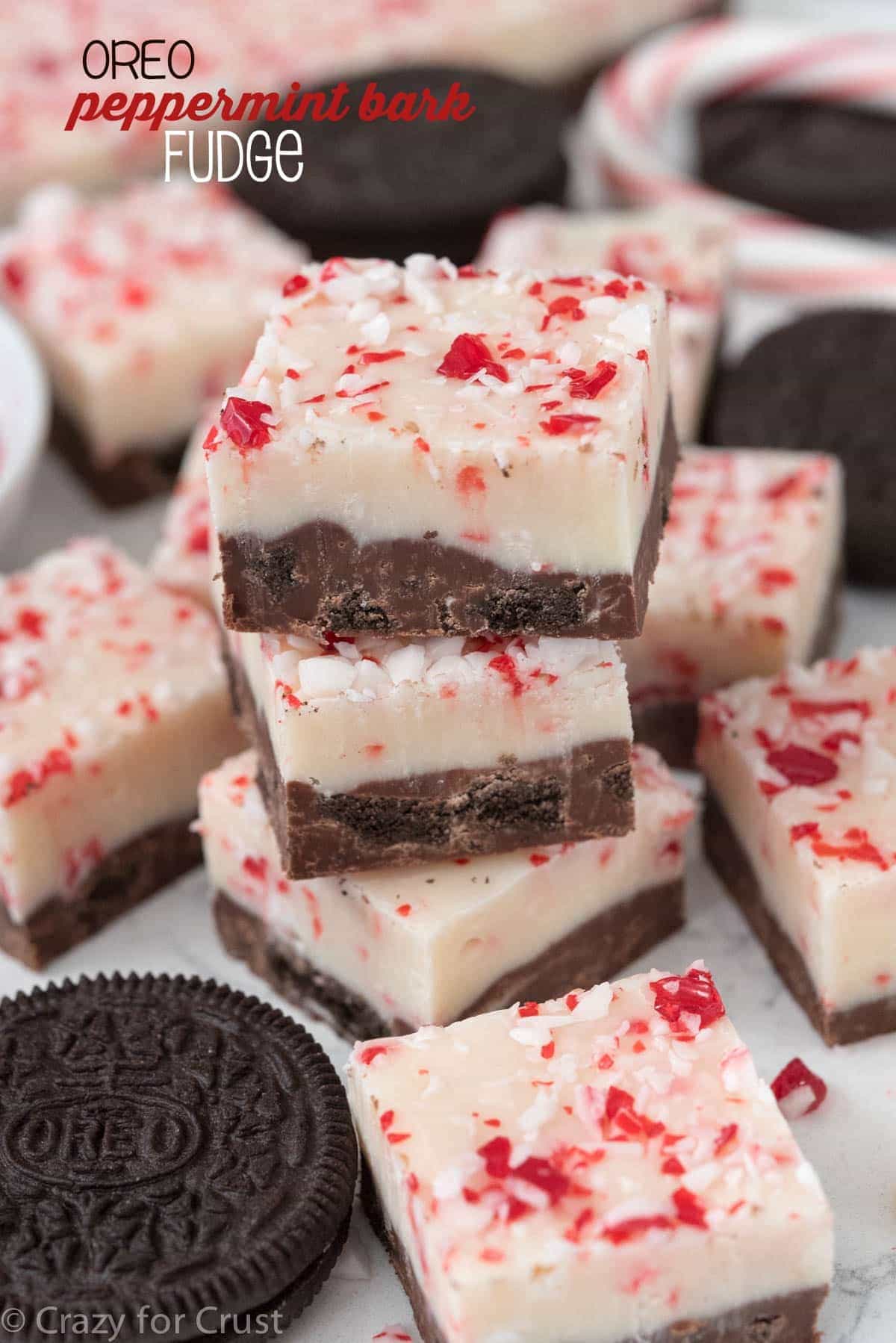 So I just ate my weight in sugar cookies and Mint Kit Kats and hid the evidence in my pocket before anyone could see, but it's probably okay since I ate 80% of two heads of roasted broccoli for dinner. RIGHT?
Speaking of roasted broccoli, it's my crack. I can't get enough! Are you guys with me on that? What camp do you sit in? Pro roasted broccoli? Or do you think it's the Devil's work?
My entire family thinks the latter: roasted broccoli (that is, broccoli roasted in the oven so it tastes nutty and crunchy and, well, roasted instead of boiled to death in water and left to limp on the plate) is Satan's work. They hate it. They choke down the required florets like it's water torture.
I know this, but I make it anyway. Hey, cooks choice. Also: more for me!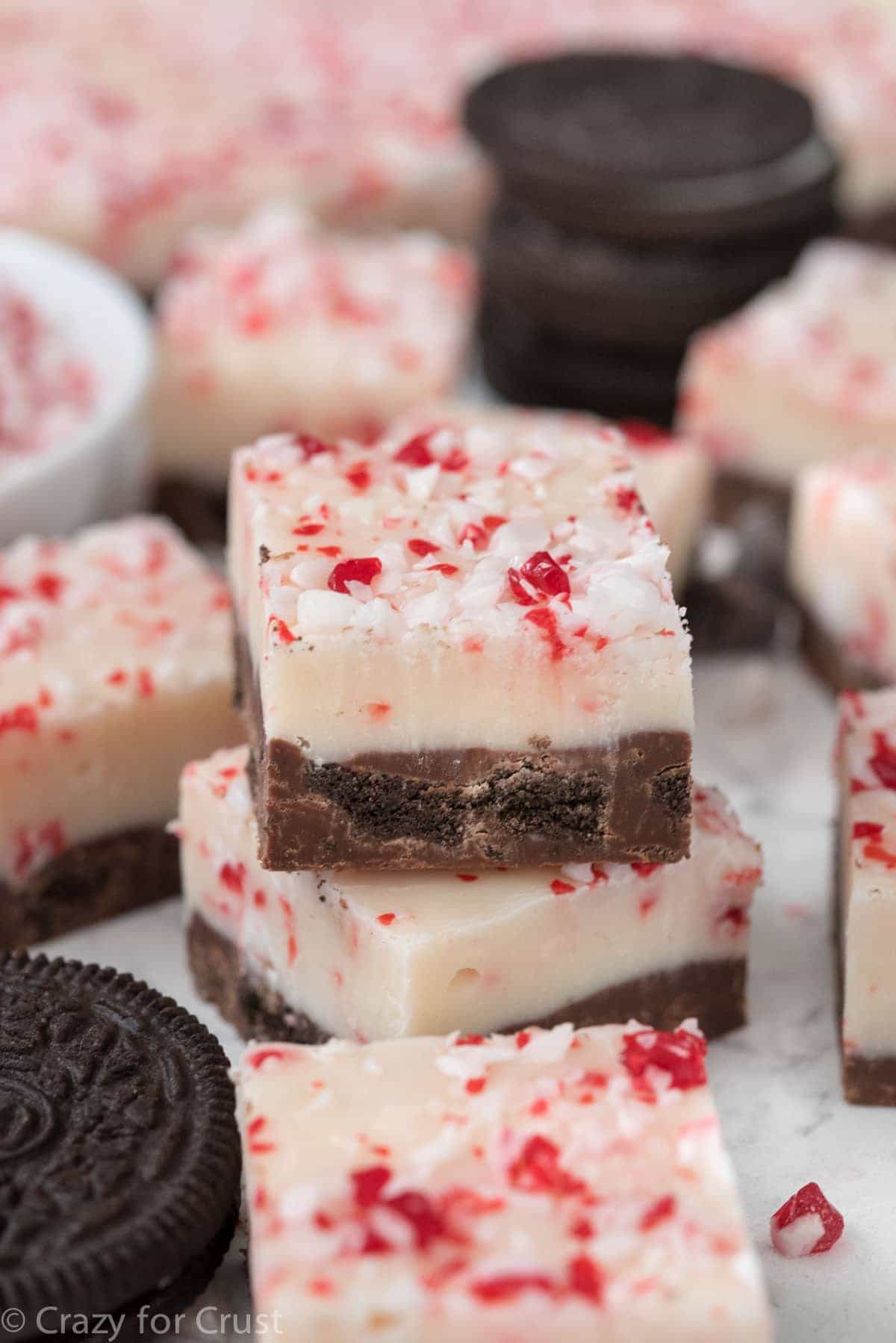 Something that is not roasted broccoli and is way better? Peppermint bark. I inhale it every year. A few years ago you might remember I made Oreo Peppermint Bark, which is still one of my most popular holiday recipes. Although, if I'm being honest, it's not MY recipe, it's Jordan's. Totally her brainchild all the way.
In fact, when I showed her this fudge, her exact words were: "YOU STOLE MY IDEA!"
So there's that. No broccoli for her! Wait…
Anyway, this year I was trying to think of a good fudge to make. I mean, fudge = Christmas, right? I love making fudge this time of year, mostly because my mother-in-law loves it. (But not this one, she doesn't like peppermint.)
More for me!

This EASY fudge recipe combines my favorite three holiday treats: Oreos, fudge, and peppermint bark. I always make no cook fudge, that is, the kind with sweetened condensed milk. The bottom layer is the traditional chocolate layer from peppermint bark, but it's fudge with chopped up Oreos.
The top layer is white chocolate easy fudge filled with crushed peppermint candies. You can buy them crushed now (some grocery stores, in the holiday baking area) or you can crush your own candy canes. I stirred some into the fudge and then sprinkled more on top.
Oreo peppermint bark fudge looks complicated to make, because of the layers, but it's not. Yes, you need two pans, but it's worth it.
I mean…Oreo Peppermint Bark Fudge. Need I say more?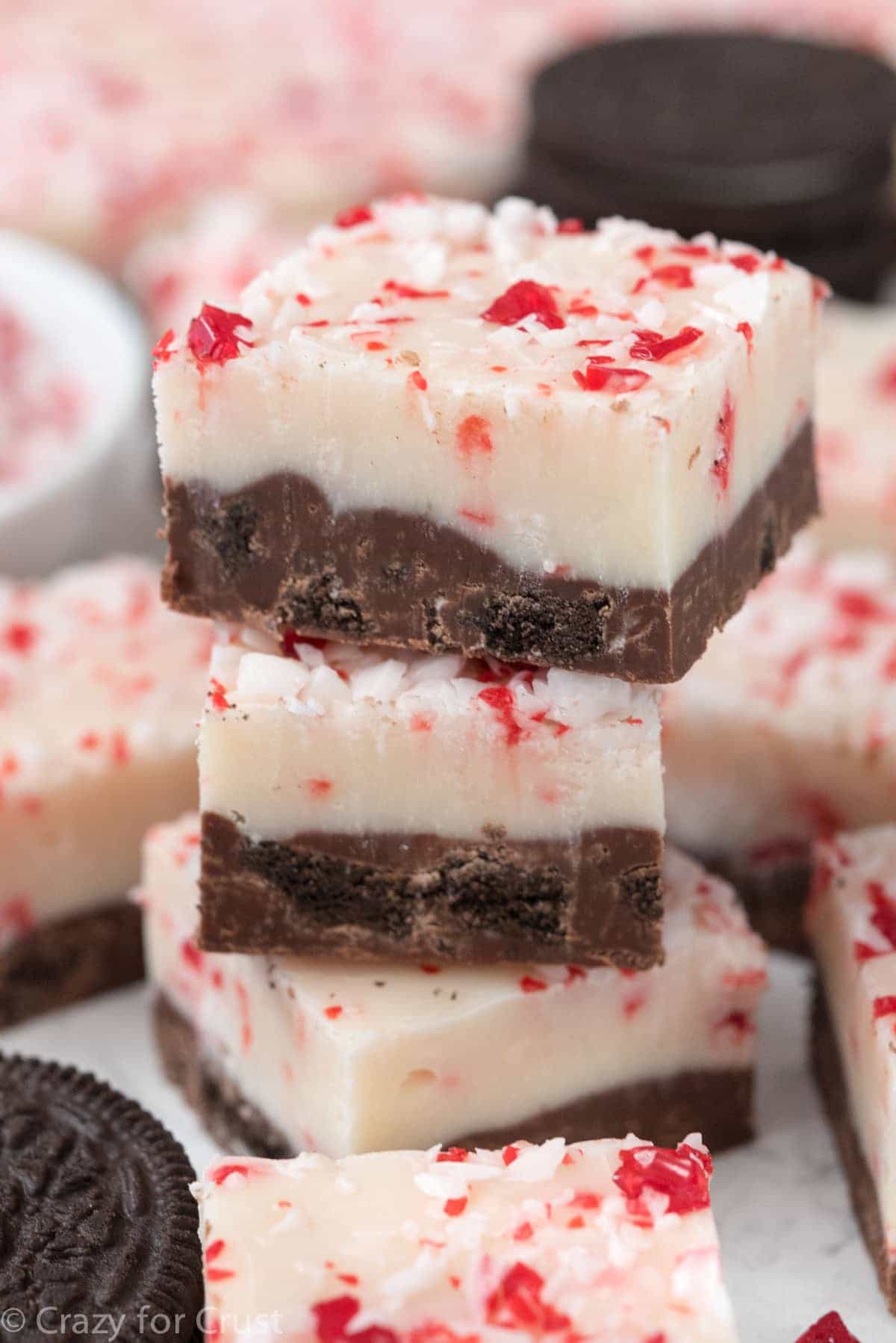 A few tips for this Oreo Peppermint Bark Fudge success:
When you're making fudge it is important to have everything ready ahead of time. Have your vanilla measured, your salt ready for pinching, and your Oreos and candy canes chopped.
You are making two different fudges for this recipe (the dark and the white), so you need two pans or you need to wash a pan in between. It's an extra step, I know, but it's worth it. Just make sure that your pan is completely dry if you wash it – water kills chocolate!
The can of sweetened condensed milk is 14 ounces by weight. It yields just over 1 cup total. I used 1/2 cup for each fudge layer, so be sure to measure it.
Hide it from yourself after you make it. (I say that a lot, don't I? And I don't hide things well so…yeah. More broccoli for me!)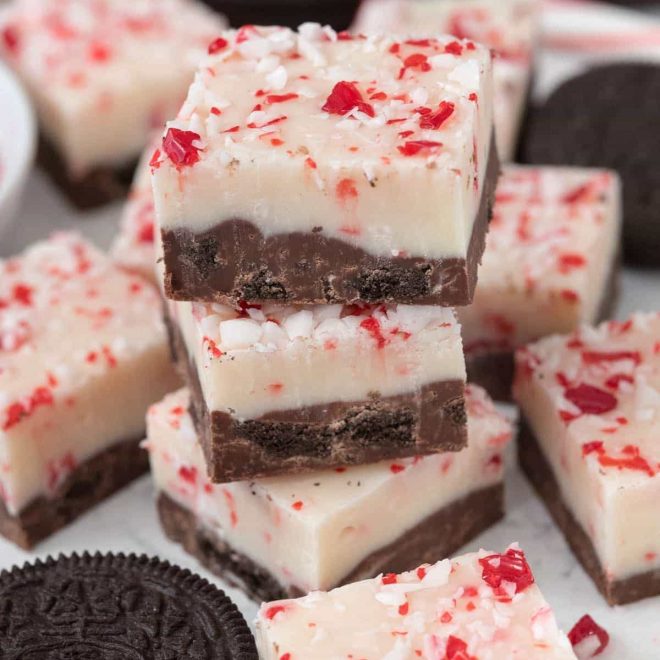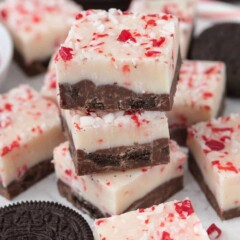 Oreo Peppermint Bark Fudge
This Oreo Peppermint Bark Fudge is an EASY fudge recipe! Oreo chocolate fudge is topped with white chocolate peppermint fudge - a gorgeous layered fudge perfect for the holidays.
Ingredients
1

cup

from a 14 ounce can sweetened condensed milk (regular or fat-free), divided

1 1/2

cups

milk or semi-sweet chocolate chips

Pinch

salt

1

teaspoon

vanilla extract

divided

1

cup

chopped Oreos

about 8

1 1/2

cups

white chocolate chips

1/4

cup

crushed candy canes or peppermint pieces

plus more for topping (about 3-4 candy canes)
Instructions
Line an 8x8 or 9x9 square pan with foil (or parchment) and spray with nonstick cooking spray.

Important: when you're making fudge it's important to have everything ready to go before you begin so you can work quickly once the chocolate melts. Also - if you wash the pan in between layers (instead of using a second pan) be sure it is completely dry. Water kills chocolate!

Place the milk or semi-sweet chocolate chips and 1/2 cup sweetened condensed milk in a medium saucepan over medium-low heat. Cook, stirring constantly, until melted and smooth. Remove from heat and stir in a pinch of salt, 1/2 teaspoon vanilla, and Oreo pieces. Spread in prepared pan. If it's cool in your house, let it sit for 15-20 minutes, otherwise chill it to set the layer slightly. You don't want it firm, just not smooshy.

Place the white chocolate chips and remaining 1/2 cup sweetened condensed milk in a second medium saucepan (or the washed and dried one) over medium-low heat. Cook, stirring constantly, until melted and smooth. Remove from heat and stir in a pinch of salt, 1/2 teaspoon vanilla, and peppermint/candy cane pieces. Spread over chocolate layer. Sprinkle with remaining crushed candy canes.

Let cool to room temperature and then chill to set. (My house was cool enough at 60-65° overnight to set the fudge without having to chill it.) Slice into squares and serve or package for giving. Store in an airtight container for up to one week.
Recipe Nutrition
Serving:
1
piece
|
Calories:
103
kcal
|
Carbohydrates:
15
g
|
Protein:
1
g
|
Fat:
5
g
|
Saturated Fat:
3
g
|
Cholesterol:
2
mg
|
Sodium:
124
mg
|
Fiber:
1
g
|
Sugar:
14
g
Nutritional information not guaranteed to be accurate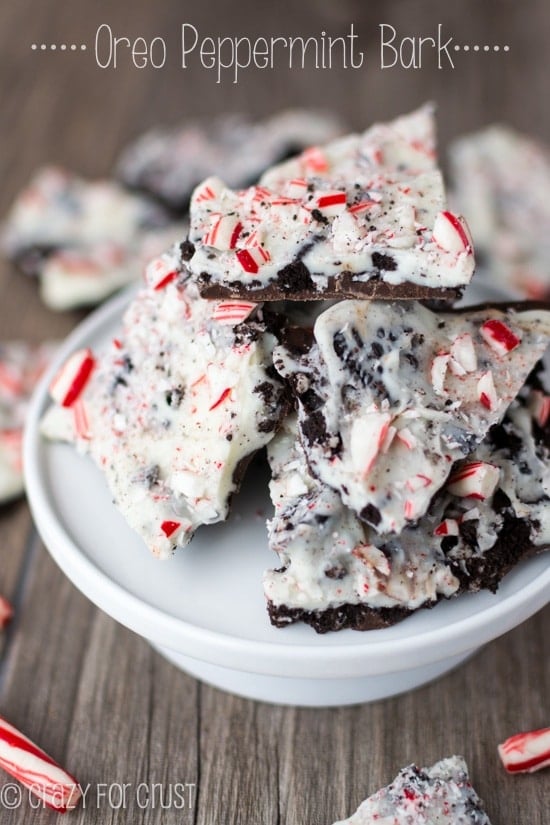 Easy, 4 ingredient Kit Kat Fudge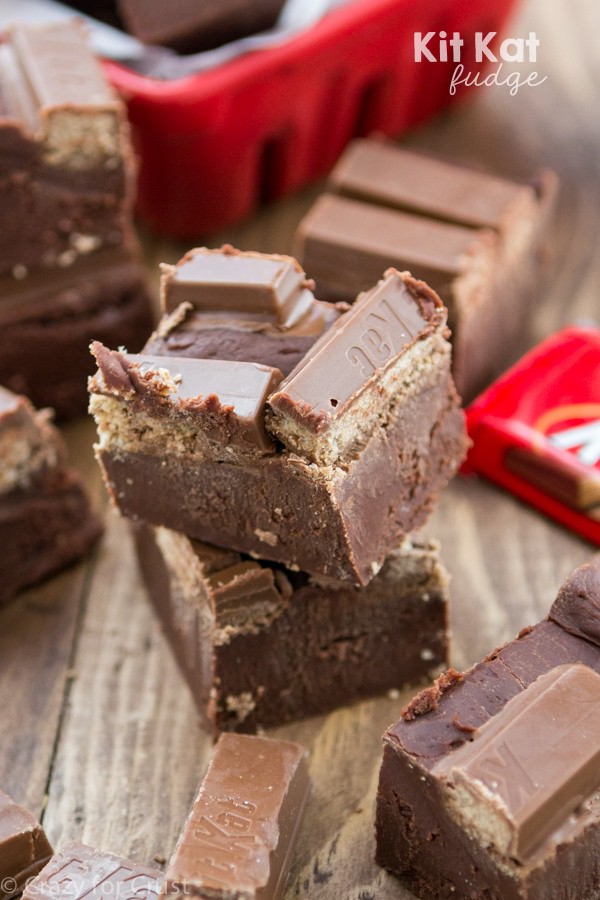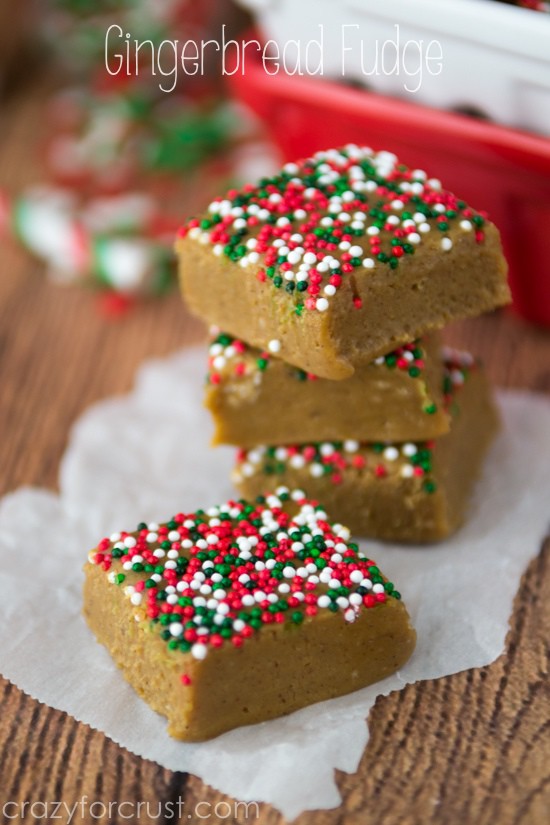 Sweets from friends:
Peppermint Oreo Fudge by The Gunny Sack
Peppermint Fudge by Shugary Sweets
Dark Chocolate Peppermint Fudge by Chocolate, Chocolate, and More
Last Updated on October 13, 2019