This post may contain affiliate links. For more information, read my disclosure policy.
Orange Sweet Rolls are fluffy and gooey and dripping with orange frosting. If you are a fan of cinnamon rolls, you're going to absolutely LOVE this version. These homemade orange rolls are the perfect way to kick off any day!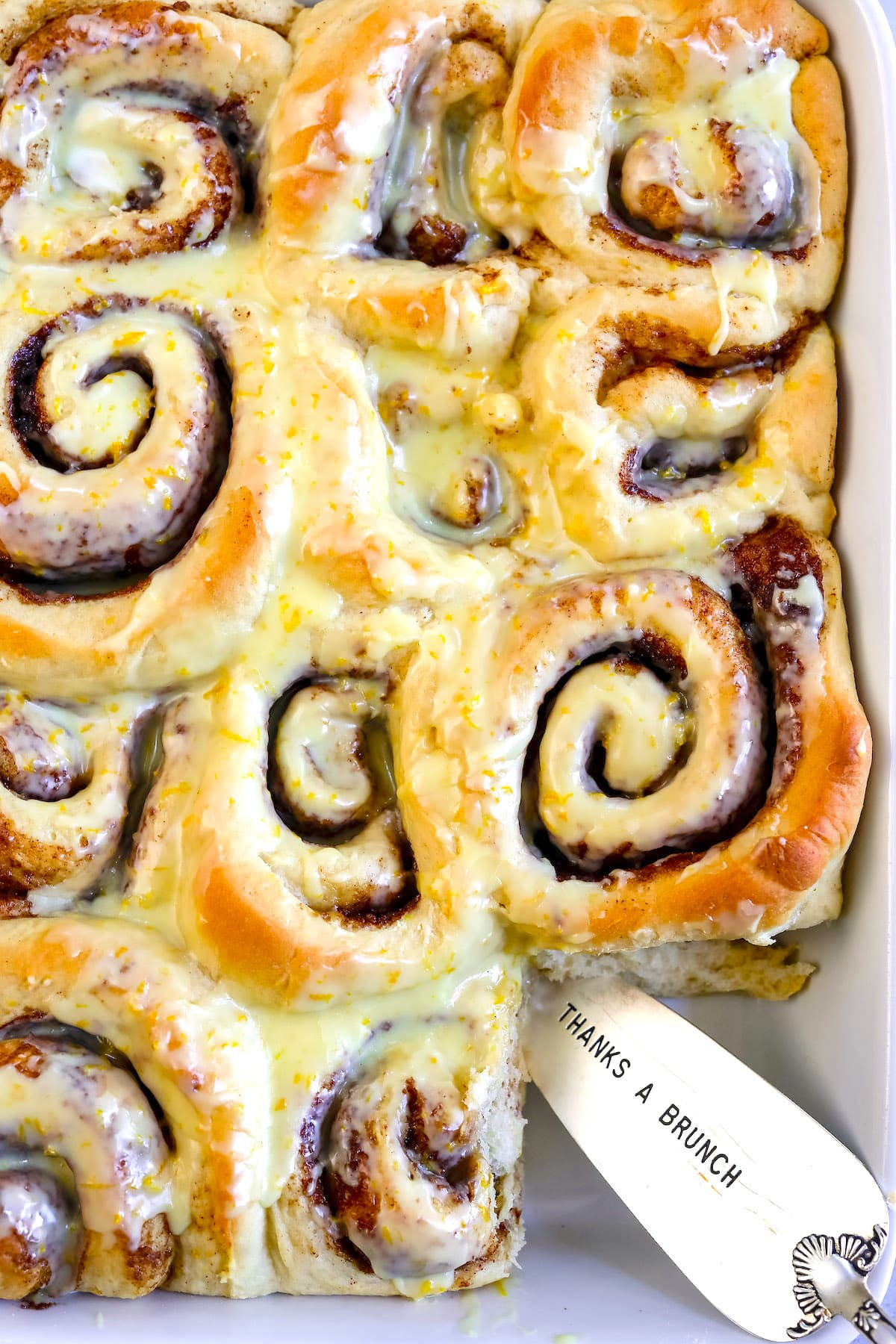 What are Orange Rolls?
To me, nothing says comfort more than a cinnamon roll. They remind me of family gatherings, birthdays, cozy Saturday mornings, and, best of all, the holidays. The memories I have of fresh homemade cinnamon rolls are why I love to make them all year long.
Last year I made Pumpkin Spice Cinnamon Rolls that were such a huge hit, so this year I wanted to try another new flavor: Orange.
Orange breakfast rolls are basically cinnamon rolls topped with delicious orange icing. If you're not familiar with making your own homemade sweet rolls, don't worry, I'm going to show you step-by-step how to make them. You're going to realize how easy it is to work with yeast and make your own orange rolls from scratch!
Why you'll love this recipe
Orange cinnamon rolls are the perfect orange breakfast roll.

The flavor of these cinnamon rolls with orange frosting is addictive!

You can make these ahead of time!
The dough for these rolls is a sweet and fluffy bread base, the filling is gooey and the orange icing adds so much flavor.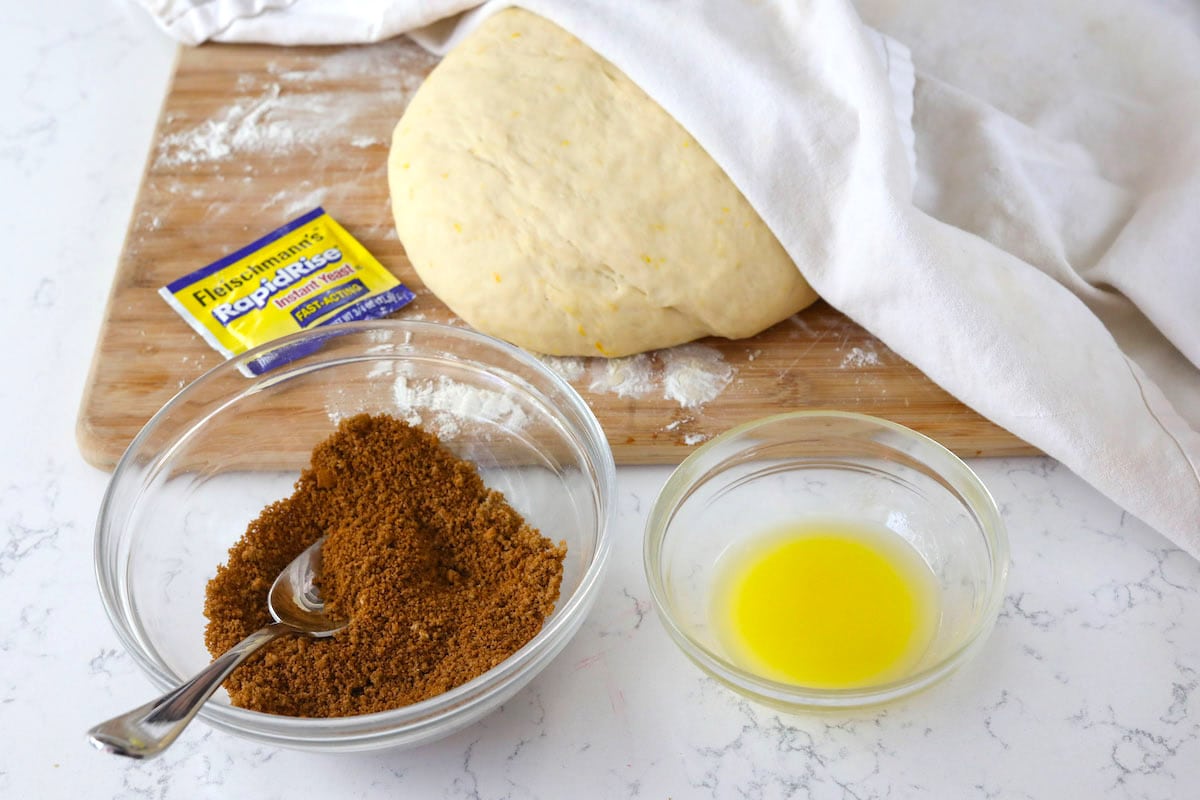 Ingredients in Orange Cinnamon Rolls
All-purpose flour – Be sure to measure your flour correctly.
Granulated sugar – Helps to activate the yeast.
Orange zest – The orange zest is one of the things that differentiates these rolls from regular cinnamon rolls; there's a little bit of that orange flavor in every bite!
Fleischmann's RapidRise Yeast – The best yeast ever!
Salt – Helps give flavor to the dough.
Water – Helps make the dough nice and light.
Unsalted butter – If you use salted butter, omit adding the extra salt.
Egg – Large eggs are what I use when baking.
Brown sugar – Make sure to pack it when measuring it.
Ground cinnamon – Adds such great warmth.
Powdered sugar – Used to make the frosting.
Orange juice – Gives the frosting that addictively delicious taste.
Vanilla extract – Pure vanilla is always the best.
Best Yeast for Orange Rolls
The beauty of using Fleischmann's® Rapid Rise Yeast (as opposed to Active Dry) is that you don't have to proof the yeast: you just whisk it in with the dry ingredients. This takes some of the guesswork out and shortens the prep time.
For more tips and tricks about working with yeast, be sure and read all about the basics here.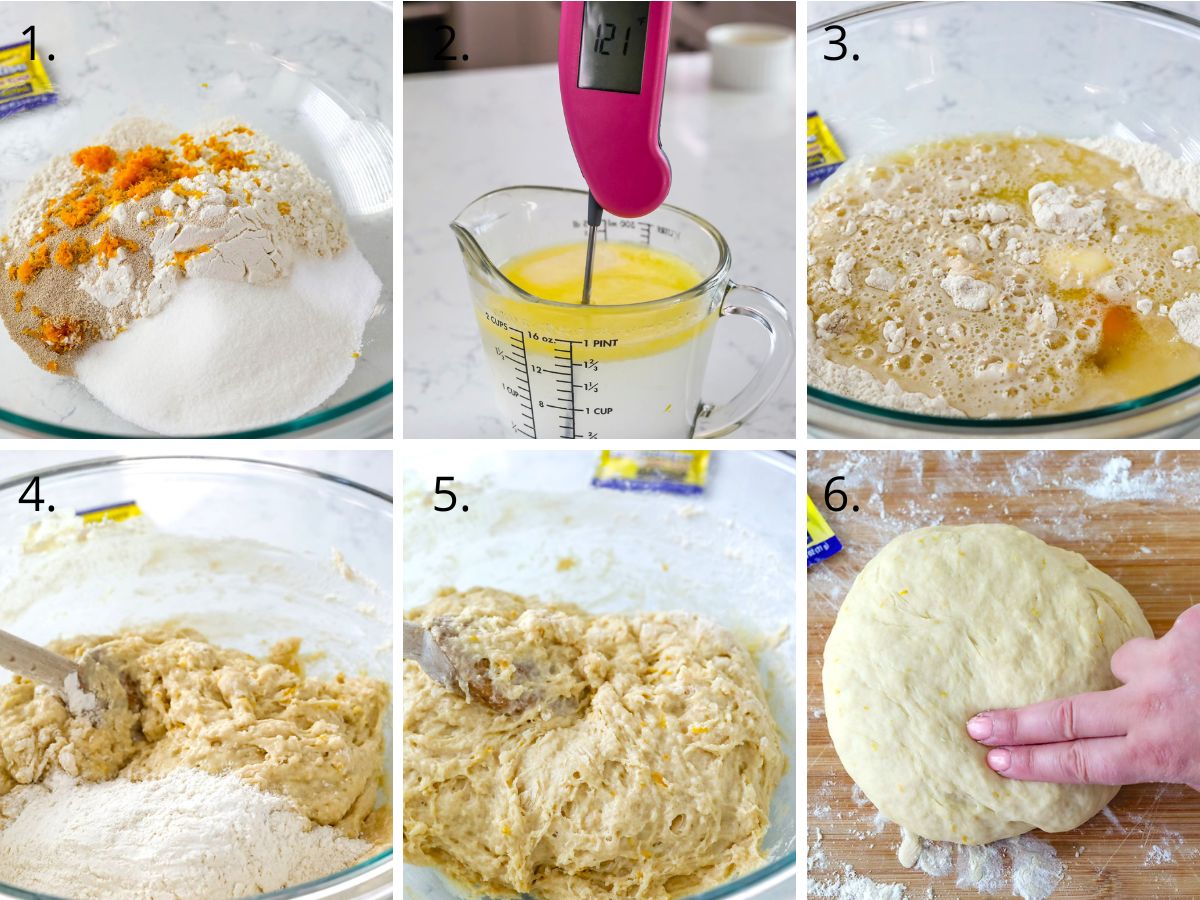 How to make Orange Sweet Roll Dough
Making homemade cinnamon rolls has a few different parts, but all of the ingredients are easy to find.
Simply add all the dry ingredients: sugar, yeast, some of the flour, orange zest, and salt to a large bowl. Whisk to combine them. Then it's time to work with the wet ingredients.
In this sweet roll dough, the warm water is going to activate the yeast, so it's important that it gets to the correct temperature. Add the water and butter to a microwave-safe measuring cup or bowl and heat it in the microwave until it's between 120°-130°F. Think "hot bath water" or use an instant read thermometer to test the water.
Then you're going to add the wet ingredients to the dry ingredients (add the cup of warm water and butter mixture along with the egg).
Stir the dough together as much as you can, adding more flour until the dough comes together. Pay attention to the recipe when it comes to adding flour: it specifies that you'll use 4 1/2 to 5 cups of flour. Your original dry mixture starts with 2 cups, meaning during the mixing process, you'll add an additional 2 1/2 to 3 cups of flour.
Once the dough comes together turn it out onto a floured surface. Lightly flour it and knead it until it comes together and is smooth and elastic.
The dough is done kneading when it bounces back when touched with 2 fingers. Fleischmann's® Rapid Rise® Yeast comes to the rescue again once the dough is done: it only needs to rest for 10 minutes before you can fill your rolls. This cuts down on the time it takes to make them significantly: only one major rise, at the end, before baking!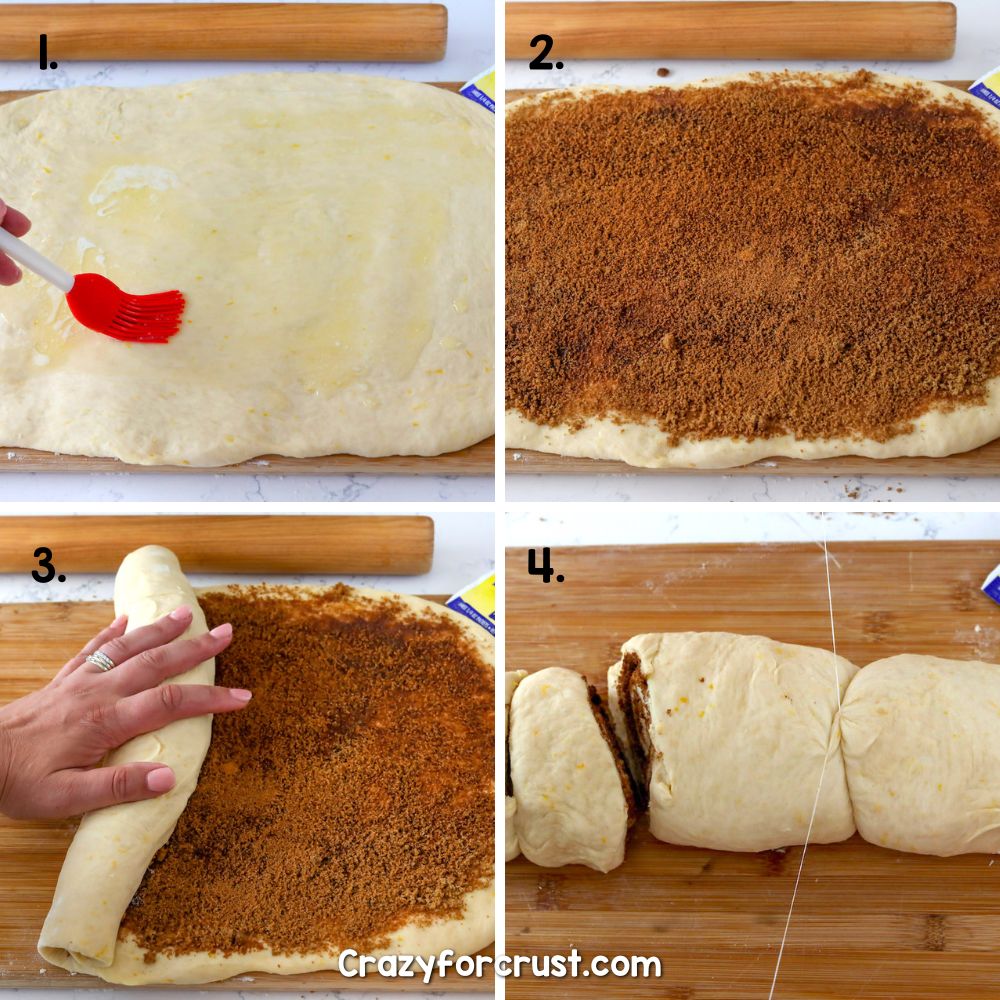 How to make Orange Rolls
The filling is a simple one: melted butter and a brown sugar cinnamon mixture that will be sprinkled all over it. I love using brown sugar for a richer filling.
Simply roll your dough out to a large rectangle (about 10×15 or a bit larger). Spread your melted butter all over the dough (I use a pastry brush but you can use a knife or your hands).
Then sprinkle the cinnamon sugar filling all over.
Tightly roll up your rolls.
You can use a serrated knife to cut your rolls, but I love using my secret hack: dental floss! Just wrap the floss around the roll, cross, and pull through. Easy peasy! You can cut your rolls whatever size you like: the recipe calls for 12 but you could do 9 big rolls or 18 smaller ones.
Now is when we have to wait for rising: simply cover the rolls and let them rise until doubled in size, about an hour. Look how puffy and squishy they are!
Then bake them until they're nice and golden brown. Once they come out of the oven it's time to make the Orange Frosting to further pump up that orange flavor.
Use unflavored dental floss to cut your rolls easily – no collapsing or sawing required.

PRO TIP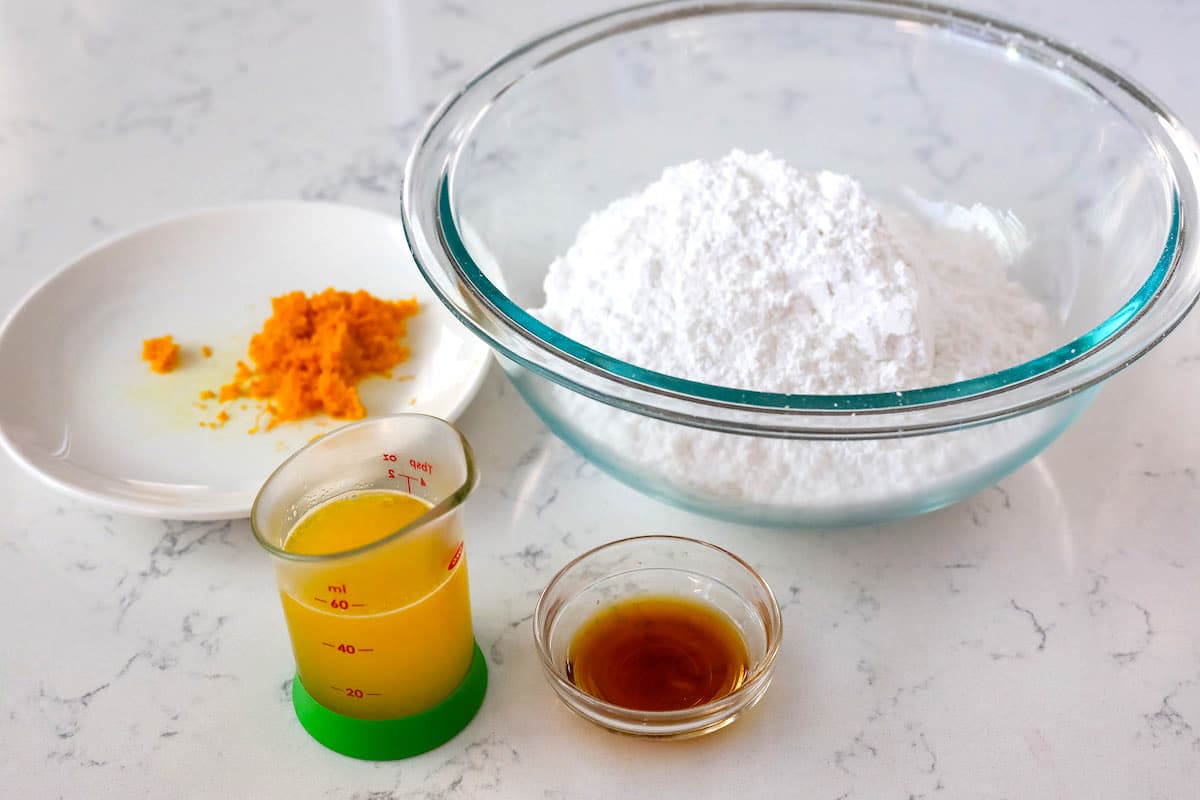 Orange Frosting for Cinnamon Rolls
The frosting just has a few ingredients: powdered sugar, orange zest, orange juice and vanilla. This is more of a pourable glaze than a buttercream frosting (if you prefer a cream cheese frosting or a buttercream, you can use one of those instead).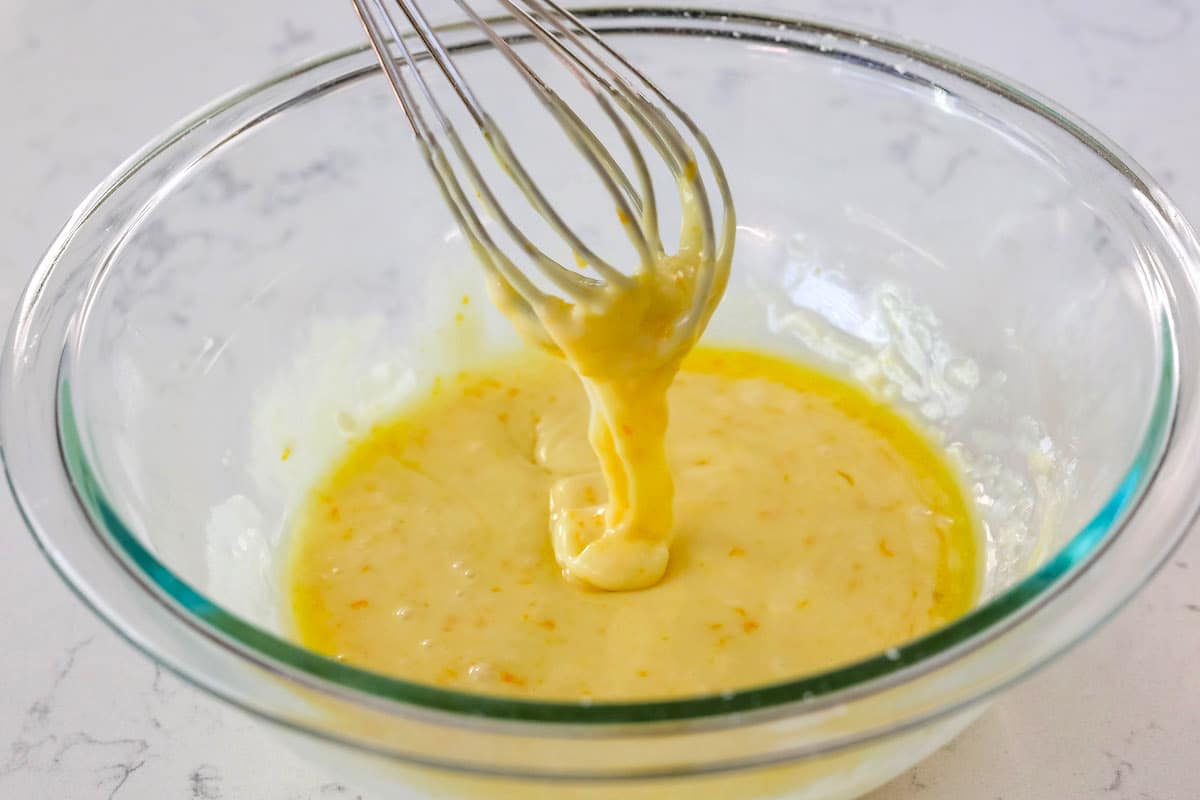 Whisk together all the ingredients. The recipe calls for 2-3 tablespoons of orange juice. Just start with 2 tablespoons and add more as you'd like to get the consistency you want. Use less juice for a thicker frosting and more for a thinner, more pourable icing.
The smell of the frosting is incredible, especially once it hits the warm sweet rolls! These are delicious warm or cold and are the perfect addition to any holiday table (or any table all year long!)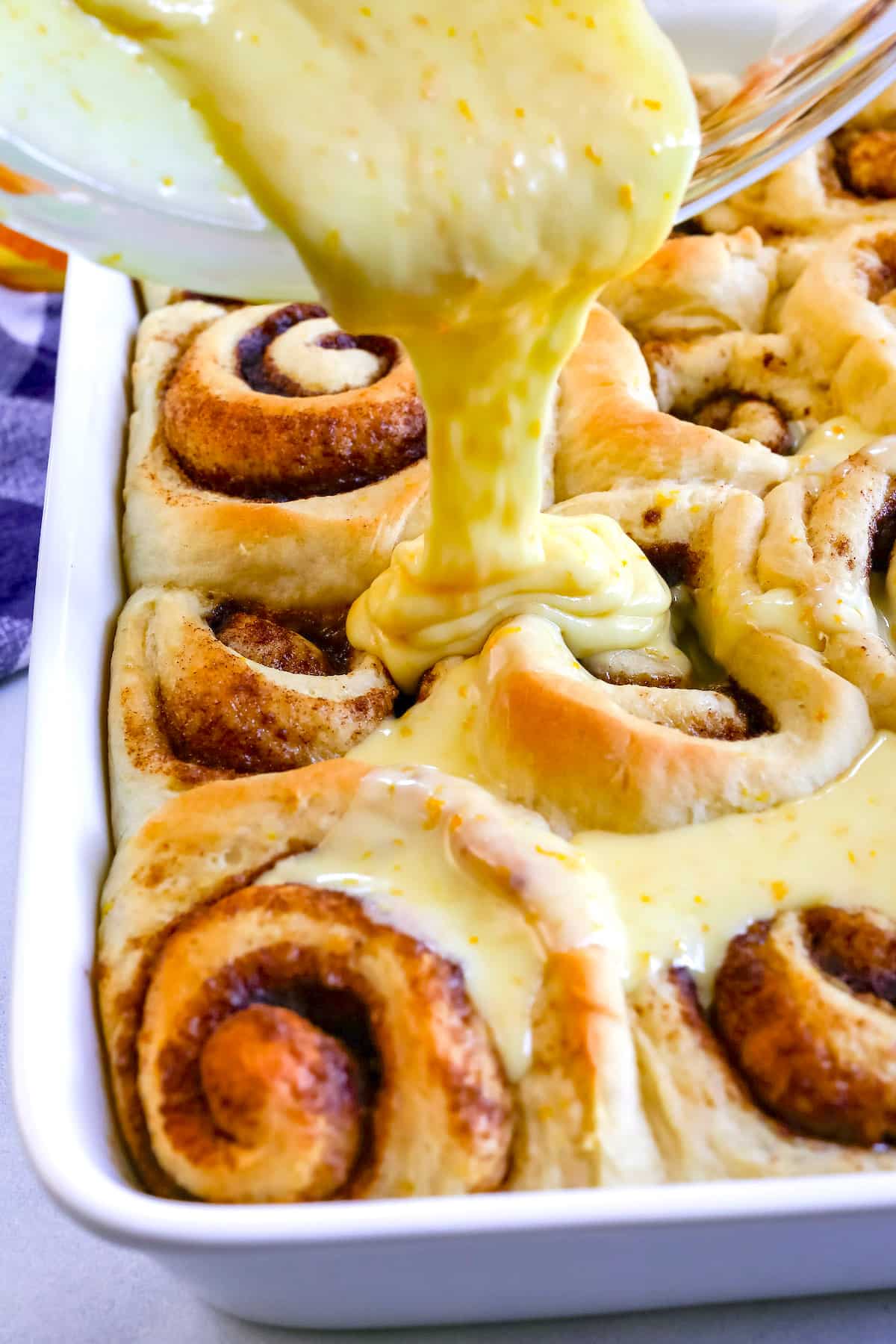 Expert Tips
You can use a stand mixer (or an electric mixer) if you have one, but I enjoy doing the work by hand. It's really simple to stir the dough using an old-fashioned wooden spoon.
The key is to get the dough as mixed with as much flour as you need, but not too much. If you're using a stand mixer, you can use the dough hook to knead the dough most of the way for you, but if you're doing it by hand you'll have to add flour as you're kneading so it doesn't stick.
You don't want to add too much flour, or your rolls won't be light and fluffy, so add just enough that the dough will come together during kneading and no longer stick to your hands or your surface. (a lightly floured surface is perfect!)
Be sure to read about different kneading techniques here for more answers.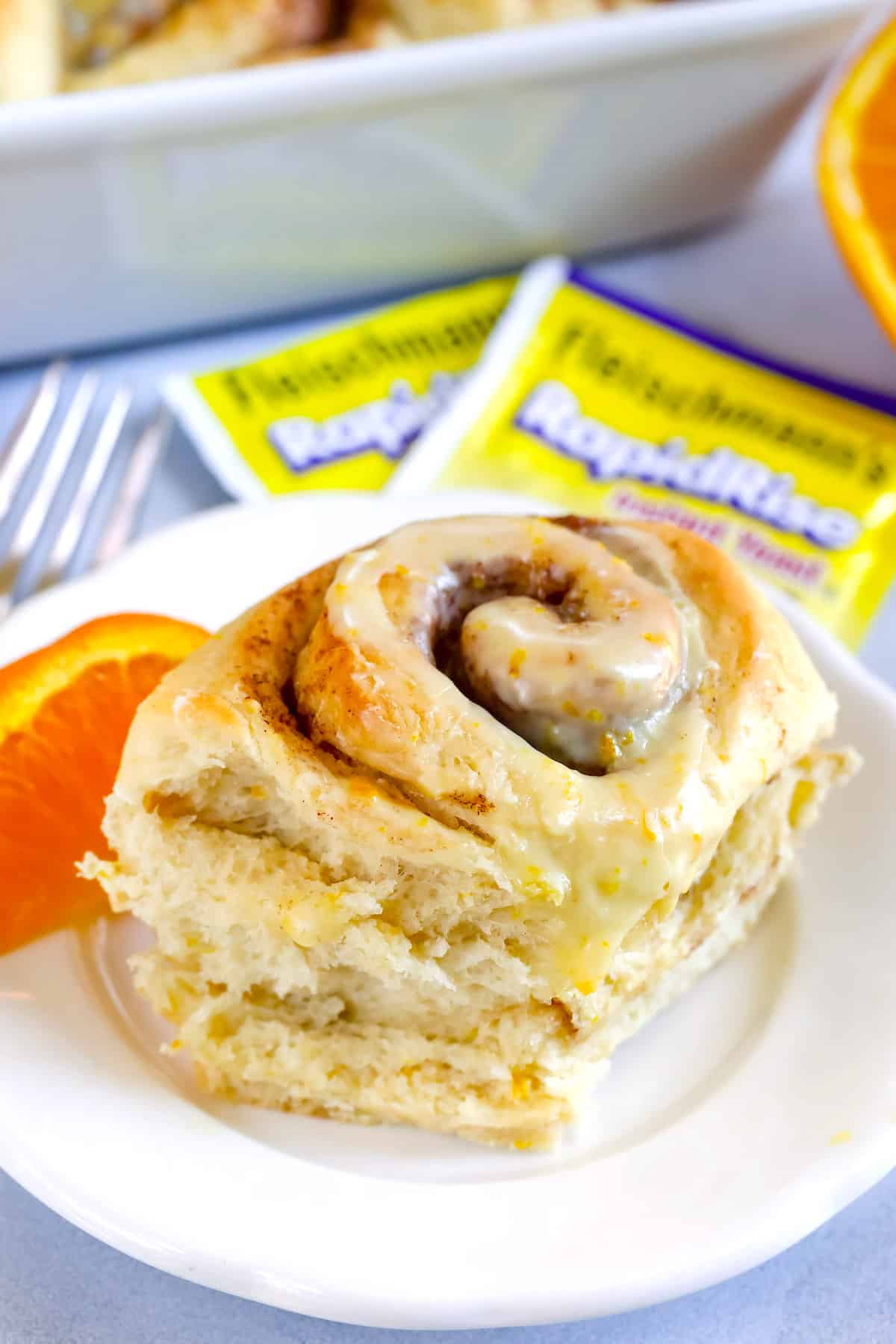 FAQs
I don't have an instant-read thermometer. What do I do?
Heat the water in 15-second increments until it's very warm but not hot to the touch (think hot bathwater).
Can I make these with lemon?
Just substitute lemon zest and juice, where I call for orange.
Can I use packaged orange juice?
Yes, if you can't find oranges, use packaged juice, but it is important to have the zest as well for that punch of flavor.
How long do I have to knead the dough?
If you're doing it by hand it can take 8-10 minutes for the dough to come together. Using a stand mixer will be much faster.
My dough didn't rise! What happened?
Make sure to check the date on your yeast to make sure it isn't expired. And make sure that you use the proper temperature water (if the water is too cold, the yeast won't activate; if it's too hot it will kill it). That's why I love using an instant read thermometer.
How do you store orange rolls?
Make sure to let this sweet rolls recipe cool down all the way, and then add them to an airtight container. They can be kept at room temperature for 2-3 days. (I cover mine with plastic wrap and add a lid!)
Do orange rolls have cinnamon?
Yes, they do! The cinnamon paired with the orange icing is one of the best flavors!
This recipe is adapted from Homemade Cinnamon Rolls on the Bread World website.
Other Favorite Yeast Recipes
Have You Made This Recipe?
Leave a rating by clicking the stars below!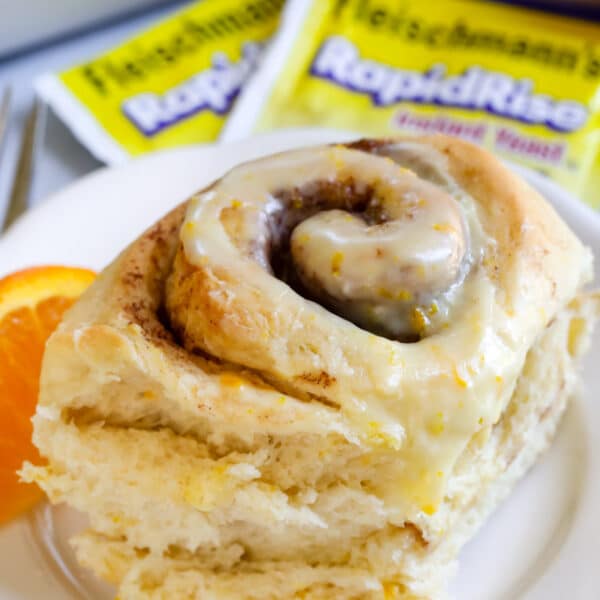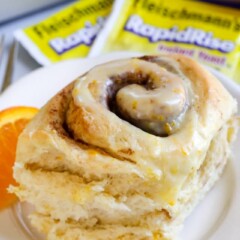 Orange Cinnamon Rolls Recipe
The BEST Homemade Orange Cinnamon Rolls! These Orange Sweet Rolls have a from scratch yeast dough with a sweet cinnamon filling and an orange icing. These are such a great easy homemade rolls!
Total Time
2
hours
10
minutes
Ingredients
Rolls
4-½ to 5

cups

(558g-620g) all-purpose flour

⅓

cup

(67g) granulated sugar

Zest of one orange

2

packets

(14g) Fleischmann's® RapidRise Yeast

(4-1/2 tsp)

1

teaspoon

salt

1 ½

cups

(355ml) water

6

tablespoons

(84g) unsalted butter

1

large

egg
Filling
⅔

cup

(134g) packed brown sugar

1

tablespoon

ground cinnamon

2

tablespoons

(28g) butter

, melted
Frosting
2

cups

(226g) powdered sugar

2-3

tablespoons

(30-45ml) orange juice

Zest 1 orange

1

teaspoon

pure vanilla extract
Instructions
Combine 2 cups flour, sugar, orange zest, dry yeast and salt in a large bowl and stir until blended.

Place water and butter in a microwave-safe bowl or measuring cup. Microwave on high in 15 second increments until very warm but not hot to the touch (120° to 130°F). It helps if you use an instant read thermometer to check the water temperature. Note: Butter won't melt completely).

Add wet ingredients to flour mixture with egg.

Without a mixer: stir mixture with a wooden spoon until you can't stir anymore, adding just enough flour so the dough will come to a ball, getting your hands in there once you can't stir anymore.

With a mixer: Beat 2 minutes at medium speed of electric mixer, scraping bowl occasionally. Add 1 cup flour; beat 2 minutes at high speed, scraping bowl occasionally. Stir in just enough remaining flour (about 1 cup) so that the dough will form into a ball.

Knead on lightly floured surface until smooth and elastic and dough springs back when lightly pressed with 2 fingers, about 6 to 8 minutes. Cover with a towel; let rest for 10 minutes.

For filling, combine sugar and cinnamon in a small bowl. Set aside.

Roll dough into a 15 x 10-inch rectangle using a rolling pin. Spread melted butter over dough stopping at least 1/2-inch from the edges on the long sides. Sprinkle with cinnamon sugar mixture. Beginning at long end of the rectangle, roll up tightly. Pinch seams to seal.

TIP: Use unflavored dental floss instead of a knife to cut rolls. Cut a long piece of floss. Slide floss under the roll; bring the ends up and cross over to cut each slice. Cut into 12 equal pieces.

Place, cut sides down, in greased 13 x 9 inch baking pan. Cover with towel; let rise in warm place until doubled in size, about 1 hour .

Bake in preheated 350ºF oven for 25 to 30 minutes or until rolls are golden brown. Cool on wire rack for at least 20 minutes.

Combine all frosting ingredients (start with 1 tablespoons juice and add more if needed) in a large bowl and whisk until smooth. Spread over rolls.
Recipe Nutrition
Serving:
1
serving
|
Calories:
298
kcal
|
Carbohydrates:
54
g
|
Protein:
3
g
|
Fat:
8
g
|
Saturated Fat:
5
g
|
Cholesterol:
34
mg
|
Sodium:
221
mg
|
Potassium:
49
mg
|
Fiber:
1
g
|
Sugar:
37
g
|
Vitamin A:
259
IU
|
Vitamin C:
1
mg
|
Calcium:
24
mg
|
Iron:
1
mg
Nutritional information not guaranteed to be accurate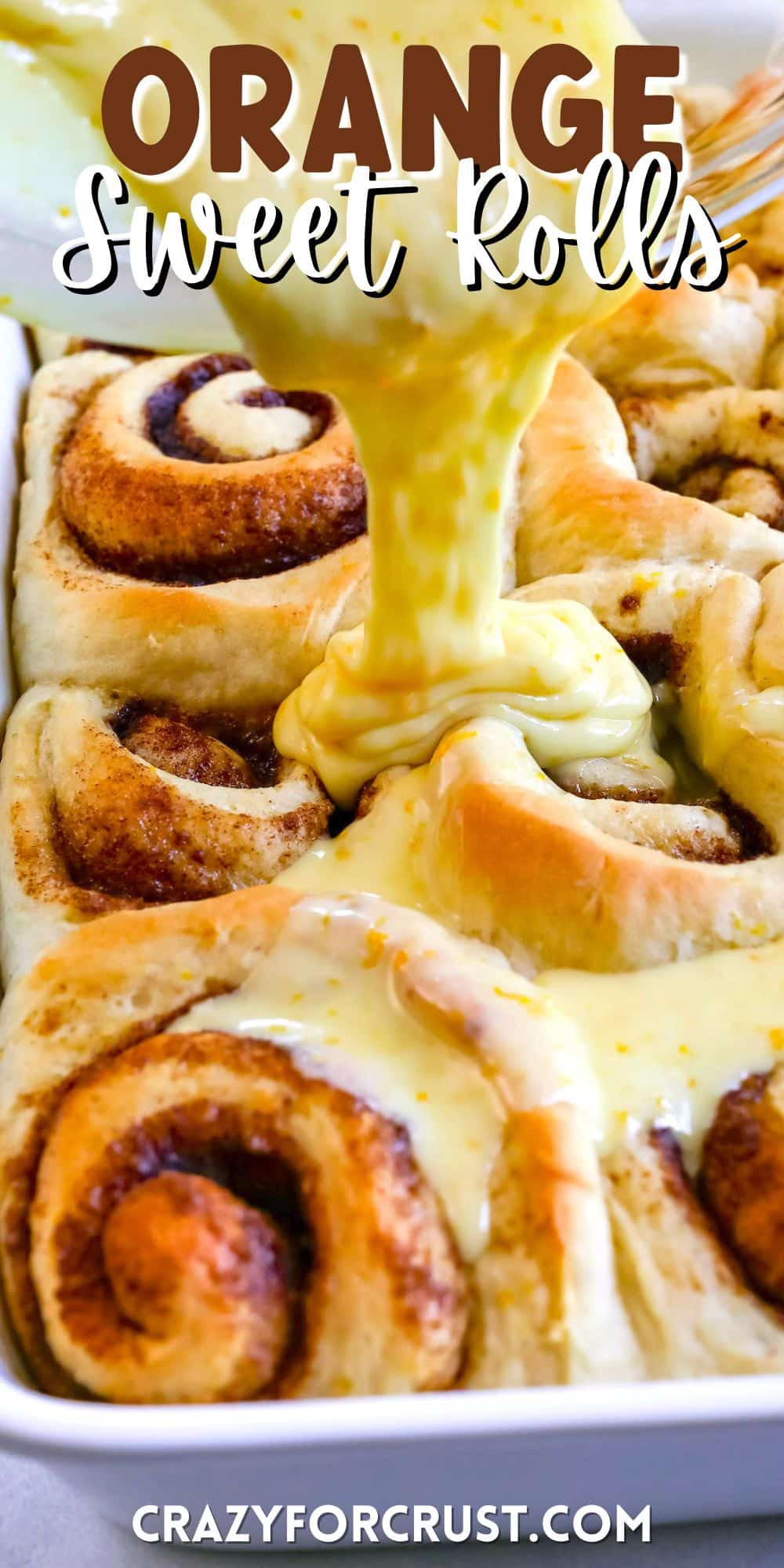 The BEST Homemade Orange Cinnamon Rolls! These Orange Sweet Rolls have a from scratch yeast dough with a sweet cinnamon filling and an orange icing. These are such a great easy homemade rolls!
Last Updated on December 4, 2022