This post may contain affiliate links. For more information, read my disclosure policy.
May is fast approaching which means three things: Cinco de Mayo, hot summer nights, and margaritas. Or should we make that margarita bars? Margarita Bars are like a lemon bar but with a margarita filling: lime juice and tequila make a gooey margarita in bar form on a graham cracker crust!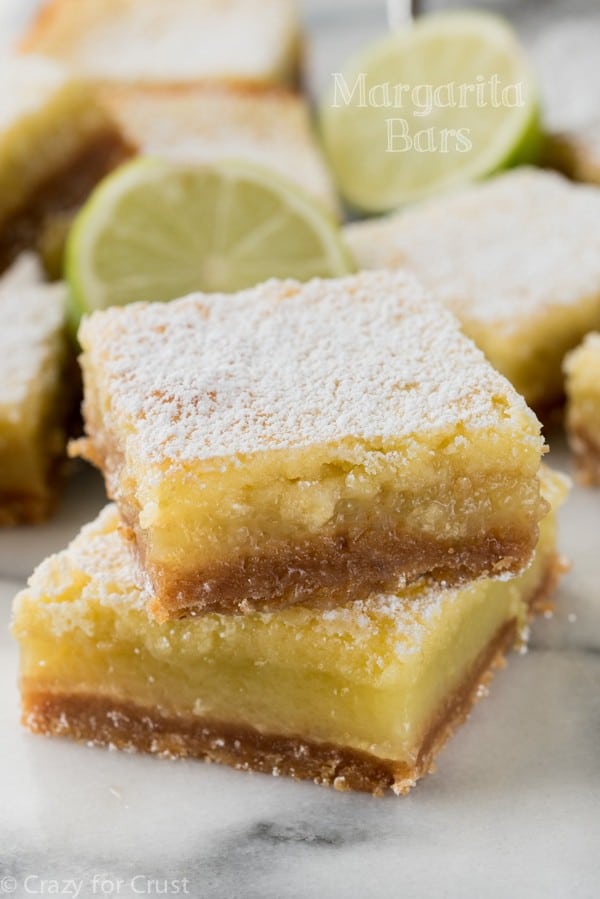 Have I ever told you about the time that a treadmill hit me in the face? #truestory
And before you get all, "Now Dorothy, get real. Treadmills can't hit someone in the face. You must have eaten too many margarita bars and fallen on the treadmill. You just say it hit you in the face for laughs," I'm going to tell you it's the truth.
A treadmill hit me in the face once. And it was not fun. And no margaritas, bars or otherwise, were involved.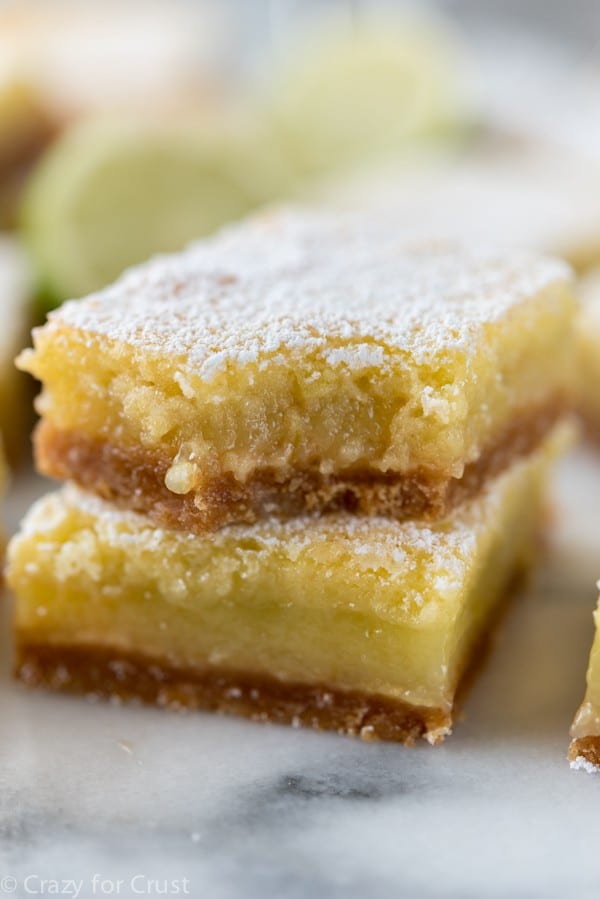 It was about 10 years ago when the treadmill got pissed off and decided to beat me up: the treadmill was in our garage and it was folded up, lock engaged. Mel and I were moving it and I was directing in the front while he was pushing from behind, where the belt is.
And all of a sudden the lock broke.
And the treadmill opened and the heavy side (where the controls are) flew at me and hit me in the face, right next to my eye. If it had been 1 mm to the right it would have actually hit me IN the eye.
This is the only time I've ever almost passed out when no margaritas were involved.
All I really remember during my haze is that Mel was yelling and Jordan was crying because I'd fallen on her toy pumpkin and she thought I'd broken it.
I don't remember what happened to the treadmill after that, but we no longer have it. I'm still a little shy around treadmills in general. I mean, it's not every day one gets ornery.
Instead of walking in place these days, I prefer to eat margarita bars. They're basically lime bars with a hint of orange and a hint of tequila. So, margarita.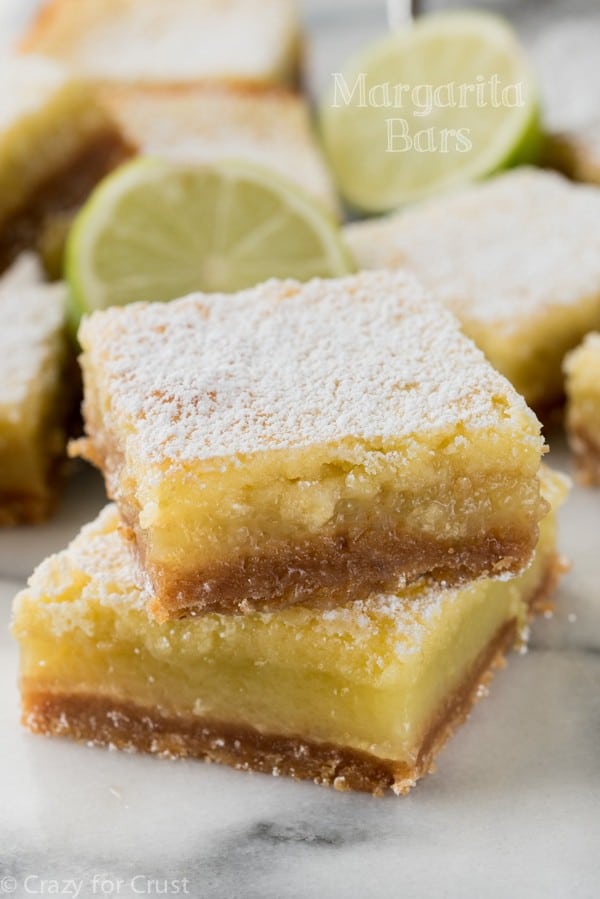 What are Margarita Bars?
Margarita bars are the marriage of two wonderful recipes: lemon bars and margaritas. They have a crunchy graham cracker crust and a lemon-bar like filling, but instead of lemon it's margarita flavor.
I made these bars last week, ate two, and promptly sent the rest to Jordan's school. Lime bars like this have no place in my house. I will literally eat myself sick on them. Same thing with lemon bars, lime curd, and lime cheesecake. I think I like citrus more than I like chocolate. *gasp*
These bars are super easy and they're the perfect dessert for summer, especially if you're throwing a Cinco de Mayo party.
How do you make Margarita Bars?
Start with a thick graham cracker crust. I pre-bake it a little so it's crunchy and not soggy after you add the margarita topping.
The filling is based off of my favorite white chocolate lemon bars except I turned them into your favorite summer drink by using lime juice, orange juice, and tequila. Let's break the components down:

Lime

Juice: please use fresh, if you can. You need lime zest but you can omit it if you really can't find limes. I know they're a pain to squeeze but using a lemon squeezer helps immensely.
My favorite margaritas always have orange liqueur in them, so I added 1 tablespoon of fresh

orange

juice to the mix.
And, lastly,

tequila

. I wanted these bars to have a more authentic margarita taste and for that you need tequila.

You can omit the tequila

if you want or need too. Just add more orange or lime juice (see the notes in the recipe).
Do Margarita Bars have tequila in them?
Heck yes! BUT you can omit, see the recipe notes.
Once the Margarita Bars cool you cut them and dust them with powdered sugar. Then serve them with a frozen margarita. Is that a paradox?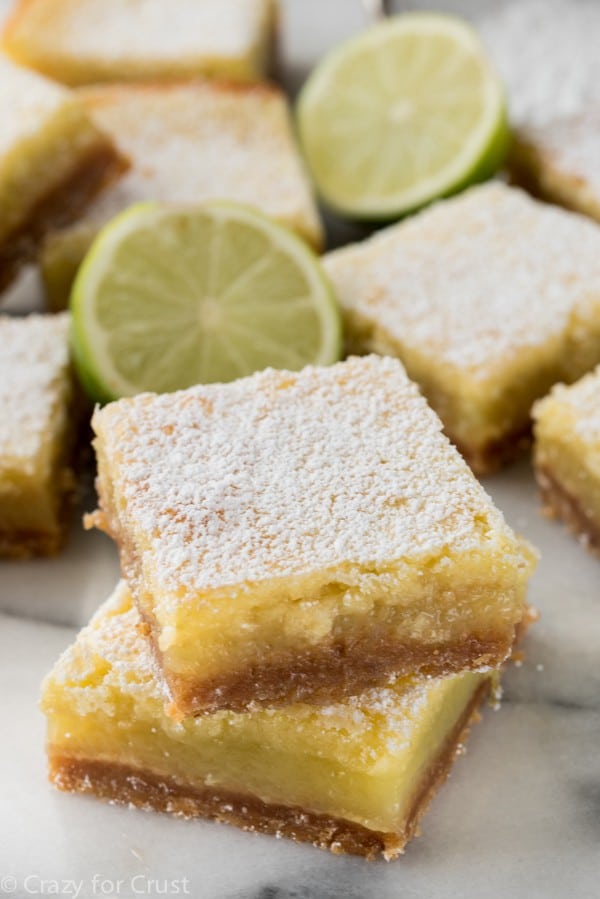 Why are my Margarita Bars Soggy?
TIP: it's very important to compact the crust. I've had readers say the topping switches with the crust and that's because there is a hole somewhere in the crust. You want to be sure that you compact the graham cracker crust so that nothing will soak through. Pre-baking will help, but make sure it's pressed firm.
It's also helpful if you use pre-crushed graham cracker crumbs or crush them fine in a food processor. Any chunkiness of the graham cracker crumbs will make it hard to get a firm crust.
How do you store Margarita Bars?
Like lemon bars, these should be stored in the refrigerator, in an airtight container, for up to 3 days.
Tips for making Margarita Bars:
Bake in a 9×9-inch pan for thick bars. For a thin bar you can make it in a 9×13-inch pan.
Bake until they're no longer jiggly in the center. Let cool and chill before slicing.
Tools for success:
Want even more? Subscribe to Crazy for Crust to get new recipes and a newsletter delivered to your inbox. And stay in touch on Facebook, Pinterest, Twitter, and Instagram for all my latest updates. If you make this recipe, share a photo on social media tagging @crazyforcrust and using the hashtag #crazyforcrust.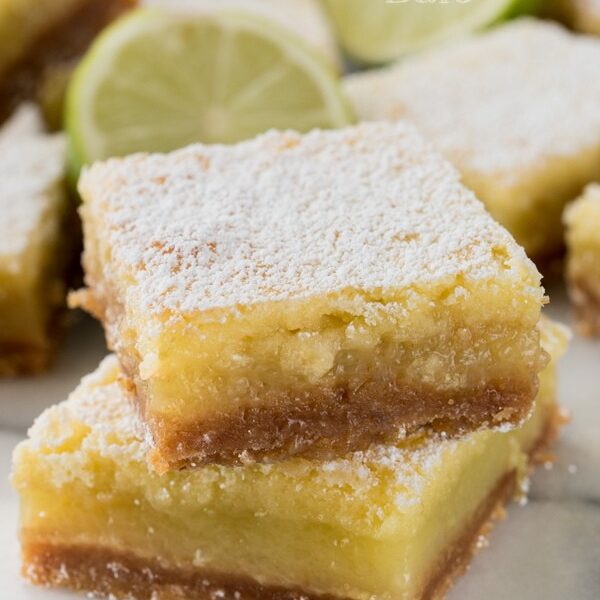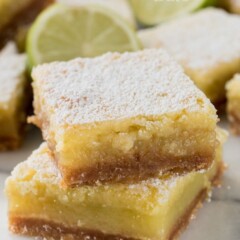 Margarita Bars
These bars are full of lime and margarita flavor! There's a burst of citrus in the filling and a sweet crunch from the graham cracker crust.
Ingredients
1 1/2

cups

graham cracker crumbs

7

tablespoons

unsalted butter

melted (no substitutions - use REAL butter)

2 1/4

cup

granulated sugar

divided

4

eggs

1/3

cup

fresh lime juice

from about 5-6 limes

1

teaspoon

lime zest

1

tablespoon

fresh orange juice

1

tablespoon

tequila

optional (you can omit and use an extra tablespoon lime or orange juice instead)

1/4

cup

all purpose flour

Powdered sugar

for dusting
Instructions
Preheat oven to 350°F. Line a 9x9 square pan with foil or parchment paper and spray with cooking spray.

Mix crumbs, 1/4 cup sugar, and melted butter with a fork in a large bowl. Press into the bottom of the prepared pan. Be sure to compact it very well. Any little holes in the crust will cause the filling to leak through. Bake for 12 minutes.

While the crust is baking, prepare the filling. Whisk the eggs with remaining 2 cups of sugar. Whisk in juices, zest, and tequila, then whisk in flour until no lumps remain.

Note: you can omit the tequila if you wish. Use an extra tablespoon of orange or lime juice in it's place.

Pour lime mixture slowly and carefully over hot crust then continue baking for about 25 minutes until the top starts to brown and is no longer translucent. Cool bars completely before cutting. It's easiest to cut cold bars, so I suggest chilling them before cutting. Dust the tops with powdered sugar. Store in refrigerator for up to 3 days.
Recipe Nutrition
Serving:
1
bar
|
Calories:
250
kcal
|
Carbohydrates:
45
g
|
Protein:
2
g
|
Fat:
7
g
|
Saturated Fat:
4
g
|
Cholesterol:
60
mg
|
Sodium:
72
mg
|
Sugar:
38
g
Nutritional information not guaranteed to be accurate
**Did you make this recipe? Don't forget to give it a star rating below!**
Last Updated on May 13, 2020