This post may contain affiliate links. For more information, read my disclosure policy.
I think this recipe fits me right now.
Because I feel like I've already been lucky, even without finding gold.
I'm lucky because my dad is okay. He's home and well and hopefully the whole scary incident is a one-time thing, not to be repeated.
I'm lucky because my parents were able to celebrate their 37th wedding anniversary last week.
I'm lucky because my husband is finally home from Florida. (Thank goodness!)
And I'm lucky because I have all of you, my sweet and awesome readers.
Part of being a blogger is community. You read blogs, you comment on blogs, you make friends with bloggers. All of the comments you made on my post last week made me almost tear up. So thanks. For everything. (Insert sappy music and a Hallmark commercial here.)
Oh, and you know what? You're lucky because I'm bringing you probably the easiest recipe ever. There are two ingredients. Three, if you count the sugar for decoration.
Now, I've served peanut butter crackers on St. Patrick's Day a lot. They're round and they're golden. Perfect fit, right?
When I was making the Cupcake Toppers for the Rainbow Cupcakes, I had some melted green candy left over. I didn't want to waste it. What to do?
Then I spied my daughter's half eaten snack pack of peanut butter crackers on the table and, for once, wasn't angry she didn't clear her place. I dipped them in the green candy, and presto! Got a treat for myself.
What? She didn't even realize they were gone. What she doesn't know can't hurt her, right?
And who says leprechaun gold isn't green? Have you ever actually seen a leprechaun's gold?
That's what I thought.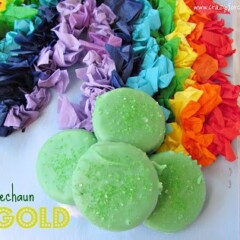 Leprechaun Gold (Chocolate dipped peanut butter Ritz)
Ingredients
Peanut butter sandwich crackers

or Ritz crackers and some peanut butter

Green candy melts

or white melts and green candy color

Green sanding sugar or sprinkles

for decoration
Instructions
Probably the easiest recipe ever! Melt your candy melts and tint them green (if using white). Dip your peanut butter crackers in the candy and place on a wax paper lined cookie sheet. Sprinkle with green sugar and let harden. (Alternately, you can make peanut butter sandwiches using two Ritz crackers and some peanut butter, then dip them in the candy.)
Nutritional information not guaranteed to be accurate
Click here to see more PEANUT BUTTER recipes!
Last Updated on May 12, 2020