This post may contain affiliate links. For more information, read my disclosure policy.
I love making homemade Oreos, especially when I come up with new flavors they don't make in real life. Like, say NUTELLA Oreos. Watch out, my friends, these are irresistible!
Okay, so I held off a week to give everyone time to catch up on their DVR'd shows. Can we all talk about how horribly they ended The Good Wife? Like, not even horrible. On a scale of 1 to 10 I give it a -100.
I absolutely have loved that show since day 1. It ranks up there for me with West Wing, Friday Night Lights, and Newsroom. I've been a faithful watcher and #TeamAlicia member for seven seasons. I didn't even skip an episode when they killed off Will. I was shocked and saddened when I saw the season ender announcement during the Super Bowl. And then, after all these years, they end the show like that? A slap and no happy love ending? No ending at all?
We were so shocked we rewound it and watched it a second time, then checked to make sure the DVR hadn't malfunctioned.
Apparently the writers decided that, since Alicia had gone from hero to a quasi-villian, they'd end it by making her think about where she landed. The slap is supposed to wake her up and make her re-evaluate her life because nothing is ever over – her life goes on, we just don't get to see it.
NEWSFLASH to all the TV writers: I live my life and it's every day mundanity (<– OMG, that IS A REAL WORD and I'm actually smart, I know because I just googled it!) and I watch TV to be intrigued. To be happy, to experience joy and fairy tales and see things about life that I don't get to see as a regular person.
If I have to google your series finale because I think the network must have counted wrong and there were really TWO more episodes left, then there's something wrong with your writing.
Please tell me I'm not the only one that feels this way? I swear, this is kind of worse than when McDreamy died.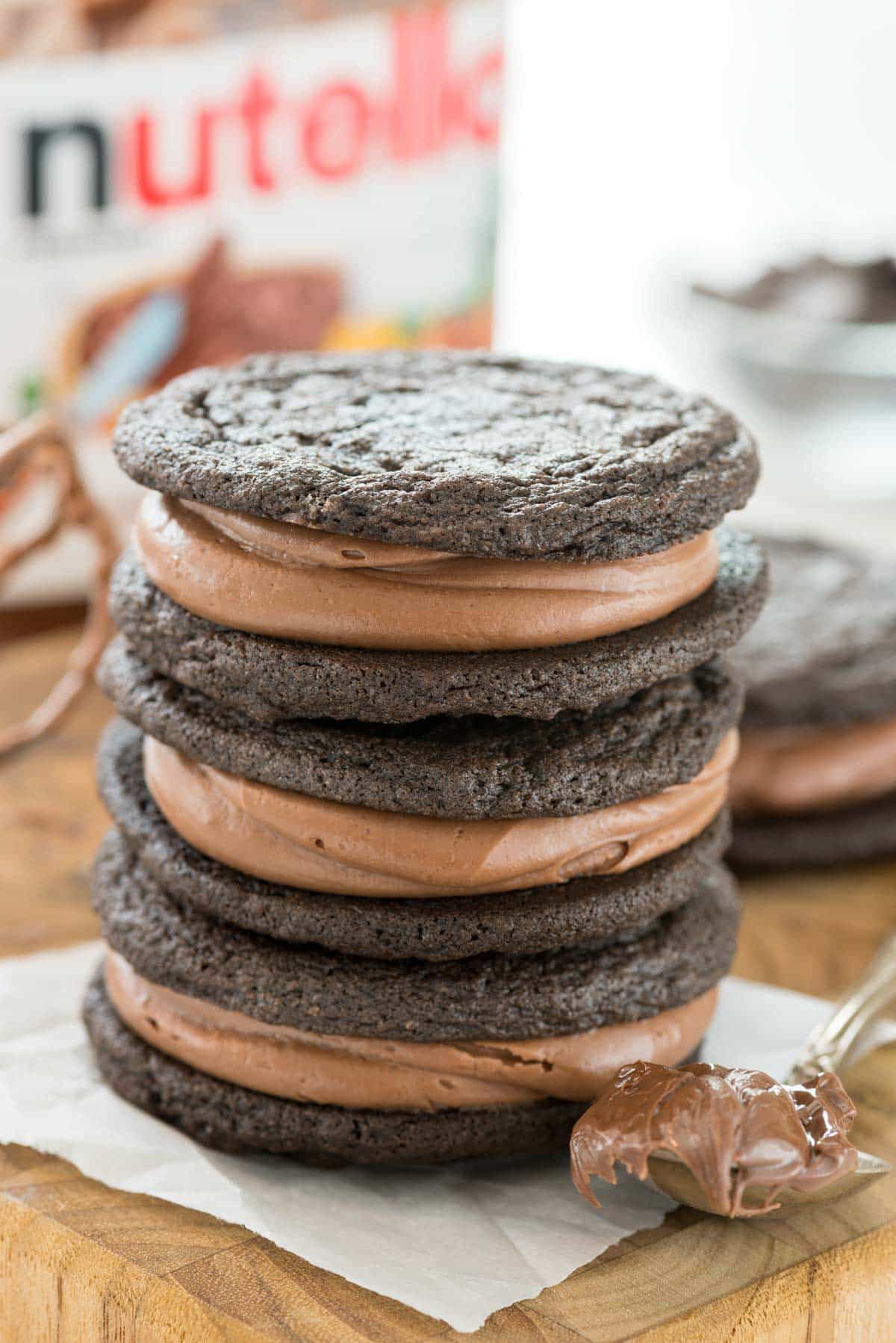 Something that won't let you down? These Nutella Oreos. They are ah-mazing. Freaking rad. They'll leave you wanting more and you'll get more because you can just make them yourself.
These are the kind of cookie you take one bite of (for quality control purposes, obvi) and then you immediately re-home them to someone else because you can't even deal with having them on your counter for even 5 minutes.
They're that good. A fresh, soft, homemade dark chocolate cookie sandwich that tastes just like an Oreo cookie filled with the BEST Nutella frosting you'll ever eat. It's light, fluffy, and the perfect amount of sweet.
And did I mention NUTELLA?

Seriously, good luck even making the cookie sandwiches once you taste the frosting.
Let's break down the recipe:
The cookie is my favorite Oreo Cookie copycat. The cookie dough doesn't need chilling and flattens perfectly into a large Oreo shape. To make them taste more like Oreos I use Hershey's Special Dark Chocolate Cocoa Powder. It gives the cookies that traditional Oreo taste. The cookies stay soft and chewy, just like I like them.
Once cool, you make the Nutella buttercream. It has a bit of butter, a little powdered sugar, and a lot of Nutella. Don't skip the heavy whipping cream – that makes the filling light and fluffy!
The filling makes just enough to make all the sandwich cookies…if you can keep your spoon out of it that is! 🙂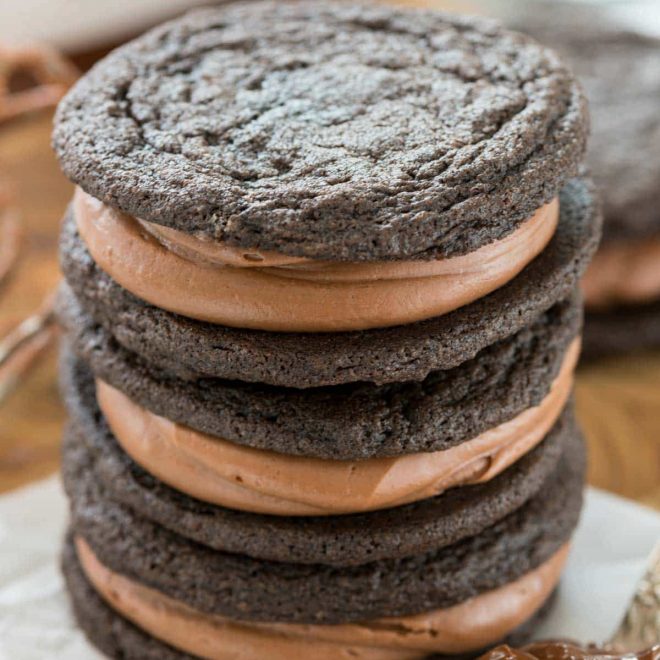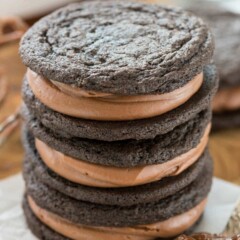 Homemade Nutella Oreos
Homemade Nutella Oreos - this easy cookie recipe tastes just like a soft baked Oreo filled with the BEST Nutella frosting ever!
Ingredients
For the cookies:
1 ¼

cups

(155g) all-purpose flour

¼

teaspoon

salt

½

teaspoon

baking soda

⅓

cup

(17g) Hershey's Special Dark unsweetened cocoa powder

½

cup

(113g) unsalted butter

⅔

cup

(134g) packed brown sugar

¼

cup

(50g) granulated sugar

1

large

egg

1

teaspoon

vanilla extract
For the filling:
¼

cup

(57g) unsalted butter

½

cup

(146g) Nutella or other hazelnut spread

¼

teaspoon

salt

1

cup

(113g) powdered sugar

1

teaspoon

vanilla extract

2

tablespoons

heavy whipping cream
Instructions
Preheat oven to 350°F. Line cookie sheets with parchment paper or silicone baking mats.

Whisk flour, salt, baking soda, and cocoa powder in a medium sized bowl. Set aside.

Cream butter and both sugars in the bowl of an electric mixer fitted with the paddle attachment, or you can use a hand mixer. Mix until smooth, scraping the sides of the bowl as needed, until smooth. Mix in egg and vanilla, then slowly mix in dry ingredients. Mix until smooth. Dough is sticky.

Scoop 1- or 2-tablespoon size balls of cookie dough onto prepared cookie sheets. Bake cookies for (small) 8-11 minutes or (large) 12-15 minutes, or just until they are no longer glossy. Cool before removing from cookie sheets.

Make the filling: beat butter, salt, and Nutella with a hand mixer in a large bowl until smooth, about a minute. Slowly mix in powdered sugar until the mixture is smooth and thick, then add vanilla and 1 tablespoon of heavy whipping cream. Beat for 30 seconds, then add more cream as needed for consistency, up to 1 more tablespoon. You want it smooth and spreadable, but not runny. (I used 2 tablespoons.)

Pipe the filling onto half the cookies and sandwich with a second cookie. Store in an airtight container for up to 3 days or freeze for up to one month.
Recipe Notes
You can use regular unsweetened but they won't be as "Oreo" like.
I haven't tested Dutch Process cocoa in this recipe but it should work just fine if you can't find the Hershey's.
While store bought Oreos are vegan, this recipe isn't because of the butter in the frosting and cookie. You can substitute Earth's Balance Vegan Butter Sticks for both if you want a dairy-free cookie and vegan frosting (but the cookie won't be vegan because of the egg).
When you take the cookies out of the oven, gently tap the cookie sheet on the stovetop to flatten the warm cookies.
Store in an airtight container in the refrigerator for up to 4 days or freeze cookies for up to 3 months (filled or unfilled).
Recipe Nutrition
Serving:
1
cookie
|
Calories:
255
kcal
|
Carbohydrates:
34
g
|
Protein:
2
g
|
Fat:
13
g
|
Saturated Fat:
9
g
|
Polyunsaturated Fat:
0.5
g
|
Monounsaturated Fat:
3
g
|
Trans Fat:
0.4
g
|
Cholesterol:
37
mg
|
Sodium:
120
mg
|
Potassium:
98
mg
|
Fiber:
1
g
|
Sugar:
25
g
|
Vitamin A:
311
IU
|
Vitamin C:
0.01
mg
|
Calcium:
27
mg
|
Iron:
1
mg
Nutritional information not guaranteed to be accurate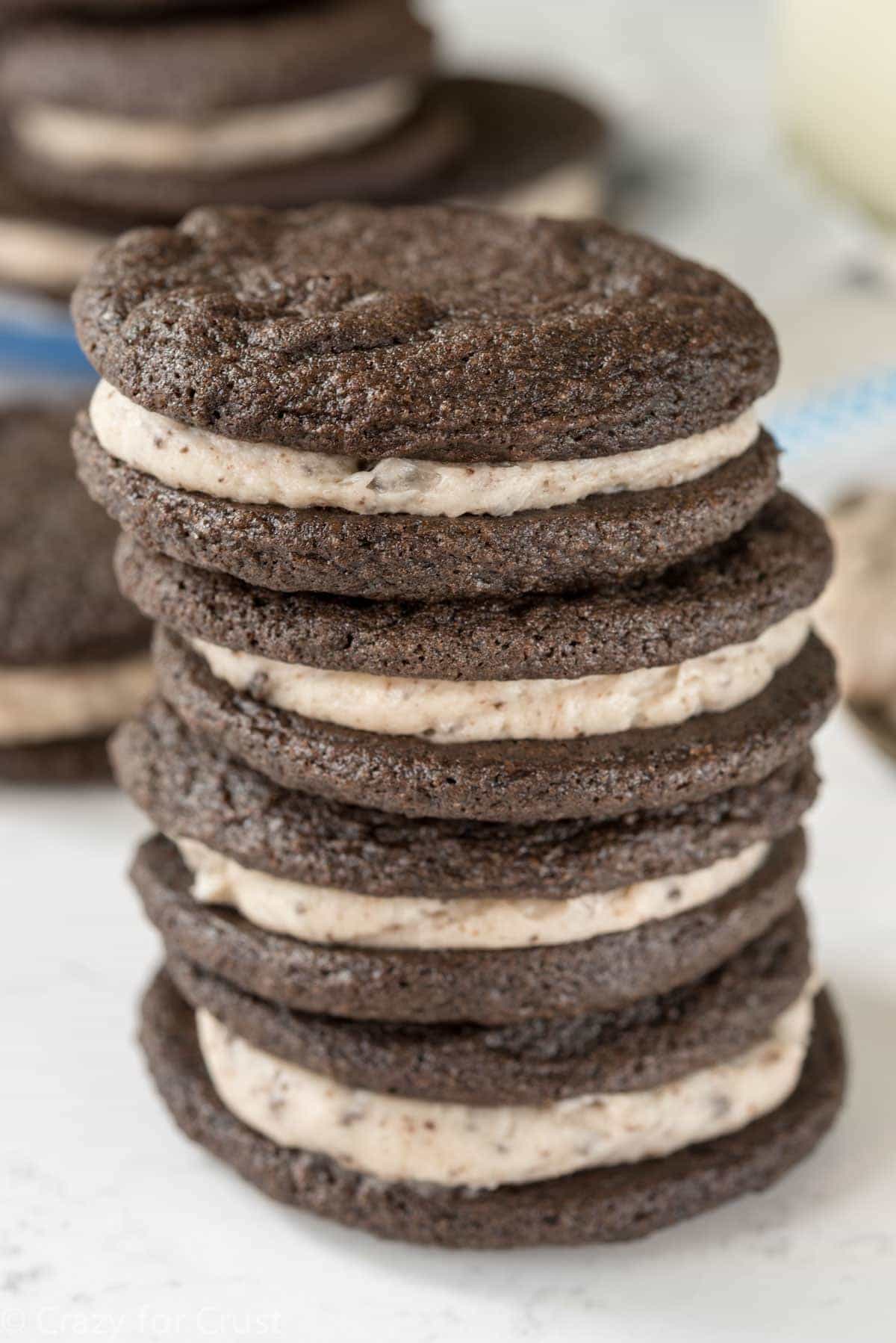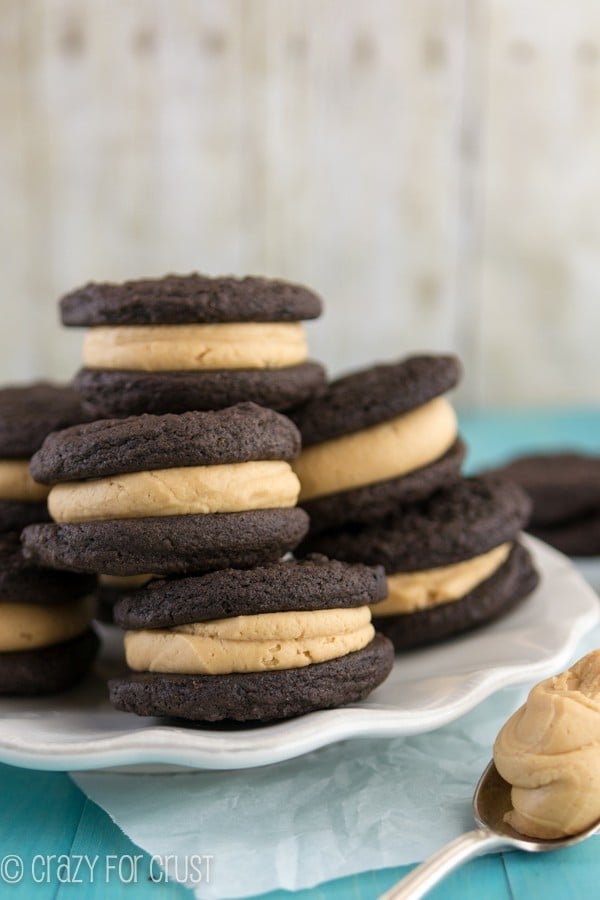 Easy Nutella Truffles (only 3 ingredients)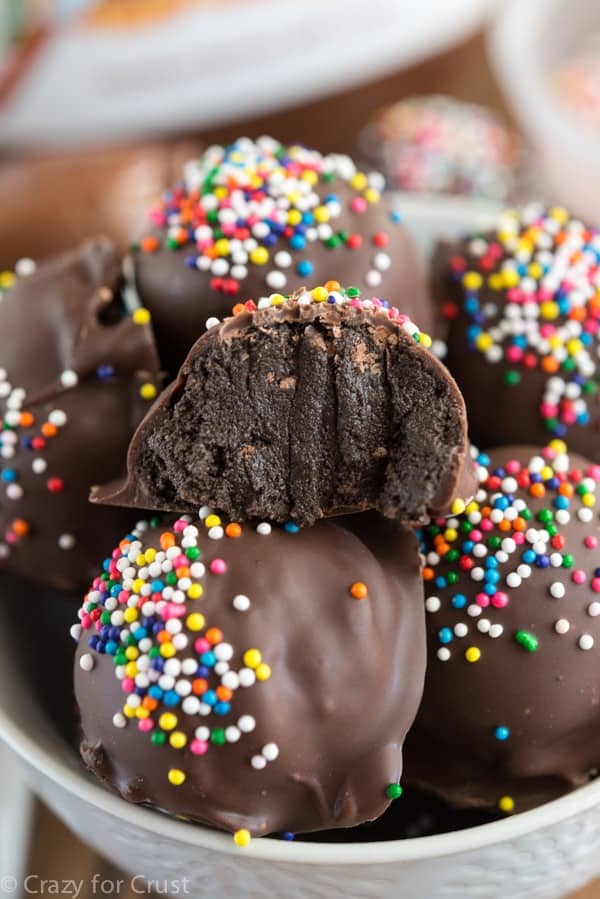 Last Updated on August 28, 2019