This post may contain affiliate links. For more information, read my disclosure policy.
Electric Lemonade Party Punch is a fun and easy cocktail recipe for any summer gathering; it will remind you of sitting at the pool at a fancy resort with every sip! I love making party punch recipes with vodka and this one is my new favorite version.
I worked with Monk Fruit In The Raw to bring you this easy punch recipe so that you can sweeten your drink with less sugar!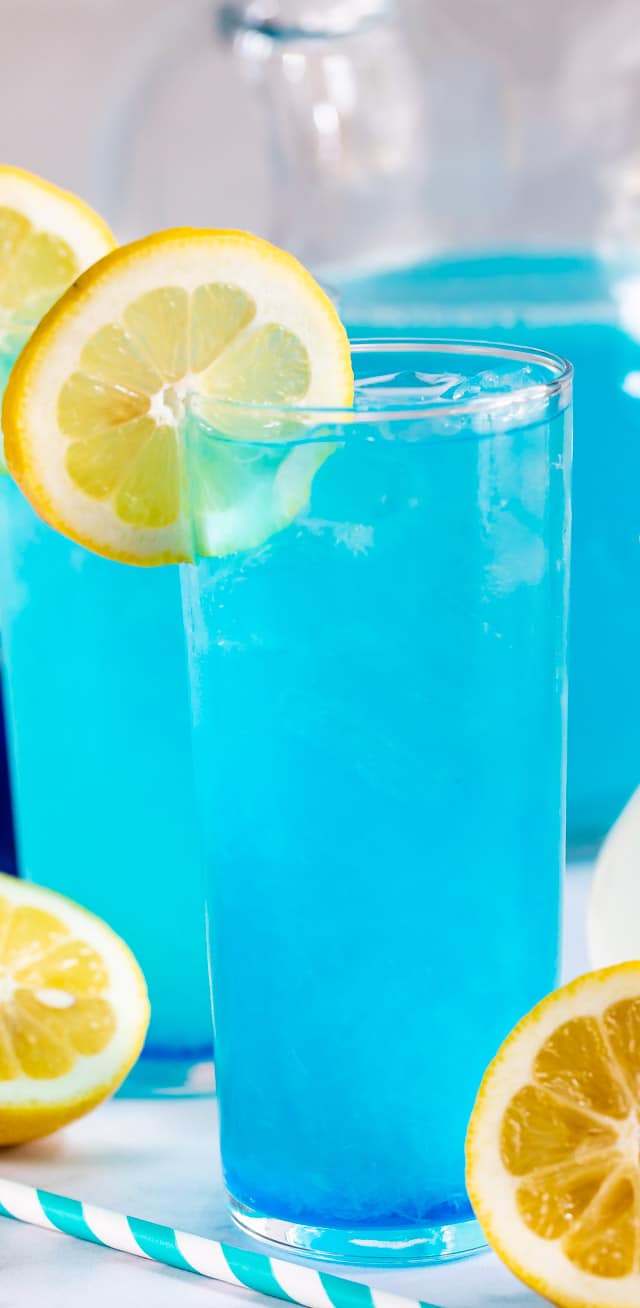 We recently got back from a week in Canun, where we spent a glorious seven days sitting by the pool. We did other stuff too (like Ziplines) but my favorite part was just relaxing, reading and enjoying the down time that we so desperately needed as a family.
The pool had a swim up bar that we frequented often. Whenever I'm at a beach resort I always want to order a fun poolside cocktail and never know what to order, but luckily they had a menu of delicious options. Our plan was to work our way down the list but really, I got stuck at the Electric Lemonade. I ordered it about four times!
For the last 18 years I thought I didn't like blue curaçao; I actively avoided it in drinks because I'd had a blue cocktail on my honeymoon and didn't like it. Now I'm angry at myself for missing out all these years: it wasn't the blue curaçao I didn't like, it was the cocktail itself. I loved it in those Electric Lemonades I had in Mexico!
I've been on a real cocktail kick lately (like Skinny Vodka Party Punch and this other Lemonade punch with a funny name) and knew I was going to recreate the Electric Lemonade at home, as a punch recipe. I think outside of vacation, most people don't just mix themselves a cocktail on a Sunday afternoon by the pool (they stick to vodka sodas or wine) but for parties and such people want punch!
Electric Lemonade Party Punch is the perfect summer punch with alcohol. It's full of vodka, lemonade and blue curaçao and will remind you of the beach!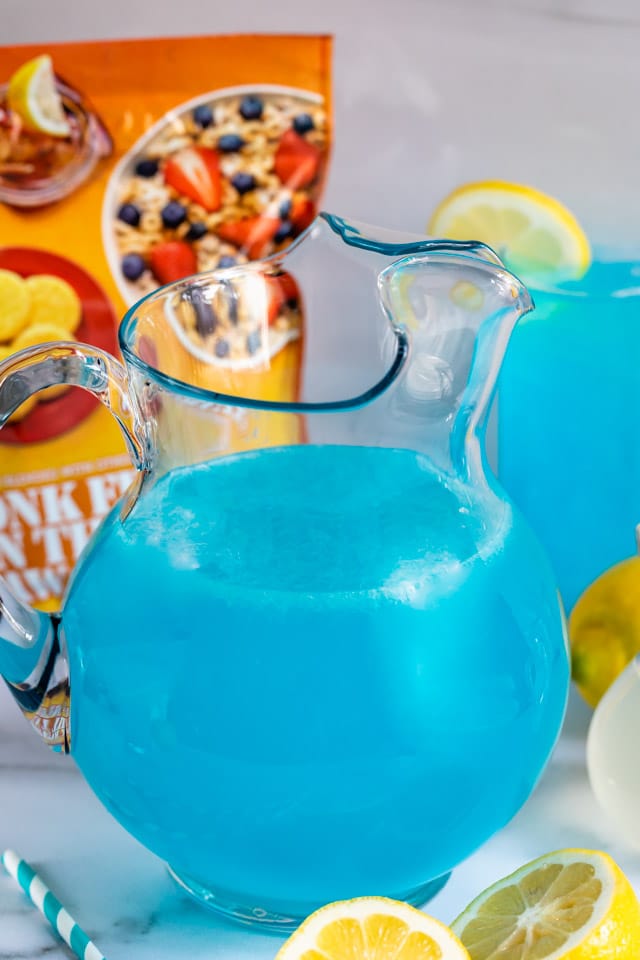 The one thing that all the cocktails I had on vacation had in common: sugar. Bartenders are heavy handed in the simple syrup and sweet 'n sour department and, while the drinks taste delicious, they're loaded with calories and sugar. Now that I'm home I need to cut back again on my sugar intake but I still want to enjoy a party punch now and again.
That's why I'm so excited for my newest partnership with Monk Fruit In The Raw®, a zero calorie sweetener. There are so many sweeteners out there but this one comes from vine-ripened monk fruit that's native to Southeast Asia. It's certified vegan, naturally gluten free, kosher certified and adds a deliciously light sweetness to any baked good or beverage. Not only do I put it in my cocktails, but I love it in my coffee and as a light dusting on my cereal too. Monk Fruit In The Raw has replaced my other sweeteners because of its wholesomeness and taste.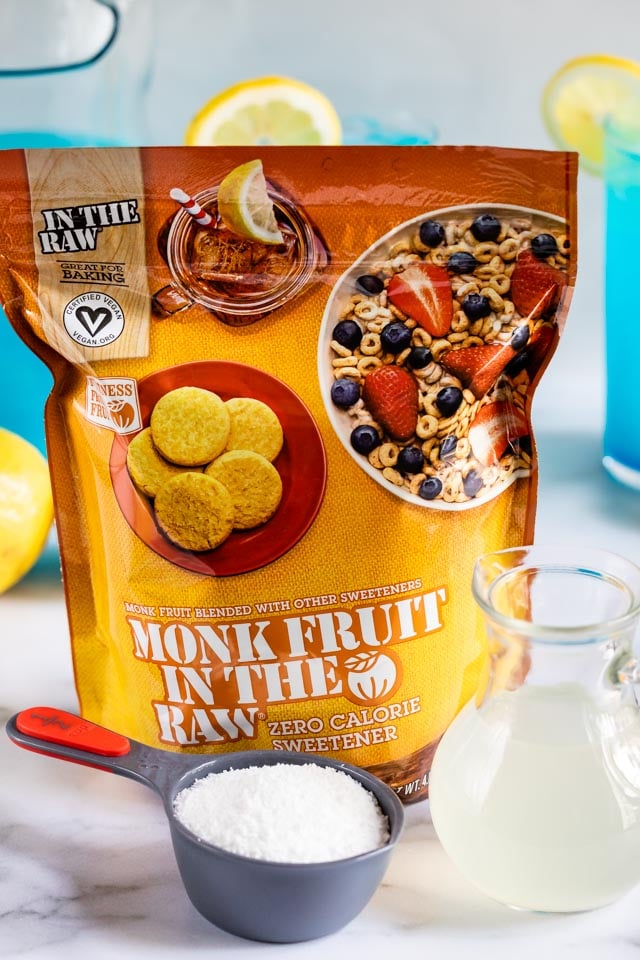 Monk Fruit In The Raw adds a light sweetness to any baked good or drink and is available in packets or this bakers bag that measures cup-for-cup like sugar. It's ideal for people like me who want to cut added sugar and is also recommended for those with or at risk for diabetes. It's available nationwide (click here for a store locator) and you can get a conversion chart here to convert your existing recipes.
Another thing I love about this sugar substitute is that it dissolves in liquid, making it the perfect sweetener to add to your favorite cocktails. When it comes to sweetness of drinks, everyone is different and enjoys a different level in their cocktail. That's one of the reasons I don't love ordering drinks at restaurants: they always come laden with sugar and can sometimes have a cloying taste. When I make cocktails and party punch recipes at home, I like to give my guests the option of sweetness.
Making simple syrup with Monk Fruit In The Raw helps you reduce the sugar in your cocktail recipes.
Plus, making a simple syrup or sweet 'n sour with Monk Fruit In The Raw is easier than ever because it doesn't need to be cooked.
How to make your own low sugar simple syrup or sweet 'n sour:
It's the easiest recipe ever: just mix water, lemon juice and Monk Fruit In The Raw in a measuring cup, bowl or jar. Stir or shake to combine and the Monk Fruit In The Raw will dissolve, making a perfect sweetener syrup for any cocktail or lemonade recipe.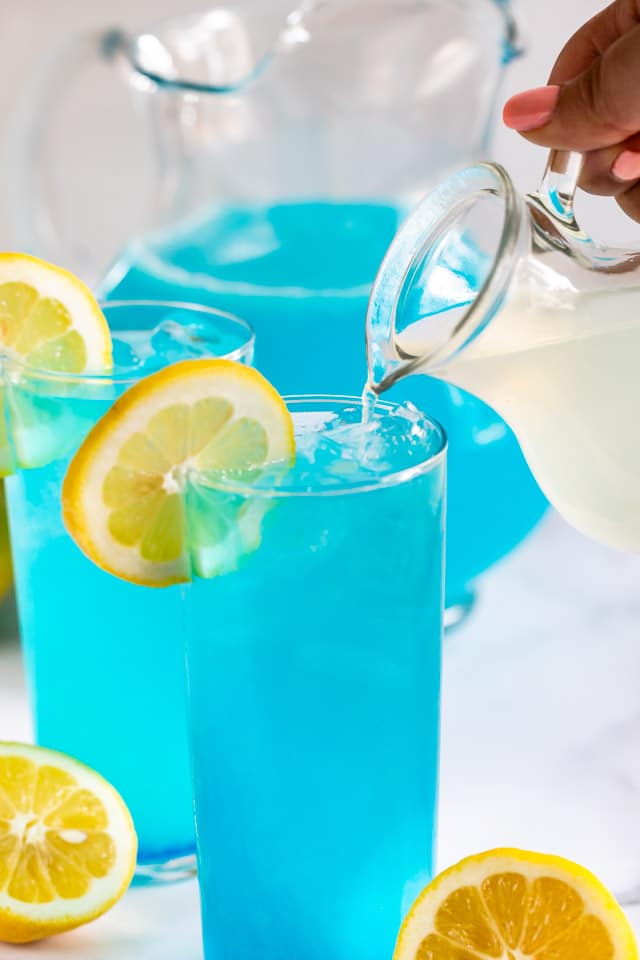 Electric Lemonade is an easy cocktail recipe with just a few ingredients!
The regular Electric Lemonade Recipe (if you're just making one cocktail) doesn't actually use lemonade; it's made with vodka, blue curaçao, sweet 'n sour and sometimes lemon juice. However, when I'm making a party punch recipe, I want it to be EASY so I changed up the recipe.
Lemonade – I used refrigerated lemonade in this recipe. Use your favorite brand!
Club Soda
Vodka – you can use regular or even a citrus vodka.
Blue Curacao
Simple Syrup made with Monk Fruit In The Raw
To make the party punch, just mix all of the ingredients in a pitcher. I like to add a bit of simple syrup to the cocktail and then leave the rest on the bar with the pitcher of punch so that guests can sweeten their drink even more. Most people like their mixed cocktails sweeter but some don't, so having the option to do so is perfect for a party.
Want to make Electric Lemonade with rum? You totally can, just substitute white rum for the vodka in the recipe.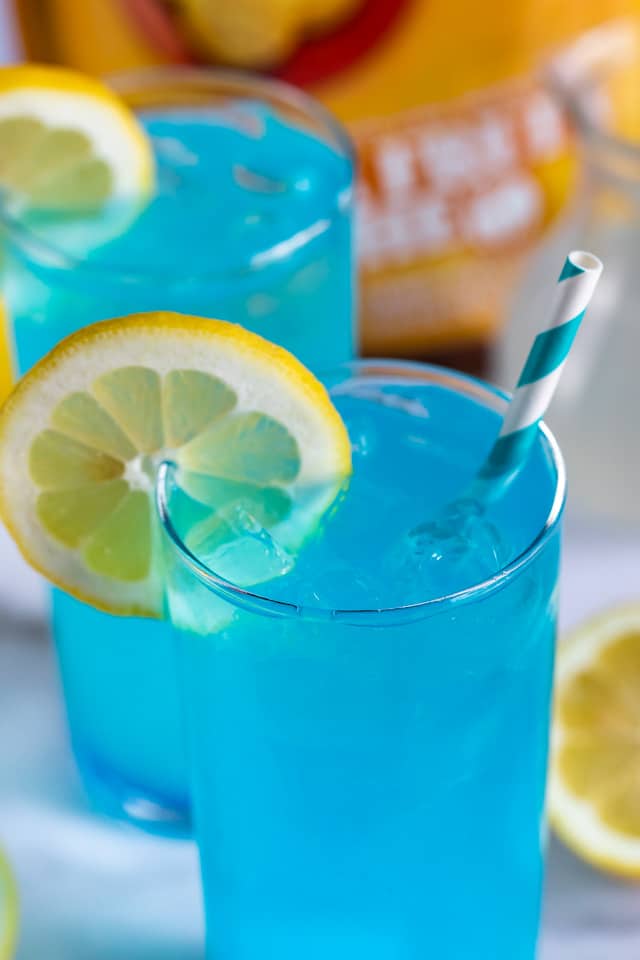 Another reason I love this recipe is that you can make it for the kids too!
Make a non-alcoholic Electric Lemonade Party Punch easily with this recipe!
Just skip the vodka and instead of using blue curaçao, make sure to buy a Blue Curacao syrup that doesn't have alcohol in it. They often sell these syrups with the coffees or mixers in the grocery store. It makes it fun because the kids can have a delicious mocktail too! And kids love their sweet drinks, so you'll want to add about double of the Monk Fruit In The Raw simple syrup when making a non-alcoholic punch.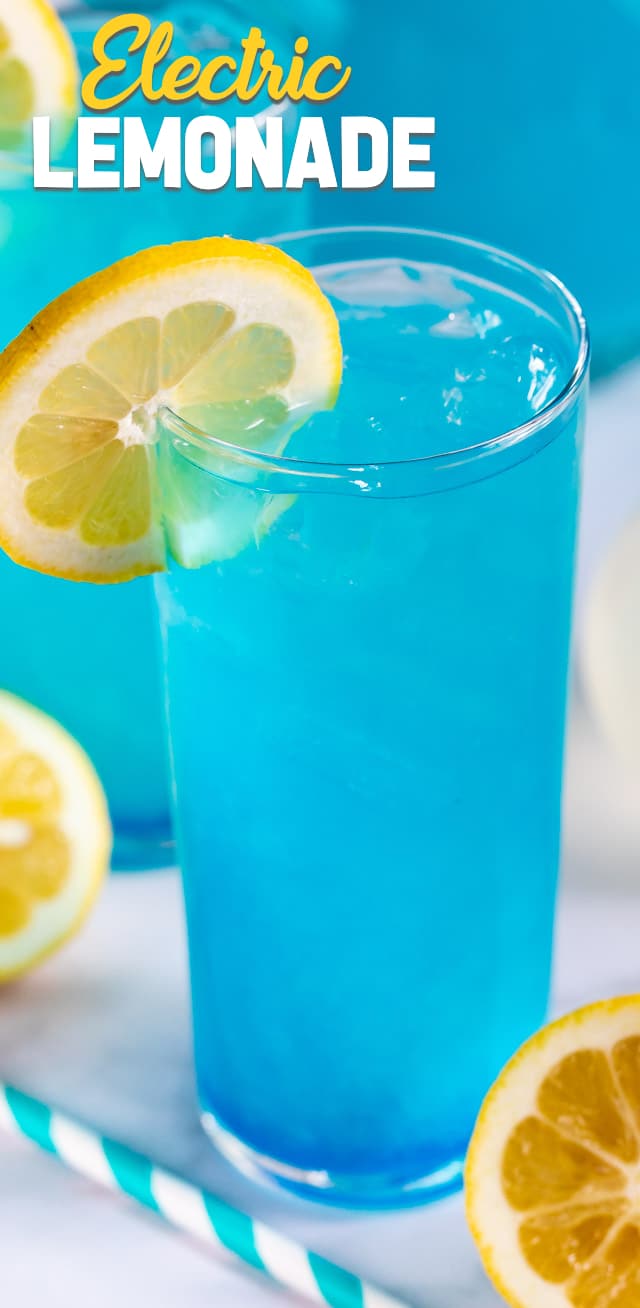 Electric Lemonade Party Punch is the perfect summer cocktail recipe with vodka, lemonade and blue curaçao. Make it summer friendly by sweetening it with Monk Fruit In The Raw and enjoy a sweet drink without all the added sugars.
Find out more about In The Raw® brand products at www.InTheRaw.com and visit us on Facebook at Facebook.com/InTheRaw. Follow us on Instagram and Twitter @InTheRaw, or pin us at Pinterest.com/InTheRawBrand
Want even more? Subscribe to Crazy for Crust to get new recipes and a newsletter delivered to your inbox. And stay in touch on Facebook, Pinterest, Twitter, and Instagram for all my latest updates. If you make this recipe, share a photo on social media tagging @crazyforcrust and using the hashtag #crazyforcrust.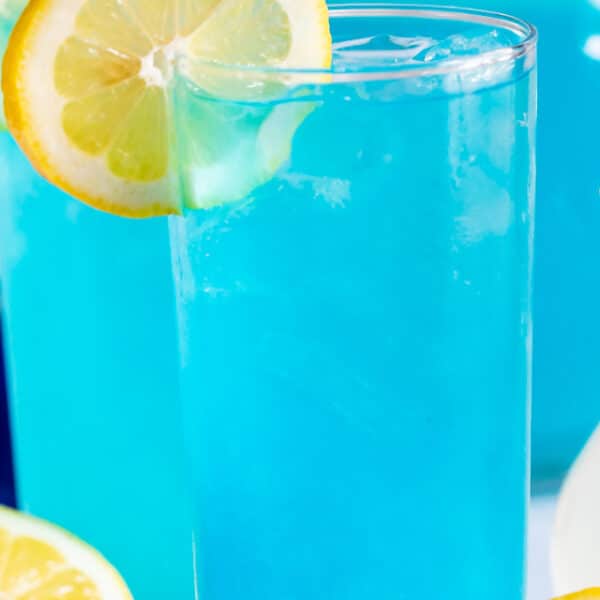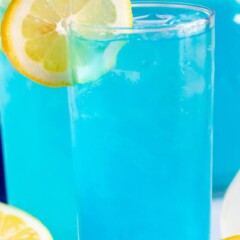 Electric Lemonade Party Punch
Electric Lemonade is an easy party punch recipe! This lemonade pitcher cocktail has lemonade, blue curaçao, vodka and a natural sweetener syrup to make it as sweet as you want it. This is the perfect summer cocktail recipe!
Ingredients
1/4

cup

Monk Fruit In The Raw Bakers Bag

2

tablespoons

lemon juice

1

cup

water

52

ounces

lemonade

any brand, cold

1 1/2

cups

vodka

1/2

cup

blue curaçao

Lemon slices

for garnish
Instructions
Make low sugar simple syrup: Place Monk Fruit In The Raw, lemon juice, and water in a measruing cup or jar. Stir or shake to combine. Set aside for serving.

Mix lemonade, vodka, and blue curacao in pitcher. Add 2 tablespoons of simple syrup to the pitcher. Stir.

Serve over ice garnished with lemon. Serve with simple syrup on the side so guests can sweeten to their liking.
Recipe Notes
To make this non-alcoholic: omit the vodka and blue curaçao. Purchase Blue Curacao Syrup that doesn't have alcohol (often sold with mixers or in the coffee aisle) and use it in place of the blue curaçao.
Recipe Nutrition
Serving:
1
serving
|
Calories:
132
kcal
|
Carbohydrates:
16
g
|
Protein:
1
g
|
Fat:
1
g
|
Saturated Fat:
1
g
|
Sodium:
9
mg
|
Sugar:
15
g
|
Vitamin C:
1
mg
Nutritional information not guaranteed to be accurate
**Did you make this recipe? Don't forget to give it a star rating below!**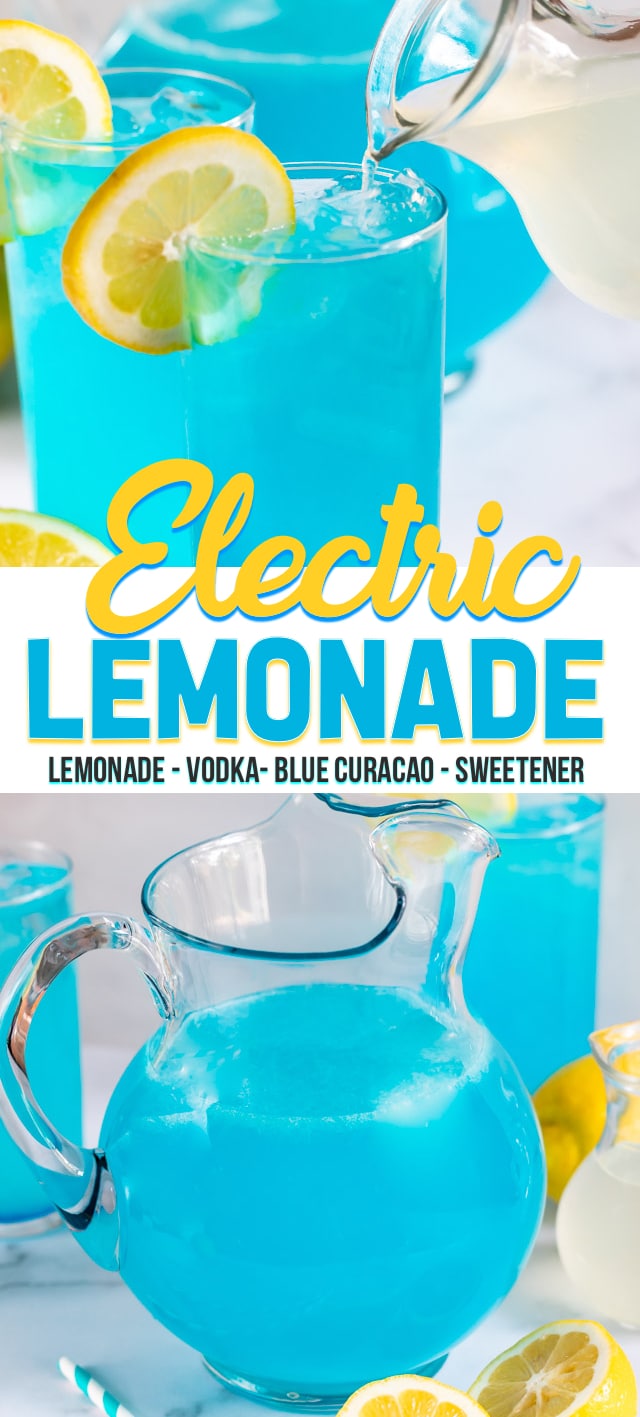 Last Updated on July 3, 2019