This post may contain affiliate links. For more information, read my disclosure policy.
I know, two peanut butter recipes in a row. Are you surprised? You shouldn't be. Remember, I'm #addictedtopeanutbutter.
Also? #addictedtoicecream all year round!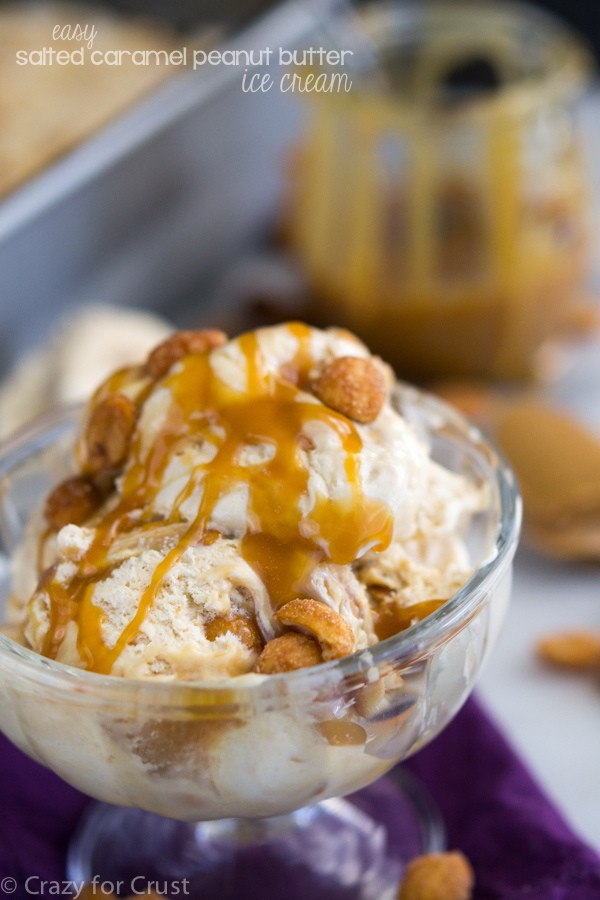 I asked Facebook the other day if ice cream was acceptable in the winter. I expected that the answers would be split 50/50. I mean, I love ice cream all year long, but I live in California where cold is 60 degrees. Most of you live in areas where you have icicles hanging off your eaves and stepping outside to get the mail means you have to don 234 layers of clothing. Would you want to eat ice cream, despite all of that?
According to Facebook? Yes you would. The majority of responses were YES, ice cream all year round. Hooray for that, because it's been too long since I made ice cram and I was totally craving some. So I made salted caramel peanut butter ice cream because peanut butter is what I do.
It's kind of what you should expect from me at this point. Am I right?
So this ice cream is full of salted caramel flavor, and it's not just from the ice cream topping I added. The peanut butter is also salted caramel.
This is where you do a gaping open-mouthed "Whaaaaaat?"
Yes, you read that right: Skippy now makes Salted Caramel Peanut Butter Spread.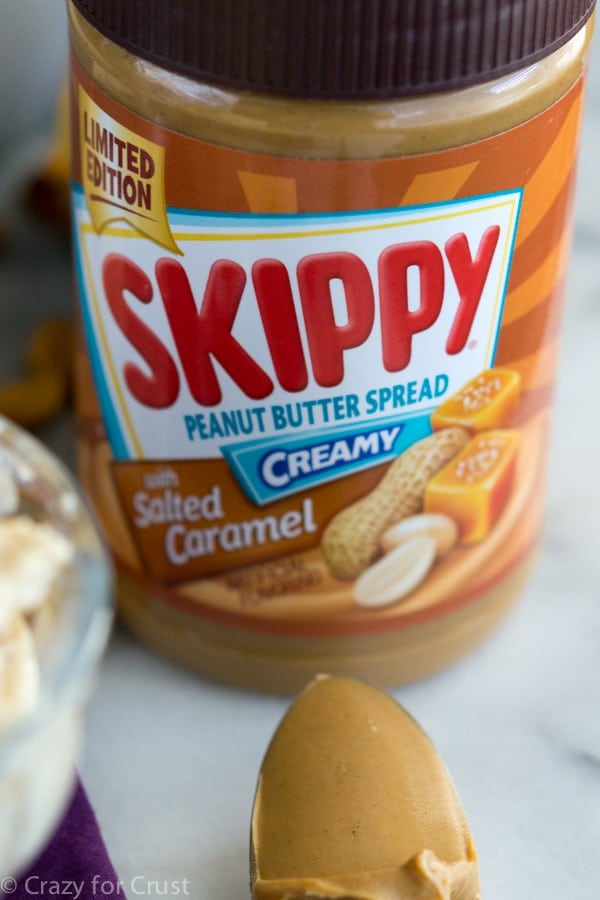 And it's fabulous. And I cannot stop eating spoonfuls. It tastes like peanut butter with caramel and salt and oh my gosh.
You've been warned. This stuff is amazing.
So, a new flavor of peanut butter. What's a girl to do? Oh yeah, make dessert with it. Because, obvi.
This is what I did with the new Skippy Salted Caramel Peanut Butter Spread: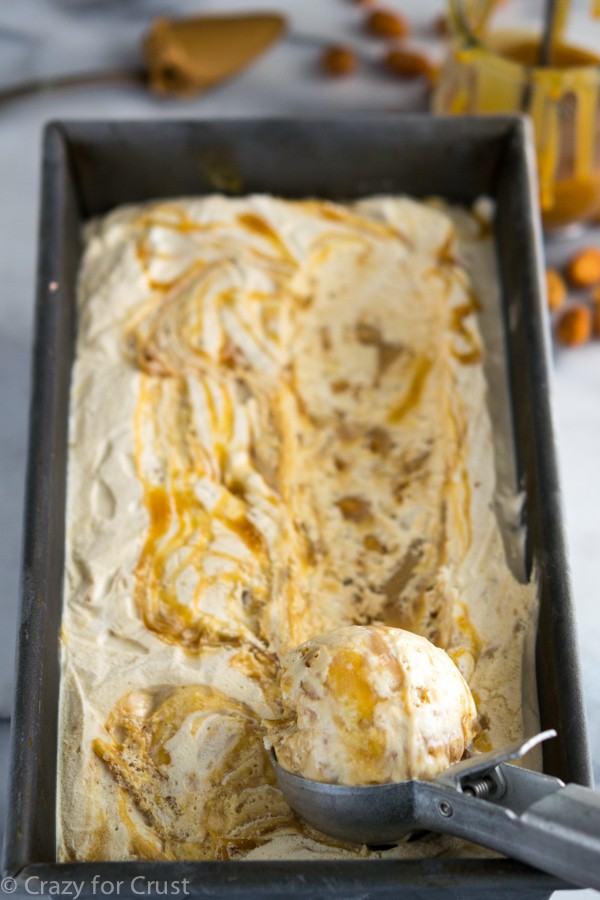 And then I ate almost all of it all by myself. #noshame
Peanut butter ice cream is my absolute favorite flavor, but I never buy it at the store because peanut butter ice cream usually comes in chocolate form. Want to know a secret? I don't like chocolate ice cream.
*gasp*
I know right? What kind of a dessert blogger am I? I'm the kind that makes her own ice cream to her liking. And? I make ice cream that doesn't need a machine. It's easy, no churn, and only has a handful of ingredients.
That? Is ice cream I love. And it's ice cream you'll love too!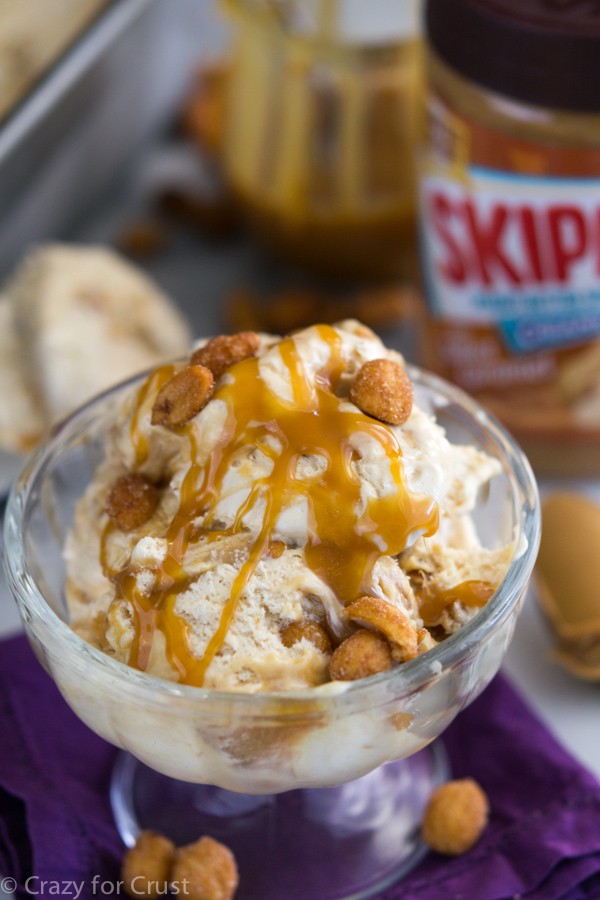 The base of all my easy ice cream recipes are two ingredients: sweetened condensed milk and whipped cream. When you mix the two together and freeze it, it makes ice cream without a machine. It's a miracle, really. It's a NO CHURN Ice Cream Recipe!
To make this salted caramel peanut butter version, I added a healthy dose of Skippy's new Salted Caramel Peanut Butter Spread. Then I swirled in some more salted caramel and some chopped peanuts. It's so easy to make it's almost a crime…against my diet.
A few notes about the recipe:
Sweetened Condensed Milk comes in two versions: regular and fat-free. Y'all always make fun of me because I use the fat-free one regularly. Why? I don't know, I just do. I used the fat-free in this ice cream, but either will work.
You have two options for the Whipped Cream. One, use 2 cups of cold heavy whipping cream and whip it until stiff peaks form. Or, go the cheater route like I did in this recipe: use whipped topping. You can use regular, light, or fat-free whipped topping. But yes, you can use whipped cream if you don't like whipped topping.
If you can't find the Salted Caramel Peanut Butter Spread, you can use regular peanut butter. I have used Skippy Naturals many times in easy ice cream recipes.
Salted Caramel is sometimes hard to find. Some of the major brands make it, so look for it near the ice cream at the grocery store. Regular caramel ice cream topping can be used instead if you can't find salted caramel.
I filled this ice cream with chopped honey roasted peanuts but you can use whatever mix-ins you like. I really wanted to use chocolate covered pretzels but I couldn't find any at the store. Chopped cookies or other candies would be delicious in this. The nuts or other mix-ins just give the ice cream some crunch and texture.
And, of course, you should serve the ice cream with more salted caramel on top. I think that's a law?

What will you make with the new Skippy spread?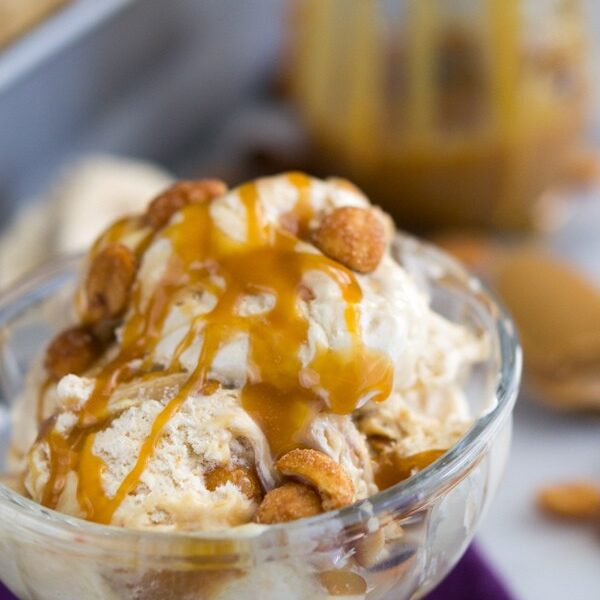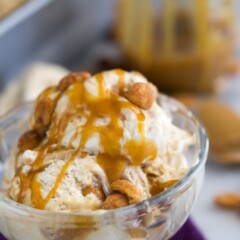 Easy Salted Caramel Peanut Butter Ice Cream
This easy ice cream is no churn and doesn't need an ice cream maker! It's filled with salted caramel and peanut butter flavor, with extra peanuts for some added crunch.
Total Time
8

hours
15

minutes
Ingredients
1

14 ounce can sweetened condensed milk

1/2

cup

Skippy Salted Caramel Peanut Butter Spread

1

teaspoon

vanilla extract

2

8 ounce containers Whipped Topping (fat-free, light, or regular) OR 2 cups cold heavy whipping cream (not whipped)

heaping 1/2 cup chopped peanuts

I used honey roasted

1/2

cup

salted caramel ice cream topping

or regular caramel if you can't find salted
Instructions
Stir sweetened condensed milk and peanut butter in a large bowl until smooth. Stir in vanilla.

If using whipped topping: gently fold the whipped topping into the peanut butter mixture.

If using fresh whipped cream: beat 2 cups of heavy whipping cream until stiff peaks form. Gently fold into the peanut butter mixture.

Fold peanuts into the ice cream mixture. Fold salted caramel ice cream topping into the mixture but make sure not to stir it too much - you want it to swirl not mix in.

Pour mixture into an airtight container, seal, and freeze overnight. Eat within 1 month.

Serving suggestion: top with more salted caramel sauce and chopped peanuts.
Nutritional information not guaranteed to be accurate
Click here to see more PEANUT BUTTER recipes!
Check out SKIPPY on Tumbler!
Peanut Butter Brownie Ice Cream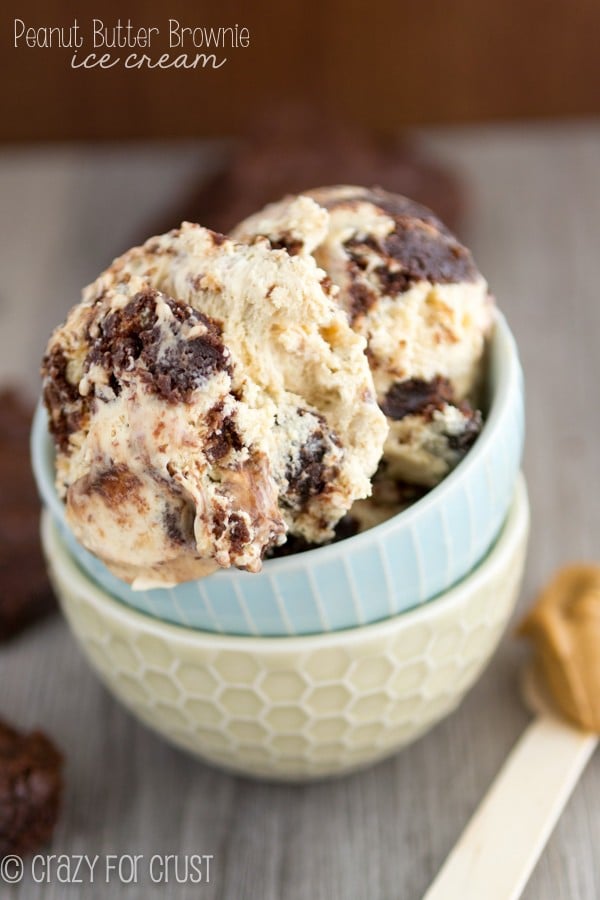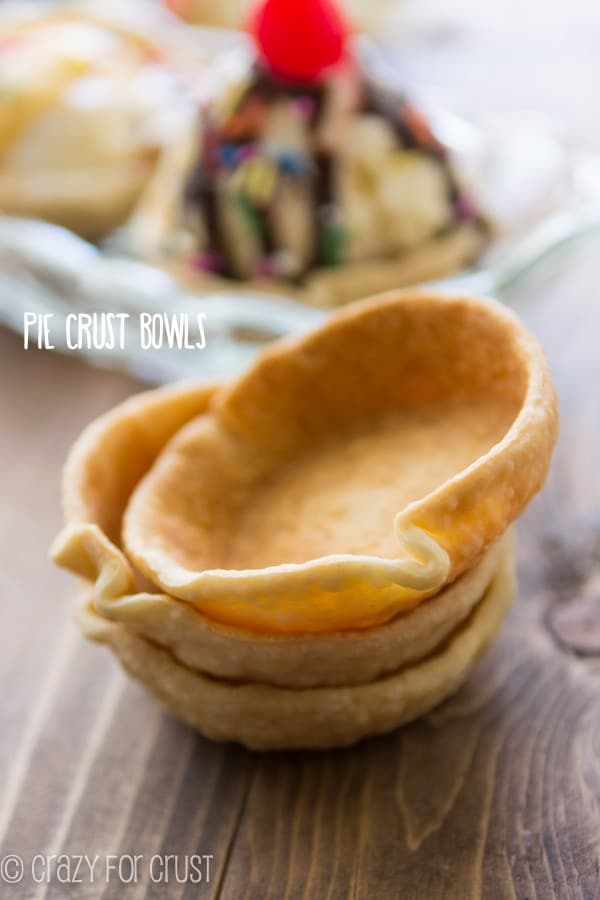 Peanut Butter Cheesecake Ice Cream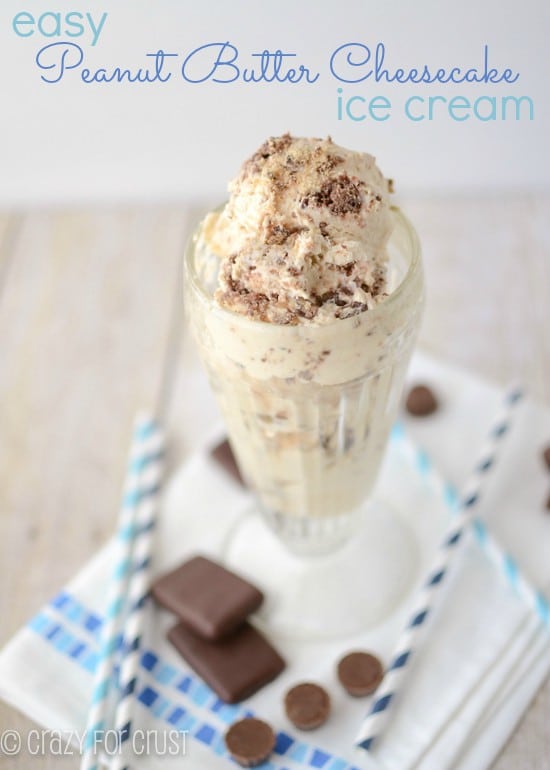 Sweets from friends:
Gooey Butter Peanut Butter Cookies by TidyMom
Chocolate Peanut Butter Turtle Cookies by Averie Cooks
Salted Caramel Peanut Butter Party Chippers by Picky Palate
This post is sponsored by Skippy. As always, all opinions are 100% my own. Y'all know how much I love Skippy – it's the only peanut butter I use – so I'm so happy to be working with a brand I love.
Last Updated on September 23, 2019