This post may contain affiliate links. For more information, read my disclosure policy.
What if I told you that you could make EASY Creme Brûlée without cooking it or baking it or using eggs or anything complicated? If you're raising your hand like ME ME ME then this is the recipe for you!
No bake, no cook and egg-free Creme Brûlée that you can make without a torch if you don't have one!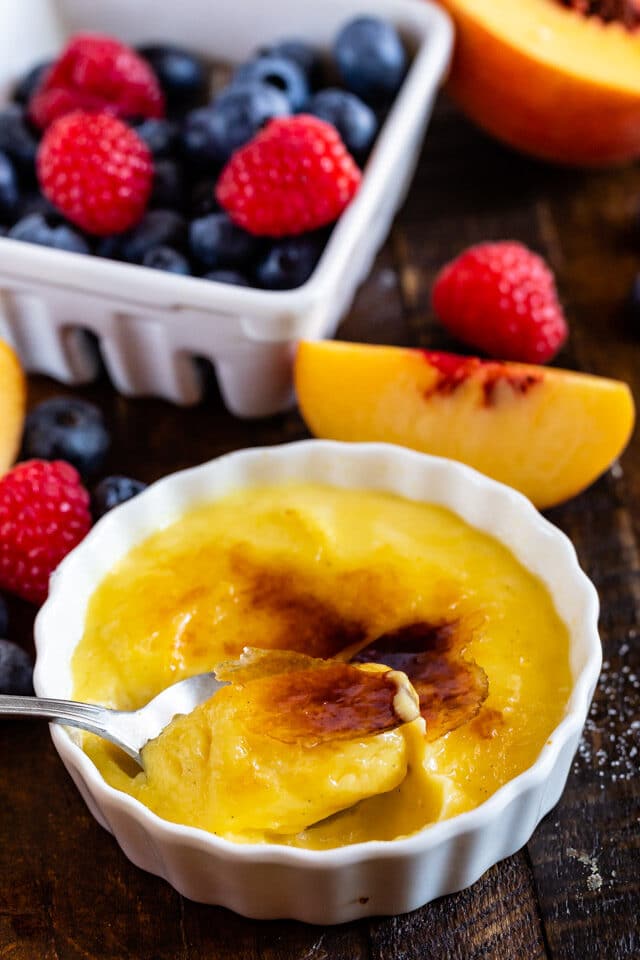 Ok did you know that lots of Creme Brûlée is baked? Like seriously though, I had no idea. I guess that means I've never made the real thing before haha! I've made Chocolate Creme Brûlée but I didn't bake that and my No Bake Creme Brûlée Pie uses the same method that this non-traditional one does.
This recipe is truly easy, fast, no bake, and no cook if you're using a torch. That's the fun part about making Creme Brûlée – the torching!
The first time I had Creme Brûlée was when I was at a steakhouse with Mel years and years ago. They brought it for dessert – it may have been our anniversary, I don't remember – but it was love at first bite. The creamy custard with it's richness and vanilla flavor that's soft and smooth accompanied by that crunchy sugar topping…nothing compares: it's my favorite dessert to order at a restaurant.
When I was in Sonoma County a few weeks ago we ate dinner at The Girl And The Fig in downtown Sonoma. Everything was delightful but for dessert we had a selection of their favorites and one was Lavender Creme Brûlée. I was a little skeptical because, to me, lavender means soap, but it was subtle and fantastic and really just tasted like one of the best Creme Brûlée recipes I'd ever had. I knew in the moment of my first bite that I'd be making a traditional copycat here on the blog.
However…I got to reading recipes on how to make Creme Brûlée and, well. Honestly, no one has time for all that. Custard and tempering eggs…it's a commitment guys and I have to be in the mood to spend that much time in the kitchen. Then I remembered my pie recipe from a few years ago and how good (and authentic) it tasted to the traditional recipe. I decided that I needed an Easy Creme Brûlée recipe on this site that's all about flavor and ease.
Making Easy Creme Brûlée at home is as simple as this recipe: pudding mix that tastes JUST like the classic should, even without a torch.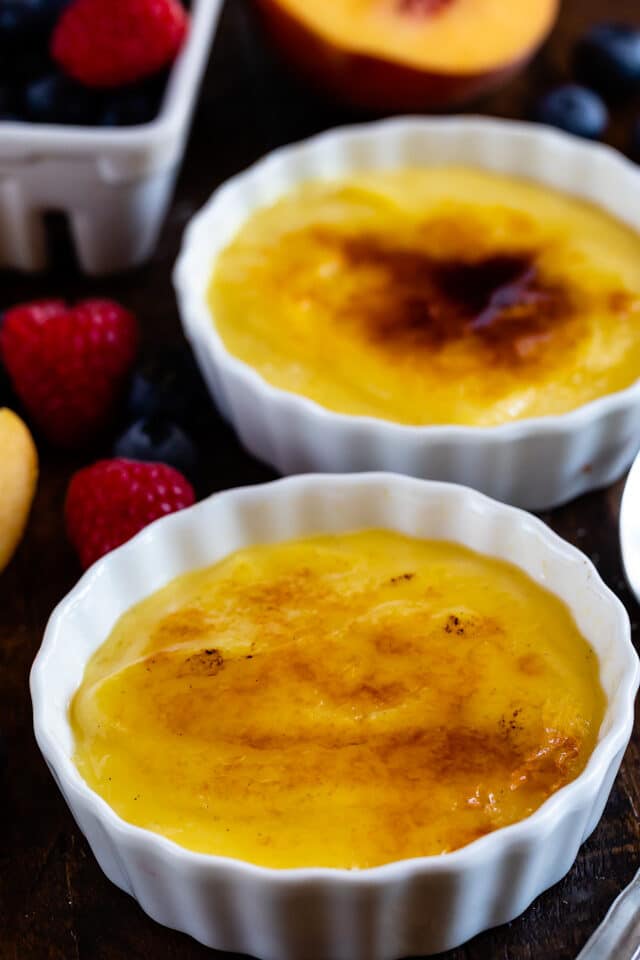 That's right: you don't have to have a torch to make this recipe. I'm going to teach you how to make this three different ways: with a torch, with a broiler and on the stovetop. You'll be able to make this recipe if you have a big fancy kitchen or even if you're using a hot pate in a college dorm room.
THAT is what I think food is about BTW, being able to enjoy anything anywhere, no matter how much money or equipment you have. It's not all about fancy techniques; for me it's about flavor and this one delivers.
Making Creme Brûlée easy with pudding mix!
That's right: I said pudding mix. And it tastes JUST LIKE the classic recipe, but without all the work. No eggs, water baths, baking or cooking required.
There are two secrets to making Creme Brûlée with pudding mix:
Using a combination of heavy whipping cream and milk.
Adding vanilla bean paste.
Now, usually I know that pudding mix has a taste, you know what I mean? There's a flavor to it that is uniquely pudding mix; either it's the flavoring they use or the fact it's packaged. BUT – if you want to make that flavor indistinguishable you can add vanilla extract to it. I do that a lot when I'm making a pudding pie or trifle, add flavoring. I do it to Cool Whip too and it cuts down on the packaged taste.
For making Creme Brûlée out of pudding mix I highly recommend that you use vanilla bean paste. Vanilla bean paste is made from extract and vanilla beans so the flavor is more intense and it adds those little black flecks of vanilla to whatever you add it too. I love using it in my vanilla frosting because of the flavor it lends and adding it to this easy recipe makes the custard taste JUST LIKE the real thing.
Making this recipe with pudding mix means it's done in minutes!
Just chill and then get ready to top it with sugar and fire.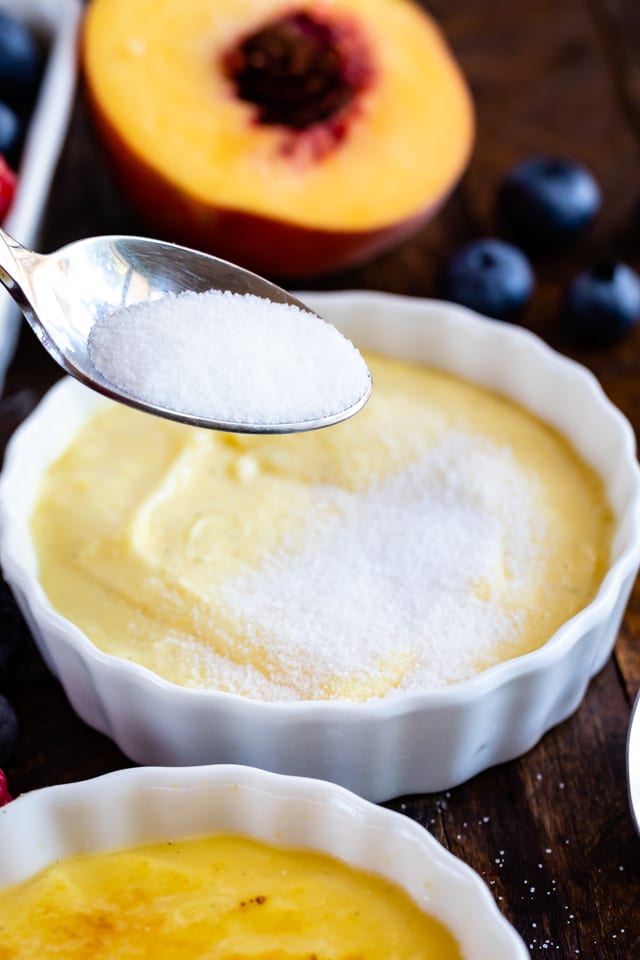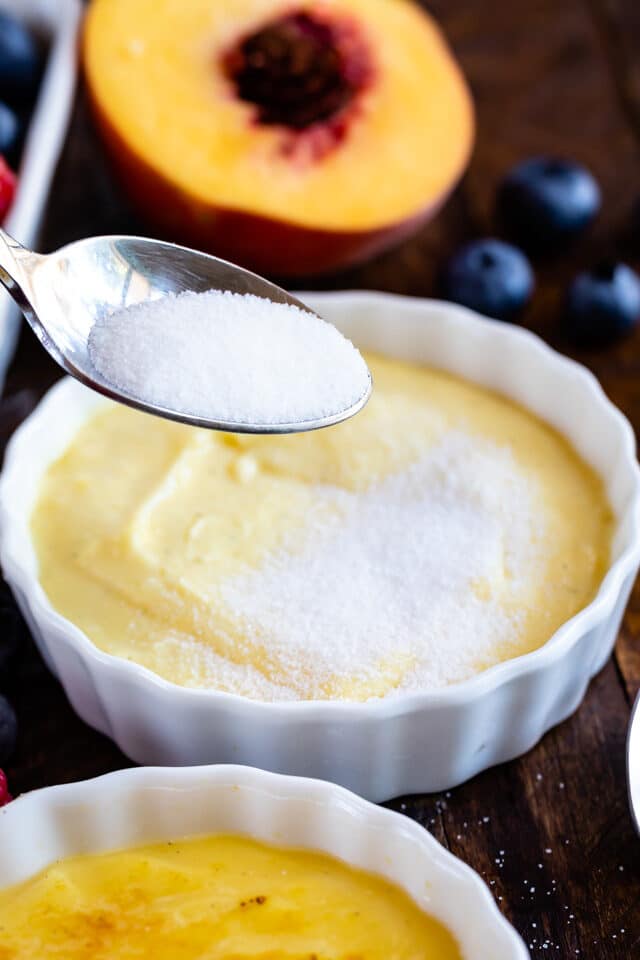 Creme Brûlée is fantastic because of that crunchy sugar on top. It's for sure my favorite part of the dessert. The caramelized sugar layer adds a nice contrasting texture to the creamy pudding. Because the pudding is chilled before you top it with the sugar the heat of the cooked sugar warms up the Creme Brûlée and makes it nice and warm with a cool center.
What kind of sugar do you use on Creme Brûlée?
You can use any kind, really. If you have a more coarse or raw sugar you'll get a thicker and crunchier layer, but regular granulated sugar is just fine.
The trick with making the sugar layer is to make it even across the entire custard. I like to sprinkle it on with a spoon and then shake the ramekin so that it's even across the top.
Traditionally the crunchy top is made with sugar and heated with a blow torch. To do this you simply sprinkle the sugar on top of the custard and then heat it with the blow torch until it's brown.
Note: be sure not to leave the flame in one place too long – move it around while it's caramelizing – or the sugar will burn.
But what if you don't have a blow torch? Don't worry, I have you covered with three different ways to caramelize the sugar on top Creme Brûlée.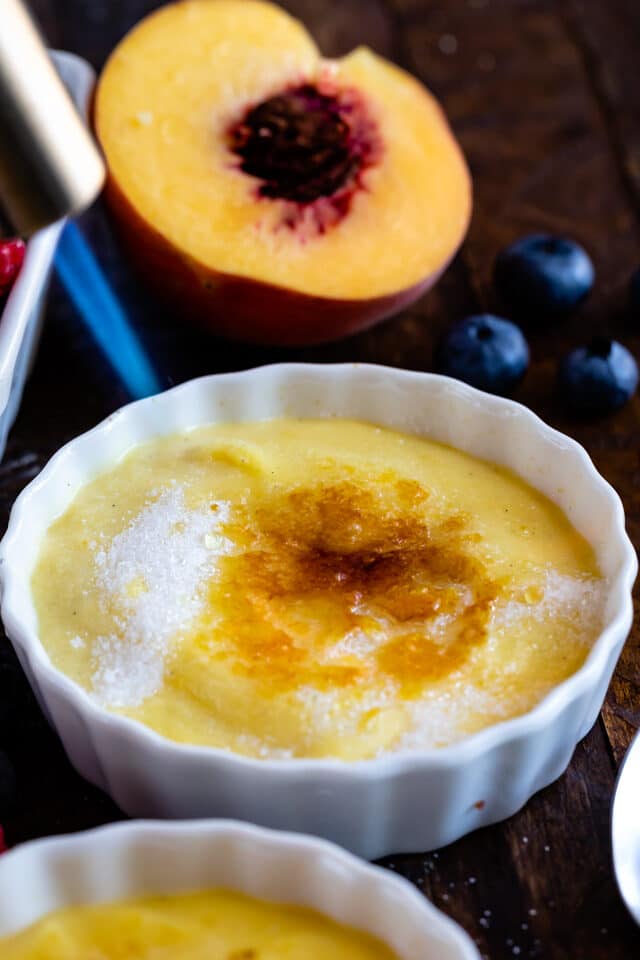 How to make Creme Brûlée without a kitchen torch
There are two ways to do this:
1. Use the broiler on your oven.
Now, this is the method you see most often listed as a way to make Creme Brûlée without a torch. However, I struggle with this method, probably because my oven rack isn't set close enough to the broiler. You can definitely try this method because all ovens are different. Sprinkle the sugar on top the custard and place it on a cookie sheet. Then place it directly under the broiler for not very long – watch it constantly, turning as needed – until it's light golden. Don't cook it too long or the custard will boil and break.
2. Cook the sugar on the stove.
This method actually comes from a Better Homes & Gardens cookbook (you know, the one with the red-checkered cover). The suggest that you cook the sugar and pour it, hot, onto the Creme Brûlée. To do this you place the sugar in the pan without any liquid. Don't stir it (and don't walk away from the stove). It'll liquefy then turn a light amber color. Once it does you can carefully pour a drizzle onto the top of your custard. This method will work for sure but the only issue is that cooked sugar this way is very very crunchy. Be careful not to pour too much in one place – a light drizzle is just fine – or it can get too hard to eat. It's also hot, so be careful when pouring it.
While a torch is the best way to make easy Creme Brûlée, you can use other methods and have this delightful dessert!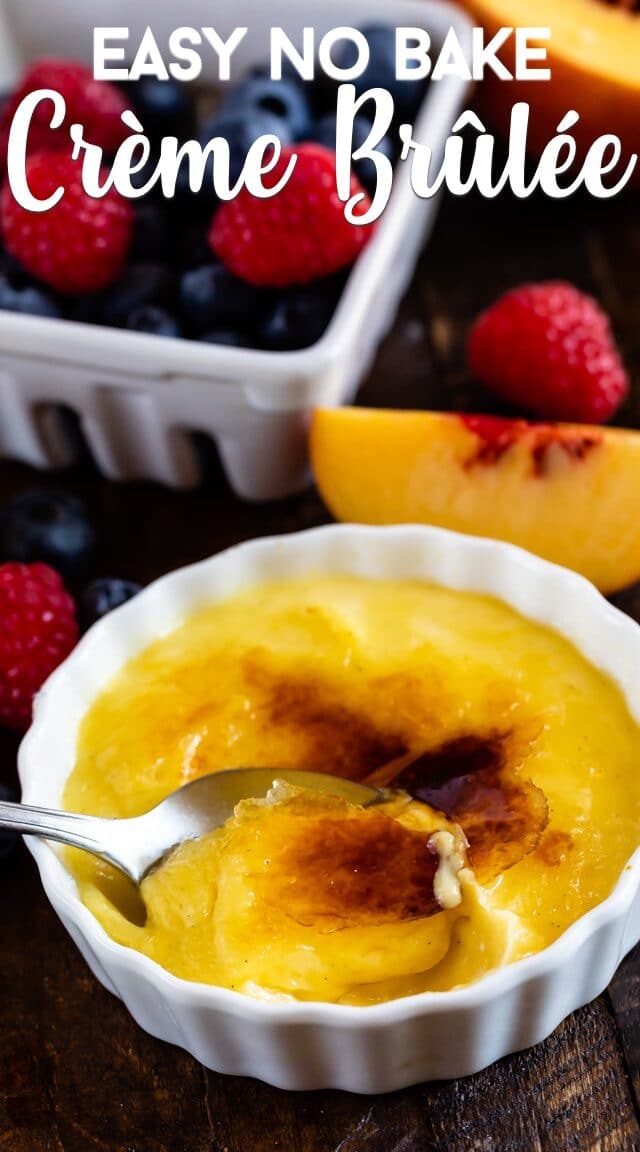 Try using other flavors of pudding mix for new Creme Brûlée flavors!
If you love this, try these recipes:
Tools for success:
Vanilla Bean Paste – or try finding it at stores like Ross or Marshall's (look in the food aisle)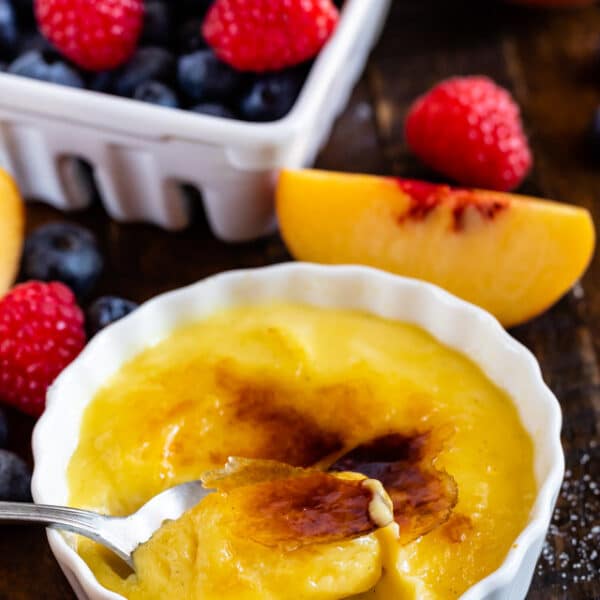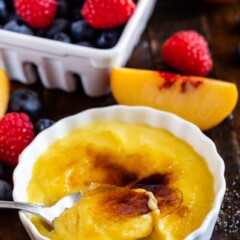 Easy Creme Brûlée
Easy Creme Brûlée is made with pudding mix and can be done with or without a torch. This easy recipe is no bake and no cook and done in just minutes!
Ingredients
1

box

Instant Vanilla Pudding Mix

3.4 ounce size

1

cup

nonfat milk

3/4

cup

heavy whipping cream

1

teaspoon

vanilla bean paste

see note

4

tablespoons

sugar
Instructions
Whisk together pudding mix, milk and heavy whipping cream. Add vanilla bean paste and whisk until smooth. Pour into 4 creme brûlée dishes or small ramekins. Chill until set, about 30 minutes or up to overnight.

Torch method: sprinkle each dish with a tablespoon of sugar. Torch until browned being careful not to burn the sugar.

Oven method: preheat the broiler to high. Place ramekins on a cookie sheet and place them under the broiler (close to the flamfor just minute or two, watching the whole time, until sugar is browned.

Stove method: place 1/2 cup sugar in a small saucepan. Heat without stirring. Once it starts to turn to liquid, stir with a wooden spoon, being careful not to get it on the sides of the pan, until the sugar turns to crystals then to liquid again, and turns a light amber color. Drizzle some onto each creme brûlée. Note: this sugar hardens more than it does with the torch. Err on the light side of adding it to the top - you don't need the entire amount but it's hard to make less than 1/2 cup - and be cautious eating it.
Recipe Notes
If you don't have vanilla bean paste you can use vanilla extract (equal amounts). But if you can find vanilla bean paste it takes the recipe to the next level. You can find it on amazon or often at Ross or Marshall's or those sorts of stores in the food aisles.
Recipe Nutrition
Calories:
317
kcal
|
Carbohydrates:
39
g
|
Protein:
3
g
|
Fat:
17
g
|
Saturated Fat:
10
g
|
Cholesterol:
62
mg
|
Sodium:
195
mg
|
Potassium:
129
mg
|
Fiber:
1
g
|
Sugar:
35
g
|
Vitamin A:
781
IU
|
Vitamin C:
1
mg
|
Calcium:
104
mg
Nutritional information not guaranteed to be accurate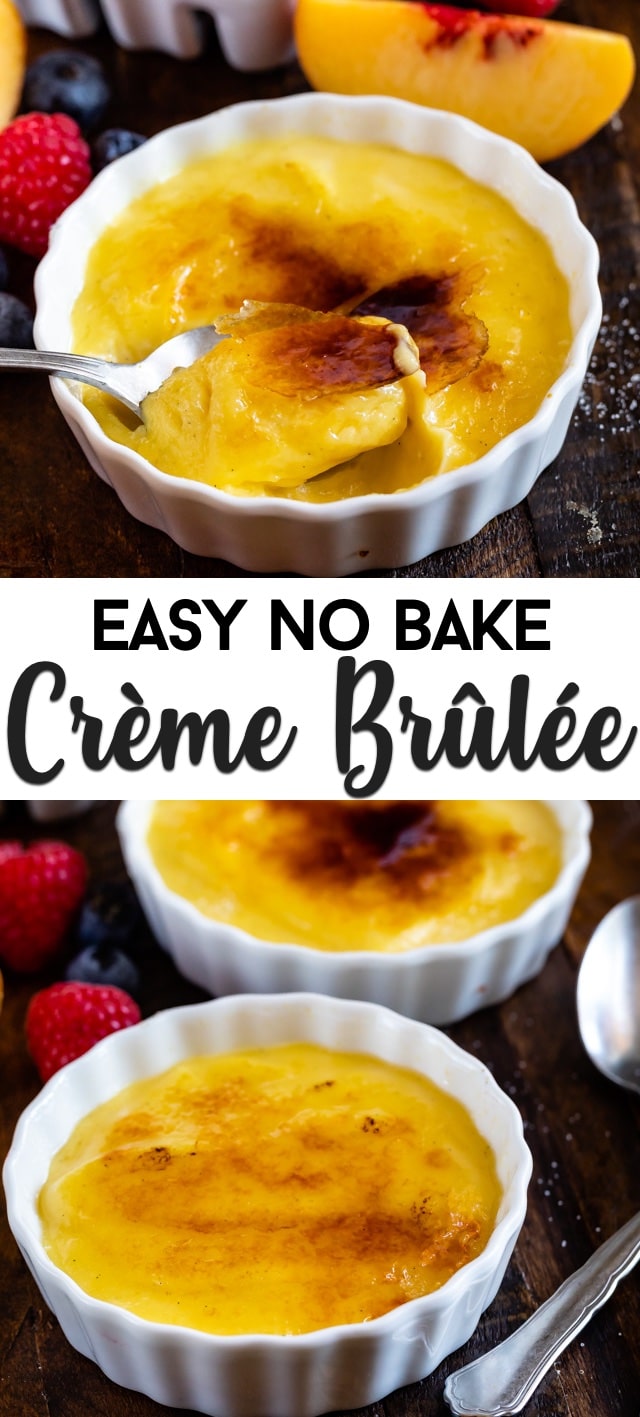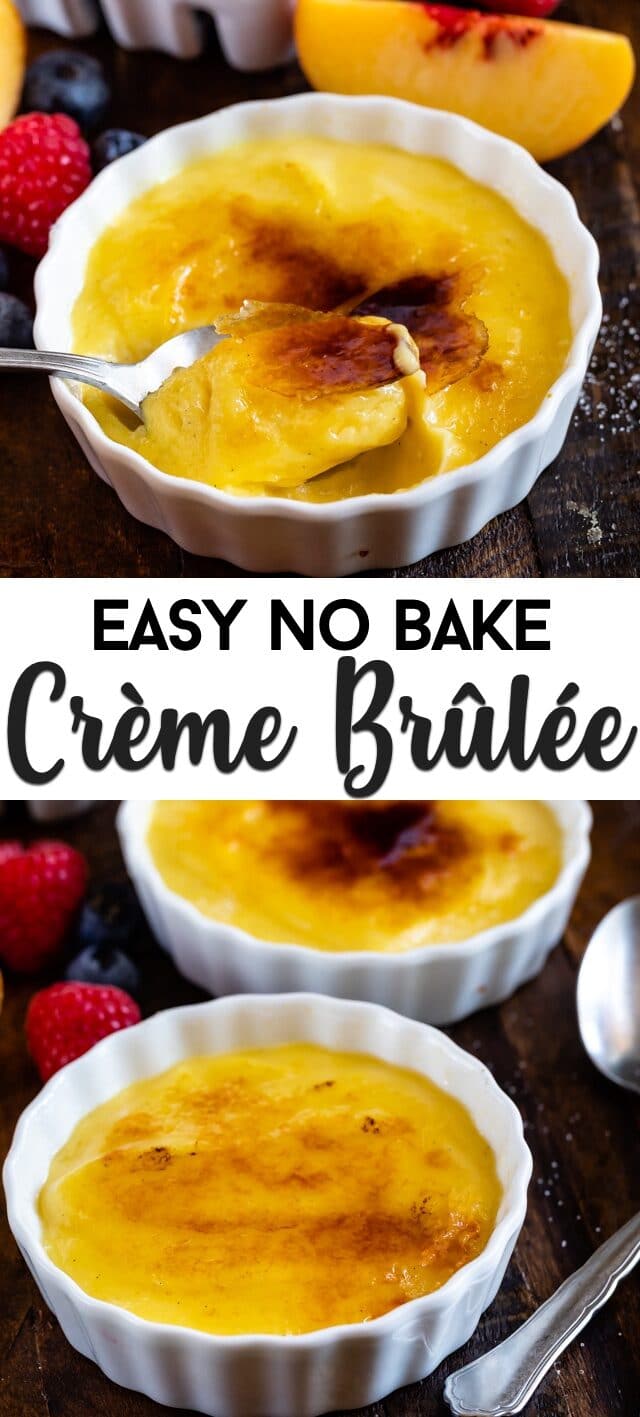 Last Updated on September 28, 2020