This post may contain affiliate links. For more information, read my disclosure policy.
These Creme Brulee Cheesecake Bars are part cheesecake, part cookie, and are all good!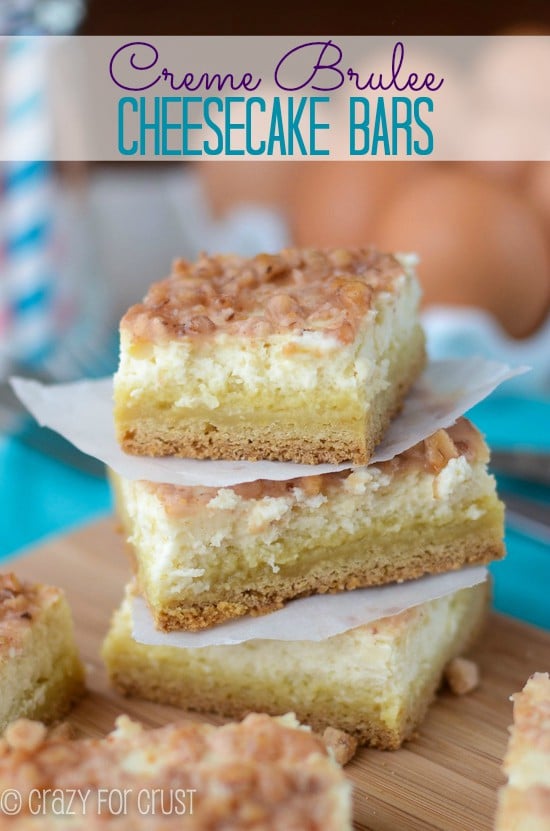 Before we start today, I'd like to thank you all for the overwhelming outpouring of support after my post on Friday night. I never ever in a million years think I'd get so many comments, messages, and emails, many of which had me in tears. So, thank you for your support, for your advice and kind words, and for sharing your experiences with me. I heart all of you, and I'm so glad we have each other.
Now, it's kind of hard to segue from body-image issues into delicious creme brûlée cheesecake bars, but hey, that's life, right? Actually, working on this blog, building relationships with all of you, and baking make me happy. When I'm doing this job; when I'm in the kitchen creating, I'm enjoying myself quite a bit, regardless of how I feel when I eat what I'm making.
So, we're still going to talk sugar, okay? Because that's what I do. I ply you with sugar and talk your ear off. It's who I am, and I think I'm pretty good at it!
It's a job, and someone has to do it! 🙂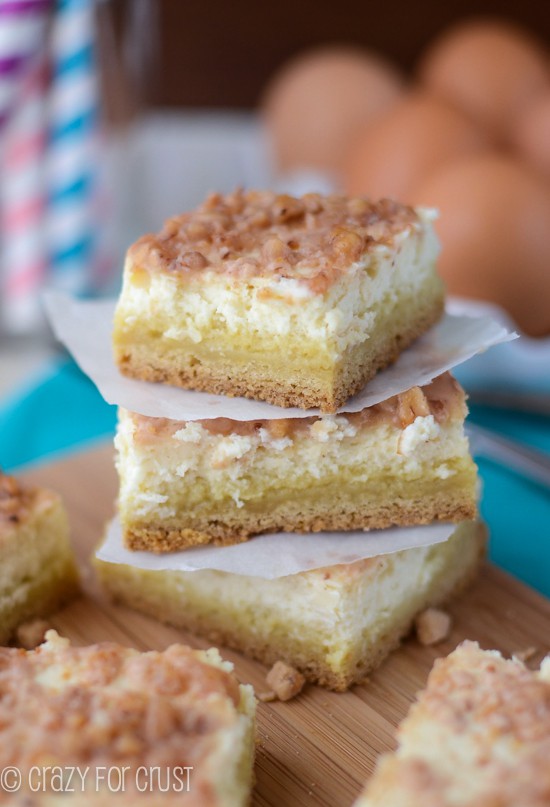 Last week I posted on Facebook about cheesecake. I asked what kind I should make, and one of the suggestions was creme brulee. And man, my mouth watered for that!
Now, I still have a cheesecake up my sleeve, but when I started thinking about what would make a good creme brûlée cheesecake, I found these bars. And I wanted to make my version of them.
The reason I asked about cheesecake in the first place is because I had an idea, one that I still have to try. I took a baby step with these bars: I used some Chobani Greek Yogurt mixed with the cream cheese.
I am in love with greek yogurt lately. I eat it every day in a breakfast smoothie, and I've been trying to substitute it for oil or butter more often in baking. Cheesecake was just the next logical step. And guess what?
It totally worked. According to this Chobani graphic, you can substitute greek yogurt equally for cream cheese. I used 4 ounces of cream cheese and 1 cup of nonfat plain greek yogurt for these bars. And the texture of the cheesecake is exactly how I would have expected it to be.
It kind of blew my mind a little.
The base of the bars is a variation of my sugar cookie recipe. I actually have a new one for you soon, one that Jordan helped me make. It includes a box of vanilla pudding, which I think makes every cookie 100x better immediately. The cookie base is pressed into a 9″ square pan and topped with the cheesecake filling.
A quick note about your pan. I used a 9″ square metal cake pan, that I'd lined with foil and spray, as I always do. The bottom of the bars cooked too much (not a really noticeable amount and they taste fine, but they're too done for me). Normally I use a glass pan and for some reason reached for a metal pan. I have noted in the recipe that you should use a glass pan for best results.
Once the bars are baked, you immediately top them with some crushed toffee bits. The heat of the bars melts the toffee bits to the top, and gives it a little caramel crunch, much like you would get when eating a creme brulee. These are SO good. The cheesecake is creamy and perfect. Paired with the cookie base and toffee crunch, these are one of my new favorites!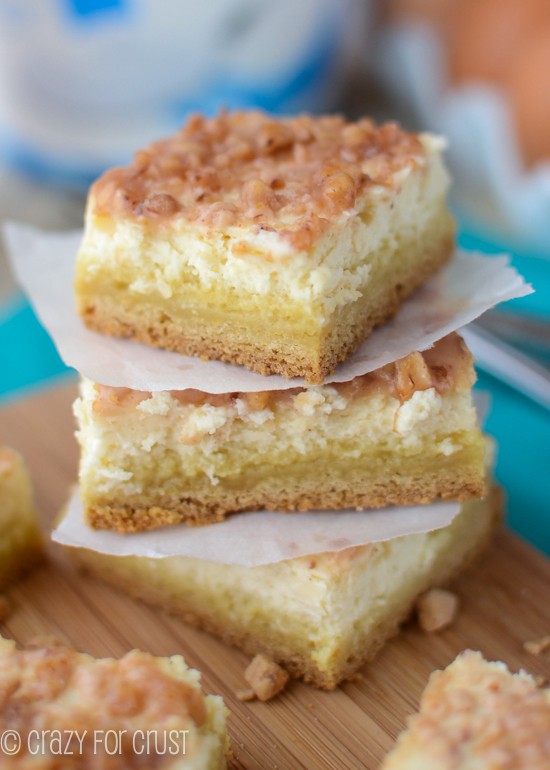 I think I need to ask Facebook what they want more often. Y'all have some awesome ideas!! 🙂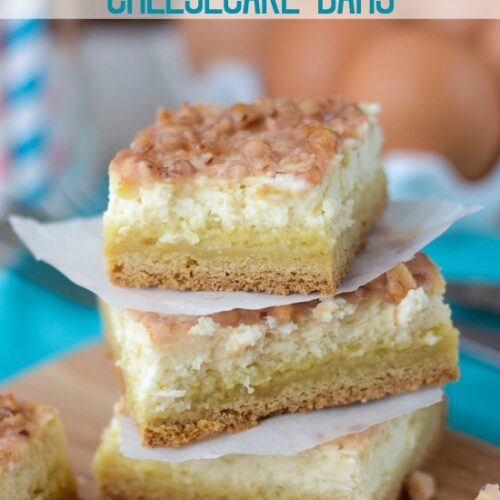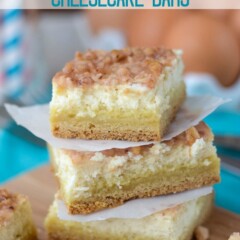 Creme Brulee Cheesecake Bars
Ingredients
For the cookie base

1/4

cup

butter

softened

1/3

cup

granulated sugar

2

tablespoons

brown sugar

1

egg

1

teaspoon

vanilla extract

1

teaspoon

baking soda

1

box

3.4 ounces instant vanilla pudding mix (not sugar-free)

1

cup

flour

For the cheesecake and topping

4

ounces

low-fat cream cheese

you can use regular fat too, softened

1

cup

non-fat plain Chobani Greek Yogurt

1

egg

1

teaspoon

vanilla extract

1/4

cup

granulated sugar

1

tablespoon

flour

1/2

cup

toffee bits

semi-crushed
Instructions
Preheat oven to 350 degrees. Line a 9" square glass pan with foil and spray with cooking spray. I do not suggest using a dark or coated pan for these bars!

Make the cookie base: Beat butter and sugars with a mixer until fluffy. Beat in egg, vanilla, and baking soda. Mix in pudding mix and flour. Press into prepared pan.

Make the cheesecake: beat cream cheese and yogurt until no lumps remain. Beat in egg, sugar, vanilla extract, and flour. Mix until smooth. Pour and spread over cookie base.

Bake bars for about 27-30 minutes. They will lose their sheen around the edges, but still wiggle a little in the middle. Remove from oven and immediately sprinkle with toffee bits. Let cool to room temperature and then chill until set, at least 3 hours or overnight. Slice into bars.
Nutritional information not guaranteed to be accurate
Non-Alcoholic Baileys Cheesecake Pie
Peanut Butter Cookie Cheesecake Bars
Sweets from friends:
Brownie Stuffed Cheesecake with a Peanut Butter Cookie Crust by Back for Seconds
Mini Heath Bar Cheesecakes By Dinners, Dishes, and Desserts
Favorite Cheesecake by Something Swanky
While Chobani sent me product to play with, this post is not sponsored. I just love their product, and wanted to share!
Last Updated on May 13, 2020