This post may contain affiliate links. For more information, read my disclosure policy.
Yes, EASY Chocolate Creme Brulee. No bake, no eggs, no water bath, and you don't even need a torch if you don't have one. Amazing chocolate custard in a small batch – for two!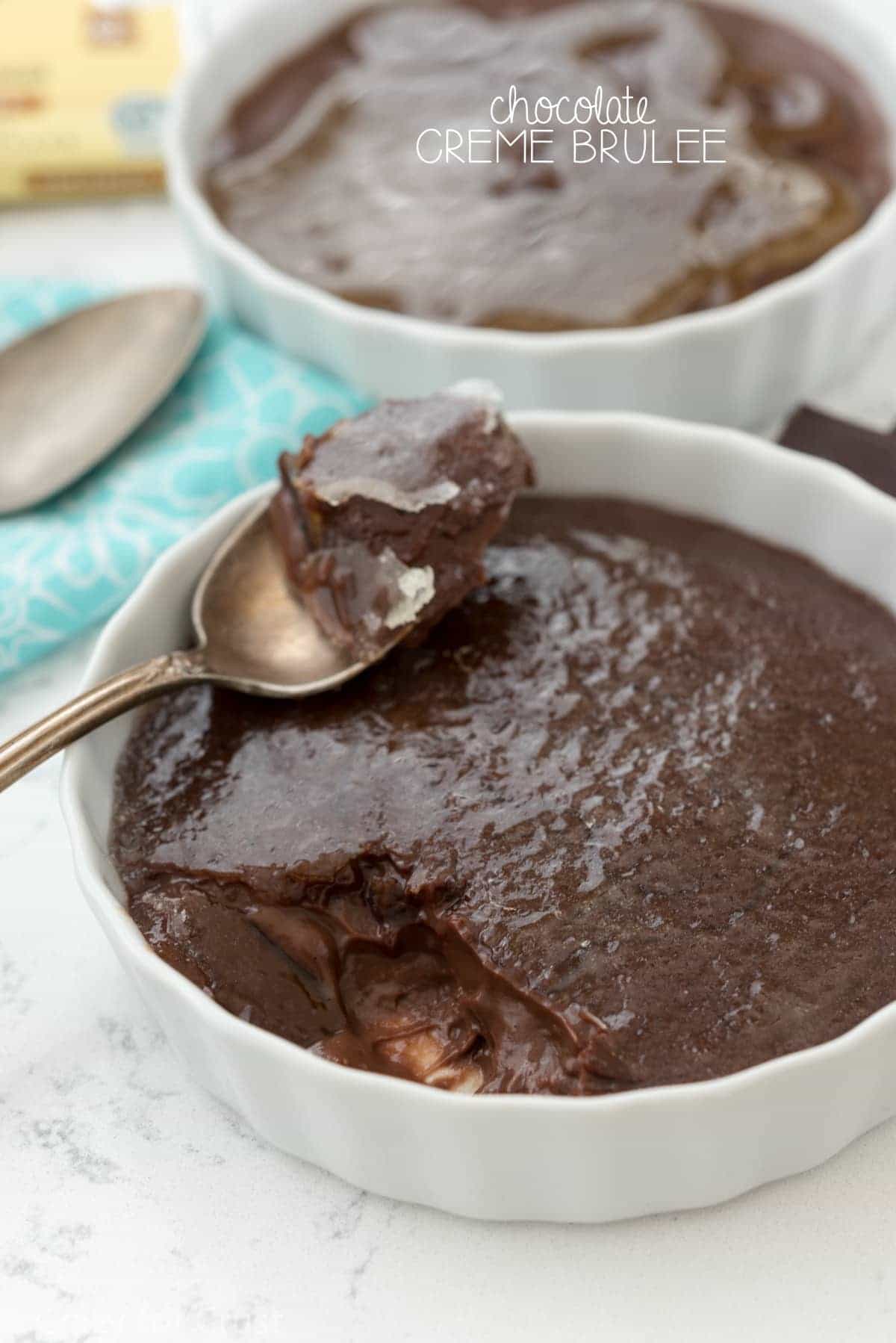 Chocolate Creme Brûlée with Cocoa Powder
Remember a few months ago when I told you all about how much I loved creme brulee but I hadn't had it in years? I'm making up for that today…in a big way. You guys – I made it CHOCOLATE.
I know, right? I almost can't get over the fact that chocolate creme brulee exists. Like, for real, it does. I know, I made it. And, even better than chocolate creme brulee, this recipe is so easy you can do it right now. No fussy recipe here – this is an Easy Chocolate Creme Brulee recipe. Even if you're thinking, "Oh, no, creme brulee. I can't make that, it's too hard!" you can make this, I promise.
Why you'll love this recipe
Not only does this recipe not have eggs, but it doesn't need to be baked, it doesn't need a water bath, and if you don't have a torch? NO PROBLEM.
THIS Easy Chocolate Creme Brulee was made for 2. I used two 6-ounce brulee dishes for this recipe. (Depending on the size of the dishes or ramekins you have, you may end up with more or less than 2, so plan accordingly.)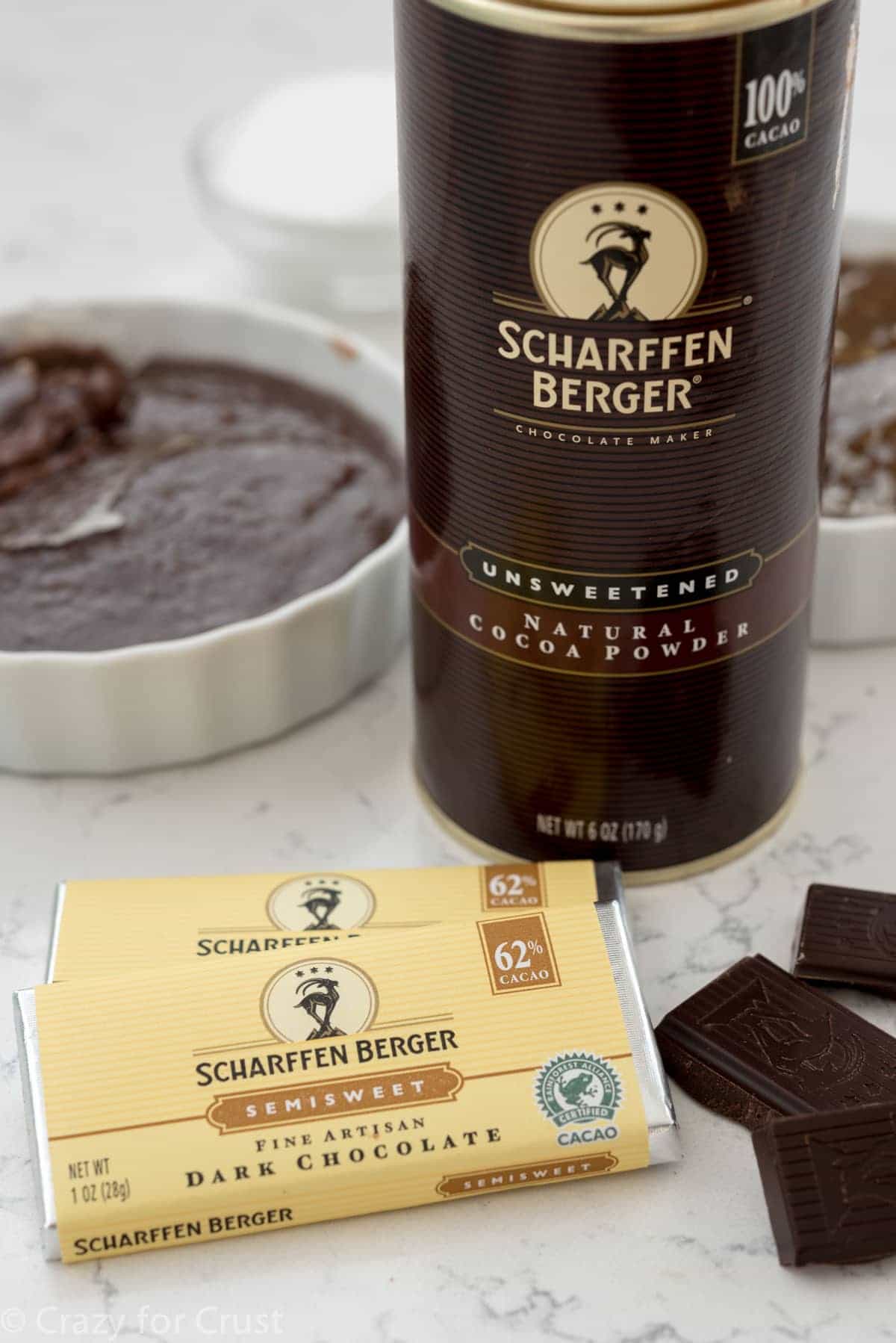 Ingredients Needed
Basically, the custard mixture is pudding. Instead of making something that needs to baked in a water bath – which can be tricky – I made an egg-free chocolate pudding. It takes about 10 minutes total on the stove and then you just need it to cool before you can brulee it.
Cocoa Powder – Use a really good unsweetened cocoa powder. You can even use Dutch Process if you want for a deeper flavor.
Cornstarch – This is what I used to thicken the pudding since we are not using eggs.
Milk – I used whole milk but for a thicker custard you could use heavy cream.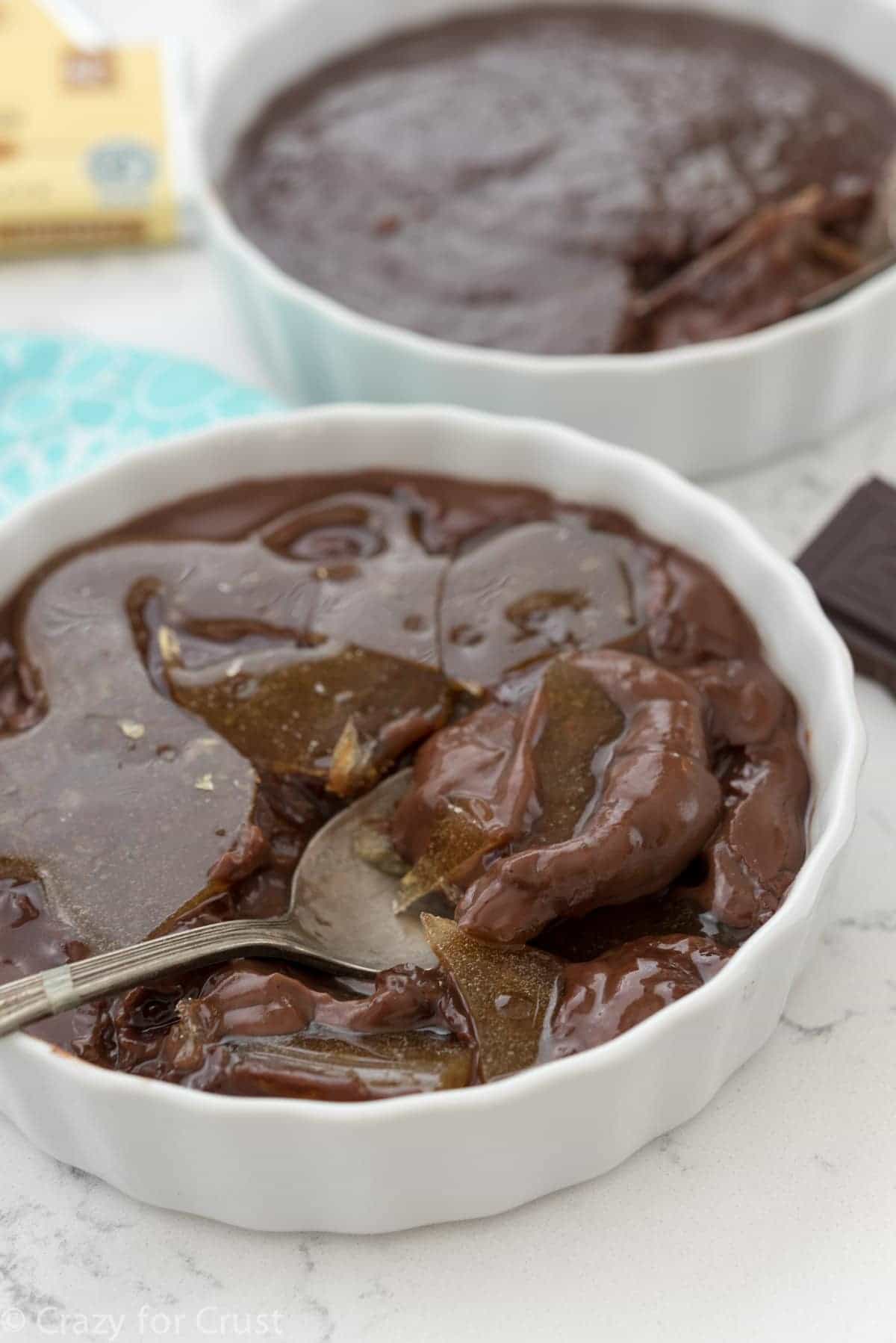 How to Make Easy Chocolate Creme Brulee
Make the pudding by whisking the sugar, cornstarch and cocoa then adding the milk and cooking, stirring constantly, until the mixture thickens.
Pour the pudding into your serving dishes and chill to cool and set.
Add the sugar and torch, or do the torch-free method.
Creme Brûlée without a Torch
You can do this the authentic way and sprinkle the top with sugar, then torch the top to melt and slightly burn the sugar.
If you don't have a torch, make a simple sugar syrup before serving – you basically just melt sugar in a saucepan – and then pour it over the top. It'll harden (don't make it too thick or it'll be too thick to chew and eat).
You can also sprinkle the top with sugar and then place the creme brûlée under the broiler, but it won't get as melted and burnt as the torch method.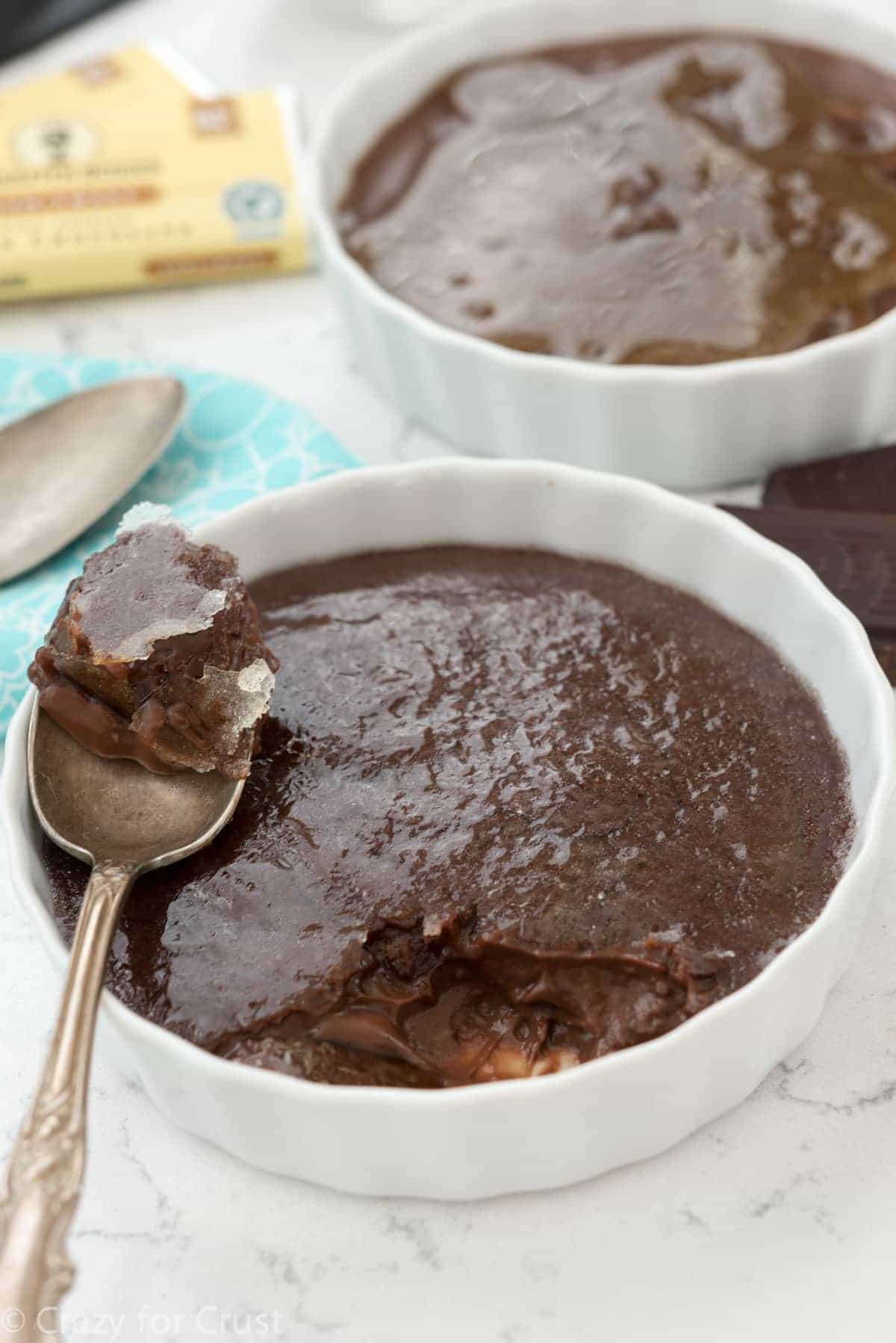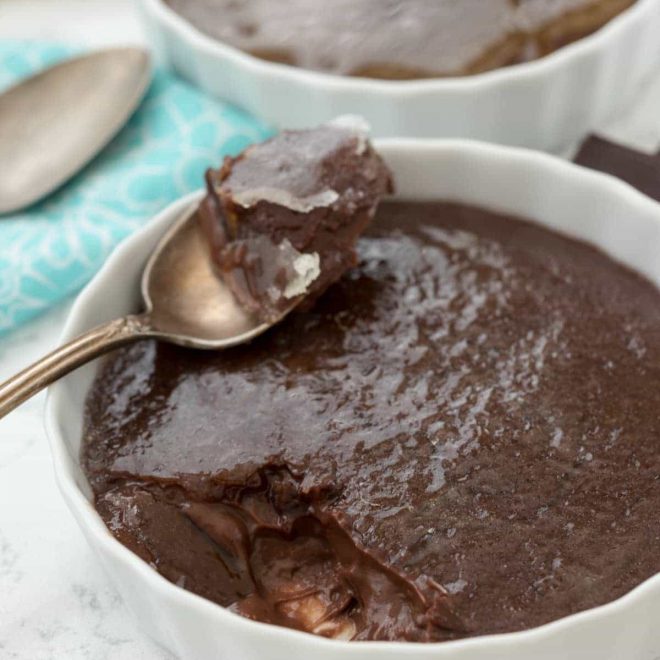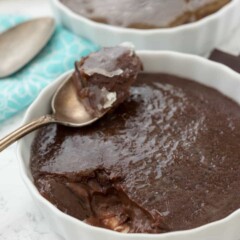 Easy Chocolate Creme Brulee
Easy Chocolate Creme Brulee – this easy recipe is totally foolproof! It's a no bake creme brulee – no eggs or fuss, just rich chocolate creme brulee! You don't even need a torch if you don't have one!
Ingredients
⅓

cup

(57g) granulated sugar

⅛

teaspoon

salt

5

teaspoons

(8g) unsweetened cocoa powder

4

teaspoons

(9g) cornstarch

1

cup

whole milk

1

teaspoon

vanilla bean paste

or extract

1

ounce

semi-sweet baking chocolate

Granulated sugar

for topping
Instructions
Whisk sugar, salt, cocoa, and cornstarch in a medium saucepan. Add milk and whisk over medium low heat until the powder is dissolved. Switch to a wooden spoon or heat safe spatula and stir continuously until the mixture starts to thicken. Once it thickens, stir in the vanilla bean paste then remove the pan from the heat and stir in the baking chocolate. Stir until smooth. Pour into 2-4 ramekins or creme brûlée dishes. (Depending on the size of the dish. Dishes shown are 6 oz.)

Let the pudding cool to room temperature. You can brulee it now and serve immediately, or cover and chill for up to 24 hours before continuing.

To make the brûlée topping, you can use a torch or the stovetop method. Do this right before serving.

To brûlée using a torch: top each creme brûlée with about 2-3 teaspoons granulated sugar. Evenly toast the sugar until it bubbles, then turns translucent, being careful not to burn it.

To brûlée using the stovetop method: add 1/4 cup granulated sugar to a small saucepan. Place over low heat and do not touch it, but watch it closely. Once it starts to turn to liquid, stir with a wooden spoon, being careful not to get it on the sides of the pan, until the sugar turns to crystals then to liquid again, and turns a light amber color. Drizzle some onto each chocolate creme brulee. Note: this sugar hardens more than it does with the torch. Err on the light side of adding it to the top – you don't need the entire amount for the 2 brûlées but it's hard to make less than 1/4 cup – and be cautious eating it.

To brûlée using the broiler: sprinkle each dish with 2-3 teaspoons granulated sugar and cook under the broiler until melted – it won't be as crackly as with the torch method.
Recipe Notes
Get yourself some creme brûlée dishes, which are like ramekins but shallower and wider.
You can also use ramekins for this.
This recipe is designed to make two 6-ounce chocolate creme brûlées but you may get more of them if you use a smaller dish.
You can use regular unsweetened cocoa powder or Dutch process.
You can use heavy cream in place of milk for a thicker custard.
Make these ahead up to 48 hours in advance – store in refrigerator. Don't top with sugar until right before serving.
Recipe Nutrition
Serving:
1
/2 Creme Brulee
|
Calories:
340
kcal
|
Carbohydrates:
66
g
|
Protein:
6
g
|
Fat:
9
g
|
Saturated Fat:
5
g
|
Cholesterol:
15
mg
|
Sodium:
2558
mg
|
Fiber:
4
g
|
Sugar:
56
g
Nutritional information not guaranteed to be accurate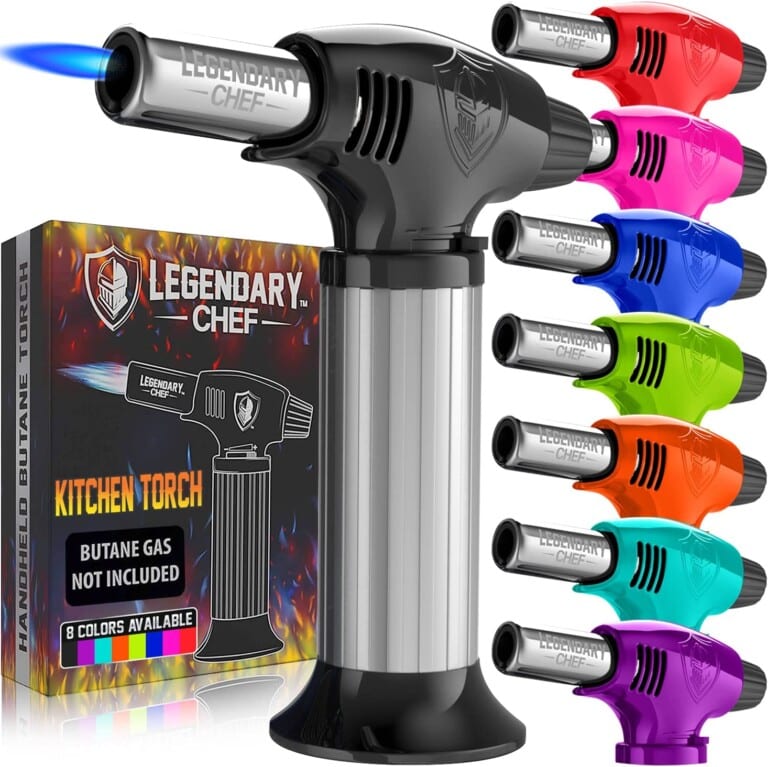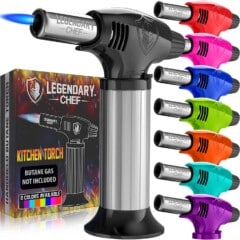 Torch
While you don't have to have a torch, I prefer using one for this recipe.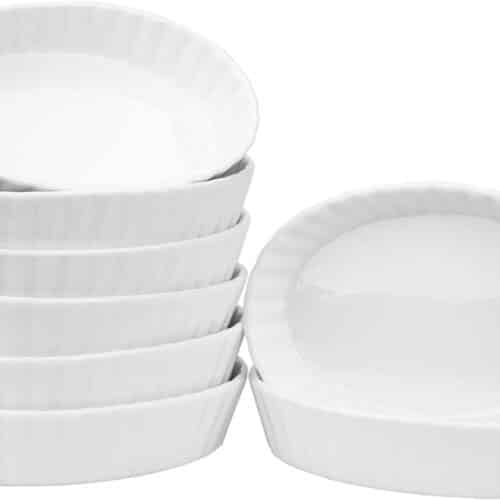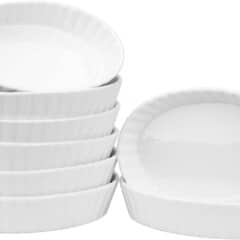 Creme Brûlée Dishes
These are the dishes I use.
Last Updated on February 4, 2023