This post may contain affiliate links. For more information, read my disclosure policy.
Yes, EASY Chocolate Creme Brulee. No bake, no eggs, no water bath, and you don't even need a torch if you don't have one. Just pure chocolate goodness…for 2!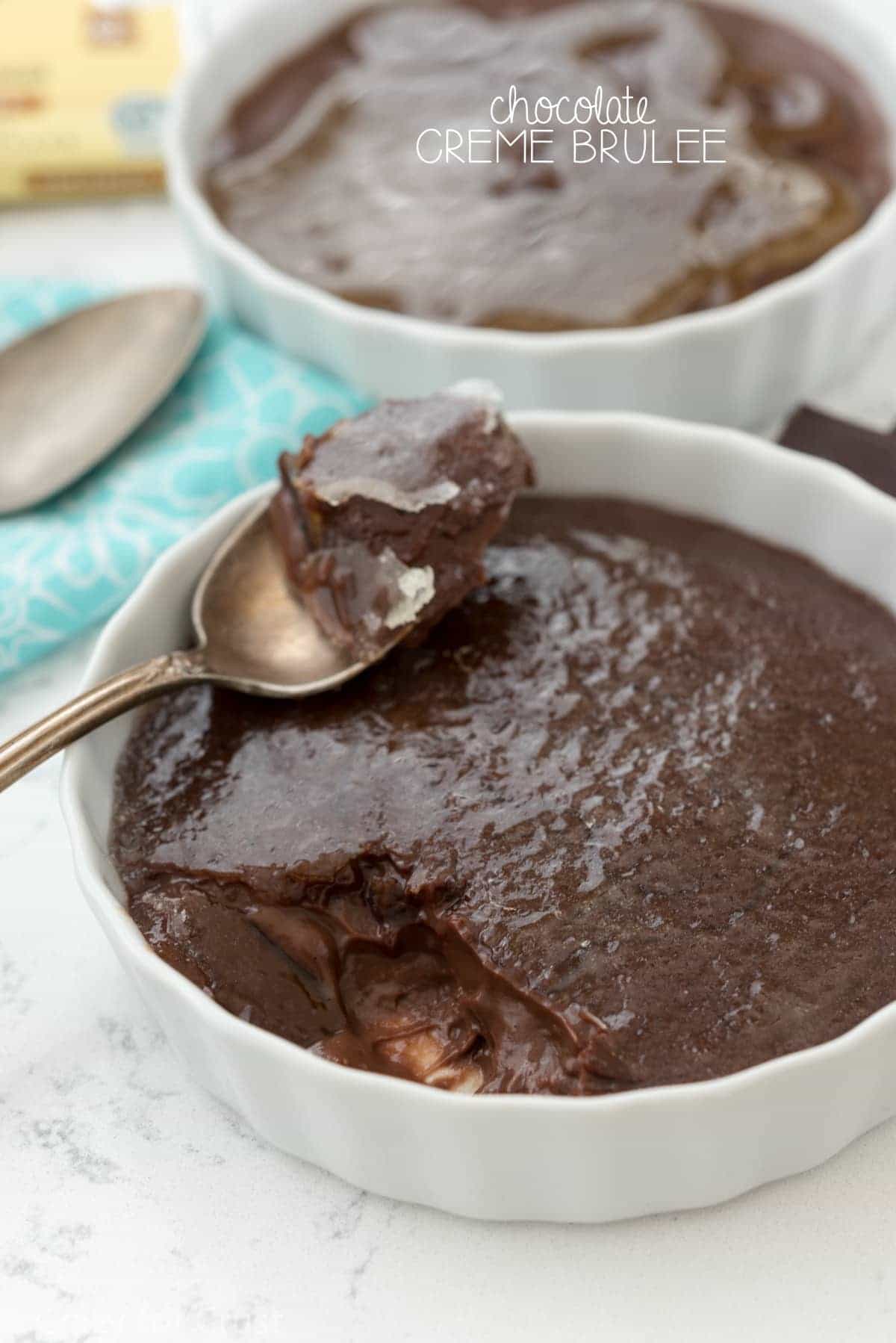 Remember a few months ago when I told you all about how much I loved creme brulee but I hadn't had it in years? I'm making up for that today…in a big way. You guys – I made it CHOCOLATE.
I know, right? I almost can't get over the fact that chocolate creme brulee exists. Like, for real, it does. I know, I made it. And, even better than chocolate creme brulee, this recipe is so easy you can do it right now. No fussy recipe here – this is an Easy Chocolate Creme Brulee recipe. Even if you're thinking, "Oh, no, creme brulee. I can't make that, it's too hard!" you can make this, I promise.
And guess what? Not only does this recipe not have eggs, but it doesn't need to be baked, it doesn't need a water bath, and if you don't have a torch? NO PROBLEM. Looking at that photo above and the one right below – do you see the difference? One is a torch and one is without, but they both have a thick crunchy sugar topping. That topping is required for creme brulee, and, well, both fit that bill!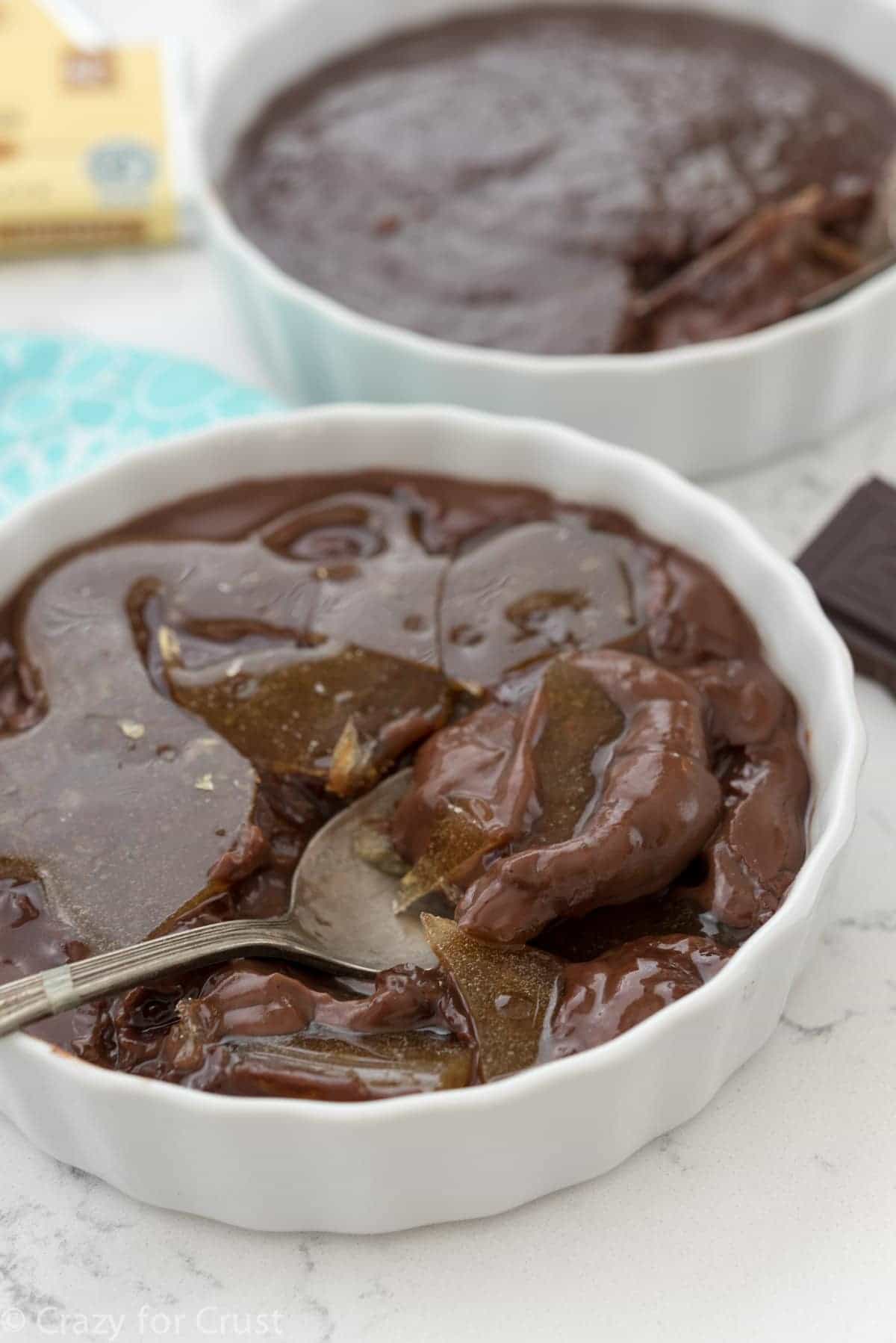 There's so much to talk about with this Easy Chocolate Creme Brulee recipe, so let's get started, okay? First of all, what do you do when you have date night? I mean, it's February (where did January go?) which means Valentine's Day is right around the corner. Valentine's Day can be so #wonderfullycomplicated, can't it? Do you go out or stay in? We prefer to stay in and do at-home date night because we can't stand the crowds and overpriced food and babysitters on the actual day. We send Jordan to bed early with a movie and then I make a nice dinner (usually risotto) and dessert for Mel and I to share.
THIS Easy Chocolate Creme Brulee was made for 2. I used two 6-ounce brulee dishes for this recipe. (Depending on the size of the dishes or ramekins you have, you may end up with more or less than 2, so plan accordingly.)
Now, I know 6 ounces of creme brulee can be a lot. I guess you could share one with your Valentine and save the second one for later. Or you could just splurge and eat both, because, well, it's CHOCOLATE Creme Brulee.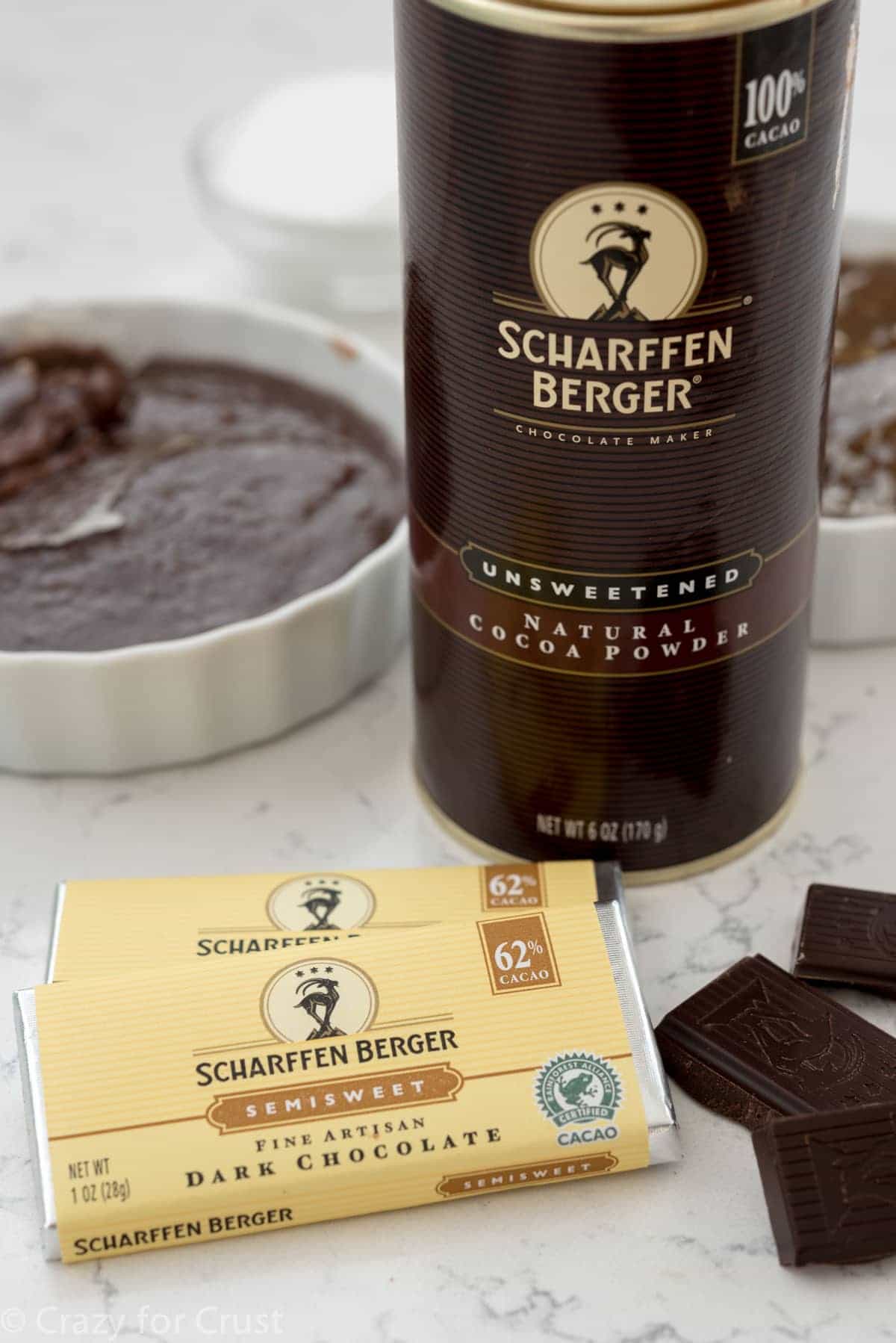 How to Make This Easy Chocolate Creme Brulee
When you're making a chocolate version of such an elegant dessert, you need to make sure and use a good quality chocolate. I used my favorite: Scharffen Berger. Their fine artisan chocolates create the best desserts. My pudding mixture is filled with two kinds of chocolate: 62% Cacao Semisweet Chocolate and 100% Cacao Unsweetened Natural Cocoa Powder. Used together, the two chocolates make this creme brulee rich and indulgent.
So let's go back to talking about how EASY this recipe is. Normally creme brulee requires tempering eggs with hot cream and then the pots of custard are baked in a water bath. As much as I love the "real" thing, that's just too complicated for me, especially on date night when I just want to relax.
Basically, the custard mixture is pudding. I know, pastry chefs everywhere just rolled their eyes, but to me? It's the same thing. So, instead of making something that needs to baked in a water bath – which can be tricky – I made pudding. That's WAY easier.
And, because I am one of those people that scrambles eggs instead of cooking them gently into custard, I made an egg-free chocolate pudding. It takes about 10 minutes total on the stove and then you just need it to cool before you can brulee it.
Let's review. This chocolate creme brulee:
Has no eggs, so there's no risk of it tasting like breakfast.
Doesn't need to be baked in a water bath, reducing the risk of me flooding the bottom of my oven.
Uses rich and indulgent fine artisan chocolate.
Makes 2 servings. Or, if we're talking about Mel, it makes 1 1/2 servings for me and half a serving for him.
Oh yeah, and you don't need a torch.
#winning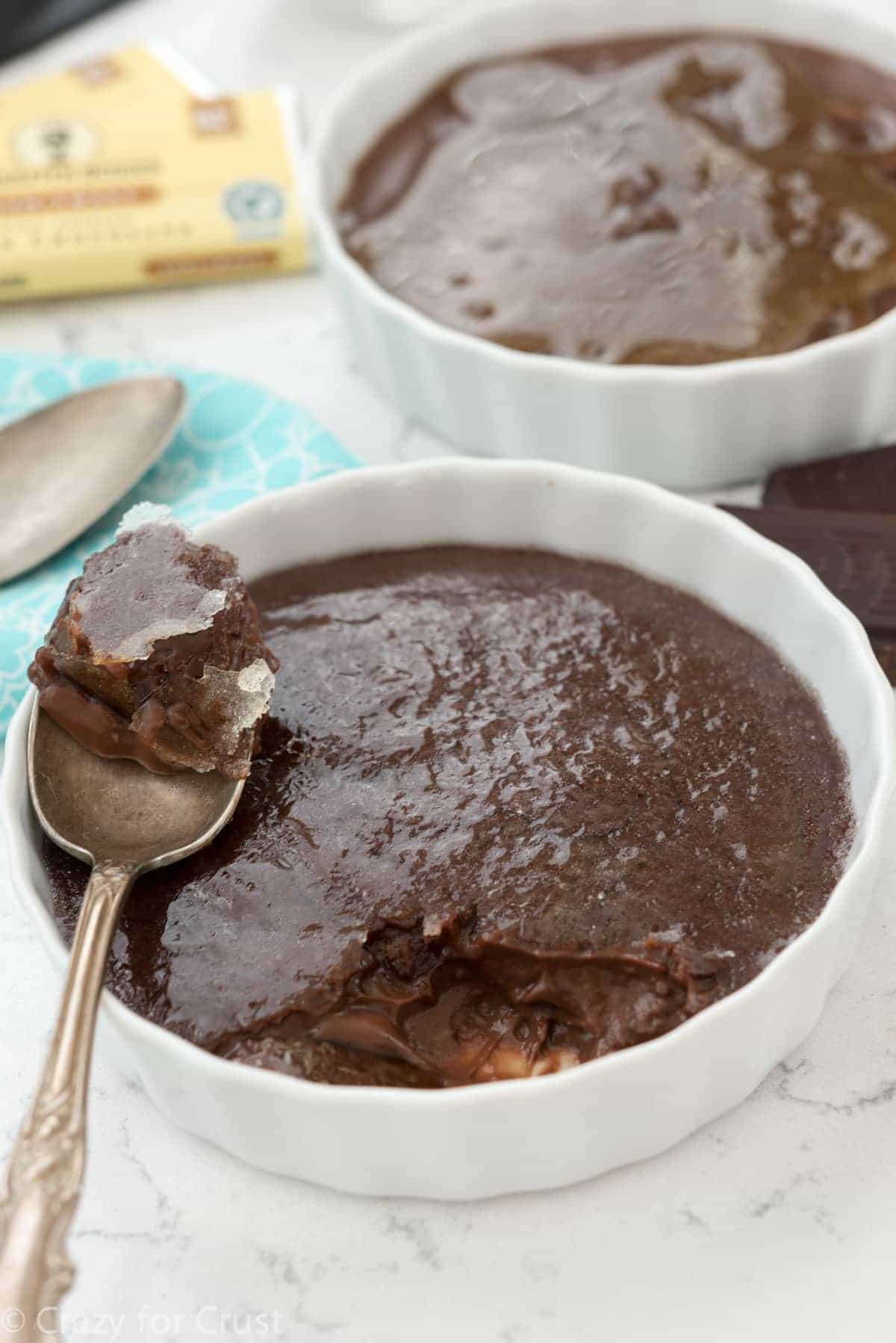 Okay, so you have this delectable chocolate pudding in your brulee dishes and it's time for the best part: the actual brulee.
There are two ways to make the brulee topping, and an oven isn't needed for either of them.
Use a kitchen torch. This is obviously the easier method, and if you don't have one, you should buy yourself one. They're not that expensive and they're fun to use. If you're using a torch, sprinkle about 2-3 teaspoons of sugar all over the top of your chocolate pudding, then torch it until it's translucent. It'll bubble and then melt and look like the top is wet. Once it sits and cools, it becomes hard and creates that crunchy shell you think of when you think of eating creme brulee.

Cook some sugar

. Now, I have heard that you can supposedly broil the top if you don't have a torch, but that never works for me. I'm probably doing it wrong, but this method is just as easy and doesn't require an oven. Don't be scared of cooking some sugar – it's less scary than handling a blow torch, I promise. Basically you place some sugar in a small saucepan and let it sit over medium-low heat until it becomes liquidy. Then you stir it; it will go from liquid to crystals and back to liquid, turning amber as it does so. Then just drizzle some on top of your creme brulee.
Note about the cooked sugar method: the sugar gets very hard. It's not light and delicate like using the blow torch, so don't just pour it on. A drizzle will do!

However you decide to make this, you need to try it. Easy Chocolate Creme Brulee that can be done in under 30 minutes??? YES, PLEASE. Now if only I didn't have to share it…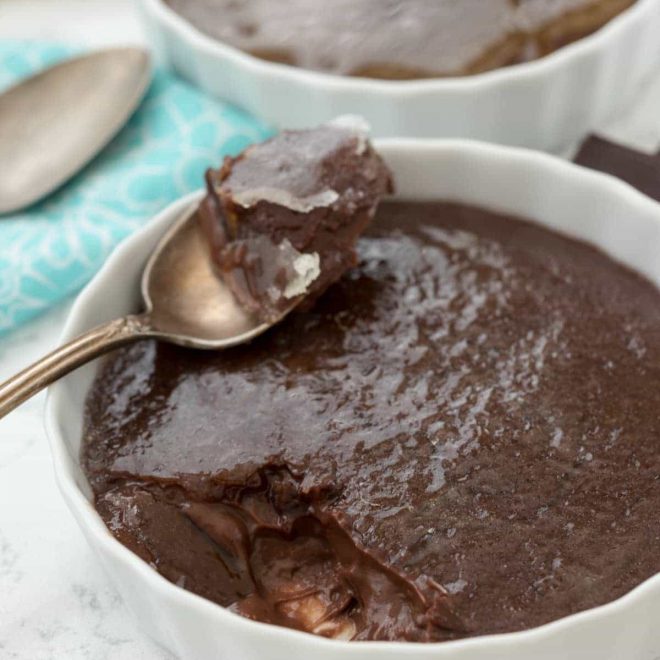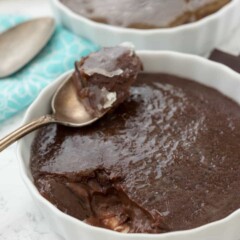 Easy Chocolate Creme Brulee
Easy Chocolate Creme Brulee - this easy recipe is totally foolproof! It's a no bake creme brulee - no eggs or fuss, just rich chocolate creme brulee! You don't even need a torch if you don't have one!
Ingredients
1/3

cup

granulated sugar

1/8

teaspoon

salt

5

teaspoons

unsweetened cocoa powder

I used Scharrfen Berger 100% Cacao Unsweetened Natural Cocoa Powder

4

teaspoons

cornstarch

1

cup

whole milk

1

teaspoon

vanilla bean paste

or extract

1

ounce

semi-sweet baking chocolate

I used a 1 oz Scharrfen Berger 62% Cacao Semisweet Chocolate bar

Granulated sugar

for topping
Instructions
Whisk sugar, salt, cocoa, and cornstarch in a medium saucepan. Add milk and whisk over medium low heat until the powder is dissolved. Switch to a wooden spoon or heat safe spatula and stir continuously until the mixture starts to thicken. Once it thickens, stir in the vanilla bean paste then remove the pan from the heat and stir in the baking chocolate. Stir until smooth. Pour into 2-4 ramekins or creme brûlée dishes. (Depending on the size of the dish. Dishes shown are 6 oz.)

Let the pudding cool to room temperature. You can brulee it now and serve immediately, or cover and chill for up to 24 hours before continuing.

To make the brûlée topping, you can use a torch or the stovetop method. Do this right before serving.

To brûlée using a torch: top each creme brûlée with about 2-3 teaspoons granulated sugar. Evenly toast the sugar until it bubbles, then turns translucent, being careful not to burn it.

To brûlée using the stovetop method: add 1/4 cup granulated sugar to a small saucepan. Place over low heat and do not touch it, but watch it closely. Once it starts to turn to liquid, stir with a wooden spoon, being careful not to get it on the sides of the pan, until the sugar turns to crystals then to liquid again, and turns a light amber color. Drizzle some onto each chocolate creme brulee. Note: this sugar hardens more than it does with the torch. Err on the light side of adding it to the top - you don't need the entire amount for the 2 brûlées but it's hard to make less than 1/4 cup - and be cautious eating it.
Recipe Nutrition
Serving:
1
/2 Creme Brulee
|
Calories:
340
kcal
|
Carbohydrates:
66
g
|
Protein:
6
g
|
Fat:
9
g
|
Saturated Fat:
5
g
|
Cholesterol:
15
mg
|
Sodium:
2558
mg
|
Fiber:
4
g
|
Sugar:
56
g
Nutritional information not guaranteed to be accurate
Find out more about Scharffen Berger online: Facebook / Instagram / Twitter / Pinterest
Easy Double Chocolate Cream Pie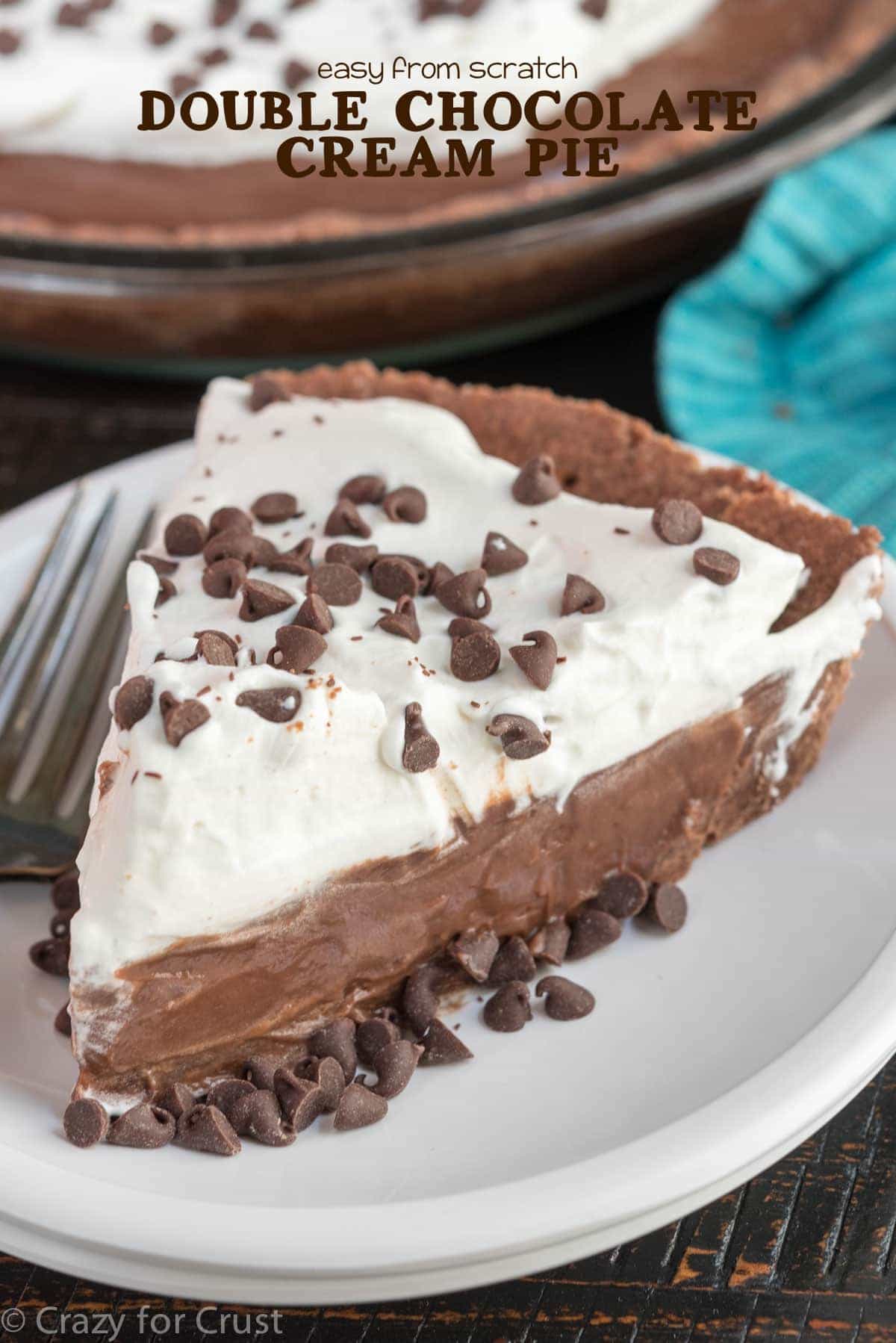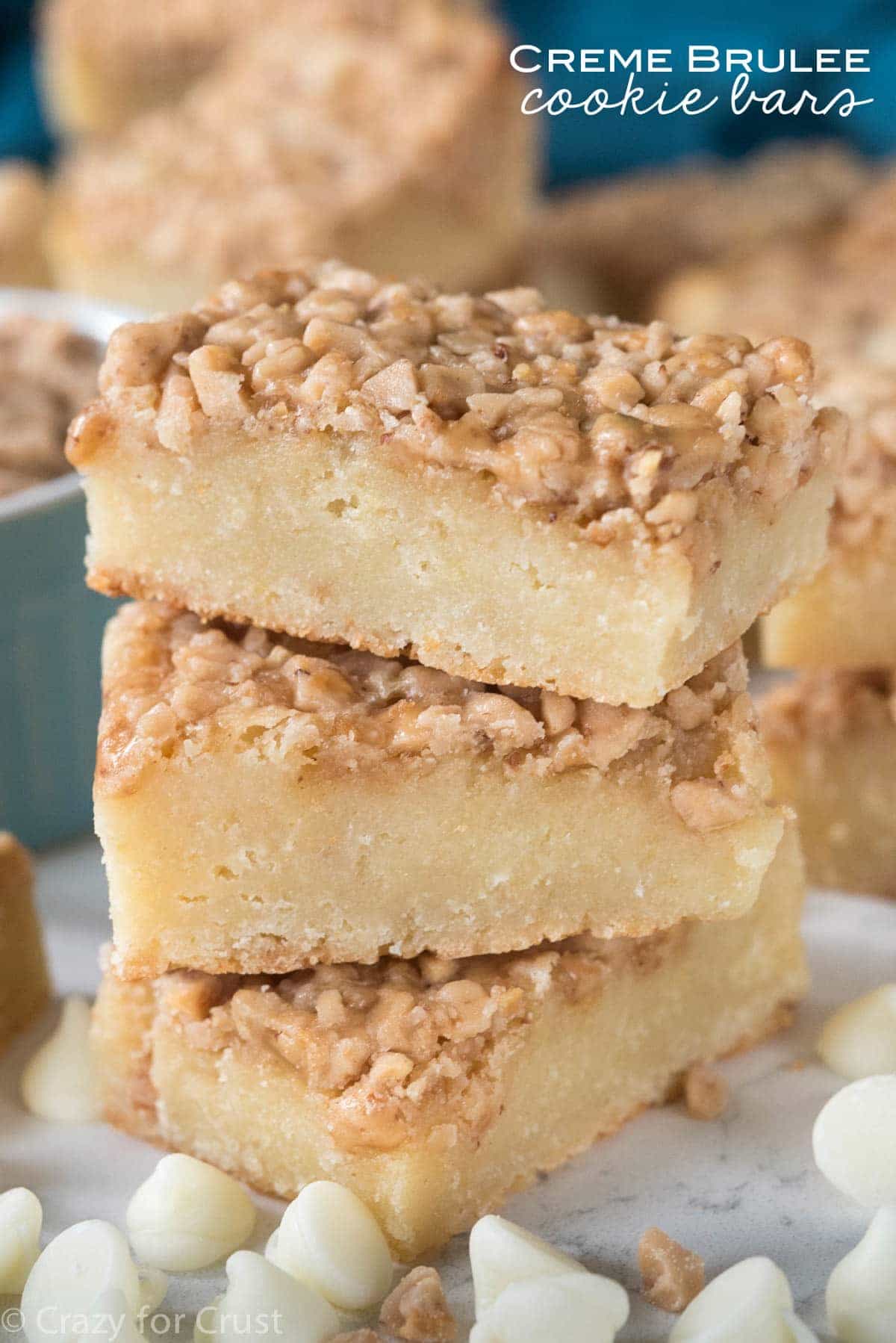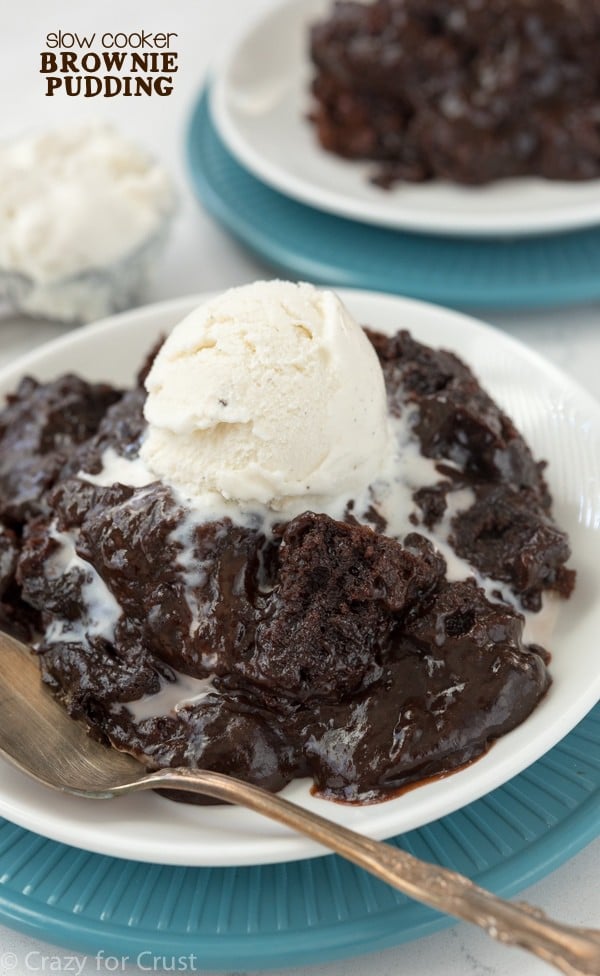 This post has been sponsored by Scharffen Berger. All opinions are 100% my own.
Last Updated on September 23, 2019