This post may contain affiliate links. For more information, read my disclosure policy.
Drunken Cherries recipe – this easy recipe soaks maraschino cherries in alcohol and then you dip them in chocolate. The perfect easy treat!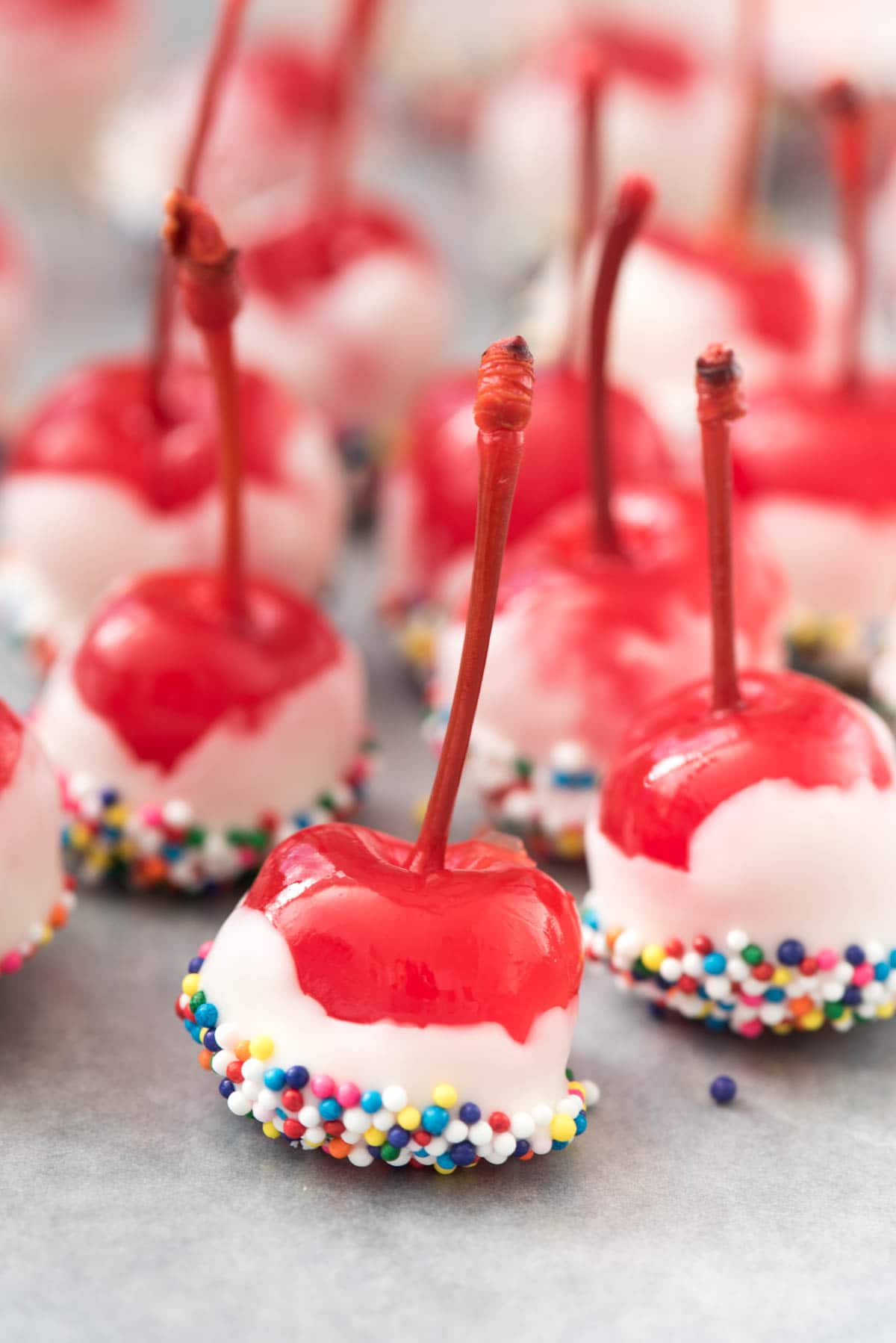 Recently Jordan discovered Shirley Temples. Have you ever let your kids order one of those? We were out to a fancy dinner and Mel and I had ordered cocktails so we let her get a fancy kid-friendly drink. If you've never had one, a Shirley Temple is lemon lime soda with a splash of grenadine or maraschino cherry juice. Since that first time, Jordan begs for one every time we eat out, and it turns out that, like many cocktails, not every restaurant makes them the same. Jordan's favorite one was in Disneyland: not only was it overdosed in cherry juice but it was filled with about 10 maraschino cherries. (Talk about dessert before dinner!)
I just think it's funny she loves Shirley Temples so much because until recently she hated cherries. She also hated whipped cream until about a year ago (seriously, I had to check to make sure she was really mine). I couldn't ever take her to IHop for the face pancake because she'd scrape all the good stuff off.
Basically the moral of the story is that, when I was making these cherries I had to take a sharpie to the jar and write DO NOT EAT all over it in big block letters because she's been known just to pop into the fridge for a cherry now and again and if she'd gotten a few of those bad boys she would have either gotten really sick or someone would have called CPS on me.
The cherries are not for children…they're drunk. Very, very drunk.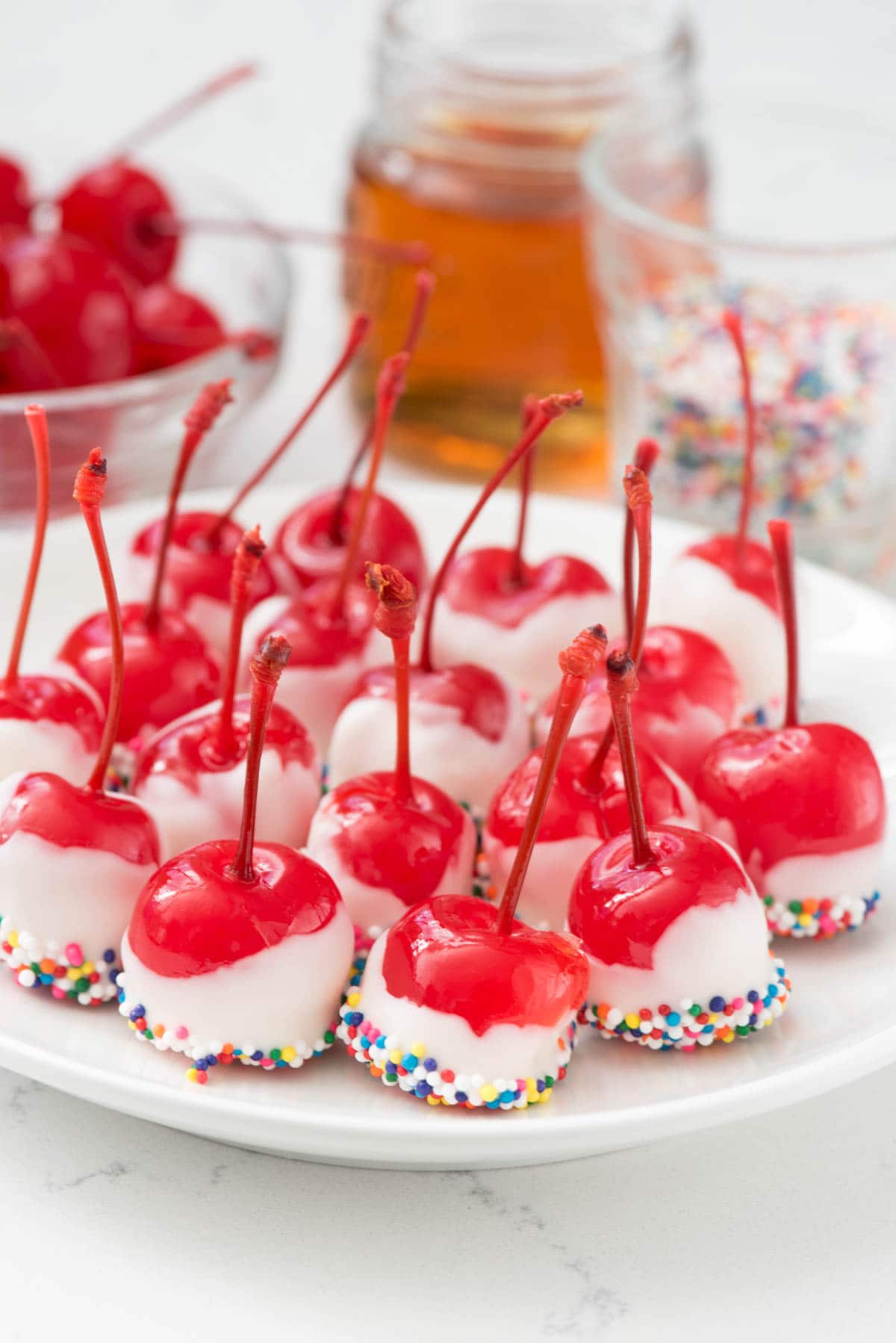 How do you make drunken cherries?
Last 4th of July a friend of mine brought drunk cherries to our party. She'd soaked them in Fireball (cinnamon whiskey, so good, so dangerous) and then dipped them in chocolate and blue sugar. They were SO good and packed a bit of a punch too. I knew I wanted to make them sometime for myself.
Last weekend I went to a mom's only Christmas party with a few of my besties and I was in charge of dessert (obviously). I decided to make the drunk cherries because they're super pretty for a Christmas or New Year's Eve party (or Valentine's Day!) Instead of using fireball, I used amaretto. I think you could also use vodka (vanilla, whipped cream, or cake would be amazing). Simply pour out the cherry juice in the jar (save it for Shirley Temples) and then pour the alcohol of choice in. Chill them for at least 24 hours (the longer you chill, the more flavor they absorb).
Once they're done soaking, drain them (again, reserve the liquid for cocktails) and then pat them very dry. This is a key to getting the chocolate to work out – drain them well and then pat them down gently with paper towels. Any liquid can seize your chocolate so be sure to do this step.
Then, once you've dried them, you dip them into white chocolate and add sprinkles…and then you have drunken cherries!

Some dipping tips for the drunken cherries:
I recommend using almond bark or Candiquik instead of white chocolate chips. They are made for dipping and can withstand liquid better. I also worked in batches (2 ounces of candy at a time) for melting and dipping in case my chocolate seized in between. I like melting candy in disposable Dixie bowls; they're microwave safe and you throw them away after – easy cleanup!
Once you dip the drunken cherries in the chocolate, you can dip them in sprinkles too. Aren't they festive?? They were gone even before the fudge and brownies, so I know everyone loved them.
Want even more? Subscribe to Crazy for Crust to get new recipes and a newsletter delivered to your inbox. And stay in touch on Facebook, Pinterest, Twitter, and Instagram for all my latest updates. If you make this recipe, share a photo on social media tagging @crazyforcrust and using the hashtag #crazyforcrust.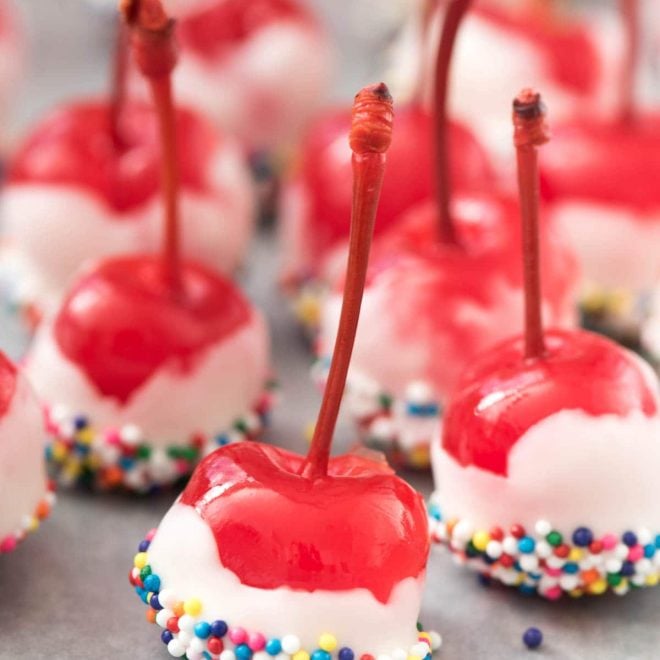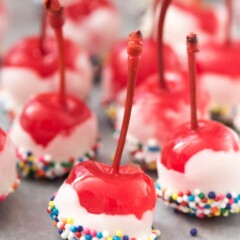 Drunken Cherries
Drunken Cherries recipe - this easy recipe soaks maraschino cherries in alcohol and then you dip them in chocolate. The perfect easy treat!
Ingredients
10

ounce

jar maraschino cherries

24 cherries

5

ounces

alcohol of choice: amaretto

vodka (any flavor; vanilla or cake would be amazing), fireball, etc.

5

ounces

white chocolate

I recommend using almond bark or Candiquik

2

Tablespoons

sprinkles
Instructions
Drain liquid from the jar of cherries. (Tip: reserve the liquid to use for shirley temple drinks or cocktails.)

Pour alcohol in the jar to fill. Replace cap and soak for at least 24 hours. The longer they soak, the stronger they'll be.

Drain the alcohol from the jar. (Tip: reserve it for cocktails!) Strain the cherries, then place them on layers of paper towels and pat dry. You want them as dry as possible before dipping to avoid ruining the chocolate. (Water and chocolate don't mix.)

Work in batches: melt 2 ounces of chocolate in a small bowl. (I like using paper bowls for easy cleanup.) Melt according to package directions. Dip each cherry in the white chocolate, then dip in sprinkles and place on a wax paper lined cookie sheet. Chill to set. Working in batches of chocolate allows you not to waste any, plus allows for the chocolate to seize from the liquid without ruining the whole batch. Use a new bowl for each batch of chocolate you melt.

Store in the refrigerator for up to 2 days.
Recipe Nutrition
Serving:
2
cherries
|
Calories:
122
kcal
|
Carbohydrates:
15
g
|
Protein:
1
g
|
Fat:
4
g
|
Sugar:
6
g
Nutritional information not guaranteed to be accurate
**Did you make this recipe? Don't forget to give it a star rating below!**
Click here for my complete list of Valentine's Day Recipes!
Oreo Truffle Dipped Strawberries
Last Updated on May 13, 2020