This post may contain affiliate links. For more information, read my disclosure policy.
If you love food and Disney then you do not want to miss the Disneyland California Adventure Food & Wine Festival! Going on now, this eating extravaganza isn't just about food. Plan your next Disneyland trip now with this guide to the festival!
I'm going to share ALL my tips and tricks and favorites with you so don't miss this guide!
The Disneyland Food and Wine Festival takes place in California Adventure Park from February 28 – April 21, 2020. The festival is a celebration of California-grown food and full of fun experiences.
There are so many different food choices when it comes time for the Food Festival – and that's not including regular food sold at Disneyland! During the food festival, several kiosks through the park open and serve specialty foods based on a theme or region of California.
And it's not just food; the food festival also includes demonstrations and workshops (some free, some with an extra fee) dedicated to all things foodie. This post is your comprehensive DCA Food & Wine Festival Guide!
Table of Contents
How does the Disneyland Food and Wine Festival Work?
The festival includes a number of different event-only kiosks with different foods from around California. The festival itself doesn't cost anything, but food is extra (and some of the experiences require payment and reservations).
You must have a park pass for Disneyland California Adventure to experience the food festival. This means your one-park pass will be used only for DCA, or you'll need a park hopper pass to do both parks.
Sip and Savor Pass is worth the cost!
The Sip and Savor Pass is a way to explore the food of the festival at a reduced price. The pass is $56 and includes 8 coupons you can redeem at the marketplaces (excluding alcohol).
Many of the food options by themselves are $8 or more, which means that you can try 8 of them for a deal ($7/each). Note that a few of the marketplace locations serve sample size items with the sip and savor pass, but it's still worth the cost.
Be sure not to remove any of the coupons from the pass; they must be attached for the cast member when redeeming the coupon.
The Sip and Savor Pass is available for sale at the Sip and Savor Cart, Seaside Souvenirs, Elias & Co., Kingswell Camera Shop, Rushin' River Outfitters, Studio Store and each Festival Marketplace.
You'll see a setup right on the pathway to the marketplaces, you can grab your pass there and a passport to all the eateries! My tip is to buy one at a time and eat your way through unless you have a large party and know for sure you'll eat more than 8 items. Remember: alcohol doesn't count and you can't use a ticket for those.
Just buy one pass to start, then buy more as needed, so you don't waste tickets.

PRO TIP
How to order food
It can be a little confusing, but here's what to do:
Buy your sip and savor pass and pick up a passport book. Pick your favorites.
If you're only in DCA one day, skip this step. If you think you'll come to the marketplaces multiple days, pick what you want to try each day and only order what you want that day (receipts aren't good after the day ends).
Find the shortest register line at ANY marketplace.
Order ALL the food you want to eat THAT DAY at one time. Tear off the tickets as told to by a CM or pay for your food/drinks. KEEP YOUR RECEIPT.
Simply walk up to the marketplace that has one of the items you ordered and show your receipt. They'll give you your food and cross off the item.
Don't lose your receipt! You need it to pick up each item.
Food Festival Marketplaces
There are 13 marketplaces to try some favorite new Disneyland items. I didn't try everything from every kiosk, but I'm sharing menus and my favorites below.
Nuts About Cheese Marketplace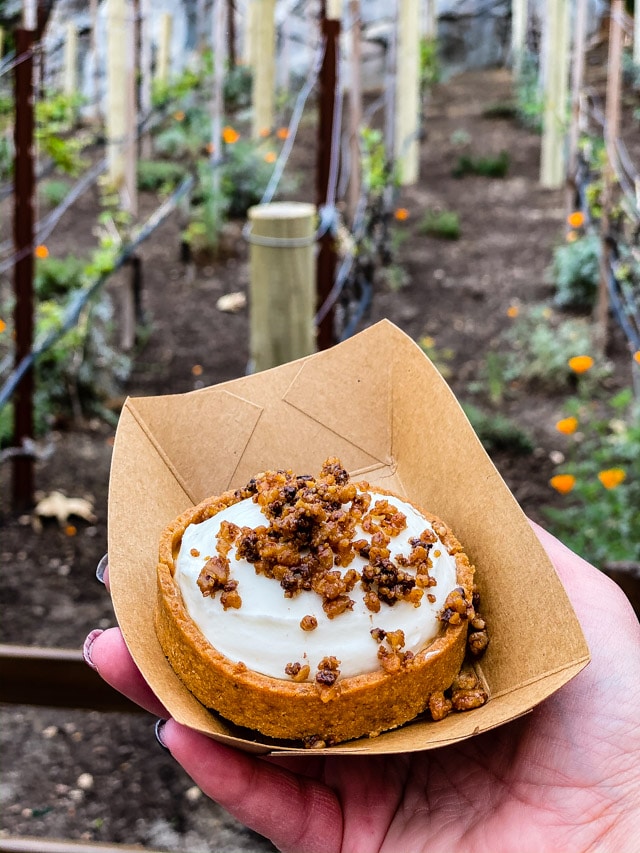 White Cheddar Lager Soup served in a Mini Boudin® Sourdough Bowl
Impossible Cheeseburger Mac & Cheese
Greek Yogurt Banoffee Tart
Honey Bourbon Lemonade (Alcoholic)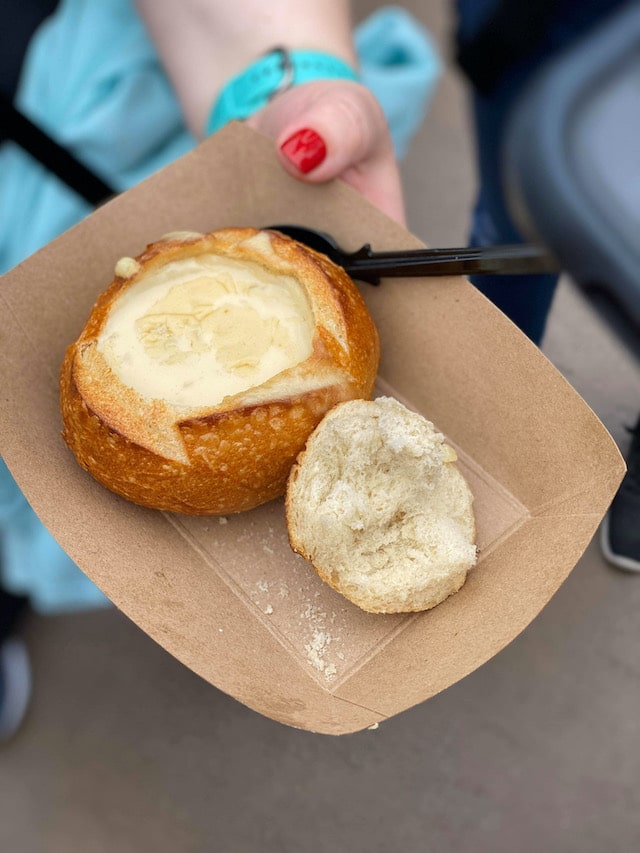 Golden Dreams Marketplace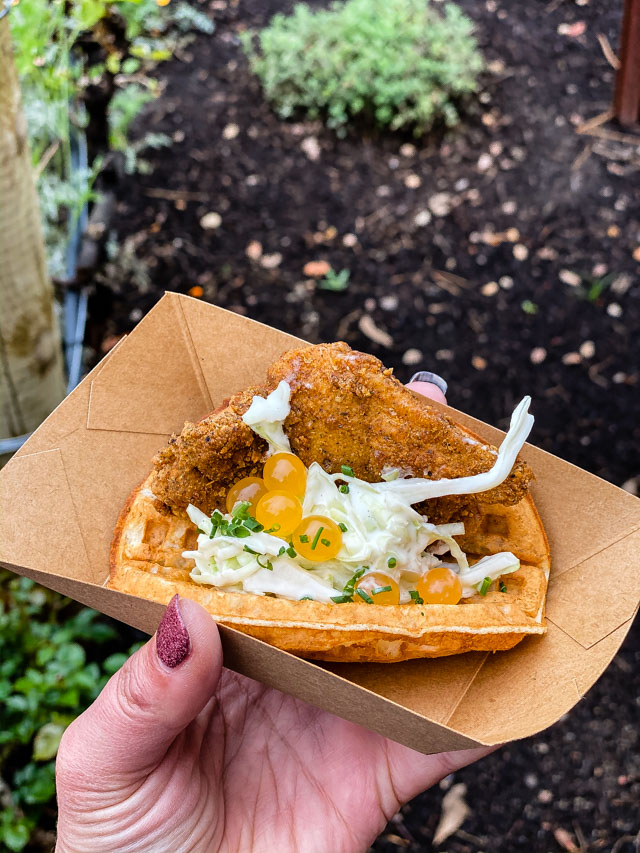 Fried Chicken & Waffle Sandwich with Mimosa-inspired Slaw and OJ Bubbles
Salmon with Lemon Pea Purée, Black Rice and Meyer Lemon Relish
Strawberry-Rose Lemonade (Non-Alcoholic)
Fig & Lavender Cold Brew (Non-Alcoholic)
California Craft Brews Marketplace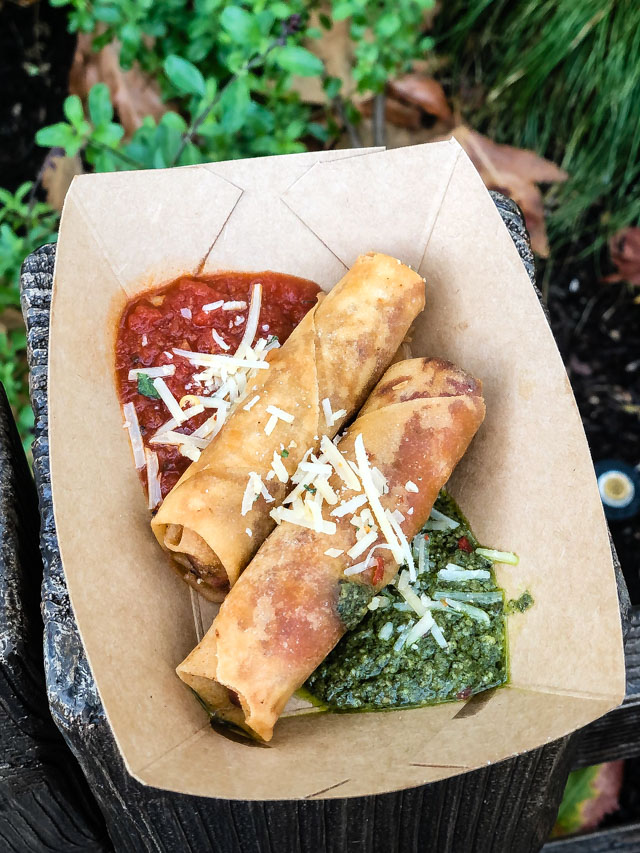 Pepperoni Pizza Egg Rolls
Assorted beer flights and wine
One in a Melon Marketplace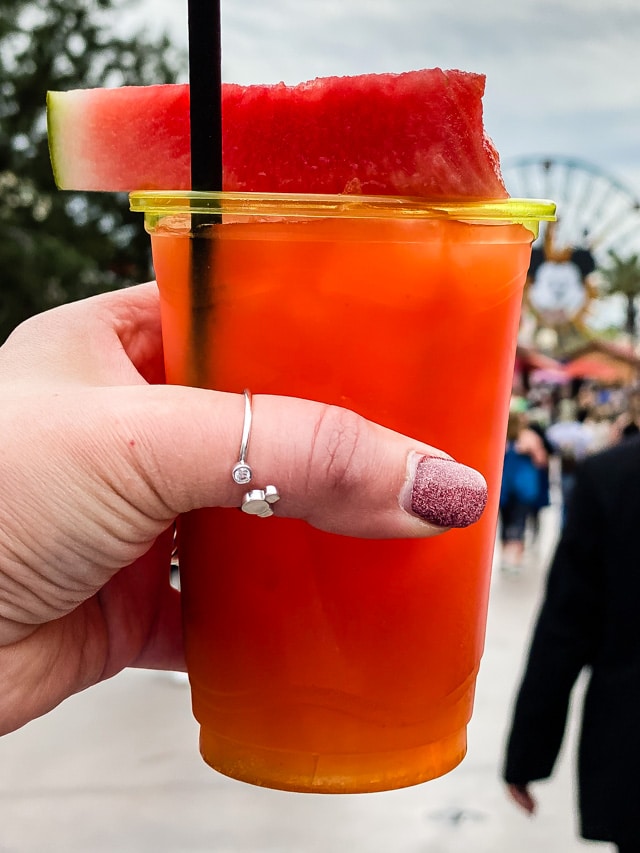 Compressed Watermelon and Tomato with Whipped Ricotta and Lemon Olive Oil
Poke-style Watermelon with Cucumber
Pabana Cream Puff with Mango, Passion Fruit and Banana Mousse
Berry Mule (Alcoholic)
House-made Watermelon Agua Fresca (Non-Alcoholic)
Peppers Cali-Ente Marketplace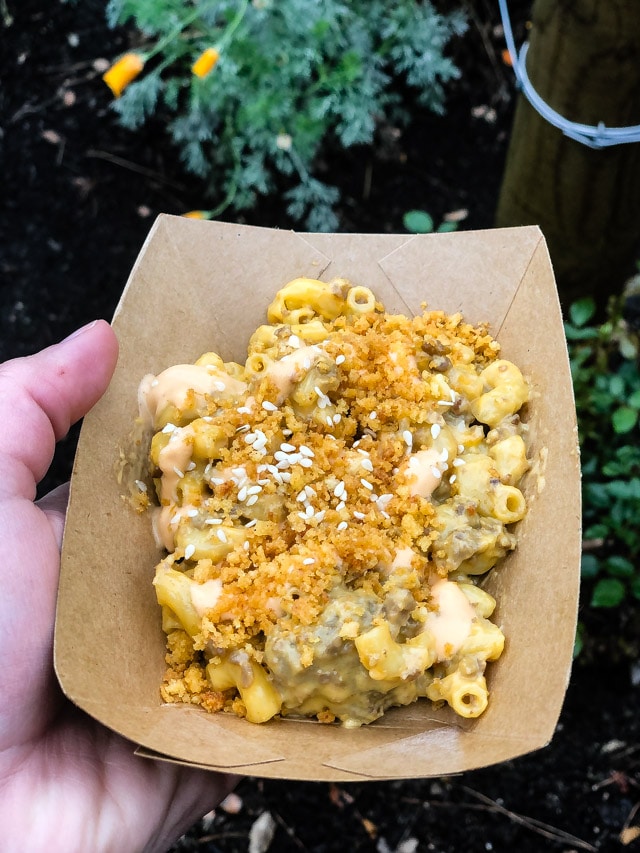 Creamy Poblano Pepper Pasta
Grilled Shrimp Tacos on Jicama Tortillas
Cantarito-style Paloma (Alcoholic) & Wine
LA Style Marketplace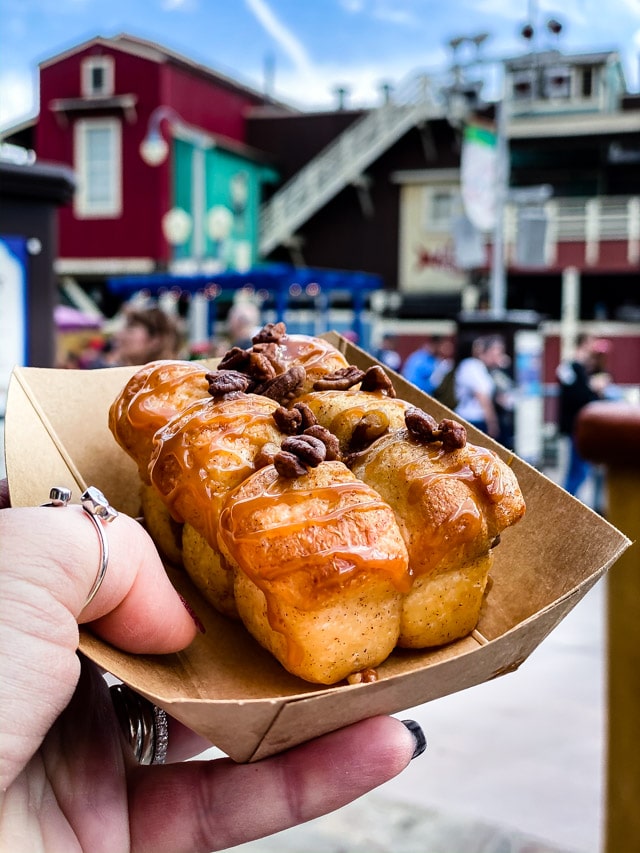 Asian-style Beef Barbacoa Street Tacos
Smoked Bacon Barbecue Beef Loco Moco on Rice
Monkey Bread with Caramel Whiskey Glaze and Candied Pecans
Amaretto Stout-Cream Cold Brew (Alcoholic)
Blue Angeleno Cocktail (Alcoholic)
Avocado Time Marketplace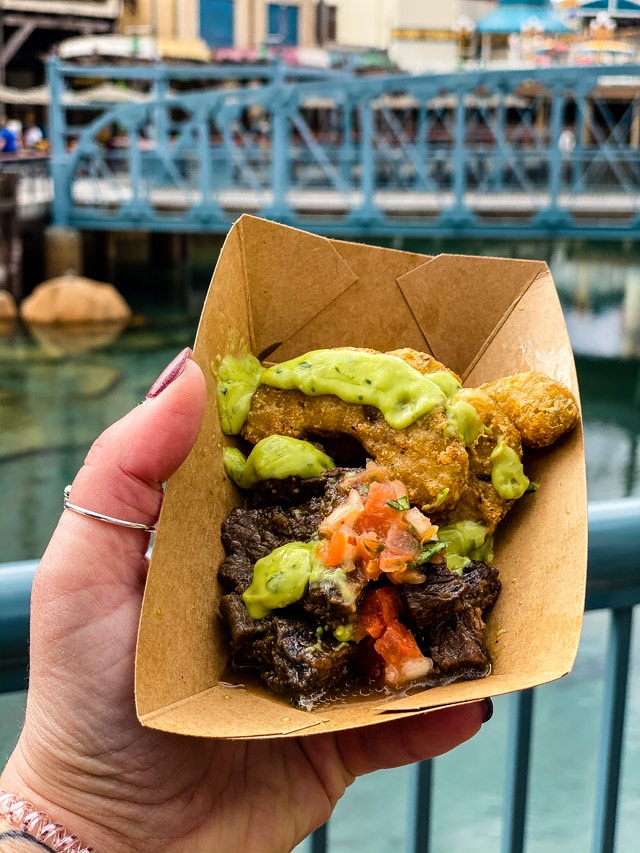 Petite Impossible Burger with Guac and Pepper Jack
Tortilla-crusted Fried Guacamole with Carne Asada
Mezcal Cocktail (Alcoholic) & Beer selection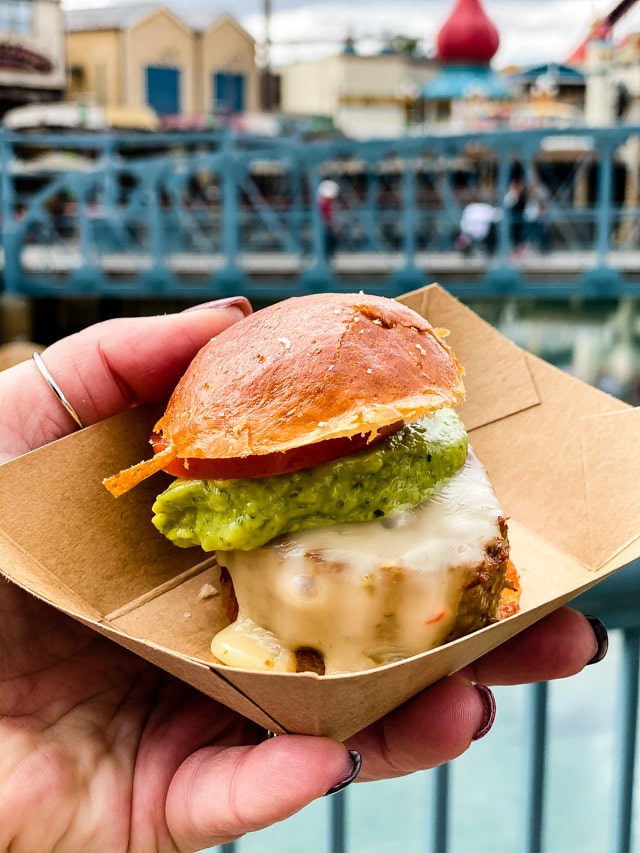 Off the Cob Marketplace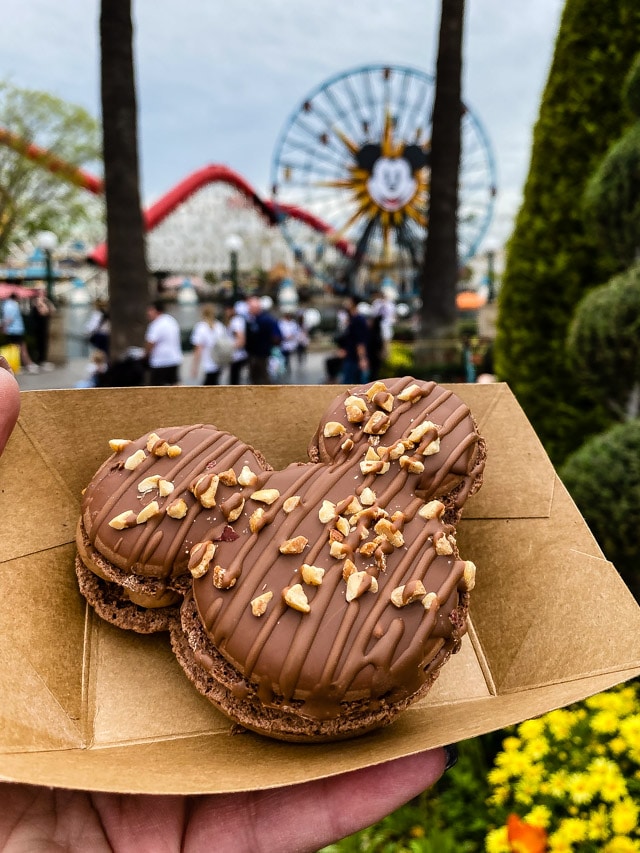 Mini Chicken Chimis with Chimichurri Corn Pico de Gallo and Chipotle Crema
Shrimp and Braised Corn with Chorizo
Mickey-shaped Caramel-Peanut-Milk Chocolate Macaron
Fields & Orchards with Elderflower and Artichoke Liqueurs (Alcoholic)
Farmstand Punch (Non-Alcoholic)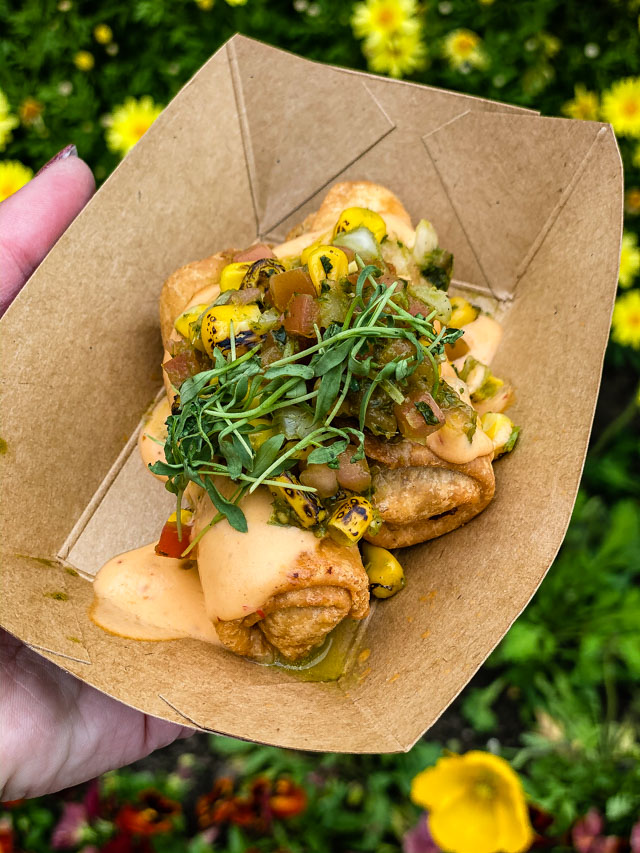 I Artichokes Marketplace
Fried Artichokes with Lemon Aïoli
Artichoke Toast with Artichoke Cream Cheese and Olive & Artichoke Tapenade
Wine & Beer
Cluck-A-Doodle-Moo Marketplace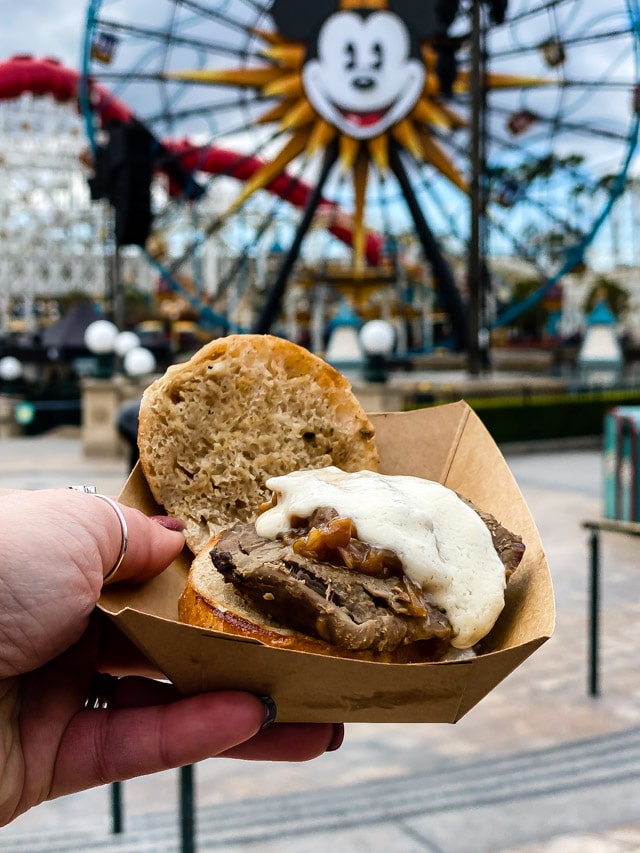 Ranch Fried Chicken Wings with Buffalo Hot Sauce Drizzle
French Onion Grilled Beef Tenderloin Slider
Chocolate Hazelnut Crunch
Wine & Beer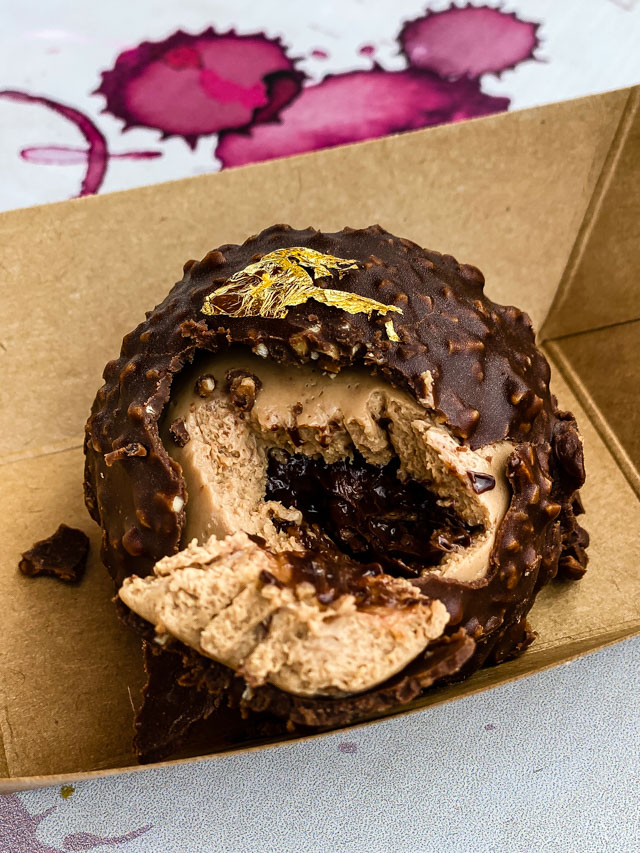 Berry Patch Marketplace
Raspberry-Lychee-Rose Custard with Mixed Berry Compote
Greek Yogurt California Berries Summer Pudding
Hard Seltzer options
Garlic Kissed Marketplace
Black Garlic Soy-braised Pork Belly Banh Mi
Carbonara Garlic Mac & Cheese with Nueske's® Bacon
Aperol Cocktail (Alcoholic) & Wine
Other Disney California Food and Wine Festival Foods around the Parks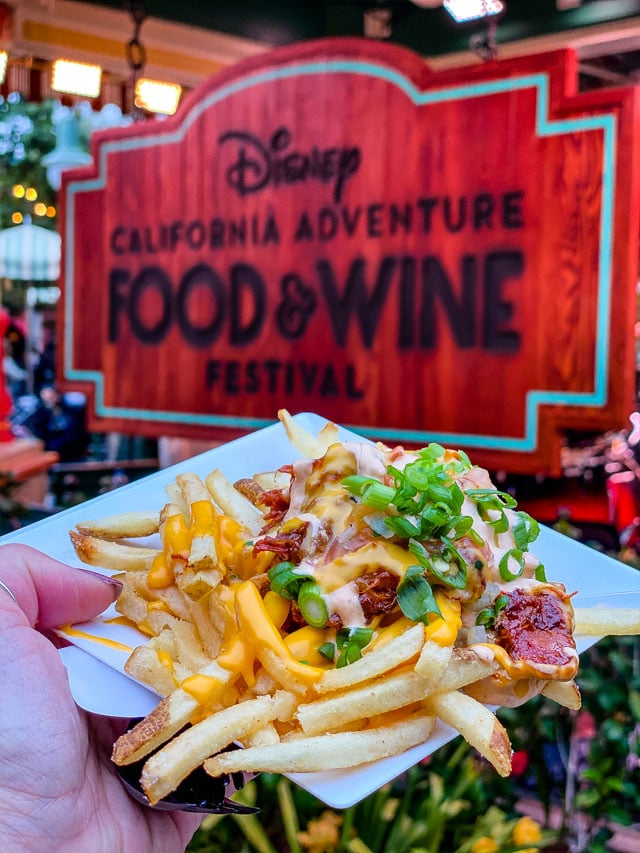 Paradise Garden Grill has Impossible Meatball Submarine, Beer-battered Fish Tacos, Buffalo-style Roasted Turkey Leg, Brisket Sliders & Fries and a Black Forest Parfait, along with alcohol specials.
Outdoor Vending Carts: try a savory Empanada with Chipotle Crema Sauce or a sweet Empanada with Caramel Sauce.
Boardwalk Pizza and Pasta has a Chocolate-Hazelnut Cheesecake
Hollywood Lounge has several specialty cocktails, hard ciders, beers and wine for the festival.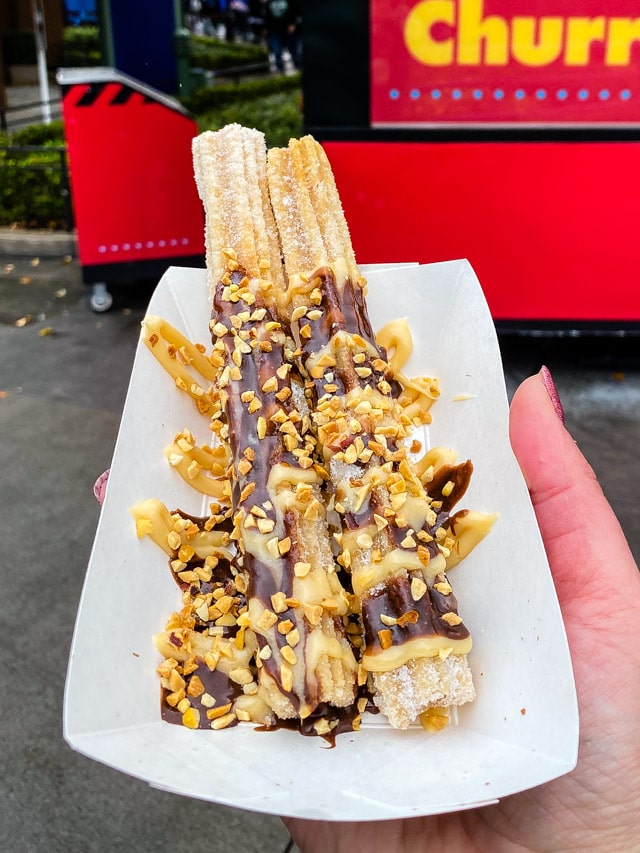 Hollywood Churro Cart: Churro topped with Peanut Butter Cream, Chocolate Icing and Chopped Peanuts
Schmoozies!: Almond Mocha Shake and Almond Mocha Affogato
Sonoma Terrace: California Cheesesteak, Italian Meatball Sandwich, Bavarian Pretzel with Cheese Sauce and a Triple Chocolate Brownie along with beer, wine and specialty cocktail selections.
Pacific Wharf Coffee Cart has a specialty vodka drink
Pacific Wharf Distribution Company has specialty beer on tap
Downtown Disney Food Festival Specials
Ballast Point Brewing Co.: Impossible Lettuce Cups, The Ballast Point Burger, and Cioppino, all paired with designated beer flight
Catal Restaurant: Smoked Salmon Crostini, Burrata, Hand-shucked Oysters
Ralph Brennan's Jazz Kitchen: Creole Cobbler
Splitsville Luxury Lanes: Surf & Turf Slider Duo
Salt & Straw: Apple Pie with Beecher's Flagship Cheesecake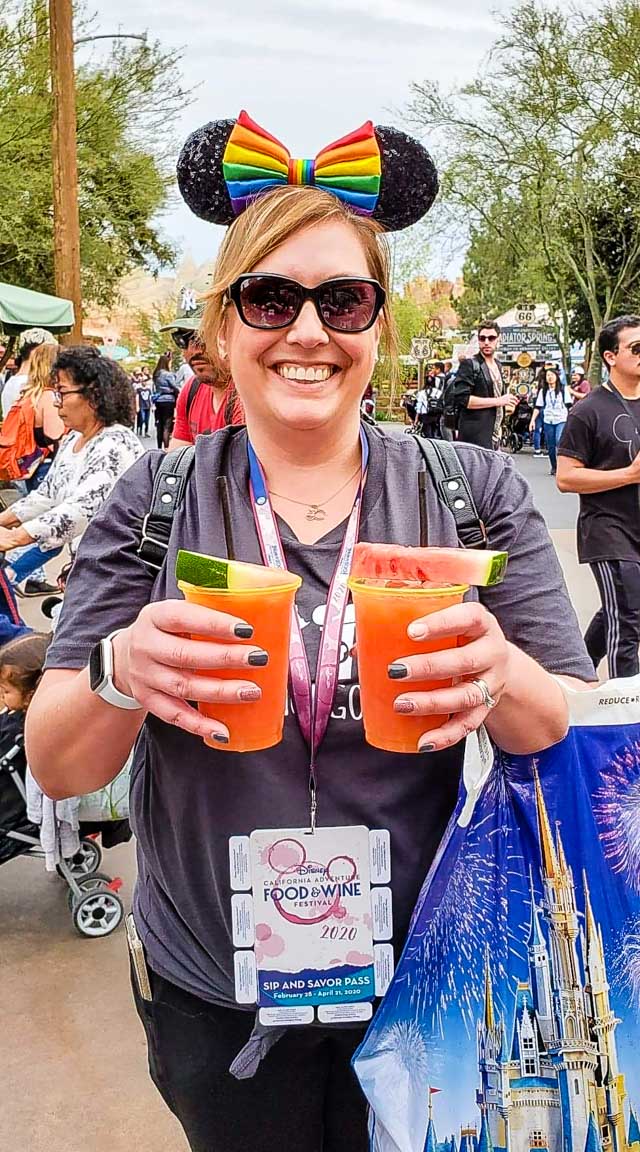 My Favorites at Disney California Food and Wine
Here's what NOT TO MISS:
White Cheddar Lager Soup: a great soup, so much flavor, especially on a cold day. Perfect with the sourdough.
Greek Yogurt Banoffee Tart: I love the pudding flavor and the crunchiness of the tart
Petite Impossible Burger with Guac and Pepper Jack: it tasted like meat – even my husband liked it – great flavor from the guac.
Tortilla-crusted Fried Guacamole with Carne Asada: if fried guacamole isn't right I don't know what is.
Mickey-shaped Caramel-Peanut-Milk Chocolate Macaron: it tasted like a snickers!!!
French Onion Grilled Beef Tenderloin Slider: DELISH – bolded because it was the best savory item I tasted, we loved it most.
Chocolate Hazelnut Crunch: best dessert of the festival – crunchy and creamy and not too sweet, even my husband who doesn't like sweets liked it!
Churro topped with Peanut Butter Cream, Chocolate Icing and Chopped Peanuts: really good, very very sweet but a great flavor. Long wait in line though, so be prepared.
Experiences & Culinary Demonstrations
Besides the food, DCA puts on culinary demonstrations from famous chefs, mixology lessons, and fun kid activities.
Culinary demonstrations every Saturday and Sunday on the Backstage Lot, Hollywood Land.
Family Time and Kids Cooking Demos where kids can get their hands dirty making their own recipes.
Wine and Beer mixology sessions (see below for details about our session!)
Find a list of all the experiences here.
Soarin' Over California
As an ode to California, Disneyland brought back Soarin' Over California for a limited run during the 2020 Food & Wine Festival.
If you're thinking of trying Disney California Food and Wine Festival, don't miss it. The food is amazing, and really top notch. If you try anything, let me know what you enjoy, and leave a comment!
Have you made this recipe?
Tag @crazyforcrust on Instagram or hashtag it #crazyforcrust
Last Updated on May 12, 2020