This post may contain affiliate links. For more information, read my disclosure policy.
This Cheesecake Pie is the creamiest and easiest cheesecake you'll ever make! I topped mine with chocolate swirls. What will you top yours with?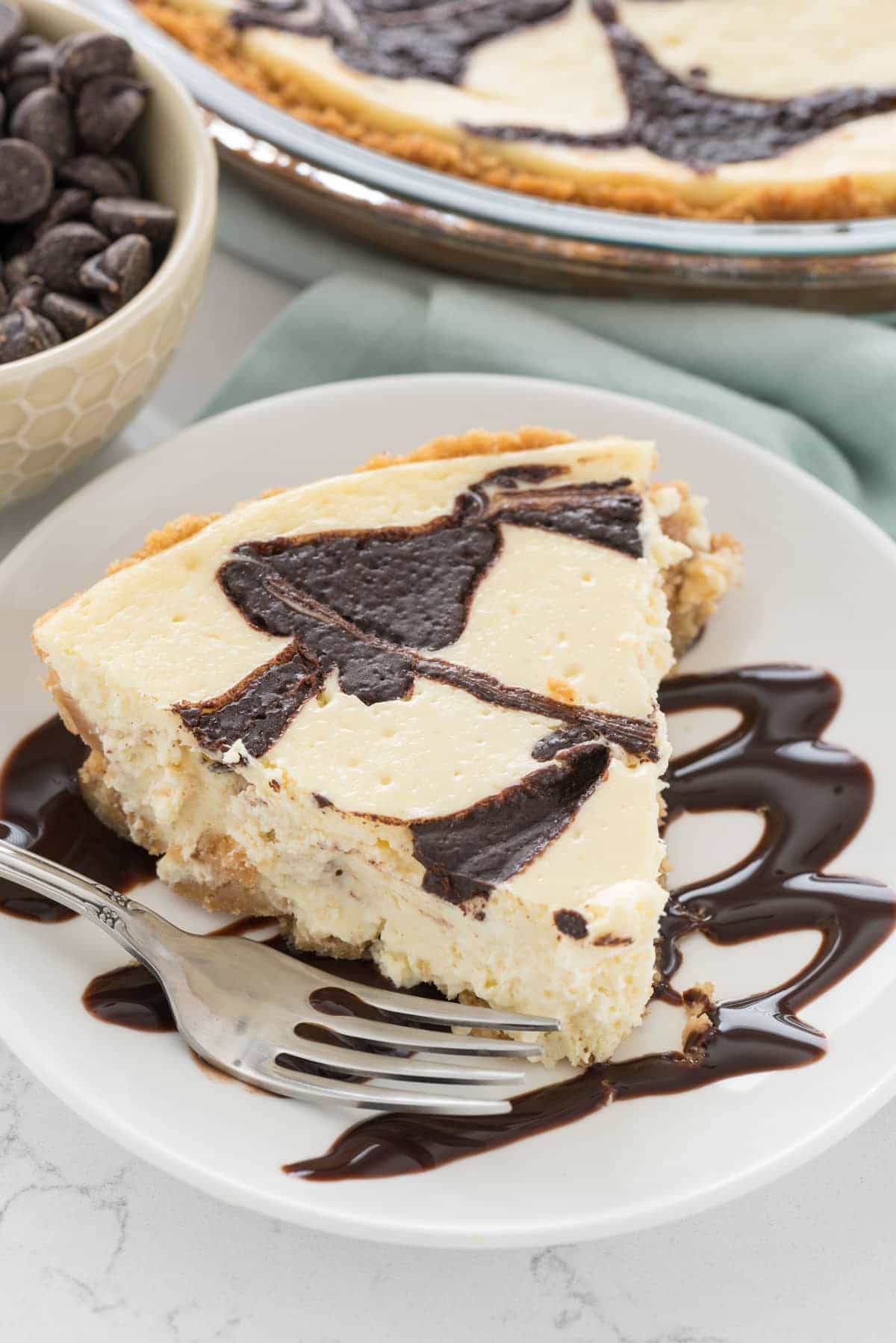 I was browsing my archives recently and realized I don't have very many cheesecake recipes. I have plenty of dips and a few bars, and most of my actual "cheesecakes" are no-bake. Now, don't get me wrong, I love a no-bake cheesecake. They're easy to make and even easier to eat, but there's just something about a real, honest to goodness baked cheesecake that's so darn good.
When I tasted this cheesecake pie, I was reminded of that fact. A baked cheesecake is silky and smooth and just oh-so-good (and different!) than the no-bake variety. Yes, I really do need to add more of these recipes to my repertoire!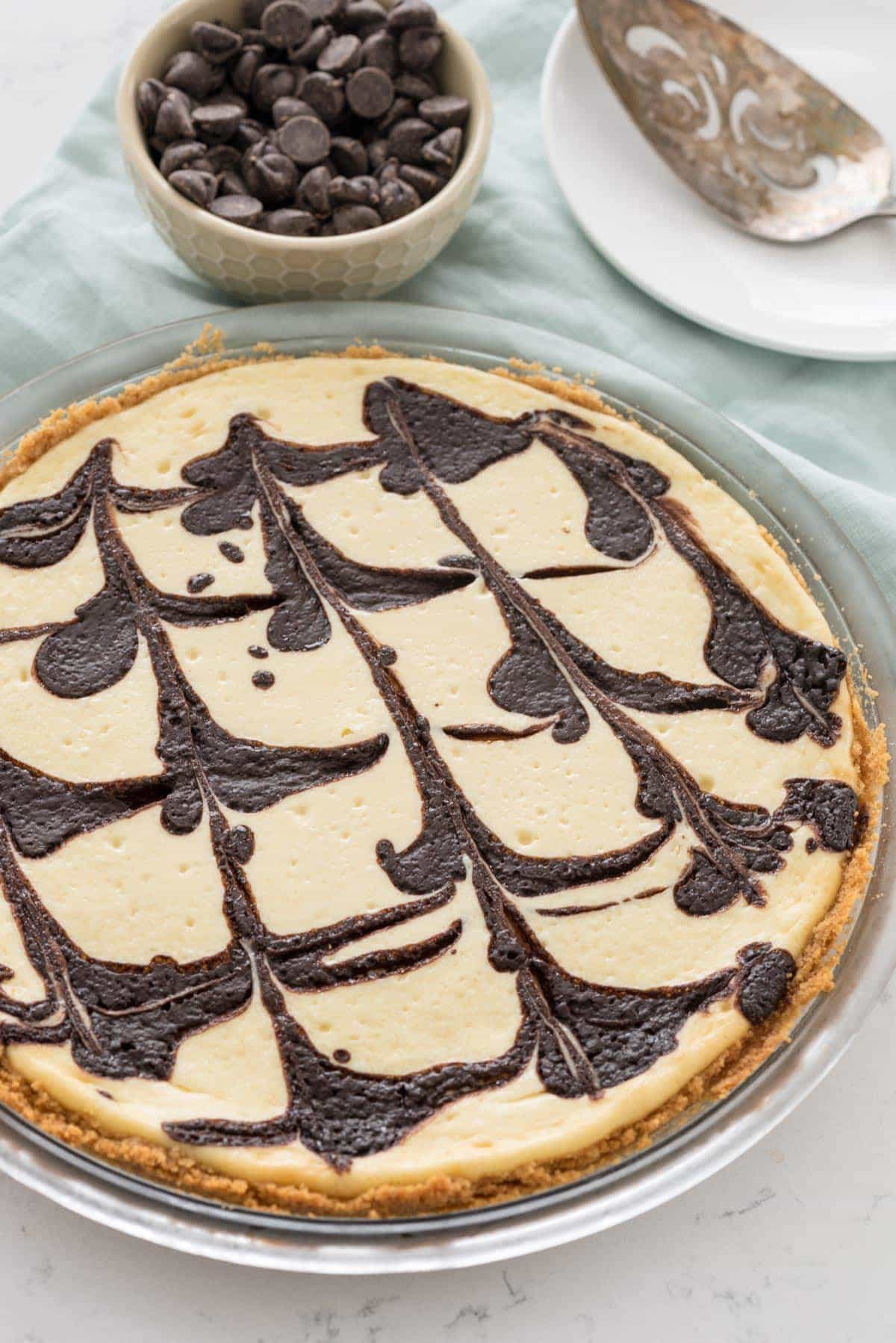 How To Make This Chocolate Swirl Cheesecake Pie
I think the reason that I rarely make full on cheesecake recipes is because they can be tedious. You need a springform pan (and not everyone has one of those). You have to wrap the pan with foil and bake the cheesecake in a water bath, then let it sit in a hot oven for hours, all in the hopes that it won't crack and it will set properly.
(Sometimes I love putting all that effort in. And by "sometimes" I mean never.)
That's why I LOVE this recipe for Cheesecake PIE. It's so much easier to make than a regular cheesecake:
You probably already have a 9″ pie plate.
While I normally make my perfect graham cracker crust, this recipe introduced me to a new method of making it right in the pie dish. One less bowl to wash!
The recipe does NOT need a water bath. And it turns out perfect every time! Mix, pour, bake, eat.
That's my kind of cheesecake, y'all.
And what does every cheesecake start with? The BEST cream cheese, obvi.
I am so excited to be partnering with Challenge this year. Have you ever tried their butter? Some day I'll tell you my family story behind the butter. It involves my dad and the fact that it's the ONLY butter he likes. He'll tell you for days that you really can taste the difference, and you know what? He's right.
But today I'm going to tell you about Challenge Cream Cheese. Have you seen it in the stores yet? It really is smooth and silky, just like the packages says. You know how, when you make cream cheese recipes, you have to let it soften to room temperature? That's still true with Challenge but if you forget, it's not a huge deal. It's almost creamy smooth straight out of the packaging! Since I always forget to leave my cream cheese out, that's a huge plus for me.
Besides the fact that it tastes great, it's also made from cows not treated with rbST and Challenge is the only company that controls 100% of the process from milk to packaging and distribution.
And? It makes AMAZING cheesecake pie.

I added some chocolate swirls on top of this pie using a mixture of cocoa, sugar, and butter. You drop it on and swirl or drag it into a tic toe pattern. It bakes into the cheesecake to make a pretty design, and adds a little chocolatey sweetness to the top for those of us who can't go a day without chocolate.
If you don't love chocolate, don't worry. Leave the swirls off and bake the pie alone. Then top it with lemon curd, pie filling, fruit, or whipped cream. ANY way you bake this cheesecake pie you'll have happy people on your hands. Hands down, this is my new favorite go-to cheesecake recipe!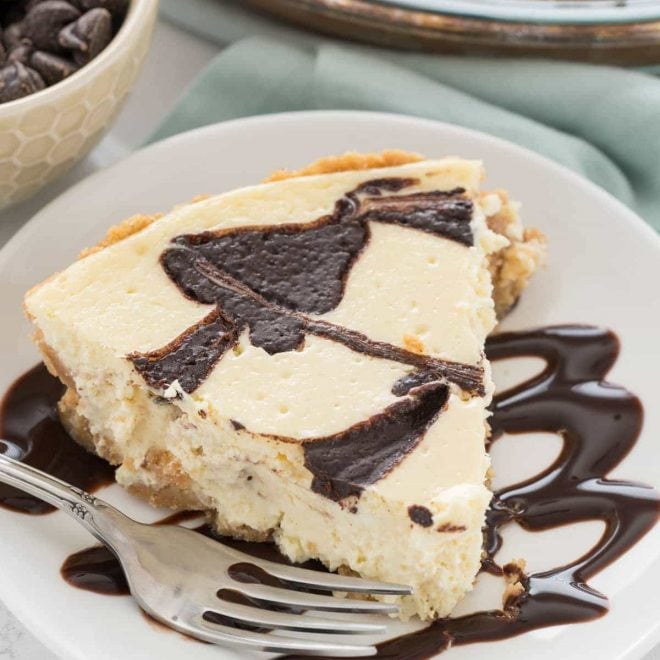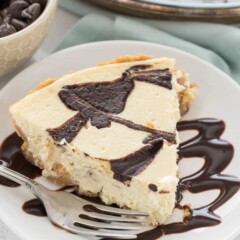 Chocolate Swirl Cheesecake Pie
Chocolate Swirl Cheesecake Pie - this easy cheesecake recipe is no fuss! It's a cheesecake made like a pie, so it's super simple and SO good. The plain cheesecake is just perfect - you can even leave off the chocolate for a classic cheesecake recipe everyone will love.
Ingredients
8

tablespoons

Challenge Butter

salted, divided

1 1/4

cups

graham cracker crumbs

about 7-8 full graham cracker sheets

12

ounces

Challenge Cream Cheese

softened

1/2

cup

+ 1 teaspoon granulated sugar

divided

1/2

cup

sour cream

room temperature

1

teaspoon

vanilla extract

2

large eggs

3

tablespoons

unsweetened cocoa powder
Instructions
Place 6 tablespoons of butter in a 9" microwave-safe pie dish. Microwave until butter is melted. Sprinkle the graham cracker crumbs over the melted butter and stir with a fork, then press into the bottom and up the sides of the pie dish. Freeze for at least 30 minutes, or until firm.

Preheat oven to 325°F.

Beat cream cheese in a large bowl, using a hand or a stand mixer, until fluffy and smooth. Add 1/2 cup sugar, sour cream, and vanilla extract and beat until smooth. Add the eggs and mix well, until no lumps remain. (It's important to start with room temperate ingredients to avoid a lumpy cheesecake!)

Pour cheesecake into prepared crust.

Melt remaining 2 tablespoons of butter in a small bowl. Stir in 1 teaspoon sugar and cocoa powder. Drop spoonfuls of cocoa mixture in rows across the crust, then use a toothpick or the back of a butter knife to create the tic tac toe pattern by dragging it horizontally and then vertically through the chocolate.

Bake for 30-40 minutes until the cheesecake seems solid around the edges and is just turning golden brown. The center will jiggle slightly even when it's done. Cool completely to room temperature, then cover with plastic wrap and chill for at least 5 hours or overnight before serving.
Recipe Nutrition
Serving:
1
/10th Slice of pie
|
Calories:
480
kcal
|
Carbohydrates:
23
g
|
Protein:
5
g
|
Fat:
42
g
|
Saturated Fat:
26
g
|
Cholesterol:
150
mg
|
Sodium:
418
mg
|
Fiber:
1
g
|
Sugar:
15
g
Nutritional information not guaranteed to be accurate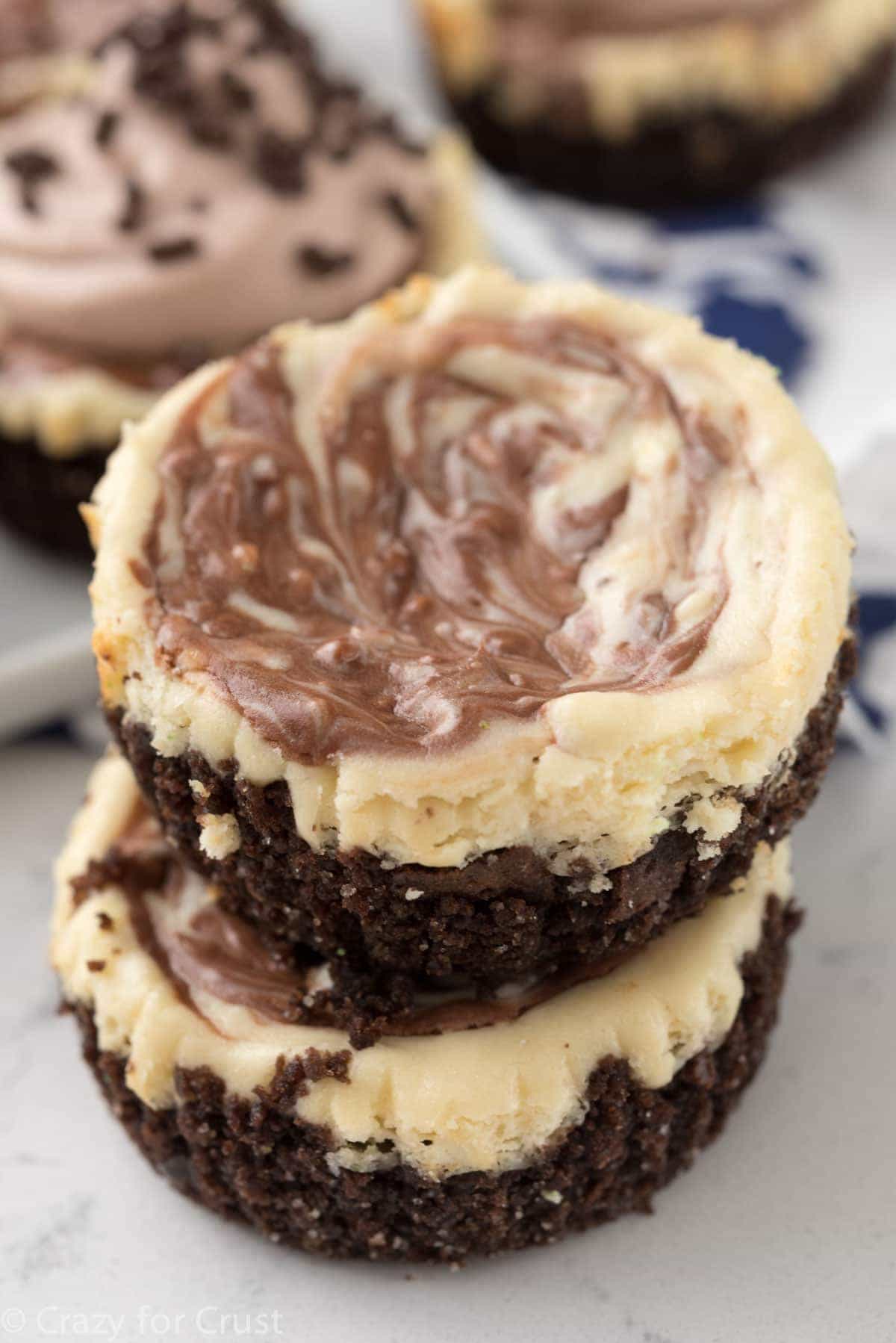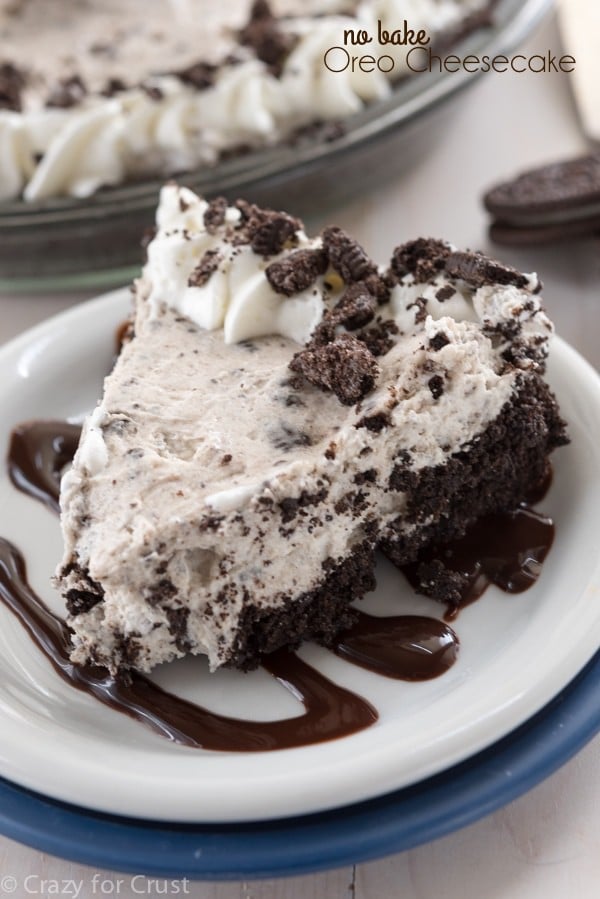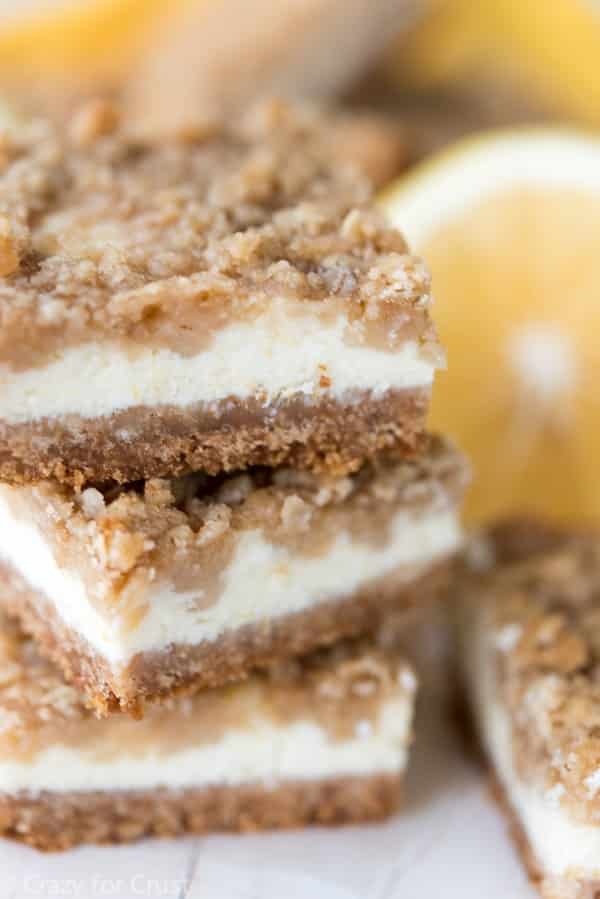 This post has been sponsored by Challenge. As is the case with all post for products I love, all opinions are 100% my own!
Last Updated on September 20, 2019