This post may contain affiliate links. For more information, read my disclosure policy.
Ginger Shortbread Cookies are a simple recipe that will be perfect for the holidays. The addition of ginger to shortbread is a tantalizing combination and dipping them in chocolate adds another layer of goodness.
Good shortbread can be addicting. It should melt in your mouth and be just the perfect bit of sweet mixed with the perfect bit of buttery flavor. These shortbread cookies? Are perfect.
And I'll do you one better than perfect shortbread: Chocolate Dipped Ginger Shortbread Cookies that are slice and bake. Is there such a thing as better than perfect?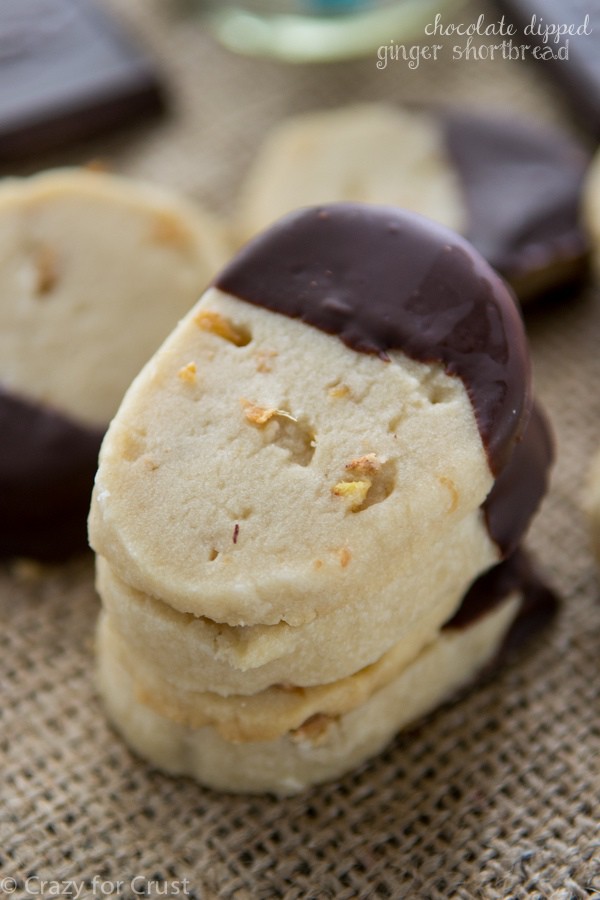 When Mel and I were first married we started an herb garden. I planted almost everything: rosemary, thyme, garlic, mint, parsley, and basil. I was so proud of that garden! It quickly overgrew it's bed (we're great at over planting) but for a few months I didn't have to buy fresh herbs at the grocery store. I say a few months because exactly 10 months after we moved into that house, and about 6 after we planted my beloved herb garden, we packed up and moved to Arizona.
That was when I started buying fresh herbs instead of growing them, because we couldn't grow anything in Arizona. I'm sure some people can…but we were just not used to the heat or the soil. Our black thumbs plus the desert just, well, didn't spell success. Now that we're in Sacramento, I grow rosemary and basil…but I still end up buying it at the grocery store because I forget it's in the backyard.
#gardenerfail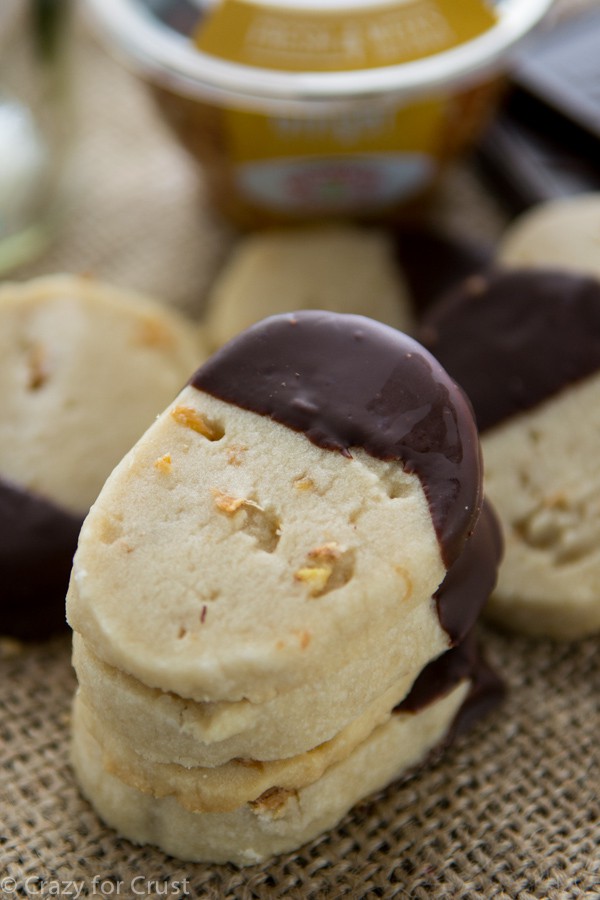 One of the things I've never grown is fresh ginger. Until I started watching The Food Network and cooking from Rachael Ray cookbooks, I thought ginger came ground into a powder and was used for molasses gingerbread cookies. I'm not joking; I never even thought about buying actual ginger at the store. Now I buy it all the time to use for dinner when I make Asian Lettuce Wraps or copycat Orange Chicken.
But did you know you can use ginger in dessert? Dessert that's NOT gingerbread? #mindblown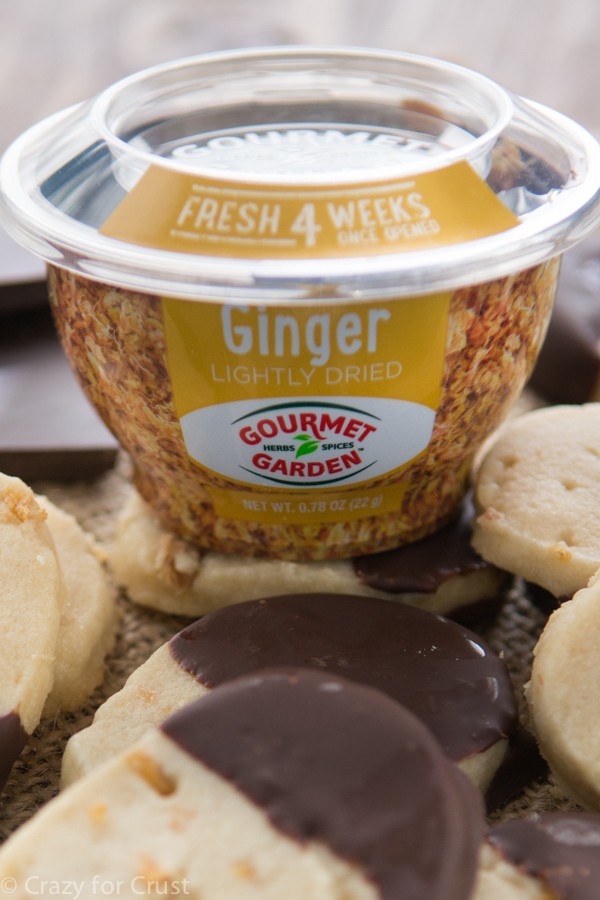 If you ever buy fresh herbs at your supermarket, you've probably seen Gourmet Garden. They sell a whole line of herb pastes, seasoning pastes, and lightly dried spices. I love smearing their Basil Stir-In Paste all over my chicken breasts before baking. It makes an amazing moist and super-flavorful chicken. And I make garlic bread with the garlic and italian herb pastes.
Last fall Goumet Garden started selling lightly-dried herbs, like ginger or basil, that you can use to sprinkle on your favorite dish or use as a rub for the main course. The lightly dried herbs last for up to 4 weeks in the refrigerator, ensuring that you'll be able to use them all. I love the simple ingredient list too.
Also? You can use the lightly dried ginger for cookies. Ginger Shortbread Cookies, to be exact.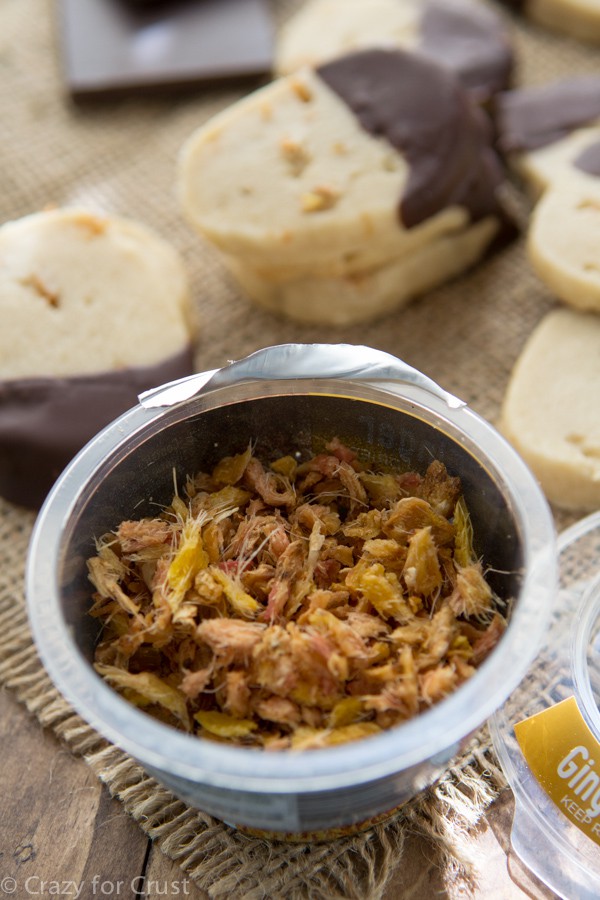 The slightly spicy ginger flavor pairs so well with this shortbread cookie recipe. Not only have I never used ginger in dessert before, but this is the first time I've ever made real shortbread cookies.
Ohmygosh, I'm sad for all the years I didn't eat shortbread!
These ginger shortbread cookies are made with butter (obviously butter is a must) and powdered sugar. I just love using powdered sugar in these sorts of delicate cookies so much more because the texture of the cookie reflects the tenderness of the confectioner's sugar, and the cookie stays soft without being at all tough.
The basics of shortbread cookies is pretty easy: butter, sugar, and flour. There are no eggs in most shortbread recipes, making them perfect for those with allergies. I add vanilla to pretty much everything, so a good dose goes into these cookies. And that's when the fun happens: adding the lightly dried ginger. You can add it as-is from the container, or you can muddle it first, whichever you prefer.
Most shortbread cookie recipes call for the dough to be pressed into a circle and cut into wedges, or they get rolled out and cut into shapes. We all know I don't like rolling out anything; I'm much too lazy. That is why I made these cookies into slice-and-bake shortbread cookies. It's way easier with much less mess.
First, roll the cookie dough into a log on a sheet of wax paper. Chill it. Slice it. Chill it. Bake it. Done.
How easy is that?
Oh, wait. I'm forgetting the best part: the chocolate! If there's one other thing that pairs with both shortbread AND ginger…it's chocolate! I dipped the cookies halfway in bittersweet chocolate for an extra flavor punch. (But you can totally skip it if you want. But then we can't be friends.)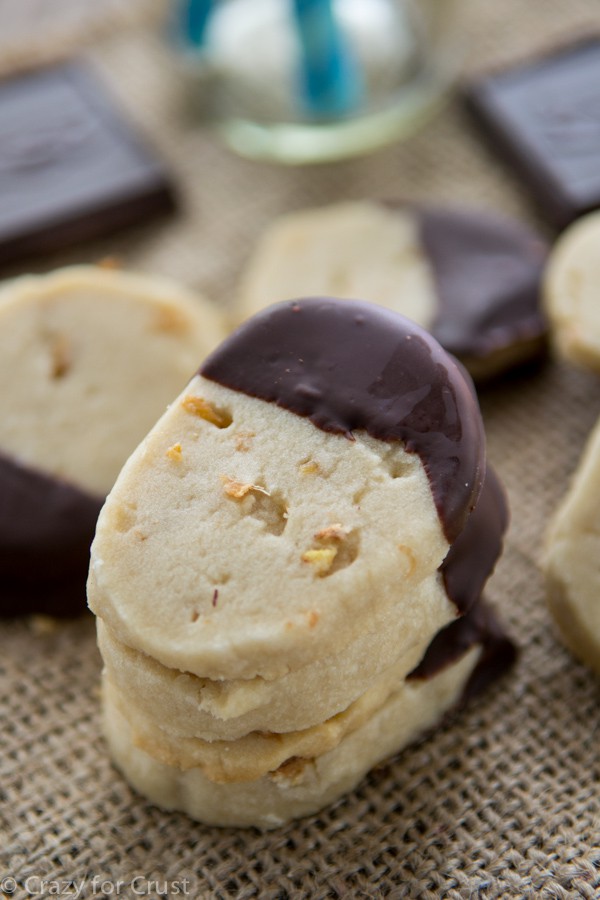 These ginger shortbread cookies would be perfect for your holiday platters. Or just make them because you love butter. Obviously.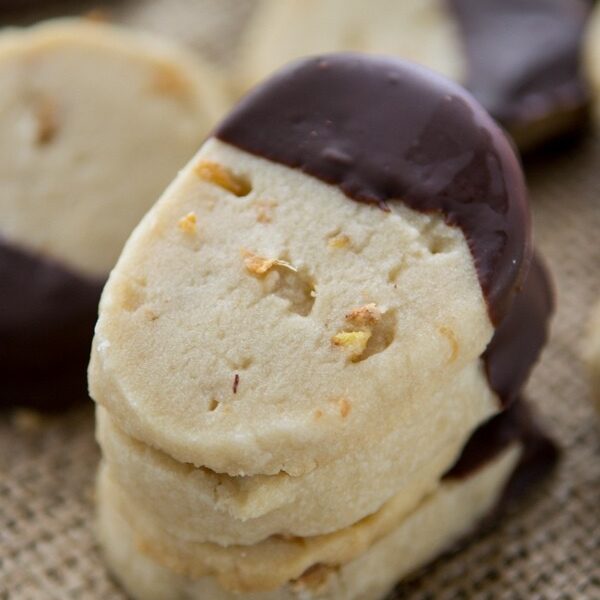 Chocolate Dipped Ginger Shortbread
These slice and bake shortbread cookies are perfect for Christmas! Ginger is added to the shortbread dough and the cookie is then dipped in chocolate!
Ingredients
1/2

cup

unsalted butter

softened

1/3

cup

powdered sugar

1

teaspoon

vanilla extract

1 1/4

cups

all-purpose flour

1/4

teaspoon

salt

2

teaspoons

lightly dried ginger

3

ounces

bittersweet chocolate
Instructions
Cream butter and powdered sugar in the bowl of a stand mixer (or using a hand mixer). Add vanilla and mix, scraping the bowl a few times to make sure that the butter and powdered sugar are completely incorporated. Mix in salt and flour until combined, then stir in the ginger. Note about the ginger: you can muddle the ginger before adding it or not, your choice. I did a combination of both.

Turn out dough onto a sheet of waxed paper. Form dough into a 9" log and roll up in the wax paper sheet. Chill for 30 minutes.

Preheat oven to 350°F. Line a cookie sheet with parchment paper or a silpat baking mat.

Unroll the log of shortbread dough and slice into 18 rounds. Place cookies on prepared cookie sheet (they will not spread much).

Bake for 9-12 minutes, until they start to turn golden, depending on how soft you want them. I cooked mine 10 minutes for a pillowy soft shortbread, but if you want it more cooked then bake them an additional 2 minutes or so. Cool completely before dipping.

To dip, melt chocolate in a small bowl according to package directions. Dip half of each cookie in the chocolate and place it on a wax paper (or silpat) lined cookie sheet. Chill to set. Store cookies at room temperature for up to 3 days or freeze for up to one month.
Nutritional information not guaranteed to be accurate
Peanut Butter Caramel Shortbread Bars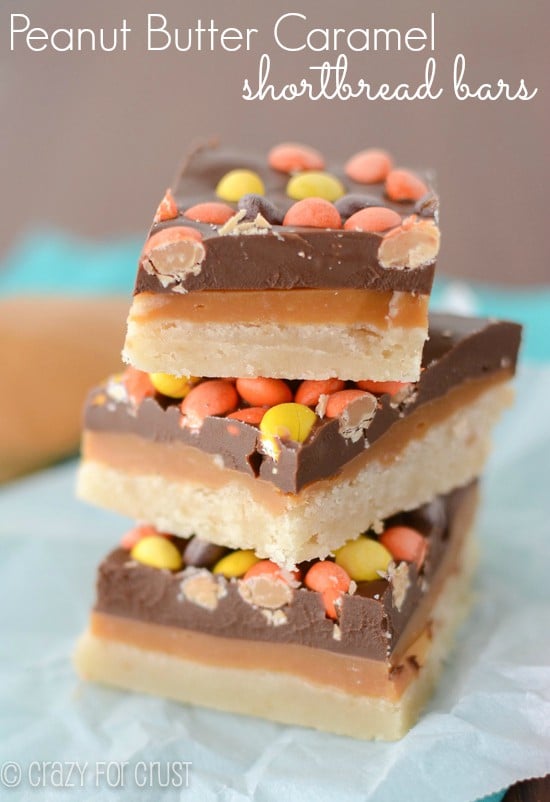 Ginger White Chocolate Trifle Cream Pie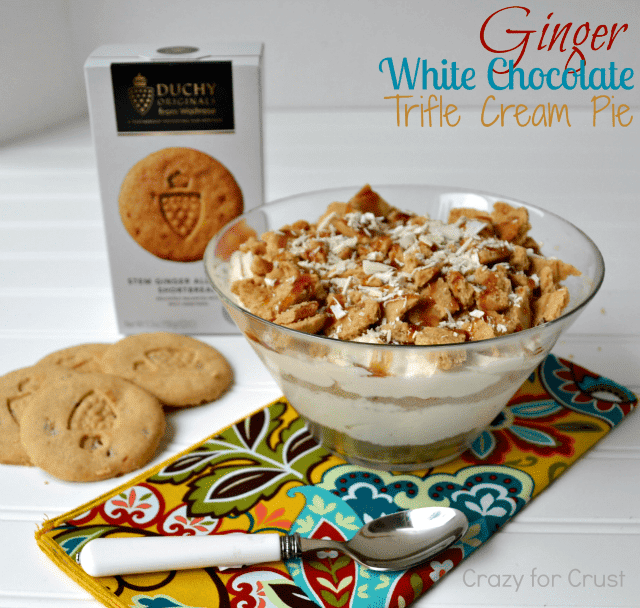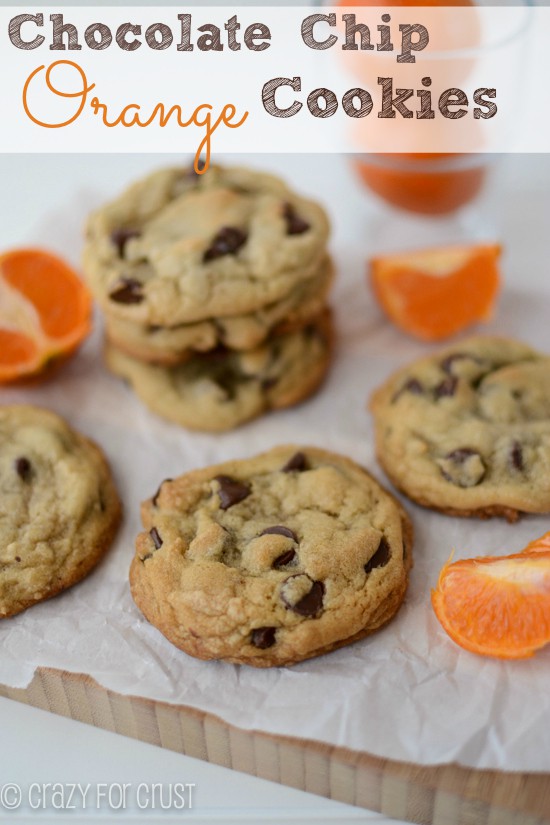 Sweets from friends:
Honey Ginger Cookies by Diethood
Funfetti Shortbread Cookie Sandwiches by Shugary Sweets
Chai Shortbread with Sea Salt by Foodie Crush
This post was sponsored by Gourmet Garden, but all opinions are 100% my own. I only work with brands I love, so I thank you for understanding!
Last Updated on August 28, 2019