This post may contain affiliate links. For more information, read my disclosure policy.
I'm just gonna say it: these are insane. Gooey caramel, rich peanut butter, and chocolate all in one place.
Hello Caramel Peanut Butter Cups, nice to meet you.
Do you ever have those days where nothing goes right? Like you're in a pile of quicksand trying to run a marathon? Yeah, all of last week was that way, but Friday took the cake.
The day started okay enough, except that my to-do list would require military precision to be accomplished. I did a shorter workout so I could get started on all my tasks…and that's when I should have just gone back to bed. Within two hours I'd had to use a paperclip to fix my (brand new) Keurig and spent $299 on a Time Capsule for my Mac because the hard drive that I save EVERY SINGLE photo to decided to fail (after only 10 months). The rest of my day was spent figuring out how to master yet another Apple product that is smarter than I am, while also attempting to get my to-dos back on track.
I wanted to drown myself in melty caramel by 10am. I wanted to sit on the couch and cry and eat my way through these Caramel Peanut Butter Cups.
And then I remembered that I have a friend who's husband has Stage IV cancer and a baby who needs a kidney transplant all at the same time. And I remember that my husband and daughter are healthy and happy, that I'm healthy and happy, and that the things I have in my life make it a blessed life. Spending yesterday at the funeral for my cousin who passed last weekend puts things in perspective. We're happy, we're alive, and that's what matters.
But I think, even with all that, it's still okay to drown in gooey caramel once in awhile, don't you think?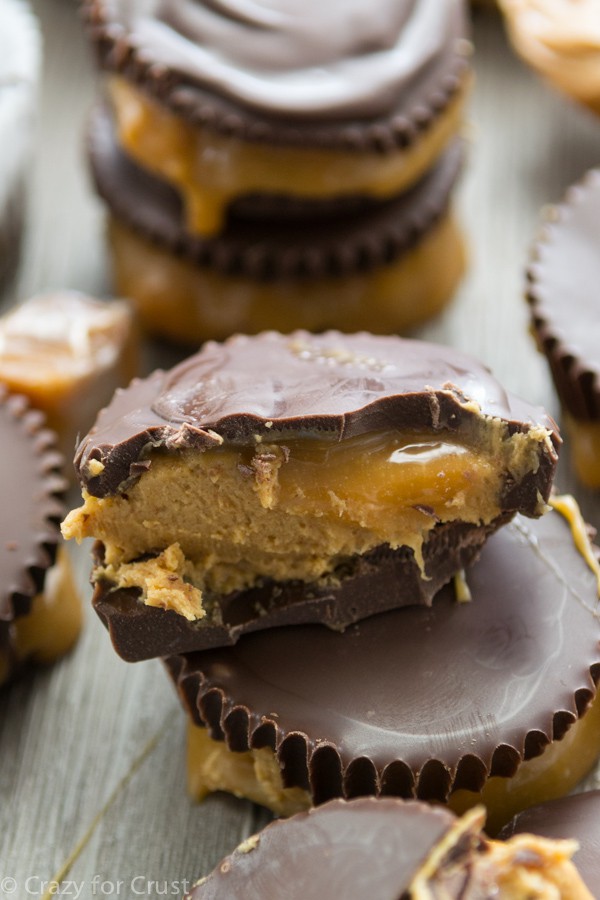 How could anyone improve on a peanut butter cup? By adding caramel.
I did that. You're happy, right?
These are so simple to make and they are one indulgent and show-stopping dessert. They may look complicated, but they come together faster than you think.
A few notes about the recipe:
I used Candiquik for my chocolate, because it's dependable for melting. Plymouth Almond Bark or Wilton's Candy Melts can be substituted (but the Candiquik tastes the best of the three) or you can use baking chocolate (the kind that comes in boxes in the baking aisle).
In order to save your teeth, I made the caramel sort of smooth and drippy. I can't stand hard caramel because I'm always worried I'm going to lose a filling, so I err on the side of gooey and drippy. I wanted the caramel to show for effect in the photos, but you can avoid the drippy sides by making sure to cover the sides of your paper liners with chocolate. Let me explain: when you place the bottom layer of chocolate in the muffin liner, use the back of a spoon to drag some of it up the sides about halfway. Then, when you're filling the cup with peanut butter and caramel, just make sure that the caramel layer is below the top of that chocolate side. Make sense?
Otherwise, you can leave it drippy. Drippy and gooey is cool.
Because the caramel is soft, I recommend storing these in the refrigerator and in the paper liners until you're ready to eat. Then grab a napkin; you're gonna need it.

This is a serious candy for a serious caramel/peanut butter craving. And they'd be perfect for the holidays!
Or because it's a crappy Friday and you need a smile. 🙂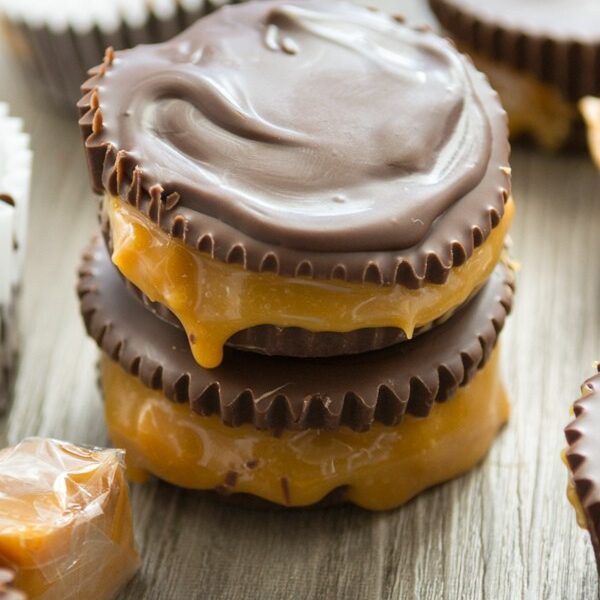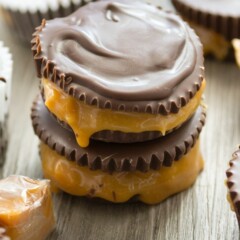 Caramel Peanut Butter Cups
These Caramel Peanut Butter Cups are a copycat of a regular peanut butter cup…but with drippy caramel inside! These are a seriously gooey and indulgent dessert, perfect for the holidays.
Ingredients
25

caramels

about 7 ounces, unwrapped (such as Kraft)

2 1/2

tablespoons

heavy whipping cream

16

ounces

chocolate

either baking chocolate or candy melts such as Candiquik

1/2

cup

peanut butter

creamy or crunchy but use regular, not natural

2

tablespoons

butter

softened

1/2

cup

powdered sugar

2

tablespoons

brown sugar
Instructions
Line a 12-cup muffin pan with liners.

Place the unwrapped caramels and heavy whipping cream in a microwave safe bowl. Heat on high power in 30 second increments, stirring well between each heating, until melted and smooth (about 90 seconds). Set aside.

Melt half the chocolate according to package directions. (I used Candiquik – it's more reliable than regular chocolate when melting.)

Evenly divide the chocolate among the 12 muffin liners. (If you want the cups to be sealed, unlike the photos, use a spoon to pull some of the chocolate up the sides of the muffin liner, about halfway.)

Mix peanut butter, butter, and both sugars in a medium sized bowl using a hand mixer. Place heaping tablespoon balls of peanut butter on top of the chocolate. Dampen your hands, or spray them with cooking spray, and slightly flatten the peanut butter balls. (They're sticky.)

Spoon about 3/4 of a tablespoon of caramel over the peanut butter. Freeze the muffin pan for 15 minutes.

Place remaining chocolate in a new bowl (don't try and melt over the old chocolate; it might seize) and melt according to package directions. Spoon equally over the top of the caramel and spread with the back of a spoon. The chocolate will harden faster this time, since the caramel is cold. Tap the muffin pans to even out the chocolate, if needed.

Chill until set, about 30-60 minutes. Store in refrigerator, but best eaten after the've warmed up a bit. Don't unwrap until right before eating or caramel will goop all over.
Nutritional information not guaranteed to be accurate
Click here to see more PEANUT BUTTER recipes!
And, in case you've had a bad Sunday so far, let's cheer you up, shall we? Today is a special day – it's my friend Julianne's 2nd blog anniversary! Her blog, Beyond Frosting, is one of my favorites. She makes things like Butterfinger Brookies, Cinnamon Roll Apple Pies, and S'mores Cookie Cups. I'm so happy for her today! Julianne and I met while blogging awhile back and I got the pleasure of hanging out with her last February. She is one cool chick and her food is amazing. Happy blogiversary Julianne, I'm so happy for you.
To celebrate, some of us bloggers are giving away your choice of either a KitchenAid Artisan Series 5-Quart Mixer, An Amazon giftcard or Ipad Mini (total value $350). Now THAT would cheer me up for sure, any day!
Open to U.S. residents only, must be 18 years or older to enter. Giveaway ends November 1. Enter using the rafflecopter form below this paragraph. If it doesn't load, click here. Good luck!
a Rafflecopter giveaway


Sweets from friends:
Chocolate Chip Cookie Dough Peanut Butter Cups by Half Baked Harvest
Ritz Stuffed Peanut Butter Cups by Averie Cooks
Easy Peanut Butter Soft Caramels by Something Swanky
Last Updated on May 13, 2020