Candy Corn Magic Bars
This post may contain affiliate links. For more information, read my disclosure policy.
These Candy Corn Magic Bars are perfect for Halloween! They have a graham cracker crust and are topped with white chocolate and peanut butter chips, coconut, and candy corn!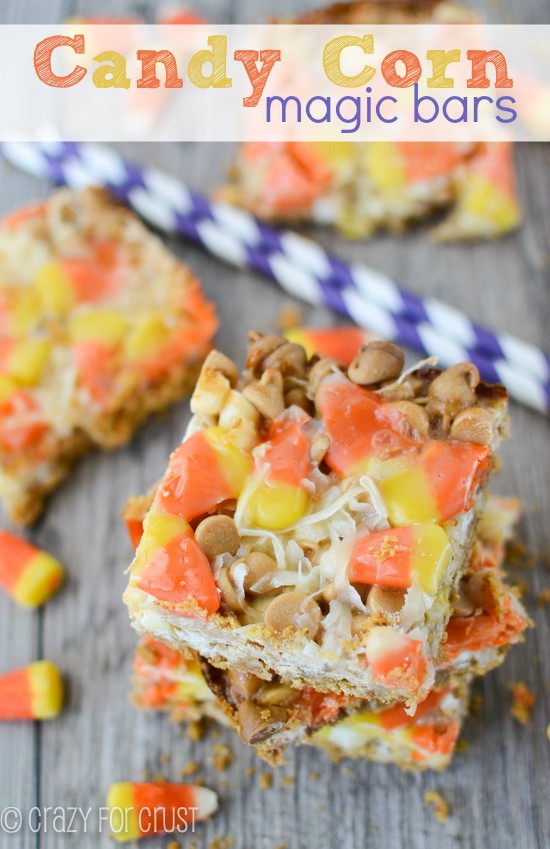 Tomorrow is October 1. Um, what? I'm at a loss for words over the fact that it's OCTOBER tomorrow.
October means Halloween. Which means I need to start turning out Halloween treats. Witches, Ghosts, Pumpkins, Eyeballs. Problem is…every time I start thinking Halloween I'm coming up crickets.
So, until I get my cutesy inspiration back, I'm going to stick with my black t-shirt of goodies: the magic bar.
Specifically Candy Corn Magic Bars. A seven-layer magic bar made with candy corn. So it's perfect for Halloween!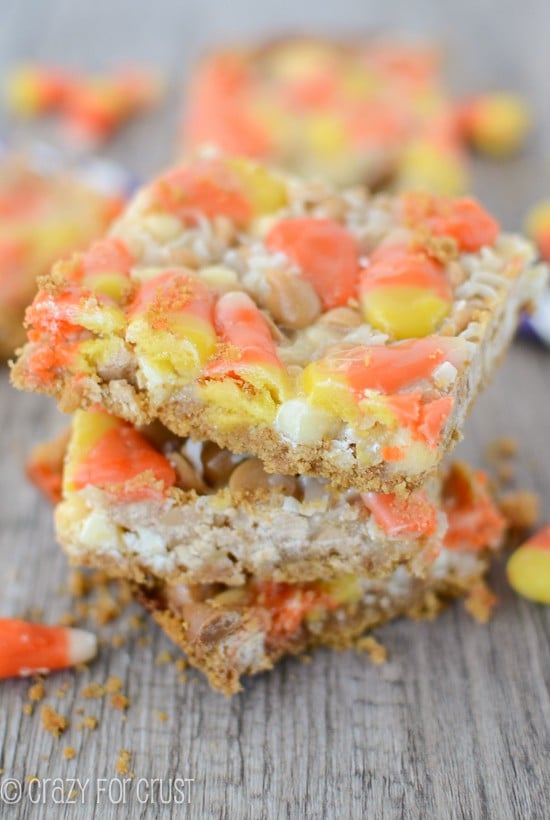 I am one of those people who doesn't really like candy corn straight up. I like it in things…like mixes or cookies or fudge, snack mix or bark. But alone, it's not my favorite. Actually, it's those dreaded two words…too sweet.
But no. When you add it to magic bars, it's not too sweet. All that other sugar cuts the sweetness. Or…something. 🙂 Plus, peanuts or peanut butter (or peanut butter chips) go so well with candy corn, like when you make Butterfinger Fudge or Payday Fudge.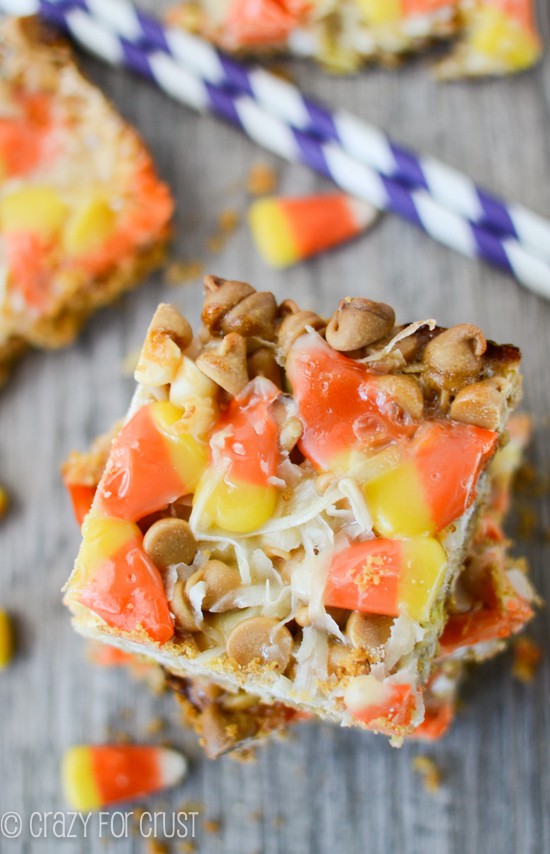 Candy Corn Magic Bars are perfect for Halloween because they're full of candy corn and sweetness!
Let's talk layers!
Graham cracker crust. (To make it easy, I used a box of crumbs. Use whatever you have!)
White chocolate chips.
Peanut butter chips. (Because peanut butter + candy corn = Butterfinger flavor.)
Coconut. (A magic bar staple.)
Candy Corn. (Uh, duh.)
Sweetened Condensed Milk. (Best. Stuff. EVER.)
These magic bars are way too good. Addicting, even. The candy corn is so pretty on the top. These would be a wow at a Halloween party…or just because you want to eat them.


How to make the perfect candy corn magic bars:
Be sure to use fresh candy corn, not the stuff that's been in your pantry for a year. It'll get meltier and not be hard after baking.
If you're worried about the candy corn, you can add it after baking but I've made this several times and it's not been hard.
If you can't find peanut butter chips you can use butterscotch or more white chocolate.
Add some chopped peanuts to make this taste like a payday candy bar!
If your kids hate coconut you can leave it out.
I think this is the mood I'm in for Halloween. Oh, and this too.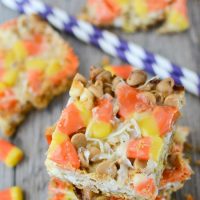 Candy Corn Magic Bars
These Candy Corn Magic Bars are perfect for Halloween! They have a graham cracker crust and are topped with white chocolate and peanut butter chips, coconut, and candy corn!
Ingredients:
1 1/2 cups graham cracker crumbs
1/2 cup butter, melted
1 1/2 cups white chocolate chips
1 cup peanut butter chips
1 cup coconut
1 1/2 cups candy corn
1 can sweetened condensed milk (14 ounces)
Directions:
Preheat oven to 350F. Line a 9×13" pan with foil and spray with cooking spray.
I used a box of graham cracker crumbs, but if you only have actual graham crackers, process them in a food processor until they are a fine crumb. Stir into butter. Press into the bottom of your prepared pan.
Sprinkle white chocolate chips, peanut butter chips, coconut, and candy corn over the top. Pour sweetened condensed milk evenly over the top of the bars.
Bake for about 25 minutes, until they get golden around the edges. Cool completely before slicing into bars.
Notes:
If you can't find peanut butter chips, you can use butterscotch, or add more white chocolate chips, or use regular chocolate chips.
I've had some complaints that the candy corn either melts in the oven, or that it becomes too hard to eat. These bars didn't give me that problem, and I'm not sure why they would give different results to others, except that all ovens bake differently and maybe all candy corn is not created equal. A solution if you're worried about that result is to leave out the candy corn during baking, and sprinkle it on as soon as they are removed from the oven. This should melt them enough that they stick, but they won't become hard. I have not tried that method, but I think it would solve the problems some are having. Also – ALWAYS use FRESH Candy Corn. Candy Corn does not age well!
All images and text ©
. Please do not use my images without prior permission. If you want to republish this recipe, please re-write the recipe in your own words, or link back to this post for the recipe.
Click here to see more of my ULTIMATE COCONUT recipes!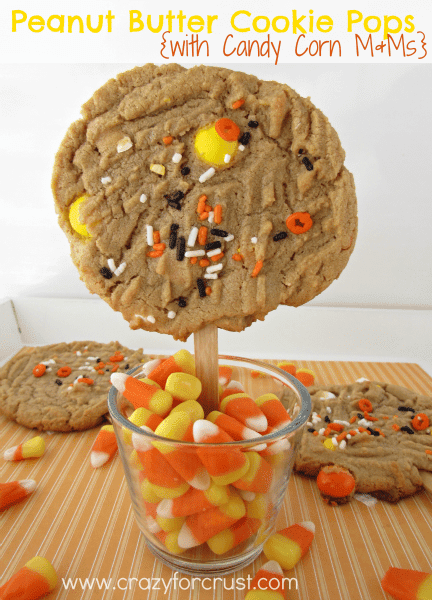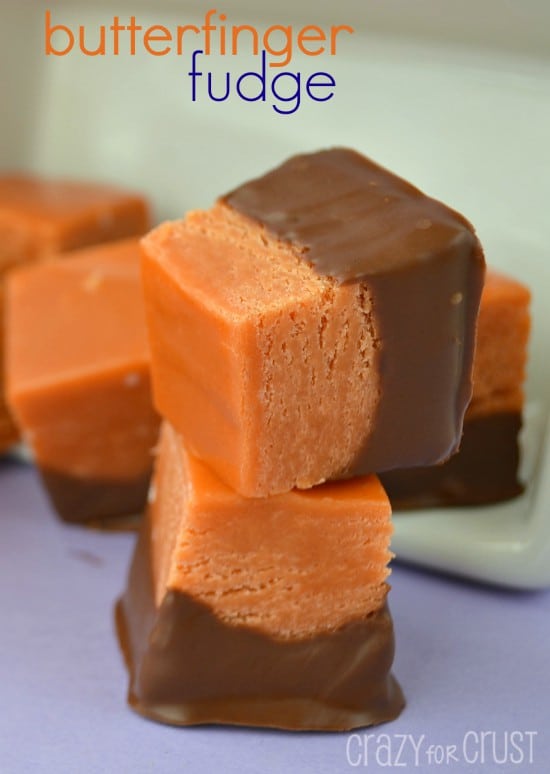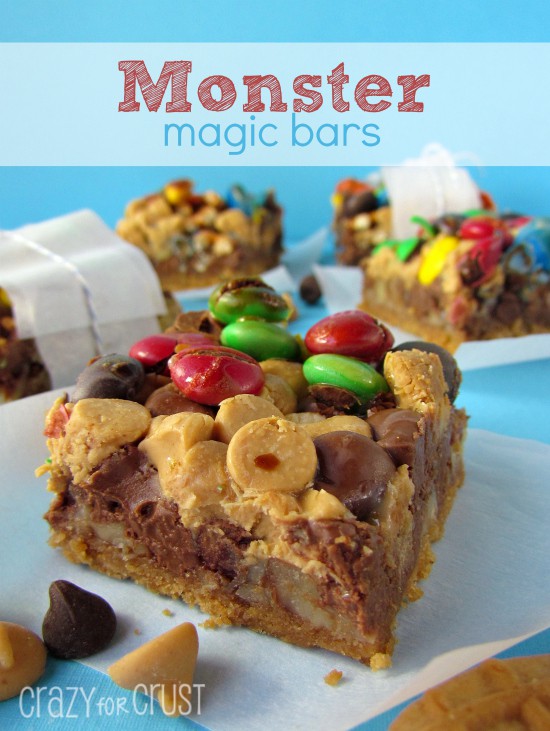 Sweets from friends:
Candy Corn White Chocolate Rice Krispie Treats by Love from the Oven
Candy Corn Fudge by Something Swanky
Candy Corn Cupcake Cake by Simply Sweets by Honeybee
Candy Corn Cheesecake By I Heart Nap Time
SaveSave