This post may contain affiliate links. For more information, read my disclosure policy.
Remember how good Payday Candy Bars are? Well, this PayDay Fudge is even better! Peanut butter fudge filled with peanuts and candy corn (of all things) tastes just like a PayDay!
If you're a lover of peanut butter, peanuts and that chewy nougat center that PayDay candy bars have, then this is the fudge for you.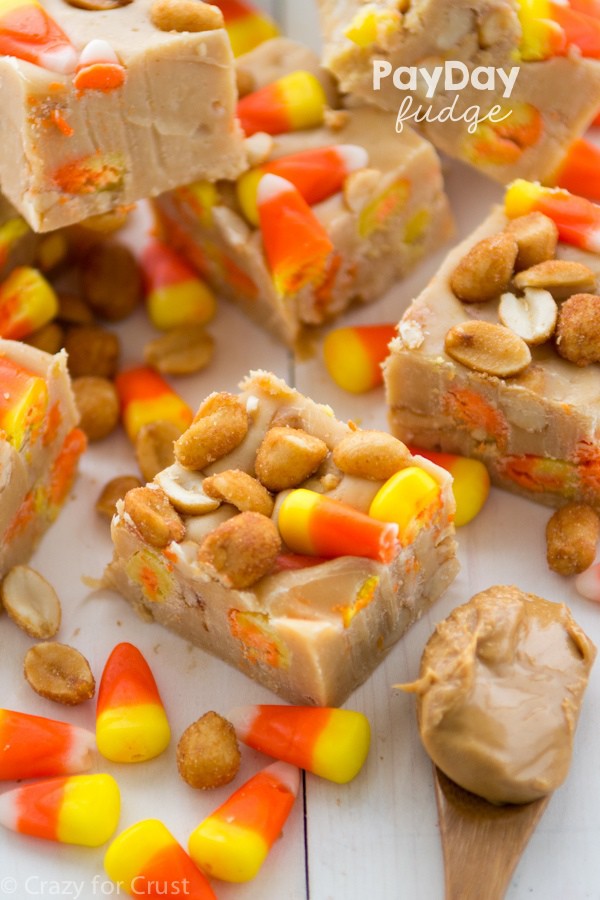 Candy Corn is baaaaack. Have you found it yet? I snagged some at Walgreens but I'm just impatiently tapping my foot waiting for Target to get rid of back to school and onto Halloween.
Okay, so it's official: candy corn is magical. They look like unicorn horns for a reason: just adding simple ingredients to candy corn makes it taste like something else entirely.
For example, if you add peanuts to candy corn you get a PayDay Candy Bar. And, if you add candy corn and peanuts to peanut butter fudge, it tastes like PayDay Fudge. If that's not unicorn magic, I don't know what is.
No guys, really, it's true: eat a handful of peanuts mixed with candy corn and it's just magical how it turns into a PayDay.
I'm not a huge just-eat-candy-corn fan. Alone, it's kind of boring and way too sweet. But candy corn is truly magical – when you mix it with certain other foods it totally changes the flavor.
Like, if you melt it with peanut butter and you get Butterfingers. #truestory
And, when you mix it with peanuts, you get PayDay Candy Bars! You can eat it alone to get the effect, or use the two ingredients to make something else.
PayDay Fudge is a peanut butter fudge recipe full of peanuts and candy corn to make it chewy like a PayDay candy bar!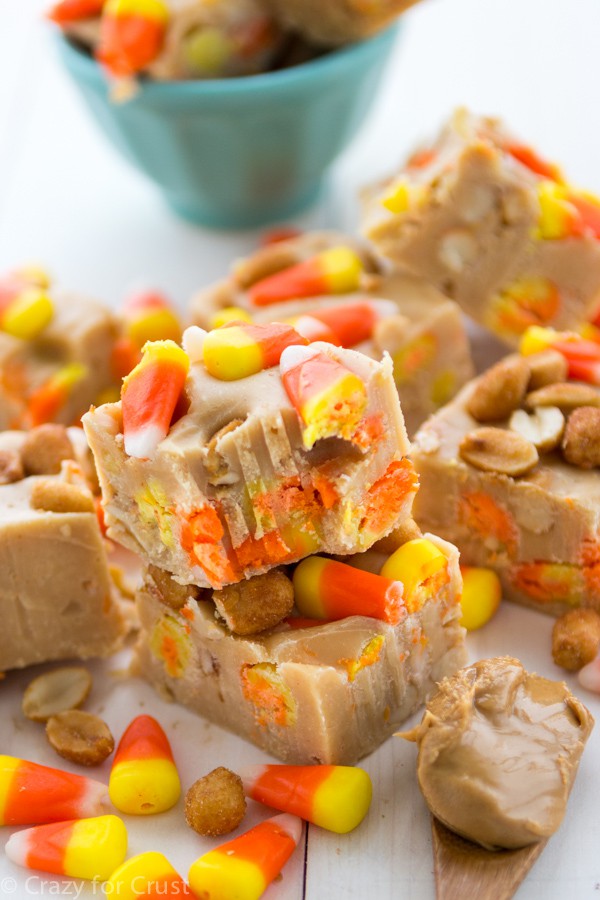 It's getting to be that time of year where FUDGE is all the rage. And this fudge is super easy!
Easy Fudge has just a few ingredients and is no-fail fudge!
Basic easy fudge starts with 3 cups of chocolate chips and 1 can (14 ounces) of sweetened condensed milk. I make easy fudge all the time during the holidays (using white chocolate chips or chocolate chips) and I always make no fail fudge because it's so easy and, well, no fail. During the holidays I do not have time for failure!
For this PayDay Fudge I turned easy fudge into easy peanut butter fudge! By adding peanut butter to the white chocolate chips and sweetened condensed milk you get peanut butter fudge. Then add in peanuts and candy corn and let it set – start to finish it's only about 15 minutes plus cooling time.
Add candy corn to make it taste like nougat!
Candy Corn is hard and chewy at the same time. When you stir it into the fudge mixture it won't melt; instead it adds a nice chewy texture to the fudge.
The beauty of doing this with candy corn is that the candy corn doesn't really taste like anything; it absorbs the peanut butter flavor of the fudge and except for seeing it you'd never know it was in there.
What kind of peanut butter do you use for peanut butter fudge?
Make sure to use a no-stir brand of peanut butter. Skippy or Jif or a similar store brand is best. You can even use Skippy Naturals (or the Jif equivalent) because even though that's a more natural product, it's still no-stir.
When you're choosing peanuts to add to the fudge, use any you like. I love using the honey roasted peanuts from Trader Joes – I buy their big bags of them – but you can use cocktail peanuts too!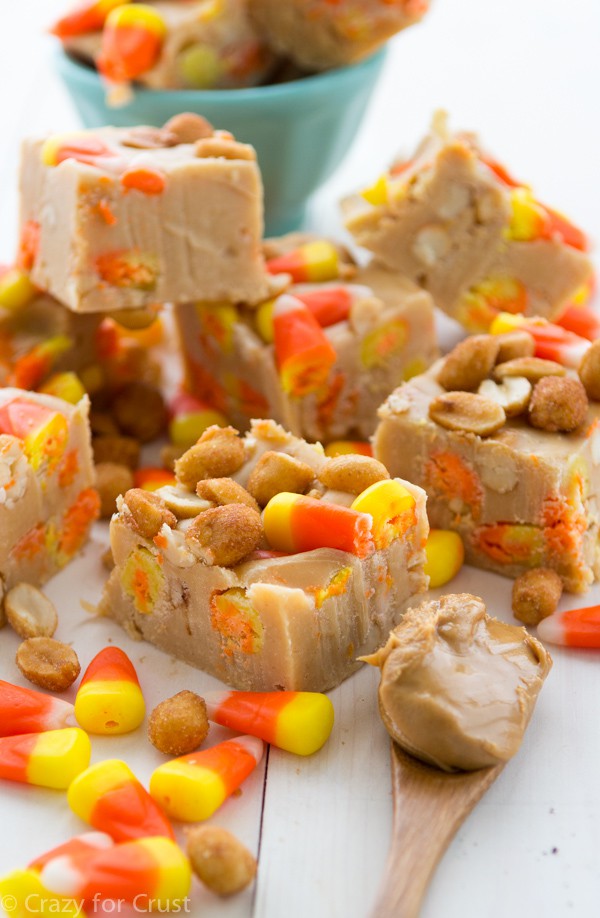 How to store Payday Fudge:
I like to let fudge set on the counter or in the refrigerator if it's warm in your kitchen. Slice into small squares and then store in an airtight container for serving, storing or shipping. Keep it in the refrigerator and it'll last awhile!
Tip: don't slice it until you want to serve/ship/eat it. It'll stay fresher not sliced!
What do I do if my fudge doesn't harden?
With this recipe it should be no-fail. Easy fudge hardens easily because it's just white chocolate and sweetened condensed milk. Here are a few tips for success:
Use regular (not fat-free) sweetened condensed milk
Do NOT use natural peanut butter that needs to be stirred
Use fresh white chocolate chips – older chips have a hard time melting
If your fudge still isn't hardening after all that, then chill it and/or freeze it to set it.
Other easy fudge recipes:
Want even more? Subscribe to Crazy for Crust to get new recipes and a newsletter delivered to your inbox. And stay in touch on Facebook, Pinterest, Twitter, and Instagram for all my latest updates. If you make this recipe, share a photo on social media tagging @crazyforcrust and using the hashtag #crazyforcrust.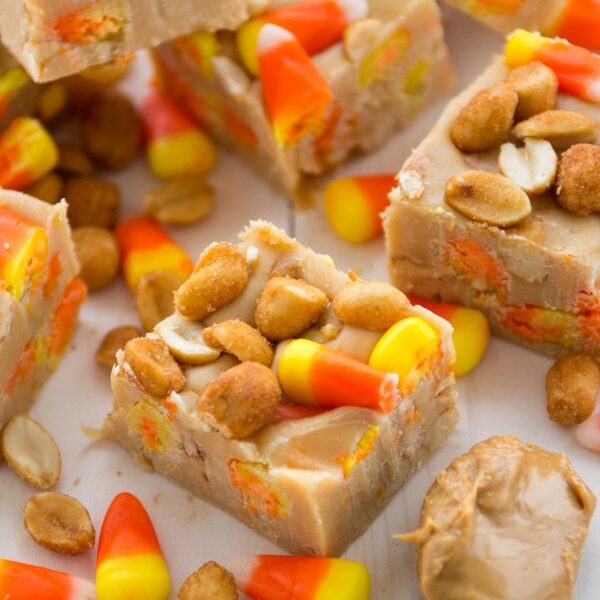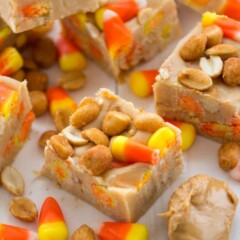 Payday Fudge
Easy peanut butter fudge is filled with peanuts and candy corn, making it taste like a PayDay candy bar! With only 6 ingredients, this easy fudge comes together in under 15 minutes.
Ingredients
12

ounces

white chocolate chips

1/2

cup

creamy peanut butter

1

14 ounces can

sweetened condensed milk

1

teaspoon

vanilla extract

1 1/2

cups

candy corn

divided

1 1/2

cups

peanuts

regular or honey roasted, divided
Instructions
Assemble all ingredients. Line an 8x8" or 9x9" pan with foil and spray with cooking spray.

Place white chocolate chips, peanut butter, and sweetened condensed milk in a medium saucepan. Heat over low heat, stirring often, until melted and smooth.

Remove from heat and stir in vanilla. Working quickly, stir in 1 cup each of the candy corn and peanuts. Quickly spread in prepared pan and top with remaining candy corn and peanuts; press to adhere them to the top.

Let fudge cool to room temperature, then chill to set. Cut into squares. Store in an airtight container at room temperature.
Recipe Nutrition
Serving:
1
serving
|
Calories:
134
kcal
|
Carbohydrates:
14
g
|
Protein:
3
g
|
Fat:
8
g
|
Saturated Fat:
3
g
|
Cholesterol:
2
mg
|
Sodium:
46
mg
|
Potassium:
96
mg
|
Fiber:
1
g
|
Sugar:
12
g
|
Vitamin A:
3
IU
|
Vitamin C:
1
mg
|
Calcium:
27
mg
|
Iron:
1
mg
Nutritional information not guaranteed to be accurate
**Did you make this recipe? Don't forget to give it a star rating below!**
Click here to see more PEANUT BUTTER recipes!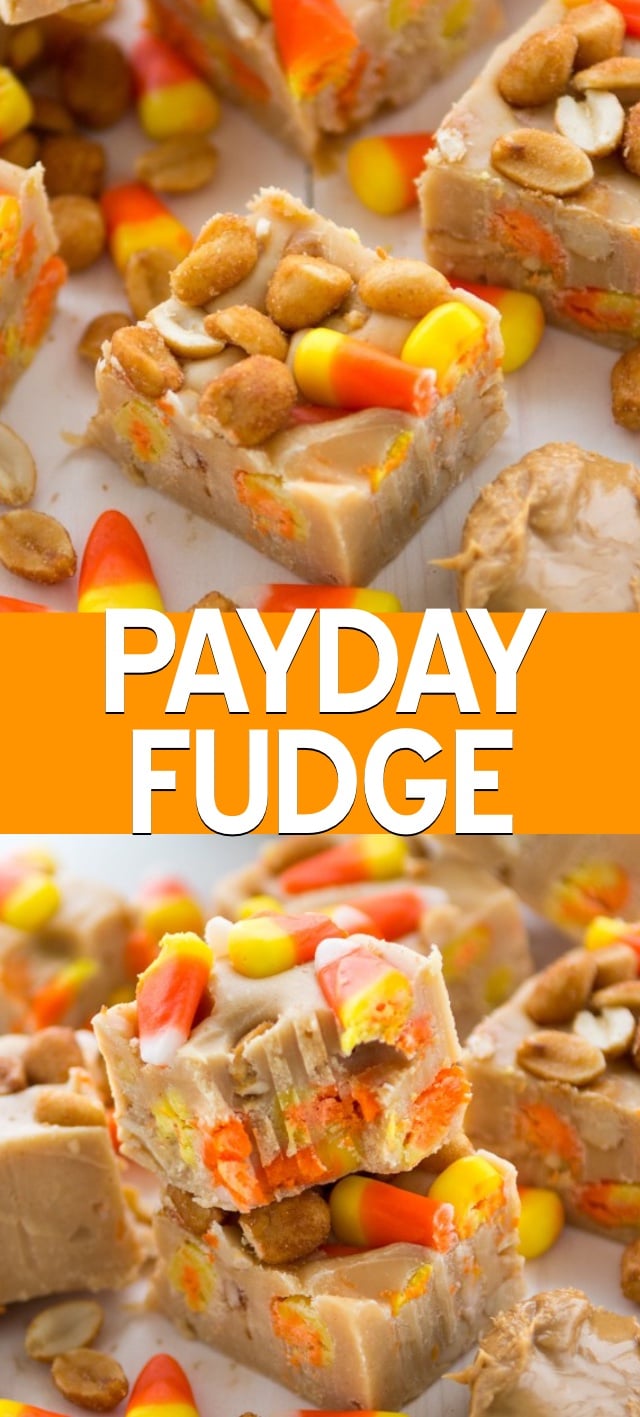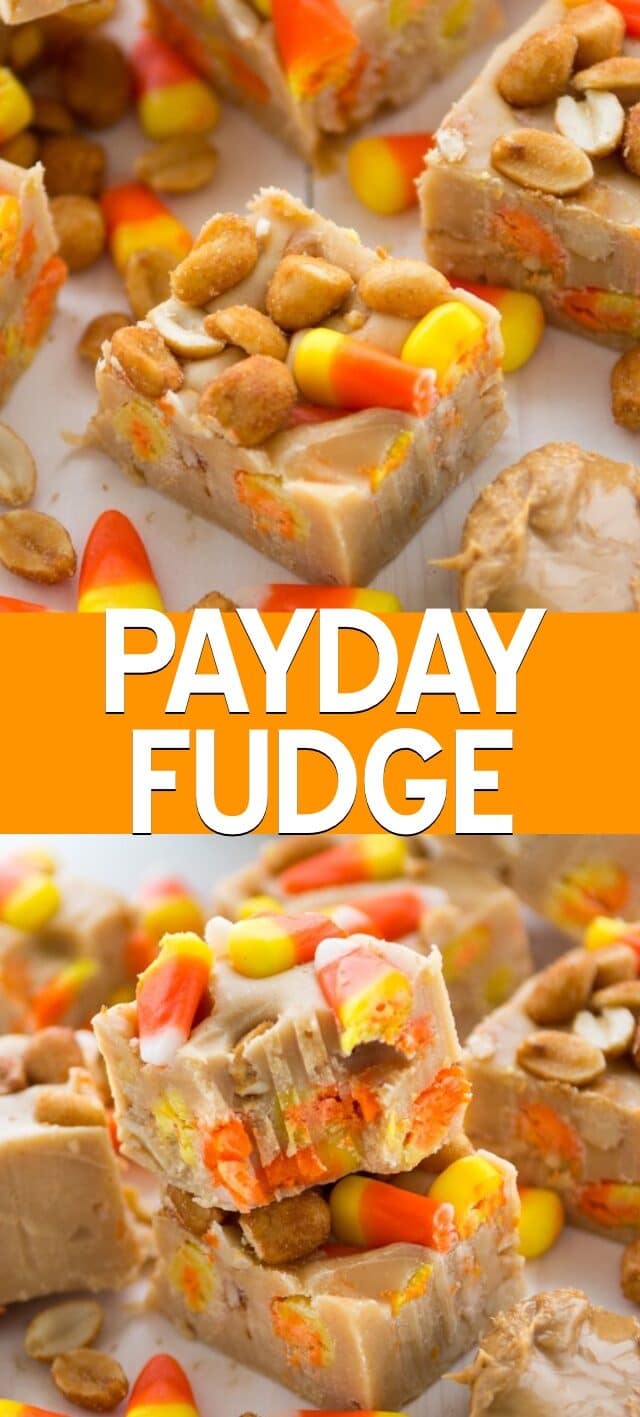 Last Updated on August 29, 2019