This post may contain affiliate links. For more information, read my disclosure policy.
My Easy Banana Cake is something ANYONE can make. Layer cakes look hard and even though I'm always worried if they'll turn out, they always do. This layer cake recipe starts with a cake mix so it's easier than ever, with a caramel filling and the best cream cheese frosting. It's the perfect birthday or special occasion cake (I mean…a random Thursday can be a special occasion!)
Even if you don't think you can have success making a layer cake, try this easy banana cake and you'll be surprised how simple it is – and how delicious.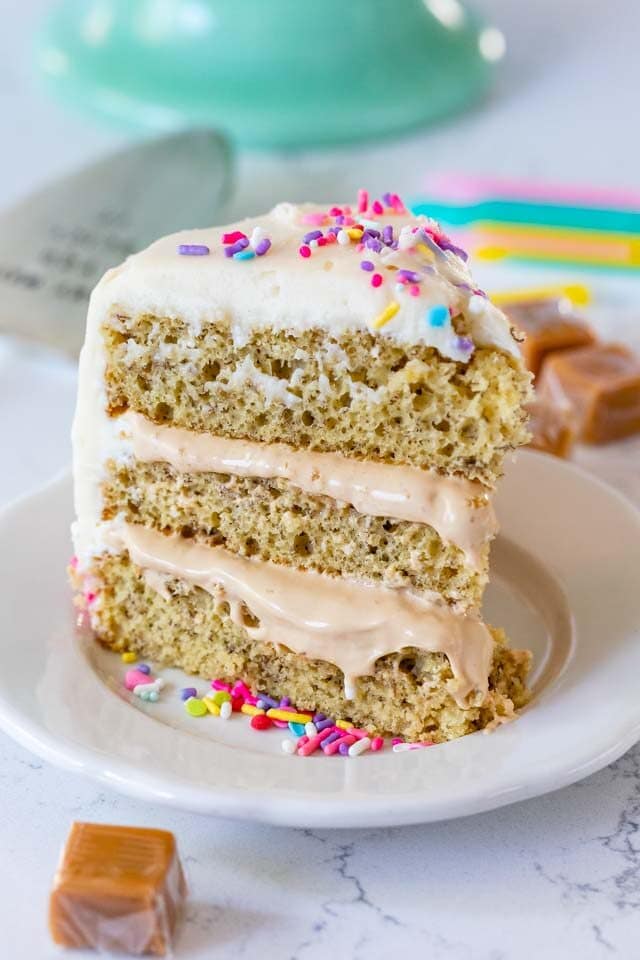 Guys, I've been blogging for nine years now. NINE. N-I-N-E. I can't believe it. September 20 is Crazy for Crust's birthday and I couldn't be more proud of her! Watching her grow into a tween has been thrilling and exciting. I'm even excited for the double digits and teen years!
The journey I've been on as a business owner over the past few years has been epic and amazing. I continue to pinch myself every day because this is my life and I get to do what I love.
This cake is in celebration of Crazy for Crust – it's one of the first layer cakes I made at the beginning and it's finally getting a (much needed) facelift.
It's not only Crazy for Crust's birthday cake…but it's also mine. My birthday is the day after CFC's! Happy birthday to me. 🙂 LET'S EAT CAKE!
I'm a sucker for anything banana (baked, not the actual fruit *shudder*) and when it's mixed with caramel and cream cheese frosting? OMG.
My Easy Banana Cake is a layer cake filled with caramel filling and cream cheese frosting and it all starts with a box mix – so it truly is EASY!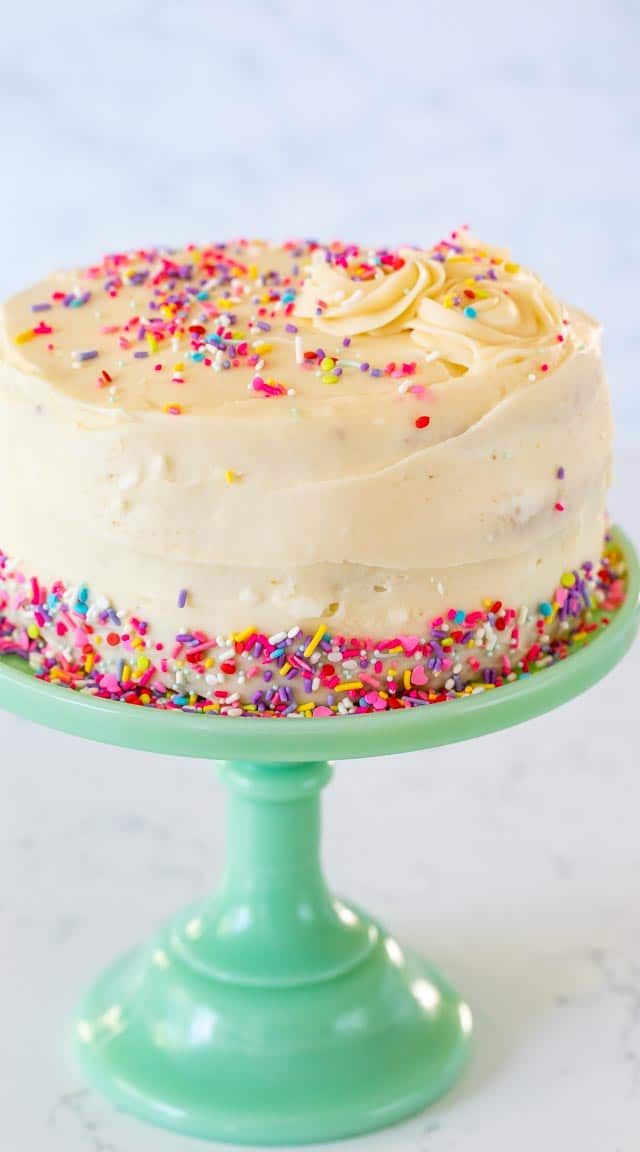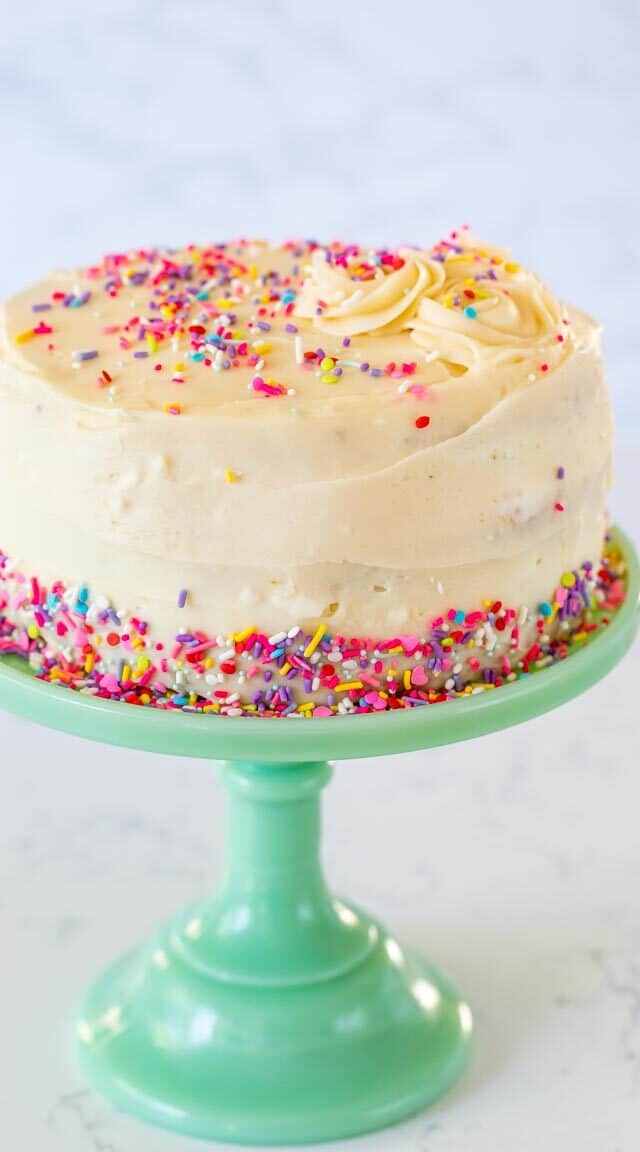 Can you add bananas to cake mix?
Yes you can, and I did! Sometimes banana cake can be a little finicky, which is why I always love a cake mix option. As much as I love baking from scratch, I know it's so much easier sometimes for people to grab a cake mix. There's nothing wrong with cake mix – I love it – and by doctoring it up like this no one will know it starts from a box.
In order to account for the banana in the mix, I changed a few of the ingredients called for on the box. Most cake mixes call for about 1 cup of water and 1/2 cup of oil, but since we added bananas I lowered the water and oil required. This accounts for the moisture in the bananas.
By starting this cake with a mix, you need less ingredients. It is possible to make banana cake without buttermilk, sour cream or milk. And you won't have to worry about your cake being too dense; cake mix makes a perfectly moist and springy cake every time.
What are overripe bananas?
Growing up, we called brown spotted bananas "tired" bananas. I often wonder if my mom made that up because, well, the bananas were old. Old and tired, get it?
Nowadays, as a food writer, I say "overripe" banana. An overripe banana is a banana just past its prime: it has brown spots and would probably not be too desirable to eat. Bananas are overripe from the spotted stage to just before they actually rot – this is when they're sweeter and softer and perfect for baking.
Can I freeze overripe bananas?
YES! This is something I tell people all the time. At any given time I have about 8 bananas in my freezer!
PRO TIP: freeze your overripe bananas to use in baked goods later!
You don't have to slice them before freezing unless you want to use them in smoothies. For baking banana bread or cake, just defrost the bananas. They'll be brown, soggy and undesirable, but they bake just fine. Snip off the tops and squeeze out the center and you have the perfect bananas for baking!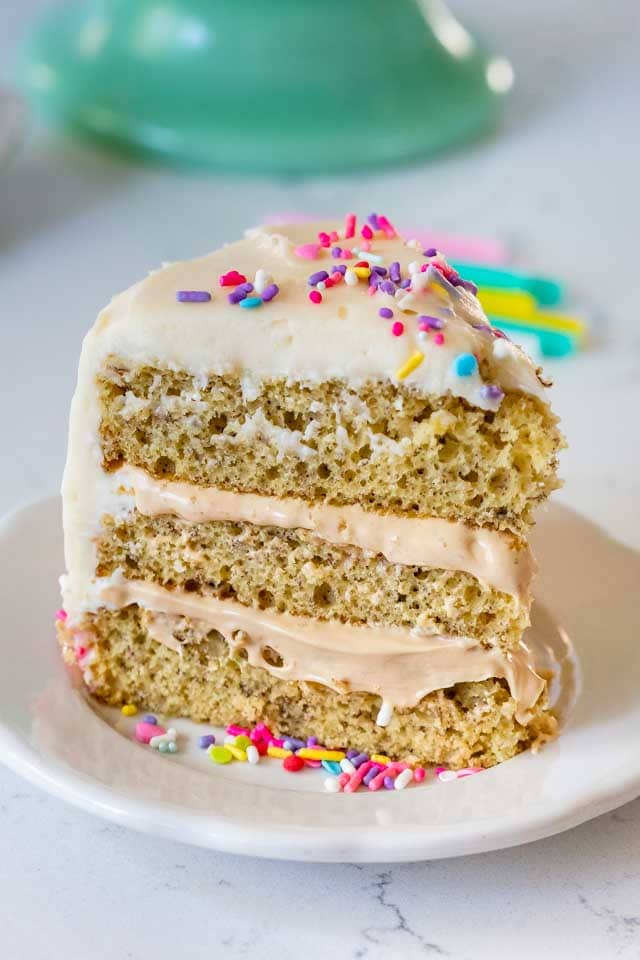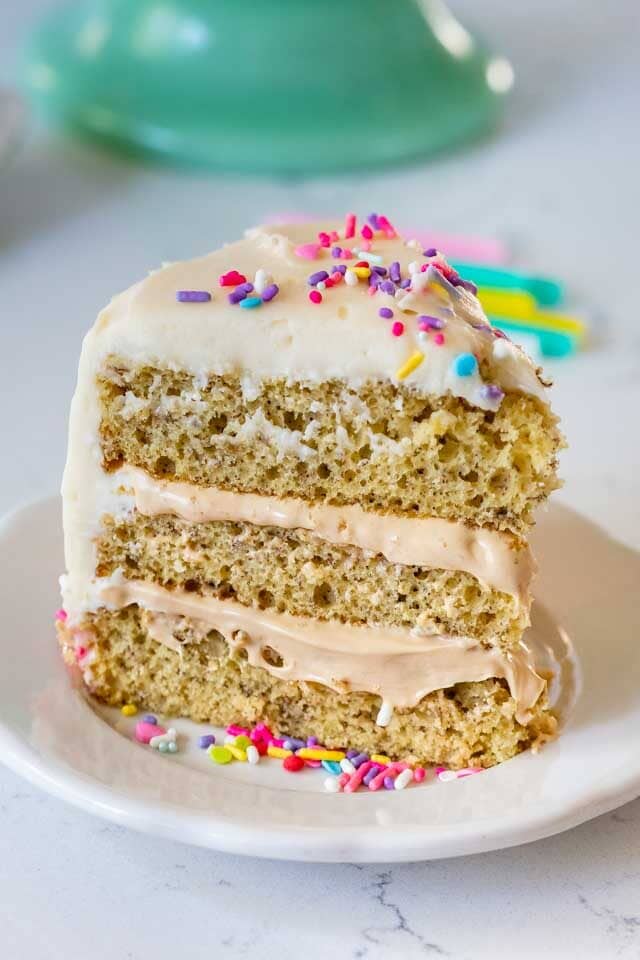 What size round cake pan do you use for layer cakes?
As you can see, this cake has three layers. When I do a three layer cake from a cake mix I use three 8-inch round cake pans. For two layers, you can use two 9-inch rounds.
Just be sure that you use two or three of the same brand and type pan. It seems weird but different brands have slightly different shapes and won't stack well.
Once your cakes are baked and cooled it's time to fill them with my favorite caramel ganache!
I don't really know what this caramel filling is called; I call it caramel ganache because it calls for caramels and heavy whipping cream, like when you make chocolate ganache. You could also call it whipped caramel or just plain old caramel filling!
How do you make caramel filling for cake?
It's so easy – and caramel goes SO good with banana cake!
Use caramel squares or bits (I prefer bits because then I don't have to unwrap the caramel squares).
Add the caramel to a bowl with heavy whipping cream and heat in the microwave.
Whisk to melt the caramel.
Chill to set.
Beat it with a mixer to make a glossy whipped caramel!
This is the perfect filling for any cake or cupcake recipe.
PRO TIP: skip the caramel ganache and fill this cake with dulce de leche!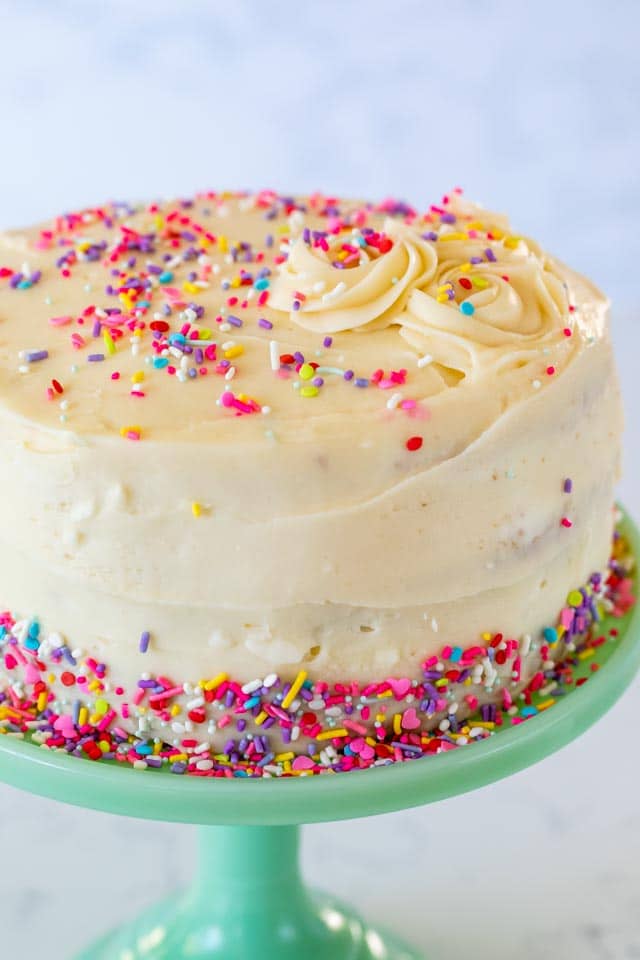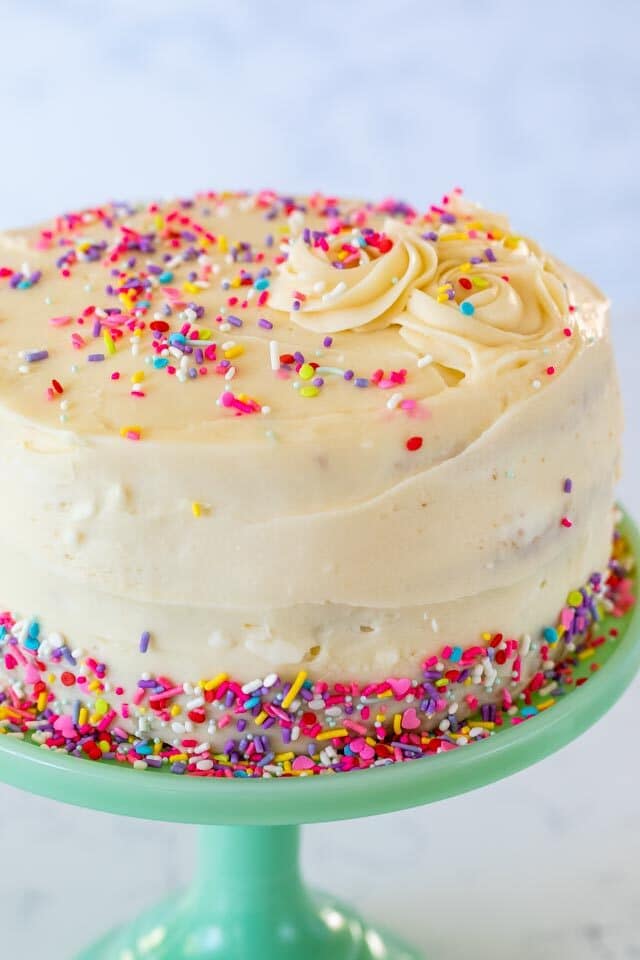 Seriously it's the best. Cream cheese frosting and banana go so well together – plus I love how cream cheese frosting isn't as sweet as a traditional buttercream. I made a batch of my favorite recipe for this cake.
I had plenty of frosting to frost the outside of this cake but if you want to do any details or decorations, I suggest doubling the frosting. Or, do what I often do: buy a can of white or cream cheese frosting. I use that for crumb coating and some decor, but no one will ever know because your frosting tastes so much better!
How to assemble a layer cake:
Now I'm no cake pro, I'll admit it readily. That's how you know if I can make a layer cake look good – so can you! For extra tips on cakes, check out my friend Lindsay over at Life, Love and Sugar. Her cakes are beyond gorgeous!
Once you have the cakes baked and cooled, the caramel made, and the frosting done, you just have to assemble your cake.
Make sure your layers are level. If they're not, level them with a serrated knife.
Use a piping bag filled with frosting to pipe a ring around the layer, then fill it with caramel. That way the caramel won't ooze out of the cake. Do this for each layer.
Frost using a crumb coat: a thin coating of frosting meant to pick up the crumbs. Chill, then frost the final version and you'll get a pretty crumb-free coat.
Decorate as desired! I love using my 1M tip or sprinkles on the outside of the cake.
Do you refrigerate Banana Cake?
Yes, for this recipe I would. The cream cheese frosting needs to be refrigerated and the caramel gets gooey at room temperature. But, if you skip the filling and use another frosting you can leave it out.
How long will banana cake keep?
I'd say in the refrigerator for up to about three days. After that I'd freeze it (learn how to freeze desserts).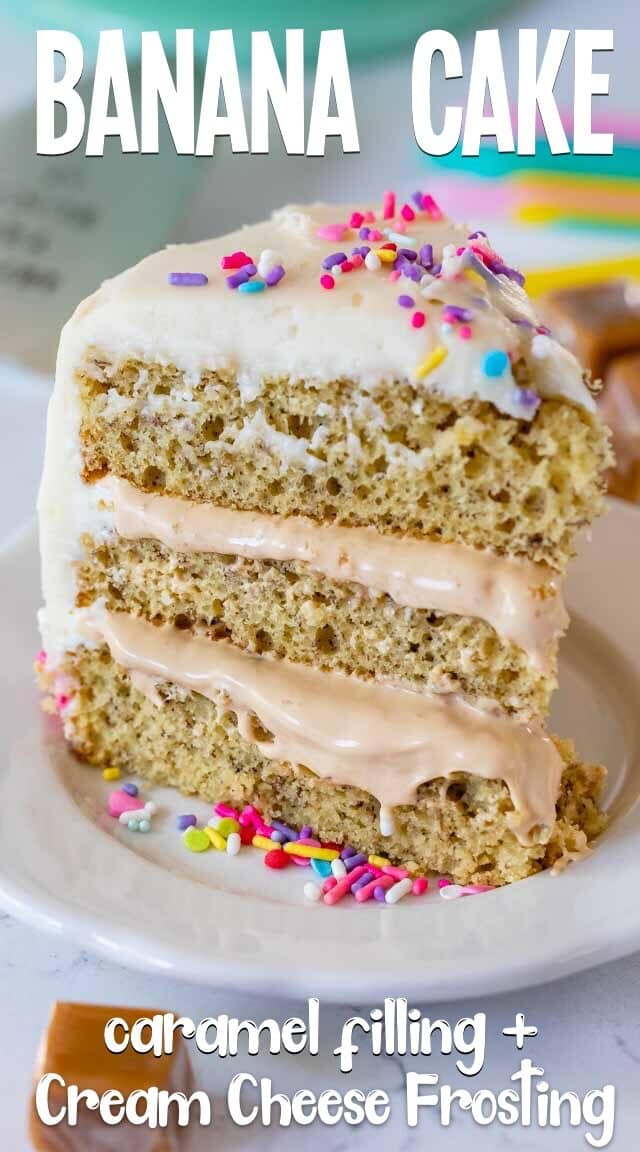 If you love banana desserts be sure to try:
Try mixing and matching these other flavors with this banana cake:
Want even more? Subscribe to Crazy for Crust to get new recipes and a newsletter delivered to your inbox. And stay in touch on Facebook, Pinterest, Twitter, and Instagram for all my latest updates. If you make this recipe, share a photo on social media tagging @crazyforcrust and using the hashtag #crazyforcrust.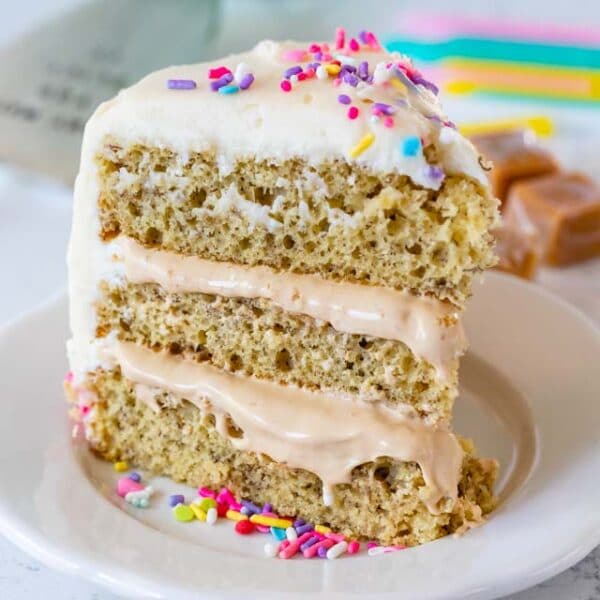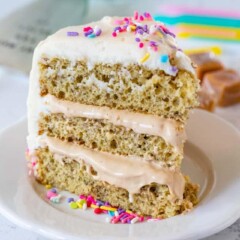 Banana Cake with Caramel Filling
Anyone can make this Easy Banana Cake recipe! Layer cakes that start with cake mix are so easy. This easy cake recipe has caramel filling and is frosted with cream cheese frosting!
Prep Time
1

hour
30

minutes
Ingredients
For the Cake:
1

15.25 ounce box

yellow cake mix

3/4

cup

water

1/3

cup

vegetable oil

3

large

eggs

2

overripe bananas

smashed

1/4

teaspoon

baking soda
For the Caramel:
1

11 ounce bag

caramel squares or bits

(unwrapped if wrapped)

1/2

cup

heavy whipping cream
For the Cream Cheese Frosting:
1/2

cup

unsalted butter

softened

8

ounces

cream cheese

softened

3

cups

powdered sugar

1

teaspoon

vanilla extract

1/4

teaspoon

salt
Instructions
Make the Cake:
Preheat oven to 350°. Line two 9-inch round cake pans or three 8-inch round cake pans (see note) with parchment paper and butter and flour them (or use floured cooking spray). You will have some batter left over.

Mix cake mix, water, oil, eggs, bananas, and baking soda in a large bowl on low for 1 minute. Increase speed to medium and beat for 2 minutes.

Fill prepared pans equally.

Bake for about 30-40 minutes until a toothpick comes out clean. (Time will depend on size of pan.) Cool in pan for at least 10 minutes, then turn out onto a rack to cool completely.
Make the Caramel:
While the cake is in the oven, add the caramels and heavy whipping cream to a microwave safe bowl. Heat on HIGH for 2 minutes. Let it sit for one minute, then whisk until caramel is compeltely melted (reheating as needed).

Once caramel is completely melted, place in the refrigerator to cool completely.

When getting ready to frosting the cake, remove cooled caramel from the refrigerator. It will be stiff. Beat with a hand mixer until the caramel becomes more creamy, only a few minutes. Now it is like a thin frosting you can fill your cake with.
Make the Frosting:
Beat butter and cream cheese until fluffy. Slowly beat in powdered sugar, 1 cup at a time, mixing until frosting has formed. Mix in vanilla.

To assemble your cake, place some frosting in a pastry bag fitted with your choice of tip (I used a 1M). If needed, trim the top of your cake layers to make them level.

Place one layer on cake plate. Pipe a rim around the edge with cream cheese frosting, creating a barrier for the caramel filling. Evenly spread caramel on the bottom later. Place top cake layer on the caramel. Frost the cake as desired.
Recipe Notes
I used three 8-inch round pans, but you can also do two 9-inch rounds for a two layer cake.
If making a two-layer cake, do half the caramel (or you'll have some left over).
If you want to do decorative frosting, double the frosting recipe.
You can bake this also as a 9x13-inch cake, just skip the filling.
Cake recipe slightly adapted from Inside BruCrew Life.
Recipe Nutrition
Calories:
375
kcal
|
Carbohydrates:
36
g
|
Protein:
3
g
|
Fat:
25
g
|
Saturated Fat:
16
g
|
Cholesterol:
107
mg
|
Sodium:
159
mg
|
Potassium:
123
mg
|
Fiber:
1
g
|
Sugar:
33
g
|
Vitamin A:
725
IU
|
Vitamin C:
2
mg
|
Calcium:
36
mg
|
Iron:
1
mg
Nutritional information not guaranteed to be accurate
**Did you make this recipe? Don't forget to give it a star rating below!**
Click here for easy ways to use overripe BANANAS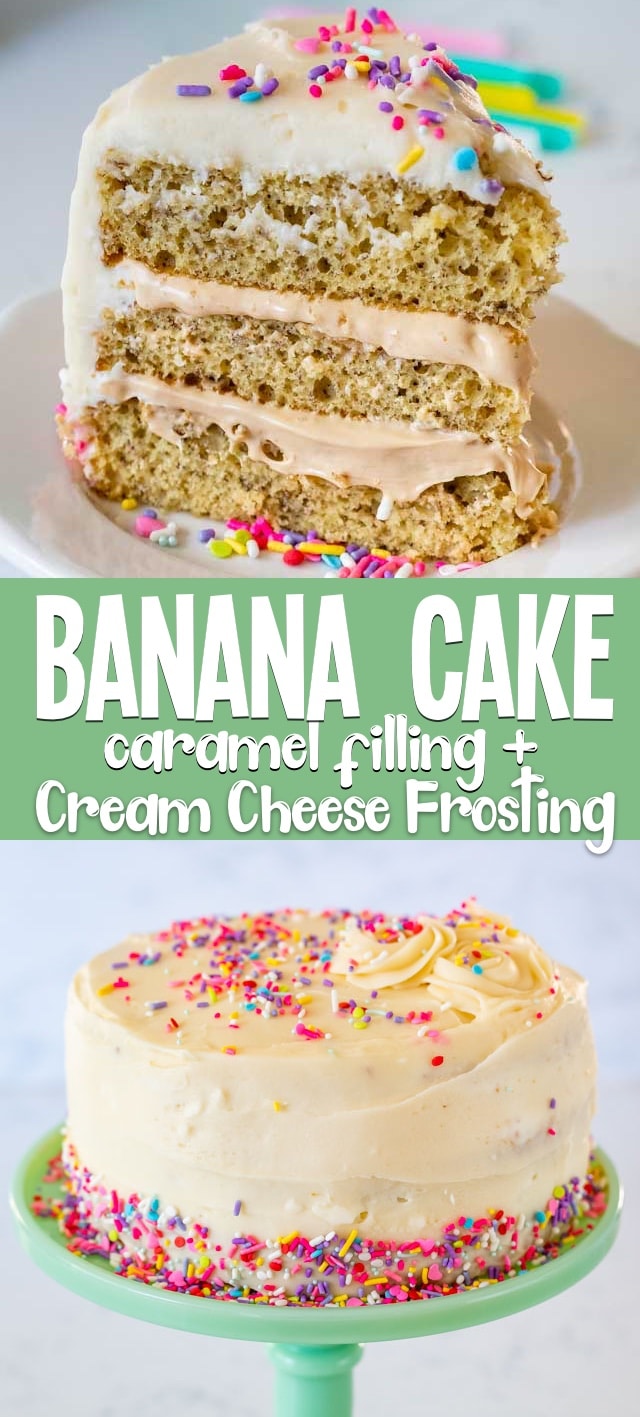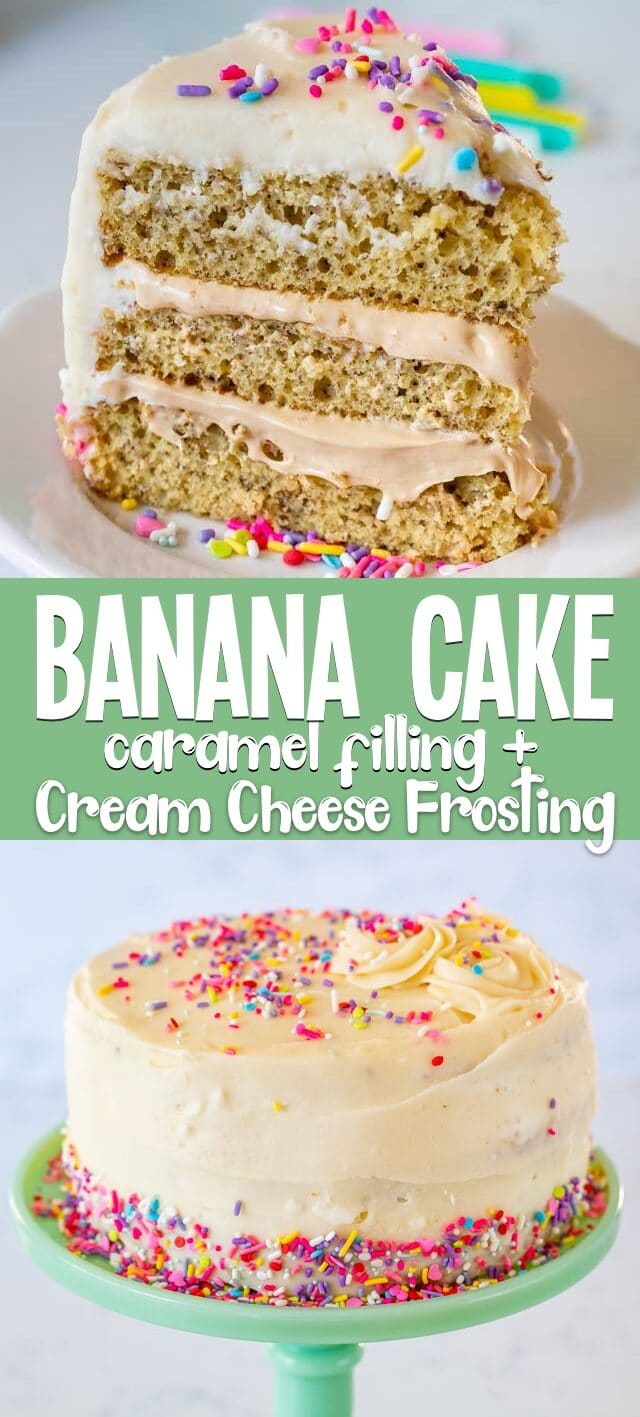 Use up your old bananas in this easy banana cake recipe filled with caramel filling and topped with cream cheese frosting!
Last Updated on February 2, 2023