This post may contain affiliate links. For more information, read my disclosure policy.
Amazon Prime Day is finally here! I love my Amazon Prime membership – I use it daily – and I think it's one of those monthly/yearly fees that is 100% worth it. It's like a streaming service that gives you more than just entertainment: fast free shipping makes the service worth it.
This is my guide to Amazon Prime Day 2020. I'm going to share all the best kitchen deals and deals for my favorite things. Be sure to check back on this post often because I'll be updating it as I get notifications of new items that pop onto the list.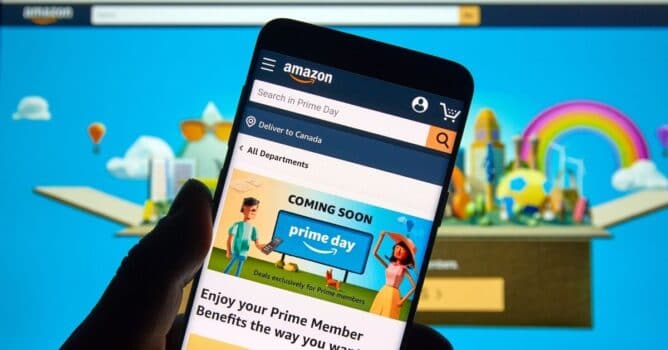 What is Amazon Prime Day?
Amazon Prime Day is a 48 hour sale across all categories of Amazon. Prime Day 2020 delivers in a big way with more deals than any Prime Day event before. Additionally, members can shop featured lightning deals, which offer jaw-dropping prices on top-tier brands and products.
You do have to be an Amazon Prime member to get the deals. The service is totally worth it: not only do you get fast free shipping all year long, but you also get access to all the Prime Video content. It's only $12.99/month or $119 for the year if you pay it annually. Get a 30 day free trial just in time for Prime Day!
When is Amazon Prime Day?
Amazon Prime Day 2020 is October 13-14, a full 48 hours of deals!
---
QUICK SALE LINKS
---
Small Business Prime Day Sales
Best Prime Day Sales for Kitchen/Baking
This list will be updated as the deals go live – so be sure to check back!
Favorite Things Prime Day Sales
This list will be updated as the deals go live – so be sure to check back!
Amazon Services I Love
Kindle Unlimited – this is how I read lots of Kindle books practically for free. For only $9.99 a month you can read as many books as you like that come free under the Kindle Unlimited umbrella. You can try it free for 30 days too!
Audible – listen to audio books anywhere and anytime. I love these in the car! Now if you try Audible FREE for 30 days you get 2 FREE books.
Amazon Music Unlimited: For just $0.99, Prime members who haven't yet tried Amazon Music Unlimited can get four months of the premium streaming tier with unlimited access to more than 60 million songs ad-free, and now a wide selection of popular podcasts.
Prime Video: Enjoy a selection of titles to rent or buy at up to 50% off and for a limited time, customers will be able to subscribe to select channels for $0.99 per month for up to two months if they are not already subscribed. Only pay for the channels you want and cancel anytime. A full list of Prime Video deals, including the offer window for each, can be found at amazon.com/primememberdeals.
Amazon Gift Cards: On October 13 and 14, Prime members will receive a $10 promotional credit when they purchase an Amazon Gift Card of $40 or more (including newly-launched Amazon Video eGift Cards, available on mobile) or reload their own gift card balance with $40 or more. This limited-time offer is available while supplies last and has a limit of one per Amazon customer account. The promotional credit will expire on November 29, 2020. Other restrictions apply.
Amazon Gift Guides
Not sure what to buy for gifts? Amazon Gift Guides have launched in time for Prime Day!
Last Updated on August 19, 2022