This post may contain affiliate links. For more information, read my disclosure policy.
OMG it's like an episode of Oprah! **not really, but let's pretend, mmkay?**
Today I'm sharing all of my 2014 Favorite Things and I'm giving away one of them!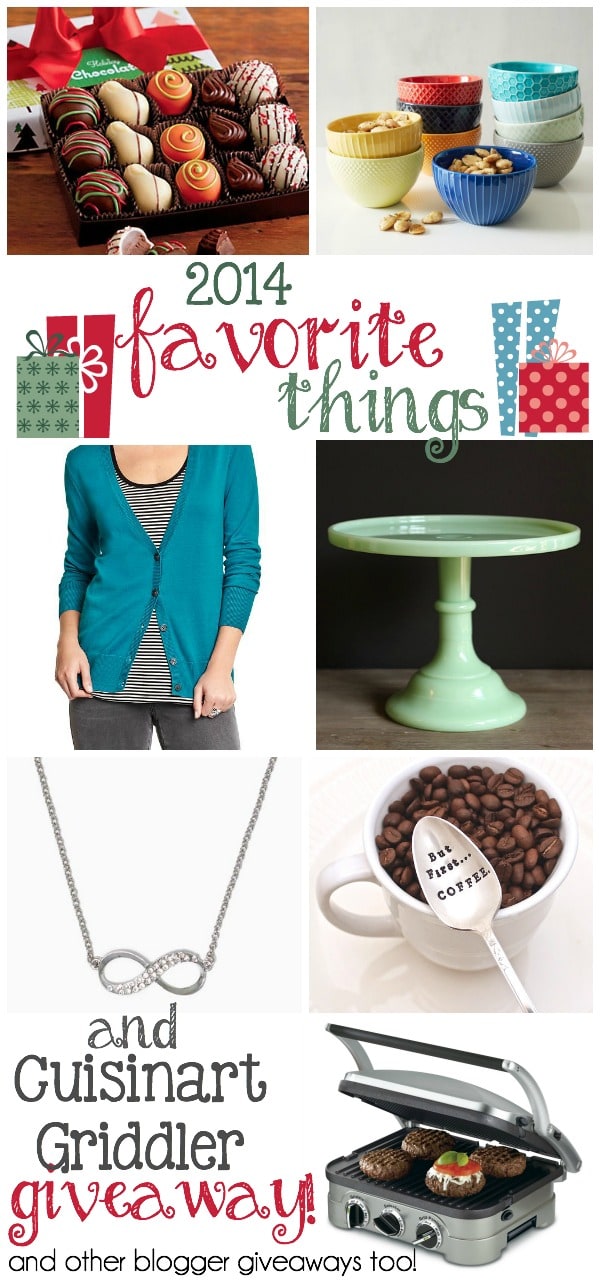 AND…I've banded together with some of my friends to give away their favorite things too! Aren't you excited! Like Oprah, without the car.
Anyway.
Shall we start talking about my favorite things? I have lots, and they range from kitchen gadgets to jelwery, clothes, food, and cards! Any or all of these things would make great gifts for the people in your life.
1. For her (or you): Clothes I love.
I'm obsessed with Express Jeans. Remember those crops I bought in Miami? Well I just went and bought skinny jeans last weekend. They're super comfy and hug in all the right places.
I have the hardest time finding tops I like. I want them to be a little flowy to disguise my, er, problem area, but I don't want to look pregnant. These LC Lauren Conrad Pleated Tops from Kohls are perfect. I bought one of every color!
I pink puffy heart cardigans. In fact, I have one of every color on my Christmas list. My favorite? The Crew-Neck in Full Tealt from Old Navy. I wear it all. the. time.
And, of course, boots. I wait impatiently all spring, summer, and most of fall for it to be cool enough to wear my boots. My favorites: the Ecco Palin. I wear them all the time, they're super comfy, and they're gorgeous too!
2. For the Coffee Lovers.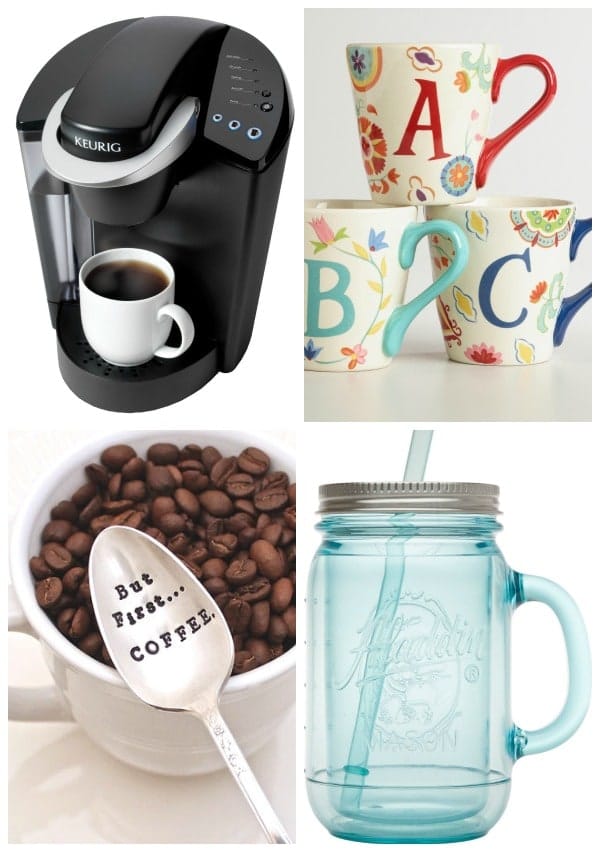 Y'all know how much I love my coffee! No one talks to me in the morning before my first sip.
I loved my old Keurig Elite brewer. I now have the one that makes cups or pots and I like it okay, but I liked my Elite more. I'm the only one in my house that drinks coffee, so having a Keurig just makes sense.
I'm kind of fanatical about my coffee mugs. We have too many; I keep buying cute ones like these monogram mugs from World Market. I have two shelves of mugs: my shelf and everyone else's shelf. Don't take one from my shelf or you'll get the stink eye. 🙂
Oh my gosh how cute is this coffee spoon I found on Etsy? It's totally going on my Christmas list!!
And lastly, plastic mason jars. I'm addicted. If I could replace all of my plastic cups with these, I'd be happy. They're cute, I use them for water all year long and for iced coffee to go in the summer.
3. Christmas cards for the win.
Every year I say I'm not going to send Christmas cards and then every year I march my family to the park and take photos and stress over the perfect card design and where I'm going to get them from. I want unique cards that are beautiful; I don't want something that five other people also got from the same big box store. Last year I used Minted.com for my cards and I fell in love with them. They're thick, printed beautifully, and they're unique, with tons of personalizable options.
I always have a really hard time choosing my favorite cards to send, so I made a bunch for you to see. (None of these are my actual card…those are a surprise!)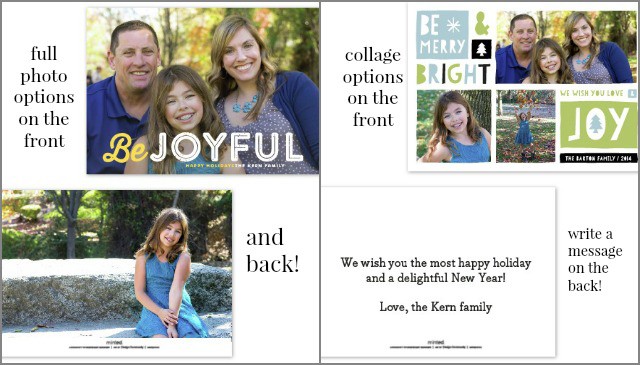 There are options for one or multiple photos on the front of a card, and they can be vertical or horizontal. There are also color options for most of the cards. (For example, the Block of Joy cards (above right) has three color options so you can easily match outfit colors.)
The BEST part about the Minted.com cards are the back printing. You can put a full photo on the back or write a message. Or, you can even add a print/design or a photo + text on the back (see below).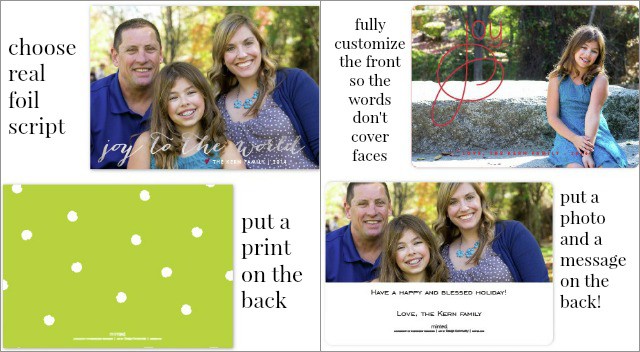 Many of the designs have movable words (like in the joy design, above right) so you can move the saying so faces aren't covered. And their line of foil cards have actual foil designs on them.
I cannot wait to see the cards I ordered this year. I swear, my daughter is the most photogenic person I know. It's a good thing she loves the camera. 🙂
4. Jewelry is always a good thing.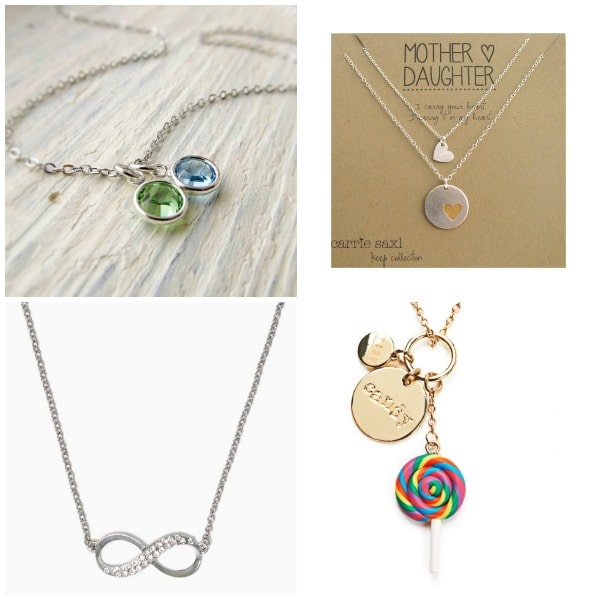 I have to say, I'm a late-to-the-party accessorizer. I used to wear the same necklace every day, when I remembered to put it on. (Er, that still might be true.) Then I discovered how much I love new necklaces and now I have way too many!
Something I really want is a non-gaudy "mother's" necklace with our birthstone's. Mel's is red, mine is blue, and Jordan's is purple, which I find kind of cool. This Mother's Birthstone Necklace from Etsy is on my list this year!
Also on my list, a gift for Jordan and I: this Mother-Daughter necklace set. How adorable is that? It would be a great layering piece too.
The infinity symbol is very dear to my heart. One, because I'm a math geek, and two, because it symbolizes forever. I have one very similar to this Charming Charlie's Infinity Necklace and I wear it almost every day! (Sidebar: have you been to Charming Charlie's? OMG.)
And last, food jewelry. My pie necklace is my favorite piece, but the Etsy shop is no longer open. This Whirly Pop Necklace from Dylan's Candy Bar is a close second…and I want one! (Also, their Donut earrings are super cute! I have a pair and get so many compliments on them.)
5. Food Gifts are the best gifts.
I love giving the gift of food. Often I make a lot of it myself, but sometimes only purchased goods will do. Many of the business contacts on my gift list get Harry and David food in their Christmas boxes, and some of the family members on my list are getting some this year too. (They finally put a H&D store at my mall and I'm super excited.)
Harry & David Pears are my favorite. They make a great gift!
Some of my peeps are getting Holiday Truffles this year. H&D makes all of their truffles on site, and they taste amazing.
Moose Munch. Is there anything better?
I had to include these Holiday Krispie Pops in my list of favorites because (1) they're adorable and (2) Jordan made me buy her one and they're actually really good. Kids will love them in their stockings!
6. Kitchen Appliances, obviously.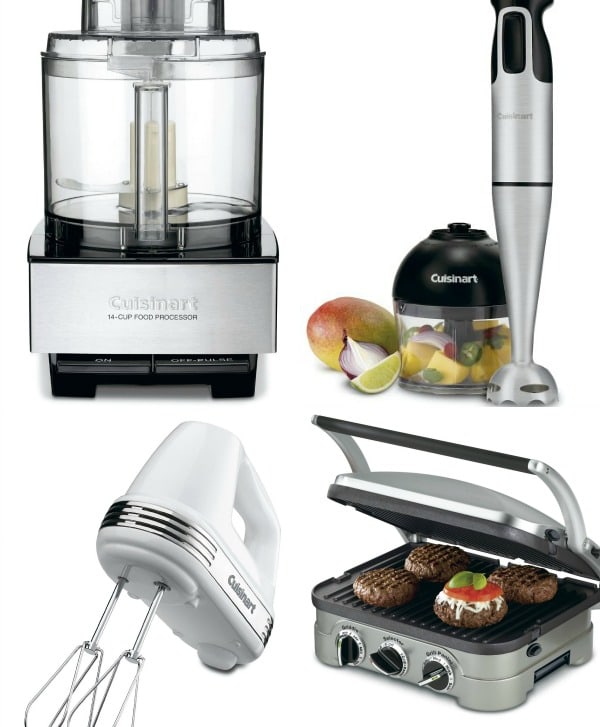 I have every single one of these appliances and I use them almost daily. If you don't have them, you need to add them to your list. (And, obviously I love my Cuisinart products. 🙂 )
A food processor is necessary. And I always say, go big or go home. I used to have a small food processor and I hated it because I always had to divide my recipes in two to make them fit. Small ones are great for little jobs, but for regular recipes you need big one! I love my Cuisinart 14-cup Food Processor. Pricey, but worth it!
A hand blender is great for so many things! Mine comes with a mini chopper (great for those little processing jobs) and I use the blender for all my soups. I hate transferring hot things to the blender and then back to the pot. A Cuisinart Hand Blender gets rid of that messy step!
A hand mixer. Even though I use a KitchenAid stand mixer for 90% of recipes, a hand mixer is super important. And, just FYI, after 10 years? You probably need a new one. I had an old Cuisinart that I got for my wedding in 2001 that still worked, but I recently got a new 7-speed hand mixer and it's so much faster than my old one!
My Cuisinart Griddler is, hands down, my most used appliance. Pancakes, french toast, grilled cheese, quesadillas, grilling…it does it ALL. (Which is why I'm giving one away!! See the bottom of the post.) You need to add this to your list!
7. Kitchen Gadgets, because they're cute. Oh, and functional too.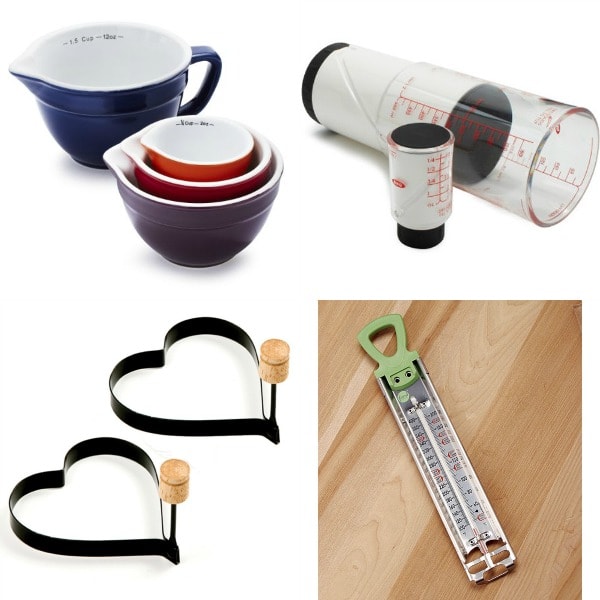 I'm a kitchen gadget junkie, that's for sure. But there are a few things I use all. the. time.
Cute measuring cups from Sur la Table also make great props.
These OXO adjustable measuring beakers are perfect for measuring peanut butter. And they go in the dishwasher!
Pancake molds. I love making heart pancakes on Valentine's Day.
A candy thermometer. Please get one. They're not too expensive and it'll save you lots of guesswork! (I have this exact one and I love it!)
8. Cute serving dishes (or props).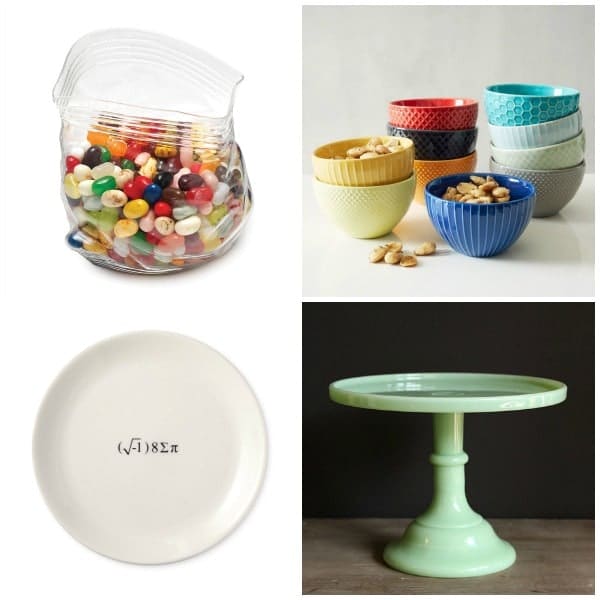 I'm a sucker for a serving dish, especially if it can double as a prop.
I have always lusted after this cute Unzipped Glass Zipper Bag candy dish from Uncommon Goods. I've never gotten one, but it's on my list. 🙂
Little dip bowls from West Elm (or Anthropologie or Crate and Barrel or wherever!) I have a few but I want one in every color!
Pi Plates. For obvious reasons.
This green milk glass cake stand from Minted.com is my absolute favorite cake stand. It's gorgeous and a true statement piece!
What's on YOUR list this year??
Thanks for reading and happy shopping!
This post contains some affiliate links. This means that by clicking the link and buying the item I get a small commission, but it in no way changes the price you pay. Minted.com supplied me with Christmas cards for this post, even though I would have bought them myself anyway. I really and truly love all of these items and I would be sharing them regardless of links or my relationship with the brand. Thanks for understanding!
Last Updated on August 18, 2022