This post may contain affiliate links. For more information, read my disclosure policy.
Slow Cooker Coffee Cake – Instead of making my normal coffee cake recipe, I made an even better one that's full of brown sugar. And? It's made in the crockpot. That's right: It's a Slow Cooker Coffee Cake.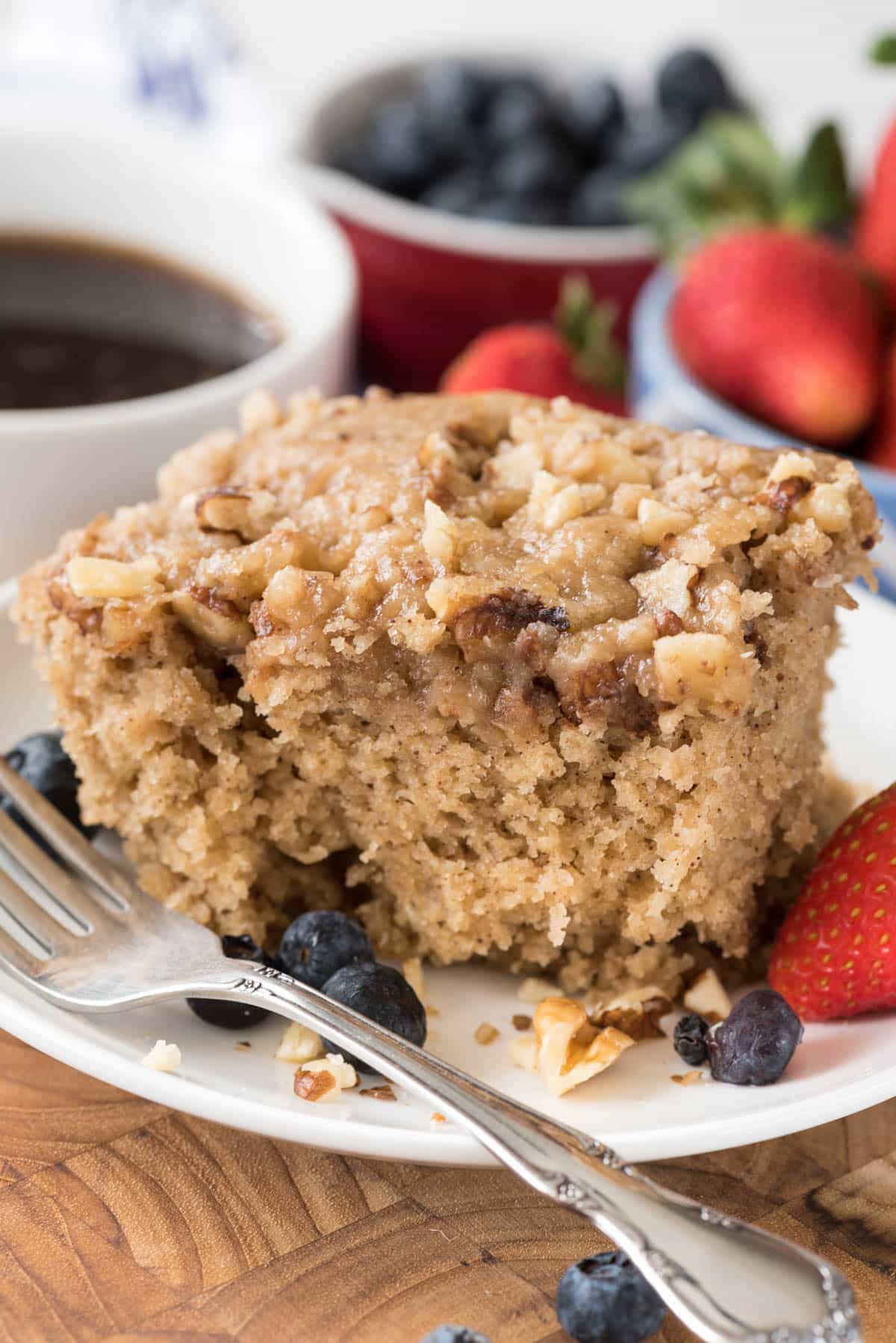 Follow me on Facebook, Instagram, and Pinterest for more sweet recipes!
Why would one make a slow cooker coffee cake, you might ask? Because you can, obviously. After making Monkey Bread, Brownie Pudding, and Fruit Crisp in the crockpot, I wondered what else would work.
Spoiler alert: Coffee Cake works.
Another reason for a slow cooker cake? Oven space. I don't make breakfast pastries that often, but I always make them on holidays. Be it Easter or Christmas or Mother's Day, I love hosting brunch. I always make some sort of sweet baked good, but I also make biscuits, bacon, sausage, and a baked egg dish. Oven space is at a premium on holidays, so when I can get something out of the oven and into a crockpot? That's a win.
And then there's the fact that crockpot baking yields moist and tender cakes, see: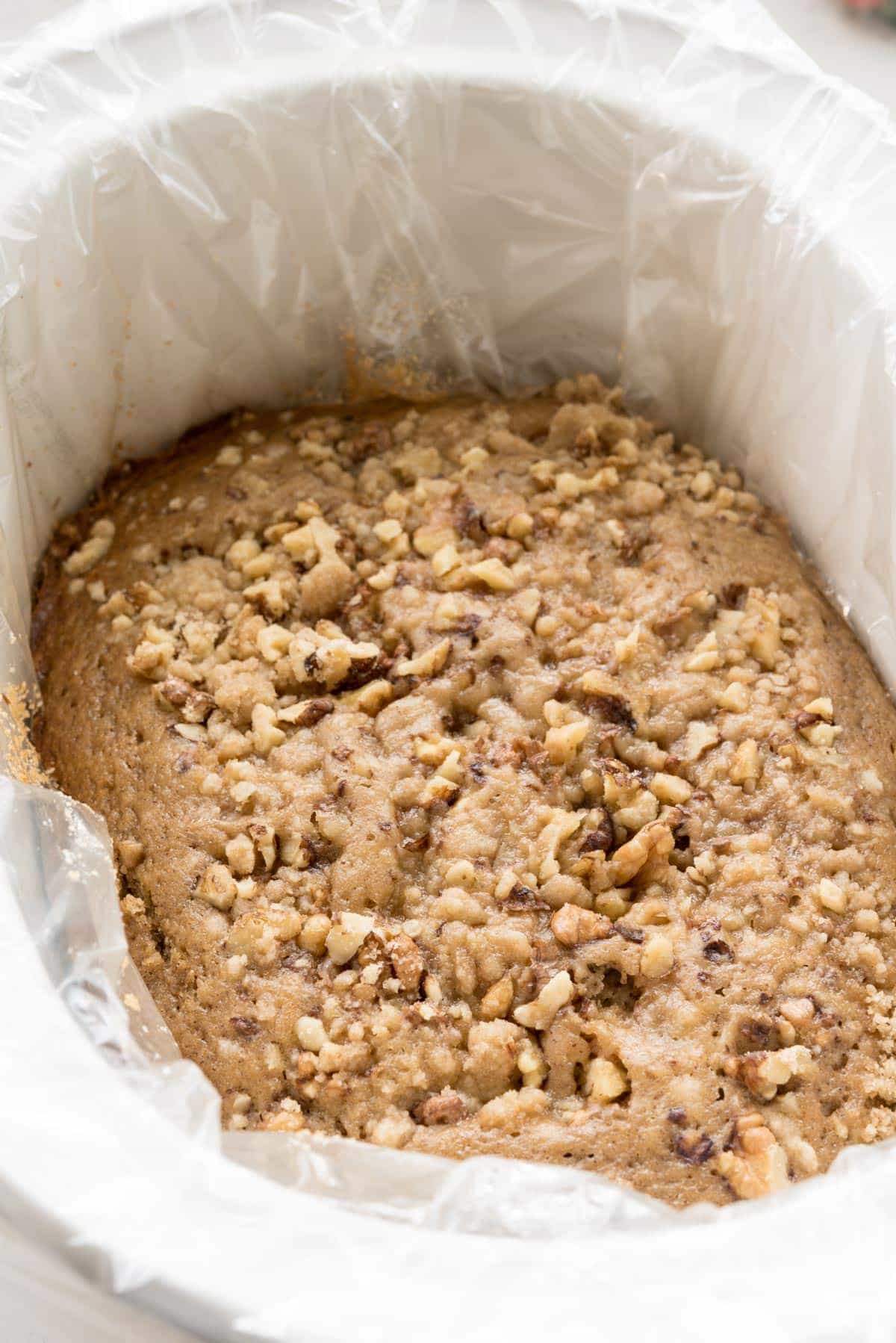 Cooked perfectly, ever time.
The other thing I love about baking in a slow cooker? I don't have to sit and watch over it the entire time I'm cooking. I know I've got at least an hour, probably two, so I can run to the store to get more ingredients to make more desserts for y'all.
Funny story: last week I did just that. Maude was running (remember, Maude is my iRobot) but I didn't think anything of it. When I got home, I realized she wasn't in her dock and she wasn't running. It took Mel and I 10 minutes of searching to find her wrapped in a curtain…and for the entire 10 minutes we were calling, "Maude! Maude! Where are you sweetie??" like she could respond.
Some day the robots are going to learn to talk, you know. And then we need to be really, really careful.
This coffee cake is my new favorite recipe because it's super soft and tender. Instead of using my normal recipe that uses granulated sugar, I decided to use brown sugar. Oh man, brown sugar in coffee cake. Why haven't I done that before? It adds depth of flavor to the cake and keeps it extra soft.
The cake is super easy to make – totally foolproof. It comes together in a simple bowl with a wooden spoon – no mixer needed! I used vegetable oil in place of butter for ease of stirring and because I prefer oil in my breads, muffins, and coffee cakes because oil keeps them super moist and soft.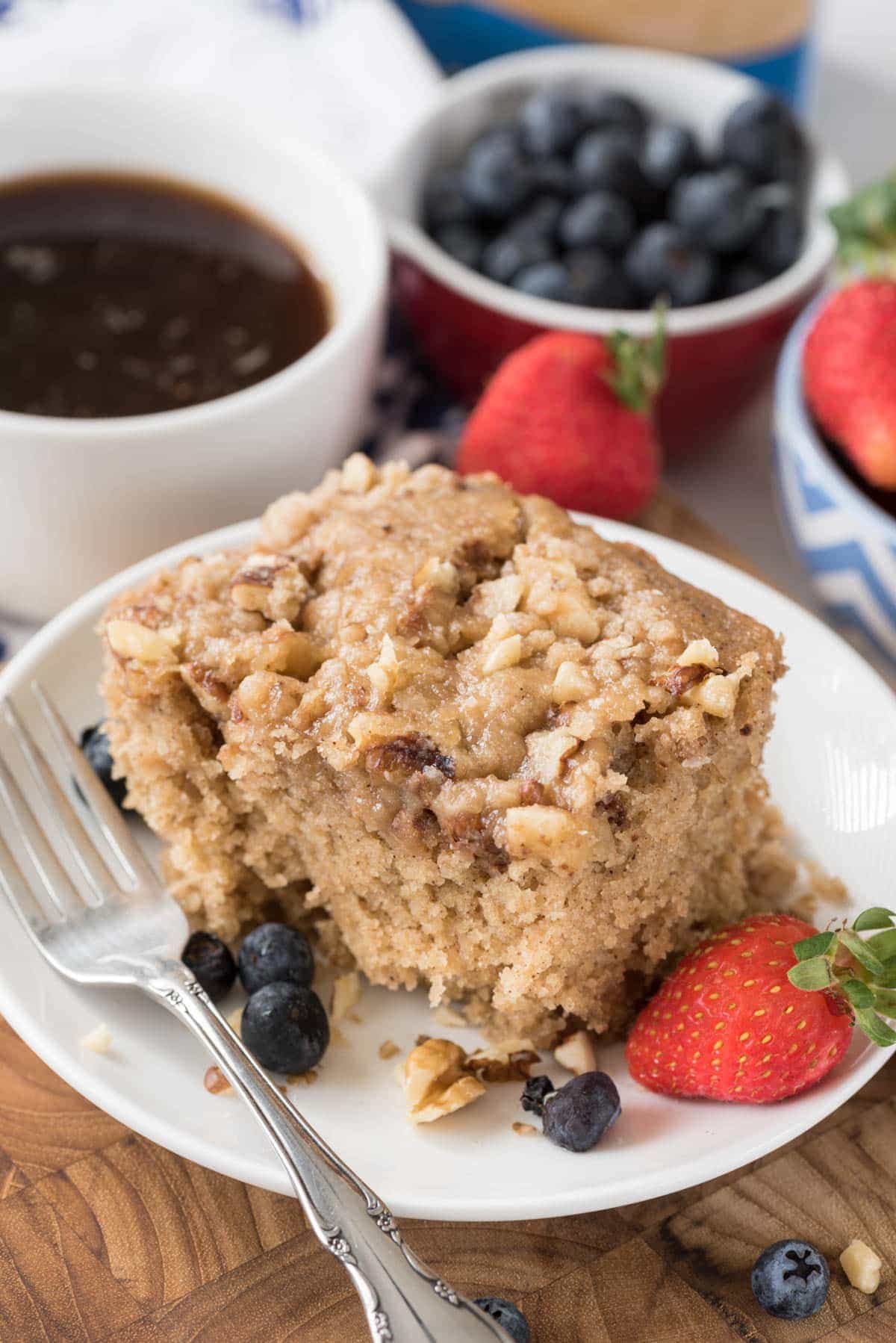 How To Make Slow Cooker Coffee Cake
I used almond milk in this cake, because I prefer using it over regular milk, but cow's milk will also work in this recipe.
Last, but not least, in this "anatomy of a coffee cake" post, I used my super-not-so-secret vinegar trick. The cake uses baking powder and baking soda for leavening, so I threw in a teaspoon of vinegar to help activate the baking soda. The result? A fluffy, tender coffee cake!
I know some of you might think it's weird to bake in a crock pot, but I love it. It's like a challenge…what can I make next?

A few Slow Cooker Baking Tips:
Not all crockpots are created equal. Some cook more on one side than the other, especially older models. Once you've baked in your crockpot a few times, you'll get to know it better.
Because all slow cookers cook differently, times vary. I've given an hour range because what takes 2 hours in mine might take longer or shorter time in yours.
I prefer using slow cooker liners whenever I use my crockpot. This makes clean up a breeze, plus with a cake like this you can serve it more "traditionally" by lifting it out and peeling off the liner.
I like to put a paper towel on top of the insert before topping it with the lid. This catches the condensation so your cake isn't a mushy mess after it's done.
When it's done baking, a toothpick will come out clean around the edges, but the top will still be wet-looking. Some crumbs will stick to the toothpick, but the bottom will be done. Once the sides are done, the cake is done.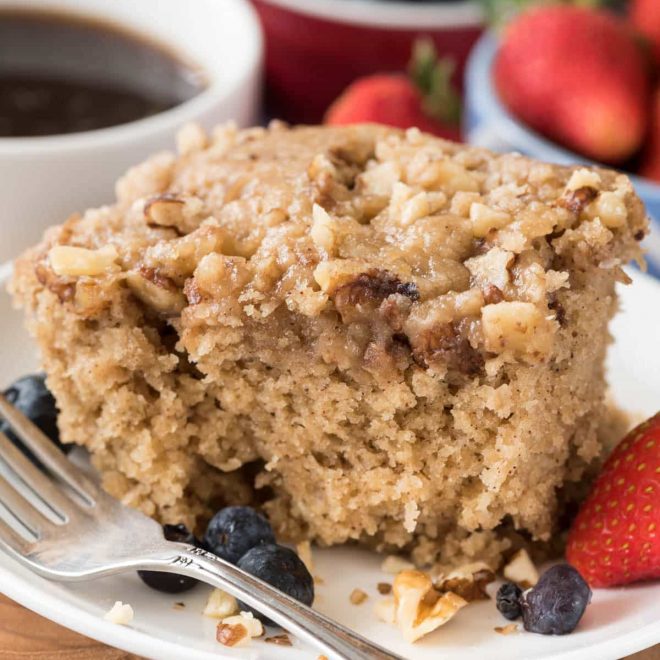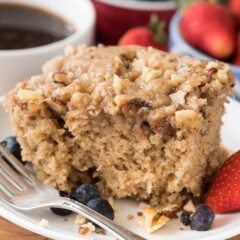 Slow Cooker Coffee Cake
Slow Cooker Coffee Cake is an easy coffee cake made in a crockpot! This foolproof recipe is the best for breakfast or brunch.
Total Time
2

hours
15

minutes
Ingredients
2 1/2

cups

all-purpose flour

1 1/2

cups

brown sugar

packed

1

teaspoon

salt

2/3

cup

vegetable oil

2

teaspoons

baking powder

1/2

teaspoon

baking soda

1

teaspoon

ground cinnamon

2

eggs

1 1/3

cups

almond milk or cow's milk

1

teaspoon

white vinegar

1/2

cup

chopped nuts

optional
Instructions
Whisk flour, brown sugar, and salt in a large bowl. Stir in oil until the mixture is crumbly.

Stir baking powder, baking soda, and cinnamon into the flour mixture with a wooden spoon or spatula. Place milk, oil, eggs, and vinegar in a measuring cup and whisk until the eggs are beaten, then add to the flour mixture and stir until combined (mixture may be slightly lumpy).

Spray a 5-7Qt slow cooker with nonstick cooking spray, or line with a slow cooker liner (sprayed with cooking spray). Pour batter into crock pot.

Sprinkle nuts over the top of the cake batter.

Place a large paper towel over the top of the crock pot insert, then place the lid on top. Cook on HIGH for 1 1/2 to 2 1/2 hours (mine took 2), or until a toothpick comes out clean around the edges. The center might be a little under done on top (but it'll be done underneath).

Serve warm straight from the crockpot or store in an airtight container for up to 3 days. For easy serving, use the slow cooker liner. That way you can just pick the whole liner out, peel it off, and serve the cake.

To bake in a traditional oven: use a 9x13" pan sprayed with nonstick cooking spray and bake at 350° for approximately 35-45 minutes.
Recipe Nutrition
Serving:
1
/10th Slice of Cake
|
Calories:
411
kcal
|
Carbohydrates:
56
g
|
Protein:
6
g
|
Fat:
19
g
|
Saturated Fat:
3
g
|
Cholesterol:
37
mg
|
Sodium:
4094
mg
|
Fiber:
2
g
|
Sugar:
33
g
Nutritional information not guaranteed to be accurate
Click here for more Brunch Recipes!
Slow Cooker Cinnamon Roll Monkey Bread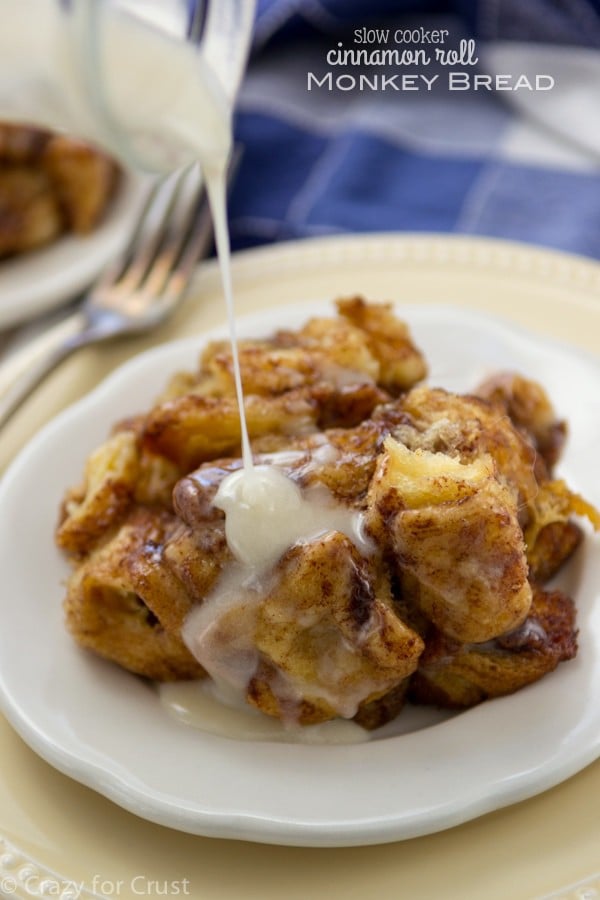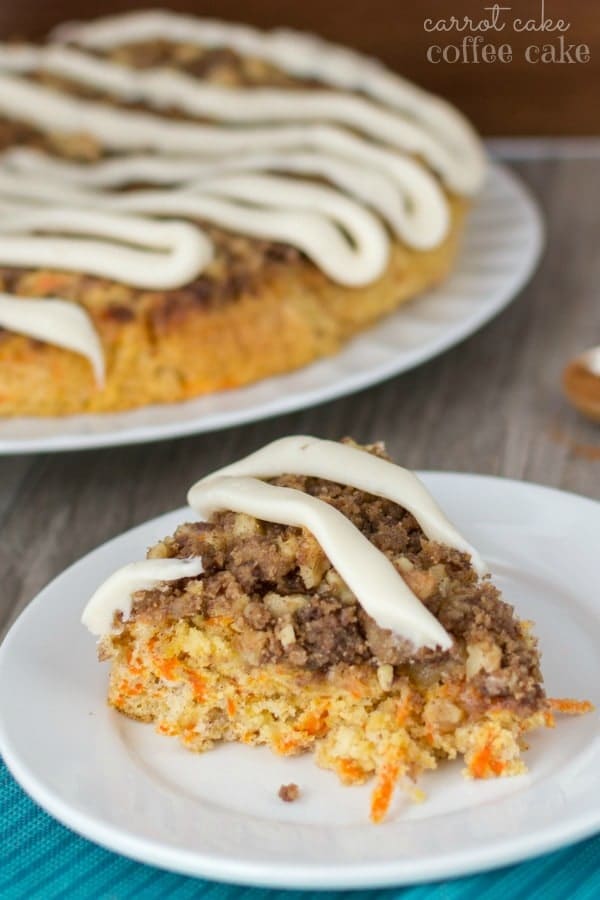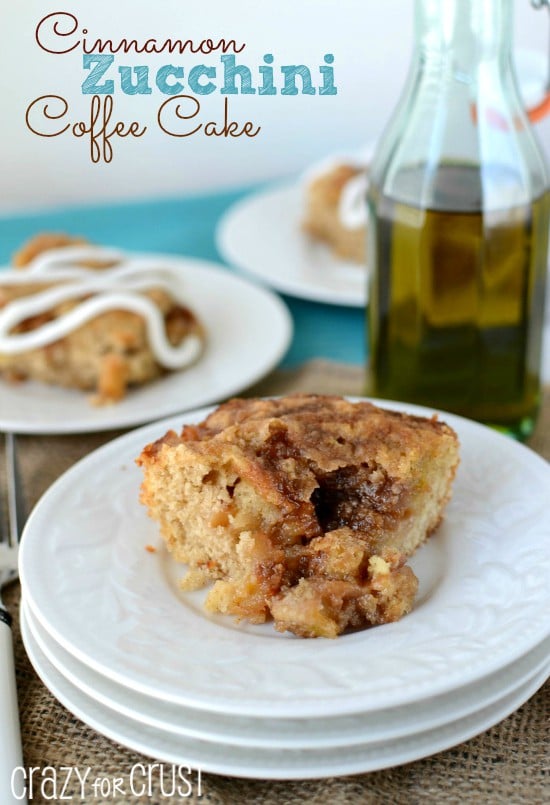 Last Updated on March 4, 2023