This post may contain affiliate links. For more information, read my disclosure policy.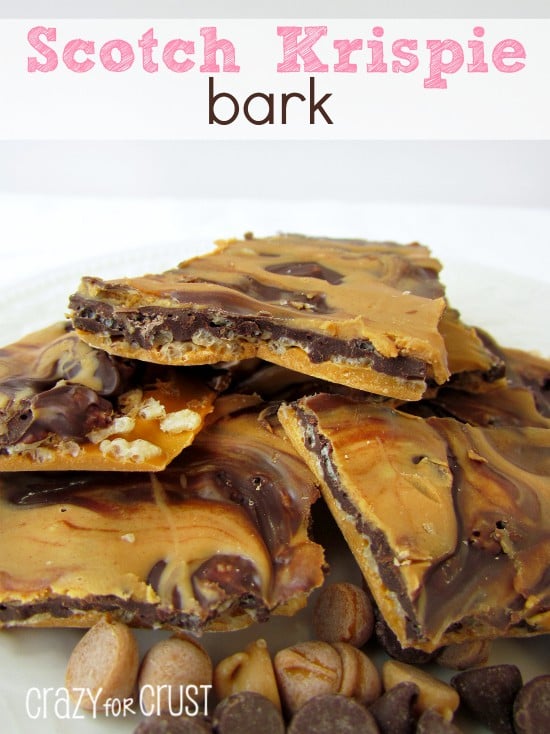 Can we talk books for a second? Before I get into how this Scotch Krispie bark is so freakin' awesome?
I have been meaning to talk to you about Dean Koontz for a few weeks now. I even teased you about it two Fridays ago. But there was always something else to say.
Anyway, I'm making time now, because if you aren't reading Dean Koontz books you're totally missing out.
It's kinda like if you are going to the movies without eating popcorn. Or eating peanut butter without chocolate.
I've been reading Dean Koontz books since I was in high school. (Probably not so appropriate for a 14 year old to read, but whatever. I've always been older than my age. Case in point? My husband.)
All of his books are good; there hasn't been one I haven't liked. His Odd Thomas series is probably one of the best series I've ever read. But I want to go farther back.
I want to talk about the first Dean Koontz book I ever read: Lightning.
You know how, at some point in your life, you obsess about a song or a movie or a book and it's all you listen to/read/watch for ages? Your mom threatens to throw out your VCR and your friends call mutiny over listening to NKOTB again? Eventually you stop listening/reading/watching and find other things to love and obsess about, like Twilight. But then you pick up the book or pop in the DVD and realize what has been missing from your life for so long?
That's what this book was for me. I couldn't find my tattered paperback (it's been missing for a long while) so I bought it for my Kindle. And I got sucked back in. Just like I was 14 again. There's intrigue. Mystery. Murder. Love. Dean Koontz spins words like Bakerella makes cake pops. He's serious, he's funny. It's amazing.
Something else that's been missing from my life for too long? Scotch Krispie Bars. I haven't had them in years. A mom I used to know would bring them to potlucks and I'd devour them.
So I thought, why not make them into a bark?
With a layer of melted butterscotch chips.
Topped with Rice Krispies.
Then topped with melted chocolate chips. And swirled with peanut butter.
Heaven in a candy.
So awesome. Like Lightning. (Have you downloaded it to your Kindle yet??)
What are you reading?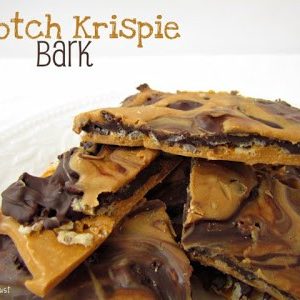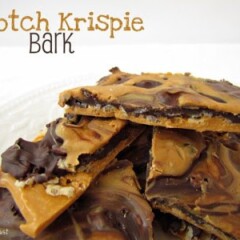 Scotch Krispie Bark
Ingredients
1

bag butterscotch chips

1

bag semi-sweet chocolate chips

1 ½

cups

Rice Krispies Cereal

½

cup

peanut butter
Instructions
Line a cookie sheet with waxed paper. Place butterscotch chips in a microwave safe bowl and heat on 50% power for 1 minute, stir, and then add increments of 30 seconds until chips are melted and smooth. Spread on cookie sheet.

Sprinkle Rice Krispies cereal on top of butterscotch layer. Press down with your hands.

Melt semi-sweet chocolate chips in microwave, again using 50% power, stirring after 1 minute and continuing to heat at 30 second intervals until chips are melted. (If chocolate doesn't seem smooth, add about a teaspoon or two of vegetable oil and stir.) Spread over Rice Krispie layer.

While spreading chocolate layer, melt peanut butter in microwave. Drizzle over spread chocolate and swirl with the back of a spoon.

Chill to harden bark, then break into pieces and serve.
Nutritional information not guaranteed to be accurate
Click here to see more PEANUT BUTTER recipes!
Have a Linky Party you want me to join? Add it HERE.
These are the fabulous parties I link to each week:
Monday: Mingle Monday (Add a Pinch), Joy of Desserts, Creative Monday (Clairejustineoxox), Mix it Up Monday (Flour Me With Love), Things that make you say mmmm Monday (Cooking with Karyn). Tuesday: 2 Maids a Baking (2 Maids a Milking), Tea Party Tuesdays (Sweetology), Mushki Loves My Stuff (Mushki Loves), Totally Tasty Tuesdays (Mandy's Recipe Box), Talent Show Tuesday (Chef in Training), Trick or Treat Tuesday (Inside BruCrew Life), Let's Do Brunch (My Sweet & Savory). Wednesday: Mrs. Fox's Sweet Party (Mrs. Fox's Sweets) Made It On Monday (Lark's Country Heart), This Chick Cooks, Cast Party Wednesday (Lady Behind the Curtain), Famous Linkz Par-tay (Made-Famous-By), Bakes with Bizzy (Bizzy Bakes), Whip it Up Wednesday (Crockpot Ladies). Thursday: Sweet Treats Thursday (Something Swanky), Chic-and-Crafty (Frugal Girls), Turning the Table Thursdays (Around My Family Table), Tasty Thursday (The How-To Mommy), Tastetastic Thursday (A little nosh), Sweet Temptations (Talking Dollars and Cents), Taking a Timeout Thursday (Mom on Timeout), Things I've Done Thursday (BearRabbitBear). Friday: Sweet Tooth Friday (Alli-n-son), I'm Lovin' it Fridays (TidyMom), Friday Favorites (Simply Sweet Home), Latest & Greatest Friday (Days of Chalk and Chocolate), Bacon Time, Fusion Friday (Jane Deere Blog), Foodie Friday (Not Your Ordinary Recipes). Saturday: Country Mom Cooks, Sweets for a Saturday (Sweet as Sugar Cookies), Seasonal Inspiration (Crumbs and Chaos). Sunday: A Well-Seasoned Life,Sharing Sundays (Everyday Sisters), Strut your Stuff Saturday (Six Sisters' Stuff), Moms Crazy Cooking
Last Updated on September 10, 2023