This post may contain affiliate links. For more information, read my disclosure policy.
Peanut Butter Pupcakes are cupcakes for dogs! These easy cupcakes have no yucky ingredients are perfect for dogs, filled with peanut butter and banana complete with a peanut butter frosting.
You can make these pupcakes a few different ways for different sized dogs. Both my pups have had these on their birthday and loved them!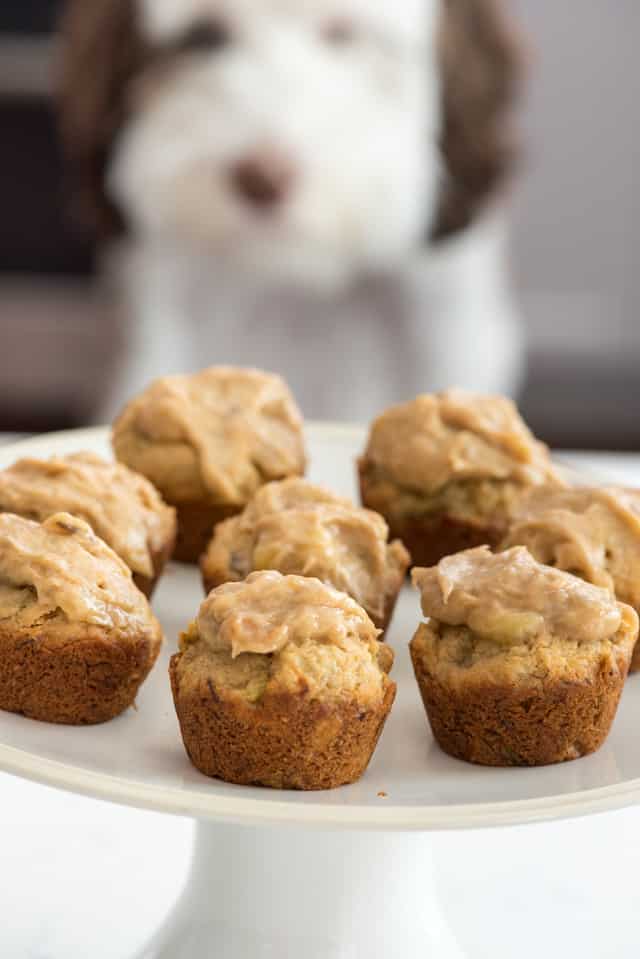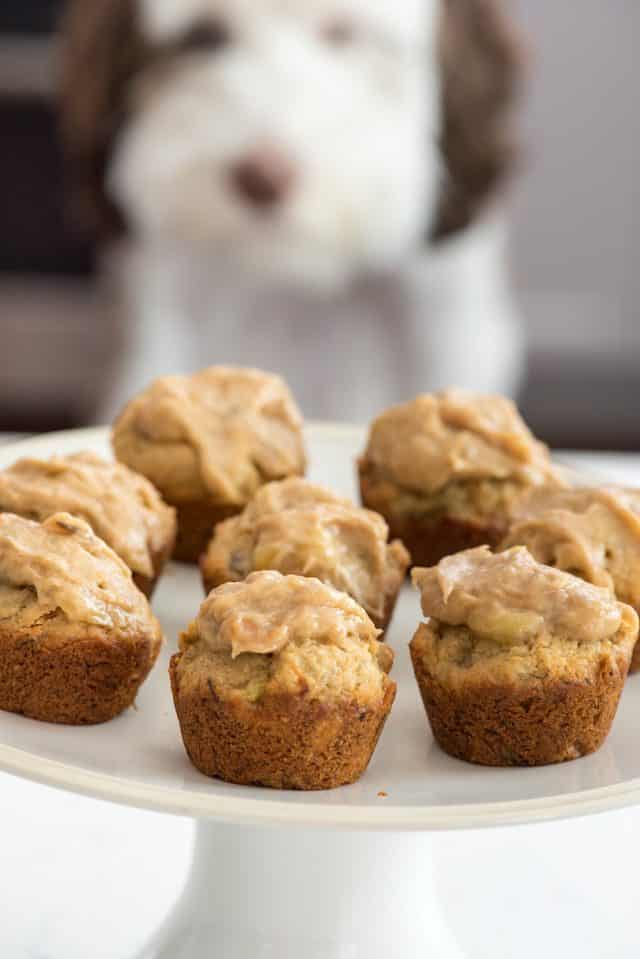 Your Dog Will Love Dog Cupcakes!
I was never a dog person and I never thought I would be. I had cats growing up and was solidly on Team Cat. When Mel and I got married his first birthday present to me was a kitten…and I never expected to get a dog.
When Jordan was about 3 we started thinking about getting a dog. I don't know why, but it seemed like the very middle-class-suburban-American thing to do. Have a kid, buy a house, get a dog. That's when we rescued Ginger. She was five when we got her and she was with us until last year, when she was 14.
Every year we had Ginger we would celebrate her birthday in January. On her 10th birthday I made her the original version of these peanut butter pupcakes and she loved every single bite.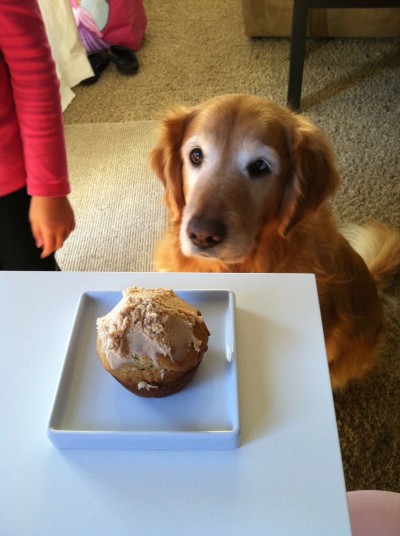 Pupcakes for Any Dog
That's our Ginger, on her 10th birthday. That girl knew when a treat was for her the second I walked into the kitchen, before I'd even started baking. Without me saying anything she knew when that can of pumpkin was for a pie or for her.
Ginger loved these cupcakes, BTW. Like, loved them so much she'd have eaten my arm if I didn't move fast enough.
Last August we brought home our newest addition: Abby. Abby took my heart the second I first held her and she kept ahold of it. The only way I can describe my relationship with Abby is a Twilight reference: we imprinted on each other, hard. If I'm out of her sight for even a minute she freaks out.
Abby turned one on June 27, so of course we had to celebrate her birthday with PUPCAKES!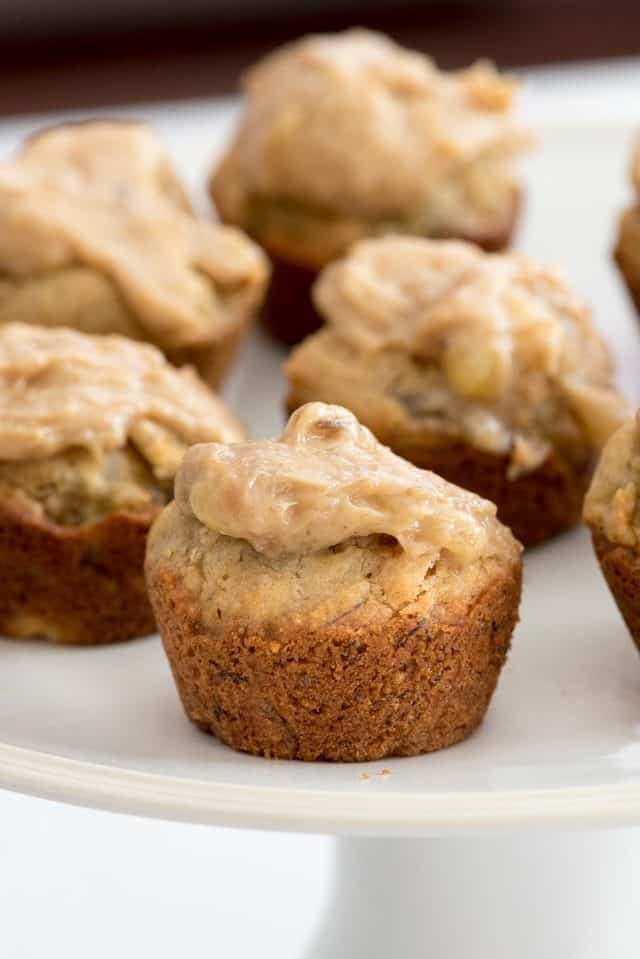 Making your own cupcakes for dogs are EASY. I see now that even Target sells cake mixes for dogs but it's so easy to make them yourself. Plus: you really only need a few. They don't last long without pasteurization and dogs can only eat so much before their tummies get upset.
For a special occasion a small batch of peanut butter pupcakes is just right!
How do you make dogs cupcakes?
Like I said: it's easy. You don't need any fancy ingredients. These pupcakes are made with peanut butter and banana and a little honey for sweetness. They even have a frosting!
I have two variations of these pupcakes because Ginger was a bit sturdier than Abby. At 68 pounds that girl had an iron stomach and could eat 6 cupcakes without batting an eye. Abby, however, is a bit more dainty and under 20 pounds, and she has a sensitive stomach.
When you're making these cupcakes, take into consideration how and what your dog eats, and how many cupcakes you need.
For a big dog without eating issues, you can make large cupcakes. The recipe as written makes 3 regular sized cupcakes. Double the recipe to get 6.
For a smaller dog, make mini cupcakes. Then they can eat a full one or two.
When it comes to frosting, you can use cream cheese or banana to mix with the peanut butter. Ginger could handle cream cheese, Abby can't. Know your dog before feeding them too much of anything new.
What Kind of Cake Can A Dog Eat?
Dogs can eat any cake that is made with food that is safe for them. Be sure to avoid any toxic ingredients when baking for your dog (things like chocolate, grapes, and Xylitol are very bad for them) and also, you know your dog. Be sure to use ingredients they like and tolerate well (not all dogs can eat wheat, for example, which makes these cupcakes not safe for them). This recipe is formulated for dogs with less sugar and additives than a cake a human would eat – dogs don't need vanilla extract, for example!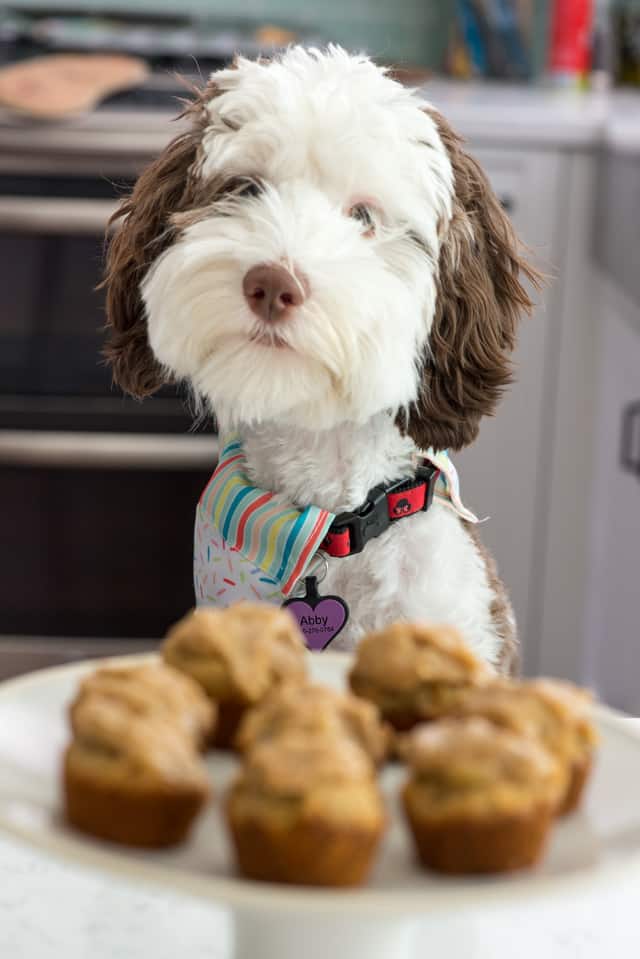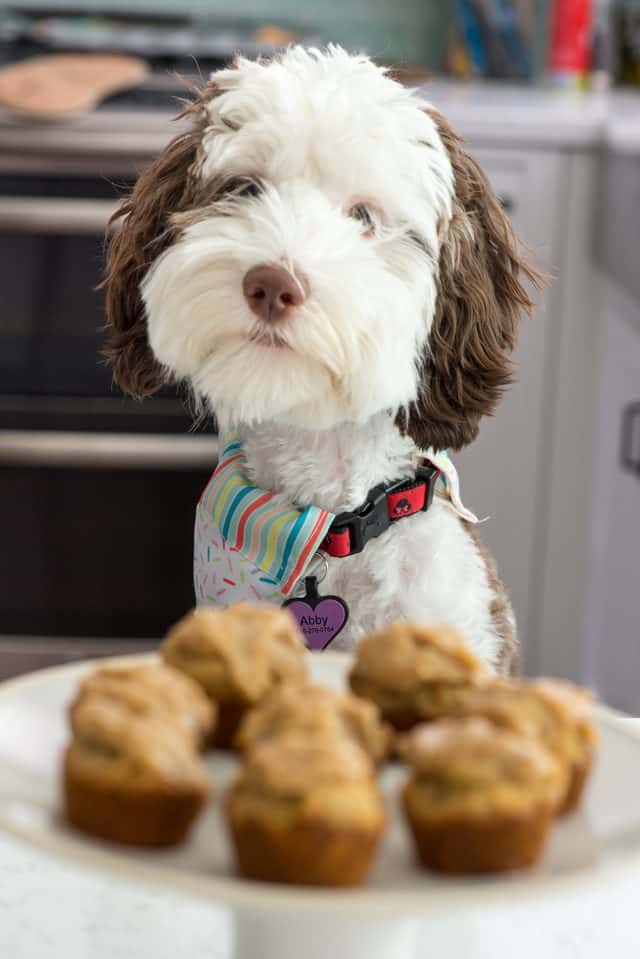 Other Dog Recipes:
Make your puppy Peanut Butter Pupcakes on it's birthday; everyone needs a cupcake on their birthday!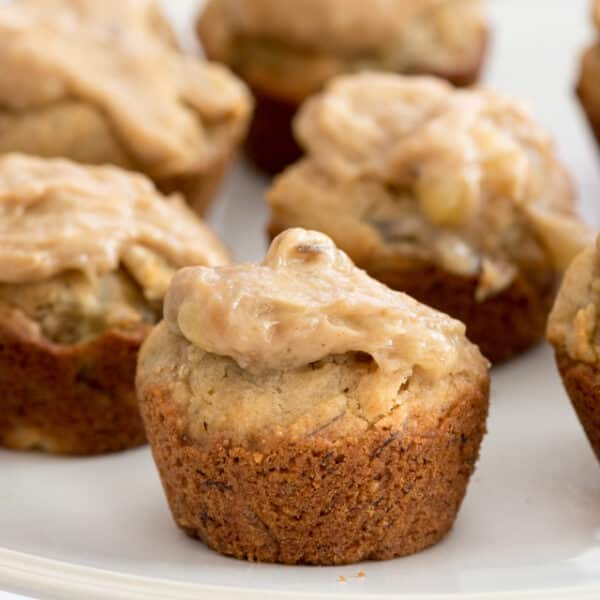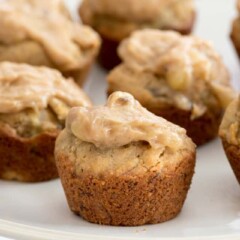 Peanut Butter Pupcakes
Peanut Butter Pupcakes are cupcakes for dogs! These easy cupcakes have no yucky ingredients are perfect for dogs, filled with peanut butter and banana complete with a peanut butter frosting.
Ingredients
For the Cupcake:
2

tablespoons

peanut butter

2

tablespoons

oil

1

medium banana

mashed

2

tablespoons

honey

1/2

cup

flour

1/2

teaspoon

baking soda

1/4

teaspoon

baking powder
For the Frosting:
2

ounces

cream cheese

(OR BANANA)

1/2

medium banana

mashed, (OR CREAM CHEESE)

2

tablespoons

peanut butter
Instructions
Preheat oven to 350°F. Spray a mini muffin pan with cooking spray. You can also use liners, if you want.

Stir peanut butter, oil, banana, and honey. Stir in flour, baking soda, and baking powder until combined. Evenly distribute between the cavities of your muffin pan. Bake 10-20 minutes, until browned and a toothpick inserted in the center comes out clean. Cool completely before frosting.

Banana frosting: stir mashed banana and peanut butter together. Frost. Serve immediately (the frosting will brown as the cupcakes sit).

PB Cream Cheese frosting: stir peanut butter and cream cheese. Frost. Store in refrigerator.
Recipe Notes
Please use your discretion when it comes to feeding your dog. I am not a vet nor am I a doggy nutritionist. If you think your dog is allergic to any of the ingredients please take caution. This cake has been enjoyed by many dogs just fine – but use your knowledge of your dog and your common sense when feeding.
Recipe Nutrition
Serving:
1
pupcake
|
Calories:
106
kcal
|
Carbohydrates:
10
g
|
Protein:
2
g
|
Fat:
6
g
|
Saturated Fat:
1
g
|
Cholesterol:
5
mg
|
Sodium:
85
mg
|
Potassium:
90
mg
|
Sugar:
4
g
|
Vitamin A:
70
IU
|
Vitamin C:
0.8
mg
|
Calcium:
11
mg
|
Iron:
0.4
mg
Nutritional information not guaranteed to be accurate
Click here for easy ways to use overripe BANANAS
Last Updated on February 2, 2023