This post may contain affiliate links. For more information, read my disclosure policy.
A dog is the only thing on earth that loves you more than you love yourself. –Josh Billings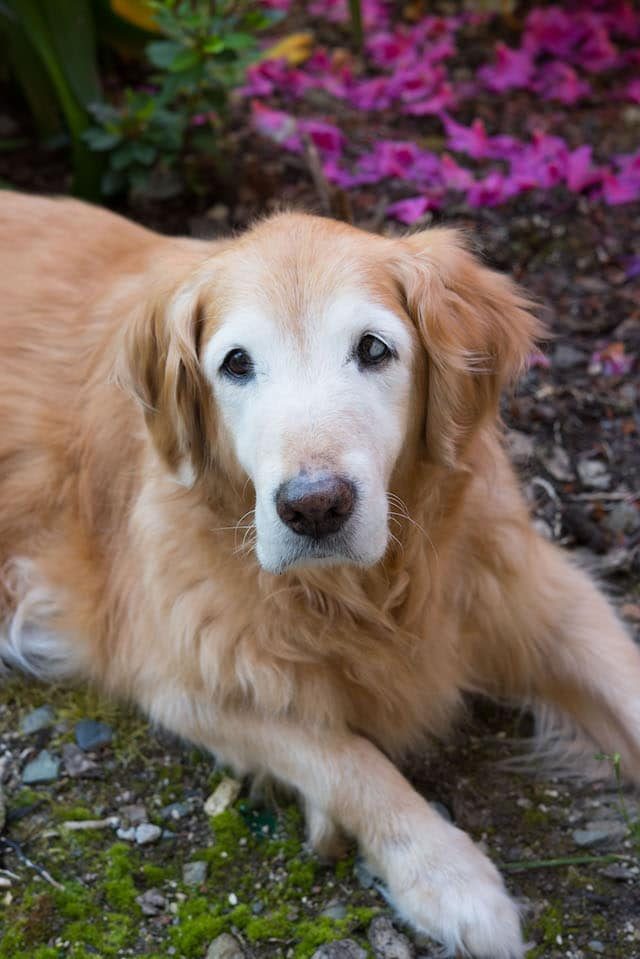 Yesterday we had to do one of the hardest things I've ever done. Our sweet Ginger had to be put to sleep and we are devastated. She was like our second child and we'll miss her terribly.
Ginger came to us when she was 5 years old. We'd been thinking about getting a dog for awhile; Jordan was about 3 and we were settled in our home and ready to take on a fur baby. We'd decided to get a pug; they're small and cute and we were going to name it Squish. Then, a friend of mine started fostering dogs for Homeward Bound, a golden retriever rescue. She got her first foster dog and sent out an email to all her friends asking if anyone wanted a dog.
When I saw that picture of Ginger for the first time, I knew immediately that she was my dog. Even through a photo, the connection was instant. We went to meet her and when I walked in the door she jumped up on me to say hello. The foster mom mentioned that she'd never seen Ginger do that before…until I walked in the door. It's like she knew she belonged to me too. A pug to a golden retriever is very different, obviously, and luckily Mel was on board. We brought Ginger home on an October afternoon.
I'll never forget the day we brought her home: she was excited, and used to pull on her leash quite a bit. We had a narrow entry hallway in our old house and there was a bookshelf along one wall. Ginger came in the house and we took her off the leash…and in that same second Callie, our cat, walked by. Ginger took off after her, banging into the bookshelf and knocking a heavy glass frame to the tile floor, shattering it everywhere, while Mel, Jordan and I just stood there open-mouthed thinking what did we do?
In time, Ginger learned to fear the cat. It took a few weeks and at one point she'd had enough; I swear to God she went after Ginger down the hallway walking on two legs samurai swording her paws and Ginger ran away, tail between her legs. From that day forward, Ginger gave Callie a very wide berth. ?
Ginger's first home life hadn't been good. She's a purebred golden, came with papers, and had even had a litter of puppies (and really bad mastitis, I guess), but her owners worked full time outside the home and left her tied up outdoors all day. Ginger is an outdoor barker; if she's outside and the wind blows or a dog barks or a bird flies by, she barks at it. So, the owners tied her up outdoors all day and didn't like the barking complaints, so they put a bark collar on her. When we got her, she didn't speak for at least a week, because she was so scared to. (She eventually found her voice, and I'm sure my neighbors heard me yelling at her to be quiet! several times.) But we left her in the house 90% of the time, so the barking wasn't an issue.
When Ginger came to us, she came to her forever home. She was a part of our family that we didn't know was missing; she was the second child I couldn't have. She was with us all the time; she'd sleep at my feet during the day while I worked, watch me bake and clean the floor after me on kitchen days, sit outside Mel's office and hope he'd invite her in, sleep with us in our room. There was never a time she was far away.
Of course, as she got older, she slowed down quite a bit. Looking back now, after 12 she slowed down a lot but it was so gradual it wasn't glaring until I look back at her life. First she stopped wanting to go for walks, then stopped coming upstairs at night all the time. The worst decline just happened over the past few months. Two weeks ago she couldn't keep food down and the vet gave us the news she had a large tumor pushing around her internal organs. At 14 1/2 she was a very old dog and we decided to make her comfortable, but we didn't realize how fast the end would come. With nausea medication, she started eating and drinking again and was a bit more like her old self, but last week she stopped eating and started breathing heavy. On Friday she couldn't walk and the return check appointment we had shifted from checking her progress to something else entirely.
We had to carry her to the car and into the vet. Mel and I sat with her the whole time, and I'm sure the waiting room could hear my grief. I've said goodbye to animals before, but saying goodbye to Ginger was something else entirely. Now we are here, in our quiet house, with signs of her all around. Her food, her bowls, her beds, the hair that coats my pants (and probably my internal organs). We will miss her so completely.
On that last day I wished she could talk and understand my words because I wanted her to know how much we loved her. Life won't be the same without our Miss GingyPoo following me around wherever I go. I also now have to clean my own food messes, eat all my own breakfast eggs, throw away the empty peanut butter jar, and I can leave Kleenex unattended. Somewhere, Ginger is whole again, running free on a beach with her leash in her mouth, eating unlimited peanut butter and chewing napkins to shreds without a care in the world. And, if she's found Callie, she's giving her lots of space.
Goodbye sweet Ginger, we will miss you so. ❤️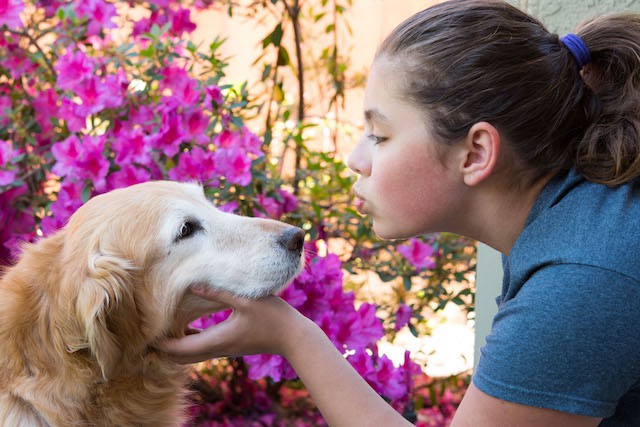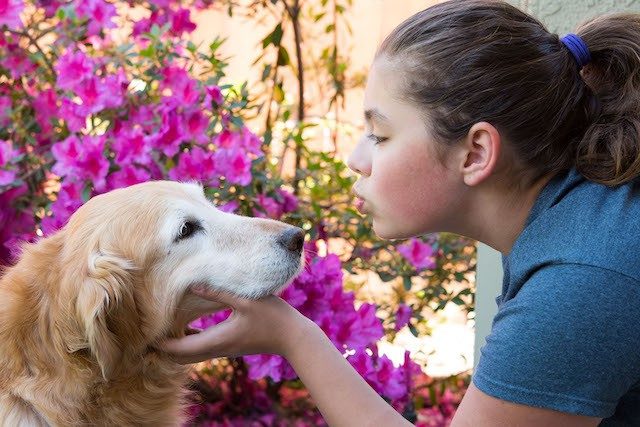 Last Updated on August 18, 2022