This post may contain affiliate links. For more information, read my disclosure policy.
Who doesn't love cookie dough, oatmeal cookies, and peanut butter? If you love any of those things, these Peanut Butter Oatmeal Cookie Dough Truffles are for you!
Have I ever told you about the time when a sales lady thought my husband was my father? When I was on my honeymoon?
I think I have told you before, but it was (1) forever ago if so and I'm too lazy to perform a search right now and (2) in my family, a story isn't told until it's told 100 times. So really, I haven't told you.
For those of you who are new here, you may not know that my husband is, um, considerably older than me. People used to joke that he got his driver's license and then drove over to my house and watched over me in my crib.
Right now, if you saw us together, you'd know he was older than me – but not by much. The annoying lucky guy has a full head of dark hair, only a stray gray in sight, and he'll be that way probably for the rest of his life. (I, on the other hand, have been coloring my hair out of necessity for so long I have no idea what color it really is anymore.)
I'm willing to concede a point to the nice bathing suit shop owner on Maui that the age gap between 40 year old man and 23 year old woman in her shop may have been more noticeable than it is today, but either she needed glasses or people in her family have babies really young.
Okay, so I may have had my hair in braided pigtails. I mean, jeesh. We'd been out on a sailboat all afternoon on our honeymoon. Where my (brand new) bathing suit top clasp broke as soon as we pushed off from the dock. If it weren't for a stray safety pin found in a crevice below deck, Lanai would have become a new kind of beach.
Anyway, right after the saleslady made her gaff and a large awkward silence filled the room, I shifted my hand on the counter to show off the large sparkly diamond on my ring finger and the lady kind of cleared her throat and looked away and proceeded to give me a new bathing suit.
That one lasted the rest of the trip. The story, however, has lasted almost 12 years.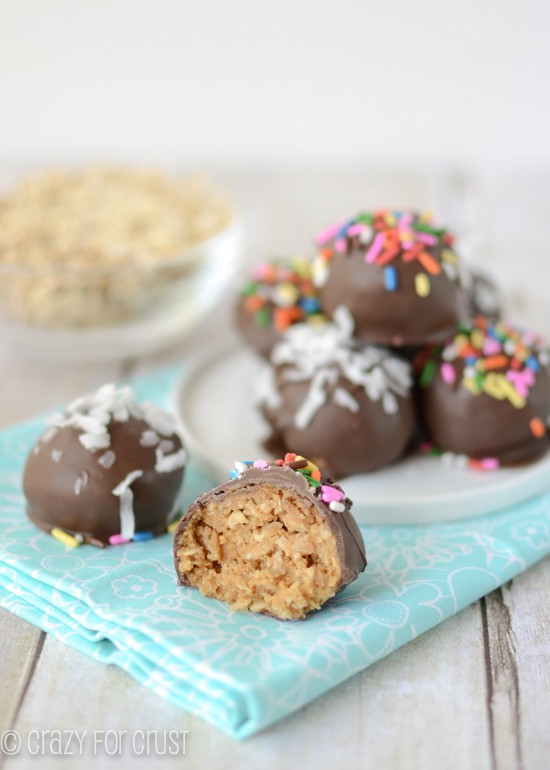 That story really has nothing to do with Peanut Butter Oatmeal Cookie Truffles except that, like his annoying hair, my husband has an annoying ability to resist the treats that I make.
Unless it involves peanut butter. Or cookie dough.
Bwahahahahaha.
He liked these. And promptly told me to never make them ever again.
Over the last several years he's told me that a lot. I rarely listen.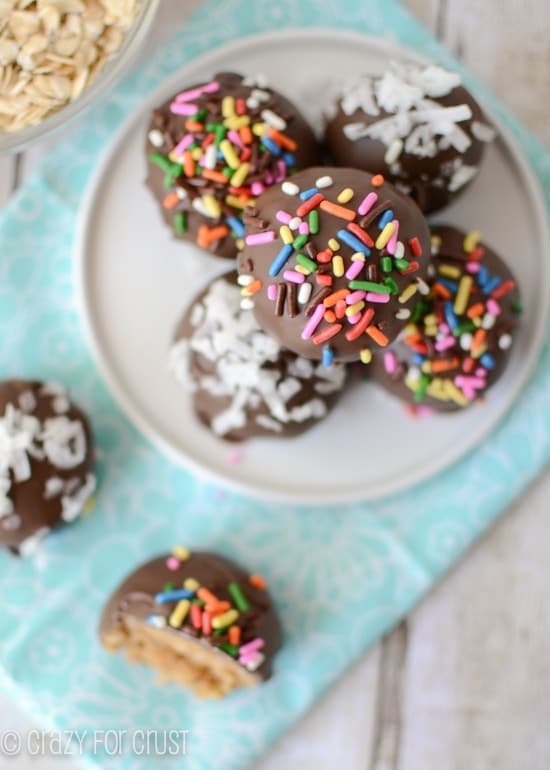 Which is kinda lucky for you, because things like these cookie dough truffles kinda rock.
Eggless peanut butter oatmeal cookie dough. Really, these are healthy truffles. Oats, peanut butter, coconut, sugar, and a little milk. Kind of like those easy amazing peanut butter cookies everyone makes, but in truffle form. And covered in chocolate.
These are super easy to make, come together fast, and they are irresistible. I mean, peanut butter. Oatmeal. Coconut. Chocolate.
The perfect marriage.
Kind of like mine. 🙂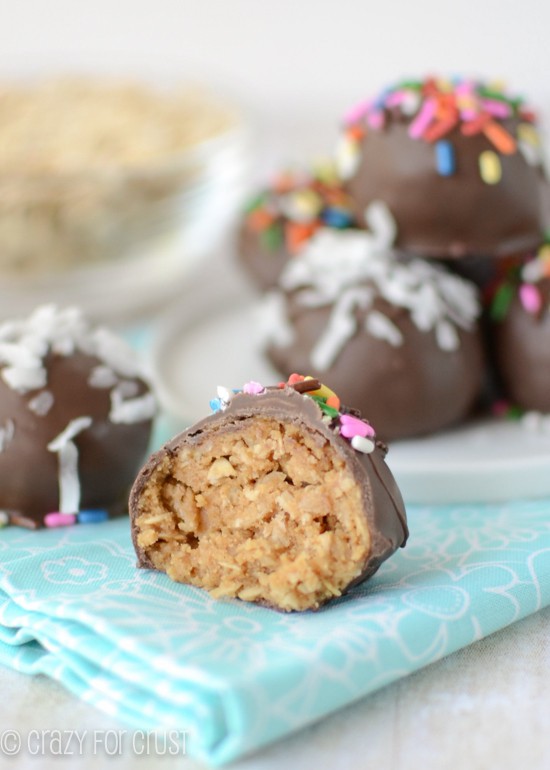 Moral of the story: if you see an older man and a sort-of-maybe younger woman, check out their ring fingers before assuming fatherhood.
And marry some peanut butter and cookie dough truffles. Of course!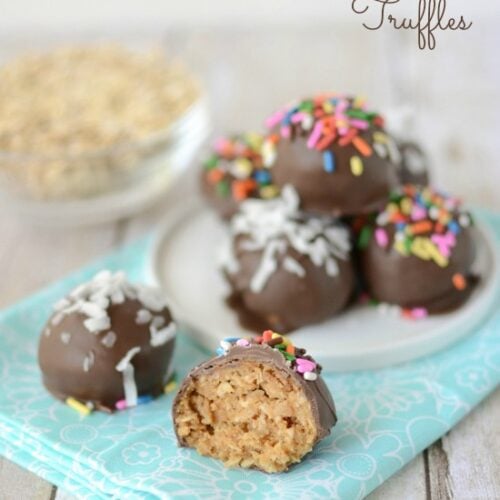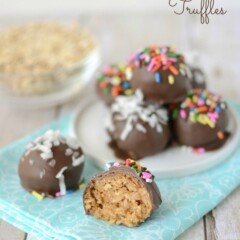 Oatmeal Peanut Butter Cookie Dough Truffles
Love cookie dough? Then you'll inhale these Peanut Butter Oatmeal Cookie Dough Truffles!
Ingredients
1

cup

peanut butter

3/4

cup

brown sugar

1

teaspoon

vanilla

1

cup

old fashioned oats

quick oats would be fine too

1/2

cup

shredded sweetened coconut

10

ounces

chocolate Candiquik or almond bark

Additional coconut or sprinkles for topping

optional
Instructions
Add peanut butter and brown sugar to a stand mixer fitted with the paddle attachment. (You can also use a hand mixer!) Beat until incorporated, about 1 minute.

Add vanilla, oats, and coconut and mix until the dough comes together.

Scoop 2 tablespoon sized balls onto a cookie sheet covered with wax paper. Roll into balls. Chill for 30 minutes.

Melt candy according to package directions. Dip each truffle in the chocolate and tap off the excess. Place back onto the wax paper lined cookie sheet and top with sprinkles or extra coconut, if desired.
Recipe Nutrition
Serving:
1
serving
|
Calories:
136
kcal
Nutritional information not guaranteed to be accurate
Click here to see more PEANUT BUTTER recipes!
Click here to see more of my ULTIMATE COCONUT recipes!
You might also like:
Oatmeal Scotchie Cheesecake Bars
Sweets from friends:
Monster Cookie Dough Dip by Something Swanky
Peanut Butter Banana Truffles by Erica's Sweet Tooth
Chocolate Covered Peanut Butter Pretzel Bites by I Wash You Dry
Last Updated on May 13, 2020