This post may contain affiliate links. For more information, read my disclosure policy.
Mint Chip Scones are perfect for breakfast, these fluffy and pillowy soft are exactly what you need.
You know, in case you aren't happy with that green smoothie. Scones > Smoothie. Always!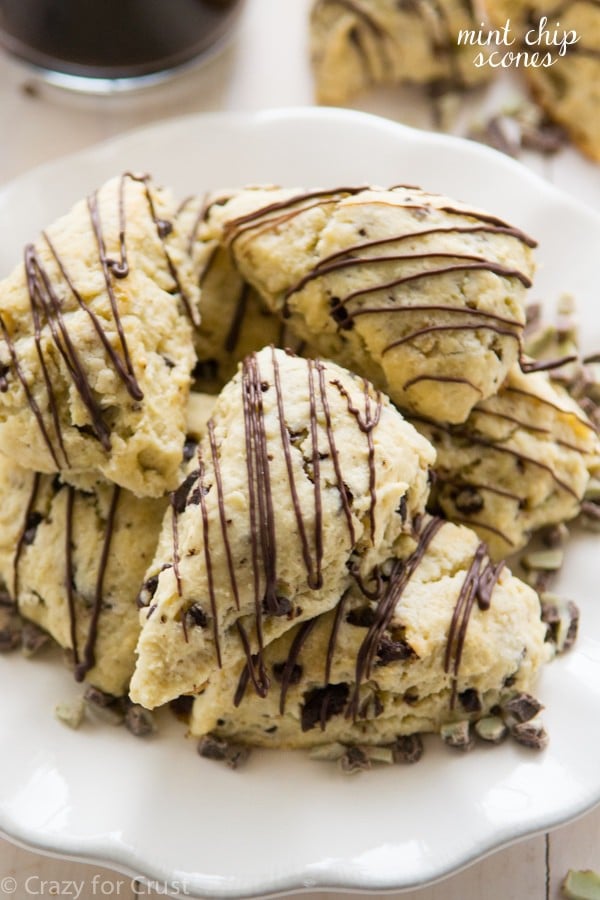 One of my favorite things to do on a lazy Sunday morning is to walk to Starbucks with the family and have coffee. Mel and I started doing it early on in our relationship; I don't even think we were married the first time we headed to downtown San Mateo for our morning ritual of coffee (for me), hot chocolate (for him) and the Sunday paper (for both of us).
In fact, when we moved from Arizona to California my only requirement of a house was that it was within walking distance of a coffee shop. I'd missed the ritual when we lived in a place that was too far away to walk. A few Sundays a month we'd walk down the hill, first with Jordan in her stroller, than on her scooter. Once Ginger joined us, we'd only go when it wasn't too cold, because we couldn't bear to leave her outside, tied up, alone.
Of course, along with the coffee, we'd all order breakfast. Mel is a purist, so a butter croissant or a cinnamon twist is the way he rolls. Jordan can devour several Petite Vanilla Scones if I'm not watching her close enough, and me? Well, I love any scone. Pumpkin, blueberry, maple oat, I'm not picky.
We haven't done that trek in awhile. Partly because eating Starbucks for breakfast isn't the healthiest, partly because Ginger can't walk that far anymore without having to practically carry her home, and partly because I can make my own scones. For free.
And I can add mint chips to them. So pretty much that makes me the best mom of the year, in Jordan's eyes.
Homemade scones #FTW.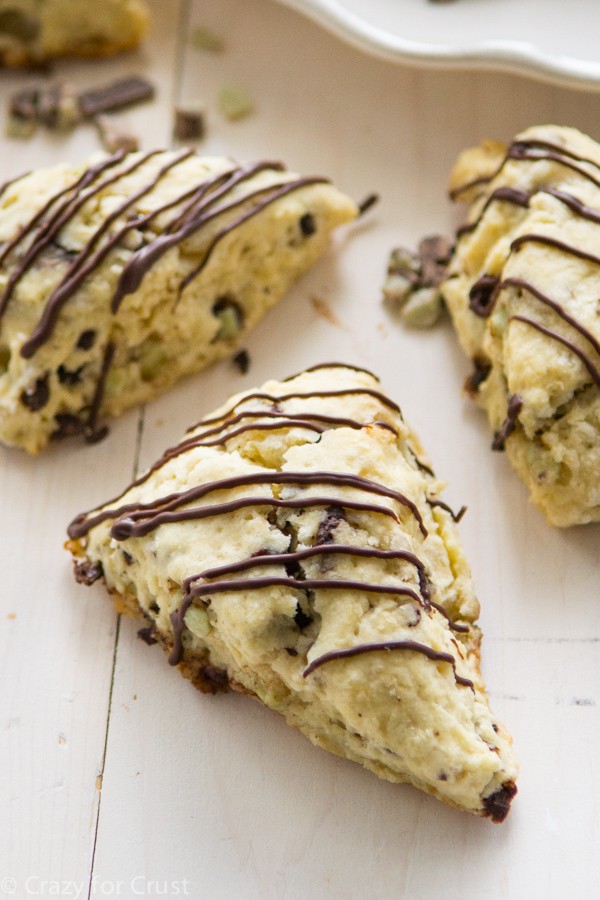 (Er, if you didn't know #FTW means #ForTheWin. Yeah, I didn't know either…for months. These kids and their jargon… 😉 )
So, back to homemade scones. They taste way better than the store bought kind; more like scones and less like cardboard. And? If you make your own you can add whatever flavors you like into the mix. We love mint, and it is Christmastime, so Mint Chip Scones kinda fit. But if you don't like mint, don't worry. This scone recipe is just a basic recipe that you can adapt to your liking.
What do you like in your scones? Chocolate chips? Raisins? Cranberries? Butterscotch? Whatever you like, throw it in.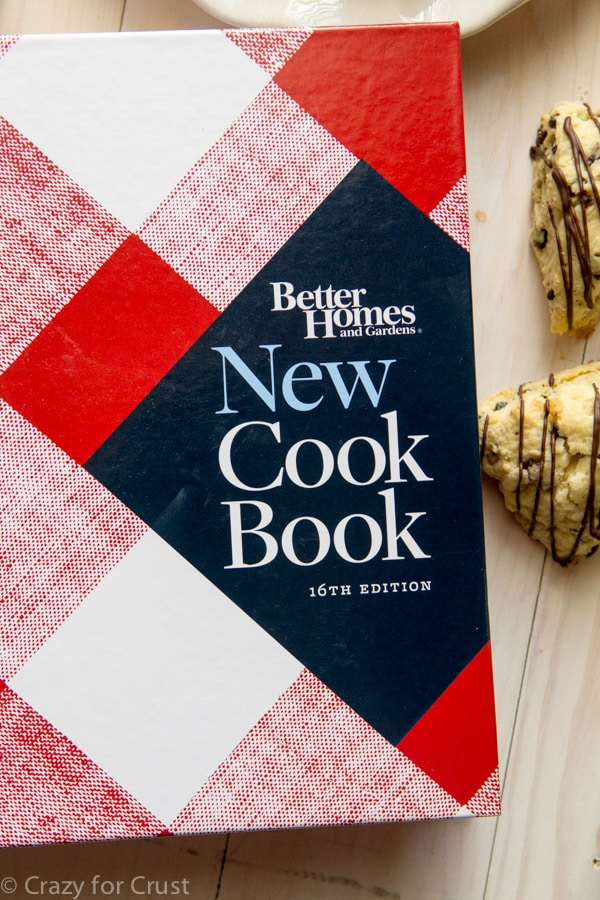 The base recipe for these scones comes from the new Better Homes & Gardens New Cook Book. I'm pretty sure you recognize this cookbook. It's been around forever! This newest version is the 16th edition!
Let me give you some history on my experience with the BHG cookbook. My mom has one from 1968. It's the ONLY cookbook I remember referring to as a kid. Need a cookie recipe? Get the BHG book. Have a question on how to cook chicken? Go find the red-checkered book.
When I got married someone gave me the 11th version as a gift. I actually think I may have registered for it. It's still my go-to cookbook for many recipes, especially dinner ones. This new version is updated for today's recipes, including cake pops and some dessert mashups like Snickerdoodle Pie. (I pink puffy heart dessert mashups, obviously…)
As soon as I set my eyes on these scones I knew that my coffee was lonely. It needed a new BFF, a scone!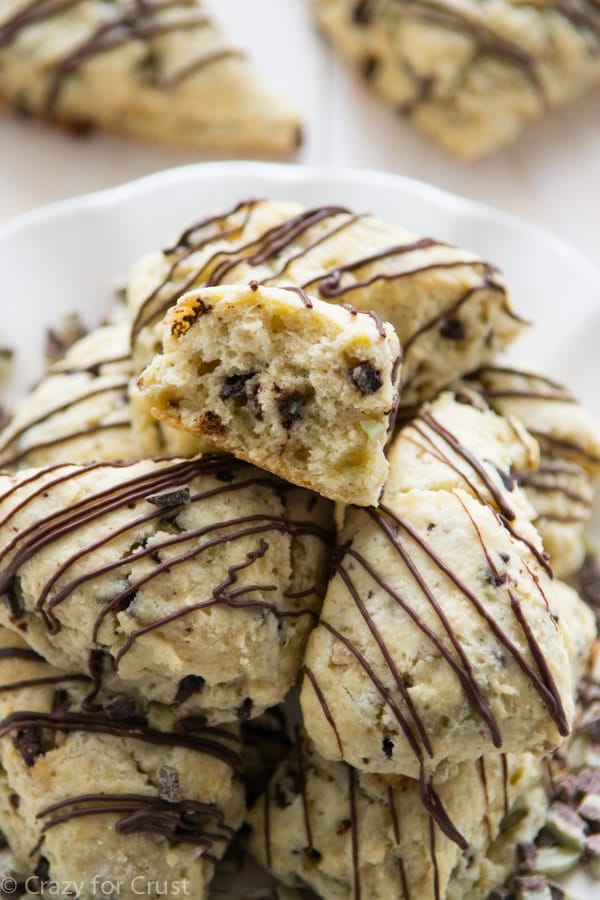 I love the base recipe for this scone. Let's talk about scone making for a sec, shall we?
Butter

. Butter is so very important in making a scone. I used unsalted cold butter, diced into pieces. It's almost like you're making a pastry dough, so keep it cool/cold. You work your butter into the dry ingredients using a pastry cutter. It's a little work but it keeps the scones soft. Don't over work it too much!

Not too much sugar

. Scones aren't doughnuts for a reason: they aren't supposed to be overly sweet. That makes them perfect for (1) frosting or (2) people who can't eat a lot of sugar in the morning (aka, ME) but still want a sweet treat.
Liquid: this recipe uses

heavy whipping cream

. You can also use regular whipping cream. I also use eggs in these scones. To be honest, I've had scones with and without eggs and I like the ones with better. They seem softer and more pillowy when the recipe calls for eggs. So I use them!

Mix-ins

: following the base recipe will get you a delicious plain vanilla flavored scone. It's a canvas ripe for the decorating…with your favorite flavors. I used 1/2 cup mint chip pieces (the chopped Andes mints that come in the baking aisle). You can also use mini chocolate chips or sprinkles or raisins or craisins or blueberries or …. and the options are endless.
But first I think you should try mint chip scones. 'Tis the season!

These Mint Chip Scones made my coffee happy. And I didn't miss Starbucks one little bit!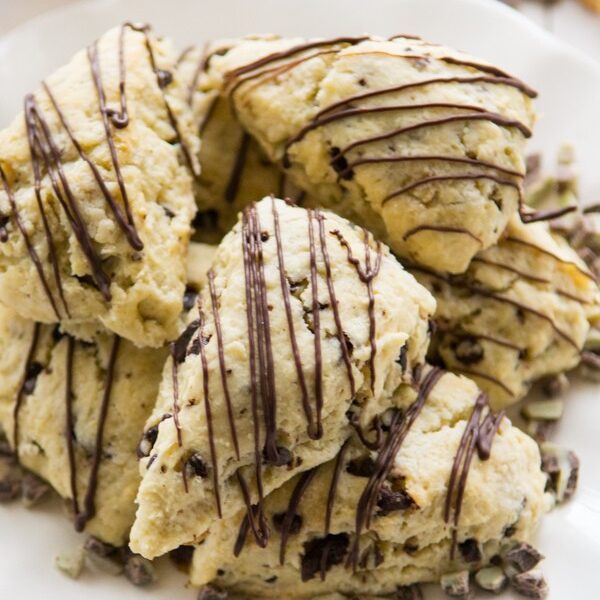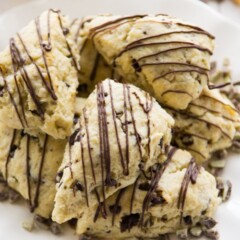 Mint Chip Scones
These mint chip scones are pillowy soft and dense and full of mint chip flavor! This is the perfect basic scone recipe, and you can easily substitute your favorite flavors for the mint: chocolate chips, raisins, nuts, etc.
Ingredients
2 1/2

cups

all purpose flour

2

tablespoons

sugar

1

tablespoon

baking powder

1/2

teaspoon

salt

1/2

cup

unsalted butter

2

eggs

beaten

3/4

cup

heavy whipping cream

1/2

cup

mint baking chips

or chopped Andes mints

1/2

cup

mint or chocolate chips or 2 ounces semi-sweet baking chocolate

optional for garnish
Instructions
Preheat oven to 400°F. Line a cookie sheet with parchment paper or a silpat baking mat.

Place flour, sugar, baking powder, and salt in a large bowl. Whisk to combine. Cut butter into small pieces and place it in the dry ingredients. Cut the butter into the flour mixture using a pastry blender or fork, until the mixture resembles coarse crumbs. Make a well in the center of the flour and butter mixture.

In a medium bowl or measuring cup, whisk eggs, whipping cream, and mint chips. Pour into the well in the center of the flour mixture. Use a fork to stir just until moistened.

Turn out dough onto a lightly floured surface. Knead dough lightly until it is nearly smooth, about 10-12 folds in on itself. Divide dough in half, pat into a roughly 6-inch circle and cut into 6 or 8 wedges, depending on the size you want. Repeat with second dough ball.

Place scones on cookie sheet. Brush the wedges with additional whipping cream or milk and sprinkle with a bit of sugar. Bake for 12-14 minutes or until golden. Cool before topping. Serve un-drizzled scones warm or room temperature.

If you want to drizzle the top with chocolate, melt 1/2 cup mint chips, chocolate chips, or 2 ounces of semi-sweet baking chocolate in a small bowl as the package directs (about 1 minute, stirring twice during heating). Place chocolate in a small ziploc bag and cut of one tip. Pipe over cooled scones.

Store in an airtight container for up to 3 days or freeze for up to one month.
Nutritional information not guaranteed to be accurate
If you loved Mint Chip Scones, you'll love these!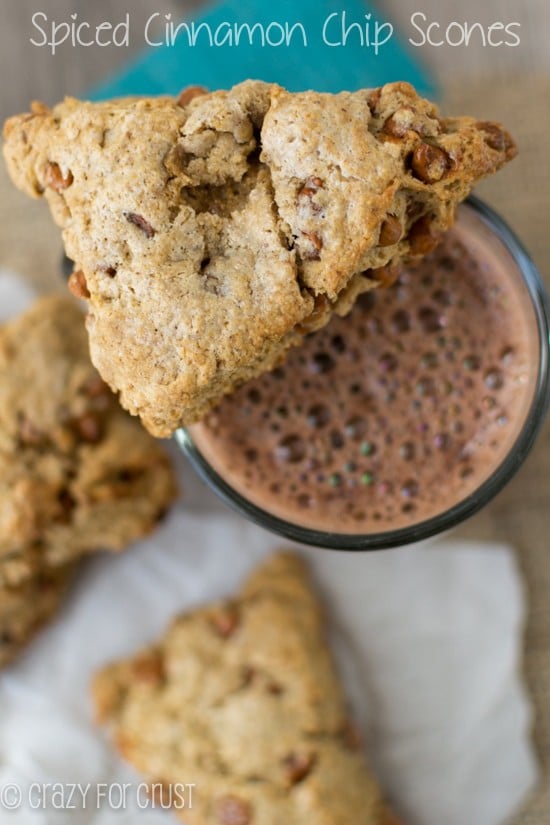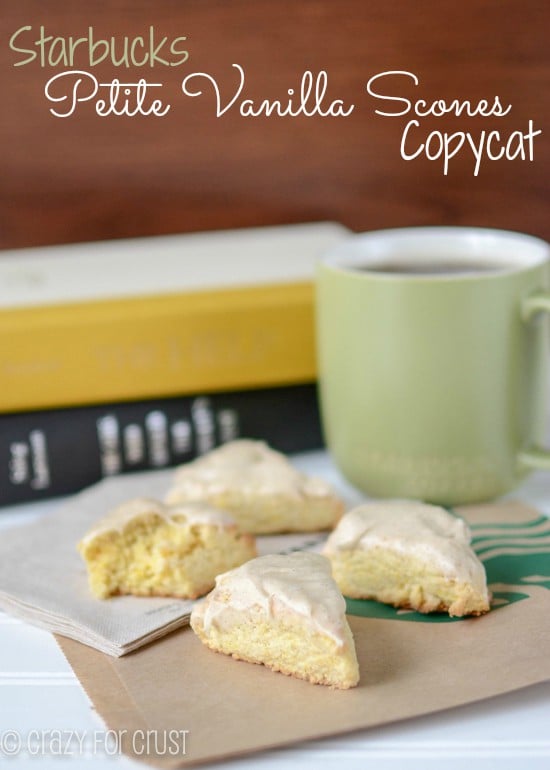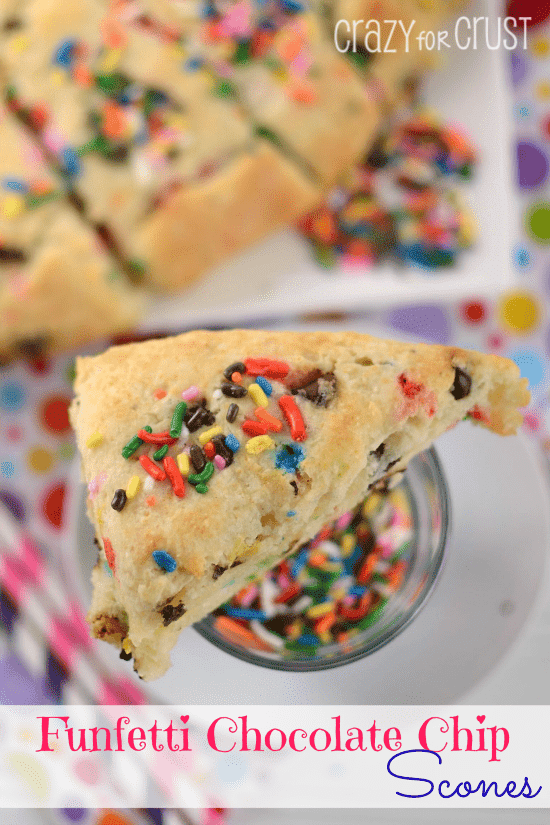 Sweets from friends:
Pumpkin Scones by Damn Delicious
Mixed Berry Scones by Averie Cooks
Brown Sugar Cinnamon Raisin Scones by Crunchy Creamy Sweet
Last Updated on August 21, 2018