This post may contain affiliate links. For more information, read my disclosure policy.
A family favorite gets a mini makeover! These Mini BBQ Meatloaf are easy MINI meatloaves! These are full of flavor and the best comfort food when you're craving a hearty dinner. Mini meatloaf takes less time to bake than a traditional meatloaf making this the best meatloaf recipe for weeknights.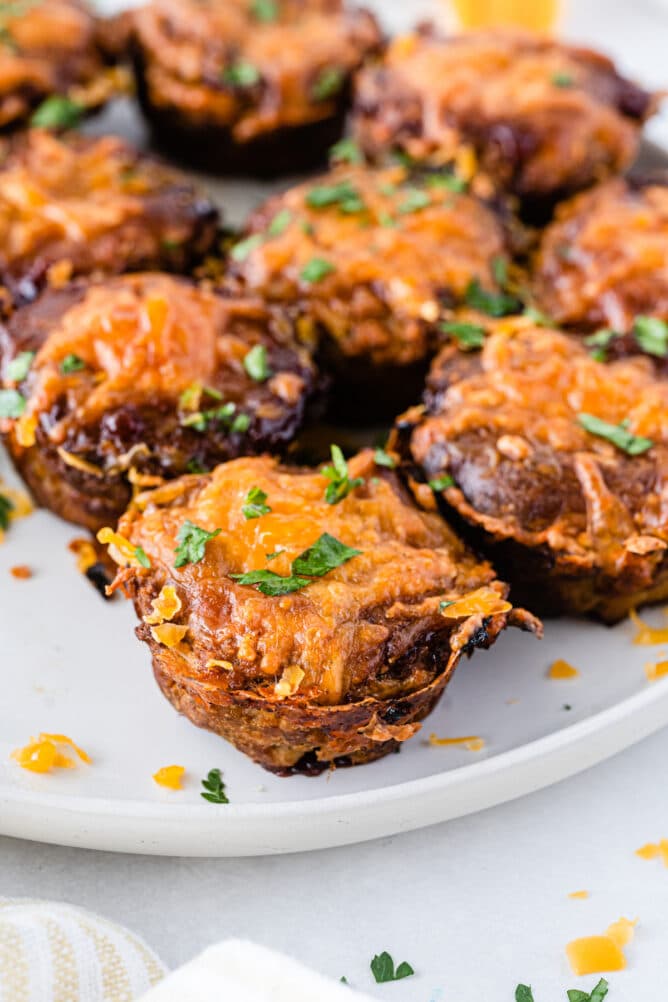 Table of Contents
EASY BBQ Meatloaf in Muffin Tins
Traditional meatloaf has a long cooking time, enter this easy recipe: mini meatloaves! Instead of making one big loaf, I make mini meatloaves in muffin tins – it's one of my favorite things to do with this favorite comfort food. They bake in half the time, and it's so much easier to know when they're done baking.
I took my favorite BBQ meatloaf recipe and minified it! It has the same great flavor – a combination of ground beef, tangy BBQ sauce, and spices but made easy as cute little mini meatloaves.
Just like a classic meatloaf recipe, you make the meatloaf mixture the same way, but then you divide it and press the mixture into a muffin tin. It's so easy!
This BBQ meatloaf recipe is one of my favorite new ways to make a hearty, comforting dinner. And you don't have to wait for the weekend to make it – this family favorite is on the dinner table in less than an hour!
Serve this meatloaf with BBQ sauce with your favorite sides like sweet potatoes, green beans, or a green salad. If you're looking for delicious dinnertime inspiration, I know your whole family will love this dinner!
Ingredients in Mini Meatloaves
Meat: I always use either lean ground beef (90/10) or ground turkey
Stuffing Mix: This is the binder of the recipe – you can use brand name or generic (i.e. Stouffer's)
Water
Garlic Powder: I love adding garlic flavor to everything!
Barbecue sauce: Use your favorite. We're loving G Hughes brand, which is sugar free.
Cheese: Shredded cheddar cheese goes great with BBQ sauce!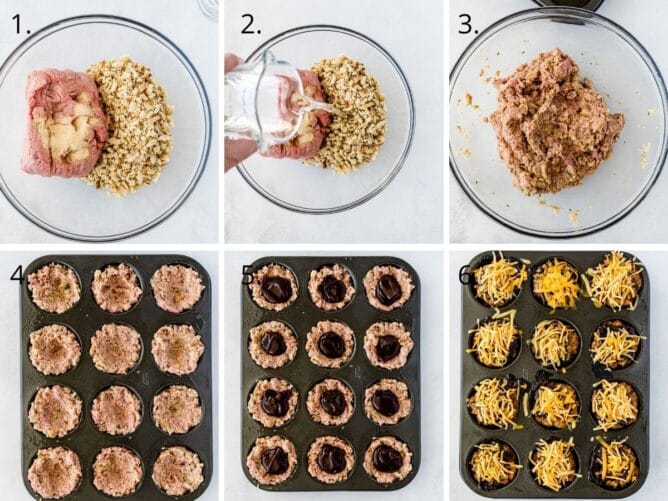 How to Make Meatloaf with BBQ sauce
Mix the ground meat, stuffing and seasonings in a bowl.
Add the water.
Mix until combined.
Divide the mixture in a muffin pan coated with cooking spray or olive oil. Make a shallow well in the center of each.
Fill each meatloaf with the BBQ sauce.
Top with cheese.
How long to Bake Mini Meatloaves
Bake the mini meatloaves for 30 minutes at 375°F. Top each one with cheese and bake for 5 minutes longer. Place the muffin pan on a cooling rack and let the meatloaves cool for 10 minutes before serving them.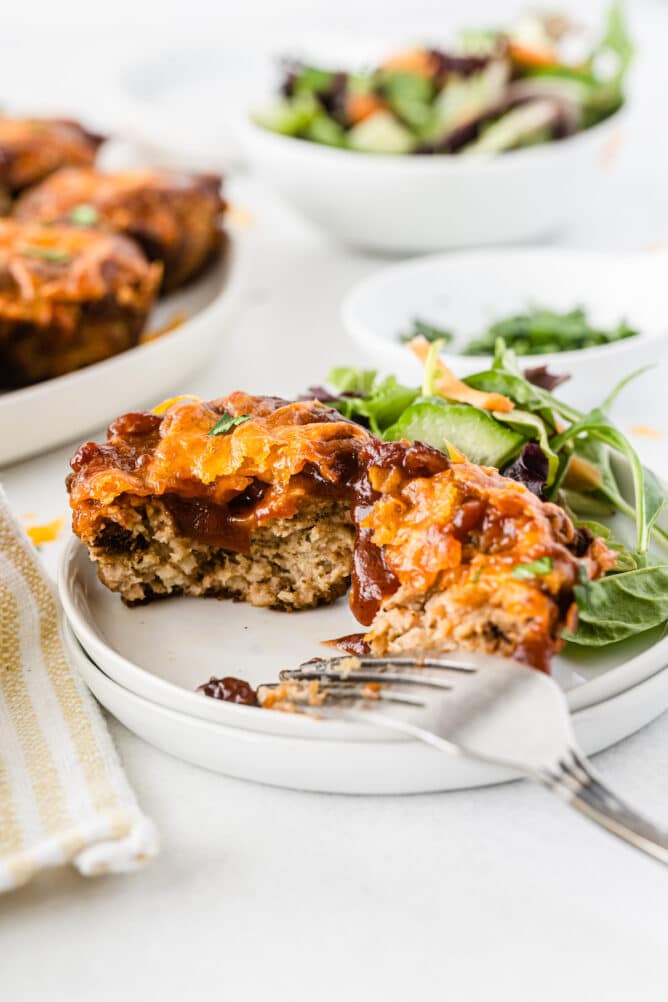 How to Know if Meatloaf Is Done Baking
If you're not sure if they are cooked through, you can use a meat thermometer to check the temperature. The internal temperature should be 160 to 165°F.
Be sure to let them stand at room temperature for 10 minutes before serving. This will allow the juices in the meat to redistribute, so it doesn't run out when you serve them.
How to Store Leftover Meatloaf
Store the leftovers in an airtight container or wrap them in aluminum foil in the refrigerator for three to four days. Leftover meatloaf is good served cold or reheated. The only hard thing is having any leftovers, to begin with!
Expert Tips
Adding Onions: If you want to add chopped onions to your meatloaf, I recommend sauteed onions instead of raw onions. Precooking them softens them, so they are fully cooked inside the meatloaves once they're done baking.
Other Spices: Try adding a teaspoon chili powder, teaspoon garlic powder and onion powder, a little cayenne pepper, kosher salt, or dried herbs. Make a special blend and mix up a few spices in a small bowl to add to the meat.
What is the best BBQ sauce for meatloaf? I love a sweet barbecue sauce, but if you like heat, try a spicy one.
Don't overmix: When mixing the meat mixture, use a large mixing bowl and a light hand. You can mix with a spatula, but I think it's easier to use your clean hands to mix it. You want it well combined, but your meatloaf will be dense if you overmix.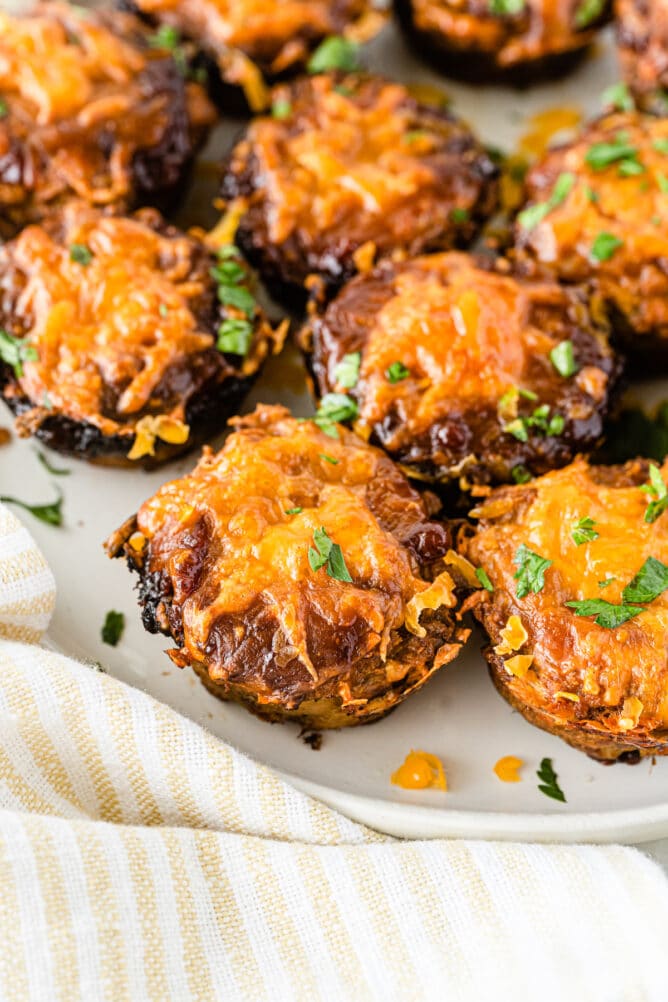 FAQ
Can I make this into a large BBQ Meatloaf?
Yes, you can make one large meatloaf with this recipe. You can brush the top of the loaf with a BBQ sauce glaze, and it will take about one hour to bake at 375°F in a loaf pan or bread pan. If you bake it on a rimmed baking sheet or sheet pan, the cooking time could be less.
Can I substitute ground turkey in meatloaf?
Yes, you can use the same amount of lean ground turkey in place of ground beef in this barbecue meatloaf.
Can I use BBQ sauce instead of ketchup for in meatloaf?
Yes, BBQ sauce works great in place of ketchup – in fact, I like it better! Meatloaf with BBQ sauce has a sweet, tangy, and smoky flavor that's so delicious. Just add ¾ cup of your favorite BBQ sauce.
More Ideas for Easy Weeknight Dinners
Have you made this recipe?
Tag @crazyforcrust on Instagram or hashtag it #crazyforcrust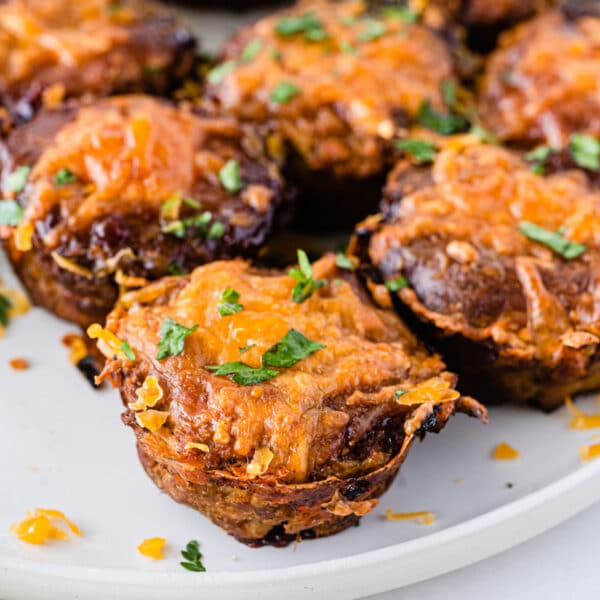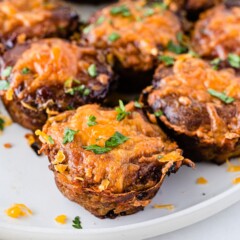 BBQ Mini Meatloaves Recipe
These Mini BBQ Meatloaves might just be your new go-to comfort meal, even when you're shorter on time! Easy, tasty and filling!
Ingredients
1

pound

lean ground beef or turkey

1

6 ounce package

stuffing mix

(such as Stouffers)

1

cup

water

1

teaspoon

garlic powder

¾

cup

barbecue sauce

¾

cup

shredded cheddar cheese
Instructions
Preheat oven to 375°F. Spray a muffin pan with nonstick cooking spray.

Mix meat, stuffing mix, water and seasoning until well blended in a large bowl.

Press evenly into 12-cavity muffin pan. Make an indentation in the center of each with the back of a spoon. Spoon a bit of pasta sauce in each indentation.

Bake 30 minutes or until the meatloaves are cooked through. Top evenly with cheese; continue baking 5 minutes or until cheese is melted.

Let stand 10 minutes before serving.

Store leftover meatloaf in an airtight container in the refrigerator for up to 3 days.
Recipe Notes
Use your favorite BBQ sauce – we love G Hughes which is sugar-free.
Use another flavor cheese if you prefer.
Make this into a large meatloaf in a 9×5 pan, it will take about 1 hour to bake.
Recipe Nutrition
Serving:
1
serving
|
Calories:
176
kcal
|
Carbohydrates:
20
g
|
Protein:
12
g
|
Fat:
5
g
|
Saturated Fat:
2
g
|
Polyunsaturated Fat:
1
g
|
Monounsaturated Fat:
2
g
|
Trans Fat:
1
g
|
Cholesterol:
31
mg
|
Sodium:
489
mg
|
Potassium:
221
mg
|
Fiber:
1
g
|
Sugar:
7
g
|
Vitamin A:
111
IU
|
Vitamin C:
1
mg
|
Calcium:
76
mg
|
Iron:
2
mg
Nutritional information not guaranteed to be accurate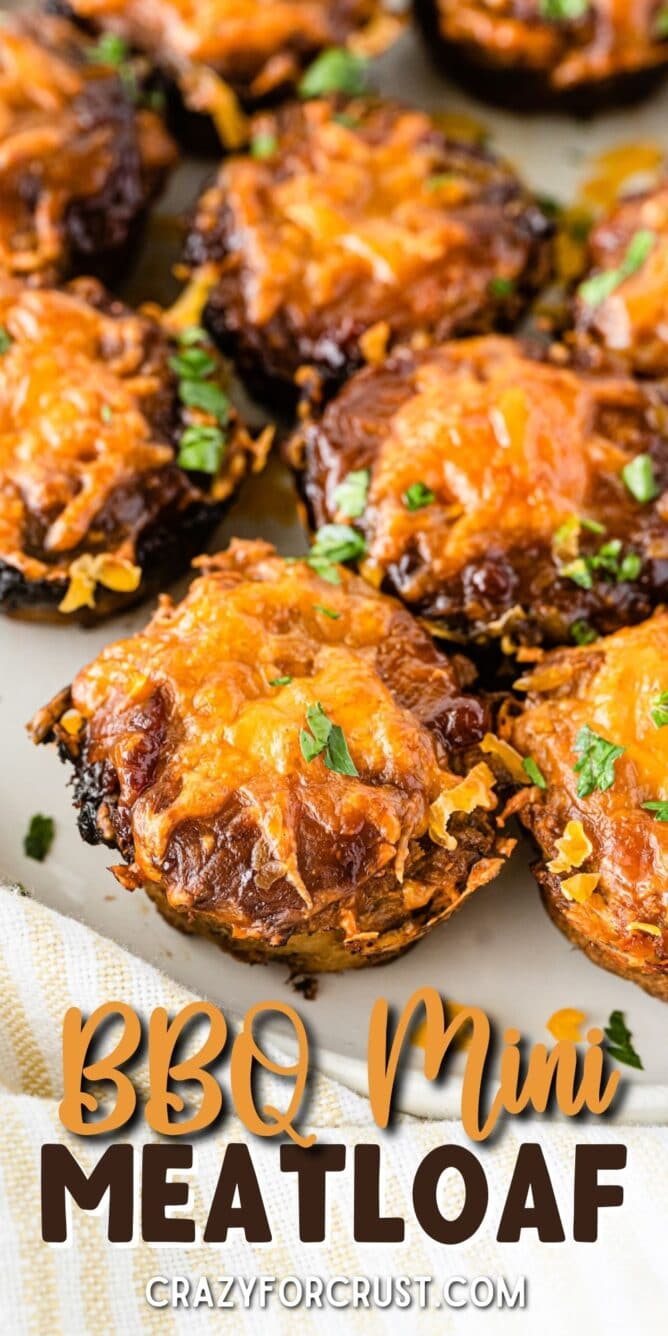 If you've been looking for a different meatloaf recipe for a family dinner during the week, you need to give this BBQ meatloaf recipe a try the next time you want some comfort food. Everything is more fun in mini form, right? It's definitely a different way to make a classic dish.