This post may contain affiliate links. For more information, read my disclosure policy.
Sometimes you just want a big fat slice of cake. When that moment happens, you can make this Healthier Chocolate Chip Cake without all the guilt.
Unless you're like me and eat 3 slices. Then I really can't help you.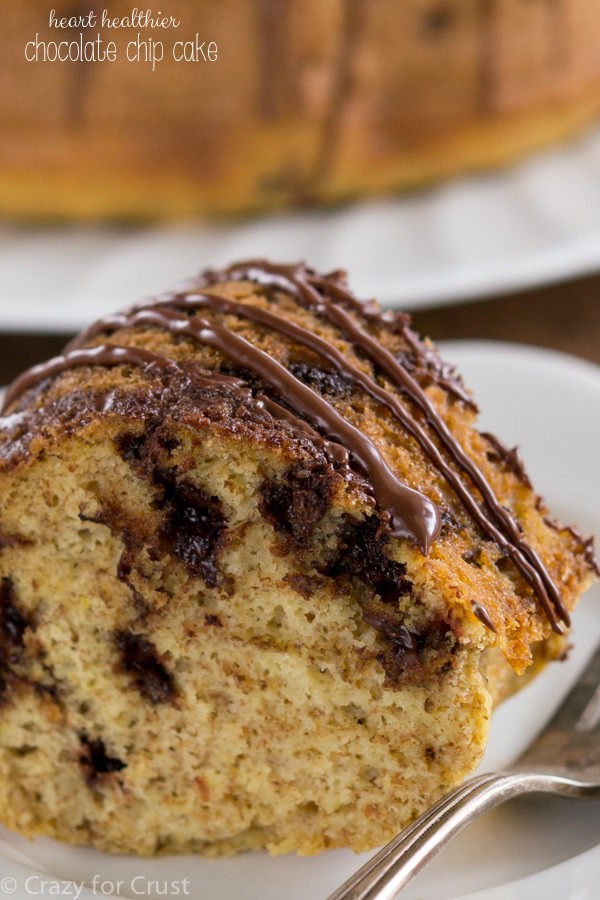 As most of you probably know, we only have one child. She's almost 10 and she's it for us. 10 years ago when a lady was pregnant and wanted to know the sex of her baby, she went to the ultrasound at 20 weeks and just waited for the technician to say boy or girl.
In retrospect, finding out the gender of your baby was a real bore 10 years ago. Now, probably because of Pinterest and YouTube, people have gender reveal parties. They have the doctor put the gender inside an envelope and then they give the envelope to a bakery who makes a cake (hopefully not shaped like a pregnant woman) with blue or pink filling. The parents cut the cake at a party and everyone finds out in a spectacular fashion.
Laying on the table with goo all over your belly while a technician yells boy or girl vs. huge party with cake.
Today wins.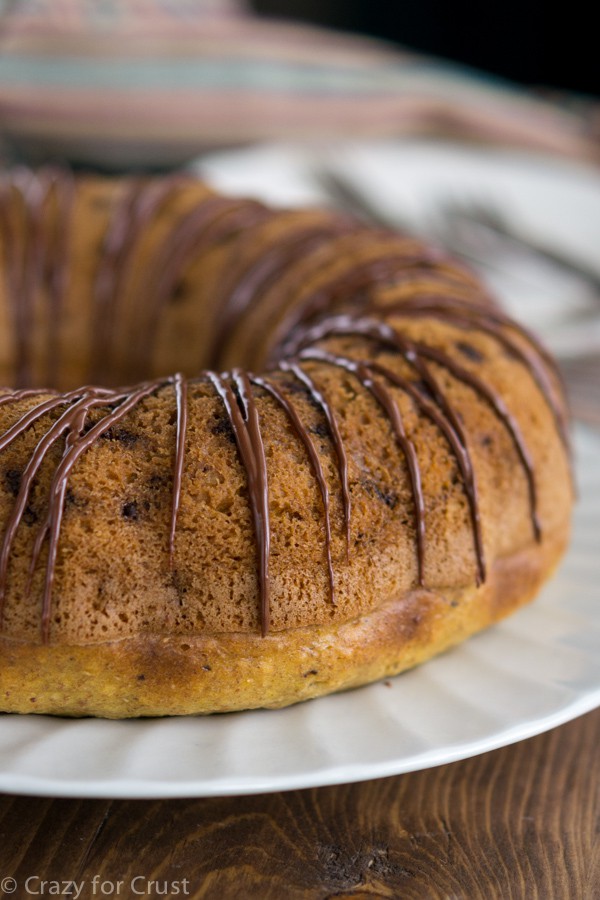 I bring all this up because a friend of mine is pregnant and just had her 20 week ultrasound. When I asked the gender she told me they were having one of these super fun not-at-the-OB parties. And I got so jealous because I'll never get to have a gender reveal party! That's just NOT FAIR.
I'm not jealous that she's pregnant. I'm jealous that I don't get to have a fun party. #firstworldproblems
So I kind of want to have another kid now…just so I can have a gender reveal party.
I'm kidding…but not.
Anyway, this Chocolate Chip Cake might not be a gender reveal cake, but it is a cake that's super special. Not only is it super moist and decadent and filled with chocolate, but it's heart healthier.
Remember? We're having heart healthy week here on the blog because this Friday is National Go Red For Women Day. Women all over the country are going to wear red to bring awareness to heart disease in women. (Do you have your red shirt picked out yet?)
Even if you're not eating heart healthy, this cake is one to add to your repertoire. It's much healthier than a regular cake but it doesn't taste like it. It just tastes like chocolate chip cake which is kind of a no brainer: it is chocolate chip cake. It should taste like it.
Duh.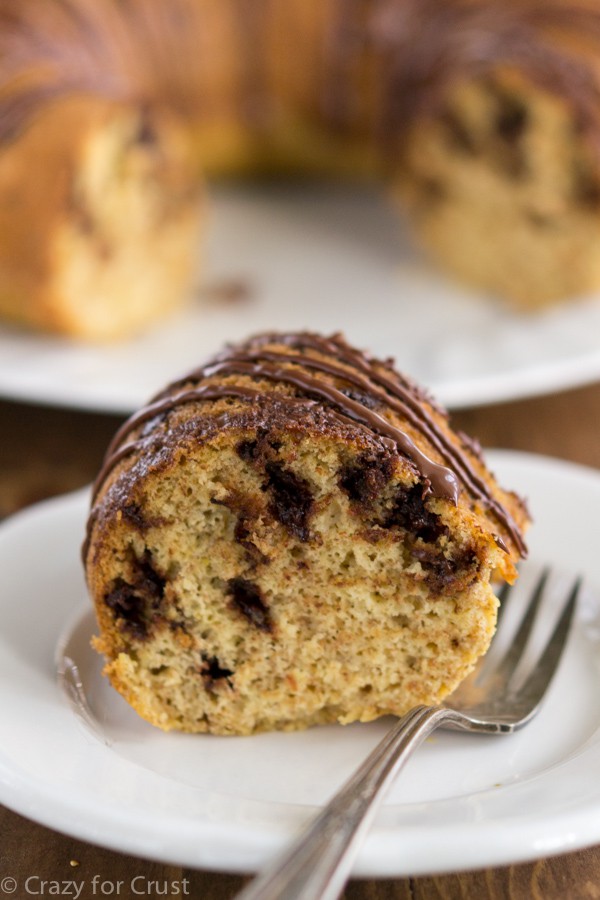 So let's break down why this cake is heart healthier (and why it's a good cake to make if you're trying to eat better…but still want cake):
We talked yesterday how butter isn't a great heart healthy solution. Instead of butter, the American Heart Association recommends using liquid oils, like vegetable or canola oil. This cake uses vegetable oil, and only 1/4 cup for the whole cake. (Unfortunately, from what I've read, coconut oil is considered a solid and a no-no for heart health. But you could use it in this cake if you prefer.)
Eggs. Eggs are a hot button topic when you're talking about heart health. The yolk contains cholesterol and that's bad if you're eating heart healthy. Instead of using eggs in this recipe I used egg beaters, which are made from egg whites and have less calories and cholesterol than regular eggs. You will have no idea this cake is not made with real eggs, I promise you that. (But you could use 4 eggs in place of the egg beaters.)
Sugar. If you're dieting or eating heart healthy you're trying to cut down on sugar. Obviously, this cake has sugar in it, but it only has 1/4 cup of brown sugar instead of 1-2 cups that a normal cake has. The mini chocolate chips add extra sweetness and flavor and because the cake has melted chocolate on top, there is no need for frosting.
Flour. The American Heart Association recommends that, if you're eating heart healthy, you try and substitute white flours with whole wheat ones. This cake uses a combination of whole wheat and all-purpose flour. Other than seeing the flecks of whole wheat, you wouldn't know it's there!
Liquid. Instead of using milk as the liquid in this cake, I used sparkling water. Milk (or buttermilk) isn't necessarily bad for heart health (or dieting, if using non-fat) but it does add calories. Sparkling water adds zero calories and the fizziness of the water helps the cake get an airy and fluffy texture. Last month I made a Champagne Pound Cake, using the champagne instead of milk made the cake perfect so I was anxious to try that again with something zero calorie. And it worked fabulously!
Obviously, if you're eating healthier (for diet reasons or heart health) I do not advocate eating 4 slices of this cake. (Or testing it twice and eating 4 slices of each…ahem.) I really loved this cake – the texture was perfect, the sweetness just right, and it satisfied a craving without breaking the calorie bank.
Not only does it taste amazing, but it serves 12. Great when you're going to a party and want to bring something you can actually eat…or when you want to freeze slices for future cake cravings. This is a keeper recipe folks, I promise!

Don't forget to wear red on Friday. Also – know the signs of heart attack and stroke. Sometimes the signs of heart attack in women are sneaky (like jaw or back pain). We women are also notorious for saying "I'll figure it out later" or "I'll call the doctor next week." One word? DON'T. I have my mom today because she knew the signs. 🙂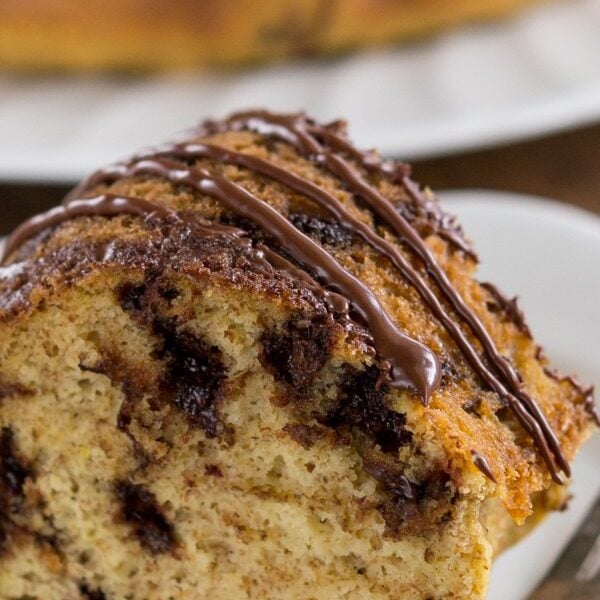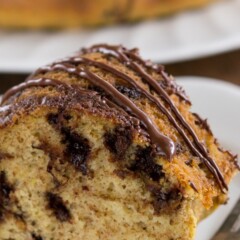 Healthier Chocolate Chip Cake
This cake has less cholesterol and sugar and more whole wheat flour than a traditional cake but you'd never know it. And it has chocolate!
Ingredients
1

cup

egg beaters

1/2

cup

packed brown sugar

1/2

teaspoon

salt

1/4

cup

vegetable oil

1

tablespoon

vanilla extract

2

teaspoons

baking powder

1 1/2

teaspoons

baking soda

1

cup

whole-wheat flour

1 1/4

cups

all-purpose flour

1

cup

sparkling water

1

cup

mini chocolate chips

divided
Instructions
Preheat oven to 350°F. Coat a 12-cup Bundt pan with nonstick cooking spray with flour.

Whisk egg beaters in a large bowl with a whisk. Gradually add the sugar and whisk until smooth. Whisk in salt, oil, and extract. Whisk in baking powder and baking soda.

Stir in whole wheat and all-purpose flour. Add sparkling water and stir gently until just mixed. Stir in 1/2 cup chocolate chips. Pour into prepared pan.

Bake for about 30-35 minutes until a toothpick comes out clean. Cool completely in pan before removing to a serving plate.

Optional garnish: melt 1/2 cup mini chocolate chips in a microwave safe bowl. Heat on 50% power in 30 second increments, stirring between each, until melted and smooth. Place in a ziploc bag with a tip cut off and drizzle
Nutritional information not guaranteed to be accurate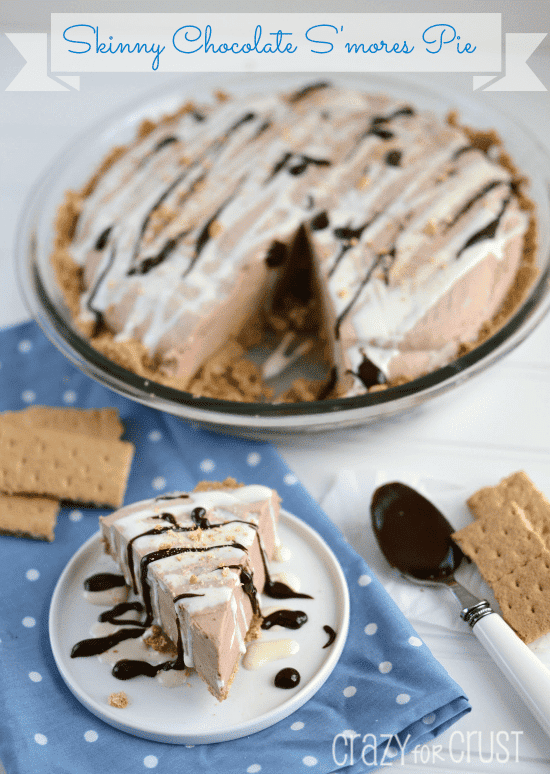 Healthier Chocolate Gooey Cake Bars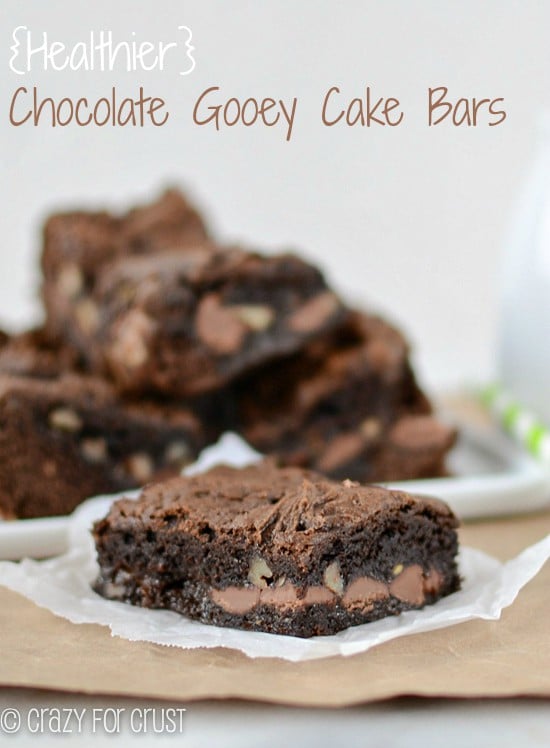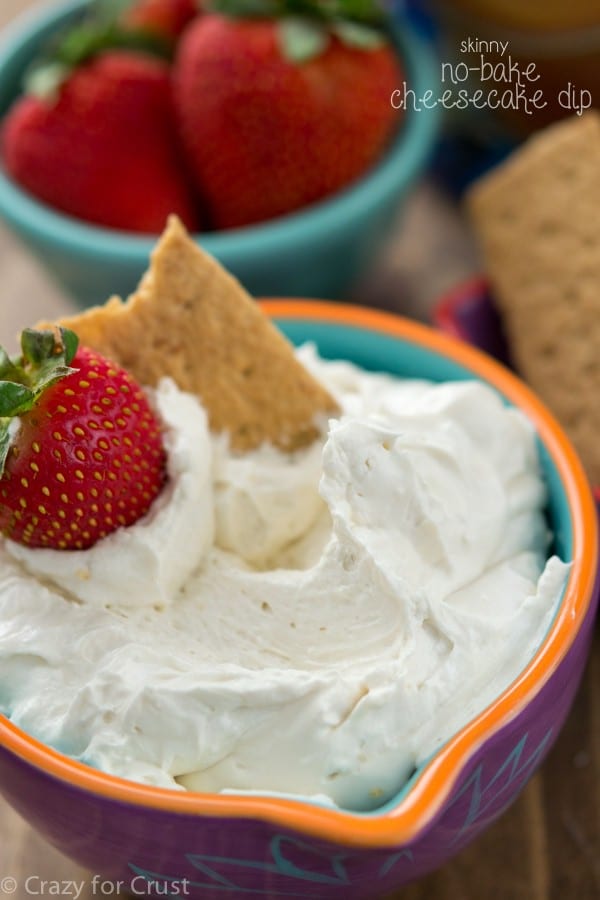 Sweets from friends:
Chocolate Banana Applesauce Cake by Mom on Timeout
Skinny Chocolate Cake by I am baker
Skinny BTS (Poke) Cake by Something Swanky
All of the information about heart healthy baking substitutions came from the American Heart Association website.
Last Updated on January 9, 2019