This post may contain affiliate links. For more information, read my disclosure policy.
Chocolate Bark made with Easter candy is a quick and easy treat. You only need three ingredients to make this mini egg bark, and you can decorate it with sprinkles, mini chocolate eggs, or other Easter candy. It's great for gifts because it keeps well for up to two weeks!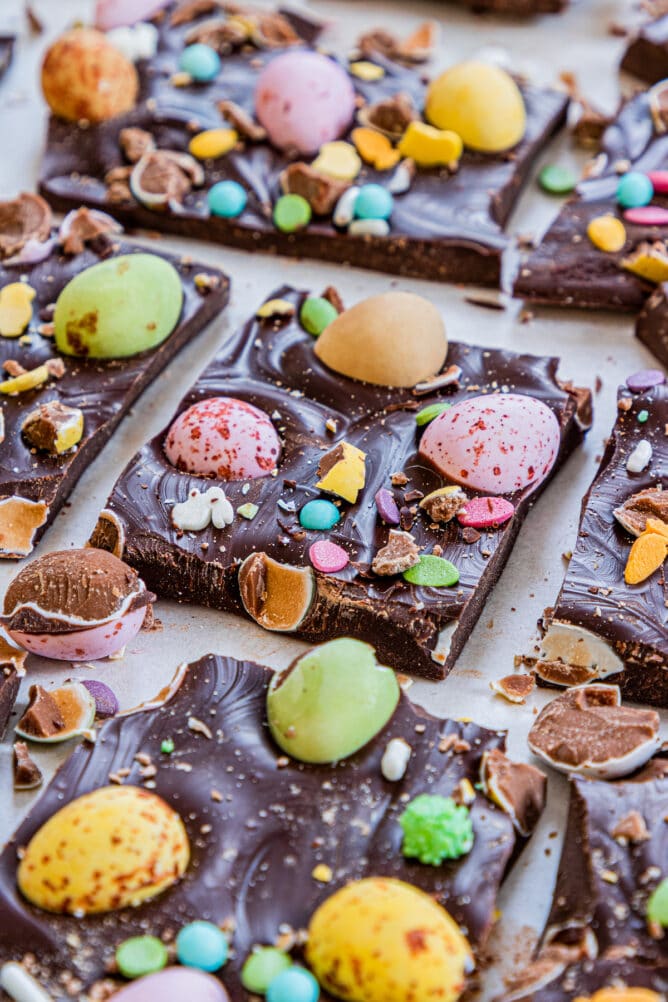 I love to make chocolate bark because it's so easy to do, and it keeps really well, so it's great for parties, holidays, and gifting. I will find any excuse to make a batch all through the year, and Easter is the perfect reason to make a batch.
Easy Easter Candy Bark
This is super cute candy bark and just screams spring! I just love mini Easter egg candy, pastel sprinkles, and chocolate, and combining them in this Easter bark is so fun.
This so easy the kiddos can make it – all you need to do is melt the chocolate and prepare the candy. Let them help sprinkle the eggs and sprinkles over the top for a fun activity. Once it's set, break it into pieces and give it away as gifts or keep it all to yourself!
Table of Contents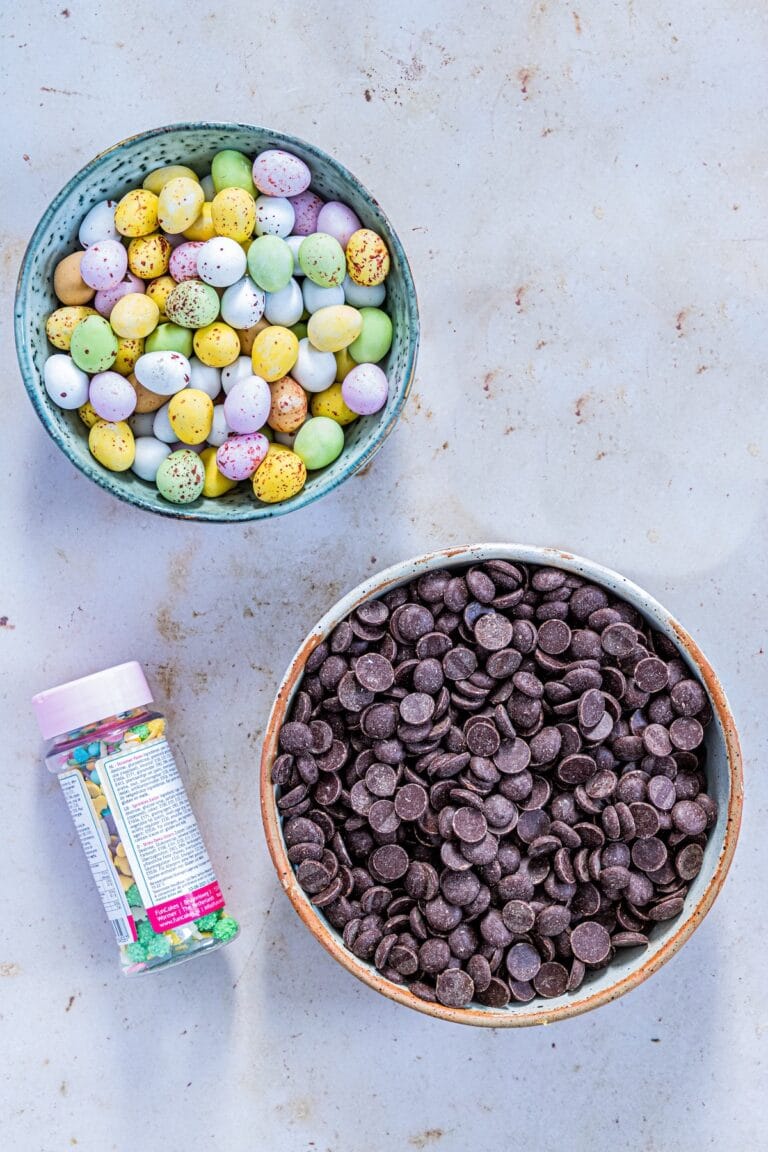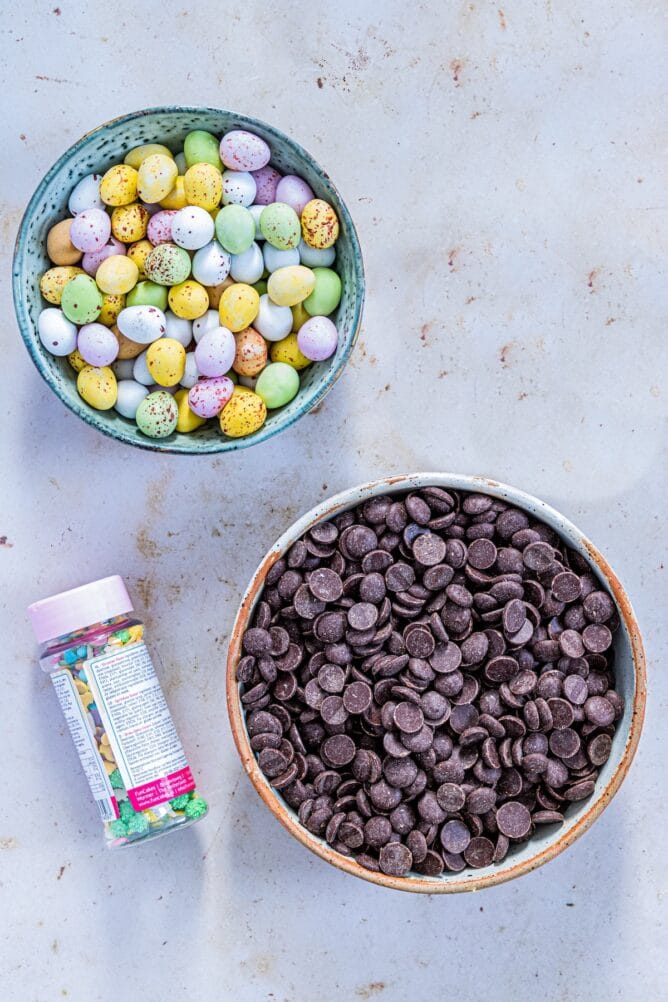 Ingredients for Easter Candy Bark
Chocolate – I prefer to use chocolate melting wafers (my favorite is Ghiradelli brand)
Mini eggs – some left whole, some roughly chopped
Sprinkles – Easter-themed sprinkles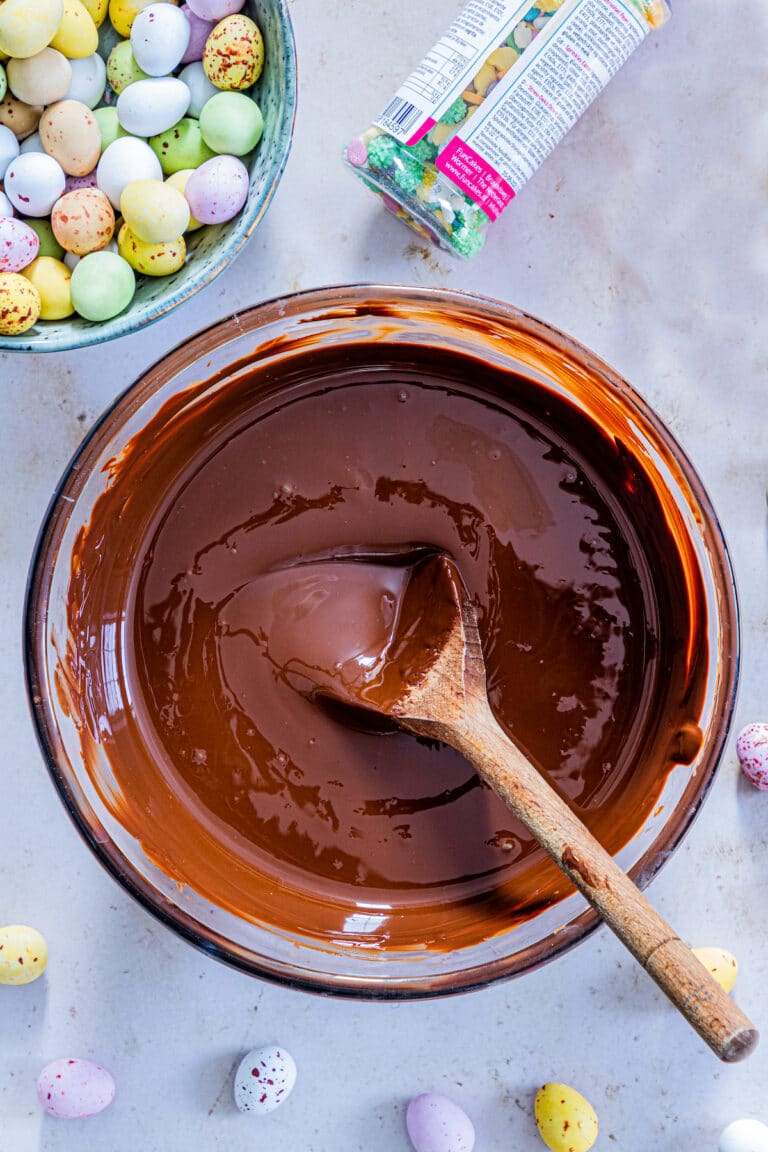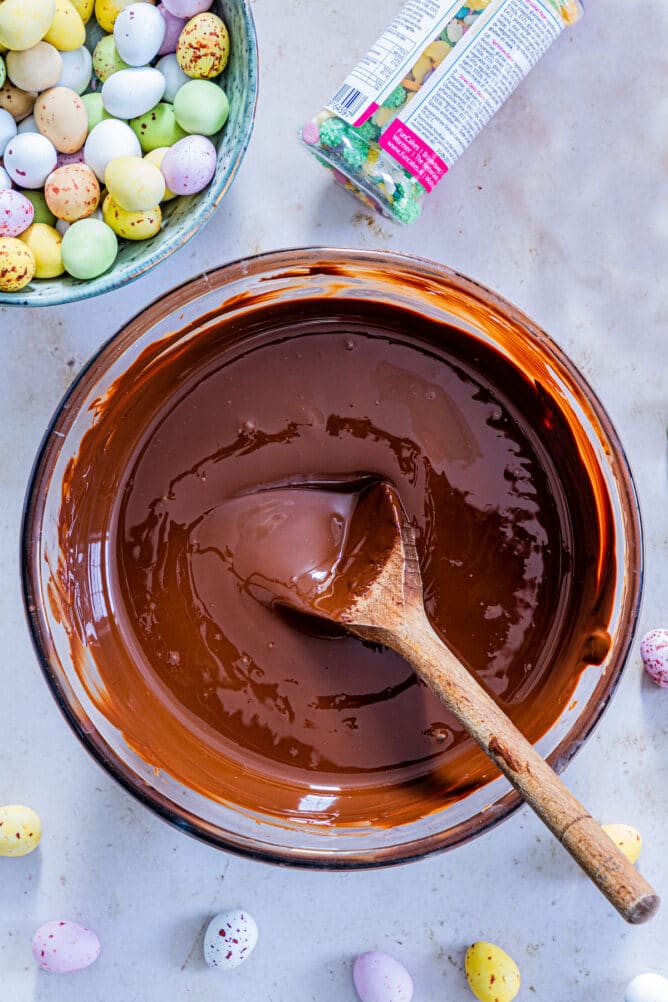 How to Make Easter Candy Bark
1. Line a 9×13" baking pan with parchment or wax paper.
2. Melt the candy melts in the microwave for one minute and then stir. Microwave it for 30 seconds and stir. Repeat this process until the candy is completely melted and smooth.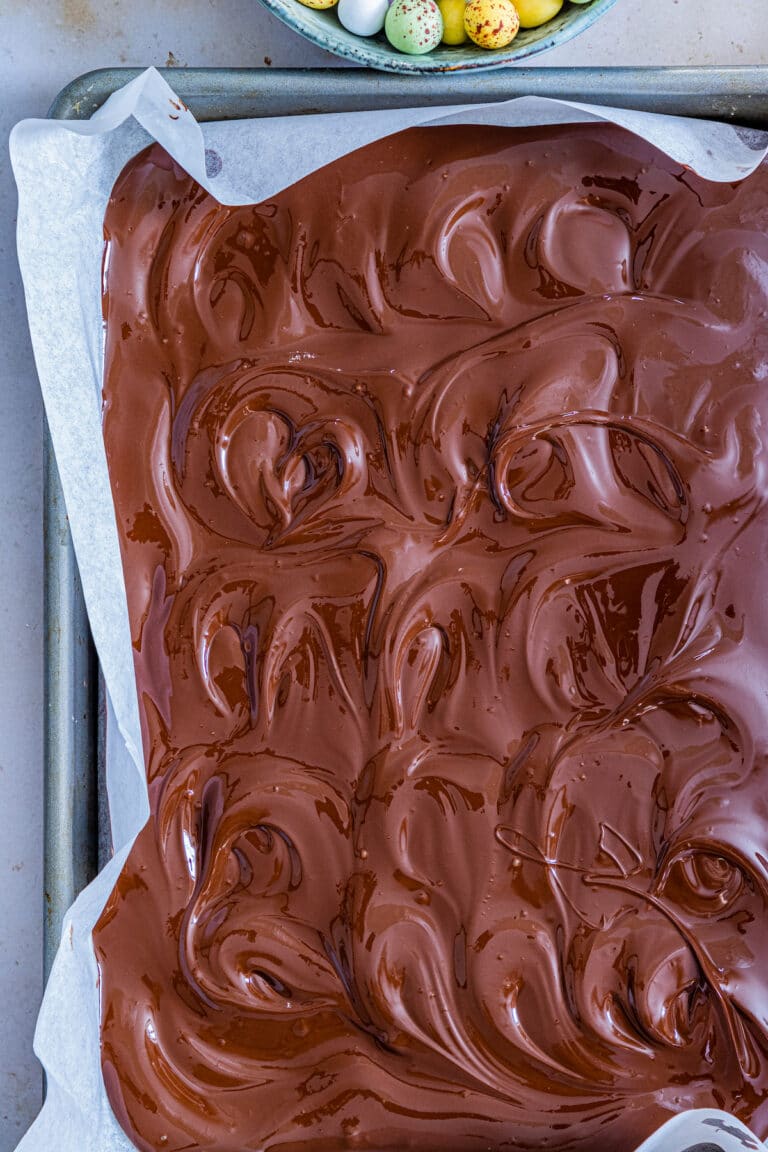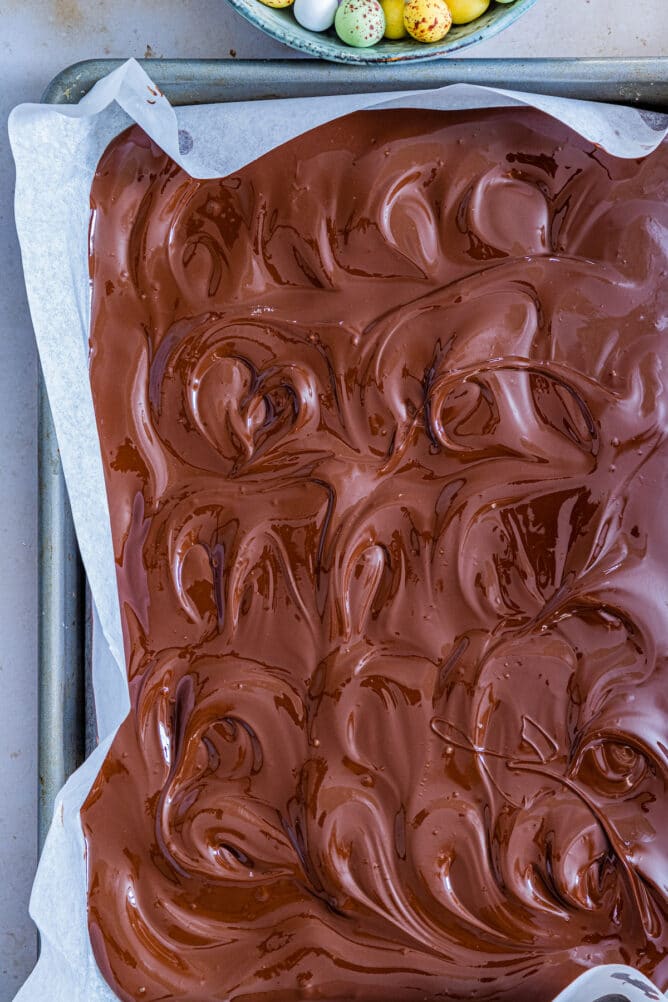 3. Pour the chocolate into the prepared pan and smooth it into an even layer. Sprinkle the whole and chopped eggs over the top, followed by the sprinkles.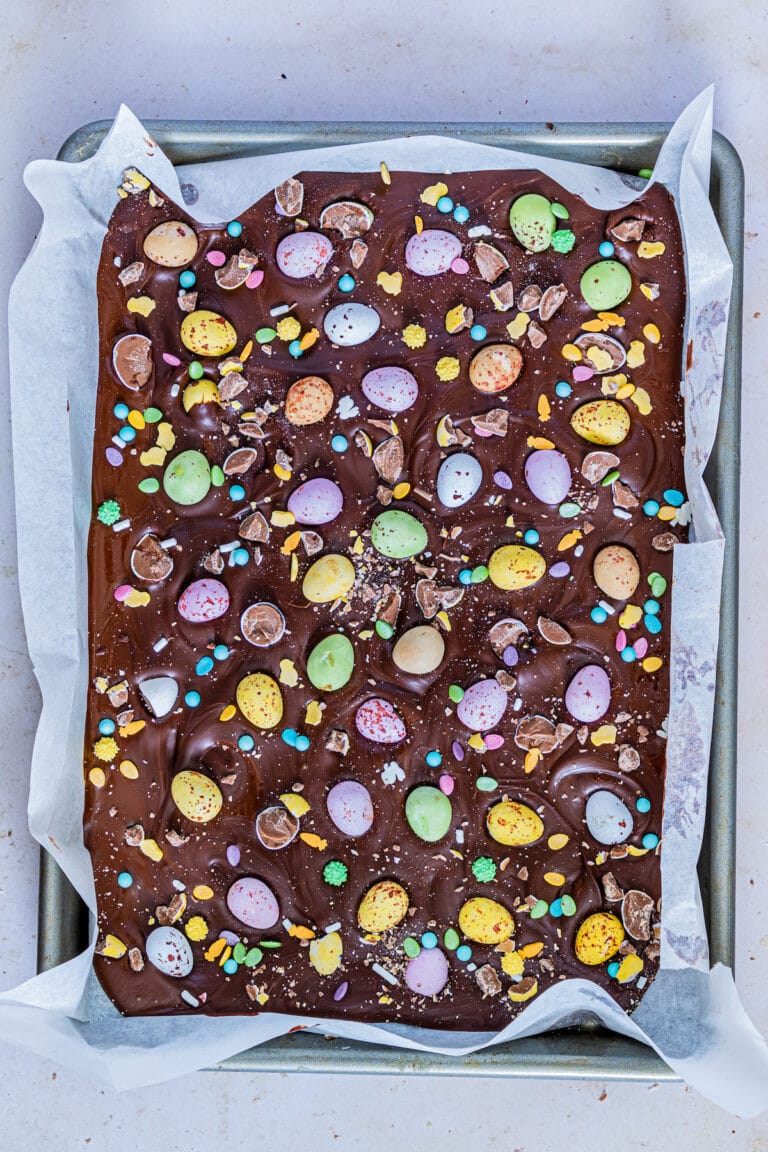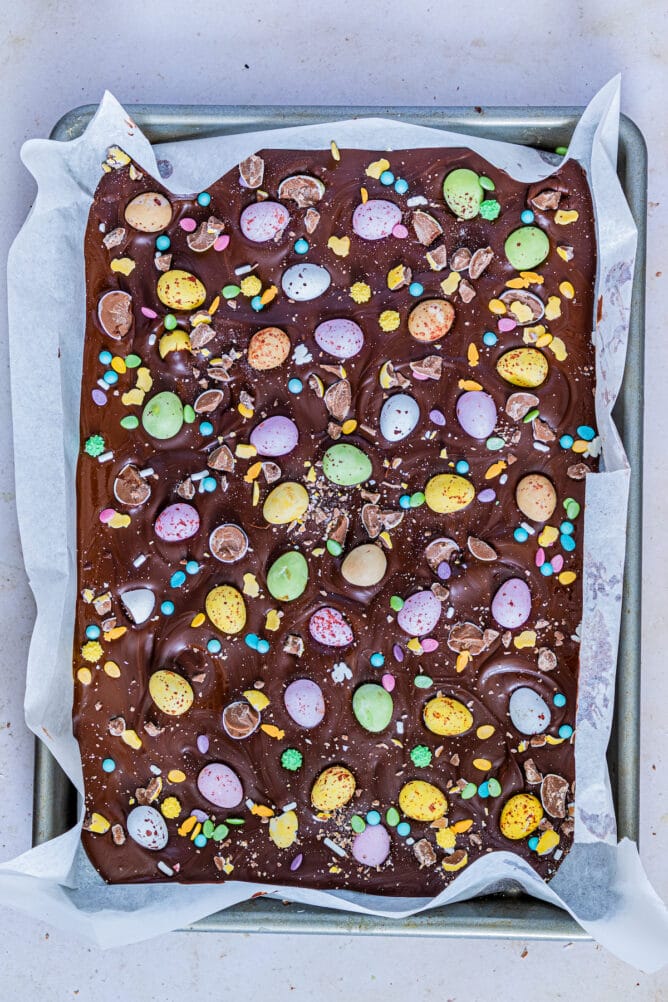 4. Chill the bark for an hour or until it is set. Break it into pieces and keep them in an airtight container in the refrigerator.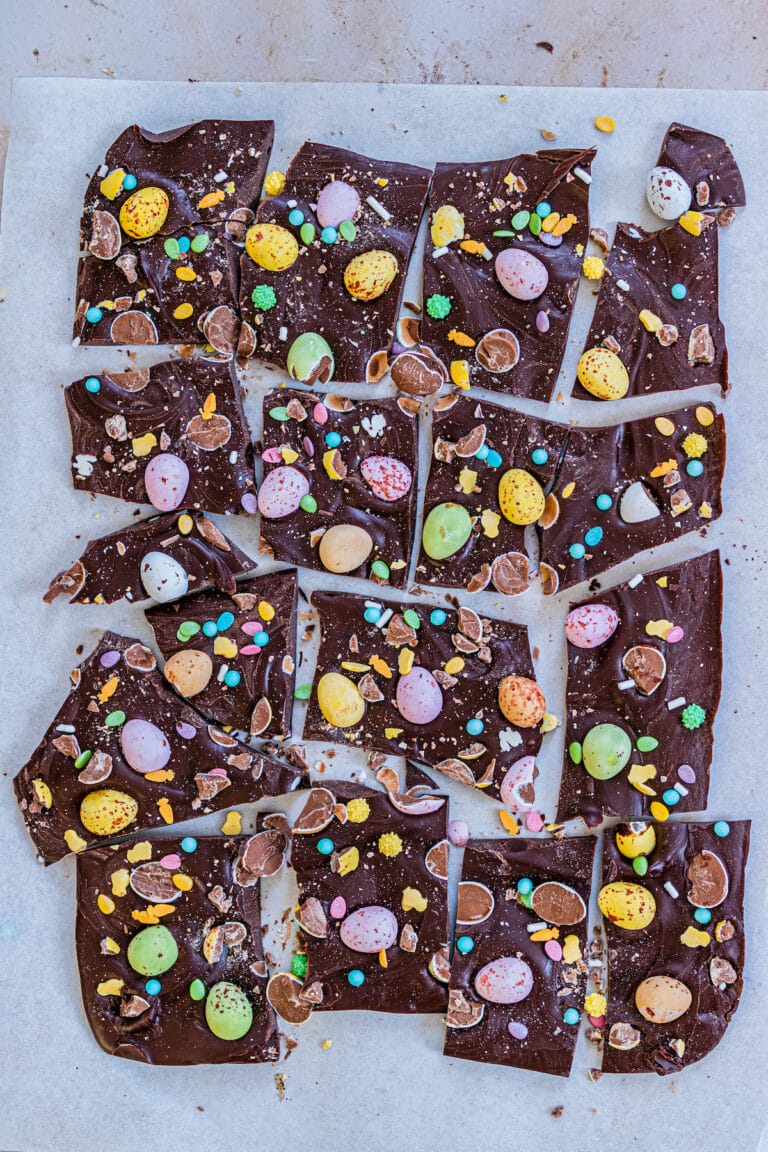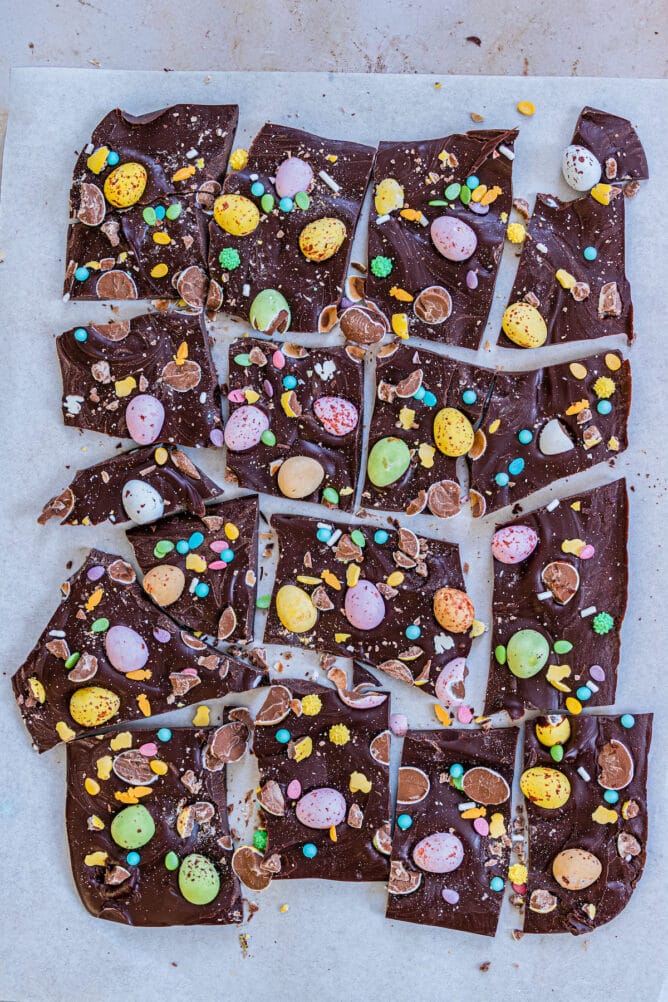 What Kind of Chocolate is Best for Candy?
Use good quality chocolate for this recipe, and be sure to use one that melts well. You have a few choices for what kind to use:
Melting Wafers – these are sold in the baking aisle near the chocolate chips. Ghiradelli is the best tasting brand. They're made specifically for melting, so they shouldn't give you any trouble. They also come in white or chocolate flavors.
Almond Bark or Candiquik – these are also found in the baking aisle. They are formulated for melting and come in white and chocolate flavors. Candiquik tastes better than Almond Bark.
Chocolate Callets – If you can find them, you can also use chocolate callets which are chips that are formulated for melting.
Candy Melts – these are the melts you find in the craft stores and they come in all sorts of fun colors. They would be pretty in this bark but they don't taste as good as real chocolate (even the chocolate "flavor" isn't as good).
Skip the chocolate chips for this recipe – they don't work as well. In a pinch you can use them but they aren't formulated for candy so they'll melt to the touch.
Tips for the Best Chocolate Bark
Do a mix of chocolate like milk, semi-sweet, or even white chocolate.
For the eggs, try using chocolate eggs like Cadbury mini eggs, or you can use mini malted eggs – they look like robin's eggs.
Look for Easter sprinkles on Amazon or at Target, Walmart, or even craft stores. There's usually a lot of options.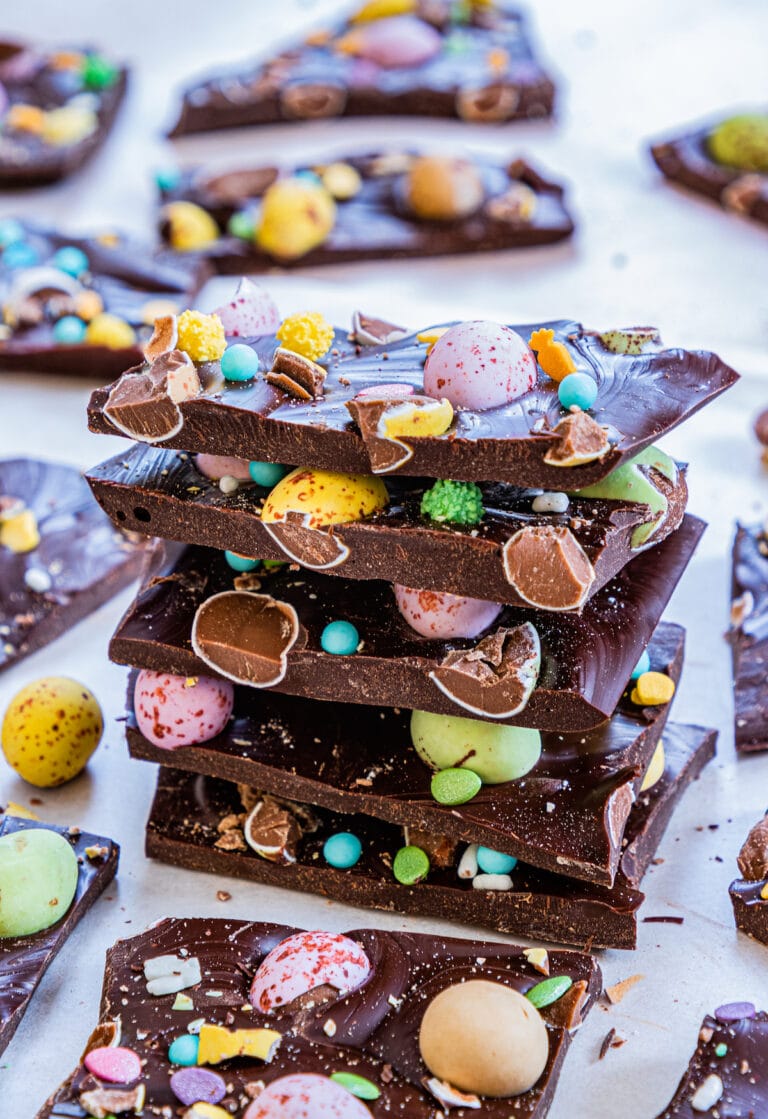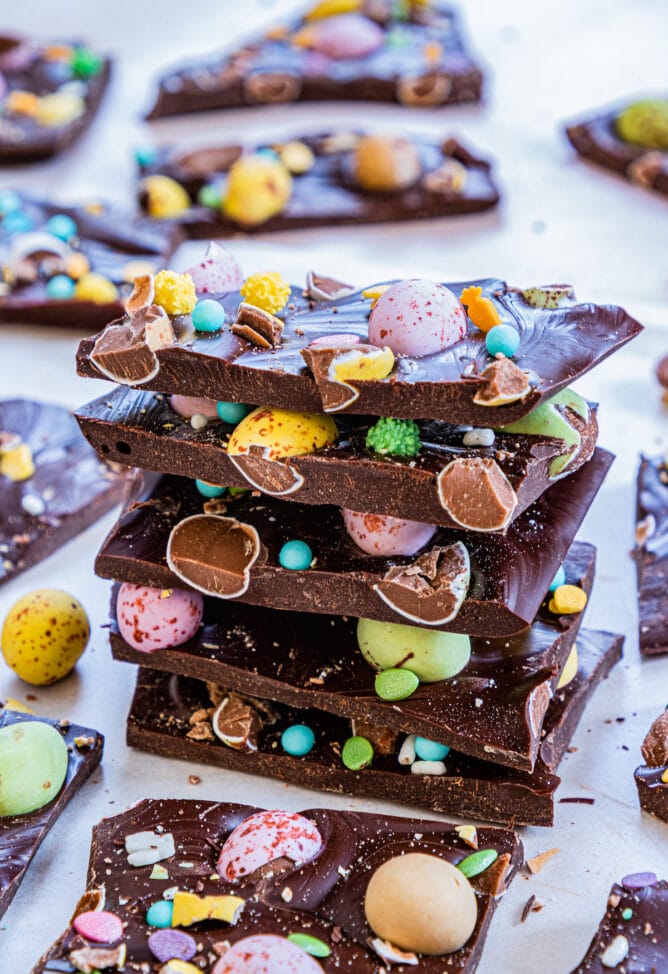 FAQ
How long does chocolate bark last?
This is one thing that doesn't go bad quickly – store it in an airtight container in the refrigerator for at least 2 weeks!
My chocolate won't melt!
Chocolate can be finicky, which is why I like using melting wafers for this – they're formulated to melt. Make sure you're melting at 50% power in the microwave and stirring often so there aren't any hot spots. In a pinch, if they don't seem to be melting, add 1 teaspoon vegetable oil or shortening to them. That seems to help them melt easier.
Why does chocolate seize?
If your chocolate gets all clumpy and isn't smooth, then that means it's seized. That happens when it gets too hot or if water gets into the mixture. Be sure your bowl and spatula are completely dry so no water gets in and be sure to stir often while melting so it doesn't get any hot spots.
How to fix chocolate that has seized:
Sometimes you can save seized chocolate. Add 1 teaspoon boiling water to the clumpy mess and stir vigorously to try and melt the fats that have clumped together. Hopefully the chocolate will smooth out.
This Cadbury egg bark is so sweet, and the perfect spring treat! Make it for Easter and share it with family and friends – it's so easy you can make several batches to share!
More Easter Recipes You'll Love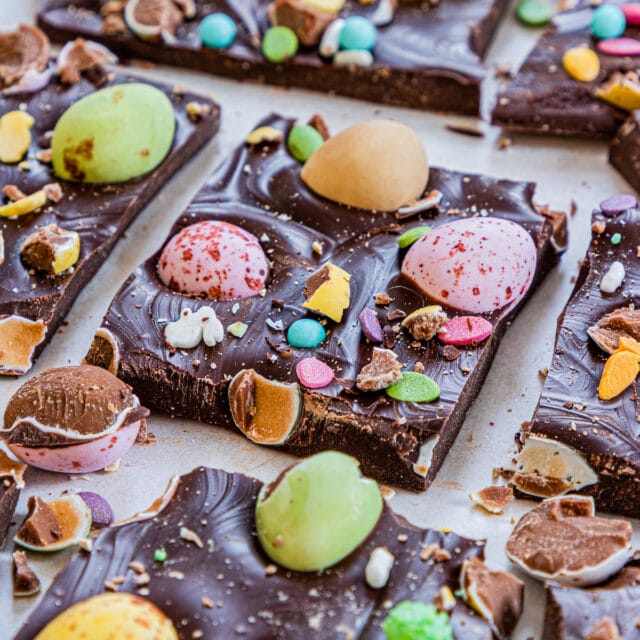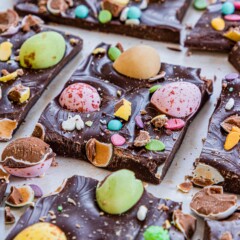 Easter Candy Bark Recipe
Easter Candy Bark is truly the easiest, most festive spring treat. It only takes minutes to make and a perfect recipe to try with kids!
Ingredients
16

ounces

448g semi-sweet or milk chocolate melting wafers

1

cup

mini eggs

some whole, some coarsely crushed

Easter themed colored sprinkles
Instructions
Line a 9×13 baking pan with parchment paper.

Put chocolate pieces into a microwave safe bowl. Microwave on half power for 60 seconds, then mix well.

Microwave again in bursts of 30 seconds, stirring well after each. Repeat the process, until the chocolate is completely melted.

Pour the chocolate into the prepared pan and spread into an even layer. You want about rectangle about 10×15-inches max (so your chocolate doesn't get too thin).

Sprinkle the whole and crushed mini eggs over the chocolate.

Sprinkle the easter sprinkles over the chocolate.

Chill until completely set, about 1 hour.

Break into pieces and enjoy.
Recipe Notes
Use good quality chocolate for best results. I love using Ghiradelli melting wafers but you can also substitute almond bark or any brand melting wafers.
Use milk, semi-sweet or even white chocolate to suite your tastes.
You can substitute equal parts chocolate callets, if you have access to them.
You can use any brand of mini eggs.
Use your favorite sprinkles. I buy sprinkles on Amazon, craft stores, and even Walmart/Target have lots of options.
Store in an airtight container in the refrigerator. Stays fresh for up to 2 weeks.
Recipe Nutrition
Serving:
1
serving
|
Calories:
70
kcal
|
Carbohydrates:
9
g
|
Protein:
1
g
|
Fat:
3
g
|
Saturated Fat:
2
g
|
Trans Fat:
1
g
|
Cholesterol:
2
mg
|
Sodium:
9
mg
|
Fiber:
1
g
|
Sugar:
9
g
|
Vitamin A:
31
IU
|
Vitamin C:
1
mg
|
Calcium:
16
mg
|
Iron:
1
mg
Nutritional information not guaranteed to be accurate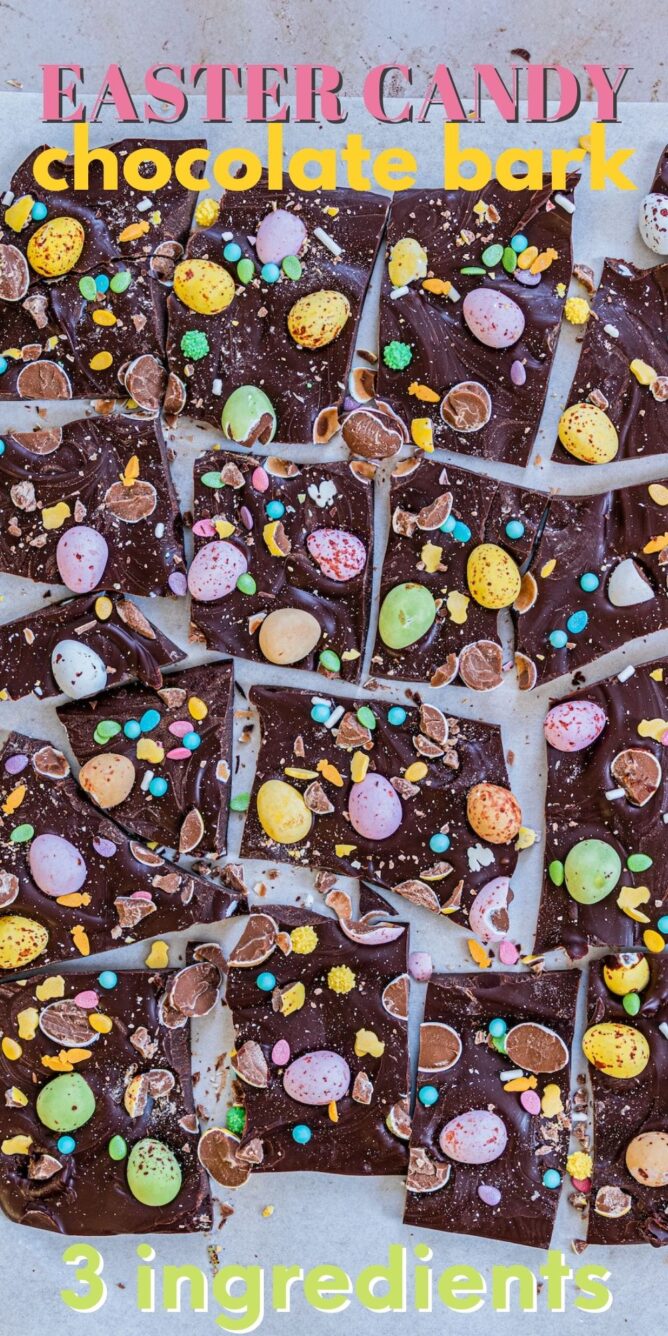 Easter Candy Bark is SO easy to make and you can use your favorites! We made our chocolate bark with mini Cadbury Eggs but you can use your favorite candy and sprinkles to make this easy Easter treat.