This post may contain affiliate links. For more information, read my disclosure policy.
I know I say this a lot, but this Carrot Cake Pie is seriously one of my favorite recipes ever. One, it's kind of creative (at least I think it is) and two, it tastes darn good.
It's the perfect pie for any time you want carrot cake…but you want pie too.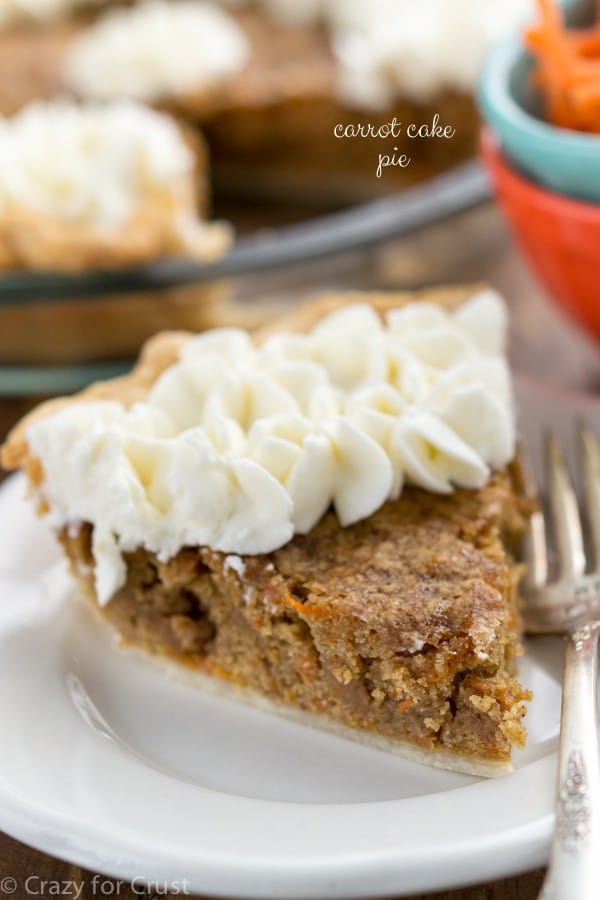 Easter is in a few weeks. ????!!!!! Somehow carrot cake became synonymous with Easter. How did that happen? Is it because the Easter Bunny eats carrots? Whatever the reason, Easter is the Carrot Cake Holiday, much like red velvet is to Valentine's Day and peppermint is to Christmas.
We like to eat carrot cake all year, because it's Mel's favorite. In fact, this is a Mel ate it recipe. He eats anything carrot cake. And because of that fact, this pie might look familiar. If so, it's because I'm reposting it today. I originally made this for Pi Day 2013. Back then my photo taking skills were less than stellar and I had hardly any readers.
This pie deserved better. Much, much better. Because it's a bombdotcomb pie.
So, without further ado, here is the original post…with some edits. Because I'm not actually posting this on Pi day. That was last week.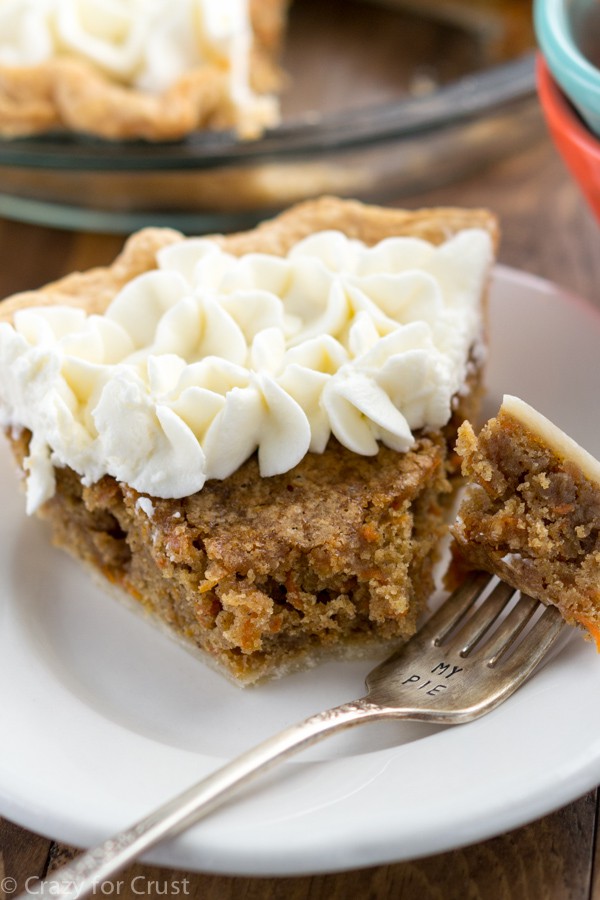 If you read my post last year on Pi Day, you'd already know I'm crazy. But so many of you are new (hi new friends!) so you really have no idea how big of a dork I am.
Let me make a list for you, shall I?
I once had a license plate that read I TCH PI. It is now hanging in my office (well, it will be once I get off my butt and paint in here).
I do math problems for fun. Yes, my idea of fun is getting out my high school geometry text book (yes, I own a copy; that was a very happy day when I found it at Goodwill) and doing proofs.
Since I'm too cheap to spend $30 on a t-shirt from Zazzle, I made my own Pi shirt last year. I'll be wearing it again today. I wanted to make a Pi googley eye headband, but thought that might be too much.
My personal email? Has 314 in it.
Whenever I have to pick a number for any reason? You guessed it, I choose 314.
You could say I'm a teensy bit obsessed. And I hope you will be too, because this pie is worth it.
It's a blondie that's filled with carrot cake flavor (ginger and carrots). The batter is thick and wonderful and it's spread in a pie crust. You can use a refrigerated crust or a homemade crust.
Once it's baked and cooled, you frost it with cream cheese whipped cream. <– that alone deserves it's own bowl and spoon.

A few notes:
Not all carrots are created equal. I just used regular grocery store carrots and I patted them dry before adding them to the batter.
Some people have mentioned their batter is thick. It is, but you can spread it easily with a spatula. It's not a cake batter, it's a blondie batter. Just have faith.
You don't have to share this with anyone. Just hide in a closet with a fork and eat your heart out.
Thanks for reading…again!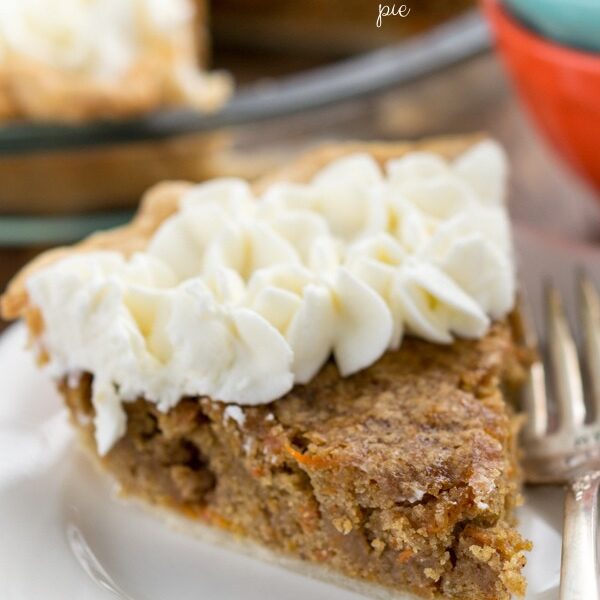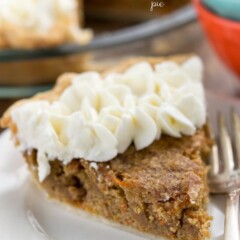 Carrot Cake Pie
Two desserts in one! Carrot Cake Pie combines a pie crust with the flavors of carrot cake in blondie form. Perfect with the cream cheese whipped cream.
Ingredients
For the Pie
1

premade pie crust

or your favorite recipe

1

cup

flour

1/2

teaspoon

baking powder

1/8

teaspoon

baking soda

1/4

teaspoon

salt

1 1/2

teaspoons

cinnamon

1/8

teaspoon

ginger

1/4

cup

melted butter

1

cup

brown sugar

1

teaspoon

vanilla

1

egg

1

cup

shredded carrots
For the Frosting
3

ounces

cream cheese

1

tablespoon

butter

1/2

teaspoon

vanilla

1/2

cup

powdered sugar

1/2

cup

cold heavy whipping cream
Instructions
Preheat oven to 350°F.

Line a 9" pie plate with the crust, crimping the edges. Refrigerate until ready to fill.

Combine flour, baking powder, baking soda, salt, cinnamon, and ginger in a medium bowl.

Cream together butter and sugar with a mixer. Stir in egg and vanilla until just combined.

Stir dry ingredients into wet until just combined. Fold in carrots.

Pour into prepared pie crust. Bake 25-30 minutes until the top is set and a toothpick comes out with only crumbs clinging to it. (If your crust starts to get too dark, cover it with strips of aluminum foil.) Let cool before frosting.

To make the frosting: In a large bowl, beat cream cheese and 1 tablespoon butter with a mixer until creamy. Stir in vanilla. Add powdered sugar and beat slowly until combined. In a separate bowl or stand mixer, beat heavy whipping cream until stiff peaks form (make whipped cream). Fold gently into the cream cheese frosting mixture. Use a 1M tip to pipe the frosting around the pie, or just spread it all over the top.

Store in the refrigerator for up to 3 days.
Nutritional information not guaranteed to be accurate
Click here for more Carrot Cake Recipes!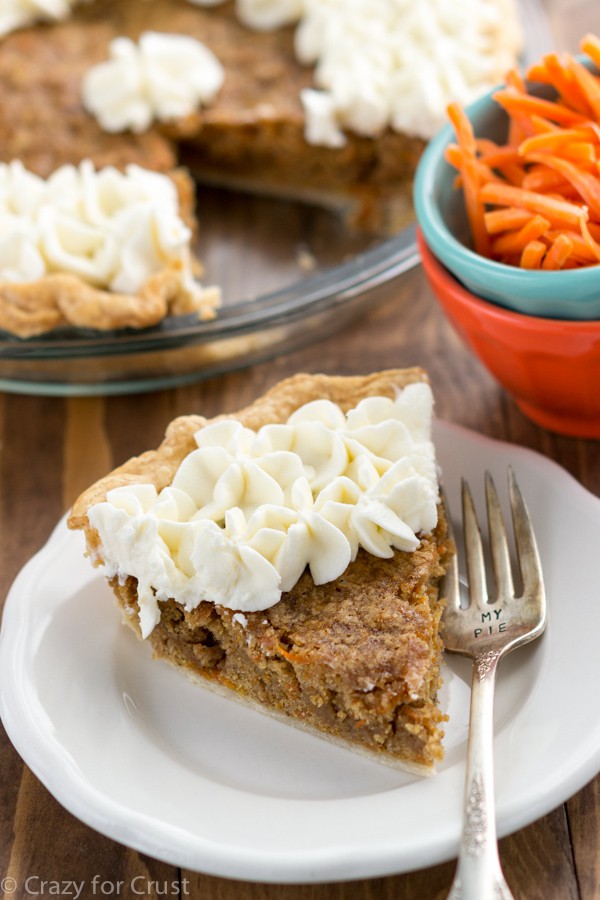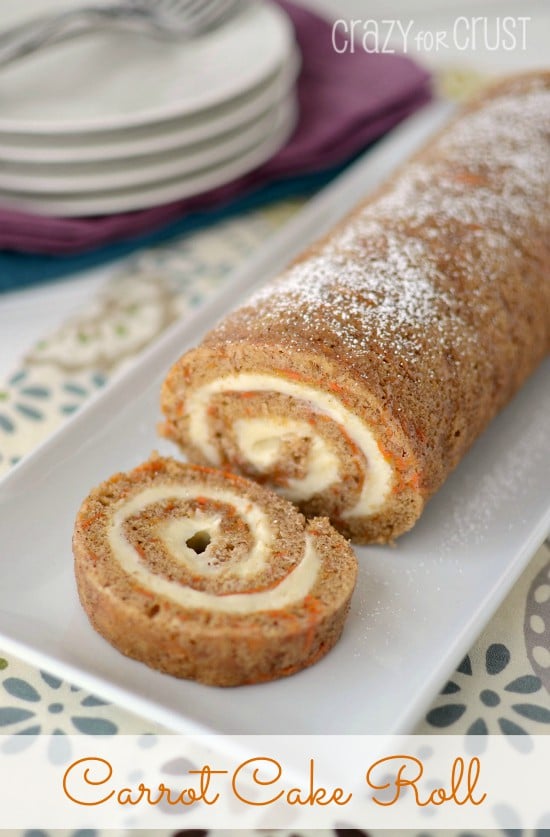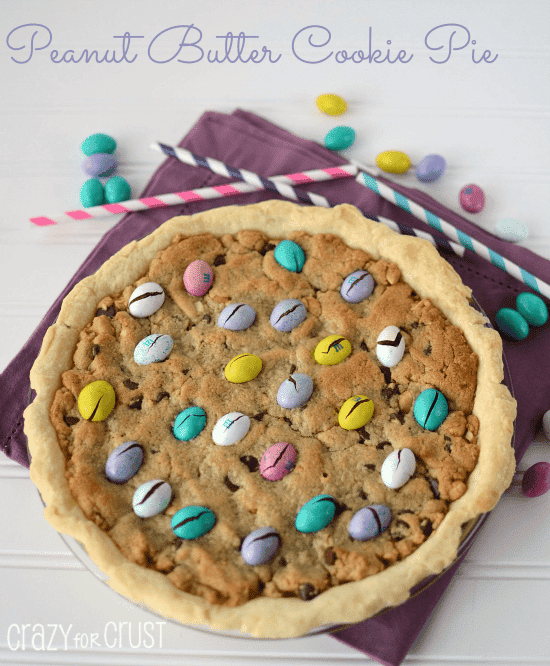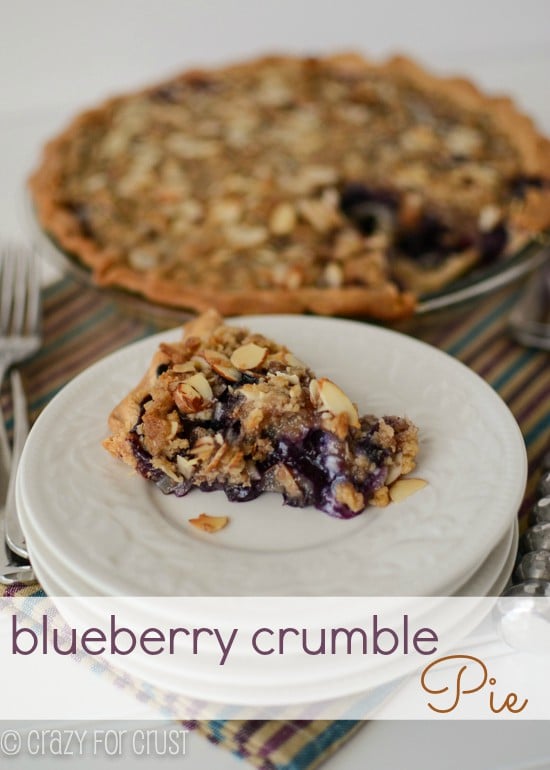 Sweets from friends:
Amaretto-Cherry / Brandied Apple with Cheddar Cheese Crumb by Bake it with Booze
Caramel Apple Galettes by Kristin's kNook
Grasshopper Thin Mint Pie by The Domestic Rebel
Irish Banana Cream Pie by Shugary Sweets
Banana Split Brownie Pie by Inside BruCrew Life
Apple Apricot Tart by Trilogy Edibles
Reese's Fudge Pie by Mandy's Recipe Box
Last Updated on February 26, 2022