This post may contain affiliate links. For more information, read my disclosure policy.
Thanks to Kizmos, I turned boring brownies into fun brownie candy turkeys!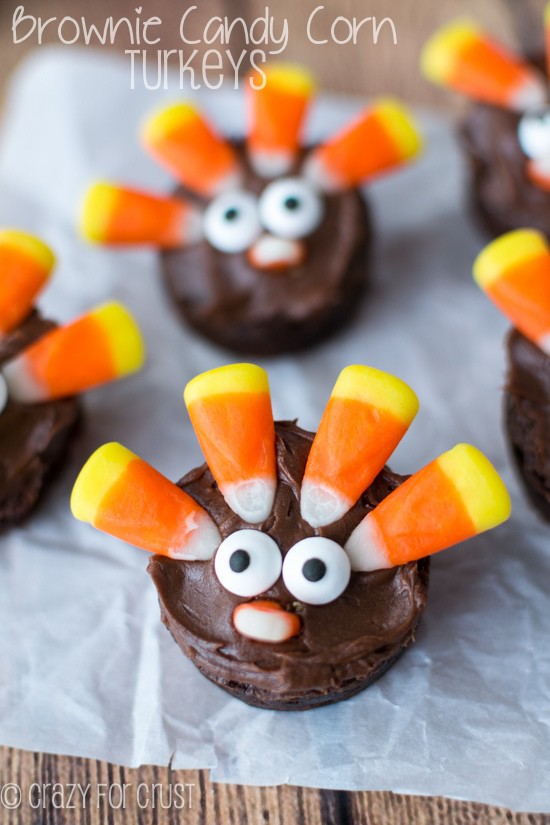 It's November so you know what that means? Christmas baking! Christmas decorating! Christmas shopping!
Er, wait. Isn't there a holiday in between Halloween and Christmas? Oh yeah…Thanksgiving: the forgotten holiday. I mean seriously, you know what I'm talking about, right? I dare you to go to Michael's this weekend and try to find a Thanksgiving decoration. Yeah, good luck with that.
The second Halloween is over (and, usually before) all the red and green and glitter are out on the shelves. Bloggers are going to start posting mint  recipes any day now (er, that would be me….come back Monday). Thanksgiving is kind of just…there. The real holiday that weekend is Black Friday, right?
I'm really kidding, I love Thanksgiving. It's actually one of my favorite holidays: there's no pressure except for the food. Which is why I pledge to spend more time this month on recipes for it. Starting with these Brownie Turkeys!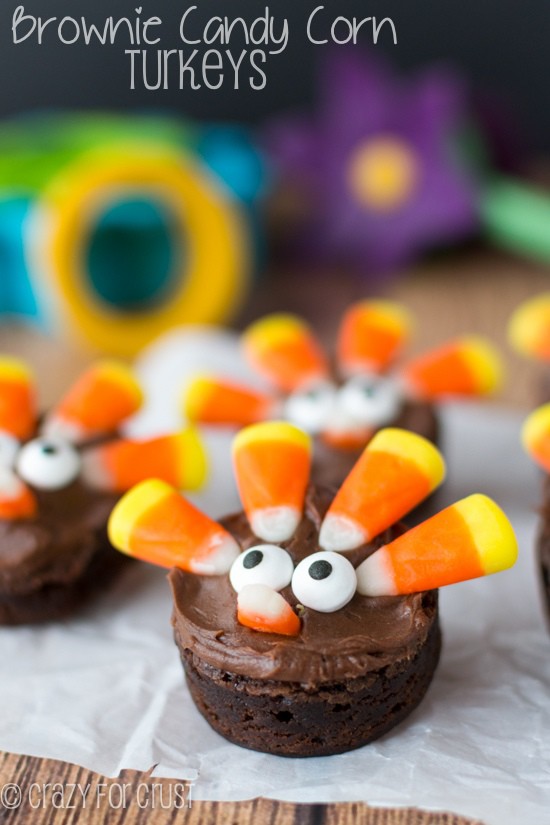 These turkeys are probably the cutest thing to come out of my kitchen in awhile, and they're so easy to make. These would be perfect for a school party (especially preschool!) or even as a kid-friendly dessert on Thanksgiving.
They might look to cute to eat…but they're too good to resist. Just ignore them staring at you. They taste too good to worry about it! 😉
I made these brownie turkeys with the help of Kizmos, the fun kitchen brand. You may have seen me talk about them when I posted my Nutella Strawberry Tart or my White Chocolate Magic Bar Pizza. I love they're products because not only do they smile at you, they create smiles too. Jordan loves to use the tools when she's in the kitchen with me. They make baking fun!
Kizmos has a new line of tools, called Flora. The Flora utensils are inspired by flowers, and are all pretty colors with fun flower themes.
I used the whisk to help me whip up my brownie batter, the tulip spatula to help me get it into the pan, and the nested circle cookie cutter to cut out the turkey bodies. Aren't the tools so cute?
Want to know how to make these turkeys out of brownies and candy? It's so easy you're going to cry a little.
Start with a pan of baked brownies. You can use a mix or from scratch. This is my favorite brownie recipe, if you want to make them from scratch.
You also need chocolate frosting. Use a can, or make your own. This is my favorite easy chocolate frosting recipe.
Grab some of that candy corn before you make Butterfinger Fudge or a Harvest Cookie Cake with it. And you need some candy eyes. They are made by Wilton. You can find them year-round at most craft stores, in the craft section at Walmart, or the baking section at Target.
Then all you have to do is frost and assemble the turkeys! They are so easy, your kids can do it. Put them to work while you decorate the house for Christmas, er, Thanksgiving.
I really just can't get over how cute these guys are. Put eyeballs on something and I swear, they talk to me. What do you think they're saying?
"What the heck is that chick doing?"
"Where are my arms?"
"I can't open my beak!"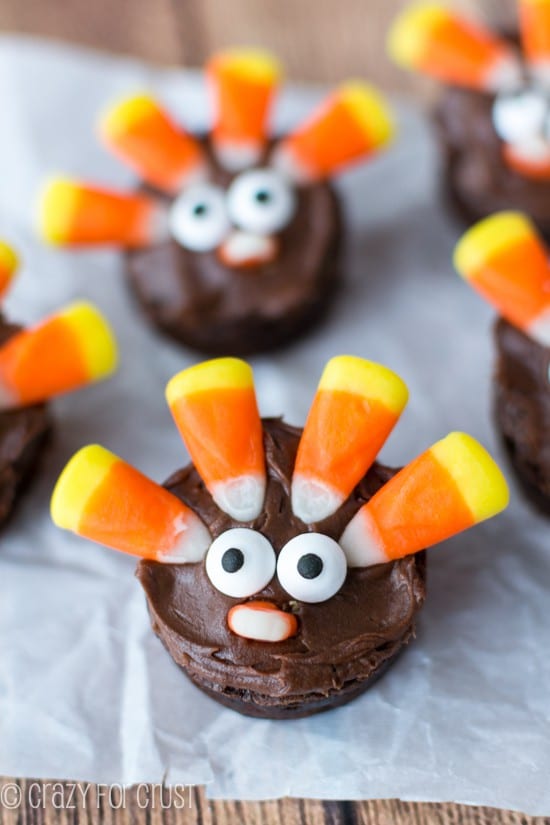 "Don't eat me!!!!!!"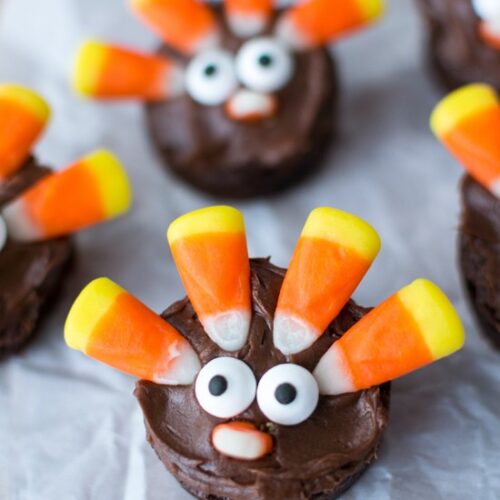 Brownie Candy Turkeys
Ingredients
1 9

x13" pan of brownies

baked and cooled. Use a box mix or make them from scratch.

Chocolate Frosting

Candy Corn

5 per turkey

Candy Eyes

made by Wilton, sold at craft stores or found in the baking aisle at Target
Instructions
Use a round cookie cutter to cut circles out of your brownies. My cookie cutter was 1 3/4" in diameter. I'd say don't go smaller than 1 1/2" or larger than 2".

Frost each brownie with chocolate frosting (about 2 teaspoons per turkey). Place 4 candy corn pieces upside down sticking up from the frosted brownie to simulate the turkeys feathers.

Place two eyes on the face of the turkey.

Cut the tip off of a candy corn and add it as the beak.

Store loosely covered at room temperature.

One 9x13 pan of brownies will make about 15 turkeys, depending on size.
Nutritional information not guaranteed to be accurate
Connect with KiZMOS: Facebook / Pinterest / Online / Order Flora
Kizmos sponsored this post and giveaway. All opinions are 100% my own, of course!
Last Updated on May 31, 2020