This post may contain affiliate links. For more information, read my disclosure policy.
Learn to make a brown sugar substitute at home! You can make homemade brown sugar if you need some and don't want to make a trip to the grocery store. With just two ingredients you can make a substitute in no time!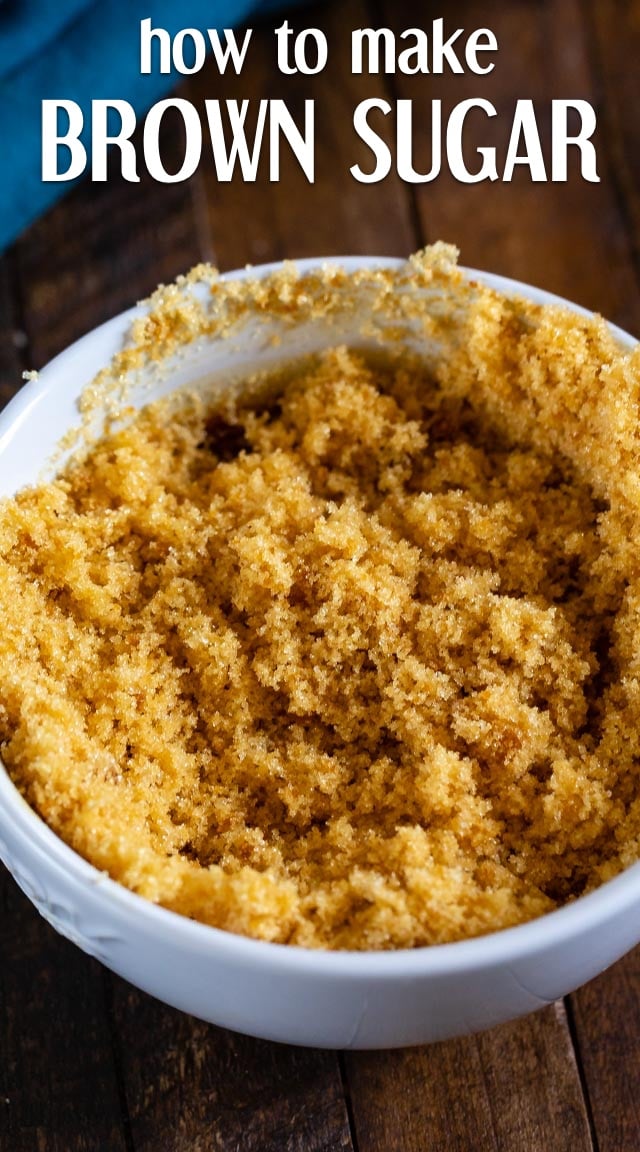 Easy Brown Sugar Substitutes
We've all been there: you're making a recipe and realize you don't have an ingredient. It's the worst – especially if you don't want to go to the grocery store (again).
It's nice to know some easy baking substitutions when this happens. A lot of ingredients you bake with regularly can be made at home or substituted with something different.
See my complete list of baking substitutions!
What is brown sugar?
Brown sugar is a type of sugar that has added molasses in it. That's why it's brown: it's the molasses mixed with white sugar.
What's the difference between brown sugar and white sugar?
All sugar is made from sugar cane or sugar beets. When the cooking process happens, the liquid that comes from the sugar can becomes a combination of molasses and sucrose. Depending on the kind of sugar being made, all or some of the molasses is removed and then the product is dried and crystalized into sugar.
Granulated sugar (or white sugar) has had all the molasses removed and is pure sucrose. Brown sugar contains some of that original molasses (or has added molasses), creating it's brown color and distinct flavor.
Because of the molasses, brown sugar has more moisture in it than granulated sugar (which is why you're able to pack it).
Light vs. Dark Brown Sugar
Light brown sugar and dark brown sugar are basically the same except for the molasses content. Dark brown sugar has more molasses than light, which gives it a darker and more complex flavor.
How to make brown sugar
Brown sugar is one of the things you can make at home! It's easy to do with just two ingredients: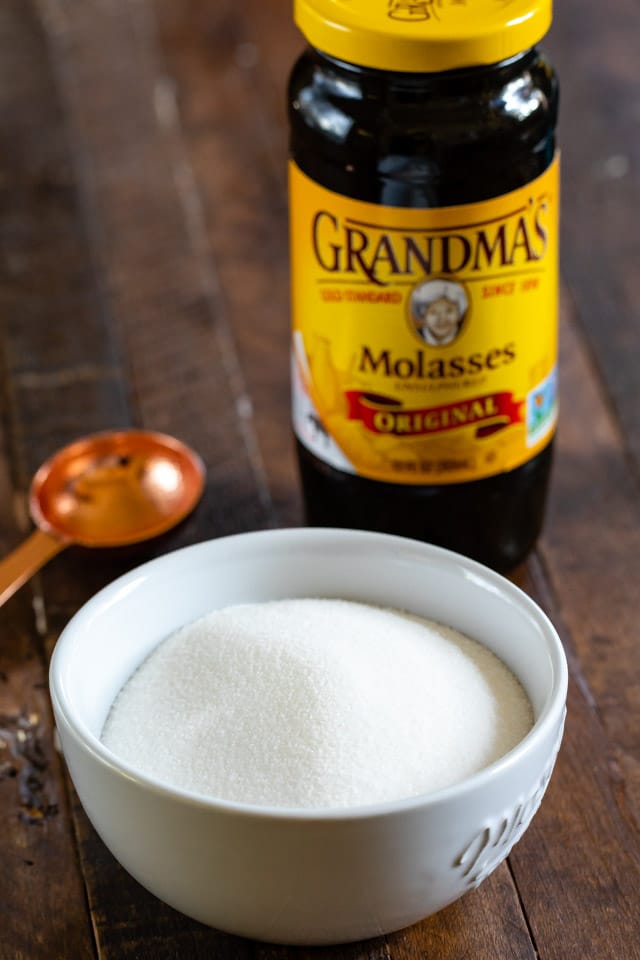 That's it! Simply add 1 tablespoon of molasses to 1 cup of white sugar and stir. This will create a light brown sugar substitute!
For dark brown sugar, simply add more molasses.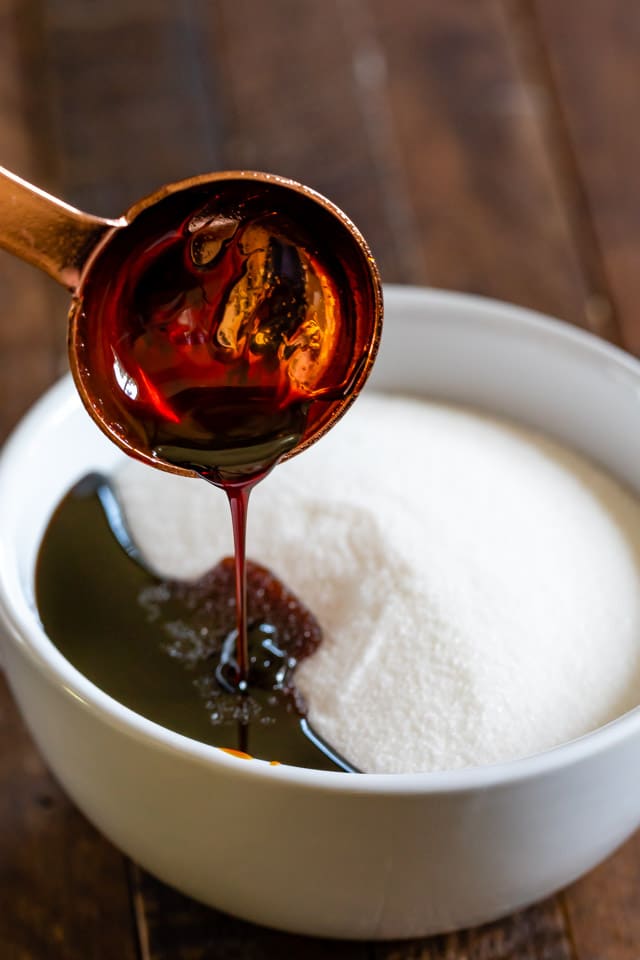 Can you make brown sugar without molasses?
What if you don't have molasses? Well, then you're kind of out of luck and a grocery store run is in your future. However, you can substitute maple syrup for brown sugar. It's a bit tricky: use about 2/3 cup pure maple syrup for each cup of brown sugar, and reduce the liquid in the recipe by 1/4 cup.
Substitutions like this don't always produce the same results, so I recommend sticking to using actual brown sugar or making your own with granulated sugar and molasses.
Why do you pack brown sugar?
Have you ever wondered how to measure brown sugar? 99% of the time, brown sugar is called for as "packed" (remember how to read a recipe).
Because brown sugar is sticky, it's important to pack it (press it down) so that you fill in all the air bubbles and air pockets created when you scoop it. White sugar fills in a measuring cup like sand, because it's fine and not sticky. Brown sugar is the opposite.
5 More Substitutes for Brown Sugar
White Granulated Sugar: 1:1 substitution
DIY Brown Sugar with Maple Syrup: Make the recipe below, but using maple syrup if you don't have molasses.
Coconut Sugar: You can substitute this 1:1
Turbinado Sugar: Use this 1:1
Maple Syrup, Agave or Honey: Skip the actual sugar and use one of these liquids, but use about 3/4 cup for every 1 cup brown sugar called for.
Note: You can substitute these, however it will change the outcome of your recipe. For example, cookies made with brown sugar are softer, so using white sugar will make them crispier.
Recipes that use brown sugar:
Have you made this recipe?
Tag @crazyforcrust on Instagram or hashtag it #crazyforcrust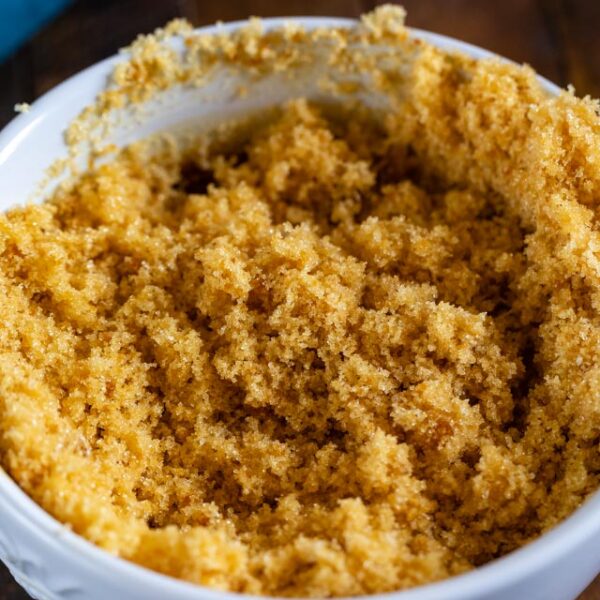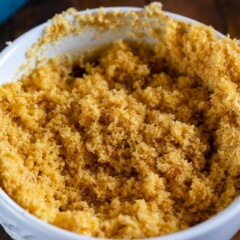 Brown Sugar Substitute
Learn how to make a brown sugar substitute with only 2 ingredients!
Ingredients
1

cup

granulated sugar

1

tablespoon

molasses
Instructions
Stir together sugar and molasses with a fork. Use as directed in recipe.
Recipe Notes
For dark brown sugar, add more molasses.
Recipe Nutrition
Serving:
1
cup
|
Calories:
832
kcal
|
Carbohydrates:
215
g
|
Fat:
1
g
|
Sodium:
9
mg
|
Potassium:
293
mg
|
Sugar:
215
g
|
Calcium:
41
mg
|
Iron:
1
mg
Nutritional information not guaranteed to be accurate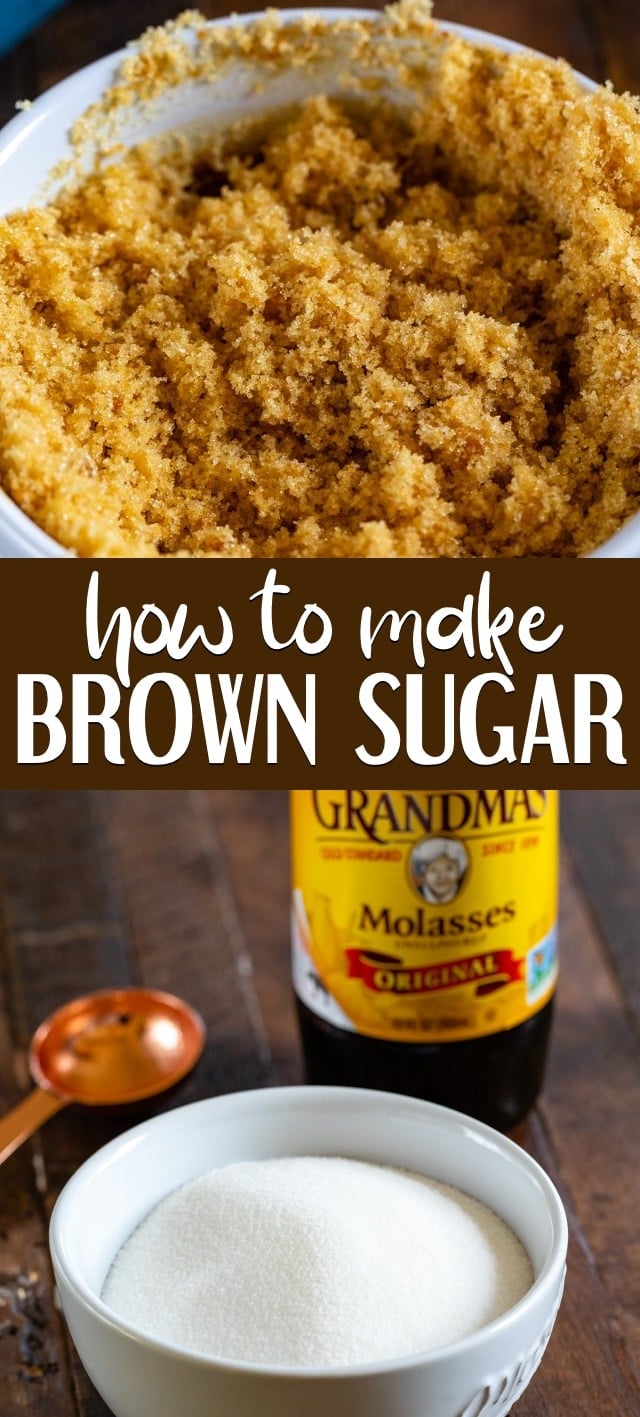 It's so easy to make a brown sugar substitute if you're out by just mixing molasses and white sugar!
Last Updated on March 1, 2022