This post may contain affiliate links. For more information, read my disclosure policy.
Boozy Frozen Lemonade is made with vodka or rum for the best summer cocktail recipe!! Lemonade Vodka Slush is so good and refreshing and the perfect party cocktail.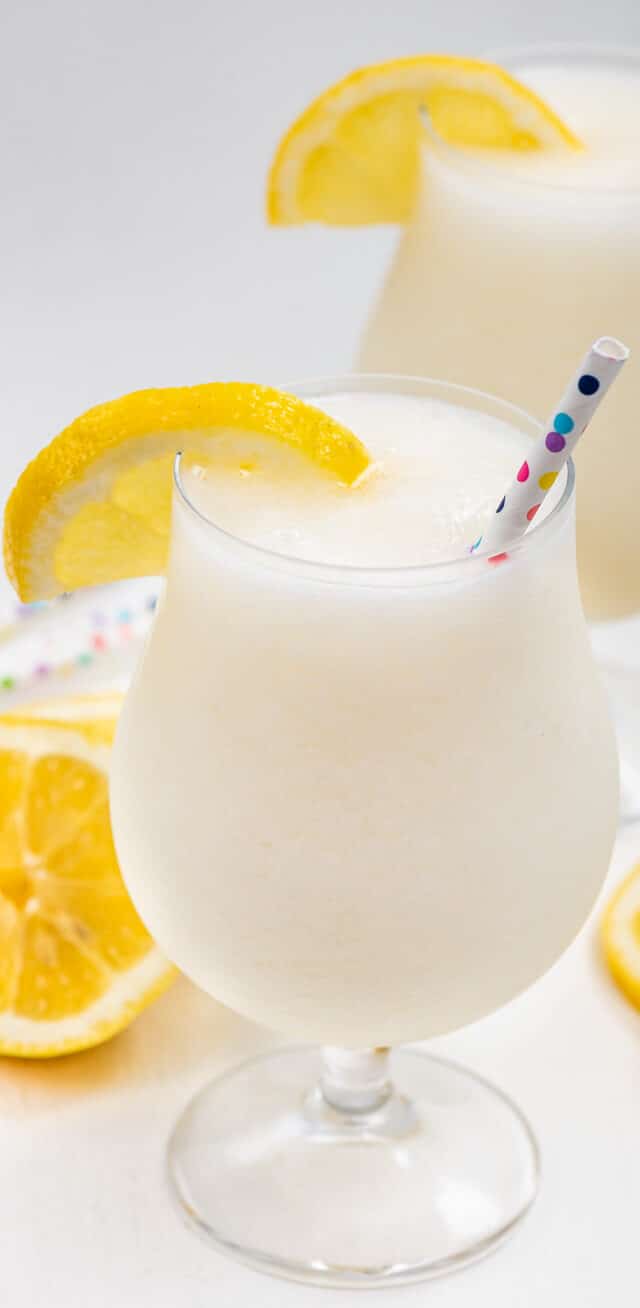 Last week it was in the upper 80s and I was all like "ugh summer" but also excited for frozen cocktails and pool parties.
This week it's overcast and rainy. April showers bring May flowers…what does May rain bring?
Upside to the rain: I booked a painter to paint my office but he said he was booked out 5-6 weeks because of all the spring rain we'd had so I was bummed I had to wait until summer to finally make my office what I envision it (like a 10-year-olds dream come true: full rainbows, unicorns, and sprinkles).
Downside to the rain: My painter called the other day and is painting…today because he can't do outdoor work. So I had 3 days to empty my entire office.
Be sure to follow along on Instagram stories for before and after photos! Maybe I'll eventually do a post titled How to feel like a tween in your 40-year old blogger office or I didn't know bloggers were 10 years old or A Unicorn Barfed: the story of my new office.
In the meantime today, rain or not, I'll be drinking Boozy Frozen Lemonade. Listening to my dog bark at painters is just so much fun!
No matter the weather, Boozy Frozen Lemonade is the perfect summer cocktail recipe. It's a frozen lemonade slush filled with vodka!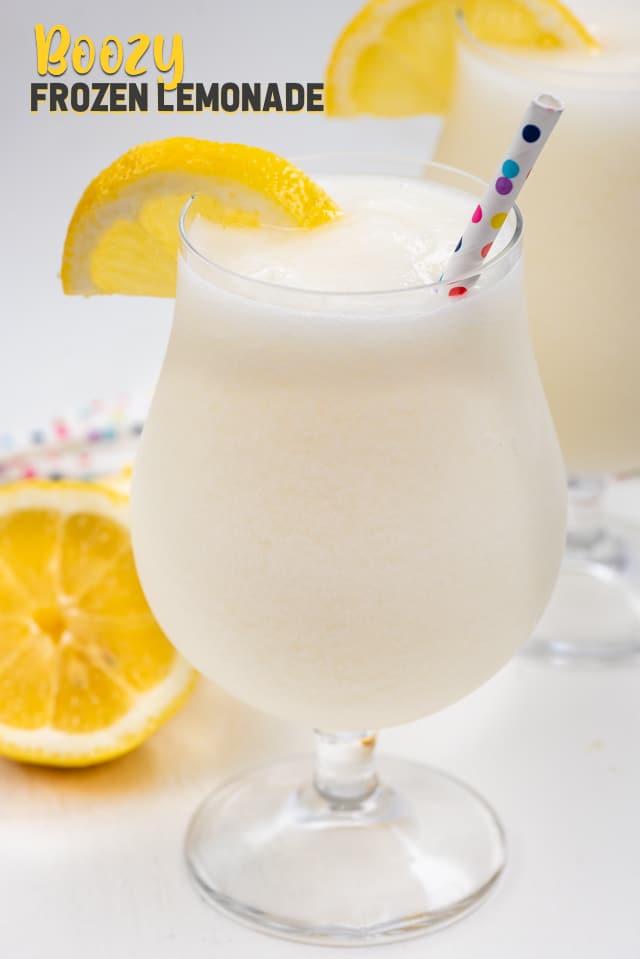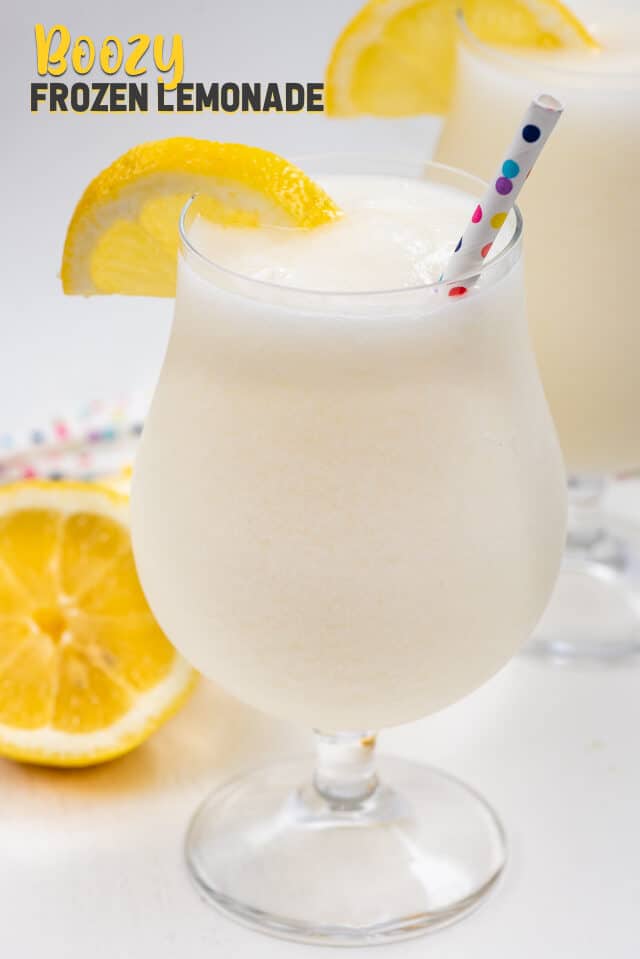 When I was young we'd go to Universal Studios once in awhile and I always remember getting frozen lemonade there. I'm sure I got it other places too but back then frozen lemonade was just a theme-park thing; you couldn't get it at every fair and mall stand like you can now. It was one of my favorite treats and it still is…especially now that I put vodka in it.
Move over daiquiris and margaritas, boozy lemonade with vodka has moved into town!
This is really a simple recipe and it's got super lemony flavor. If you love lemon sorbet or frozen lemonade you're going to love it. You can't taste the vodka which is a good thing…and a bad thing, lol.
What is frozen lemonade?
Frozen lemonade comes in many forms. They range in thickness from snocone to icee and they're sweet and tart all at the same time. Basically, they're lemonade that's been frozen and blended or frozen and churned like a granita.
Making frozen lemonade into a drink
Now, most of the frozen lemonades I've ever had are eaten with a spoon until they're melty and you drink the remains. But I love making homemade frozen lemonade into a drink (whether or not it's for adults or kids). That's the beauty of making recipes at home: you can make them to your liking.
Want a drinkable frozen lemonade? Add more liquid.
Want a spoonable frozen lemonade? Add less liquid.
I've been told that my frozen lemonade is a bit like Chick-fil-A or the Minute Maid frozen lemonade. I'll take those compliments!
Ingredients in frozen lemonade
You just need a few simple ingredients:
Lemonade (use your favorite flavor, Minute Maid or Country Time…whatever you like)
Lemon Sorbet – my secrete ingredient! It adds so much more lemon flavor than just lemonade.
Making boozy frozen lemonade
It's super simple: you just replace some of the lemonade with vodka.
Another thing I love about making cocktails is that you can make them as strong or weak as you wish. The ratio for this recipe is 1 cup lemonade to 1 cup vodka but you can edit that depending on how strong you want your cocktail.
Love daiquiris or margaritas? Instead of vodka party punch, make this into a margarita by adding tequila or a daiquiri by adding rum!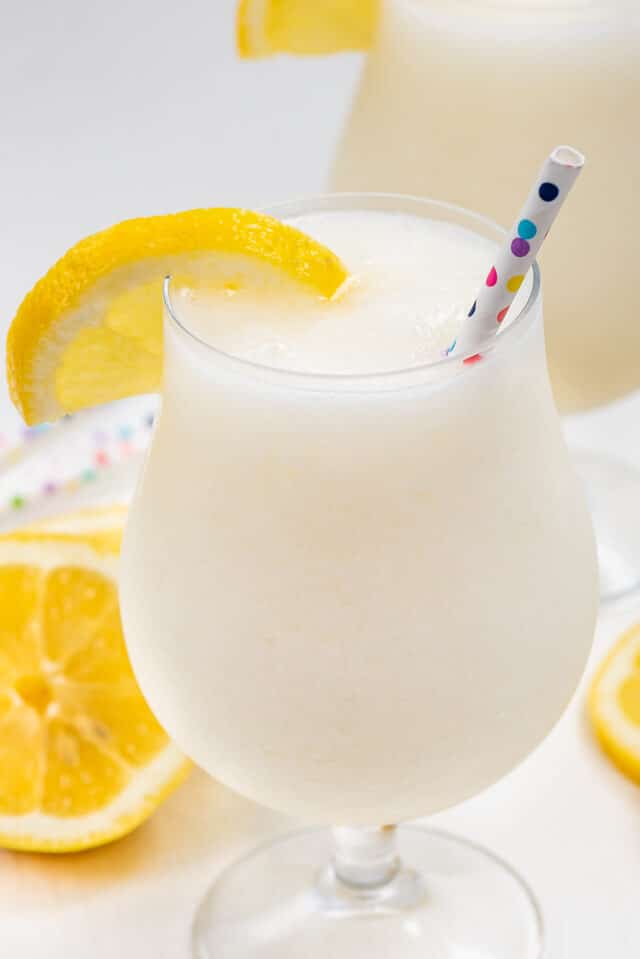 If you love vodka cocktails be sure to try:
Having a party? These Boozy Frozen Lemonade cocktails would go great with all of my cookie recipes!
Tools for success:
Want even more? Subscribe to Crazy for Crust to get new recipes and a newsletter delivered to your inbox. And stay in touch on Facebook, Pinterest, Twitter, and Instagram for all my latest updates. If you make this recipe, share a photo on social media tagging @crazyforcrust and using the hashtag #crazyforcrust.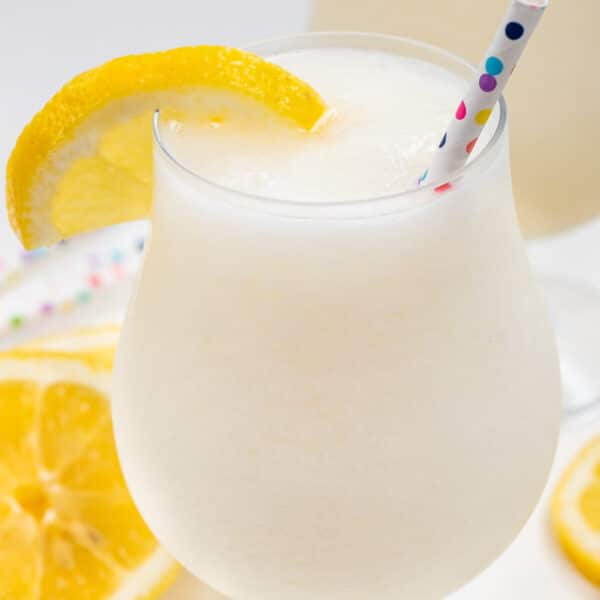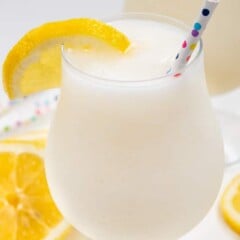 Boozy Frozen Lemonade
Boozy Frozen Lemonade is made with vodka or rum for the best summer cocktail recipe!! Lemonade Vodka Slush is a good and refreshing cocktail for parties!
Ingredients
1

pint

lemon sorbet

1

cup

vodka

1

cup

lemonade

1

pint

ice
Instructions
Place sorbet, vodka, and lemonade in a blender jar. Fill the empty pint carton with ice and add it to the blender. Blend until smooth, serve immediately.

For a non-alcoholic version: replace vodka with an extra cup of lemonade.

To make this thicker and spoonable (instead of drinkable through a straw): reduce liquid to 1 total cup (all vodka, all lemonade, or a combination).
Recipe Notes
Want it stronger: add more vodka. Want it weaker: add more lemonade.
Make it tropical: substitute RUM for the vodka!
Nutritional information not guaranteed to be accurate
**Did you make this recipe? Don't forget to give it a star rating below!**
Easy Boozy Frozen Lemonade with vodka is the perfect cocktail recipe for summer!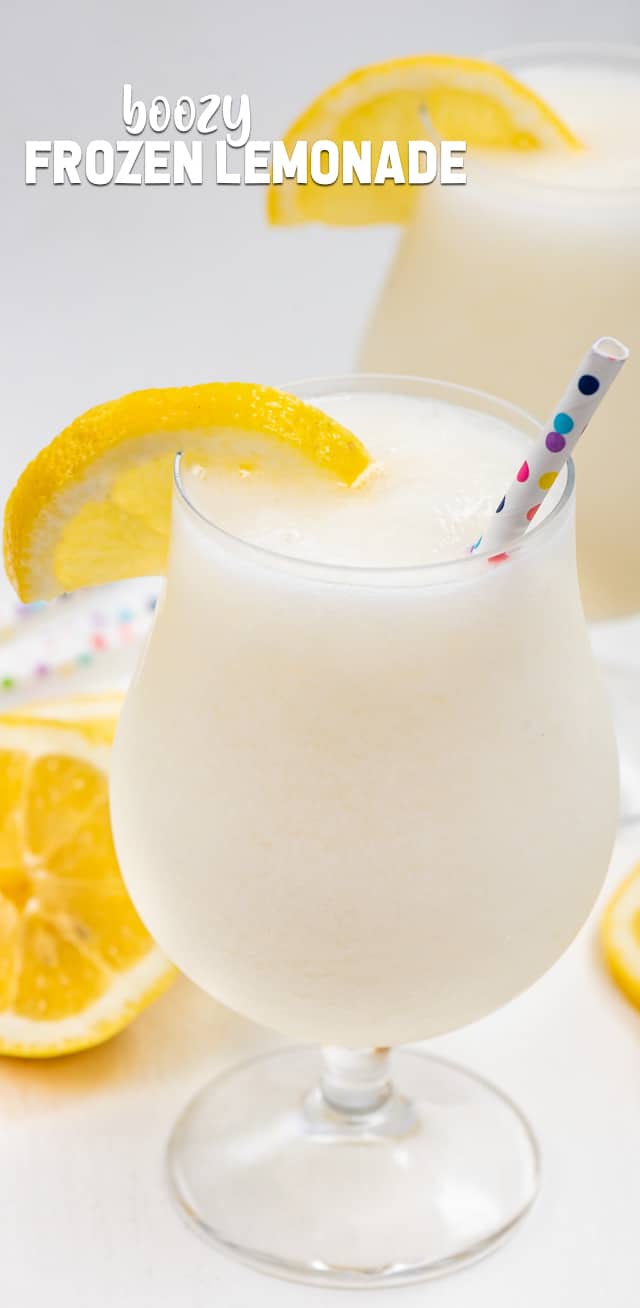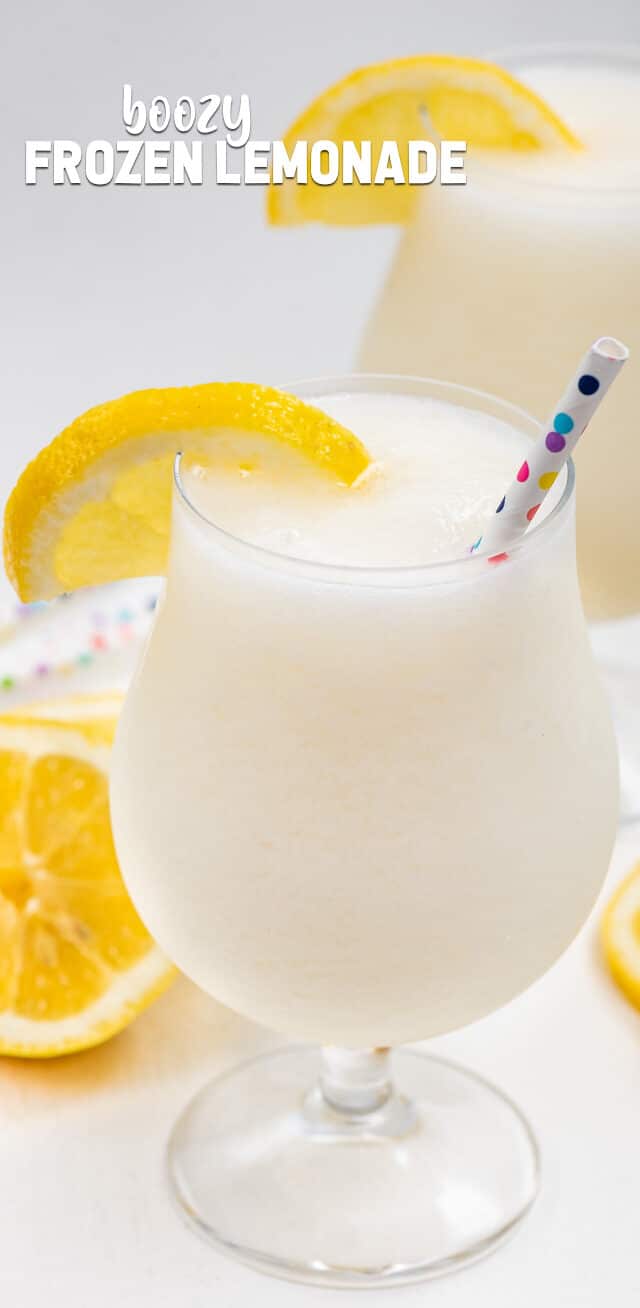 Last Updated on May 16, 2019