This post may contain affiliate links. For more information, read my disclosure policy.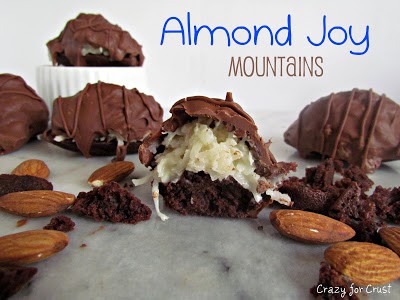 I was going to call these "Almond Joy Bites" but that doesn't exactly fit, does it? Almond Joy Mountains fits much better. They actually remind me of Mountain Bars (anyone remember those?)
I've been thinking of Halloween lately (thank you Michaels craft store for accosting me with fall items starting in July). Whenever I think of Halloween, I think of Almond Joy. You see, growing up I never liked coconut. At least I didn't think I did. You wouldn't have caught me within 10 feet of an Almond Joy candy bar.
Until last Halloween, that is.
For some reason last year I decided to try a mini Almond Joy. And it was love at first bite. I couldn't get enough. My daughter had gotten a whole bunch of them in her trick-or-treat bag and I ate them all. Myself. I couldn't get enough of them.
The funny part of the story is that my good friend Joann had the exact same experience on the same night. A few weeks later I happened to mention to her about my new infatuation and she laughed and told me she was now obsessed with them too. It was like we had a new angle to our friendship. We ate Almond Joys as often as we could. We bought them for each other and would buy them when we were together.
When Donsuemor contacted me and asked if I would consider making a recipe with one of their products and then write a post about it for their Dessert a Day campaign, I was intrigued. I went to their website to check out what they had to offer: French Almond Cakes, Mini Cakes, and Madeleines. They offer a variety of Madeleines: traditional, dipped, lemon zest, and chocolate.
As soon as I saw the chocolate madeleines, I immediately thought of Almond Joy. I'd been wanting to make Almond Joy bites for some time and knew these chocolate treats would be perfect for my recipe.
These chocolate coconut goodies are a breeze to make too.
They ended up a little larger than I had expected. They're small turtles, but they are so good. Every time I taste-tested one during (and after) making them, I was brought back to last Halloween and all my Almond Joy adventures since.
If you love Almond Joy as much as I do, you'll love these goodies. Go try some and start your own obsession!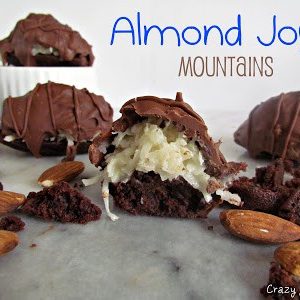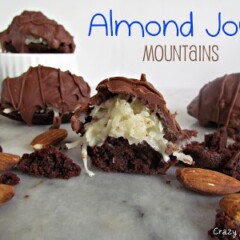 Almond Joy Mountains
Almond Joy Mountains - little bites of chocolate and coconut heaven!
Instructions
Stir sweetened condensed milk, coconut, powdered sugar, and vanilla together in a large bowl. Mixture will be thick and sticky.

Turn Madeleines upside down so that they lay somewhat steady. Scoop 2 tablespoons of the coconut mixture onto each madeleine. Add an almond to the top of each. Chill for 30 minutes.

Melt your chocolate (work with one bag at a time and melt more as you need it). Place the coconut covered madeleines on a wax paper lined cookie sheet. Scoop a spoonful of chocolate onto the top of the madeleine, covering as much of it as possible. If needed, help the chocolate to spread with an offset spatula.

Chill until hardened (about 1 hour, depending on the heat in your house.)
Recipe Nutrition
Nutritional information not guaranteed to be accurate
Fine print:
Donsuemor provided me with a box of madeleines in order for me to create and write this post. Donsuemor products can be purchased here. If you do not have access to chocolate madeleines, email me and I will give you substitution options.
SaveSave
Last Updated on May 12, 2020