This post may contain affiliate links. For more information, read my disclosure policy.
This is a super photo-heavy post, but I wanted to share ALL my Annie Party Ideas with you. The 2014 Annie Movie was so new that I couldn't find very many ideas, so if your little girl is as obsessed as mine, I'm hoping this will help you.
And yes, I'm fully aware that other moms think of me as "that mom with too much time on her hands". I'll take that label…even though I didn't have a moment to spare while putting this together. 🙂

If you'll remember, Jordan became quickly obsessed with the new Annie movie. She did not like the old versions at all, but this one captured her interest completely. She saw it 4 times in the theatre. FOUR. It was obvious it would be her birthday party…so I set out to find some ideas.
First up, the invitation.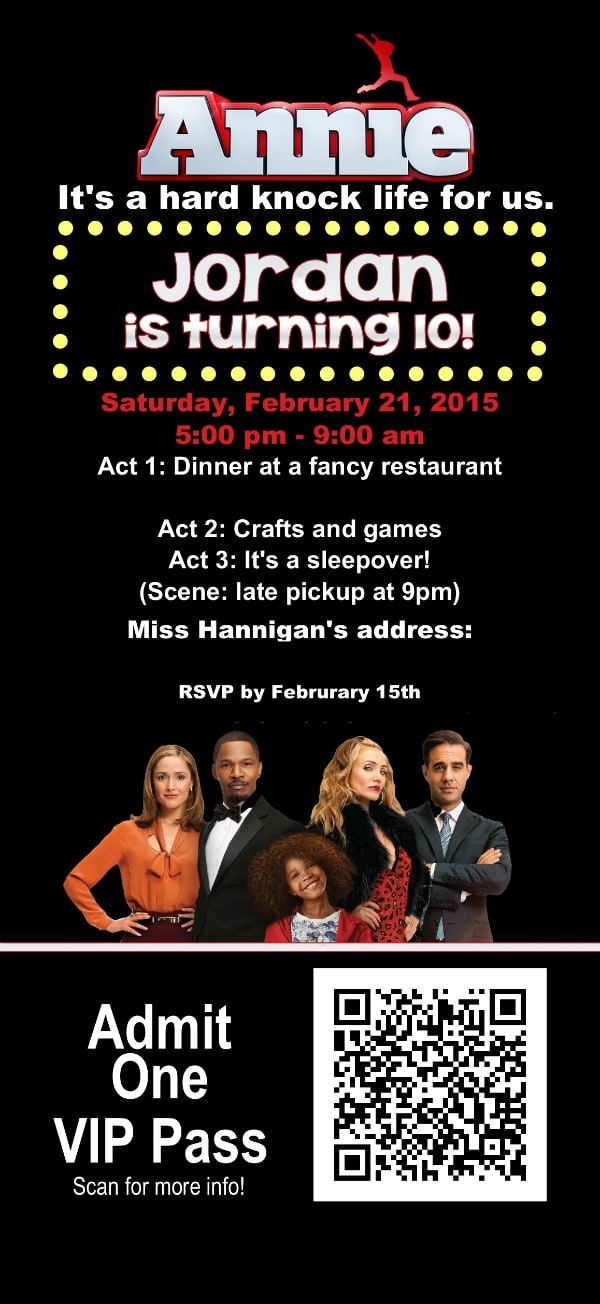 I created this invitation after seeing this one on Etsy. I added the QR code because I'm kind of a dork. Go ahead, it really works. I linked it to a google doc with all the extra party information that wouldn't fit on the invitation. I loved it, Jordan loved it, but honestly I doubt any of her friends parents even knew what a QR code was. But I'm still a dork, because I get a kick out of scanning it, even still.
You can make your own QR code here and it's free.
Want this invitation? Get a jpg version here to edit for yourself. You can print them or you can get them printed as 8×4 photo cards. Walgreens lets you upload an entire image for the cards, so if you can, get them done there.
Then it was onto decor. Honestly, there was NOTHING out there in stores or anything. Even pinterest was sadly lacking for Annie movie decor.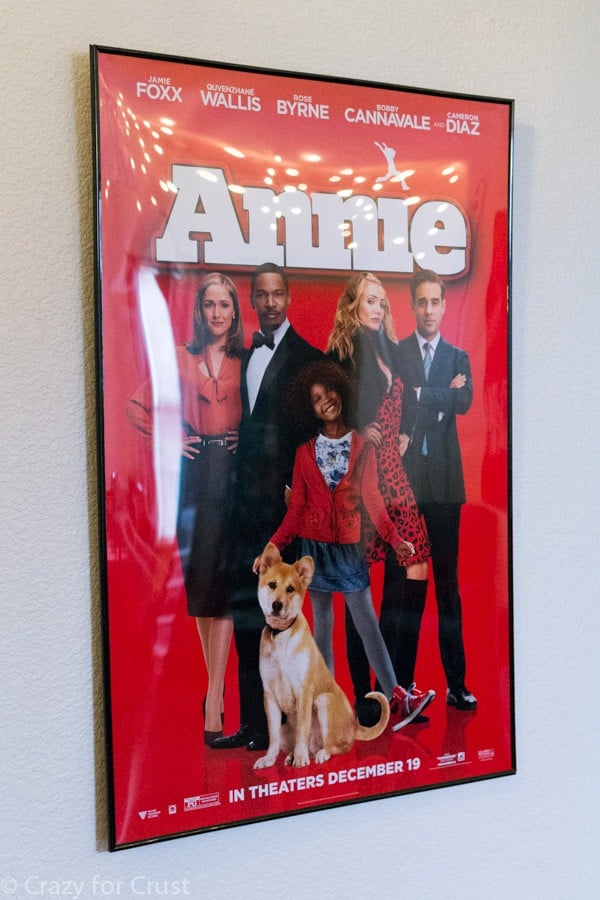 This party made me thankful that my husband has Sony for a client. On his last trip to see them, he begged for an early release of the movie (no luck) but they did give him this cool poster. We framed it for her as a gift for her birthday and hung it at the party. (Thank you to all the guys at Sony! Jordan looooooved her swag!)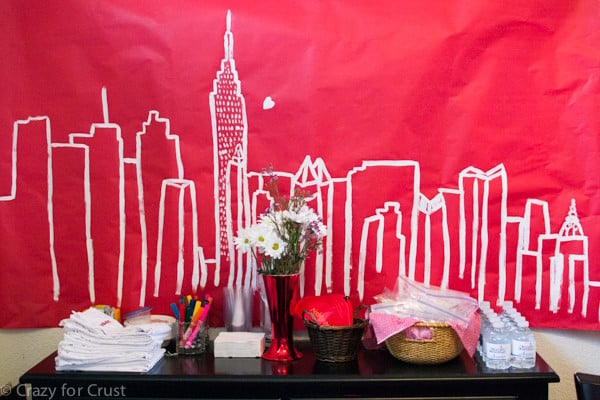 This Annie Movie Release Party inspired this backdrop. I bought Red Banner Paper (2 rolls, only needed 1) and penciled in the skyline, then painted it. I got the skyline from this image. I made two backdrops, one for behind the hutch and another for the living room, which I used as a photo backdrop.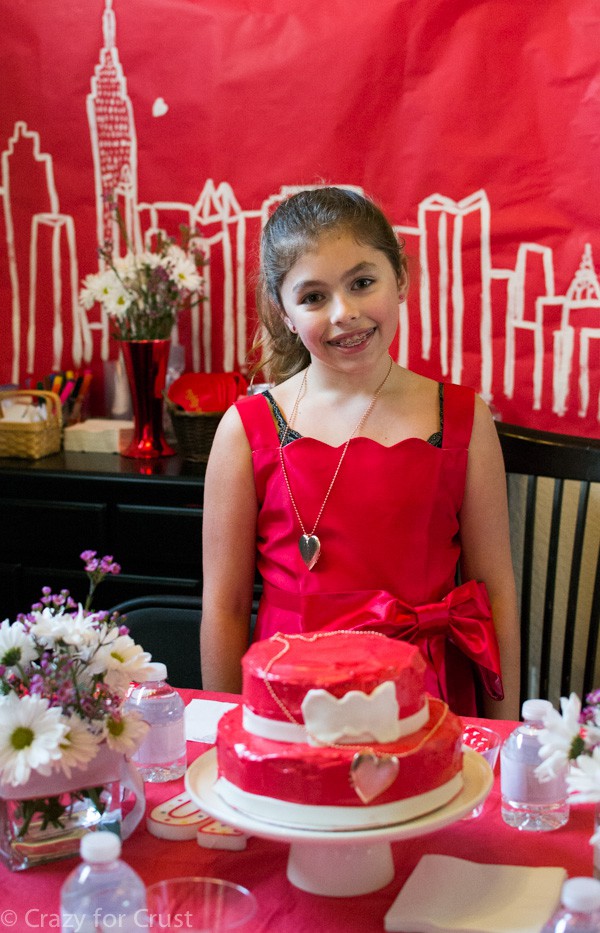 Luckily for me, Target was selling Annie themed clothing and we had bought her this dress. Really, it was a pain. Remember? I'm sure any red dress would do, but the girl needs to be in red! 🙂
The dining room became Domani's, the Italian restaurant in the movie where Annie waits for her parents to come get her. I made the family room Miss Hannigan's house…and forgot to take photos. I hung a clothesline over the mantle and hung Jordan's clothes on it and we placed brooms and mops around the fireplace.
Don't forget to buy a copy of the movie soundtrack! It's actually very good.
In fact, the next morning before pick up, the girls re-enacted the cleaning scene in the movie so I could make a music video…and in the process they mopped my floors. #win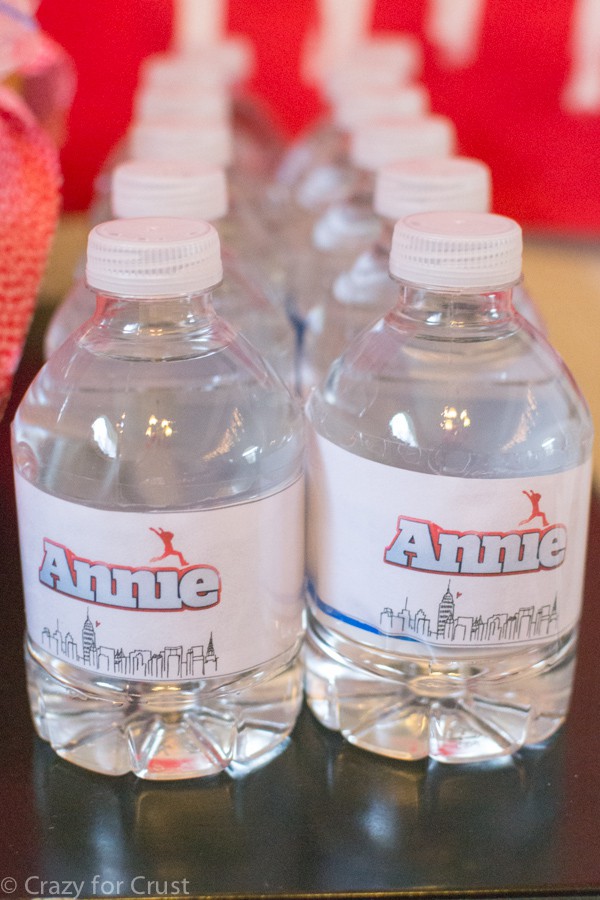 I make water bottle covers every year for birthday parties. Just call me a perfectionist. Or anal? Or that annoying mom, whatever. I used the same image I linked to before (um, yes, I know, bad blogger). You just cut them out and tape them on with clear packing tape.
Click here to download a water bottle label. Note: I took off the image of the skyline because I did not have permission to use it. There is a blank space under the logo. If you use picmonkey or a similar photo editing software you can add text or other images under the label. Don't change the size of of the label!
To use: insert the image into a word document. Do not resize. Print as many on a sheet as you can, cut out, and wrap around water bottles with clear packing tape. These fit mini size water bottles (the kind from Costco).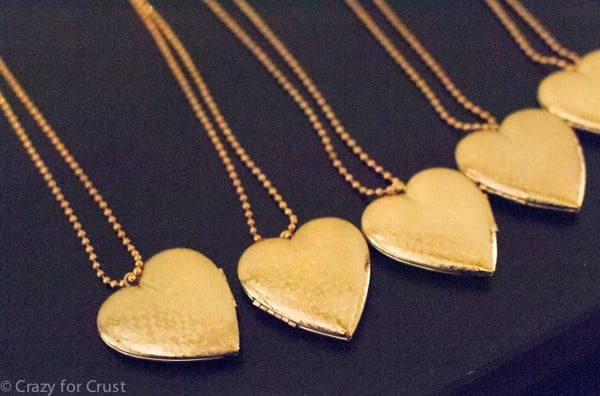 Every Annie Party needs lockets! Of course, when I went searching for lockets I couldn't find any. These came from Ebay. The lighting was bad – they're more of a rose gold, but they worked. The chains came from Oriental Trading and they matched the lockets completely.
As you can see from the pictures, I broke one locket in half for her to wear as "Annie". The other half went on the cake.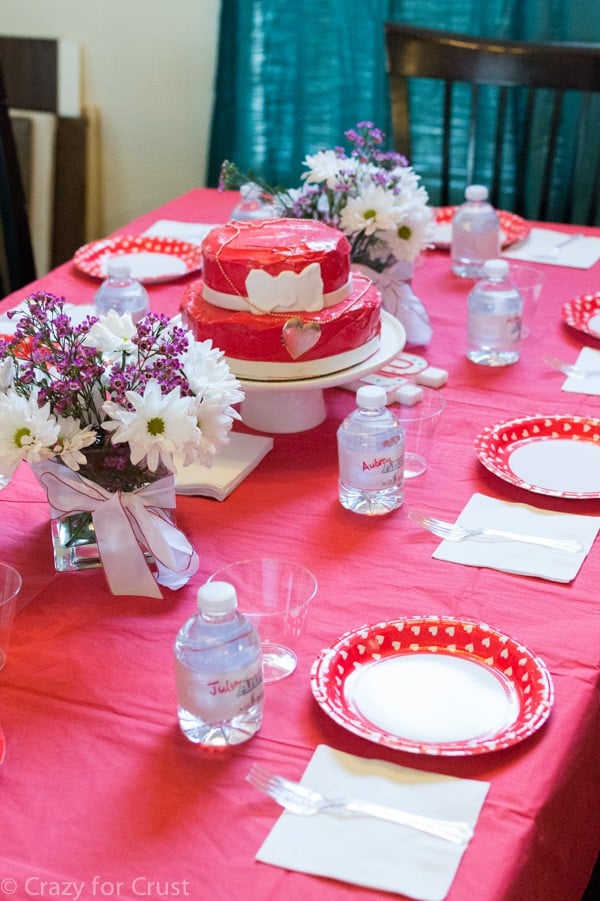 The table setting was red and heart themed, because of the lockets. Lucky for me, her birthday is around Valentine's Day. The plates were from the $1 section at Target, but any red or white plates would do.
Let's talk about cake!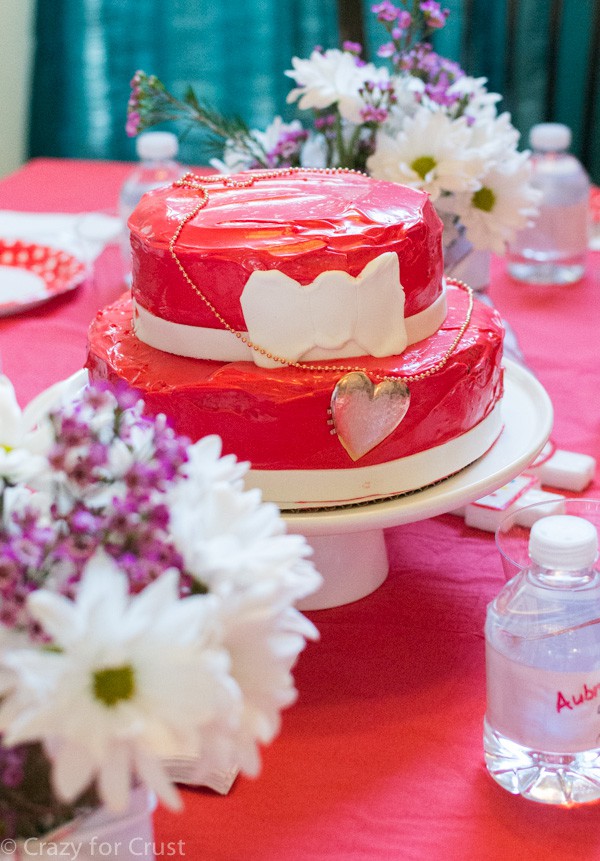 I gotta hand it to my cake decorating friends: that stuff is hard! Especially red, when your kid hates fondant and wants buttercream.
BTW, Jordan designed the whole cake. #foodbloggerintraining
The bottom layer is an 8″ cake (made in an 8×3″ round pan). The cake is chocolate cake filled with mint chip frosting. (The chocolate cupcake recipe I linked made the cake about about a dozen cupcakes.)
The top layer is a 6″ cake (made in a 6×3″ round pan). I used a yellow cake and added sprinkles to make it funfetti. It's filled with vanilla icing.
I used canned frosting for the red layer and white fondant for the bow and trim. #obviouslyfondantisnotmything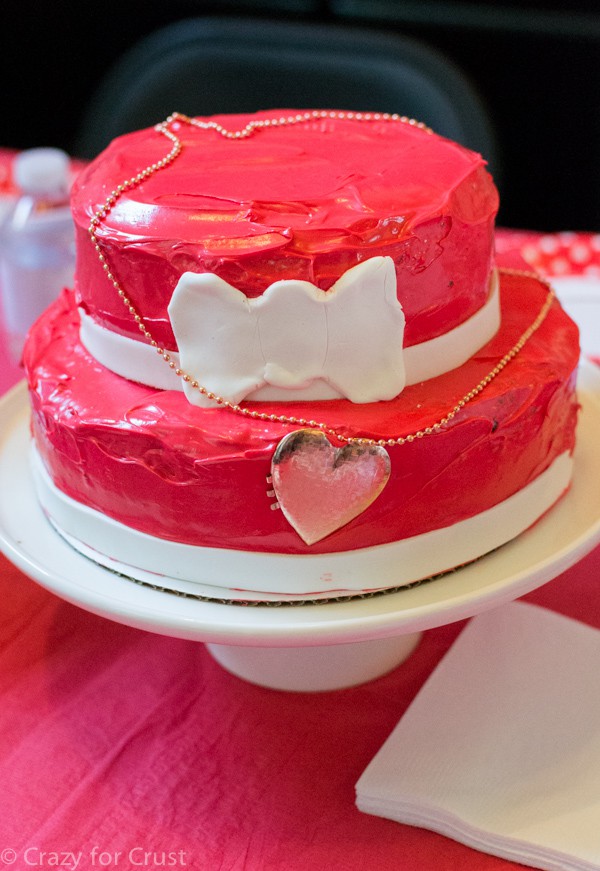 It may have looked questionable, but it tasted amazing!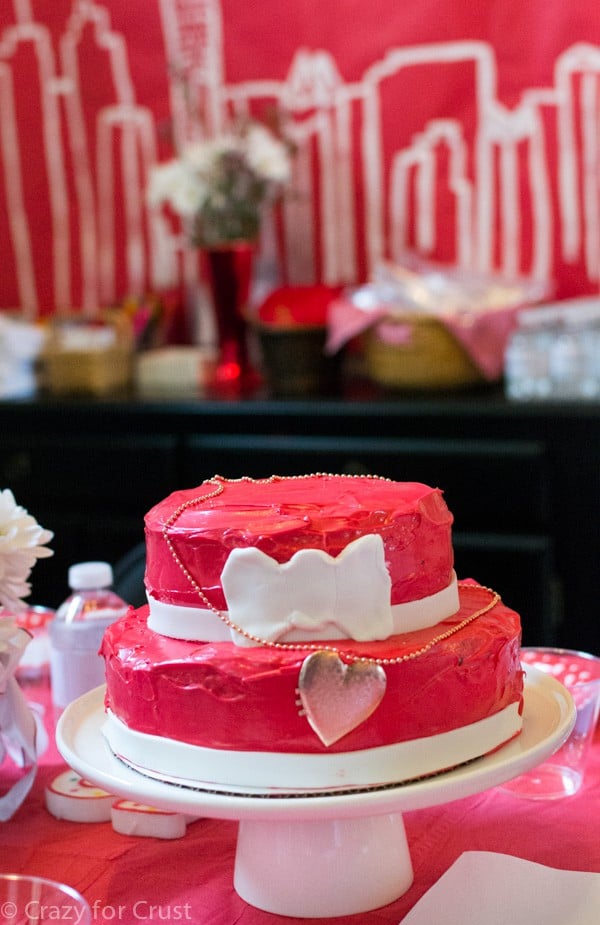 And Jordan loved it, obvi.
Because we went out to dinner (tip #1 for a girls sleepover: stay busy) the only other things I had to make was breakfast and their take away treat.
For breakfast we had overnight cinnamon rolls but instead of making 12 rolls, I cut the rolled out dough in half and made 24 smaller ones.
If you've seen the movie Annie you know what the takeaway treat should be: Cannolis!!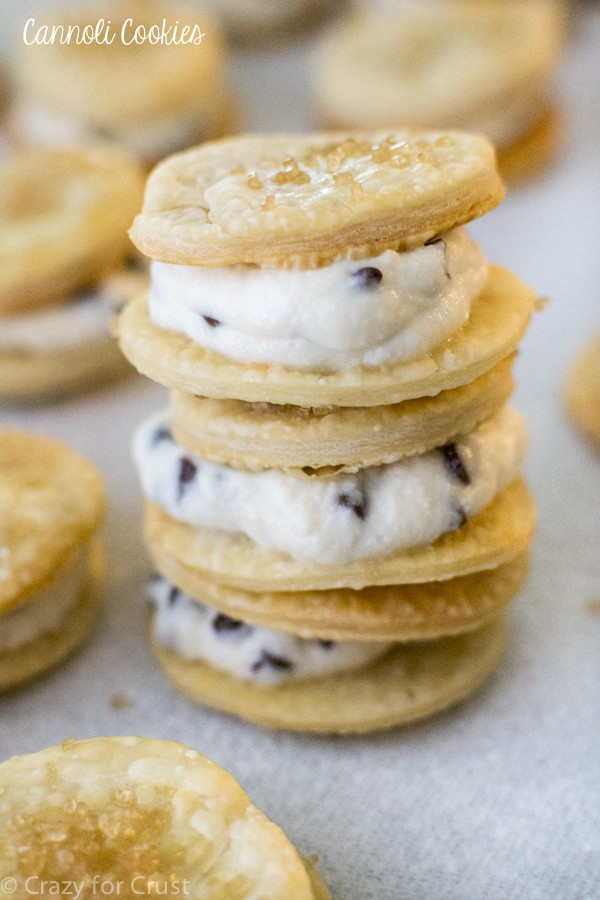 In the movie, Annie waits by the restaurant for her parents to come find her every Friday because the one thing she has from them, besides the locket, is a note written on a restaurant receipt. Every week they don't show and the manager brings her cannolis to eat on her way home.
As they left, each girl got a takeout box with Easy Cannoli Cookies. I didn't want to fry them and I wanted to make them the day before. SEE THE RECIPE BELOW ALL THE PHOTOS.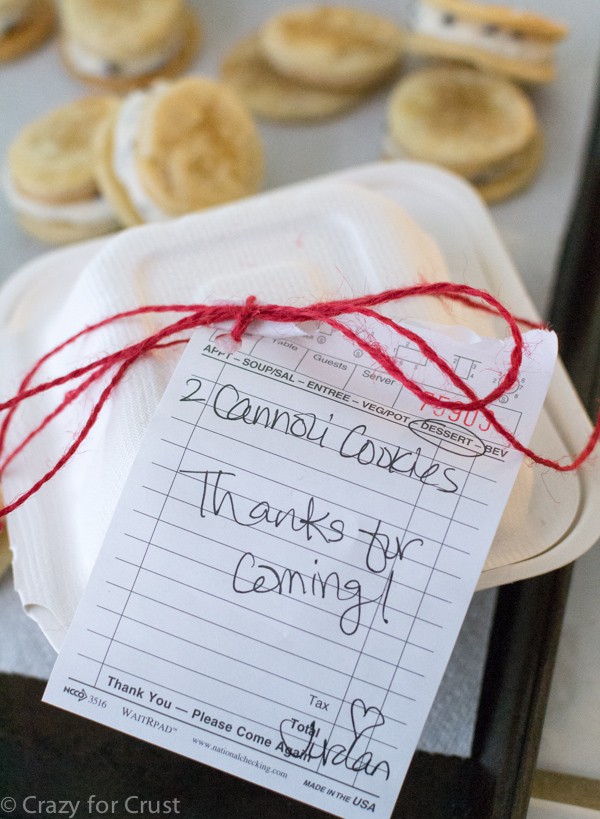 The boxes and the restaurant receipts came from Smart and Final. The red ribbon was from Michaels. No one got it except Jordan and me, but I thought it was cute. 🙂
Okay, going along with Sleepover Tip #1 (keep busy) is Sleeopover Tip #2: make some crafts.
I had the girls make lipgloss out of vaseline and instant drink mix. Results were mixed, they had fun and their hands turned red, but they enjoyed themselves. I used this tutorial to make the lip gloss and I bought the little makeup jars on Amazon.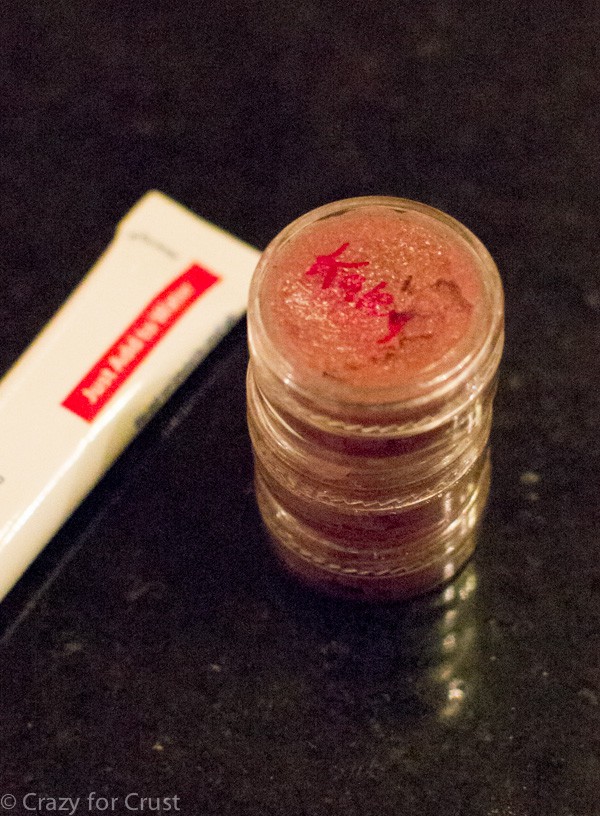 By far, the most fun the girls had was when we decorated pillow cases. I bought white standard size cases and fabric markers and let them go to town. The girls drew all over them and then they each signed all the others. Wash them and then they have a keepsake that keeps on giving.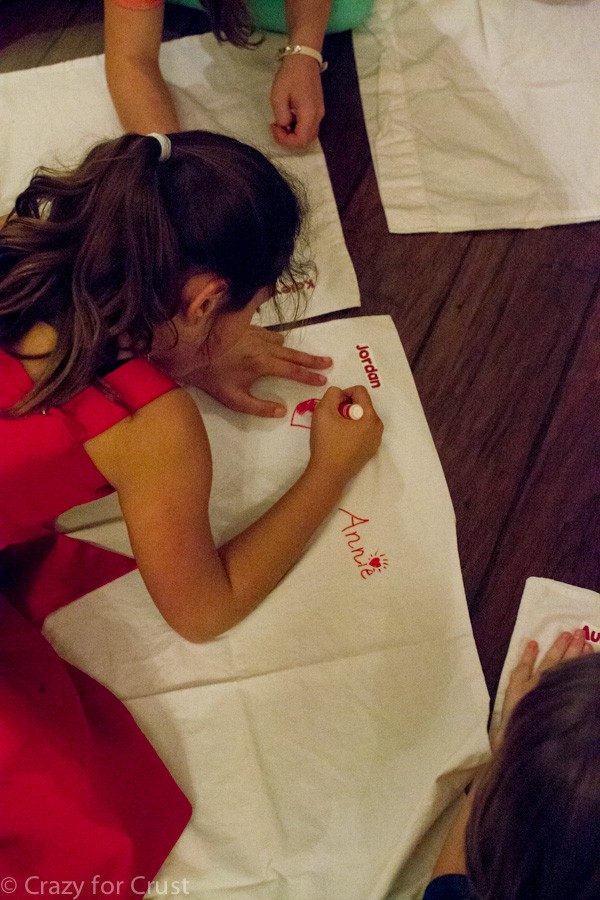 I also printed out Would You Rather topics and made some mad libs. I made my own Jordan mad lib and one for the song Tomorrow from the movie. See the Tomorrow Mad Libs HERE. Be sure to sing it back to them. They'll love it!
The Would You Rather questions came from here and here.
The kids loved the Would You Rather. They're great as table topics too!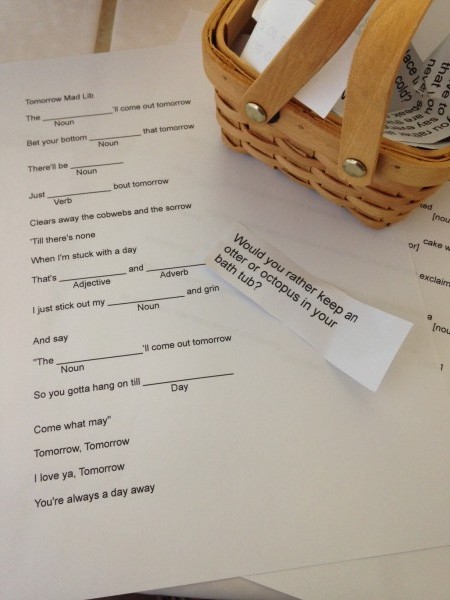 All in all, the party was a huge success. Jordan loved being Annie. No one cried. Everyone got (a little) sleep. I didn't yell.
I'd do it all again in a heartbeat, just for this face.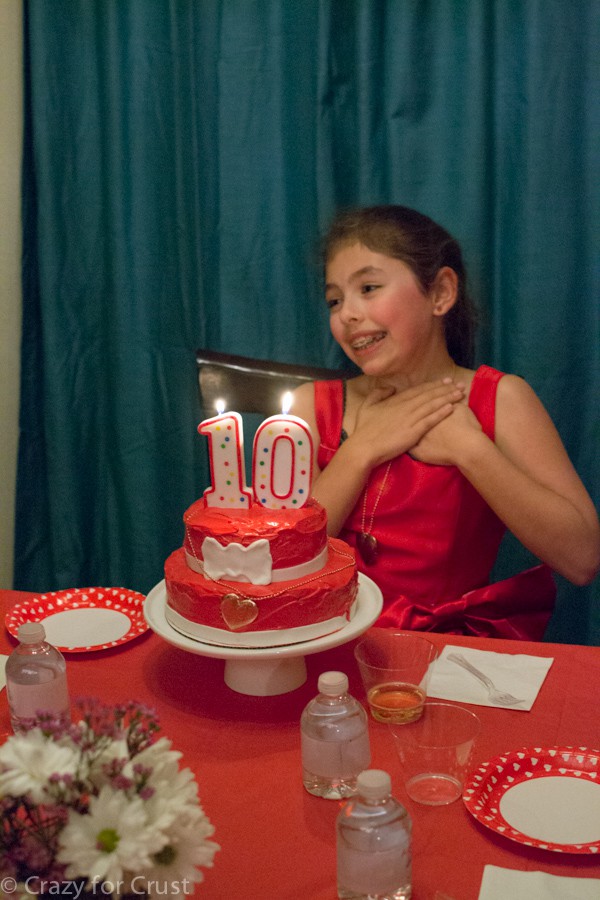 Except maybe the sleepover part. 🙂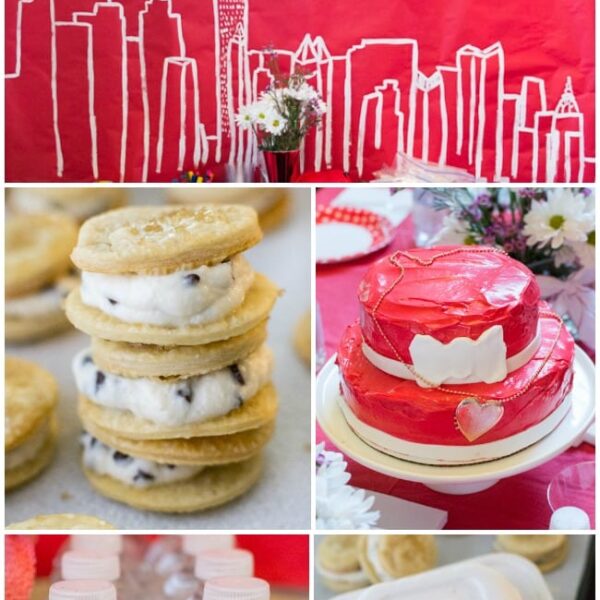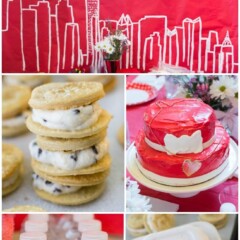 Easy Cannoli Cookies
These Easy Cannoli Cookies start with pie crust and require no frying!
Ingredients
2

refrigerated pie crusts

from a box

1

egg

1/4

cup

turbinado sugar

sugar in the raw

2

tablespoons

heavy whipping cream

1

cup

whole milk ricotta cheese

do not substitute low-fat

2/3

cup

powdered sugar

1

teaspoon

vanilla extract

1/2

cup

mini chocolate chips
Instructions
Preheat oven to 400°F.

Unroll pie crusts and cut circles with a 2 1/2" round cutter. With re-rolling you should be able to get about 18-20 from each crust. Place on cookie sheets that have been lined with parchment paper or silpat baking mats.

Beat egg with a fork and use your finger to lightly brush some egg onto each round. Sprinkle each with some turbinado sugar. Bake for about 10 minutes, until they're golden brown. Cool completely.

Make the filling: beat the heavy whipping cream until it becomes whipped cream. Set aside.

Whisk ricotta and powdered sugar. Whisk in vanilla and then fold in whipped cream and chocolate chips. Place filling in a large ziploc bag and cut off one tip. Pipe filling onto half of the pie crusts, then top with another pie crust to form a sandwich cookie.

Store in refrigerator, eat within 3 days.
Recipe Nutrition
Serving:
1
cookie
|
Calories:
138
kcal
|
Carbohydrates:
16
g
|
Protein:
3
g
|
Fat:
8
g
|
Saturated Fat:
3
g
|
Cholesterol:
22
mg
|
Sodium:
127
mg
|
Sugar:
6
g
Nutritional information not guaranteed to be accurate
This post contains affiliate links.
SaveSave
Last Updated on August 21, 2018