This post may contain affiliate links. For more information, read my disclosure policy.
Do you looooove cheesecake? Then you're in the right place! Below you'll find over 110 cheesecake recipes for every occasion!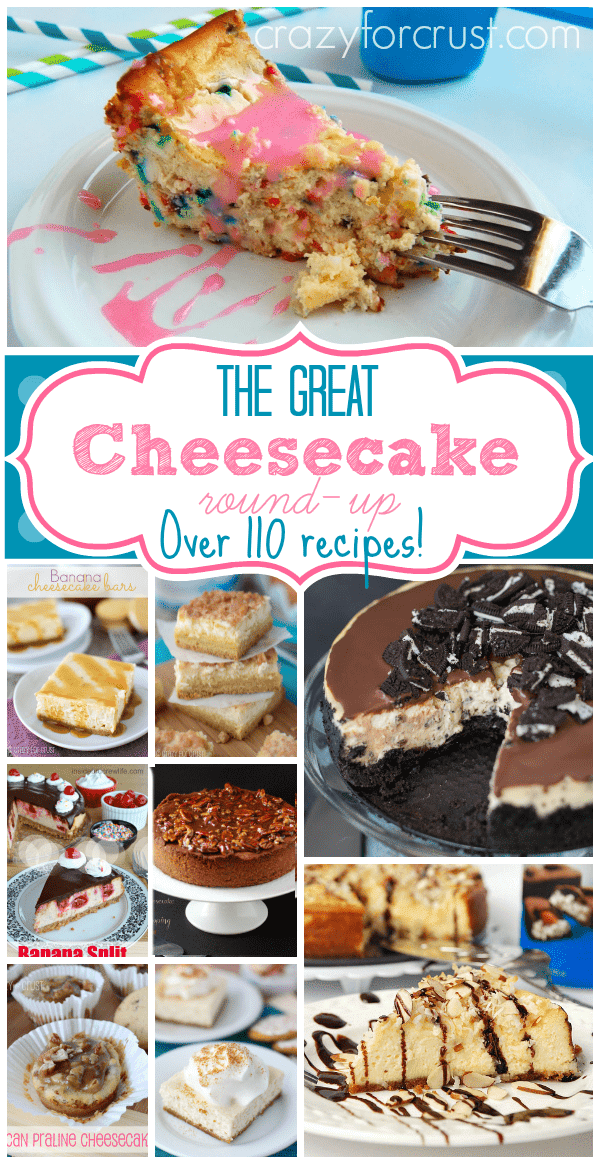 I have a love-hate relationship with cheesecake: I love it so much but I hate that I can't stop eating it! Seriously, if there is a cheesecake or a cheesecake bar within 10 feet of me, watch out. I will attack it with my fork and it won't be pretty.
If you're still looking for a show-stopper dessert for Thanksgiving, or you need a holiday dessert or something any time of year – this cheesecake round up is for you! There are over 110 cheesecake recipes to choose from!
I hope you find something you love!
CHEESECAKE BARS, BROWNIES & CUPS:
APPLE STREUSEL CHEESECAKE BARS
BLUEBERRY AND BOYSENBERRY LEMON CHEESECAKE BARS
BLUEBERRY LEMON CHEESECAKE SQUARES
CARAMEL MACCHIATO CHEESECAKE SUGAR COOKIE CUPS
CARROT CAKE CHEESECAKE BROWNIES
CHOCOLATE CHIP COOKIE CHEESECAKE BARS
CHOCOLATE RASPBERRY CHEESECAKE BARS
CINNAMON CHEESECAKE BARS WITH BISCOFF COOKIE CRUST
CINNAMON SPICE CHEESECAKE BARS
LIME AND WHITE CHOCOLATE CHEESECAKE BARS
OATMEAL CRANBERRY CHEESECAKE BARS
OATMEAL SCOTCHIE CHEESECAKE BARS
PEANUT BUTTER CHEESECAKE COOKIE BARS
RASPBERRY CHEESECAKE SWIRL BROWNIES
RED VELVET CHEESECAKE BROWNIES
REESE'S PEANUT BUTTER CUP CHEESECAKE BARS
SALTED CARAMEL APPLE CHEESECAKE BARS
CANDY BAR CHEESECAKE:
MINI PEANUT BUTTER-FINGER CHEESECAKE
MINI SNICKERS CARAMEL CHEESECAKES
NO BAKE DEEP DISH PEANUT BUTTER SNICKERS PIE
CHOCOLATE CHEESECAKE:
BAILEY'S IRISH CREAMER CHEESECAKE
CHOCOLATE CHEESECAKE WITH PEANUT BUTTER CREAM
CHOCOLATE CHEESECAKE WITH PRALINE SAUCE
CHOCOLATE CHIP COOKIE DOUGH CHEESECAKE
CHOCOLATE GANACHE SWIRL CHEESECAKE
CHOCOLATE GANACHE TOPPED MINI CHEESECAKES
COOKIES AND MINT CHIP CHEESECAKE
DOUBLE DECKER NEAPOLITAN CHEESECAKE
MINI SALTED CARAMEL MOCHA CHEESECAKES
NO BAKE CHOCOLATE ESPRESSO CHEESECAKE RECIPE
SALTED CARAMEL CHOCOLATE CHIP CHEESECAKES
TRIPLE CHOCOLATE CHEESECAKE CUPCAKES
TRIPLE THREAT CHOCOLATE CHEESECAKE
FRUIT CHEESECAKE:
BANANAS FOSTER NO BAKE CHEESECAKE
BLACKBERRY SWIRL CHEESECAKE TART
CHERRY CHEESECAKE SKILLET COOKIE PIE
GREEK YOGURT PUMPKIN CHEESECAKE TART
LEMON BLUEBERRY MINI CHEESECAKES
LEMON CREME OREO CHEESECAKE CUPCAKES
LEMON RASPBERRY CHEESECAKE BITES
MAPLE PUMPKIN MINI CHEESECAKES
MINI BANANA PUDDING CHEESECAKES
NO BAKE LEMON CHEESECAKE MOUSSE CUPS
RAW APRICOT SWIRL CHEESECAKE MINI PIES
STRAWBERRY CHEESECAKES FOR TWO
PEANUT BUTTER CHEESECAKE:
BROWNIE BOTTOM PEANUT BUTTER CHEESECAKE
PEANUT BUTTER MINI CHEESECAKES
PRETZEL PEANUT BUTTER CHEESECAKE
REESE'S PEANUT BUTTER CUP MINI CHEESECAKES
SKINNY PEANUT BUTTER CUP CHEESECAKE
EVEN MORE CHEESECAKES:
CARAMEL CHEESECAKE WITH RASPBERRIES
CARROT CAKE SWIRLED CHEESECAKE
CLASSIC CHEESECAKE WITH DOUBLE CRUST
SALTED CARAMEL PRETZEL CHEESECAKE
SALTED CARAMEL MOCHA CHEESECAKE DIP

 Subscribe via email and have sugar delivered straight to your inbox!
Last Updated on May 13, 2020