This post may contain affiliate links. For more information, read my disclosure policy.
These Thin Sugar Cookies are full of sugar cookie flavor – and sprinkles! These are like homemade refrigerator cookies – and better because YOU made them. They are perfect with ice cream…or just because you want sugar cookies!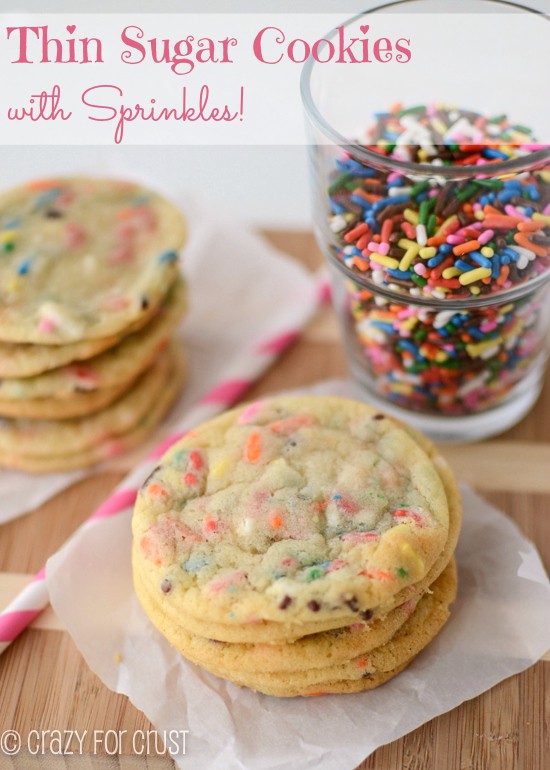 If you follow me on Instagram you'll know that my daughter has her own sense of style.
It's unique to her and although she often talks about how some of her friends "always look perfect", her style never changes from it's crazy ways. Pants with skirts, patterns with stripes, sparkles on sparkles – I never quite know what to expect when she comes downstairs for school in the morning.
Last week, she wore this outfit. I normally don't interject with her clothing choices (unless it's white leggings as pants) but when she came downstairs that day, I was torn. Self-expression is one thing…begging to be teased is another. So I mentioned that, while her outfit was cool and very her, that some of the kids at school might say something to her, and that I didn't want her to feel bad. Her response?
"It's okay mom. I don't care if people make fun of me, I know I look crazy and I love it."
I have never felt that way in my entire life, from birth to now. Even today, I change clothes 27 times so that I don't look fat or colors match properly.
In that moment with Jordan and her crazier-than-crazy outfit and her amazing outlook on life, I realized that she is my hero. I want to be more like her.  I wish I had the confidence to take more risks and say/do what I feel. Wouldn't that be so freeing?
When I take risks, I take them in the kitchen. To me, a risk is trying to come up with a sugar cookie recipe on the fly – and hoping it turns out.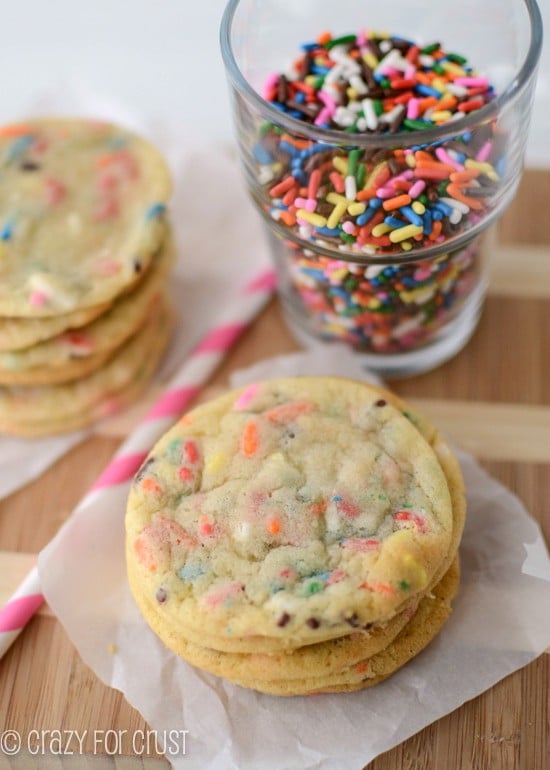 That's what I did for these sugar cookies. I was in a development sort of mood…so I made it up as I went along. I've made my own peanut butter cookies and my own chocolate chip cookies and even my own brownies. I am always nervous when I try new recipes, because if they don't work out, it's money down the drain and wasted food. When these first came out of the oven, my heart sank. I like puffy cookies. Chewy, thick ones with lots of oomph. These were thin…so I thought they were a failure.
And then I tasted them.
These sugar cookies are super sweet and super delicious.
They're crispy around the edges and soft in the middle, even if they're thin. I like my cookies soft and almost raw, but if you cook them for a few extra minutes, I bet they'd get crunchy if you like them that way. These cookies actually remind me of the refrigerator cookies you buy at the store – only better because they are homemade!
I love sprinkles in sugar cookies. I think they add a perfect amount of crunch and a prettiness to cookies that might look dull otherwise. Plus, if they have sprinkles, they don't need frosting, which means I can eat them sooner. Sprinkles make me happy.
Plus, if a cookie is a thin sugar cookie…you can eat more of them. These are the perfect side dish to a bowl of ice cream! (I'm not the only one that does that, right? Eat a side of dessert with my dessert?)
We had company over the day I made these sugar cookies and they went like hotcakes – everyone raved about them. So I guess even though I thought I failed…I didn't.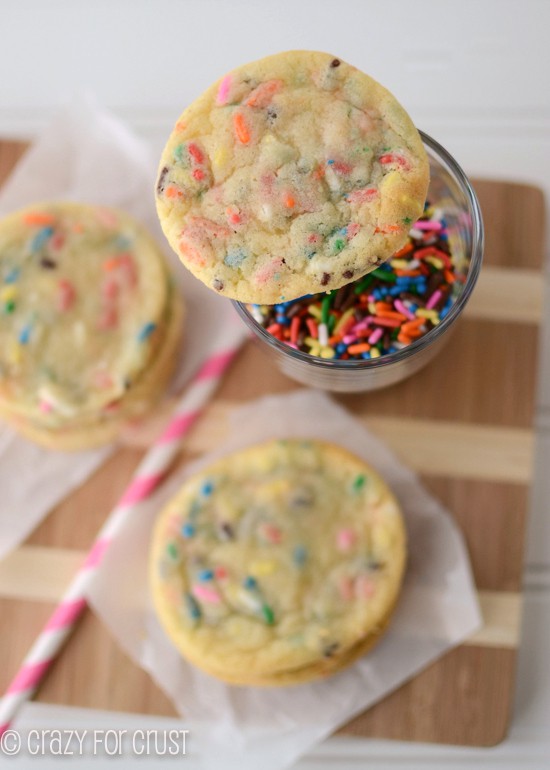 I guess I should take a lesson from Jordan: try. Be confident. Flaunt what you love. If you love yourself, and the way you look…the rest of the world won't care. And if they do…it doesn't matter!
But I still want you to like these cookies. I do care about that!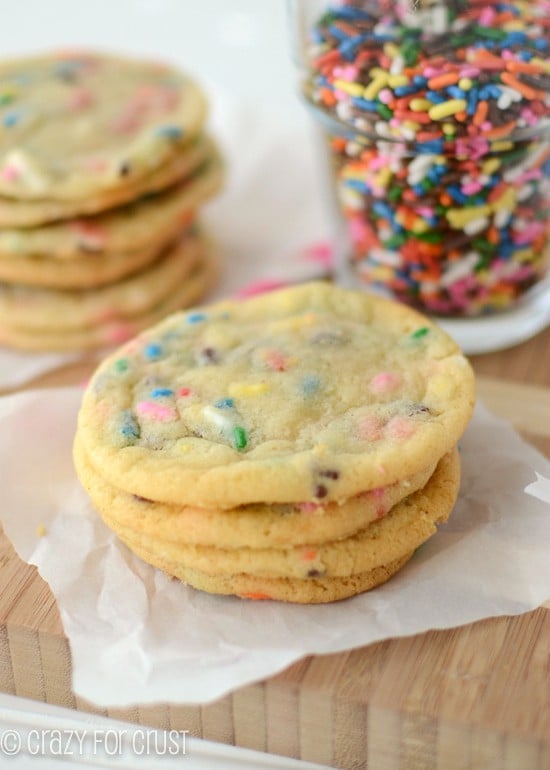 You will like them. I promise!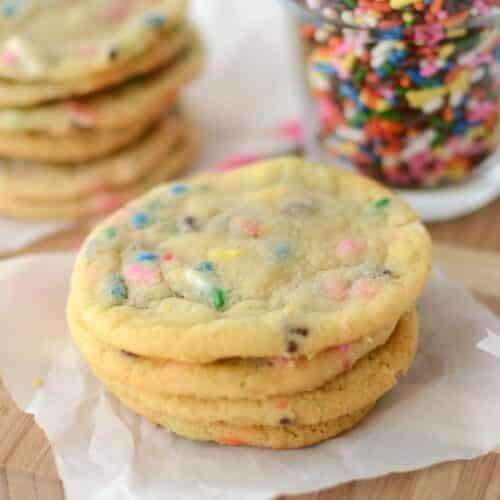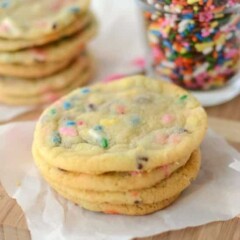 Thin Sugar Cookies with Sprinkles
Like thin, soft, and chewy cookies? These Thin Sugar Cookies are for you. They're like homemade refrigerator cookies...with sprinkles!
Ingredients
1

stick butter

, softened (1/2 cup)

1

cup

sugar

1

egg

1

teaspoon

vanilla

(I used vanilla bean paste, but extract is fine)

1

teaspoon

baking soda

1/8

teaspoon

salt

2

cups

flour

1/2

cup

rainbow jimmies
Instructions
Preheat oven to 350 degrees. Line cookie sheets with parchment paper or a silpat.

Cream butter and sugar in an electric mixer fitted with the paddle attachment. Beat in egg and vanilla. Add baking soda and flour and beat until the dough just comes together. Stir in sprinkles. Chill dough for at least 30 minutes.

Scoop uniform sized balls of dough onto your cookie sheets. These cookies spread, so space them at least 2 inches apart. Bake about 8-10 minutes, rotating pans halfway through baking. Remove from oven just before they begin to brown (or, if you like them crunchy, you can cook them an extra minute). Cool 5 minutes before removing from cookie sheet.
Nutritional information not guaranteed to be accurate
Other goodies you might like:
Sweets from friends:
Funfetti Cheesecake Cookies by Kitchen Meets Girl
Lemon Crinkle Cookies by Sweet As A Cookie
Chocolate Chip Cheesecake Cookies by Something Swanky
Last Updated on May 22, 2020