This post may contain affiliate links. For more information, read my disclosure policy.
Skinny Oreo Cheesecake Dessert! I know, I know. It's January: you're dieting. But you can still have this dessert! Eat it with a spoon or use it for dipping!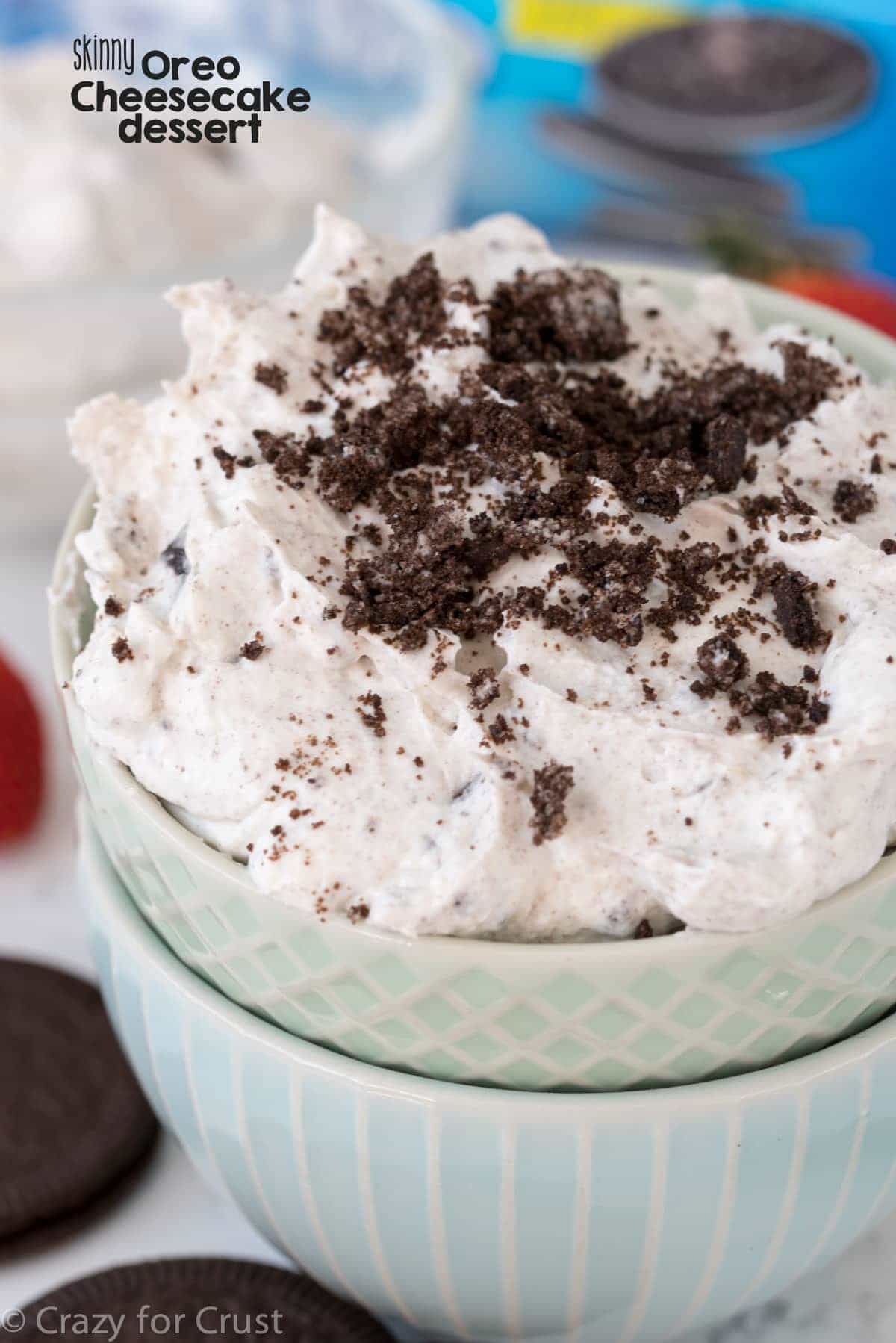 Happy New Year!! I cannot believe it's 2016, but I'm so, so happy it is.
2015 kind of sucked. I mean, the first half was okay. Nothing horrible happened, Mel traveled a lot, life was busy, etc. Summer was amazing, and totally made up for the first half. I got a new kitchen, which was part awesome and part scary (now I have to pay for it). But this fall, well. I can't really go into specifics but it wasn't easy. A lot of things happened to make me crazy, literally.
So I'm really, really glad that it's now 2016. A new year, a fresh start. And lots of therapy.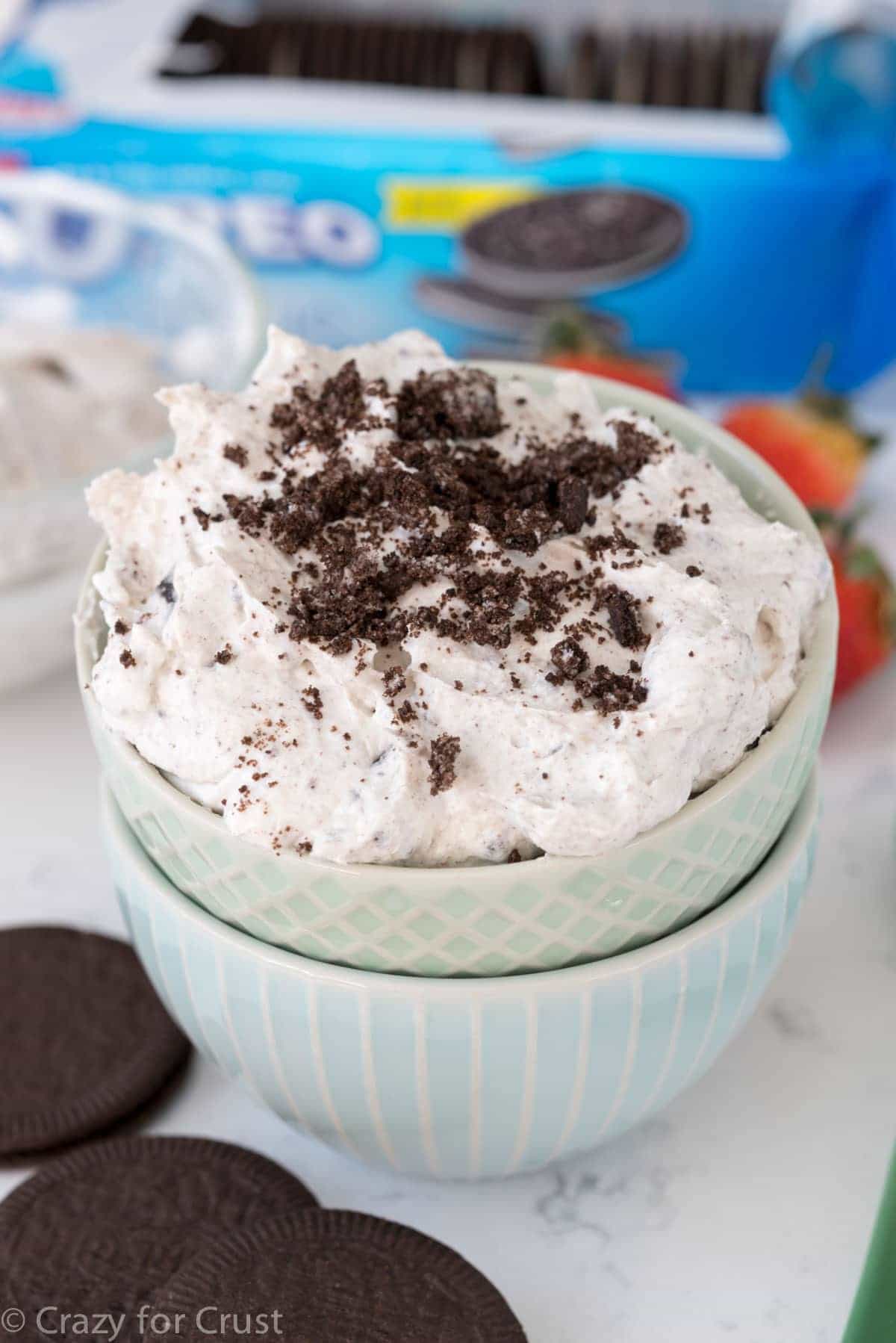 Now that it's the new year, I'm sure you all have resolutions. Do you make those? I used to. And then, 5 weeks in, I'd be 5 pounds heavier and angry. Because, I mean, 99% of the world makes a resolution to eat better, lose weight, or be healthier in the New Year, right? It's why I can't find a parking spot at the gym in January to save my life?
This year I'm not resolving to lose weight, I'm not going to make a pledge to workout more or work less. But I am making a resolution.
In 2016, my goal is to have more fun. And, in turn, if I'm having more fun in life, I'll probably be happier.
When I'm a happier person, I eat better. I workout more. I work more efficiently, so I don't have to work as much. I need less therapy.
So, while I'm not swearing off sweets or alcohol (because, um, the whole MORE FUN thing), I am going to try to eat less dessert, and when I do eat it, use my calories wisely.
Enter: this Skinny Oreo Cheesecake Dessert.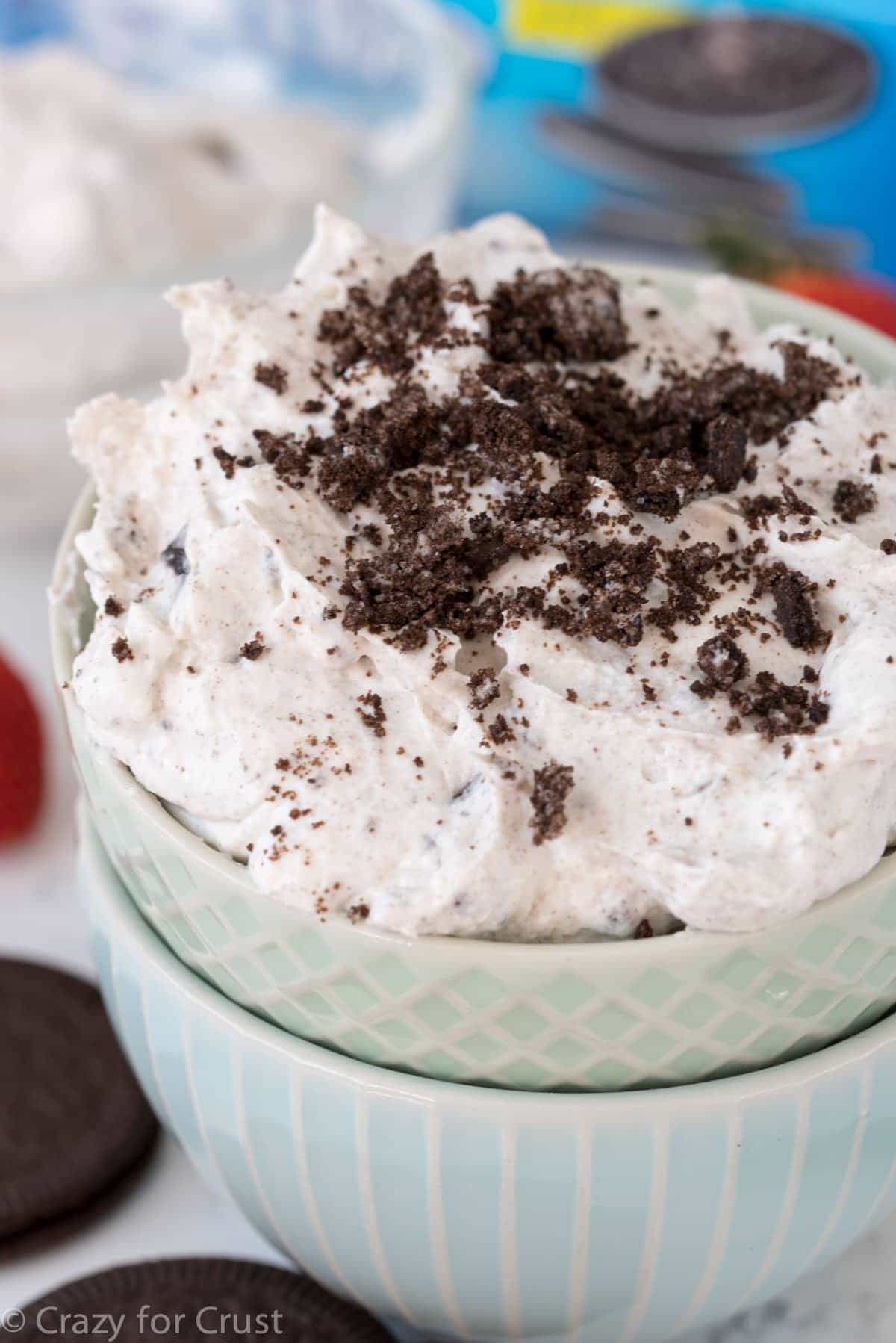 Sometimes after dinner (or even after lunch) I just want a little something sweet. It doesn't need to be a gooey bar or a slice of pie or a brownie. Just a few bites of something sweet satisfies me. That's where this dessert comes in.
This dessert tastes like Oreo cheesecake, but it's much healthier than the real thing.
First of all, this Skinny Oreo Cheesecake Dessert has no actual cream cheese in it. I know, right?
The base of the mousse starts with nonfat vanilla greek yogurt. You could use cream cheese, I guess, but the yogurt is already sweet (so there's no need to add sugar) and it has more protein than cream cheese. (This makes it an appropriate lunch, right?)
The cheesecake flavor comes from a few tablespoons of instant cheesecake pudding mix. Did you know you don't need to actually make pudding with pudding mix? (Of course you did, because, cookies.) You can use regular instant pudding or sugar-free, whichever you prefer.
Then you fold in some Cool Whip (be sure to use low-fat/fat-free or sugar-free, your choice). Combined, the two create a kind of pudding mousse. For years, I'd just dip 100 calorie pack cookies into the Cool Whip straight – this dessert is better.
(Now, if you're a Cool Whip hater, feel free to use whipped cream. But that removes this from the "healthier" category.)
Then simply stir in some crushed Oreos and you're done. I used Oreo Thins, thinking I'd buy them because they have less calories. The problem with buying those is that they go down so easy, you eat twice as many. You've been warned! (Feel free to use regular Oreos, Oreo Thins, or even the 100 calorie packs of Oreos.)

Once you mix it all together, this has a mousse like consistency. It's perfect as a dip for fruit or crackers, or you can eat it with a spoon. It's a great dessert for when you want something a little healthier (read: lower calorie) than the real thing, but you need something to get you over the sugar hump.
And that makes me happy. (Day 1 goal achieved.)
Happy New Year!! 🙂
Enjoy this Skinny Oreo Cheesecake Dessert!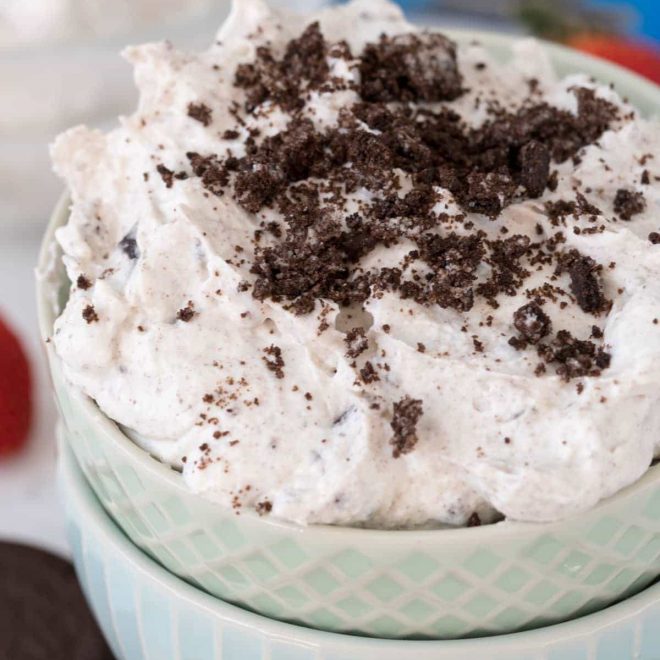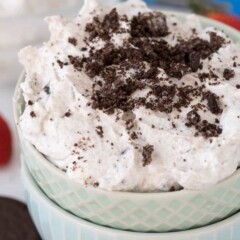 Skinny Oreo Cheesecake Dessert
This Skinny Oreo Cheesecake Dessert can be eaten with a spoon or used as a sweet dip recipe! It's lower in calories, and has less fat than a regular recipe!
Ingredients
1

cup

nonfat vanilla greek yogurt

2

tablespoons

instant cheesecake pudding mix

regular or sugar-free

1

cup

fat-free or sugar-free Cool Whip

4

Oreo Thins

or 2 regular Oreos or 1-100 calorie packet Oreos, crushed
Instructions
Stir together the yogurt and pudding mix (just the dry mix, not actual pudding) until smooth. Fold in the Cool Whip, then stir in the crushed cookies. Chill until ready to serve or eat.

You can eat this with a spoon as a sweet evening treat, or use it as a sweet dip for fruit or pretzels.
Nutritional information not guaranteed to be accurate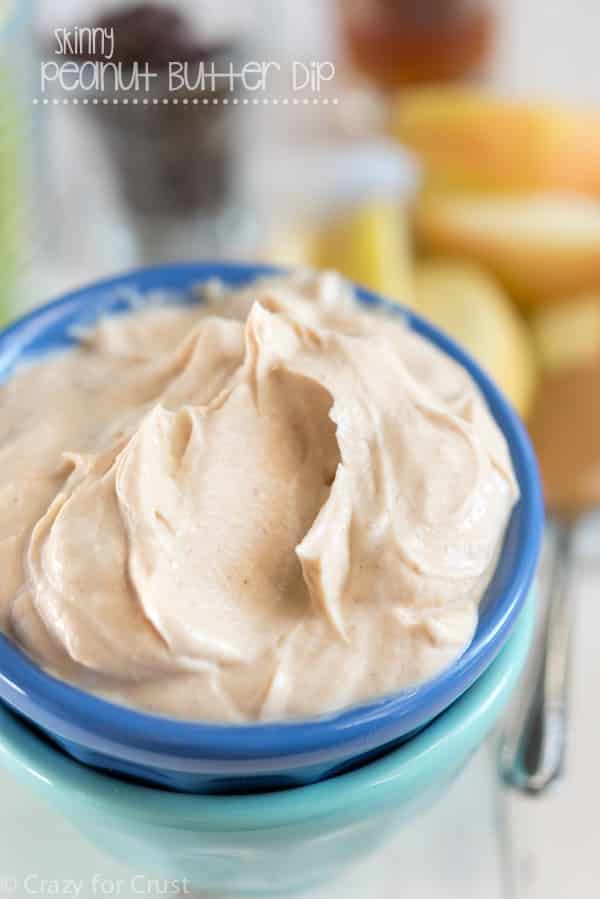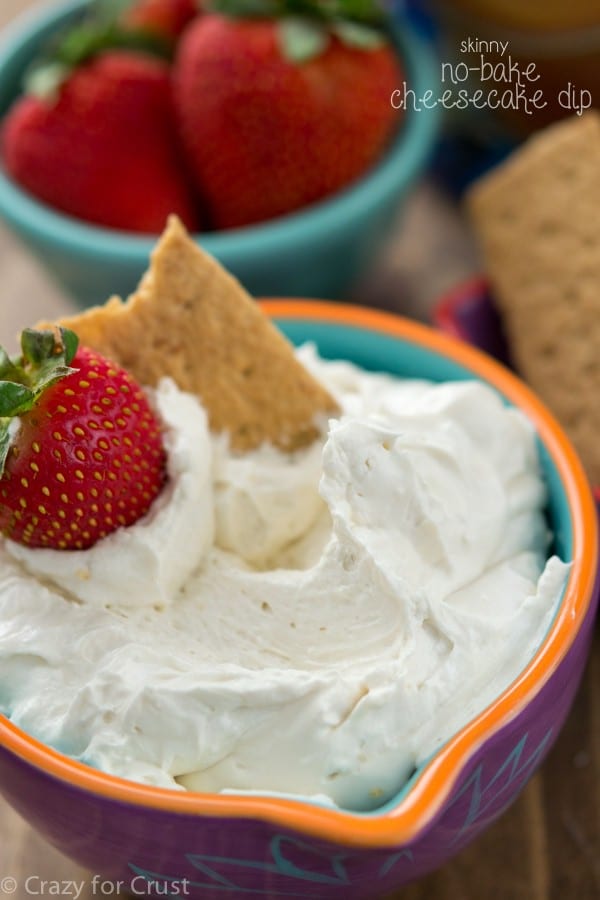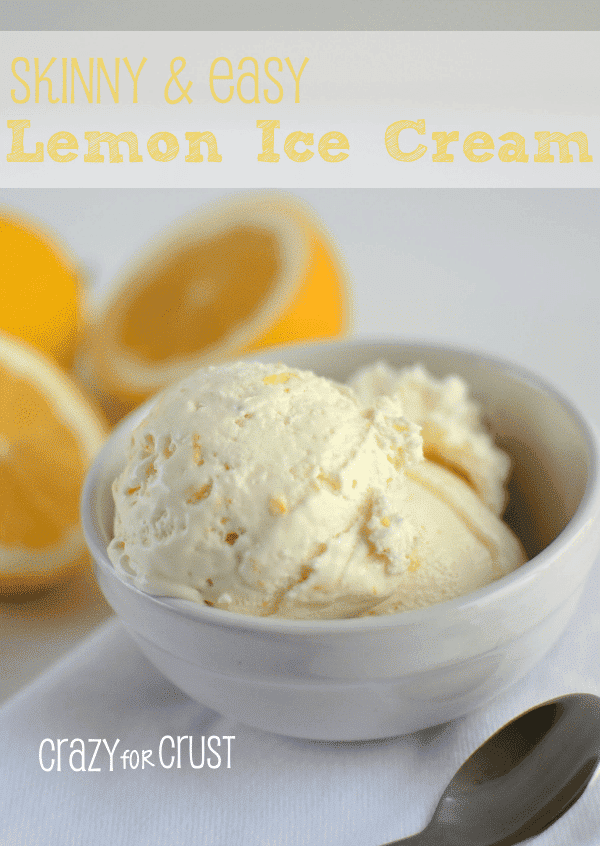 Sweets from friends:
Skinny Funfetti Cake Batter Dip by Something Swanky
Skinny Pumpkin Nutella Dip by Wine & Glue
Skinny Lemon Cheesecake Cupcakes by The Comfort of Cooking
Last Updated on January 9, 2019