This post may contain affiliate links. For more information, read my disclosure policy.
This recipe is why I have so much trouble eating healthy. Lord help me, these Hot Fudge Cheesecake Brownies are a chocoholics dream!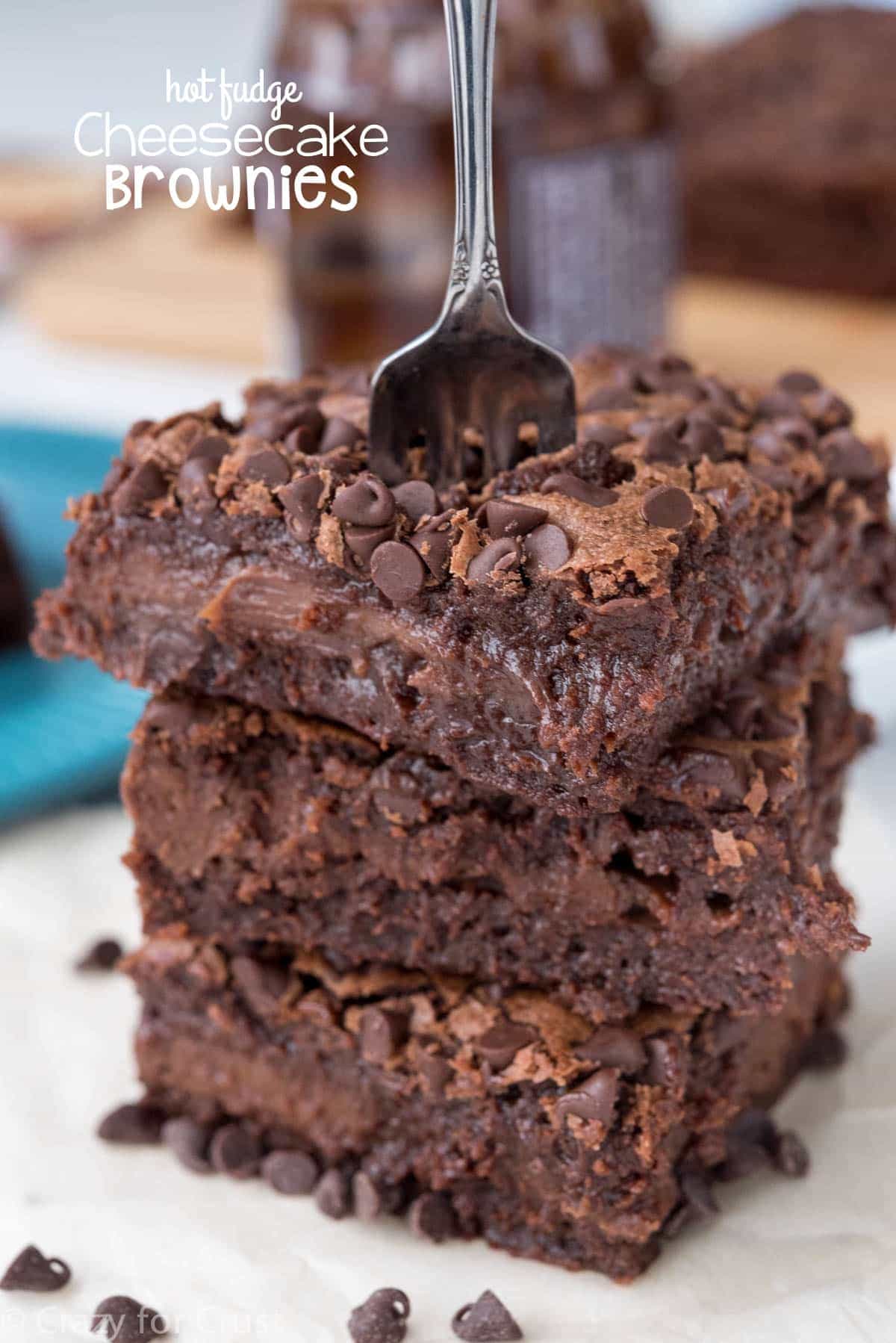 Last weekend I attended my 20 year High School Reunion. (Just typing that makes me feel really, really old, BTW.)
It was fun to go and see some of my friends I haven't seen in over 10 years. We had dinner with my oldest friend and her husband, which was nice. We hardly ever get to see them but it's the kind of relationship that you just fall back into, even after a year of not talking.
I don't know what I was expecting, but really the reunion was just like high school except everyone was older, overdressed for the bar it was held in, and alcohol was served. (Although that last one happened often in high school, if I'm being totally honest…) I hung out with my handful of friends, watched the popular crowd make the rounds, not knowing who I was. Really, in 20 years, nothing changed except the women dye their hair and look pretty much the same and the men are mostly bald.
The hard part about the reunion for me came after it was over. I got a little melancholy thinking about all the friendships I had back then and where they are today. I really did not enjoy high school; my main memories of it are torturous. But my friends were my lifeline, my existence, my soul. And it's kind of sad to see that, in most cases, neither side thought to keep them in tact. Really lets you know that all teenage angst and drama really doesn't translate to the "real" world.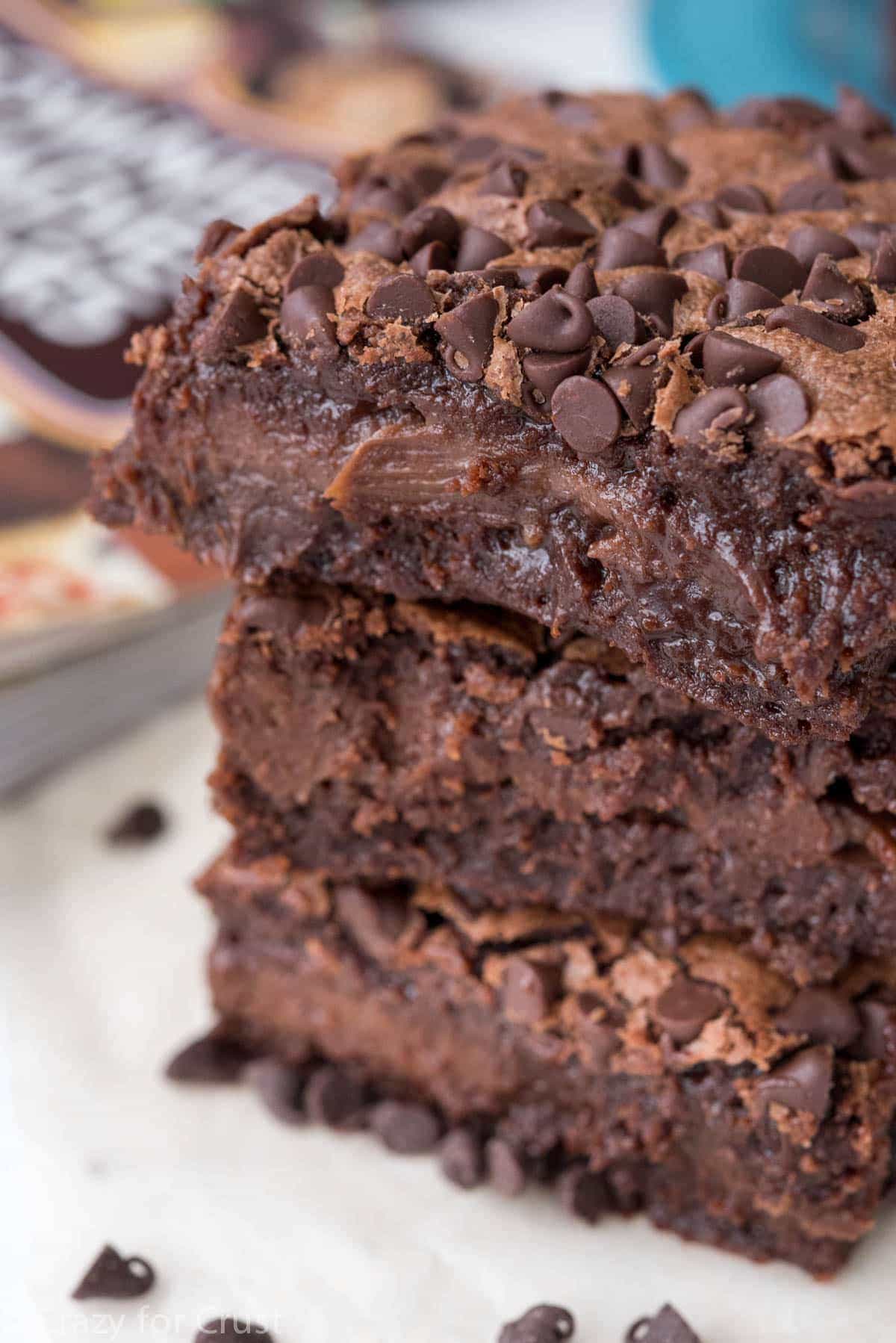 As an adult, it's very hard for me to retain good friendships. I'm an introvert at heart and a homebody and Mel and I pretty much keep to ourselves. I'm horrible keeping up with the mom friends down the street, let alone people who live hours away that I knew 20 years ago.
The one batch of friends these days that's easiest to keep up with? The ladies I've met through blogging. I value all of my friendships, but the blogging ones are sometimes the easiest. We live similar lives, chained to our computers and iPhones and kitchens, living this frantic owning-your-own-business existence. Plus, we're on social media 24/7, so at any time of day I'm in the middle of 3 Facebook messenger conversations that turn into 3-day long chat sessions.
These "blogging" friendships make me especially happy when one of us has exciting things happening: new homes, new loves, new babies, new cookbooks. Which leads me to this recipe today: Hot Fudge Cheesecake Brownies.
This amazing, decadent, rich chocolate brownie recipe that's filled with hot fudge cheesecake comes from my favorite new cookbook Brownies Blondies and Bars by my friend Stephanie Brubaker from Back for Seconds.
You guys. This cookbook is SO gorgeous. The recipes? Holy cow. All my favorite things (blondies and brownies!) in one place.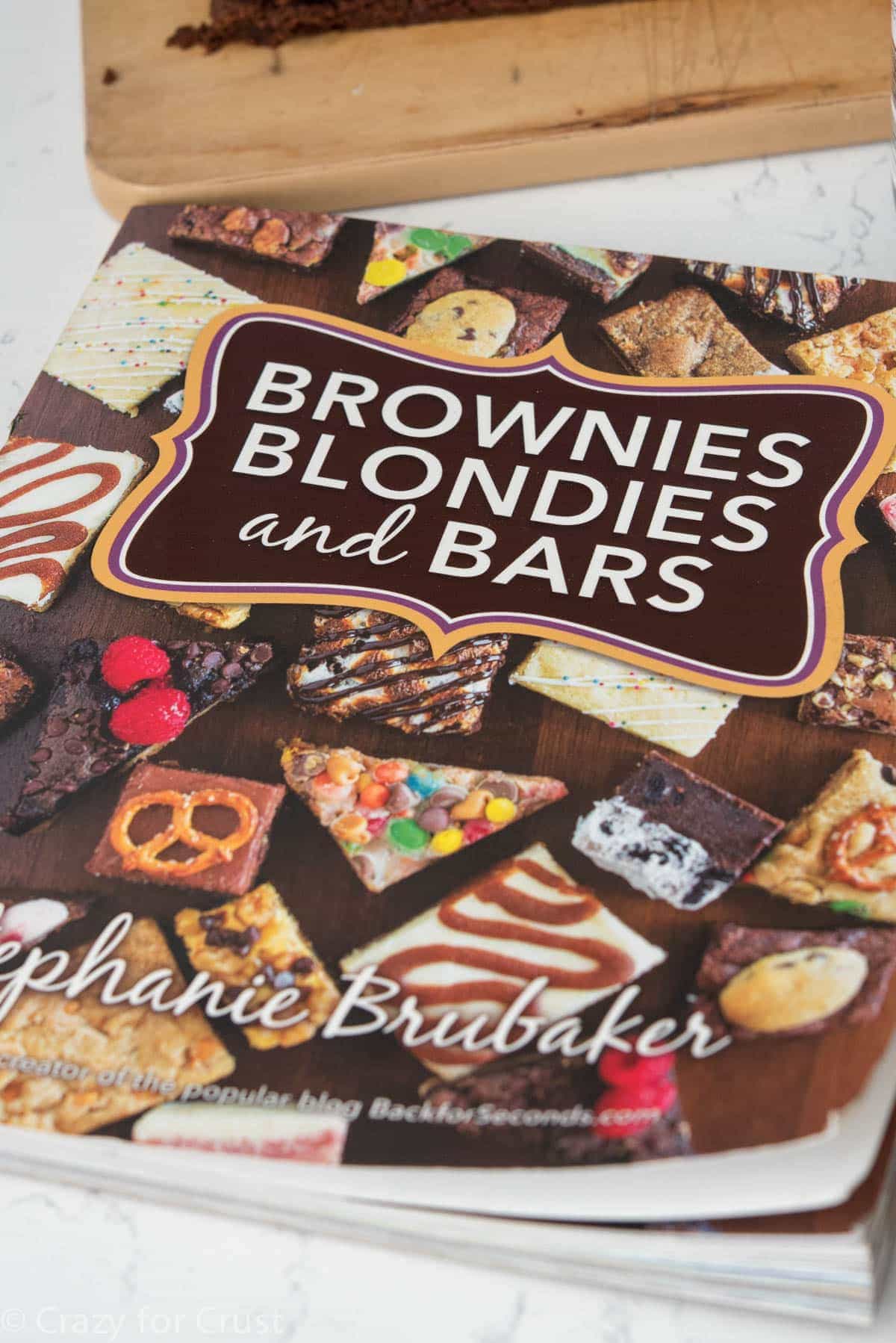 This book is full of every kind of blondie or brownie recipe you can think of. Chocolate, vanilla, lemon, caramel, peanut butter, you name it, it's there. When I saw the recipe for the Hot Fudge Peanut Butter Cup Cheesecake Brownies I knew I had to make them. I decided to leave off the peanut butter cups (why? I don't know) and make them a truly chocolate lovers delight.
This recipe couldn't be easier to make, even though you have to use two bowls to make it (one for the brownies and one for the cheesecake). But you guys, the extra bowl is SO WORTH IT. I mean, LOOK:

The rich from scratch brownie is super fudgy and dense. It's made with two kinds of chocolate (chips and cocoa) and it's so thick. I love me a thick brownie batter because you just know it'll be fudgy and perfect.
You spread half the brownie batter in the pan and then you top it with a hot fudge cheesecake mixture. It's just a jar of hot fudge sauce and a brick of cream cheese mixed together and spread over the brownie batter. Top the cheesecake with the remaining brownie batter and some chocolate chips and you have one of the best brownies I've ever eaten.
I'm being serious here – this recipe goes in the BEST BROWNIE category. I give it 5 stars and a blue ribbon. I know you will too, and you must make them ASAP.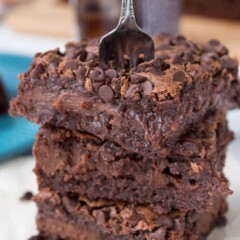 Hot Fudge Cheesecake Brownies
These Hot Fudge Cheesecake Brownies are a decadent easy brownie recipe filled with hot fudge cheesecake. These are for chocoholics only!
Ingredients
For the Brownies:
1

cup

unsalted butter

1 1/4

cups

semisweet chocolate chips

or milk chocolate

3/4

cup

unsweetened cocoa powder

2

cups

granulated sugar

1/4

cup

brown sugar

packed

1

teaspoon

vanilla extract

1/2

teaspoon

salt

4

large eggs

1 1/4

cups

all purpose flour

1 1/2

cups

mini chocolate chips or additional chocolate chips

or chopped peanut butter cups, for topping
For the Cheesecake:
8

ounces

cream cheese

softened

1

jar

about 12-16 ounces hot fudge topping
Instructions
Preheat oven to 350°F. Line a 9x13" pan with foil and spray with nonstick cooking spray.

Make the brownies: Place the butter and 1 1/4 cups chocolate chips in a large microwave safe mixing bowl and heat on high power in 30-second increments, stirring between each, until melted and smooth. Stir in cocoa powder until completely incorporated. Add both sugars, vanilla, and salt, stirring to combine. Stir in eggs, one at a time, until completely mixed through. Gently stir in flour until incorporated and no more flour is visible. The batter will be thick.

Spread 2/3 of the brownie batter in the prepared pan and set the rest aside.

Make the hot fudge cheesecake: beat together the cream cheese and hot fudge until smooth and no lumps remain. It's best to do this with a hand mixer. Gently spread over the bottom brownie layer. (It's best to drop spoon the batter evenly over the top and then spread to avoid mixing the layers together.)

Carefully layer the rest of the brownie batter on top of the cheesecake layer. (It's best to drop spoon the batter evenly over the top and then spread to avoid mixing the layers together.) Sprinkle with mini chocolate chips, regular sized chocolate chips, or chopped peanut butter cups.

Bake for 30-38 minutes until the brownies are set with just a little wiggle in the center and they are starting to pull away slightly from the edges of the pan. Cool completely then chill at least 2 hours before cutting. Store in refrigerator in sealed container.
Nutritional information not guaranteed to be accurate
4 Layer Peanut Butter Cheesecake Brownies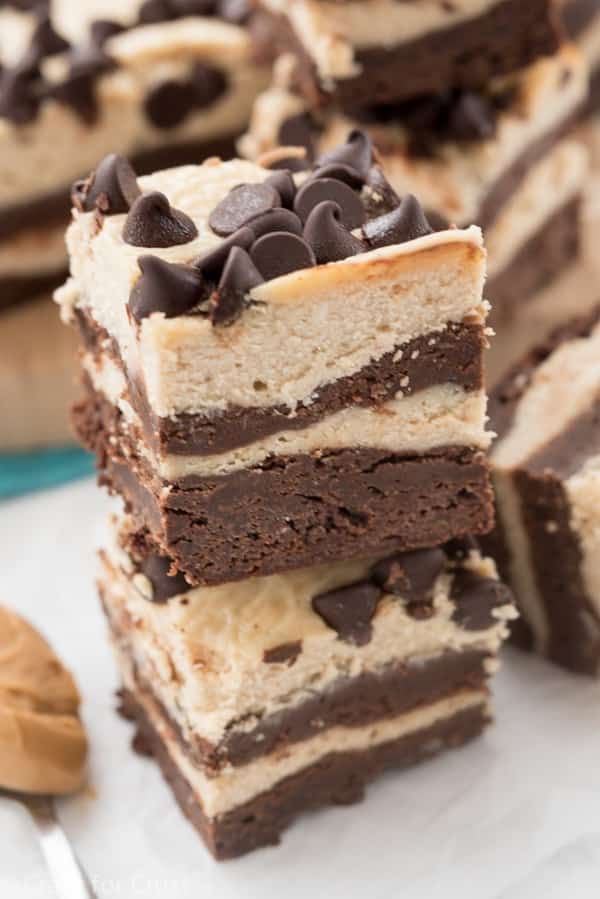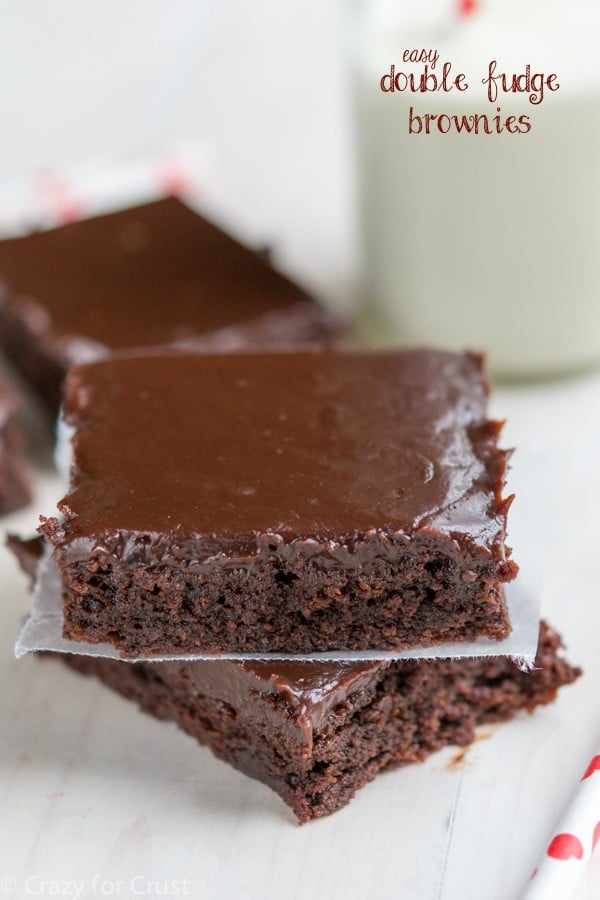 Red Velvet Chocolate Chip Cookie Bars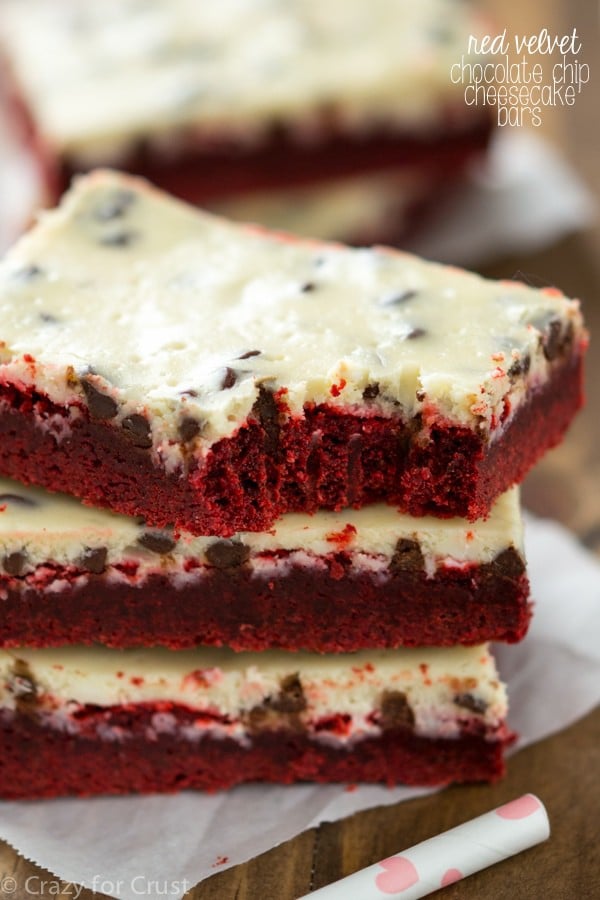 Recipes from Back for Seconds you'll love:
Turtle Cheesecake Brownies
Milky Way Cheesecake Brownies
Chocolate Pecan Pie Brownie Cheesecake
Last Updated on August 21, 2018