This post may contain affiliate links. For more information, read my disclosure policy.
Flourless Chocolate Cookies – you don't need butter or oil for these! They taste like a brownie cookie and are loaded with chocolate, crunchy and chewy like a cookie, but they're rich and fudgy like a brownie. It's the best of both worlds!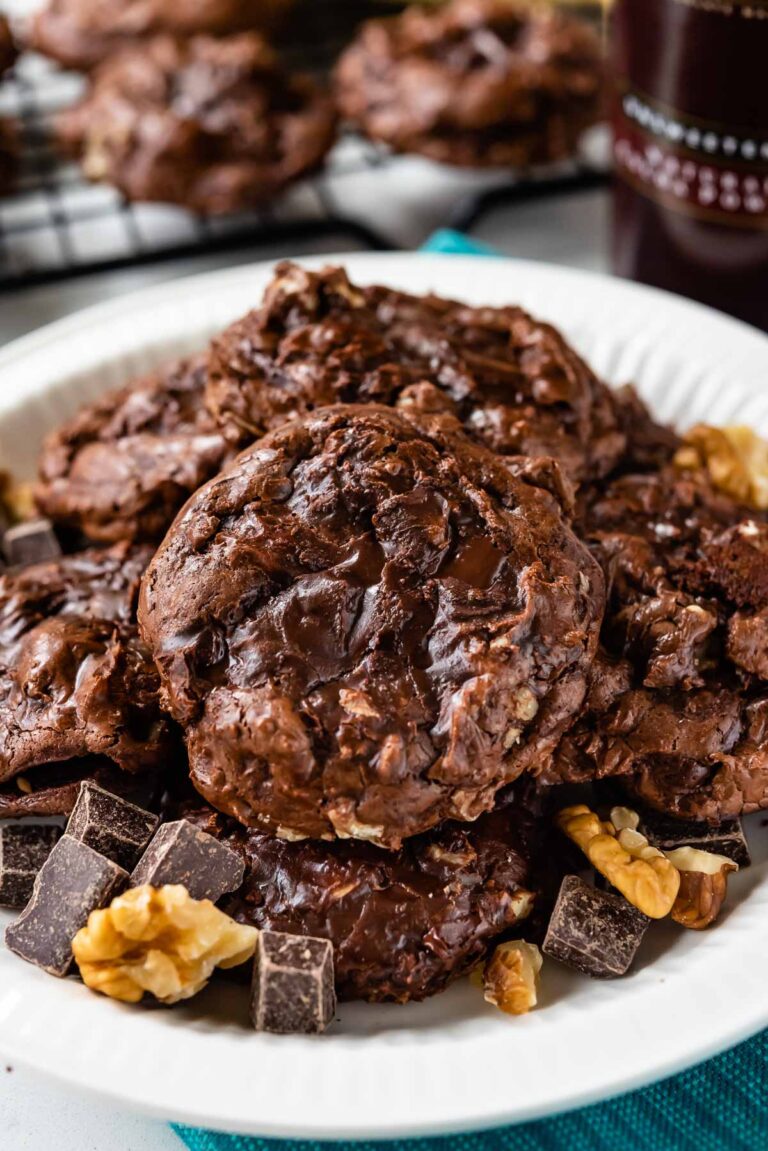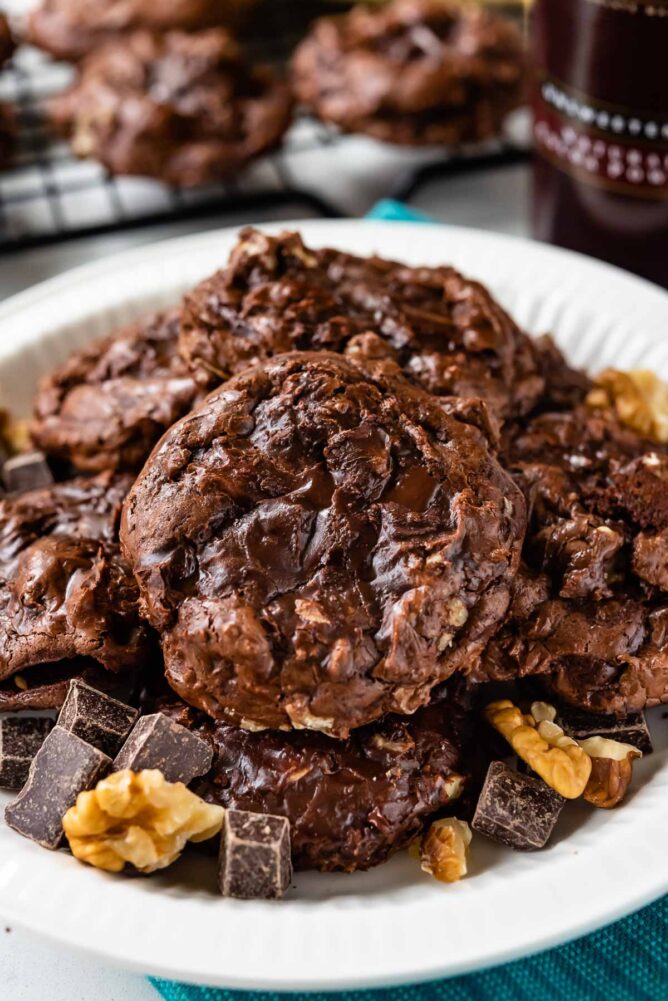 How to make Flourless Cookies Recipe Video
Best Fudgy Flourless Chocolate Cookies
This flourless chocolate cookie recipe is what I turn to when I have a serious chocolate craving and can't decide between cookies or brownies. It combines the best of both! They are fudgy like brownies but with the crispy, chewy texture of cookies.
I also love this recipe because it's a small-batch cookie recipe. It makes 12 perfect flourless chocolate cookies. Just enough to satisfy a craving and to share a few with a few lucky people.
If you love chewy and gooey chocolate cookies, these flourless chocolate chip cookies are for you!
Why These Cookies Work
These Flourless brownie cookies are made with powdered sugar and could not be easier to make: all you need is one bowl and a wooden spoon.
Even though they are flourless, they still produce a chewy, rich cookie.
The secret to these cookies: egg whites and cornstarch. There is no butter or oil in these cookies. There isn't even any leavening!
They're accidentally gluten-free!
The combination of egg whites and cornstarch produces a crunchy, chewy, and fudgy chocolate cookie. They work, I promise, and boy do they. These are the most chocolatey cookies you'll ever eat – I promise. It'll be like a chocolate factory exploded in your house.
Ingredients
Powdered Sugar: Be sure to measure your sugar correctly, and if you're going for a gluten-free cookie make sure your powdered sugar is gluten-free.
Salt: Needed because these are SO rich and chocolatey. The salt helps cut the sweetness.
Cocoa Powder: Use unsweetened cocoa powder. You can use Special Dark, regular, or Dutch Process.
Cornstarch: This is what we use for thickening.
Egg Whites: Be sure to buy large eggs. I don't have success with these using the egg whites from the carton so separate your own eggs.
Vanilla Extract: For flavor
Chocolate Chips: You can use baking chunks or chips, any flavor. You can even add nuts.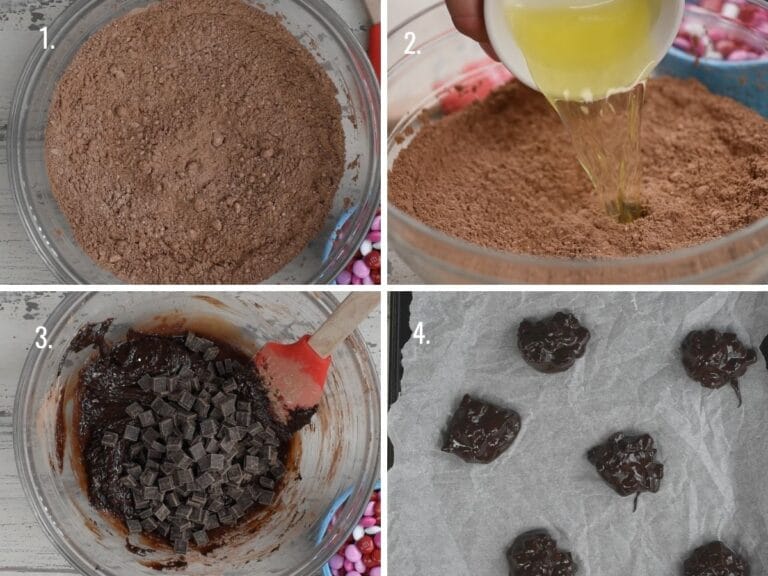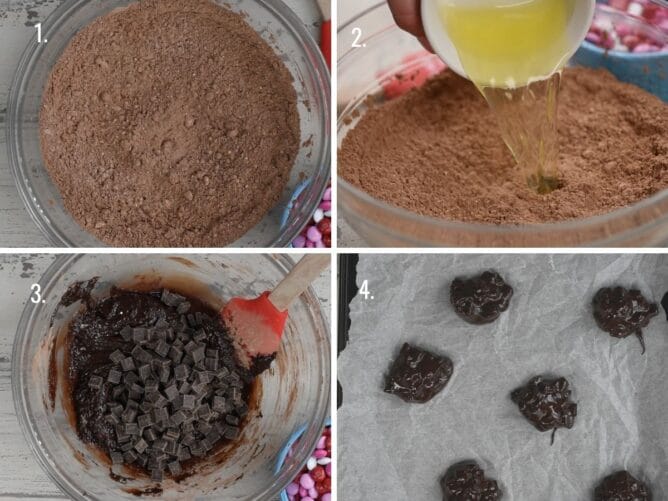 How to Make Flourless Double Chocolate Chip Cookies
Step 1. Whisk dry ingredients: In a large bowl, whisk the powdered sugar, salt, cocoa, and cornstarch.
Step 2. Add wet ingredients: Stir in the egg whites and vanilla.
The mixture will be very dry, so stir them in carefully so you don't spill the dry ingredients outside the bowl. The batter will be very thick, and it will take a little time for it to form.
Step 3. Add chocolate: Once you have a thick dough, stir in the chocolate chunks.
Step 4. Scoop Cookies: Line baking sheets with parchment paper and coat the paper with cooking spray. If you use silicone mats, be sure to spray them, too. Take two tablespoons of the dough to form each cookie. Place them two inches apart on the prepared pan. The dough will be thick and sticky.
Step 6. Bake: Bake the cookies for 11 to 13 minutes at 350°F or until they've lost most of their glossy sheen. Cool them on the pan before removing them from the pan.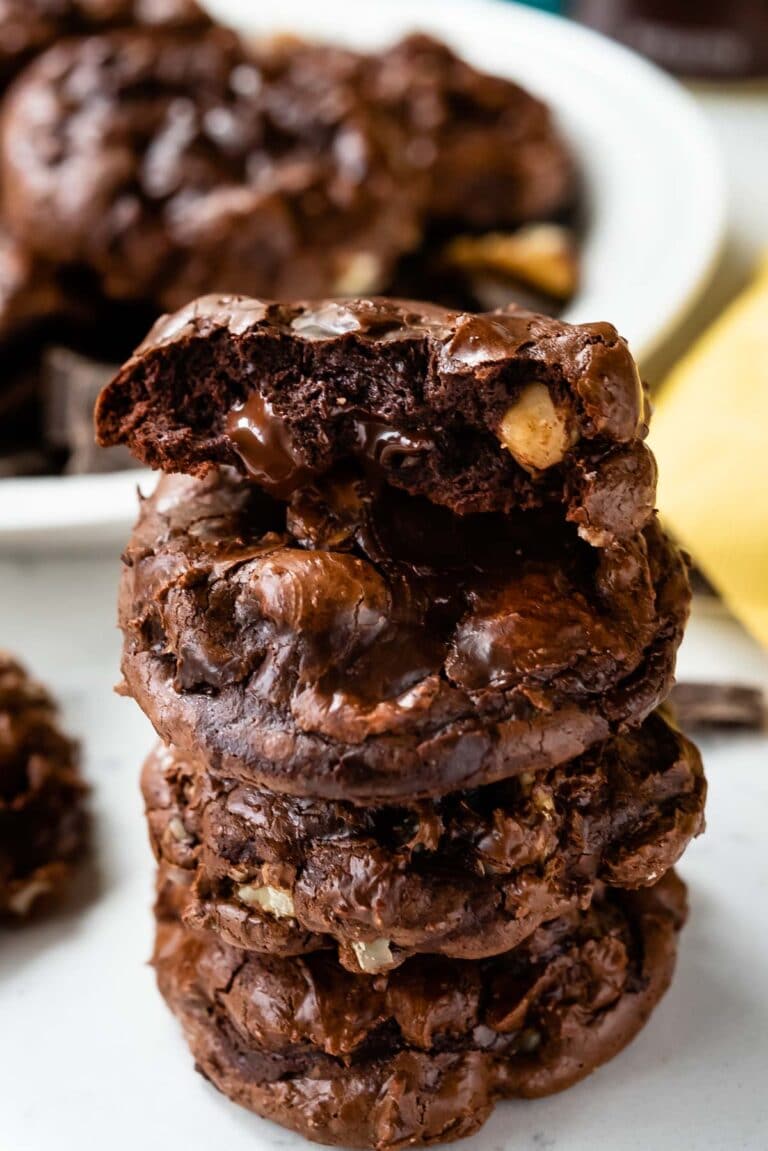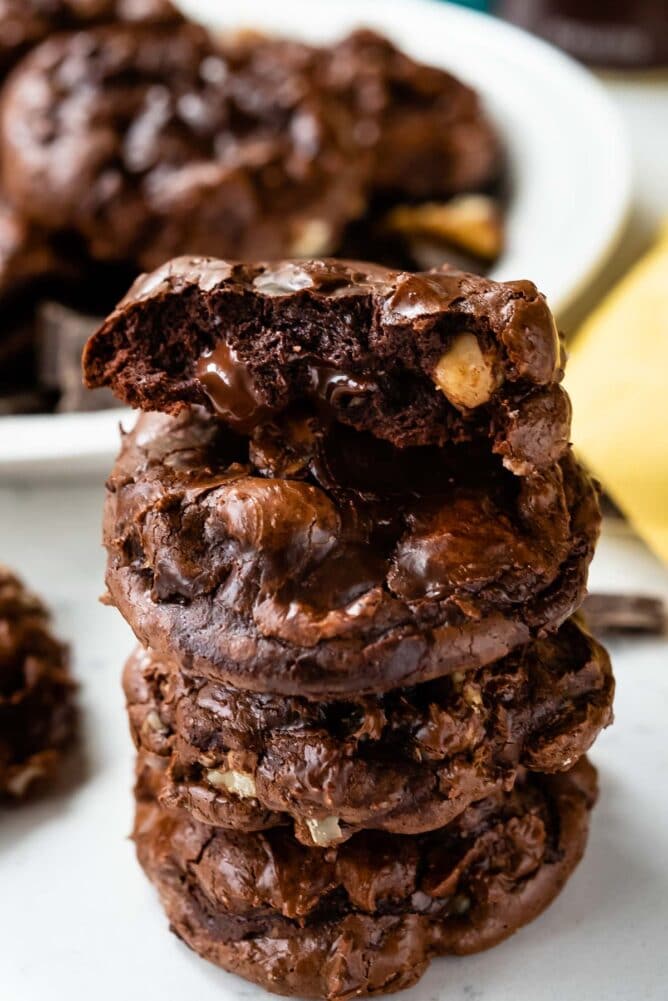 Tips
I've mentioned it already, but repeating it – the dough is very thick! There's nothing wrong – it's supposed to be that thick. Stir it slowly to keep the cocoa and powdered sugar from flying out – trust me, I learned this the hard way!
If you like nuts feel free to add chopped walnuts or pecans to the dough. I've included this as an option in the recipe card.
I know it seems redundant to line a nonstick baking pan with parchment and then spray the parchment paper with cooking spray, but if you don't, your cookies will stick. So, don't skip the cooking spray.
Keep an eye on the cookies while they bake. I think they are perfect when they are no longer glossy except for a few spots in the center.
Don't try to remove the cookies from the pan when they are hot – they need to set, so it's better to let them cool on the baking sheet.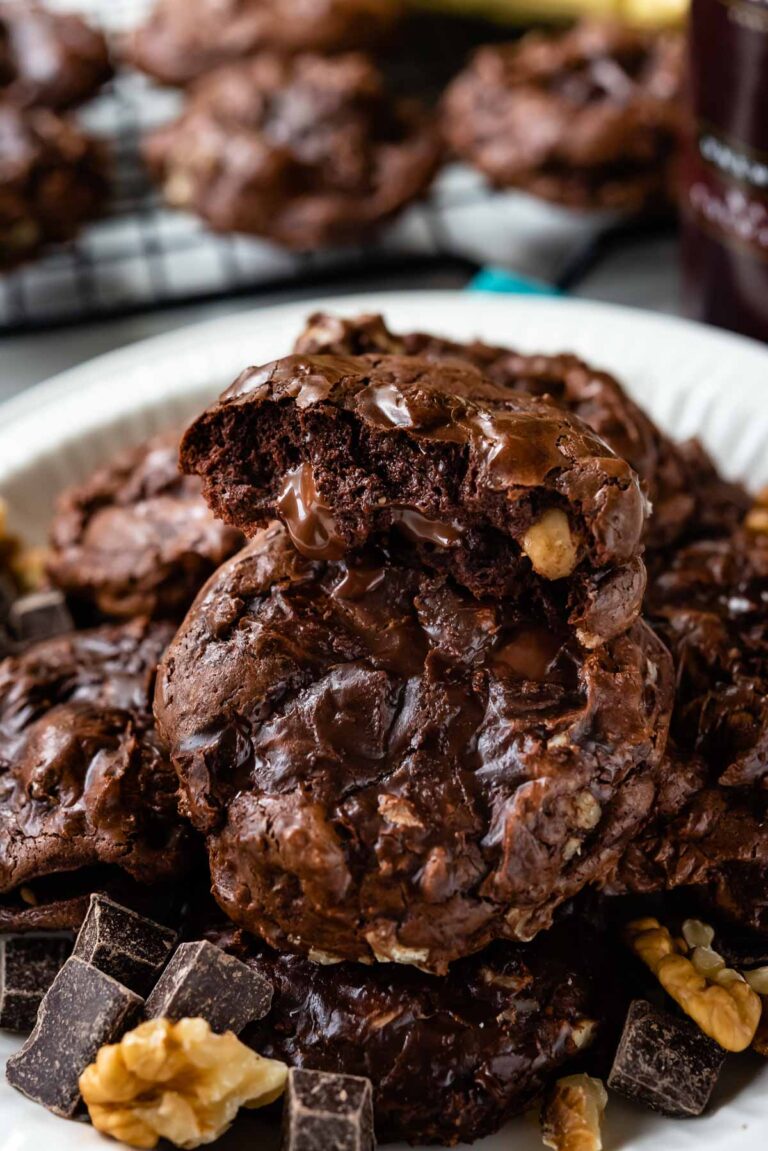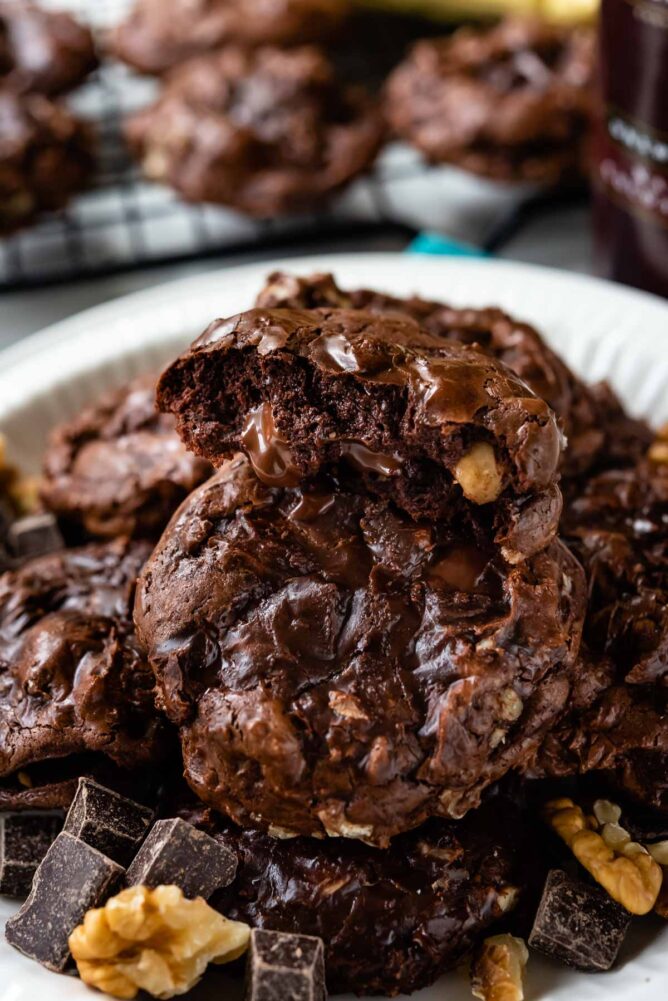 FAQ
Can I use Dutch process cocoa?
Yes, Dutch process is fine. Any kind of cocoa powder, except black cocoa, will work for this recipe.
Why aren't my cookies shiny and cracked?
Be sure to use large egg whites and the right amount of powdered sugar. The best way to measure the sugar is with the spoon and level method.
Why are my cookies sticky?
The dough will be very sticky, but it should not be sticky once the cookies are baked. If your baked cookies are sticky, they are probably underbaked.
How do you store flourless chocolate cookies?
Store them in an airtight container at room temperature.
Can you freeze flourless chocolate cookies?
Yes, cool the cookies completely and store them in a freezer bag or container. They will freeze well for two to three months.
Are these cookies gluten-free?
As long as you use gluten-free powdered sugar and cornstarch, they are gluten-free. Be sure to double-check the labels.
Why is my dough so thick?
The dough will be thick but not so thick that you can't stir it. If yours is too thick, it could be because there is too much powdered sugar and cocoa powder in the dough. Be sure to measure both using the spoon and level method. Also, if you use small egg whites, that could make the dough too stiff. Be sure to use large ones. If you've done all these things, it could be the brand of powdered sugar or cocoa powder that you use.I have found that different brands of cocoa and different brands of powdered sugar (even eggs) will affect how the dough behaves, but the cookies still bake just fine.
These flourless fudge cookies are seriously the best chocolate craving cure ever! Every bite is rich, fudgy, and decadent. Pair them with a glass of cold milk for the best experience!
More Gluten Free Desserts You'll Enjoy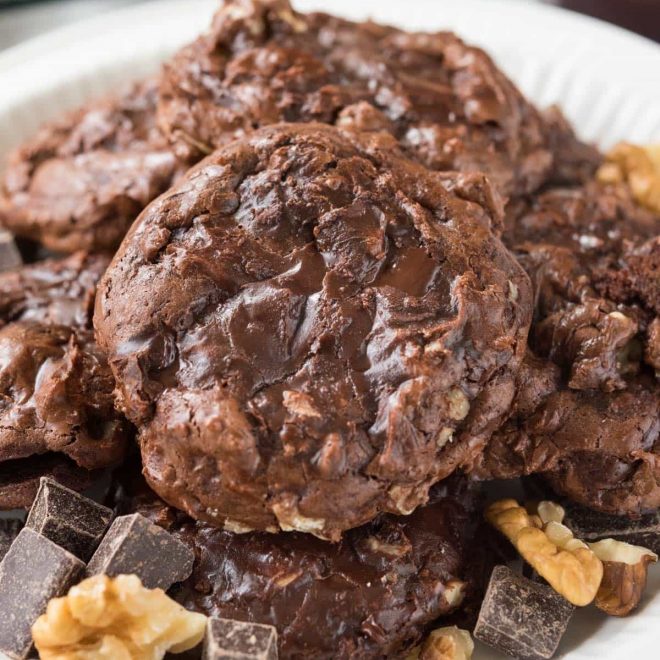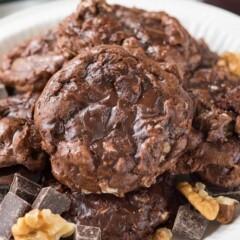 Flourless Chocolate Cookies
This Flourless Chocolate Cookies Recipe is FULL of chocolate! They're rich and fudgy cookies that taste like a brownie and by happenstance, they're gluten-free! And they taste like brownies!
Ingredients
1 ½

cups

(170g) powdered sugar*

⅛

teaspoon

salt

⅔

cup

(54g) unsweetened cocoa powder

2

teaspoons

cornstarch

2

large egg whites

1

teaspoon

vanilla extract

1

cup

(85g) baking chunks or chips

½

cup

chopped walnuts or pecans

optional
Instructions
Preheat the oven to 350°F.

Whisk together the powdered sugar, salt, cocoa, and cornstarch in a large bowl. Add egg whites and vanilla and stir until a thick mixture forms. It will look like it's not enough liquid – just keep stirring, but do it carefully so you don't spill cocoa mixture all over the place. The batter will eventually come together. It's very, very thick. Stir in the baking chunks and nuts, if using.

Line two baking sheets with parchment paper and spray with nonstick cooking spray. Yes, even though you're using parchment you need to spray it or grease it. You can use silicone baking mats, but spray them too. (I had better luck with parchment, but the silicone mats work just fine.)

Scoop 2 tablespoon sized balls of dough onto the cookie sheets, leaving a few inches between them. The dough is thick and sticky!

Bake for 13-15 minutes until most of the cookie is no longer glossy. There may still be a spot or two of glossy in the center. Let cool completely before removing from the pan using a spatula. Store in an airtight container for up to 3 days.
Recipe Notes
Dutch process cocoa is fine
*If you're making these GF make sure your powdered sugar is GF.
The dough is thick when it's stirring together – it WILL come together!
Don't forget to spray your parchment with nonstick spray or they'll stick bad.
Recipe Nutrition
Serving:
1
cookie
|
Calories:
224
kcal
|
Carbohydrates:
32
g
|
Protein:
4
g
|
Fat:
10
g
|
Saturated Fat:
4
g
|
Sodium:
443
mg
|
Fiber:
3
g
|
Sugar:
26
g
Nutritional information not guaranteed to be accurate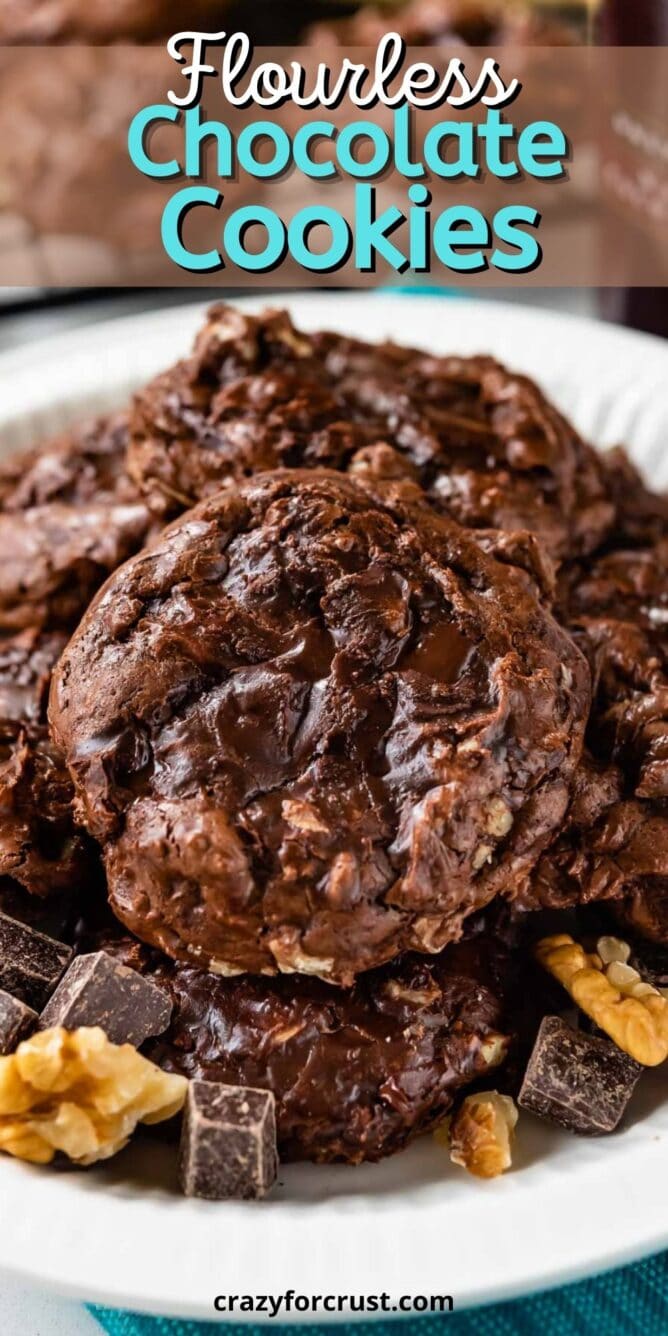 Flourless Chocolate Cookies are the perfect way to satisfy your chocolate craving – they're so gooey and rich they taste like a brownie!
Last Updated on August 16, 2021