This post may contain affiliate links. For more information, read my disclosure policy.
This easy Cranberry Cinnamon Roll Bake recipe is perfect for any holiday breakfast. Cinnamon rolls are mixed with cranberries, coated with brown sugar, and drizzled with orange icing!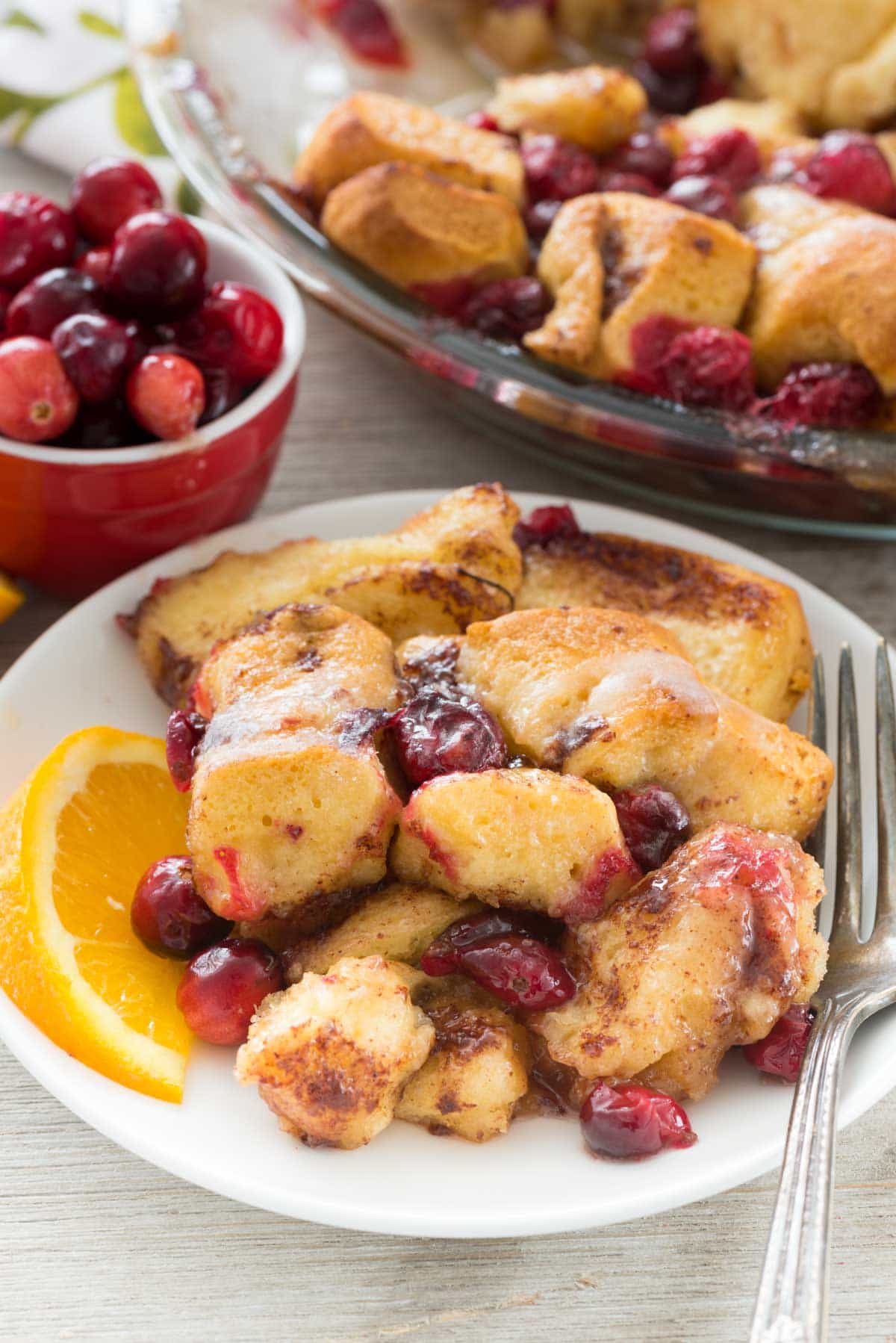 How do you give back this time of year? Usually we donate to Toys for Tots or the local food bank. This year, we decided to do something a little different: we adopted a family. We've been thinking about doing that for a while, but I never managed to get myself together in time. This year it was meant to be: I was googling on Thanksgiving night and found a local church that has an assist-a-family program. The deadline was Thanksgiving so I got my application in just in time.
The following week, I got an email telling me about the family who we were helping. It was a young couple with two little girls. In addition to a grocery gift card, we were supposed to get a clothing item for each person and a "toy" or wishlist item. It broke my heart when I read the wishlist for the two kids: both only asked for winter clothes. No dolls or toys or bikes: just warm clothes.
Last weekend, the three of us went to Walmart to go shopping. It was so much fun for us (Jordan especially) to pick out winter sweaters and pants and boots for the girls. We also went a little crazy in the toy aisle, guessing that 4- and 2-year old girls like dolls and books and doll things. When we got home, Jordan spent the day wrapping everything and later in the week we took 2 huge boxes of presents to the center. In our case, the family preferred an anonymous donation, although I'd been secretly hoping to meet them and take them cookie baskets too. 🙂
I was so happy we were able to do that this year, and use it as a good example for Jordan. She asked if we could do it again next year and I told her I sure hoped we could!
Have you started thinking about Christmas breakfast yet? Do you make it yourself, or do you do something easy?
This Cranberry Cinnamon Roll Bake is kind of a combination of both: it's a semi-homemade breakfast casserole that's perfect for the holiday!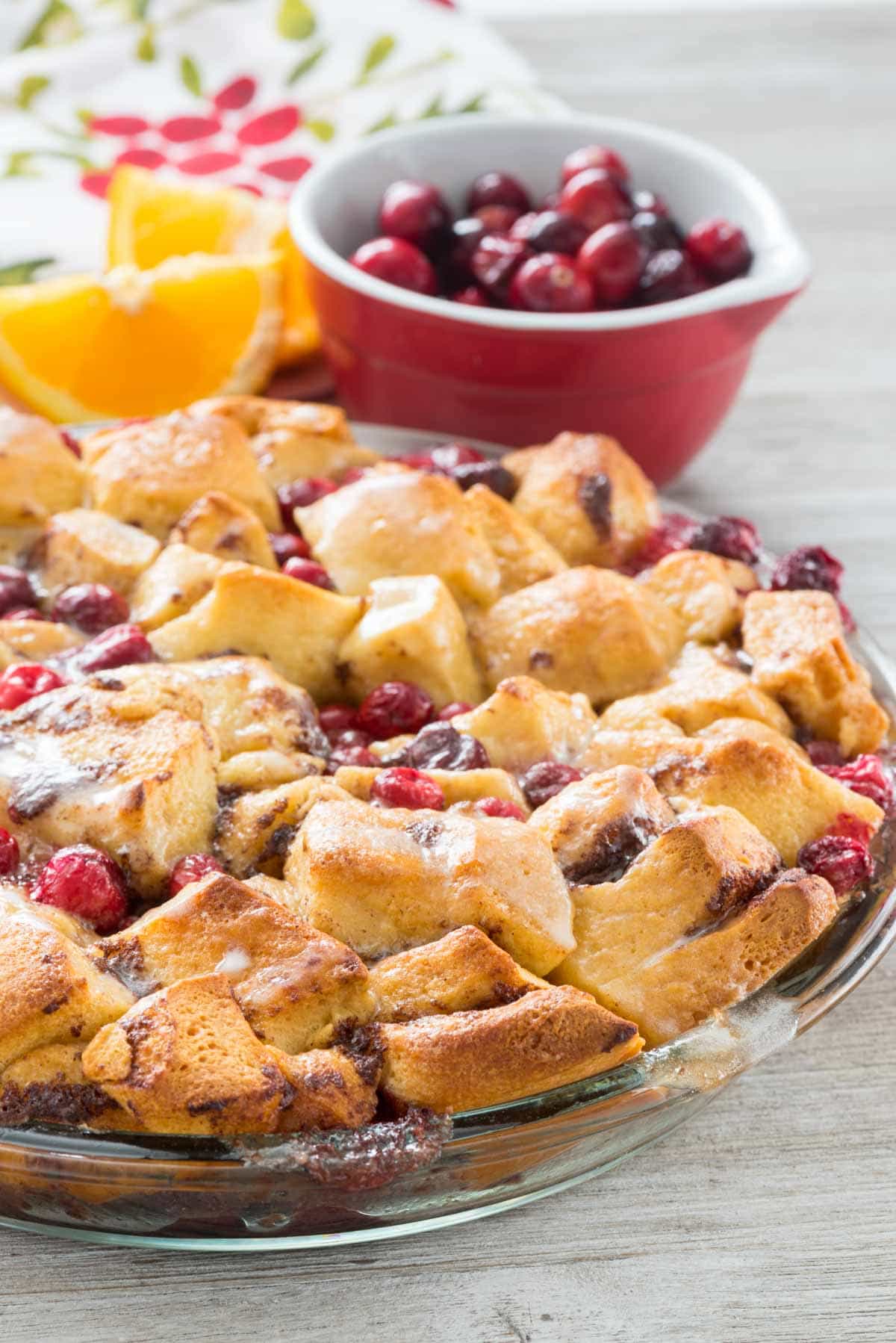 After I made my apple fritter cinnamon roll bake last month, I knew I had to recreate it (over and over). My first inclination was to make it blueberry, but then someone suggested cranberry. I've never baked with cranberries before (I KNOW, RIGHT?) so I asked Facebook what to make. Overwhelmingly, the answer was CRANBERRY!
(If you hate cranberries…you can totally substitute blueberries!)
The recipes starts with Pillsbury Grands! Cinnamon Rolls (the tube that has 5 jumbo rolls). You can use any brand you like, I just always gravitate towards them. Cut each roll into 6 pieces and layer them in the plate with the fresh cranberries. This recipe only uses 1 cup of fresh berries, which is perfect because I always have leftovers from centerpieces and cocktails.
The magic is in the buttery brown sugar sauce you pour all over the cinnamon rolls before baking (kind of like monkey bread). Then, after baking, you add a little orange juice to the icing that came with the rolls and drizzle it all over the hot casserole. (You can skip the OJ if you want, but the combination of orange and cranberry is a classic one.)
Basically, this is cranberry cinnamon roll bake is THE breakfast you need for Christmas…or the week after…or New Year's…don't you think?

I'm also kind of thinking it needs to be served with Cranberry Orange Mimosas…BRB, off to create a cocktail…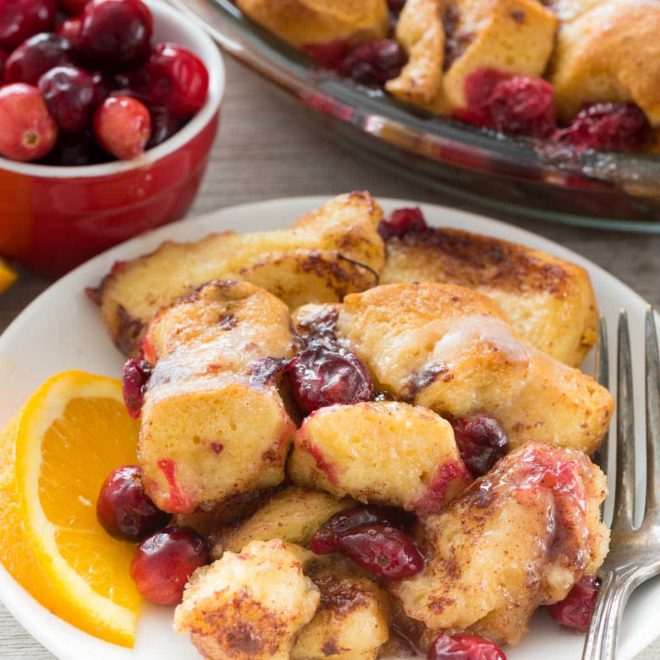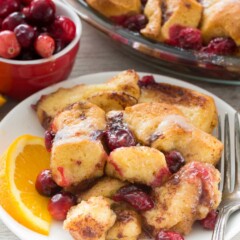 Cranberry Cinnamon Roll Bake
This easy Cranberry Cinnamon Roll Bake recipe is perfect for any holiday breakfast. Cinnamon rolls are mixed with cranberries, coated with brown sugar, and drizzled with orange icing!
Ingredients
1

tube Grands! Cinnamon Rolls

5 rolls

1

cup

fresh cranberries

1/2

cup

unsalted butter

melted

1/3

cup

packed brown sugar

1

tablespoon

orange juice

optional
Instructions
Preheat oven to 350°F. Spay a 9-10" pie plate with nonstick cooking spray.

Open cinnamon rolls; reserve icing. Slice each roll into 6 pieces. They'll fall apart; that's okay.

Layer cinnamon rolls with cranberries in prepared dish.

Stir brown sugar and melted butter together until smooth. Pour evenly over the top of the cinnamon roll mixture.

Bake for 30-34 minutes or until golden brown and cooked through.

Stir orange juice into reserved icing and drizzle over the top. Serve warm. Store leftovers tightly covered for up to 3 days.
Nutritional information not guaranteed to be accurate
Click HERE for more Pillsbury Dough Recipes!
Click here for more Brunch Recipes!
Apple Fritter Cinnamon Roll Bake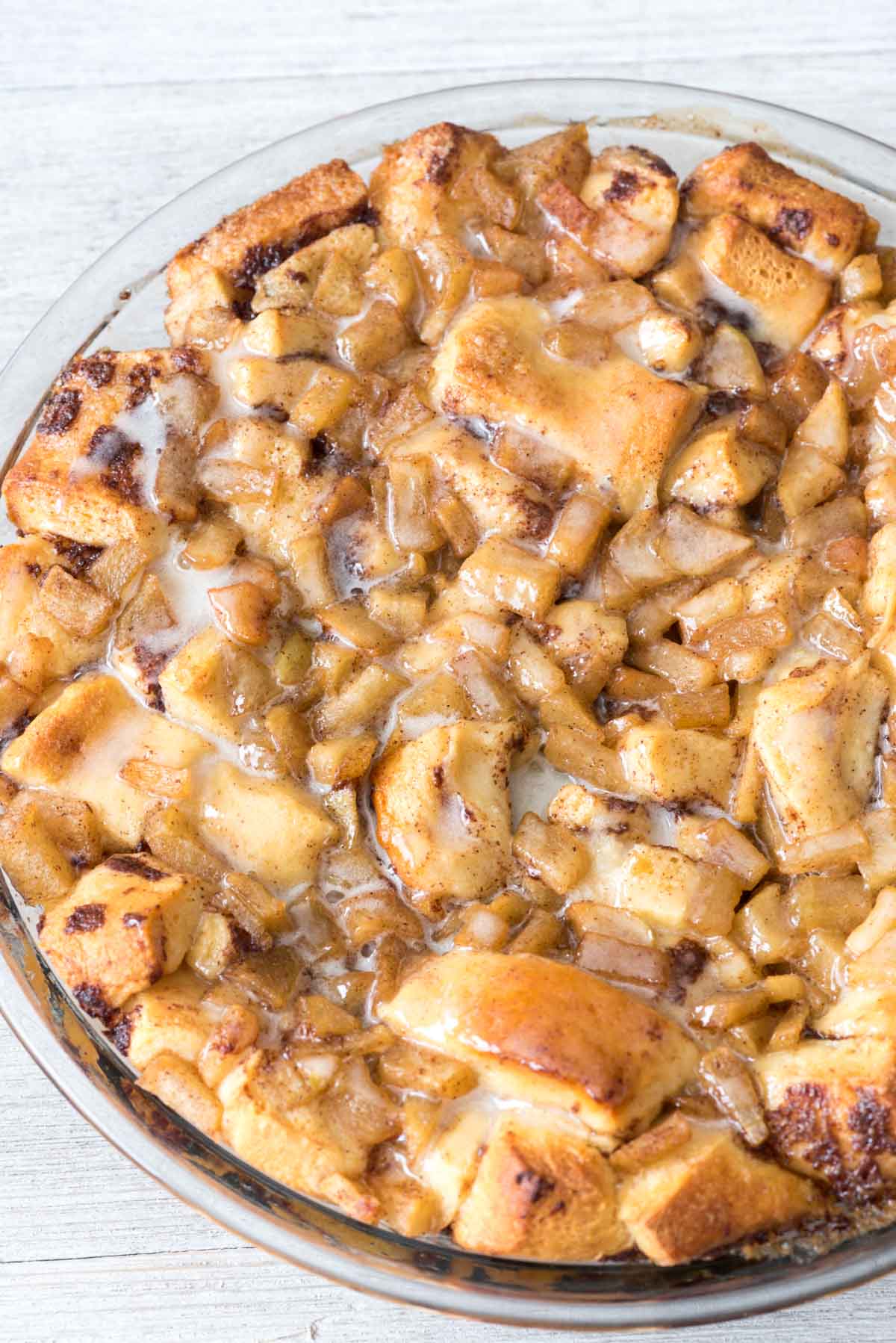 The BEST Trilogy Cinnamon Rolls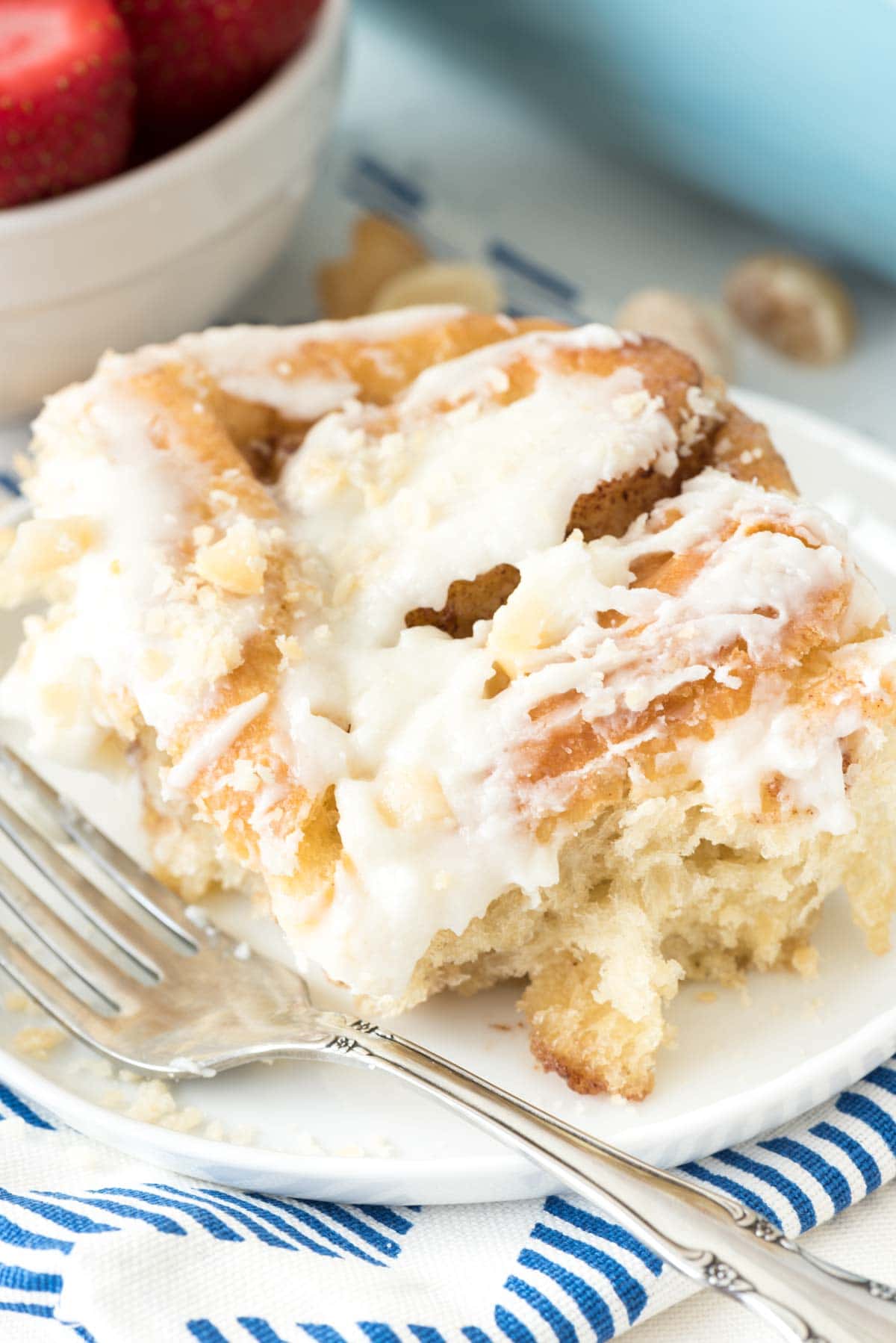 2 ingredient Chocolate Cinnamon Roll Pull Apart Bread
If you love the cranberry cinnamon roll bake recipe, check out these sweet cranberry recipes from my friends:
Cranberry Orange Muffins by Sally's Baking Addiction
Cranberry Bliss Bread by The View From Great Island
Cranberry Orange Scones by Amy's Healthy Baking
Last Updated on September 6, 2018